Specialized Turbo Vado Review, 2023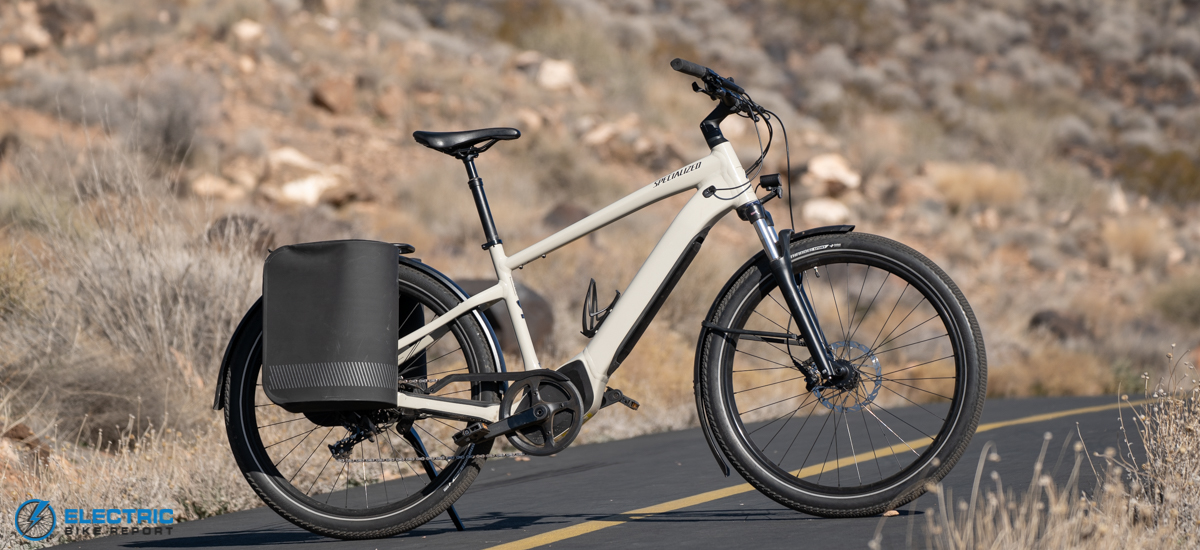 For over three decades, Specialized has had the same mantra: "Innovate or Die."
That three word slogan represents the ethos of Specialized; a condensed summation of the mindset that's driven the northern California-based company to become one of the largest and most iconic bike brands on the planet. It's also the driving force behind why Specialized electric bikes are among the best money can buy.
In this Specialized Turbo Vado review, we take a look at the brand's flagship electric commuter and parse out what sets it apart from the competition. We test its hill climbing abilities, range and do our best to showcase why the Specialized name has become synonymous with innovation and really good e-bikes.
Powered by a 250w mid drive motor and a 710Wh internally integrated (but removable) battery, the Turbo Vado 4.0 is a sturdy competitor in the high-end commuter category. The latest edition of the Turbo Vado has been reengineered with new geometry, a retooled motor and a new look. Best of all, that 250W motor is capable of Class 3 speeds — and boy is it quick.
It's an e-bike we've been itching to get our hands on – reputation alone warrants consideration for inclusion on our list of best electric bikes – but let's get hands on and see how it performs in our tests before deciding that.
Bike Class:
Class 3: Pedal assistance to 28 mph
Specialized Turbo Vado 4.0 Video Review

Pro's
The Specialized 2.0 mid-drive motor is divine. Rated at 250W and making 70Nm of torque, it's one of the best feeling e-bike motors I've ridden.
The new Turbo Vado's looks are great. The frame is less angular and looks more like a traditional bicycle than the old Turbo Vado.
With a $4,000 MSRP, the Turbo Vado 4.0's component package is very competitive and feels right for the money.
You can update the bike from home using the MissionControl app, which has the ability to pass over-the-air updates to your bike.
The MasterMind display is very well designed and chock-full of cool features like rider wattage, battery efficiency and more.
The Turbo Vado is backed by Specialized's global network of dealers and nearly unparallelled customer service.

Con's
One of our only complaints is that the magnetic charger can be difficult to seat correctly when the battery is installed in the frame.
ELECTRICAL SPECS & FEATURES
Battery: Specialized U2-710, 710Wh battery
Display: MasterMind display and remote
Motor: Specialized 2.0, 250W motor with 70 Nm of torque
Headlight: Integrated Lezyne Ebike Hecto E65 light
Taillights: Spanniga Commuter Glow XE, integrated
Peal Assist: ECO, SPORT and TURBO modes, torque sensor
Range: 20-35 mile (claimed)
Throttle: N/A
Weight & Dimensions
Claimed weight: 55-63.5 lbs
Maximum rider weight: 300 lbs (total payload capacity)
Maximum load on rear rack: 59 lbs
Components & Accessories
Brakes: SRAM Level hydraulic disk brake, 180mm rotors front and rear
Fenders: Specialized DRYTECH fenders
Fork: SR Suntour Mobie A32, 80 mm travel
Frame: E5 aluminum
Drivetrain: SRAM NX 11-speed
Grips: Specialized Body Geometry lock on
Saddle: Rivo Sport
Handlebar: Specialized alloy riser bars
Kickstand: Included
Pedals: Specialized commuter
Tires: Specialized Pathfinder Sport Reflect, 650Bx2.3
Specialized Turbo Vado 4.0 Review: Bike Overview
Few traditional bicycle companies have invested in e-bikes the way Specialized has. And that investment of time, engineering and decades of experience has yielded some pretty telling results: Specialized has long been heralded as the best in the business when it comes to motor design, quality and rider experience.
This Turbo Vado 4.0 is actually the first Specialized electric bike I've personally reviewed. Really, it's the first Specialized e-bike I've spent any meaningful amount of time on. What I've learned is that the hype around these e-bikes is very real. Even before we dive into the rest results or even begin to pick apart the bike I'm going to do something I rarely do and note right here at the top that this is the best electric commuter bike I've ever ridden, and it may even be in the running for the best e-bike I've ridden. It really is that good.
This most recent generation of Turbo Vado was released at the end of September 2021 alongside two other full-power Specialized e-bikes, the Turbo Como and Tero. We got our first real-life peeks at the bike at Sea Otter shortly after that and since then I've been itching to do a full-depth review.
Aside from the redesigned aluminum frame, which looks far slimmer and more like a traditional bicycle — which is different from the old Vado, which had an overtly e-bikey look — the Vado lineup got the new Specialized 2.0 mid-drive motor. That motor, which is manufactured by Brose but heavily tuned by Specialized, makes 250W and 70Nm of torque.
It's also a Class 3 e-bike, with pedal assist that can go up to 28 mph. And boy did Specialized lean into this bike's Class 3 capability. In TURBO mode — there are three PAS levels, ECO, SPORT and TURBO — this bike is an absolute ripper that has zero issue cruising between 25 mph and 28 mph. A feature that makes the Turbo Vado a bonafide super commuter that'll cover ground quickly and keep pace with city and residential traffic.
Inside the frame, but still removable, is a 710Wh battery. The new Vado was also launched alongside the MasterMind app, which allows you to tune, track and even lock your bike from your phone. One of the coolest features of this app is the ability to push over the air updates to your bike, so as Specialized updates software you can keep your bike in step without going to a bike shop.
Connecting the mid-drive motor to the rear wheel is a SRAM NX 11-speed drivetrain that delivers crisp shifting that handles the motor load with impressive ease.
Braking is handled by a set of SRAM Level hydraulic disk brakes with 180mm rotors front and rear.
On the handlebars, there's a redesigned display that's arguably one of the best in the biz. It's easy to read, tremendously useful and has a host of different screens that show everything from battery efficiency to speed and everything in between.
There's also an SR Suntour Mobie A32 fork with 80mm travel and a suspension seatpost with 40mm of travel. The remainder of the bike is decked out with various accoutrements from Specialized, including things like the grips, handlebars and pedals.
Lastly there are integrated front and rear lights, plus a rear rack with an MIK interface and a 27kg max weight capacity.
As I said before, the Vado's got a lot going on.
Specialized Turbo Vado 4.0 Review: Motor Performance, Speed and Acceleration
I've already talked a bit about how much speed the engineers at Specialized have eked out of this 250W mid-drive motor, but let me say it again: This is an enormously quick e-bike.
Obviously the bike's speed depends quite a bit on which assist level you choose and how hard you pedal, but if speed is what you're looking for, the Turbo Vado's aptly named TURBO mode has plenty of it.
We sampled the performance of each of the Turbo Vado's three assist settings — ECO, SPORT and TURBO — and found they all give a very appropriate amount of boost. ECO mode feels very similar to a lighter non-motorized traditional commuter bike, basically canceling out the additional weight of the e-bike componentry; SPORT mode feels like riding with a solid tailwind and; and TURBO mode feels less like you're riding with a tailwind and more like you are the wind.
And though this is a pedal assist only e-bike, and e-bikes made by traditional bicycle manufacturers like Specialized are known to place a little more emphasis on the rider's pedaling than their cheaper counterparts, the Turbo Vado demands very little effort from the rider. You can throw some effort into the pedals, but you don't have to. Both options are comfortable and pleasantly quick.
Specialized Turbo Vado 4.0 Review: Range Test & Battery Performance
The Turbo Vado's range test results are good, but don't necessarily stand out from the pack. In fact, they're very much in line with what we'd expect of a commuter bike with a 710Wh battery. They're also pretty comparable to many other e-bikes Electric Bike Report's reviewed, either based on average speed or distance traveled.
In the bike's lowest assist setting, ECO, the Turbo Vado 4.0 lasted 61.03 miles at an average speed of 11.51 mph before running out of battery. In TURBO mode, the highest assist level, it made it 23.42 miles at an average speed of 18.9 mph.
But while the Vado's range test results may seem pretty average, the numbers here don't tell the whole story. I'm immensely impressed with the Turbo Vado's average speed in the Turbo test. I did that test on an exceptionally windy day in southwest Utah and the bike still managed a nearly 20 mph average, despite me riding directly into that wind for more than half the test.
Our long range test rider Josh also raved about how well the bike pedaled in eco mode. He spends a lot of time range testing bikes in low PAS settings and often has some not so nice things to say about how they pedaled with that little assistance, but he loved the Turbo Vado. He said in ECO mode that it gave just enough assistance to make the bike feel like a normal bicycle, like the additional weight had been canceled out.
Specialized Turbo Vado 4.0 Review: Hill Test
On our test hill Hell Hole, the Turbo Vado put up a respectable time that's right in line with some of the more popular electric commuter bikes on the market.
Using the highest pedal assist setting, TURBO mode, the Turbo Vado cleared the top of Hell Hole in 1:24.00 with an average speed of 12.9 mph. Compared to the more than 50 other ebikes we've tested on that hill, the Vado's result is just four seconds shy of our current average hill climb time of 1:20.00. We don't have many other high-end electric commuters we can compare it to, but the Vado's time is right in line with several of the more popular affordable electric commuters we've reviewed, such as the Rad Power Bikes RadCity 5 Plus, the RadRunner Plus and the Radio Flyer M880.
I wouldn't call any of those bikes direct competitors of the Turbo Vado — they all cost less than half the price of the Specialized and use rear hub motors, putting them in an entirely different category — but it is interesting to see comparable times between them all.
But time isn't everything when it comes to hill climbing performance, and while those more affordable e-bikes may be comparable on paper, they're not comparable to the Turbo Vado in feel, comfort and perceived effort on hills. From my perspective as the rider performing this test, it's wild how easily the Vado carried me up and over Hell Hole. I always like to point out that Hell Hole, at a third of a mile long with an average grade of 12 percent, is a very large and very long hill we've chosen specifically because we want to push e-bikes to their climbing limits.
But despite our best effort to push the Turbo Vado to its limit uphill, I'm fairly certain we got nowhere near it. The Vado unflinchingly cruised over Hell Hole, with little indication that the motor was straining and little physical effort from my part.
It's also an impressive result considering that the motor on the specific bike we're reviewing, the Turbo Vado 4.0, is a mid-tier unit that makes 70Nm of torque. The bike above this one, the Turbo Vado 5.0, uses a motor that makes 90Nm of torque and likely would have climbed even quicker.
Specialized Turbo Vado 4.0 Review: Brakes and the Brake Test
Spec'd with a set of SRAM Level hydraulic disk brakes and 180mm rotors front and rear, the Turbo Vado 4.0's braking performance is far above average when compared to the rest of the e-bikes we've reviewed.
Like many higher end e-bike components, the Level disk brakes were designed for the rigorous high-intensity braking of mountain biking and adapted for the higher weight and higher speeds of e-biking. It's a formula that works well, as evidenced by the results of our braking test.
In a series of five full-power stops from 20 mph, the Turbo Vado 4.0 came to a stop at an average distance of 12-feet-11-inches, which is exactly three feet better than the average distance of all the bikes we've brake tested so far. It's a result that's good enough for ninth place on our all time brake test leaderboard.
Looking outside the data and adding some of my experience as the rider during the brake test, the Turbo Vado felt very controlled under hard braking. As the tires lock up and skid (they almost always do) bikes can become unpredictable and have a tendency to slide sideways or even lose the front end, but the Vado did none of that. The tires did lock up, but the forgiving geometry kept the bike on a straight line and the supremely good lever modulation of the SRAM brakes helped me control that skid while still coming to a very quick stop.
Specialized Turbo Vado 4.0 Review: Ride Comfort, Handling and Cockpit
Specialized appears to have taken a page out of the book of mountain bike geometry when redesigning the Turbo Vado, making the bike longer and slacker than the previous generation.
The reach is longer, the headtube angle two degrees slacker and, among other changes, the chainstays are shorter, tucking the rear wheel further into the frame. Specialized says this makes the bike more maneuverable and stable at speed. I haven't gotten to ride the old Turbo Vado, but I'll take Specialized's word on this improvement.
It does, in fact, feel super stable at speed and it's very maneuverable in tight situations like hard corners and in traffic. The cornering is stable and planted and the body positioning is comfortable and very efficient. One note I'll add, though this is something I've experienced on several pannier-equipped commuter bikes, is that my heels would occasionally clip the pannier bag as I was pedaling. This may be a function of my size 12 feet and often sloppy pedaling, but it's something to keep in mind should you be a larger person and want to fit this bike with the Tailwind pannier bags. It's certainly not a dealbreaker for me — I loved those bags — but it was something I needed to be conscientious about.
The cockpit is built around the new Specialized MasterMind head unit that, accompanied with its touchpad, is just delightful to use. I've never seen so many metrics on a screen, and there are even neat features like a power meter that tells you how hard your pedaling as opposed to just how hard the motor is pushing.
I also cannot stress enough how important it is that this e-bike can receive over-the-air updates through the MissionControl app. One of the biggest arguments in favor of buying a Specialized is that it's a company that's constantly improving it's e-bike game, and by giving riders the ability to update their bikes remotely means you can take advantage of that progression without needing to take your e-bike to a shop for updating.
Specialized Turbo Vado 4.0 Review: Summary / Where to Buy
I'm usually pretty good at finding more than one fault in an e-bike during the review process, but I'm stumped by the Turbo Vado 4.0. My only legitimate complaint (that can't be explained away by my odd body dimensions) is with the charger, which can be difficult to connect properly when trying to charge the bike with the battery inserted into the frame.
That's really it. Other than a slightly finicky magnetic charger plug, I loved this e-bike.
The Specialized Turbo Vado 4.0 electric commuter bike is a remarkably well done e-bike. It handles divinely, looks sharp as about any commuter could and is equipped with a motor that can breath fire in TURBO mode or whisk you along at a comfortable and efficient pace in SPORT and ECO modes.
Mostly though, one of the biggest reasons I enjoyed the Turbo Vado so much is it feels, in many respects, like the direct product of the "Innovate or Die" mantra. You can feel that this bike is the byproduct of 30-plus years of experience building bicycles (and e-bikes) on the bleeding edge of what is currently possible.
And though its price tag is high enough some people will quickly write it off, I'd argue it's $4,000 MSRP is exactly right for a bike with this spec sheet and this much engineering backing it up. With this bike you're buying quality; you're buying support; and you're buying into a wealth of bicycle engineering and technical knowledge that few companies can compete with. Those factors and more are what make the Turbo Vado 4.0 one of the best e-bikes I've gotten to review thus far — which is saying something, as I've reviewed a lot of them.
If it's an e-bike you're considering for yourself, I can't recommend it more.
Specialized sells its Turbo Vado electric commuter bike through its massive network of dealerships (there's likely one very close to you). But for those more keen on buying online, there's good news: Specialized just recently began shipping bikes directly to consumers so you can buy the Turbo Vado online and have it sent direct to your door.
'Happy Riding, make sure to let us know if you have any questions down in our comments section or if you think we left anything out in this review of the Specialized Turbo Vado 4.0.
Reader Interactions