Specialized Turbo Como Review, 2023
Top-Notch Technology for Effortless Shifting and a Comfortable, Confident Ride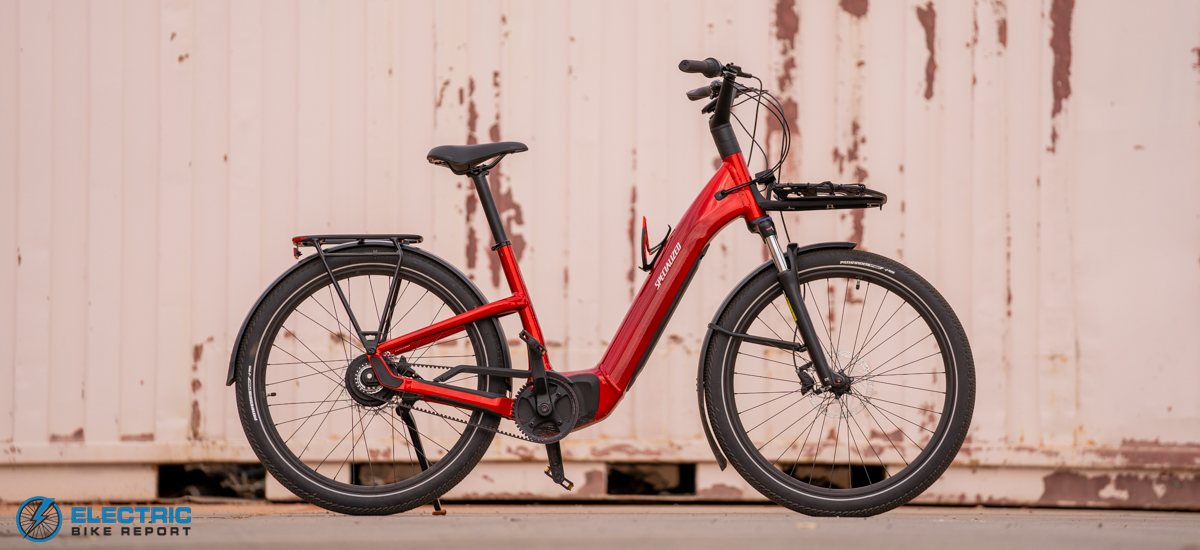 The following is EBR's review of the
Specialized Turbo Como 3.0 IGH
, which covers all the specifics you need to know when considering this electric bike. Designed and built by a leader in the bicycle world, the Turbo Como 3.0 is a Class 1 e-bike that pairs the powerful Specialized 2.0E mid-drive motor with the Enviolo internal gear hub, giving you optimum acceleration when you need it, and stepless gear shifting to simplify your ride.
Simply put, this bike is one of the easiest riding e-bikes around featureing a host of tech that makes the ride simple and natural. Our whole team of testers here at Electric Bike Report remarked how this was easily one of the more natural-feeling e-bikes we've ever ridden, meaning new or experienced cyclists alike will appreaciate how this bike enables you to feel super-powered!
But there is a whole bunch more to discover. Keep reading down below through our full Specialized Turbo Como 3.0 review.
Bike Category:
City/Commuter
Bike Class:
Class 1: PAS up to 20 mph (no throttle)
Specialized Turbo Como 3.0 IGH Video Review

Pros
This bike has "smooth" written all over it: smooth motor, smooth gearing, smooth handling, smooth looks.
Brand reputation – Specialized produces excellent bikes, so you know you're getting a good e-bike from them.
Great acceleration and high torque, along with consistent cruising speed from the proprietary mid-drive motor.
Simple and stepless gear changes with the long lasting, low maintenance Enviolo internal gear hub.
Impressive 63-mile range, thanks to the advanced battery management system.
Awesome riding comfort and minimal physical demands with the Como's industry-leading ergonomics design.
No greasy, noisy chain thanks to the Gates belt drive, which also lasts up to 3 times longer.
Thwart thieves through the Mission Control app that disables the motor and battery until the owner re-activates it.
Awesome stopping power with the Shimano BR-MT200, hydraulic disc brakes.
Baby seat compatible rear rack, with 59 lb capacity.

Cons
Can't switch handlebars because the stem is custom to only work on the Como.
ELECTRICAL SPECS & FEATURES
Motor: Specialized 2.0E, 48V, 250W, 50 Nm torque
Display: MasterMind TCD, w/handlebar remote, built-in anti-theft feature, Bluetooth® connectivity, customizable display pages
Battery: 48V, 11.3 Ah, 530Wh, Specialized U2-530, alloy casing
Range claim: Eco mode 93 miles, Sport mode 51 miles, Turbo mode 37 miles
Wiring: Custom wire harness
Lights: LED front and rear lights, with internal cable routing
Weight & Dimensions
Claimed weight: 52 lbs
Maximum rider weight: 250 lbs
Maximum load on rear rack: 59 lbs
Maximum load on front rack: 33 lbs
Seat tube: 17.7" / 450mm (small & medium), 18.1" / 460mm (large)
Wheelbase: 47″/1194mm, 48″/1221mm, 48.8″/1241mm (small, medium, large)
Components & Accessories
Brakes: Shimano BR-MT200, hydraulic disc
Rotors: 180mm front, 160mm rear
Rims: 650b disc, double-wall alloy, pinned, 32h
Front Hub: Shimano MT400, Centerlock, 15x100mm, 32h
Rear Hub: Enviolo City, 310% range, 6-bolt, 10x135mm, 32h
Spokes: DT Swiss Industry
Tires: 650B x 2.3" Pathfinder Sport Reflect
Tubes: Schrader, 40mm valve
Handlebars: 680mm Specialized Como handlebar/stem combo
Grips: Specialized Body Geometry Contour, lock-on
Saddle: Body Geometry Comfort Gel, 200mm w/ SWAT Mount
Seat post: Specialized 2-bolt head, forged alloy, 5mm offset, micro-adjust, 34.9mm
Overview: Specialized Turbo Como 3.0 IGH
If I had to use one word to describe riding the Specialized Turbo Como 3.0 IGH, that word would be
smooth
. From the way the mid-drive motor distributes power to the rear hub, to the gearing changes during the ride, to the braking, and even the overall frame and tire feeling when rolling over rougher streets, this e-bike rides smoother than most.
Simple is the second work that comes to mind with the Turbo Como 3.0. This bike is simple for anyone to hop on and ride. Inexperienced riders won't have to worry about gear changes, while experienced riders can get back to the basics and enjoy all the other enjoyments of riding that sparked their interest.
Supported by Specialized's 42-year reputation of building reliable bikes, the Turbo Como 3.0 is a great e-bike for active riders yearning for a class-style cycling experience – and with power assistance. When you look closely at the Specialized, in comparison to other brand city/commuter e-bikes, you will notice the mechanical details and sleek design come from a team that has been building great bikes for a long time.
The Specialized 2.0E 250-watt motor has a battery management system that works with the Turbo UI-500 530 watt-hour battery to use energy efficiently and get you the most miles out of a single charge. The Enviolo internal gear hub offers stepless shifting, while withstanding outdoor elements, requires little maintenance and has a track record of proven longevity.
Instead of hearing the click-clack of a chain and gears when you ride, you get the clean, quiet and greasefree Gates belt drive system, which lasts 3 times longer than chains. Another Specialized touch is the Como's industry-leading ergonomics, which minimize hand and upper body strain while providing the rider with a comfortable upright position. Also easy on the wrist of the grip twist for changing the gearbox tension. I only had to turn the grip about one-eighth of a turn to find a lower gear on uphills.
Specialized's technical expertise also reveals itself with the step-thru frame design. Their patented method for building a strong step-thru frame eliminates the rigidity and turn issues that are common on other bikes.
Next up are the performance details on the Specialized Turbo Como 3.0 IGH. We put this e-bike through our battery of performance tests – covering everything from motor power, battery range, braking, handling and hillclimbing, to see how well this Specialized does in real world conditions. We think after you read the details, you will have a broad understanding of this bike and what you can expect from it.
Circuit Test, Motor Performance: Specialized Turbo Como 3.0 IGH
We learn a lot about the quality of the ride we can expect when we test the motor's acceleration and speed. We identify the motor's abilities in the circuit test. Here we determine how well the motor engages with the rider's pedaling at each of the pedal assist levels (PAS), and with no motor assistance. The Turbo Como 3.0 has three PAS levels: Eco, Sport and Turbo. We use gearing that makes the pedal process consistent and not overbearing on the rider.
As the chart above indicates, the Specialized 2.0E motor was consistent in how it delivered power assistance at each of the three levels. Output increased slightly, by 1 – 2 mph, with no sudden bursts to make us feel like the bike wanted to jump out beneath us. In true Specialize fashion, the Turbo Como 3.0 is designed to assist the rider, not replace the rider.
If you're used to riding a bike that has a rear cassette and cable shifter, you will be surprised – and likely happy – with the Enviolo internal gear hub. The stepless shifting eliminates the guessing you might sometimes experience in a ride, and instead allows you to focus on some of the more enjoyable aspects of a bike ride, such as the scenery.
Compared to most other e-bikes that have standard rear cassettes with cogs you cannot change during your ride, the Specialized allows you to adjust your gearing on the fly. This involves twisting the grip shifter that's similar to a friction grip shift on other bikes. But the Como 3.0 doesn't click into a particular gear, instead it slides into a This is another tech feature that sets the Turbo Como 3.0 apart from other city/commuter e-bikes, and is another example of how Specialized provides riders with rich experiences that are unique all on their own.
Range Test & Battery Performance: Specialized Turbo Como 3.0 IGH
A common question people ask when shopping for a new e-bike is, "How many miles will the battery last?" There is no exact number because it involves external factors such as rider weight, which PAS level is being used, are there hills, do the tires have the correct PSI, etc.
We do two range tests to measure the battery's ability to travel in the maximum PAS level, the Turbo mode on this e-bike, and at the minimum PAS, the Eco mode. We are happy to report that this e-bike satisfied Specialized's claim that it can travel 37 miles in Turbo mode before the battery ran out of juice. But it fell far short on the minimum PAS test, taking our rider, TJ, just under 63 miles. That is still a decent range compared to similar e-bikes. Considering most riders who will buy this e-bike are people who want to actively engage in the pedal process, they will likely be satisfied with the range as well.
To achieve longer range for e-bikes, manufacturers like Specialized are finding more advantages with using mid-drive motors instead of hub motors. Hub motors face direct resistance from the tires rolling on the road, whereas mid-drive motors face resistance from the chain or belt that drives the rear wheel. Hub motors run regardless of any pedal assistance, whereas mid-drive motors require pedal assistance. So, in essence, you get more miles out of your battery by having to pedal more.
Another benefit of having the mid-drive motor is weight. Getting more miles per watt-hour on the battery means you can travel farther with a battery that weighs less than one you would use for a hub motor. Lighter weight on the bike means easier to handle, and the bike brakes stop quicker. Therefore, the reduced weight gives this e-bike added safety.
Hill Test: Specialized Turbo Como 3.0 IGH
Most e-bike riders don't select a bike primarily based on its hill climbing ability. But we still test for this because most riders will face hills at some point, so it's helpful for them to know how well their e-bike will perform.
Since mid-drive motor performance is tied more closely to pedal assistance from the rider, the grading on hill climb ability for mid-drives, compared to hub drives, is sort of like comparing apples to oranges. The missing component is rider skill and strength.
Regardless, the Turbo Como 3.0 performed fairly well compared to other comfortable commuter bikes that don't have a mid-drive motor. We can attribute this partly to this bike's powerful motor, belt-driven gear efficiency, and its lighter weight. One comment we often hear from active riders is how they prefer mid-drives over hub motors on hill climbs because of the higher torque.
As a mid-drive, having more torque than a hub drive means the Turbo Como 3.0 accelerates better from a stop and helps the rider climb hills more efficiently in battery usage. Earlier I mentioned how these motors enable the battery to last longer – it also uses less battery power than hub motors when climbing hills. For many riders this is a fair trade: higher torque for better acceleration and more battery range, in exchange for motor-assisted top speed.
Safety, Brakes and the Brake Test: Specialized Turbo Como 3.0 IGH
In typical fashion for a Specialized bike, the Turbo Como 3.0 stopped very well. You might've thought differently when seeing the the front discs are smaller than the rear discs. But this bike's lighter weight plays an important role in helping the brakes stop sooner. It's important to remember, weight plays a dominant role in influencing braking performance – important to remember whenever you carry cargo or a child on your bike.
Earlier I mentioned how the Specialized Turbo Como 3.0 rides so smoothly. This e-bike stops smoothly as well. You want this from a commuter bike that's meant to be comfortable and easy to control.
If you're wondering about why the front rotors are smaller on this bike, part of it has to do with rider habits. Most riders are taught to avoid using the front brake very much, for fear of locking the front wheel and going over the handlebar. The other reason is you don't want to use too much front brake because it reduces your control of the bike, especially steering. If you need to make an evasive stop, you want to be able to steer away from the thing you're trying to avoid. Additionally, when you carry cargo or a child, that's more weight on the rear, thus requiring a larger disc for greater stopping power.
Ride Comfort, Handling and Cockpit: Specialized Turbo Como 3.0 IGH
Much of this review has covered how comfortable the Turbo Como 3.0 is to ride. Specialized is a global leader in research and development of bike designs. When they decided to create this bike with comfort as a priority, they put their team to task to explore all the factors that can affect riding comfort. I noticed that immediately when I started riding this e-bike, and I think you wil, too.
Besides the frame ergonomics, other key features smoothing the ride are the 80mm SR Suntour Mobie A32 suspension forks, Body Geometry Comfort Gel saddle, and the 27.5" x 2.25" tires. Each part works superbly with the other parts to create a whole suspension piece that awards the rider with a comfortable ride.
Capping the bike's comfort is the cockpit layout. Everything from the grips, to the 680mm handlebar width, to the levers and LCD display screen and controls makes this bike comfortable to control. There is nothing confusing about changing the PAS setting, or getting information such as miles ridden or battery range. The cockpit is arranged so that even a rider with very little experience can feel comfortable controlling.
Other benefit features include the rear rack that can carry up to 59 lbs and is compatible with most child bike seats. The Turbo Como 3.0 is also rated to pull a thru-axle trailer. For security, the Turbo System Lock feature, found on the Mission Control app, enables the rider to disable this bike's motor and activate the motion sensor alarm to avoid theft. Once locked, the motor cannot be enabled again except by the owner. This will give you greater peace of mind too.
Summary / Where to Buy: Specialized Turbo Como 3.0 IGH
With some e-bikes we can sometimes say, "different strokes for different folks," meaning not everyone will love every bike we review. But in the case of the Specialized Turbo Como 3.0 IGH, I think it's safe to say that after you ride it and get to know it, you will agree it's an awesome e-bike.
The mid-drive motor and Enviolo internal gear hub pairing is a real game-changer. The Como 3.0 IGH runs so smoothly, so much so that you'll agree that Specialized had to have put in some serious time designing and testing this motor and drivetrain setup. Like I mentioned before, this is an e-bike for people who like to pedal – no throttle. Even though I like throttles (and would've liked testing this bike with a throttle), I have to say that this e-bike is great to ride as it stands. A throttle might actually take away part of what makes this a great bike.
Riding this Turbo Como 3.0 you can feel the scientific perfection that created the comfortable seating and ergonomics. I found this to be one of the most comfortable electric bikes I've ever ridden. This e-bike is easy to sit on, easy to pedal away, and easy to have an enjoyable ride on.
Topping off the above mentioned benefits is Specialized's long history of being rider-friendly. Looking back at their accomplishments, like being the first company to mass-produce mountain bikes, to developing a saddle that protects men riders better, to building bikes that ride better and last longer, Specialized once again shows their commitment to meeting rider needs with the Turbo Como 3.0 IGH.
Hopefully you found this article helpful in detailing the key parts of the Specialized Turbo Como 3.0 IGH, and helped you decide if this e-bike is a fit for you. If you haven't already subscribed to the Electric Bike Report for updates on new e-bikes and related material, please sign up today. If you have any questions or comments related to this electric bike, then please let us know what you think and we'll be happy to get back to you. Thanks for reading and we hope you keep checking out our site.
'Happy Riding, make sure to let us know if you have any questions down in our comments section or if you think we left anything out in this review of the Specialized Turbo Como 3.0.
Reader Interactions