Aventon Pace 500.3 Review: First Look Reveals New Torque Sensor
Aventon has just announced updates to two of its most popular models, the Pace 500 and the Pace 350. The Pace 500 has been Aventon's most popular model, and for good reason. It's a well-designed e-bike on a number of levels, thanks to a number of premium features. The Pace 350 comes in at a slightly less expensive price point while still offering a terrific value.
Both the Pace 500 and Pace 350 are so good that Aventon had to look for ways to improve upon what we believe have been two of the best values in e-bikes. We will start with the features that remain consistent from the existing models to the new ones, and then dig into the upgrades the new version received.
Pace 500
We know the Aventon Pace 500 (technically, the 500.2) as a Class 2 e-bike with a 48V, 500W motor that can be unlocked to deliver riders to a maximum pedal-assist speed of 28 mph. This e-bike comes in both a traditional frame and a step-thru model and both frames come in two sizes, giving it an unusual ability to offer a comfortable fit to people across a wide range of stature.
The Pace 500 is spec'd with an 8-speed drivetrain, hydraulic disc brakes paired with 180mm rotors, an adjustable stem and a high-quality Selle Royal saddle. A front headlight and rear lights integrated into the frame come standard as well. Aventon also produces its own smartphone app that allows riders an unusual degree of control over the e-bike, like the ability to set how much assistance the rider receives at each PAS level.
It's a no-frills e-bike in that Aventon chose not to include fenders and a rack. E-bikes in the $1500 price range where the Pace 500 competes that include fenders and a rack don't include an 8-speed drivetrain. Its 614Wh battery is reported to offer riders a range of 40 mi., but in our own testing last year, we saw much better results, with the e-bike covering 58 mi. of riding to our testers.
Pace 500.3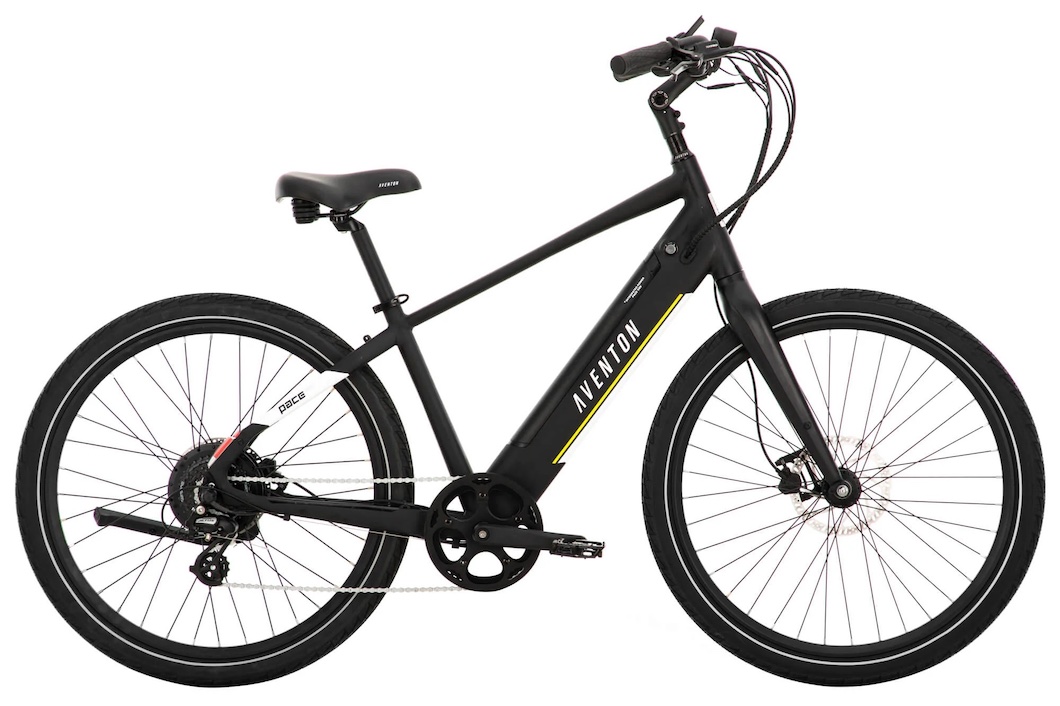 As we said in our opening, Aventon had to look for ways to improve upon the existing Pace 500, but they did find opportunities. The 500.3 won't look noticeably different, but that's not to say it isn't significantly improved.
The single biggest change is the addition of a torque sensor. And because this is a component that goes unseen, appreciating what it does demands some explanation. A torque sensor takes tiny measurements—often at a rate of 1000 times per second—of how much force a rider is putting into the pedals. Then, based on that data, the controller determines how much power the motor should put out based on the PAS level the rider has selected.
Practically speaking, what this does for the rider is the motor springs to life the moment a rider starts pedaling, which eliminates the pause that comes with a cadence sensor. Also, because the torque sensor delivers data to the controller continuously, the motor delivers power in proportion to the rider's effort, so that when the rider goes harder, the motor adds in more power. The feeling is more organic, more super-hero-y and much less like a motor turned on.
Aventon estimates that riders will see a range of 60 mi. thanks to the switch to a torque sensor. As we mentioned, previously, Aventon estimated riders would see a range of 40 mi., but in our testing we achieved 51 mi. on a single charge. In other e-bikes that have switched from a cadence sensor to a torque sensor, we've seen more like a 30-percent gain, but because Aventon's previous range estimate was so conservative, we think riders may see even more range than 60 mi.
Aventon has also upgraded the taillights to include turn signals to better communicate a rider's intentions to anyone behind them.
Details like weight capacity, bike weight and brakes remain unchanged, as does the fit of the four frames. They did make one small change to the drivetrain, increasing the size of the chainring in the crankset from 46 teeth to 48t; the upshot is that a rider won't have to pedal quite so hard to reach top speed.
Pace 350
Aventon's Pace 350 (technically, the 350.2) is a slightly more budget-oriented cruiser with a 36V, 350W that will afford riders reliable Class 2 performance, which is to say it includes a throttle to rescue tired legs.
It features a 7-speed drivetrain and mechanical disc brakes as well as front and rear lights. It's spec'd with a slightly smaller 417Wh battery that Aventon estimates will allow riders up to 40 mi. of range on a single charge.
It provides riders the same 300-lb. weight capacity as the Pace 500, but carries the impressive distinction of weighing only 49 lbs.; sub-50-lb. e-bikes exist, but aren't common.
Pace 350.3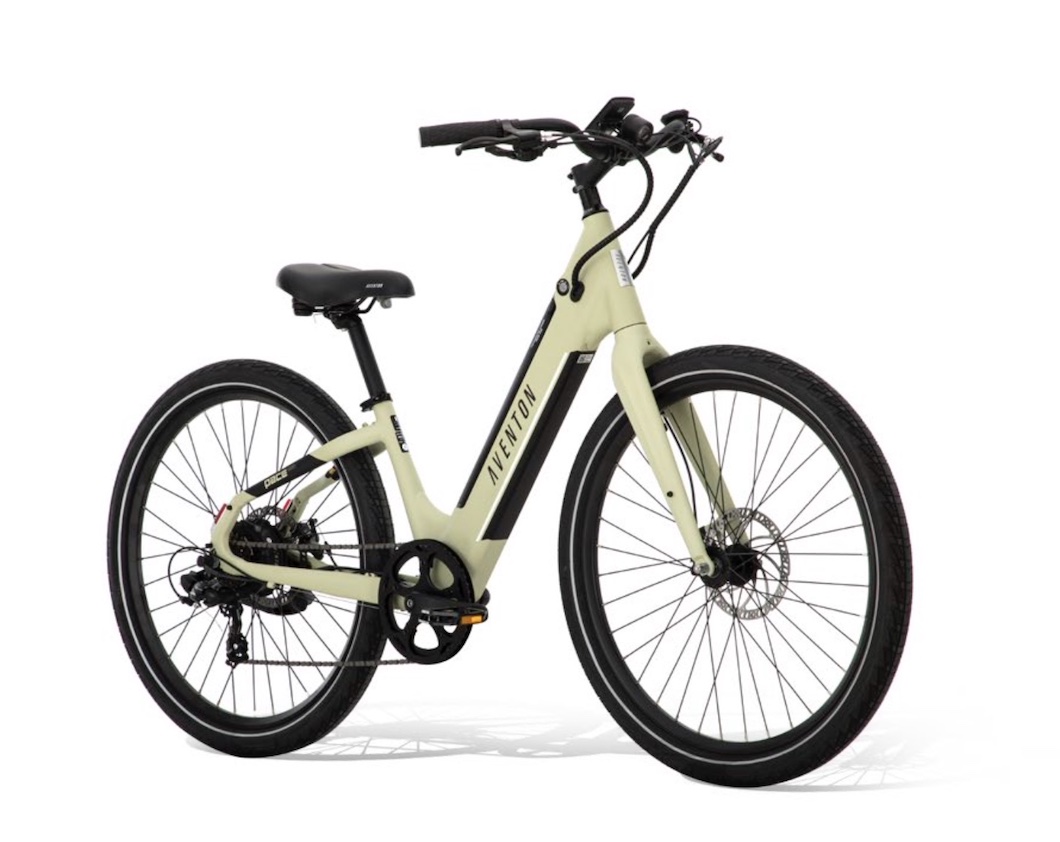 Like the Pace 500.3, the 350.3 receives an upgrade on the rear lights to include turn signals, but like its stablemate, the big upgrade for the 350.3 comes in the form of the addition of a torque sensor to govern the motor.
Aventon estimates that the replacement of the cadence sensor with a torque sensor will boost the Pace 350.3's range from a solid 40 mi. up to 60 mi. While we haven't reviewed the Pace 350 previously, considering the outsized performance of the Pace 500.2 relative to its range estimates, we think the Pace 350.3 might well achieve a range of 60 mi. on its 417Wh battery.
EBR's take
The existing versions of the Pace 500 and the Pace 350 have been among our favorite e-bikes at their price points. The value and quality of these e-bikes shows in substance, not flash. It's easy to get a shopper's attention by including lights, fenders and a rear rack. It's harder to get a shopper's attention by including an 8-speed drivetrain instead of a 7-speed one, or by offering an e-bike in four sizes instead of one.
Aventon's e-bike lineup has impressed us because of the company's ability to repeatedly upgrade their e-bikes without seeing big price increases. With the new versions of the Pace 500 and the Pace 350, Aventon has once again chosen substance by adding a component that no one will see, but will fundamentally improve the rider's experience. We can describe the change until our skin goes blue, but someone has to ride an e-bike with a torque sensor to appreciate what an improvement it is.
The change to the torque sensor adds another small change; the PAS selector now has four modes, not five. That may seem like a step backward, but the presence of the torque sensor will see riders pedal at a greater range of speed. The controller for a torque sensor works by a principle that is the opposite of how the controller works with a cadence sensor. Let's take a moment to explain.
With a cadence sensor, once a rider has pedaled somewhere between a half and a full revolution of the pedals (often about ¾ of a revolution), the controller decides it's time for the motor to kick in. The cadence sensor functions as an on/off switch. The controller then adds power according to what PAS level the rider has selected. PAS 1 may be 100W out of 500W. PAS 2 may put out 200W and PAS 3 300W, and so on. With a torque sensor, the controller establishes limits for how much power it will put out as the rider pedals.
Previously, the Pace 500 retailed for $1599. The Pace 500.3 now goes for $1699, but the old version has dropped in price $200 to $1399. The Pace 350 went for $1299 and it, too, has increased in price, now going for $1499. The old version has dropped $100 to $1199.
Our experience with other Aventon models that have been revamped include Pace 500.1 and Pace 500.2, Aventure (v1 and v2) and Level (v1 and v2). With each of these iterations we've seen real-world value added to what were already good bikes relatively to those price points. We believe that once we have the chance to ride these new versions that they will help set a new standard for what consumers can expect at these price points. Aventon has distinguished itself as a brand that knows how to deliver a quality e-bike, no matter what a rider's budget is.
Reader Interactions