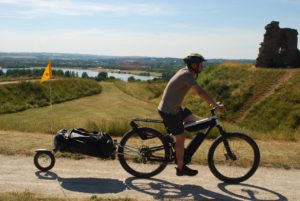 Why E-Bike Camping?
Traditional (ie not electrically assisted) cycle camping has something of a tough, outdoors image – you'll be familiar with images of long distance cycle tourers loaded with large amounts of gear, fit and bronzed from many hours in the saddle, crossing deserts or slowly grinding up mountain passes.
The modern day fashion for bikepacking certainly looks more lightweight – it's about strapping the very minimum of camping gear directly onto your bike – but it looks likely you'll still have to be pretty hardy to enjoy the extremely minimal comforts of this style of cycle camping.
But there is third way and that is e-bike camping of course!
An e-bike lets you carry more gear for more comfort and convenience and put in less of the extreme physical effort associated with traditional fully-loaded cycle camping.
And best of all you still get to experience the pleasures of outdoor life on two wheels and the feeling of freedom and relaxation that come with the best cycle camping trips. [Read more…] about Electric Bike Camping Part 1: Planning, Gear & Other Tips