How to Get Ready for a 4,000 Mile Electric Bike Tour Across the Country
By Boris Mordkovich.
"You're leaving in a week? Wow, you've got a lot to do!" said a trusted bike mechanic at a Brooklyn-based bike shop, as he replaced our tires, adjusted our disk brakes, installed a chain tensioner and roamed all corners of the shop looking for spare parts.
"You know, usually people come to me months before going on a trip like this," he said, eyeing us in good humor, as if to say, "come on guys, really…in a week?"
But, a week is still a week, and if we say we haven't been running around in a daze like the cast of Monty Python, trying to get everything in order before departure, it would be a major understatement.
In just a few short days, we would be departing on a two-and-a-half month, 4,000 mile journey from New York City to San Francisco on 2 electric bikes to promote the launch of a new electric bike company.
Between everything involved in getting the company off the ground, preparing for the actual trip was compressed to a few short weeks.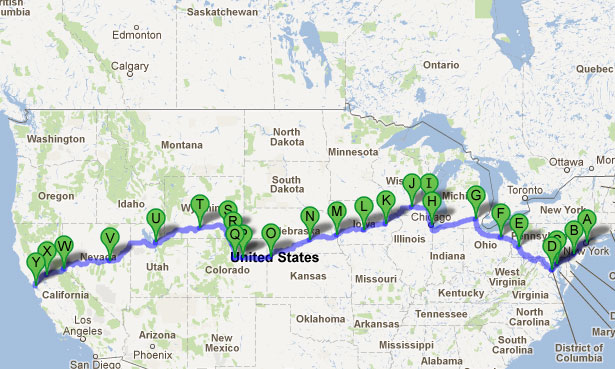 In this story, I want to share how we prepared for a two-and-a-half-month, 4,000-mile e-bike excursion and what we learned in the process – I hope that it will provide a bit of inspiration for your own tour, whether it's for 2-3 months or 2-3 days,
What to Take
Packing lists are one of the favorite parts of trip preparation – there is nothing more satisfying than putting a check mark next to an item you meant to pack and finally managed to fit into a physical pile.
However, a packing list for a tour like this is rather different from things you'd normally take on vacations, business-trips, etc. So, what exactly do you take with you on an electric bike tour – especially when you expect it to last for 2-3 months?
Let's start with the very basics: clothing. 
Since we'll be exposed to the forces nearly every day, it's essential to prepare for all types of weather: rain, wind, cold, heat. The simple solution is to bring several layers, all light, packable, waterproof and breathable. The things that made the short list were:
cycling shorts (bless these!),
rain gear,
synthetic tops, and
cycling gloves make long-distance riding more manageable and a heck of a lot more comfortable.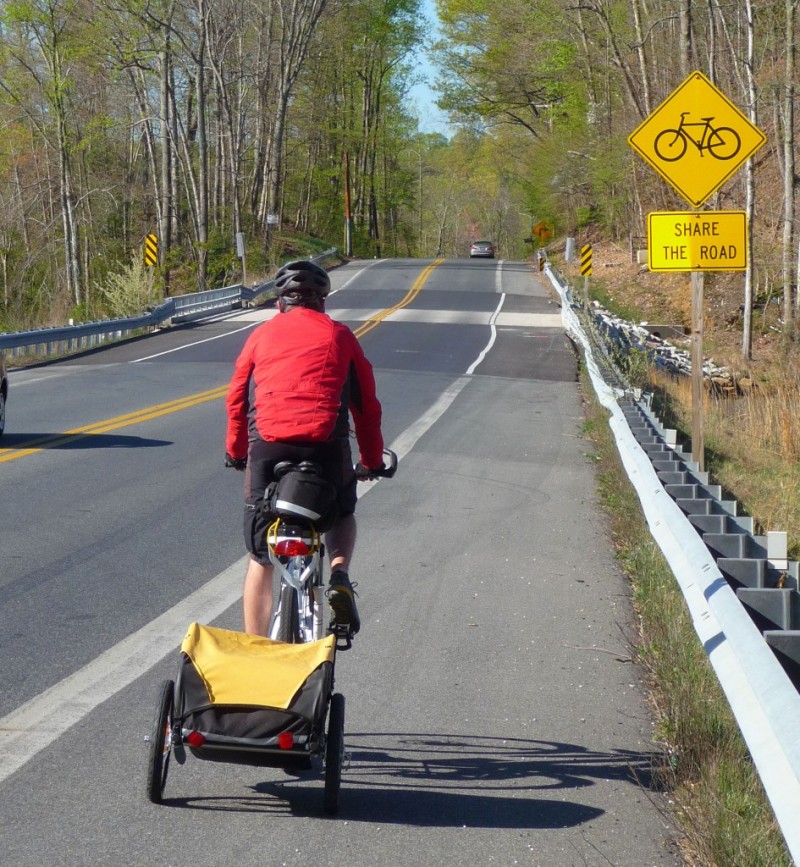 We must also anticipate (though we'd prefer not to) potential mechanical issues with the bike.
Therefore, we have to pack a multitude of parts and tools: 
spare tubes,
pump,
allen wrenches,
zip ties,
spare cables,
bungee cords, and
the mother of all repairs – a sturdy roll of duct tape.
Now for the electronics: 
2 spare batteries,
3 battery chargers, and
a couple of power strips
… are all required for the electric bike bit. We ended up taking 3 batteries per rider, so we could swap them during the day and have a range of 80-110 miles per day, depending on the terrain. Then, at night, we'd plug them all into an outlet using a power strip to recharge.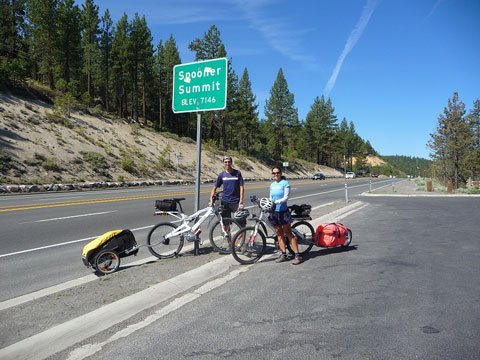 A 21st century ride wouldn't be the same without a GPS device, though we don't discriminate against traditional navigation systems, so we packed a trusty U.S. road atlas and compass. It's great if the electric bike has a USB port, as it would allow you to recharge your GPS and phone without having to worry about running out of battery.
Since this was technically a work trip, the laptops and all their relevant components had to tag along. You may find that you will want to take a laptop as well, whether for the blog or to handle communication and photos on the road.
Miscellaneous:
The miscellaneous category overlaps nicely with traditional travel items, so I won't extrapolate on our toiletries catalog or the things we took to entertain ourselves after many long days of riding.
How to Transport Everything
We spent many hours trying to decide where to physically fit all our gear, and this is a debate on which cyclists will never agree: panniers or bike trailers?
Panniers are a pair of bags fitted on either side of the rear or front wheel of a bicycle, and attach to a bike rack.
A bike trailer is a trailer that attaches to the rear wheel of the bike. This is not a wagon, a piece of farm equipment or a truck attachment, contrary to many inquiries – they are specially designed storage contraptions for bicycles, though it would be quite the experiment to haul around an industrial wagon on a cross-country bike trip.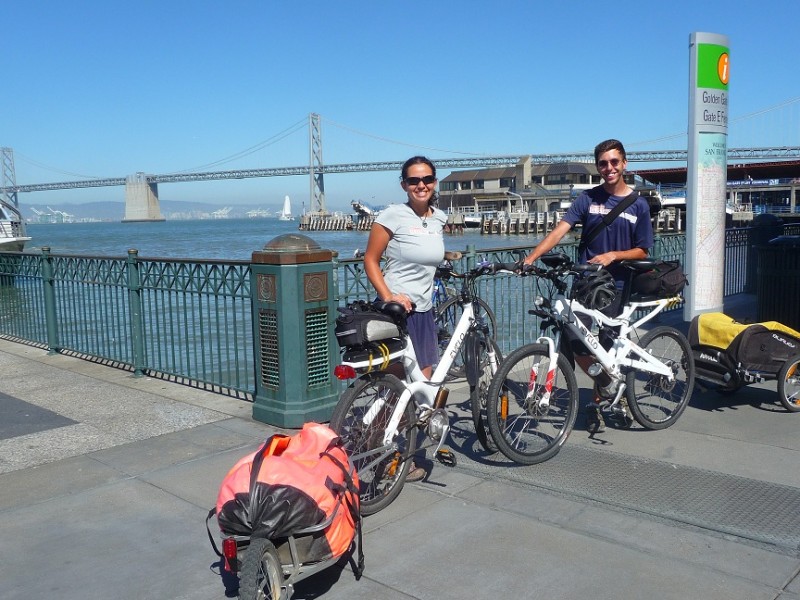 We were sponsored by a bike trailer design company called Burley and were graced with one of their own for the trip. So, one bike was set for storage.
For the second bike, we went with another trailer – a one-wheeled, steel, cargo carrier. There are mixed opinions about its functionality. Many love it. Those who aren't crazy about it say that the attachments tend to bend, and going downhill on steep grades is a hassle, because the wheel will wobble and throw the entire balance off. But, proper weight distribution and speed control can alleviate this issue.
Both of these trailers ended up working out quite well over the course of the journey. It's quite nice to be able to unstrap the trailer within a few seconds and then have the bike ready to go on its own whenever the situation called for it. However, if you're a light packer or going on a shorter trip, the panniers can be a great choice too!
Planning on Where to Sleep
A few years prior to this trip, we spent a month cycling through the South Island of New Zealand and we were camping outside nearly every night and essentially carried a temporary home in our panniers.
Not only were we flexible in where we could sleep, but if something were to happen, like a break-down, an injury, or a bad turn in the weather, we always had access to shelter.
Though the thought of camping during the Trans-American trip was certainly tempting, we decided against it. The nature of the U.S. trip was very different from our recreational pursuits in New Zealand.
We figured that we'd be riding through many cities, and sizeable towns with limited camping opportunities. Not only this, but our objective was to generate awareness about electric bicycles and have a social outlet which would enable us to do so. What better way to do this than to lodge in the homes of locals living in the cities we would be passing through?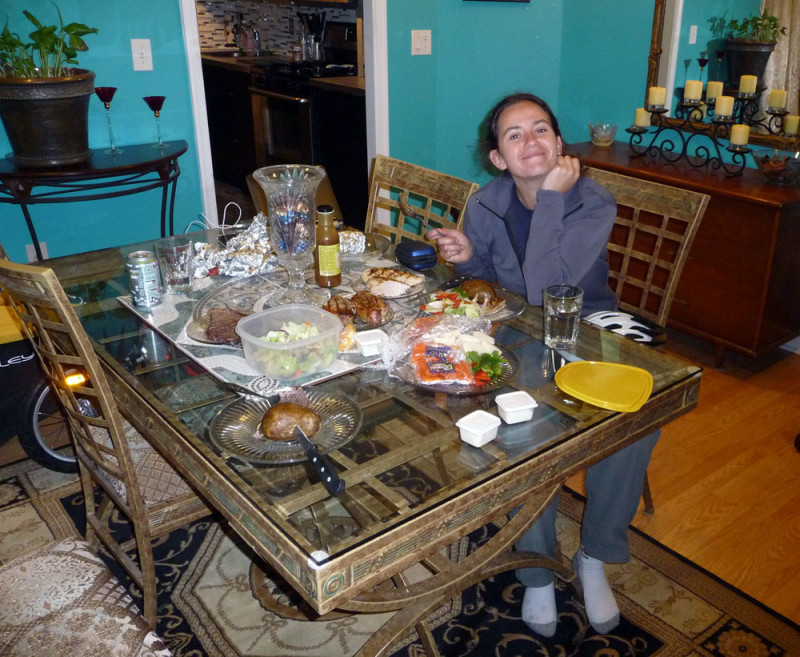 We were fortunate to receive a sponsorship from a company called Airbnb, an online network of hosts that rent out their available rooms and spaces to visiting guests. This was our primary form of lodging for the trip.
I'll be happy to extrapolate on the benefits of using sites like Airbnb, Warm Showers, and Couchsurfing for bicycle touring in a subsequent post!
Though we missed the fresh night air, campfires and starry skies we were grateful for the opportunity to meet and stay with people of all sorts. Also, let's face it, a comfortable bed isn't a sin to enjoy after a long day of cycling.
Off to a Rolling Start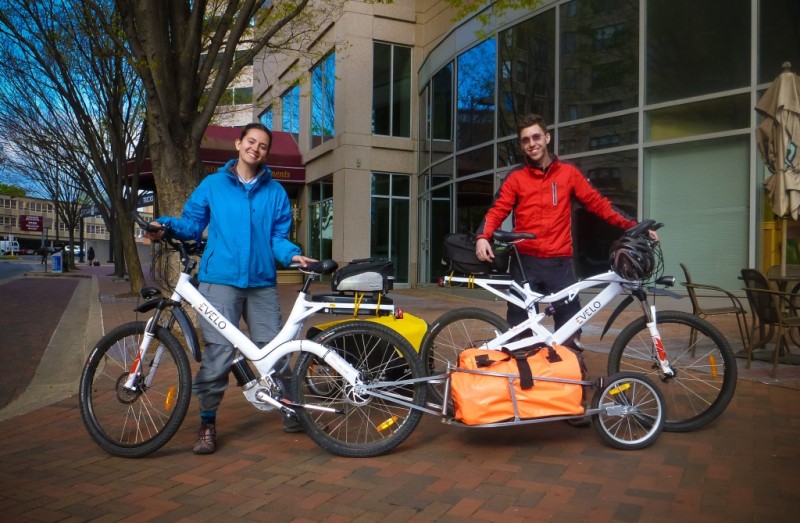 "It's fun to plan for it, but it's even more fun to actually do it" – and with that thought in mind, in May of 2012, my tour partner, Anna, and I began our Trans-American Electric Bike Journey from New York to San Francisco.
If you enjoyed this post, I'll be happy to share more articles about what it's like to do a cross-country electric bike tour, how to best prepare for your own journey of any length, and many lessons we learned and adventures we encountered along the way!
Boris Mordkovich is the CEO & Co-Founder of EVELO Electric Bicycle Company (stylish and comfortable e-bikes for the 99% of people who are not cyclists) who loves to build startups and learn languages.  Take a look Behind the Scenes at how Boris and his team is growing EVELO on their blog.
Now, checkout some of these other e-bike touring stories:
World record attempt for longest electric bike trip – nearly 10,000 miles!
European Electric Bike Tour: Not All Who Wander Are Lost – Part 1
Electric Bike Touring to Eurobike [VIDEO]
Electric Bike Touring: 3,300 Miles from Seattle WA to Washington D.C. on a Pedego Interceptor
Electric Bike Touring: 80 Year Old to Ride 2,500 Miles on an Easy Motion NEO Jet!
Electric Bike Touring in Croatia, Austria, & Italy's Dolomites
E-Biking to the Grand Canyon with the Ride the Future Tour Crew! [VIDEO]
Tour de Mongolia – A Solar Powered Electric Bike Tour! Lots of Pictures.
Electric Bike Tour In The Nepalese Himalaya!
Iceland Challenge Short Film: Electric Bike Touring in Iceland! [VIDEO]
An Electric Bike Tour Across the USA!
Are you interested in e-bike touring? Where would you like to ride?
Please leave your comments in the section below.
P.S. Don't forget to join the Electric Bike Report community for updates from the electric bike world, plus ebike riding and maintenance tips!
Reader Interactions