eBiking Scotland! Guide to Electric Bike Rentals/Hire [VIDEO]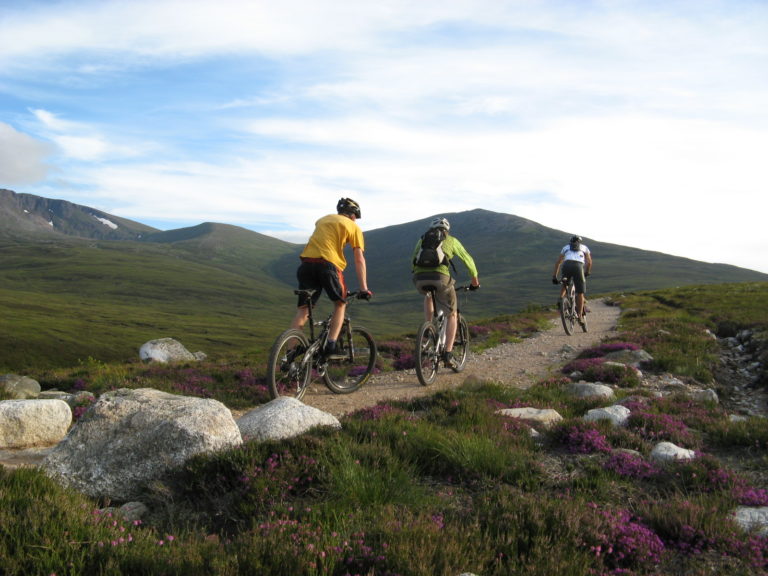 Scotland has many great places to ride an electric bike and there are a lot of places where you can rent/hire an eBike to ride and enjoy the scenery.
This guide to eBike rental/hire & eBike tryouts will help with planning an eBike holiday and it is also a good way to test a few eBikes before purchasing your own.
Whilst most dealers are happy to let you have a spin on a showroom model, rental/hire and try-out events give you the chance to get to grips more intimately with the riding qualities of different bikes.
Enjoy this eBiking guide and hopefully it will give you some ideas on new places to ride!

eBike Hire: The Borders and the Cities
Bike shop located at the extremely popular 7stanes mountain biking centre trailhead near Kirroughtree.
The E-Bikes: Yamaha-powered Haibike e-mtbs. Half day £25 / full day £35.
Local Riding Terrain: Colour graded mtb trails through the nearby forest.
Bike shop located at Newton Stewart near to the 7stanes Kirroughtree mtb centre. E-bike hire from £15 per half day.
Bike shop in the Garnock Valley.
The E-bikes: Shimano-powered models from Merida and Ridgeback. Delivery service available.
Local Riding Terrain: See below!
Hardtail e-mtb hire at this attractive border town in the Tweed Valley. £60 per day.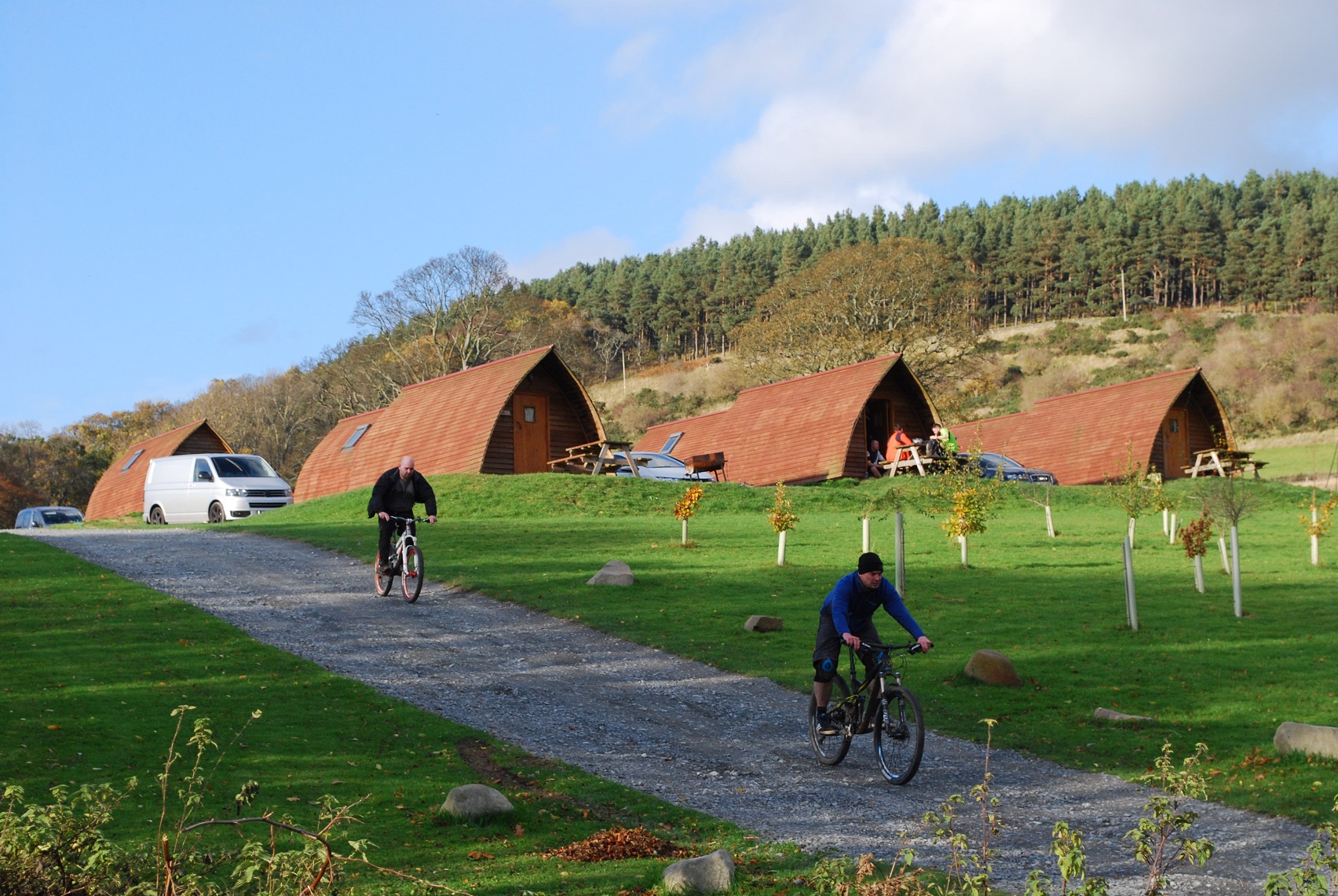 Based at the 7stanes mountain biking centre in the forest of Glentress with many graded trails.
Bike Hire on the Isle of Arran, reachable only by an hour's ferry ride from Ardrossan.
The E-bikes: Leisure styled models from the likes of IZIP and Raleigh. £6 per hour.
Local Riding Terrain: Unless you are cycling around the edge of the island it is likely to be extremely hilly! More advice on routes here and here.
E-bike hire based in Edinburgh and also organsing tours throughout the whole of Scotland. From £35 per day.
Ridgeback Electron e-bikes. £60 per day.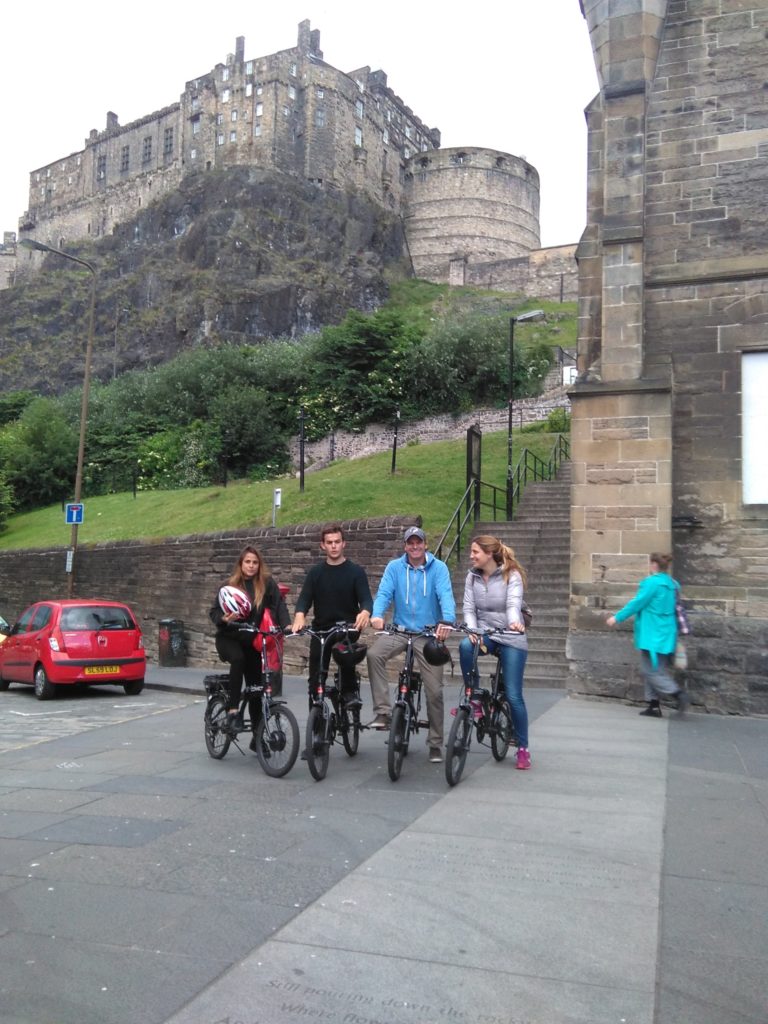 Guided and self-guided tours around the wonders of Scotland's historic capital city. See the castle built on an extinct volcano and the iconic view of the city from Calton Hill.
The E-bikes: There look to be a variety of e-bikes featured on the website, at least some of which are folders. Prices from £25 per day and £90 per week.
Local Riding Terrain: Edinburgh is a hilly city but it's also packed full of wonderful historical sights and the provision of bike lanes is pretty good – especially the lovely traffic-free George Street and the network of paths stretching from the city to its port, Leith.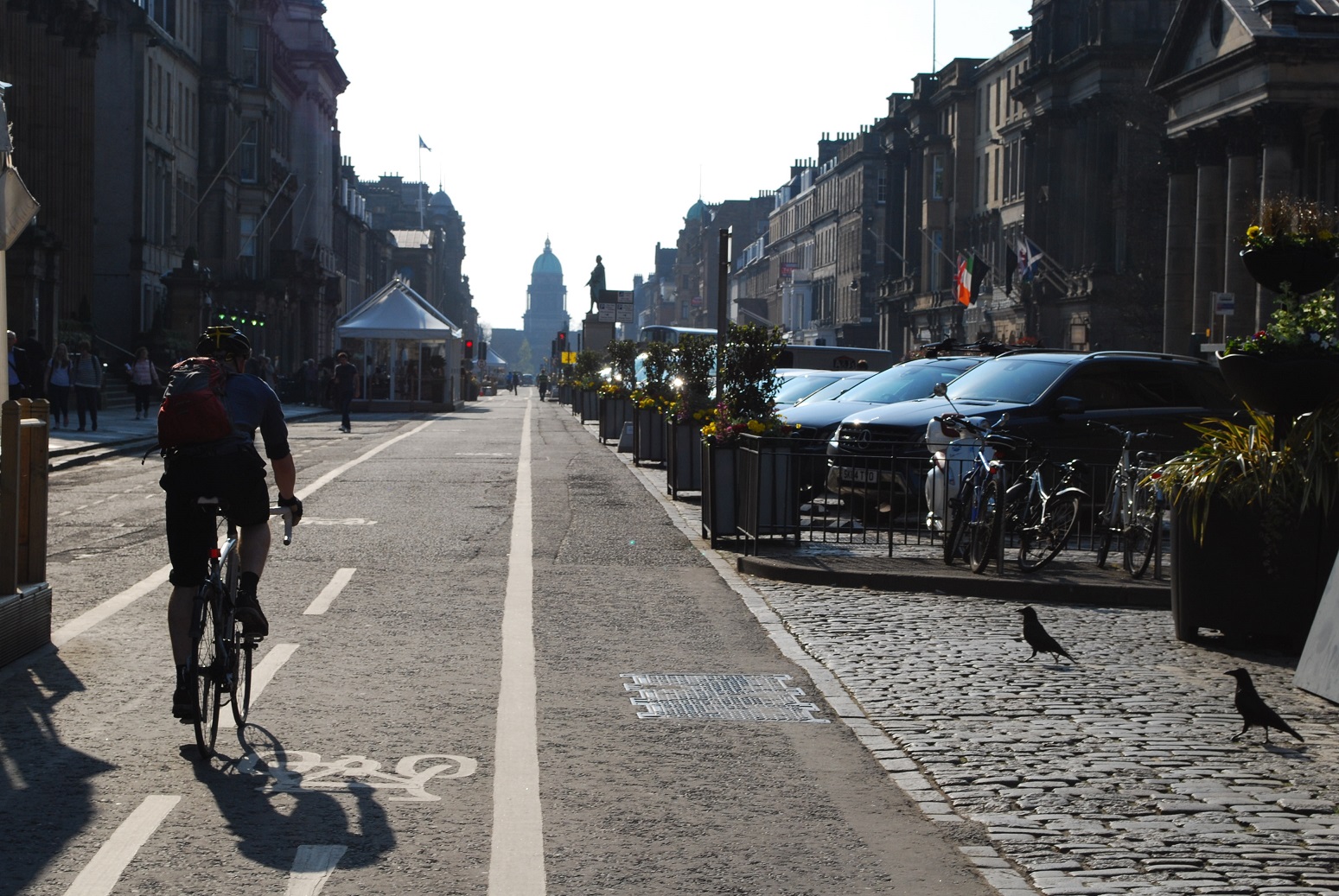 There are also plans for major new routes.
Guided and self-guided tours of the city and also the chance to visit the surrounding countryside such as the Trossachs and the Pentland Hills.
The E-bikes: Giant electric bikes from £20 per day (£25 single day). Delivery service of bikes within Edinburgh available.
Local Riding Terrain: Their suggestions include city centre rides but also a Sky to Sea route to experience the lovely countryside on the edge of the city.
Based in Dundee, on the Tay estuary, with some fine traffic-free urban riding and links to many of the long distance Sustrans routes that thread their way through Scotland. Gazelle e-bikes.
eBike Hire/Rentals: Highlands & Islands
Callander is on the eastern edge of the Trossachs National Park, and if it is lochs and highland scenery within reach of Glasgow or Edinburgh you want, then this is the place for you.
The E-bikes: E-mtbs and hybrids. From £40 per day.
Local Riding Terrain: A huge variety of all kinds of cycle routes on your doorstep.
Pitlochry is a tourist town that lies amidst some fine hill scenery, just south of the Cairngorms National Park. E-bikes from £19 for 4 hours.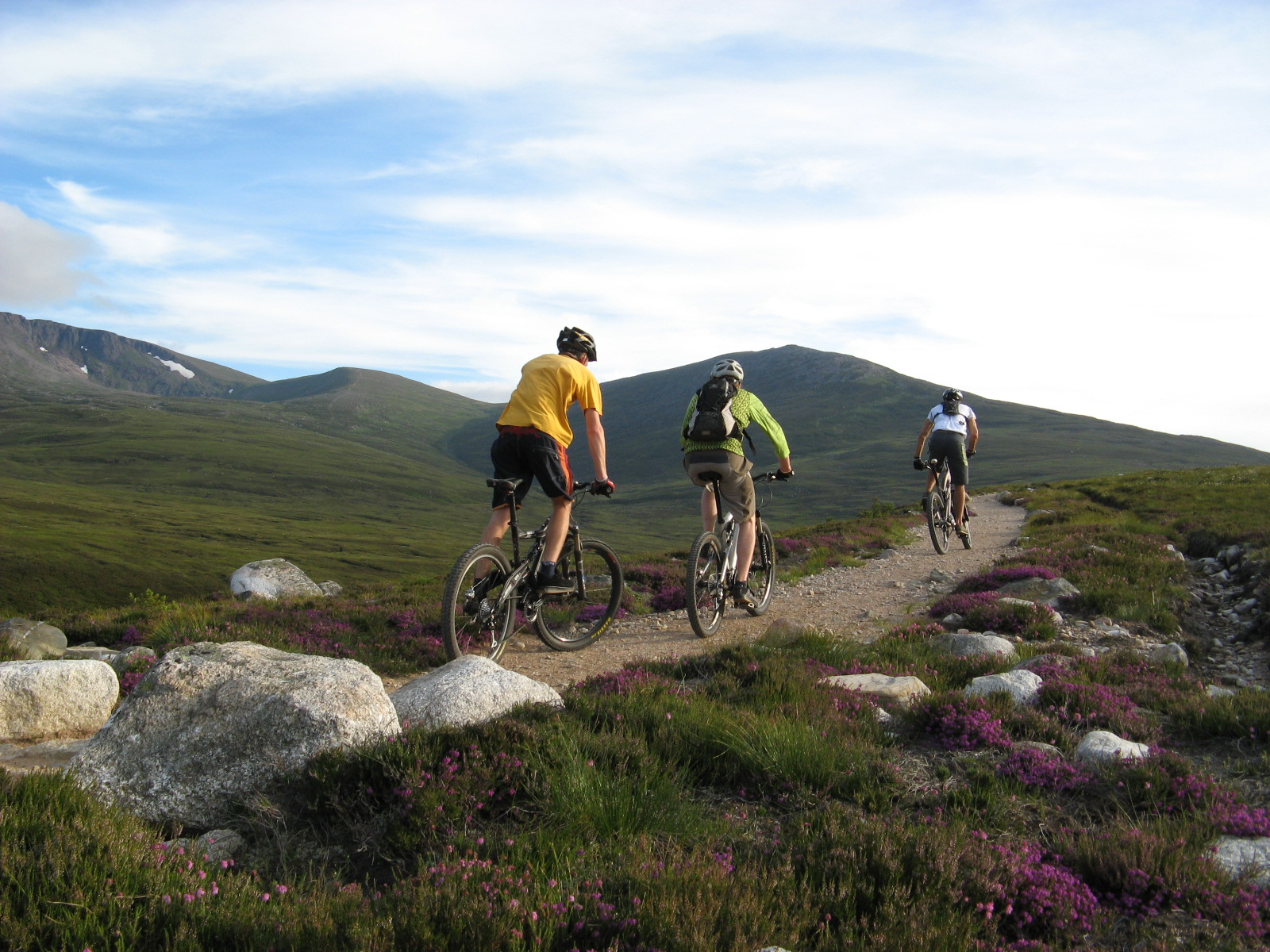 Aviemore is a tourist mecca, one of the few places in the UK to offer winter skiing and there are wonderful mountain trails for e-biking through the Cairngorms National Park.
The E-bikes: Scott E-scale Plus and Ridgeback Dualtrack X3 £40 per day
Local Riding Terrain: Wonderful family riding up the Speyside Way trail and along the local mountain trails, plus a chance to return by steam railway!
The Burma Road is a classic.
E-bikes: Hardtail e-mtbs and hybrids. From £35 per half day.
Local Riding Terrain: See previous entry. Also do tours of the local area.
This area of the Grampians National Park is known as Royal Deeside as the British Royal family have often holidayed at nearby Balmoral. Cycle Highlands boast 'the biggest bike hire fleet in Royal Deeside' and qualified mountain bike guiding.
The E-bikes: North-east Scotland dealer for Cannondale and Freego e-bikes.
Local Riding Terrain: Fine railpath riding and stunning cross-country trails.
Fort William is the second largest town in the Highlands and the self-proclaimed outdoor capital of the UK.
The E-bikes: Full suspension and hybrid models.
Local Riding Terrain: Everything easy off-road routes to extremely challenging…
The E-bikes: Hybrid e-bikes for roads and forest trails. Full day from £55
Local Riding Terrain: Excellent suggestions for routes on their doorstep from Offbeat Bikes here.
The E-bikes: Orbea e-bikes. Full day £30
Local Riding Terrain: From gentle towpath riding to more strenuous forest tracks along the Great Glen Way. Also stunning riding along the Caledonian Canal.
Inverness is the 'capital' of the Scottish Highlands and is based around the picturesque banks of the River Ness.
The E-bikes: Hybrid style e-bike hire from £35 per day.
Local Riding Terrain: As hilly or as easy as you want it to be. Inverness is at the eastern end of Loch Ness and you can ride the Loch Ness Trail.
Orkney is famous for its prehistoric settlement remains and its amazing beaches.
The E-bikes: Full day £30
Local Riding Terrain: Moderately hilly and very quiet roads as described here.
Enjoy your next ride and stay tuned for more e-bike news & reviews!
Thanks for reading.
-Richard
P.S. Don't forget to join the Electric Bike Report community for updates from the electric bike world, plus ebike riding and maintenance tips.
Reader Interactions