Adventure Touring with Electric Mountain Bikes – A Primer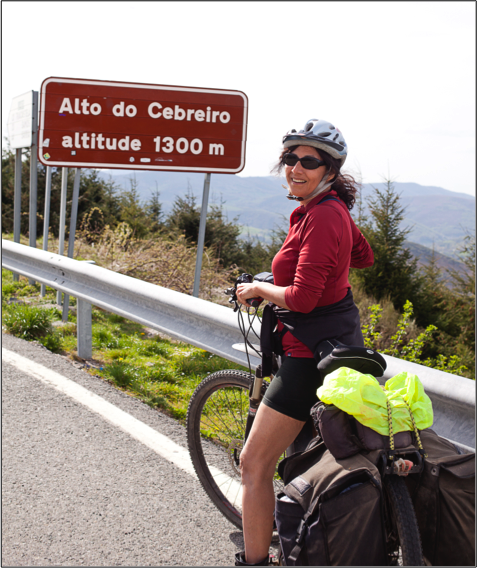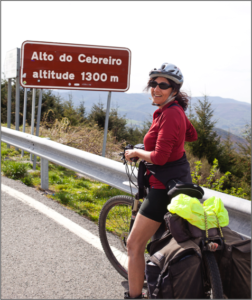 By Rob Katzenson
Fresh from the world's biggest bike convention, EuroBike 2017, we're eager to share the new equipment advances for the adventure touring sector using electric mountain bikes (eMTBs).
This article is the first in a series that reports on the emerging adventure touring sector using eMTBs.
The series spans all aspects of the sector from bikes to powertrains to storage to route mapping; offering readers a far-reaching review on gear and technology supporting this exhilarating cycling movement.
At EuroBike, Ortlieb, a German manufacturer of waterproof cycling storage bags rolled out its "bikepacking" product line of storage gear.
The company defines bikepacking as "an outdoor adventure that starts where bike touring stops: at the end of paved roads."
We call this adventure touring and expand on it by examining the electric-powered rides best suited to provide riders with rewarding bike touring adventures.
Adventure Touring
Adventure touring differs from traditional road or ebike hybrid/touring/trekking (HTT) in several key ways.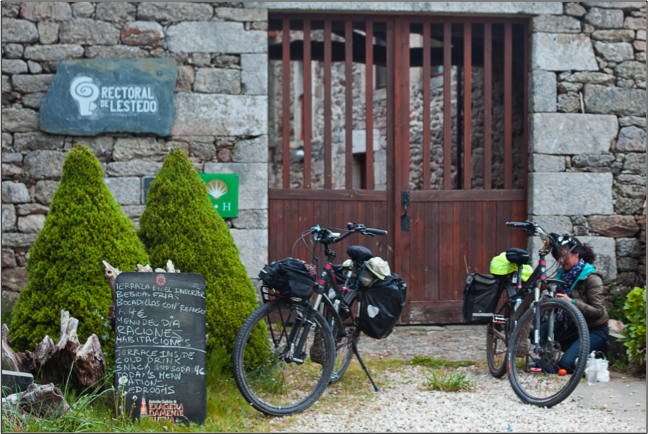 Adventurous routes are often a mix of paved roads and unpaved trails (from unpaved double-track up to mid-level single tracks), often located away from established support infrastructure.
eMTB touring requires a greater degree of rider self-sufficiency due to the need to carry gear and supplies and needing access to electric charging points.
The bikes need more powerful motor torque and more battery capacity to provide riders with greater range between charging points.
Also, they must to be built to withstand both unpaved trails and the added weight of touring gear and supplies.
The cycling company Cube has developed a rating system based on surface riding conditions that customers may find useful.
Using Cube's 0 – 6 scale we believe eMTB touring bikes can manage routes from a 0 – 4.5 range on the Cube scale – as some of rougher trails can require a short 'hike 'n bike'. Most loaded eMTBs and riders can't always safely navigate 1+ foot drops.
Ultimately, actual trail difficulty is up the rider. Adventure riding can range from an easy (20-30) miles day on pavement and some double track trails; to moderate (20-40+) miles a day on a mix of road and trail conditions – want to sleep in a room – no problem; to rougher rides (20 -?) on more challenging trails – want a few nights of camping – go right ahead.
What these off-the-beaten-track and less used routes do provide riders is access to spectacular vistas while moving at a pace that allows for riders to more intimately experience the landscapes and discover some of the beauty that backcountry touring has to offer. It can make for some rich and memorable experiences!
Hybrid/Touring/Trekking Bike Limitations
While manufacturers offer many electric HTT options, these bikes have design limitations that make them a poor choice for self-supported adventure touring off pavement.
Limits include drivetrain options that do not use the most powerful motors available and single batteries with inadequate range.
HTT riders who want to "cut the cord" in an effort to ride farther off the beaten track are frequently required to endure yet another beer while waiting for a battery charge to get back on the seat.
HTT bikes have frame geometry that isn't suited with more demanding, off-road conditions. Narrower front/rear fork tire clearances that restrict the use of beefier off road tires can make off-road riding more of a hindrance than an escape.
Undersized front shocks are unable to provide adequate damping of loaded bikes on gnarlier routes. Finally, 160/180mm disc brake system components, while adequate for road use, are not strong enough for sustained use on loaded bikes.
HTT ebikes excel in their role as an all-around town ride, a replacement for local car trips, multi-day tours on pavement with some seasonally well maintained unpaved surfaces thrown in, but for riders who want to go deeper, HTTs simply don't pack the muscle needed for more remote and backcountry adventure touring conditions.
What to Look for in a Adventure Ride eMTB
When looking at purchasing and setting up a rock-solid adventure ride eMTB there are three fundamental principles to follow that ensure top-notch riding experiences: versatility, reliability and repairability. We highlight these qualities below.
Versatility
I define versatility in an eMTB as having "many uses; moving easily between tasks and changeable". It gives riders a bike that exceeds requirements and expectations in a variety of riding conditions.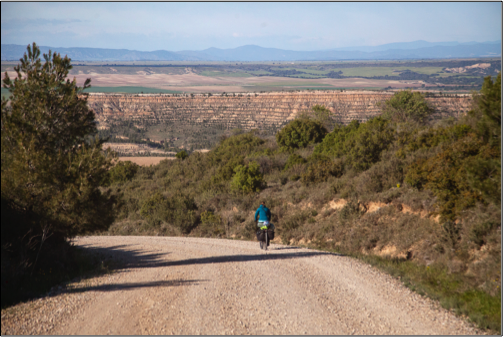 The robust construction quality of MTBs allows riders to tailor a bike to meet a wide variety of performance needs.
A well-thought through eMTB can seamlessly morph from a solid mid-level off-road trail ride into a commuter/shopping bike into a long distance adventure ride setup with just a couple of extra sets of tires (slicks for in town/road use, hybrid tires for a mix of pavement/off-road touring use and a set of enduro tires for rougher single track terrain).
Changing out a shallow angle handlebar stem (15° degrees) with an adjustable 15°– 60° degree stem offers riders a range of comfortable riding postures that are optimized for specific conditions. A durable frame-mounted rear rack and a trailer mount for those big hauls convert the bike to a pack mule in a flash.
Voila – three bikes in one!
Reliability
It all comes down to buying the best equipment and components you can afford and ensuring they exceed all of your user requirements. Slicing off a few ounces of weight at the expense of long-lasting functionality is the devil's bargain.
Over time the trade off will bring you far more headaches and heartburn than benefits. The electric drivetrain's function is to help assist you in moving the load – within reason buy the beefier item.
When selecting the drive train, buy the strongest legal mid-mount motor that you can (36 volts, 250 watts and 70Nh of torque is the recommended start point). The proven mid-motor OEMs (Bafang, Bosch, Brose, Panasonic, Shimano), Continental with their massive 48 volt integrated motor, and Vivax's outlier down tube geared bottom bracket deliver power in their own uniquely tailored ways.
What riders want is a seemingly bottomless supply of low-end torque power to drive the load up the trail. Gravity, load and grade will do the work on downhill runs.
Buy an aluminum frame because the first time you drop the bike, putting a nick into the featherweight carbon fiber frame, structural integrity descreases. It will only get worse from there.
Carbon frames are, as a rule, not very touring-friendly. The bike is a workhorse and it will need to be able to take some bumps and bruises. Roughing it up a bit comes with the territory.
For off-road riding go with 27.5 or 29 inch rims. I recommend upping the size of the hydraulic brakes to a minimum of 203-millimeter rotors on both the front and rear wheels.
Bigger is better and it'll decrease the frequency of maintenance sessions – don't forget the sintered disc pads either! Other components and sub-assemblies are more a matter of preference and are discussed in greater detail when we review specific bikes – more on this in the follow on articles.
A rear rack is a must have for touring which makes a hard tail, front suspension frame the near universal solution. Look carefully at this because a surprising number of hard tail frames don't have the threaded braze on rack attachments. Why they are missing I just don't know?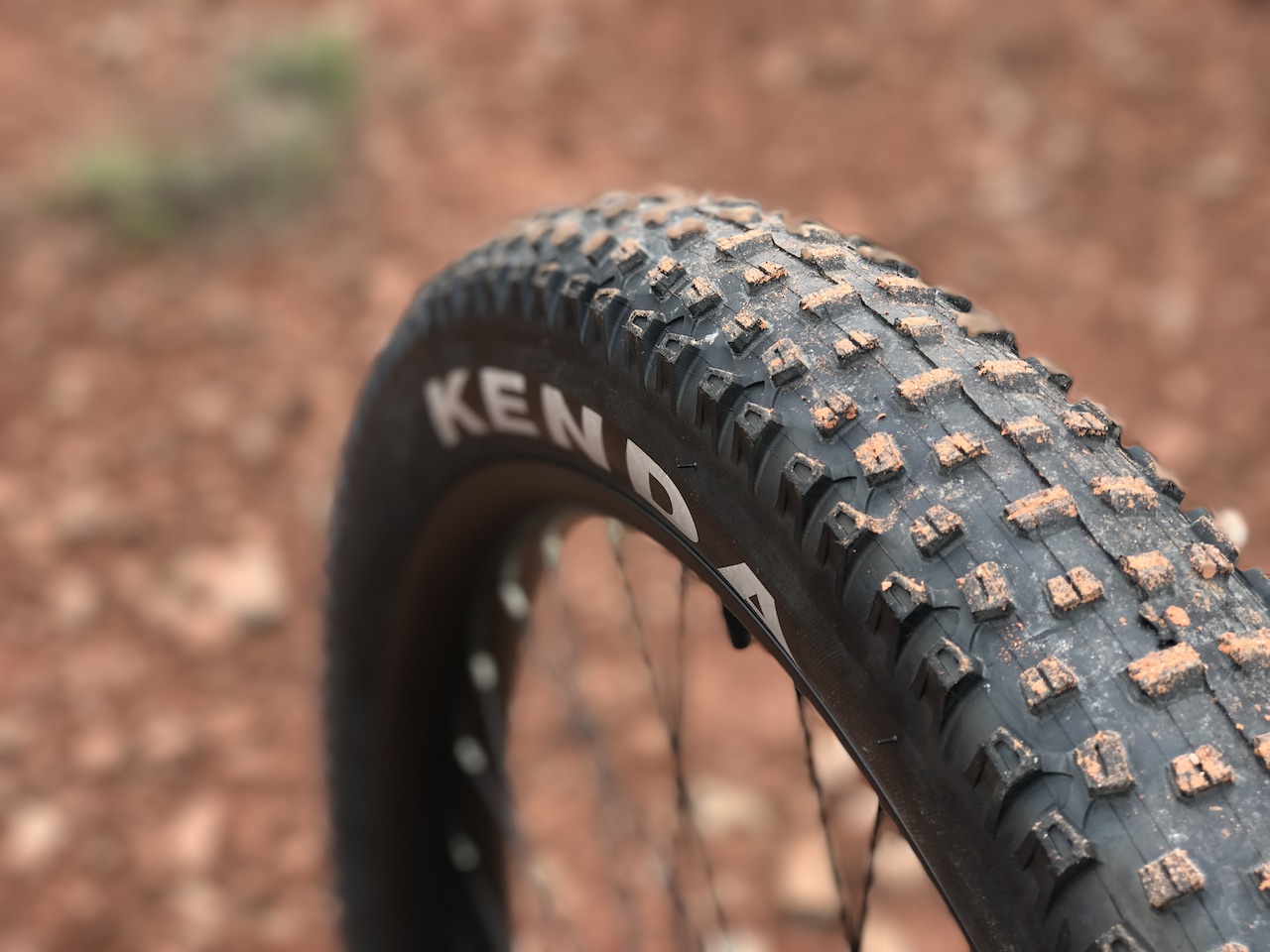 Wider plus size 2.6/2.8-inch tires and/or ……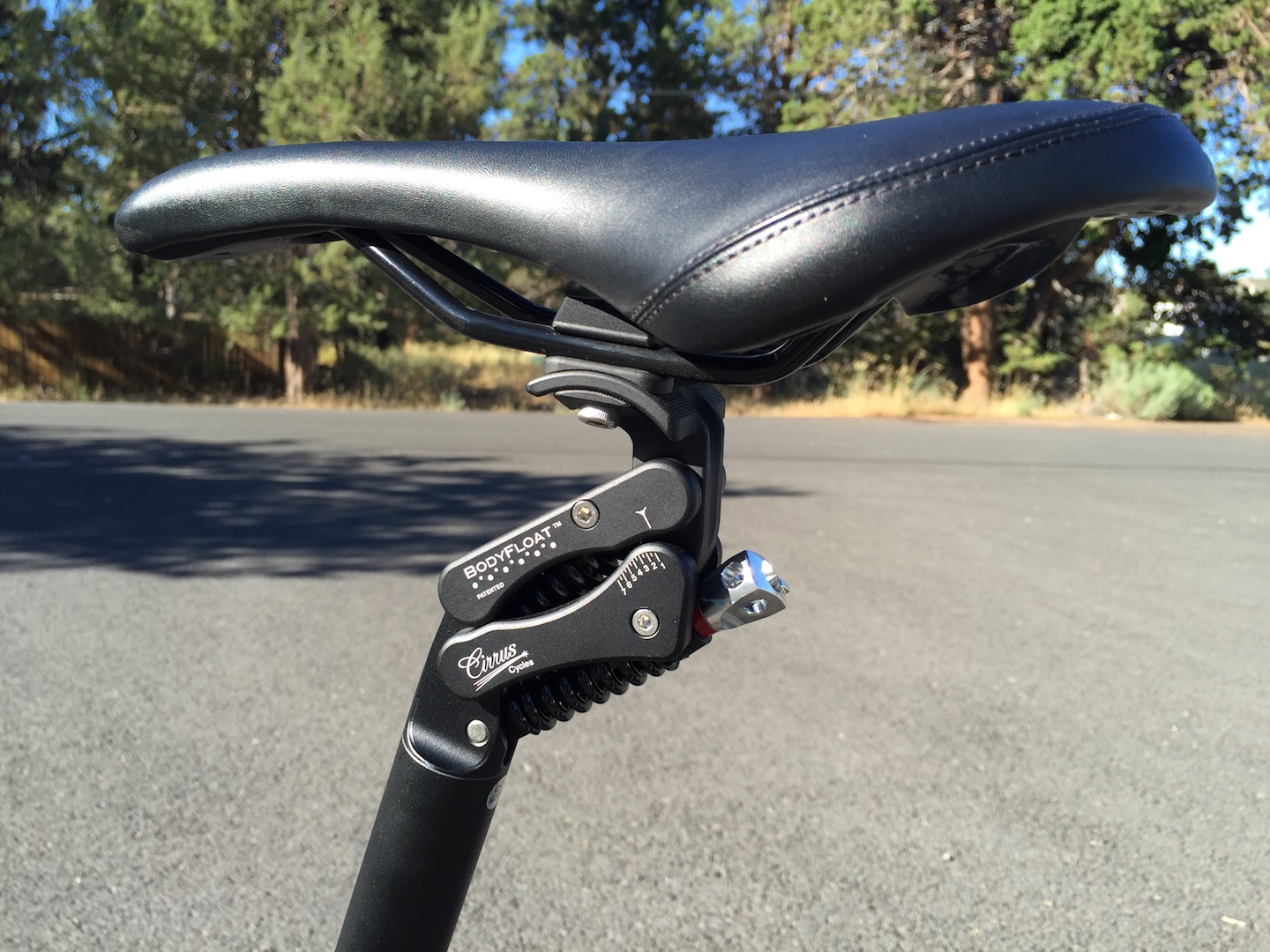 a shock damping seat post helps soften the hard tail's ride.
Full suspension models with threaded frame-mounted attachments on the rear stays are extremely rare – the only one we've seen is on Riese & Müller's Delite series. Mounting a rack and bags on rear fenders seems a bit dodgy.
I've had maintenance-free success with the rack frame mounts since I was knee-high to a pup and I see no reason to try something new. For habitual packrats I recommend a front rack and bags that work with the front shock fork set up.
Repairability
Given time and use everything breaks so being ready to fix things on the fly is an essential capability, especially when out on tour. Riders need to be able to jury rig a handy solution when required.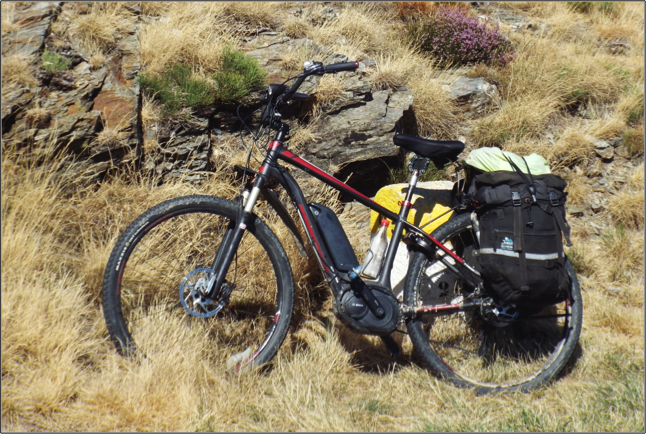 What this means for adventure ride cyclists is to buy components that are readily replaceable as widely as possible. Here are some tips.
The internally-geared rear hubs in lieu of a derailleur really clean up the back of a bike but if things go bad I'd be hard pressed to find a readily available replacement in the places where I ride.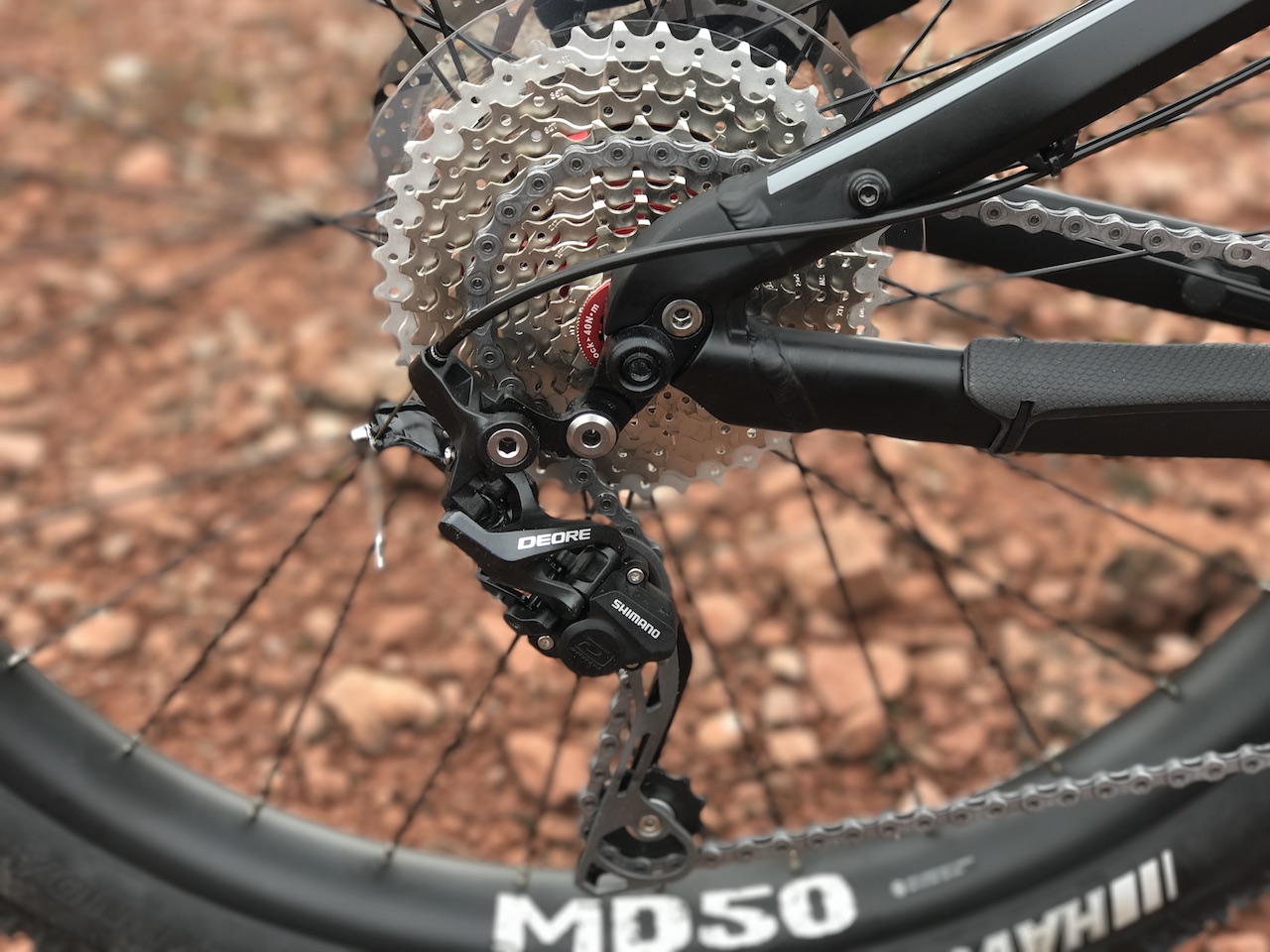 So I stay with what I know works – a derailleur. I can maneuver a quick fix should something go bad without too much trouble – that chain breaker can be a godsend.
I like standard wheels too. Should a wheel go bad, getting a new one and slapping on the rotor and rear cassette is basic compared to dinking around with one-off hubs.
Continental's new 48V Revolution drivetrain is applying Occam's Razor principle to biking with an integrated internal gearbox. Essentially, the gearing is integrated inside the mid-mounted motor assembly allowing the rear wheel to have a single gear – no derailleur, no cabling, no nothing – making the rear wheel identical to the back wheel on your first bike.
This allows for use of a belt drive, as no rear wheel shifter is necessary. Looks promising. Now we need to see how this stacks up to adventure eMTB use.
Brakes also need to be as simple as possible. I'm no Luddite when it comes to new cycling technology but the more links in the chain the greater the chance for failure. The new anti-lock braking system (ABS) technology seems to have some powerfully beneficial advantages for certain conditions and for older riders who are new to ebikes.
Still, the current hydraulic disc brakes are adequate and far simpler.
The same holds for the trend to integrate one's mobile phone to perform double duty as an ebike controller, which at first blush, seems to add an unnecessary layer of complexity to the ebike system. The phrase "keep it simple stupid" resonates for a reason. Let's abide by it.
The Recap
Adventure eMTB riding demands well-constructed bikes that can handle a wide range of conditions. Versatility, reliability and repairability are key.
It is better to have a ride that is over built than one that has limitations that can fail during punishing conditions away from support infrastructure.
Redundant design features (two batteries are better than one large capacity battery) allow for creative workarounds in tough situations – there is safety in numbers.
Stay away from fancy, hard-to-maintain gear that isn't fundamental to riding. Proven, simpler gear minimizes the possibility of tour-ending breakdowns.
Next Up
Next up in this series we move on to examine the core component of eMTBs – the powertrain system.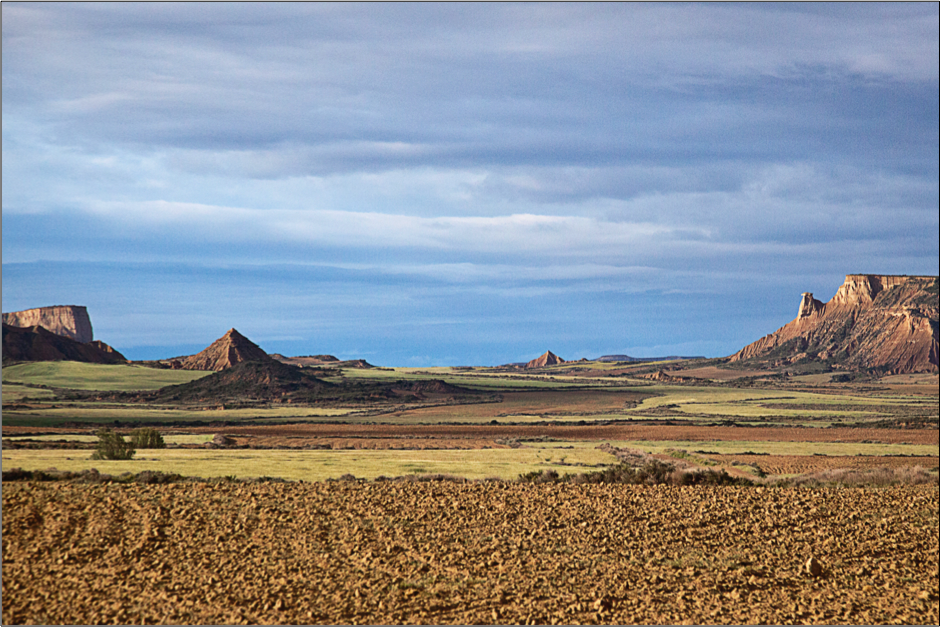 We'll review what's coming down the trail for 2018 with key OEMs – Bafang, Bosch, Brose, Continental, Panasonic, Shimano and Vivax.
Stay tuned!
Thanks to Rob Katzenson for this detailed post on eAdventure Touring.
P.S. Don't forget to join the Electric Bike Report community for updates from the electric bike world, plus ebike riding and maintenance tips!
Reader Interactions