A Bulletproof Electric Mountain Bike Set Up for Long-Distance Touring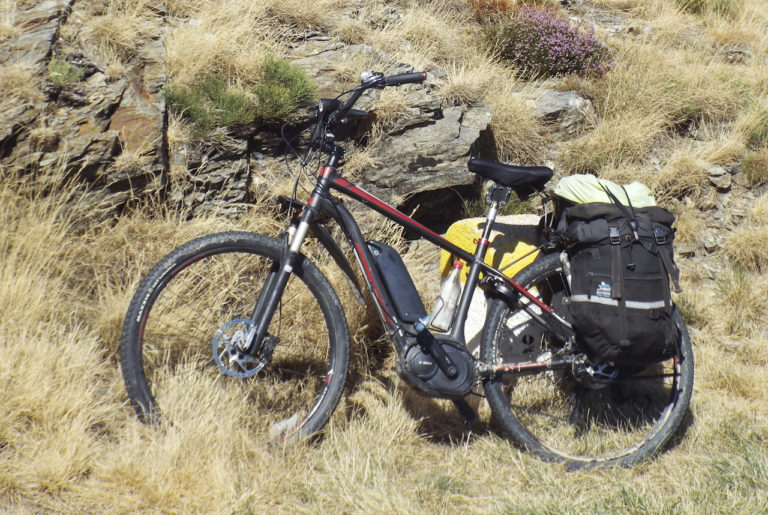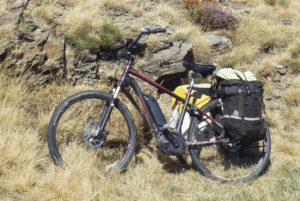 Article by Rob Katzenson and trip pictures & maps by Andrea Almering.
The day described in Little Feat's song "Old Folks Boogie" has arrived – When your mind makes a promise that your body can't fill.
The tough to swallow part is your brain doesn't realize your condition. You want the landscapes, the solitude and the body workout with minimal car contact.
The world offers heaps of places for these things BUT your body needs a little boost to make riding a pleasure – not a pain. Today's E-MTB's offer up a Middle Way for the rider whose days of pure human-powered, self-supported touring have dwindled.
Besides the physical realities you're fixing to put two kids through university and your moneybag has some limits. Rest easy – there is an answer!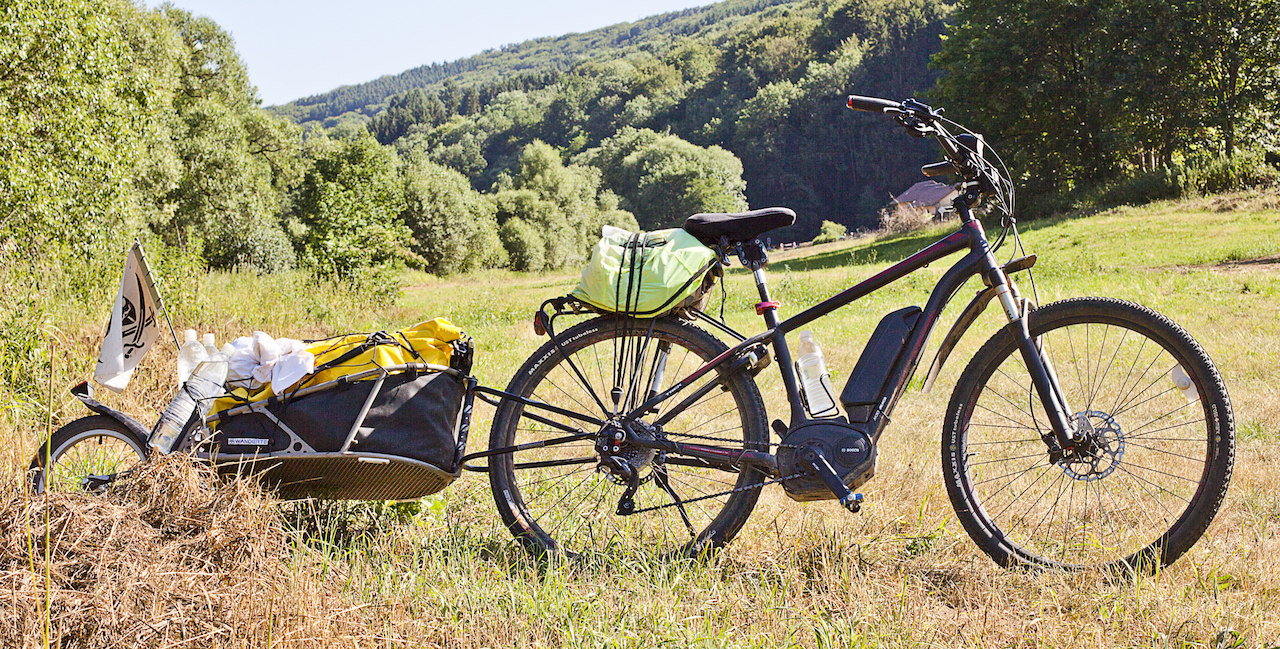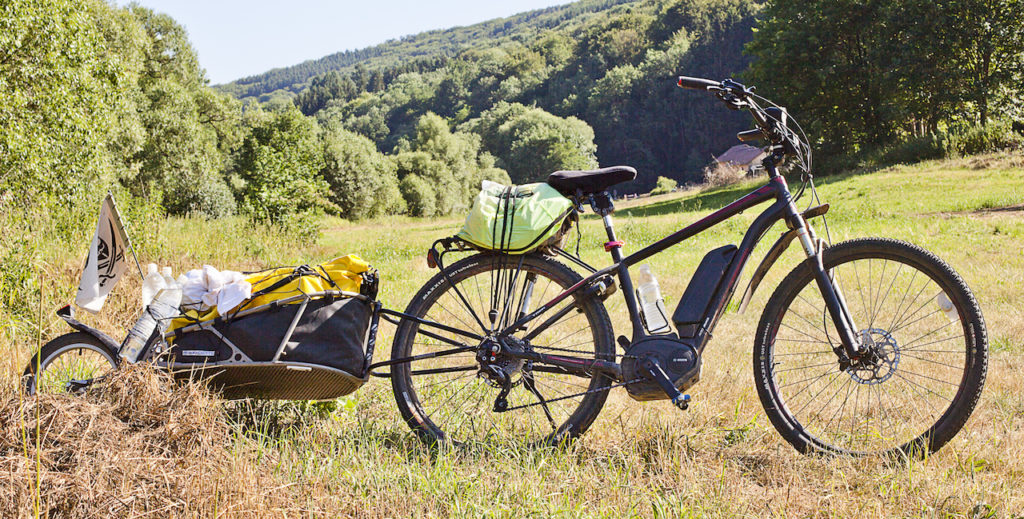 We took a solid, mid-priced Trek Powerfly +7 hardtail and made it a ride for all seasons – off-road, single track, family touring and a non-polluting commuter car replacement back at home.
Granted, it is a Middle Way meaning the bike can't be all things to all riders but excluding some gnarly gonzo-abusive single track sections this rig will get you over nearly all off-pavement tracks with a minimum of hike 'n bike portages.
The Baseline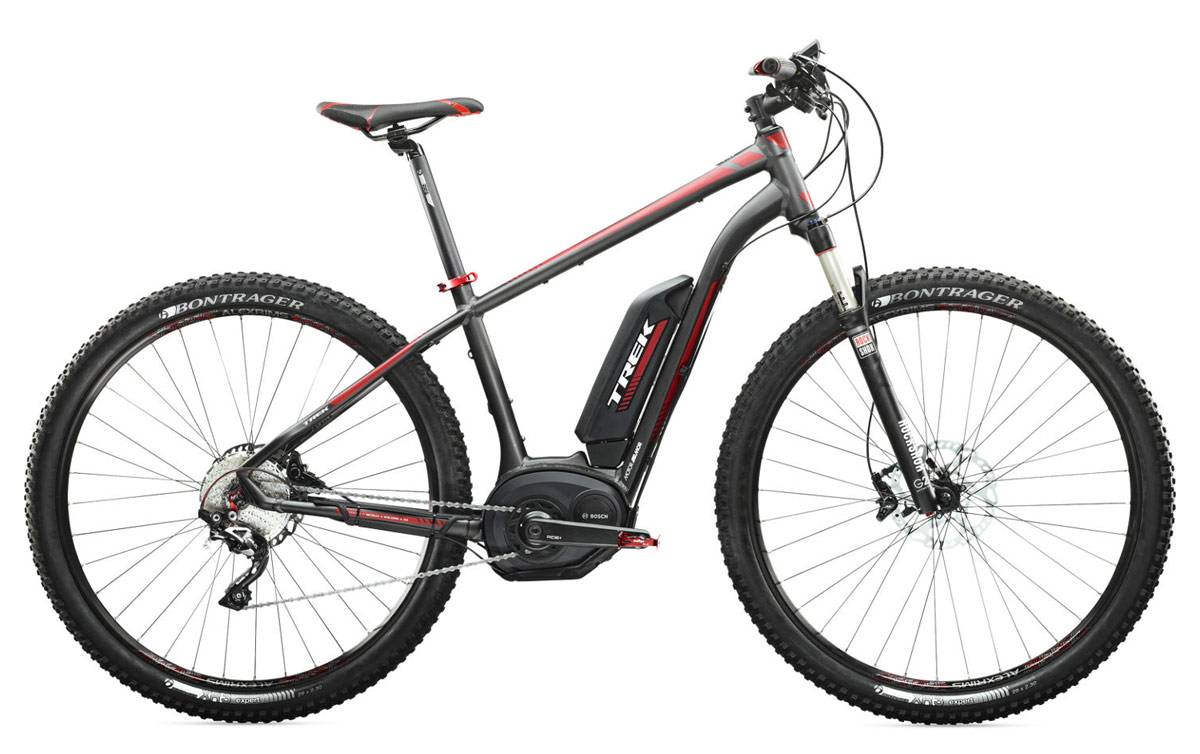 The Trek Powerfly+ 7 29'er hard tail came with a mid-mount 250-watt Bosch Performance motor and a frame mounted 400-watt battery. The ride required a rework from a pure hard tail trailer to an unfailing touring workhorse and we run you through our modifications from handlebar to rear rack.
Steering/Lights
The Bontrager Race Lite stem and Low Riser handlebar make for a long day of touring. We changed out to a gooseneck stem with up to 60 degrees of rotation and installed a sweptback riser handlebar for a more upright riding posture –we want to enjoy the views.
Risers limit a rider's climbing power but we offset that with the Bosch motor. We added a rechargeable Ikzi 20-lux light for late days of riding.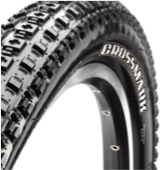 Wheels/Fenders
We stayed with the stock Shimano Deore hubs and 36-hole Alex TRS Disc rims but replaced the knobby Bontrager XR Expert tires with a set of Maxxis 29 x 2.10 CrossMark 60 TPI Tubeless ones for more versatility.
We sacrificed some trail performance but for multiple surfaces the change is well worth it. We added an SKS Shockboard fender for front wheel mud control.
Seatpost
After debating between swapping the Bontrager SSR for a dropper post or getting more shock protection we opted for the Cane Creek Thudbuster ST stem. The longer ride's needed comfort took priority to split second adjustments.
When diving for danger down Fruita's Troy Built first steep and deep drop section carrying 25+ kilos of gear I just dismount and readjust the seat height manually.
RACKS
For long trips we chose an Old Man Mountain Pioneer front rack for fork-mounted, front shock setups. The big 12" x 6" bed accepts a JANDD Rear Rac Pack – and the rack is easy to remove if you don't need the added capacity.
For the rear rack we selected an off-the-shelf rack that attaches to a rear wheel security lock bolted to the frame and rear stay mounts. Oversized JANDD saddlebags and a second Rear Rac Pack topped things off.
Ride balance is good with insignificant front wheel float. For gnarly multiday trips like the epic Kokopelli PLUS route (Fruita – Moab – La Sal – Gateway – Palisade loop) this two rack/bag setup is your best best.
Trailer
When hauling gear for the entire family (because all of a sudden everyone just isn't that strong a rider after all) nothing beats BOB's single-wheel IBEX trailer.
It tracks like a dream on all but the worst surfaces and carries upwards of 30 kilos of gear. Plus it's four water cage mounts stores hydrating fluids in camel quenching quantities.
The Low Down
We could go on about the different component options for brakes, shifters, gearing, pedals etc. but given that these are primarily a function of money (and money spent reduces weight and adds some performance) we say this tour set up handles the Middle Way without a hitch. Shaving off a few kilos by upgrading the frame and components would make things easier but let's remember that college bill!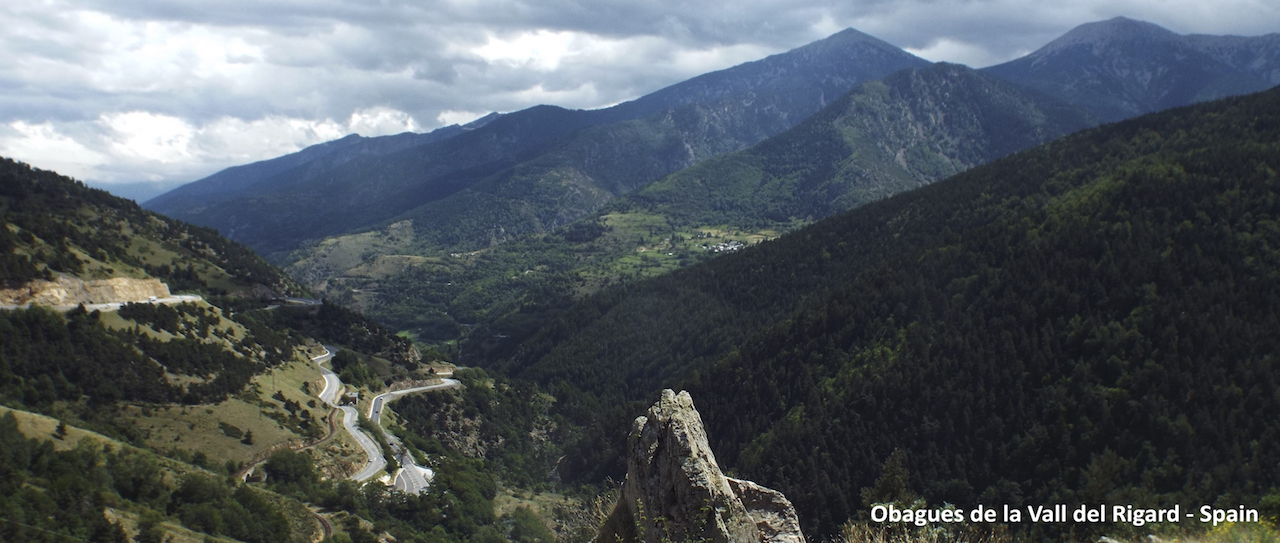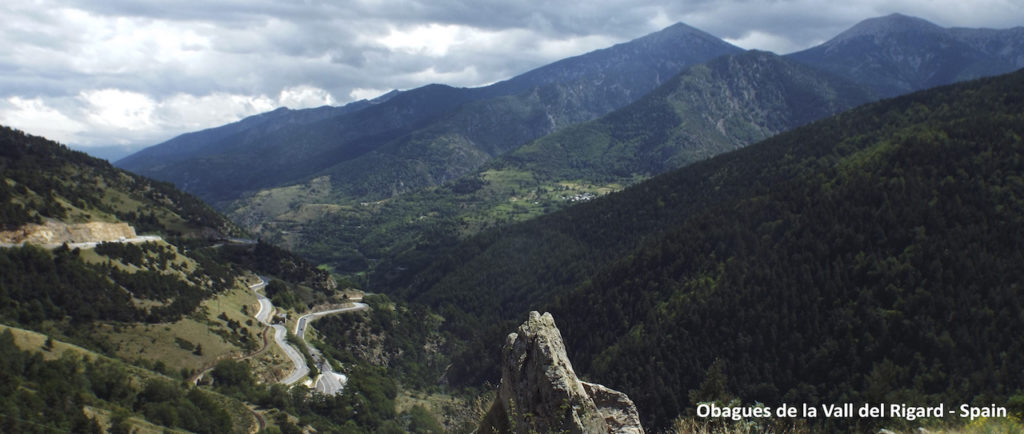 Pro's
Trek's Powerfly+ 7 is a solid mid-priced performer and has everything needed for an uncomplicated long distance touring conversion project
The Bosch Performance engine delivers plenty of reliable power and torque day in, day out.
Mid-motor design means standard hubs making any on-tour wheel repair a no-brainer – same for the derailleur/drive train setup!
The bike is fun to ride with the relaxed posture setup and all you need for touring/commuting is hanging on the bike –from night riding – to rain – to pack rat loving storage.
Cons
The Bosch controller doesn't allow for integrated GPX route charting capabilities and IPhone charging (hopefully the revamped Nyon controller overcomes this omission).
For riders on 15.5"/17.5" frames a set of 27.5" rims may offer better low-speed uphill maneuverability.
Beefier brakes (brawny 200 millimeter discs for the front wheel) are needed to effectively stop these heavier touring loads.
The Wish List
Since two batteries are needed for self-supported e-mtb touring a dual frame/rack mounted configuration with both batteries mounted, locked to the bike and ready for use/charging. This set-up frees up storage space where the spare battery would be stored when not attached to the bike and minimizes the potential for theft.
A compass function on the controller and more torque/power in the "walk assistance" mode to account for a fully loaded touring setup would be welcomed.
The Upshot – What It all means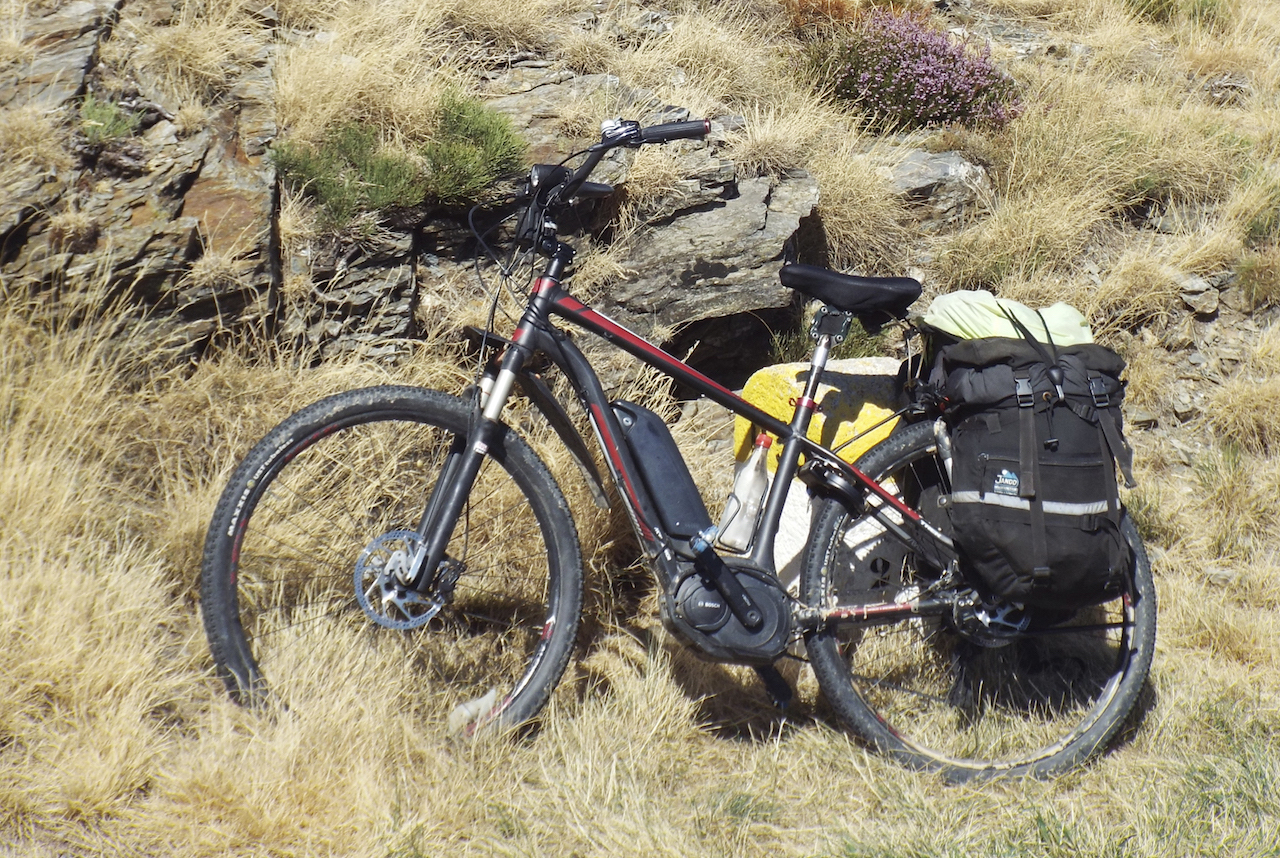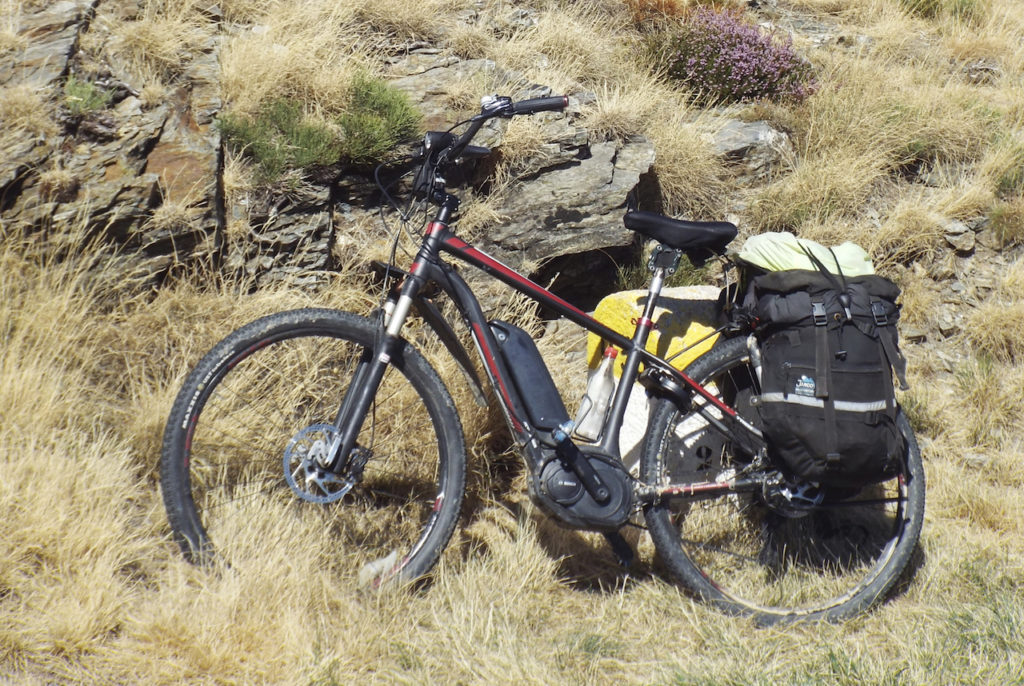 After upgrading this bike riders can look forward to long distance touring without blowing out their knees. As with all e-bikes the range one gets from a battery is based on a lot of variables (rider strength, load, terrain, air temperature and power selection). Bosch's latest batteries offer a strapping 500-watt rating (20% more capacity than their 400-watt version).
Sometime in 2017 or in the 2018 model year Bosch-powered e-mtb's will offer a two-battery setup of either two frame-mounted batteries or a frame AND a rack mounted battery. We believe this option will help the e-mtb touring sector expand.
In real world conditions one can assume between 40-120 kilometers per charge with watchful power management (meaning using Eco mode except for steep grades and motor shutoff on downhills). For long-distance expeditions away from power and to dodge spending most of your day off the seat charging batteries riders need a second battery.
Two 500-watt batteries, coupled with sound power management, provides a fully loaded rider up to 240 kilometers of range. Enough for a several day expedition into some big-time backcountry viewsheds.
2015 Travelogue
Recently we took this e-mtb setup on four separate self-supported tours through various terrain in Europe. We put over 3,500 kilometers on the bikes in approximately four weeks.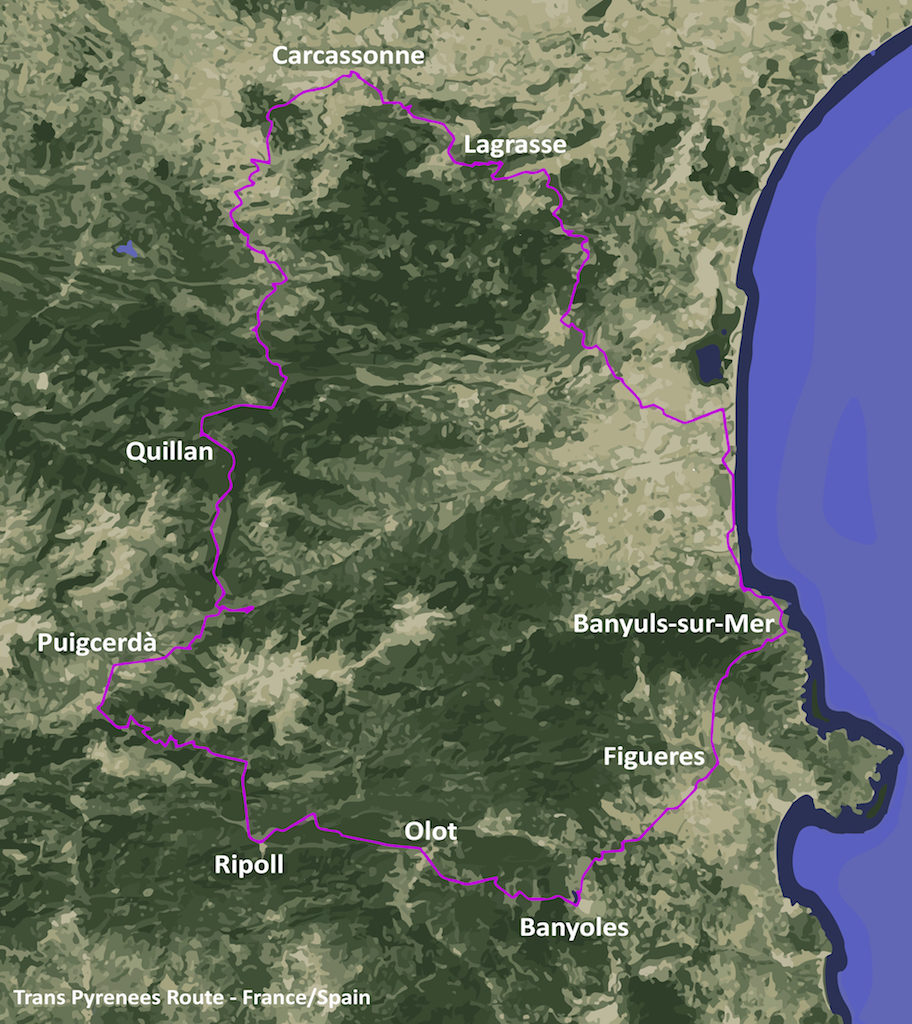 Trip 1 went through the Ardennes from Maastricht, The Netherlands through Germany, Luxembourg and Belgium.
Trip 2 was a more leisurely tour through the France's Loire Valley from Gennes to Chambord (with Ibex trailer in tow).
Trip 3 was a circular Trans-Pyrennes up and down route from LaGrasse, France into Catalan Spain and back to LaGrasse via Carcassone.
And Trip 4 was a idyllic week exploring France's High Cevennes – a UNESCO World Heritage region – that affords riders a mix of road, track and trail.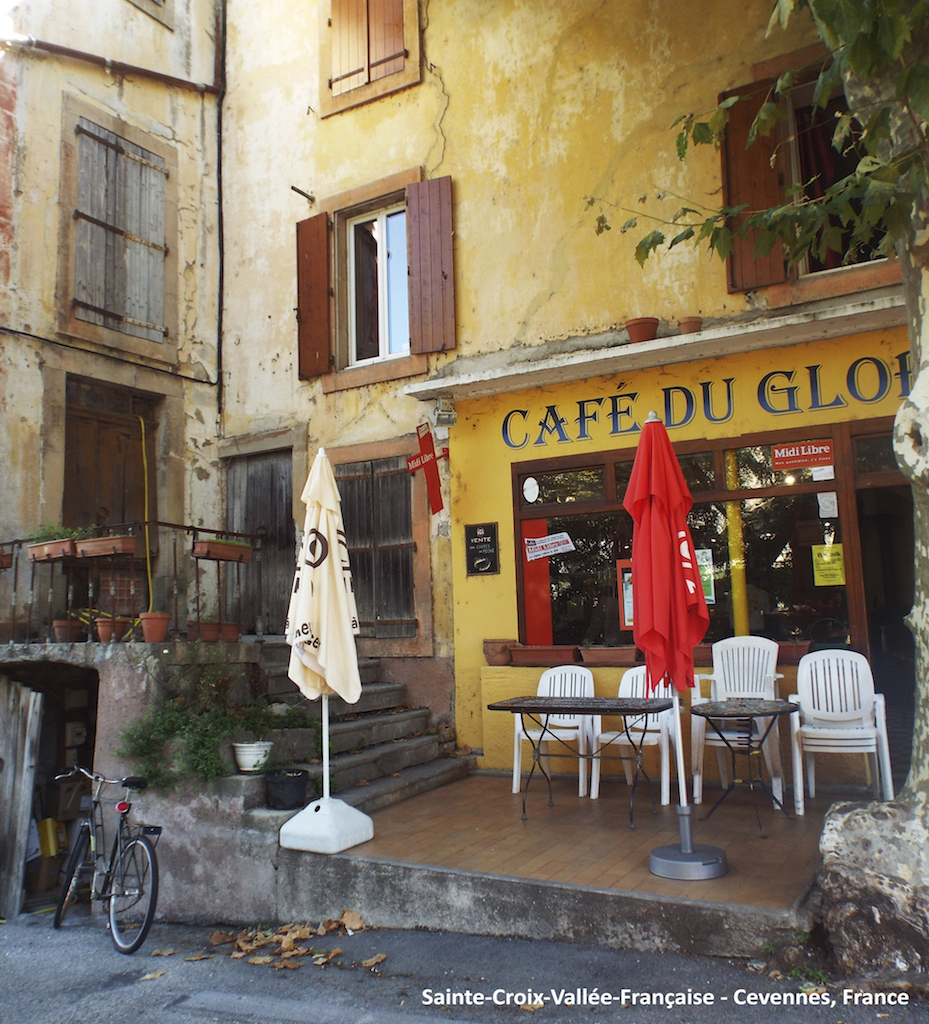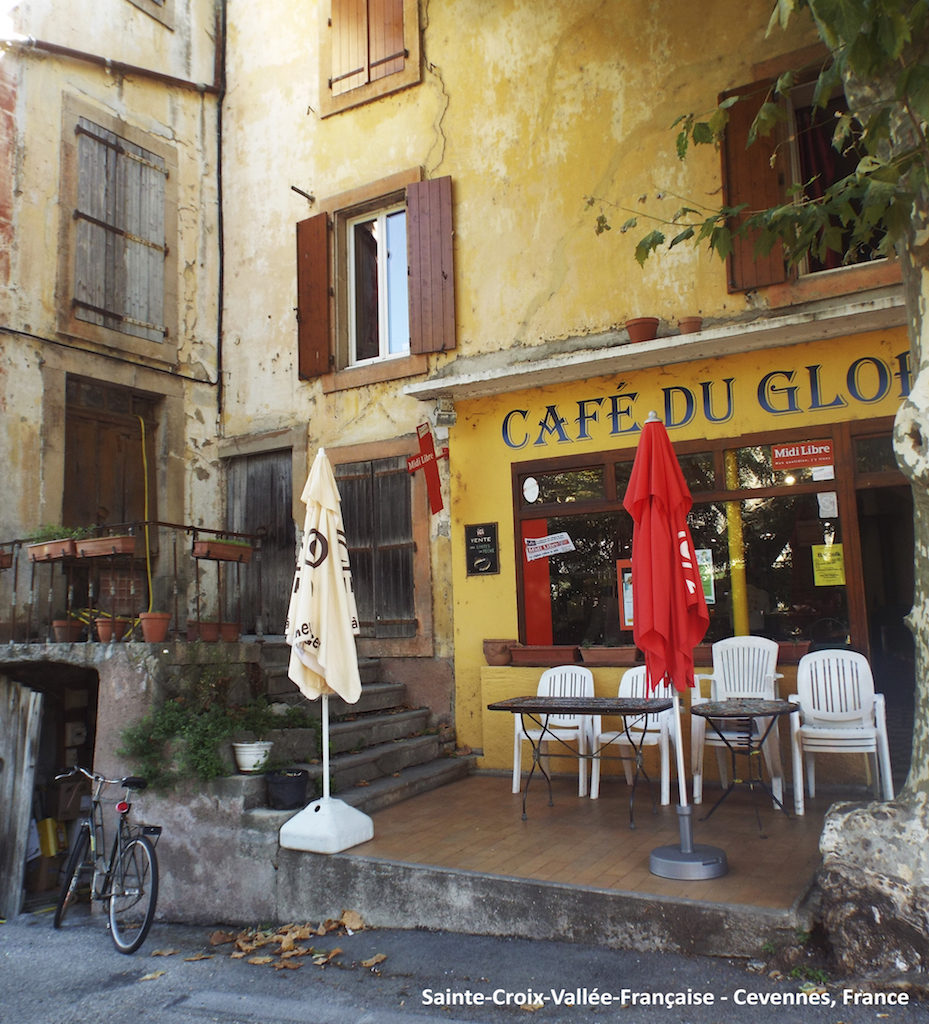 On the tours we averaged between 9-11 miles per hour depending on topography and surface conditions beause European Union sold bikes have a 15 mph limit as opposed to the US limit of 20 mph).
We believe that full outfitted e-mtb touring demands between 50-70% of the physical effort compared to non-motorized trips even though the ride time on the saddle is close to touring on a standard huff 'n puff pushbike. That 30-50% differential makes a world of difference.
Thanks to Rob Katzenson for this guest post and Andrea Almering for the trip pictures and maps.
P.S. Don't forget to join the Electric Bike Report community for updates from the electric bike world, plus ebike riding and maintenance tips!
Reader Interactions