London by Electric Bike: Guide to Parks and Gardens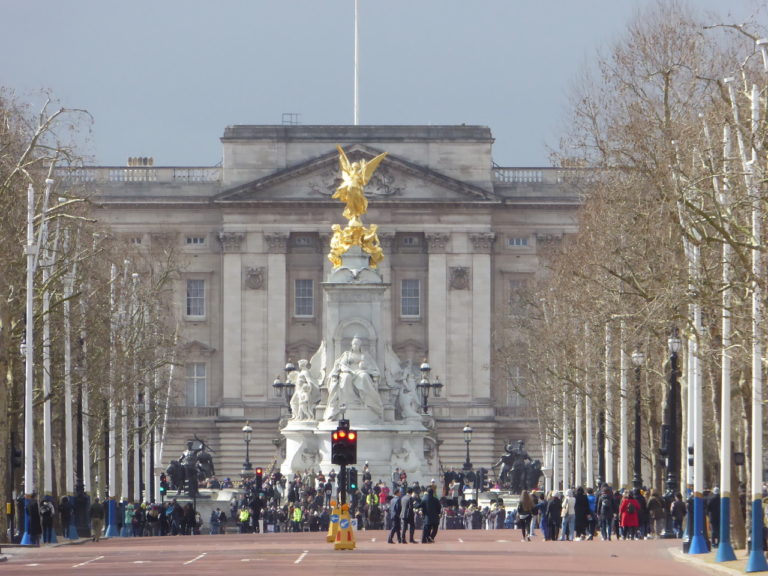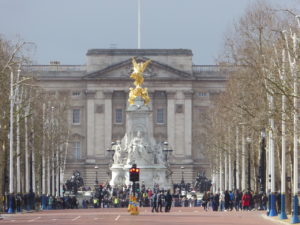 Great British Rides – London Parks and Gardens
Not that long ago people might have thought you a touch crazy if you said you were going on a cycle trip around London.
But, thanks to concerted efforts by successive London mayors, there are now many miles of high quality 'cycling superhighway' segregated from traffic to add to the many fine paths through the spacious Royal Parks.
Add to this the effects of the Congestion Charge, which has meant far fewer motor vehicles on central London roads than there used to be, and you can why cycling rates in central London continue to rise and rise.
This route lets you see a plethora of the main tourist attractions in London, including the Houses of Parliament, Buckingham Palace and Kensington Palace combining them with some lovely traffic-free riding through acres of gloriously landscaped open space in the form of the Royal Parks; St James, Green, Hyde and Regent's Parks.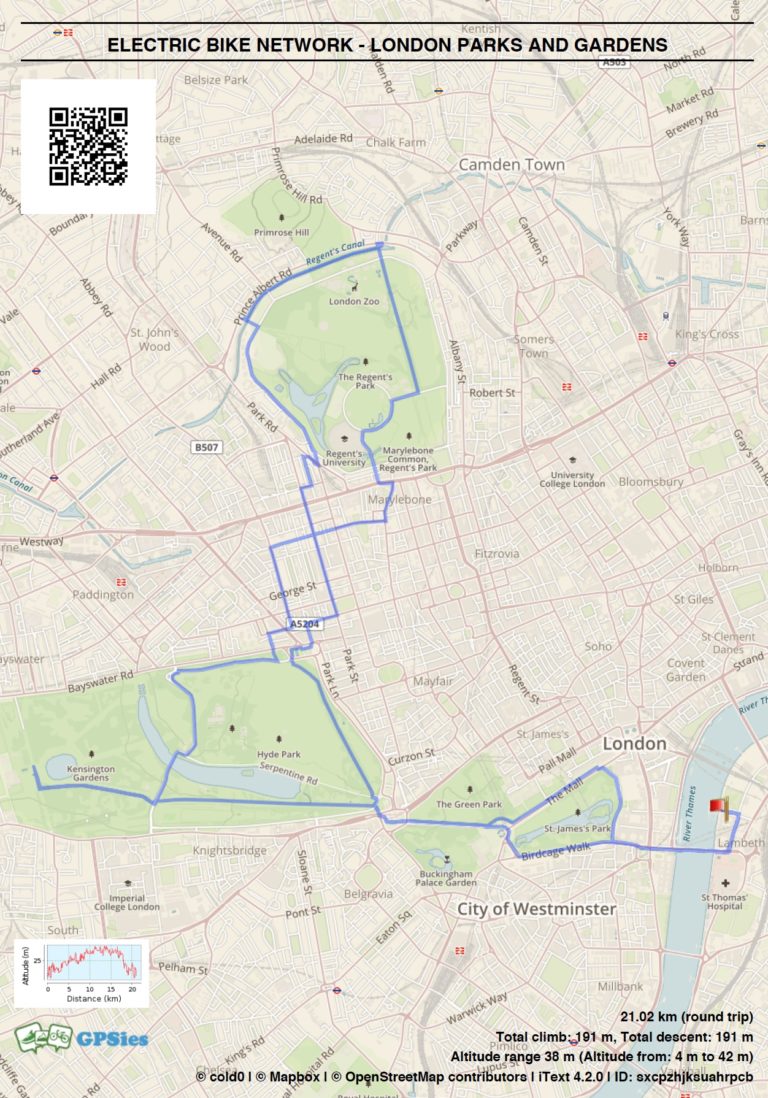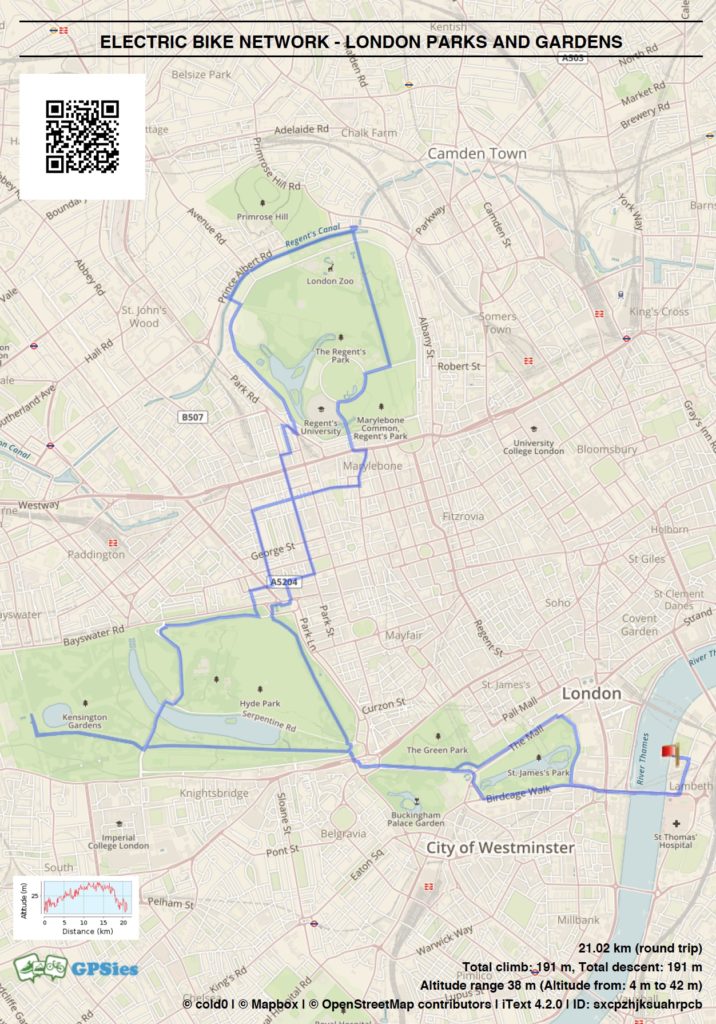 Here is a link to download a PDF of this map and a GPX file link.
Enjoy this eBiking guide and hopefully it will give you some ideas on new places to visit & ride!
What You can See – Route Detail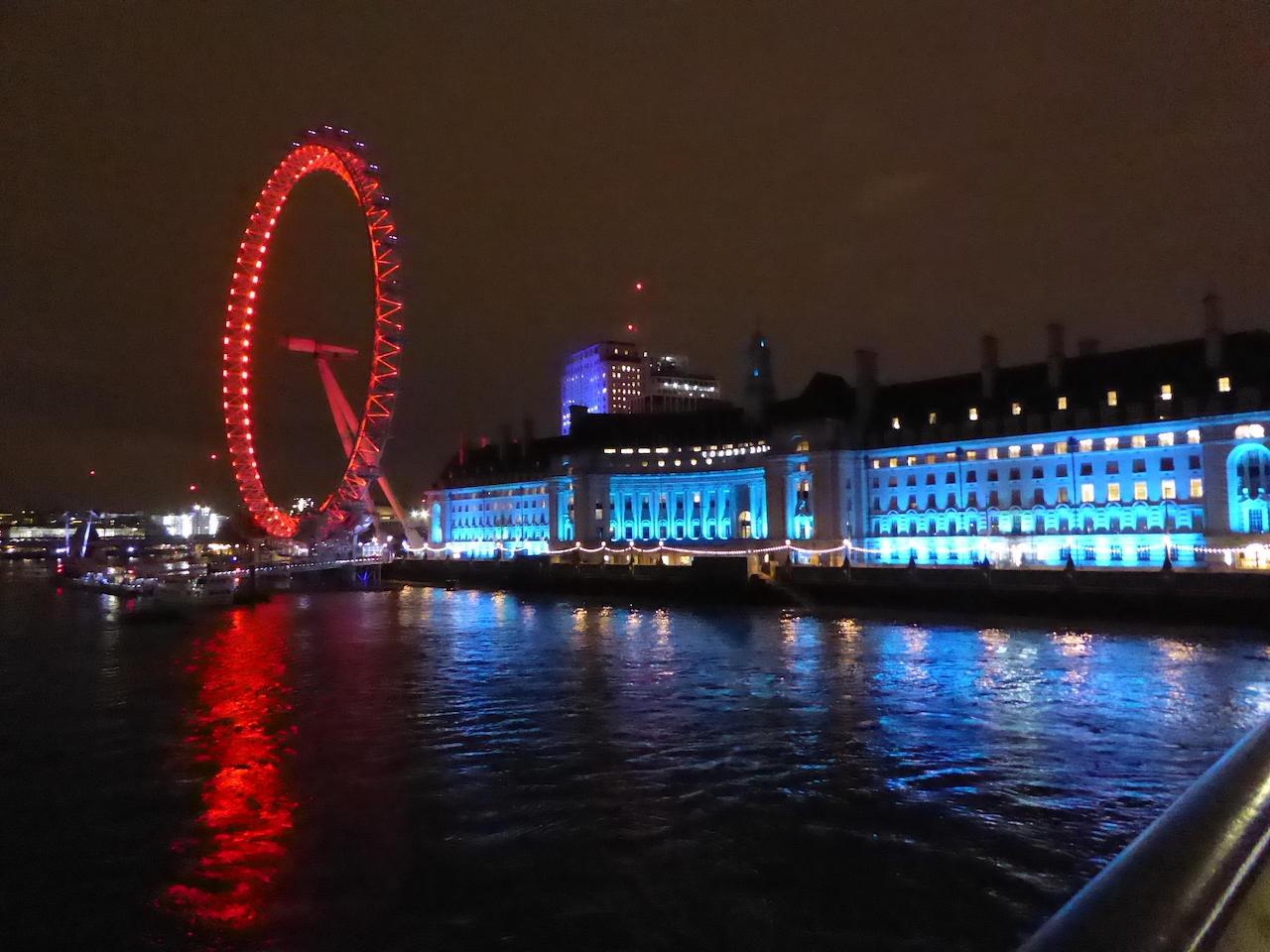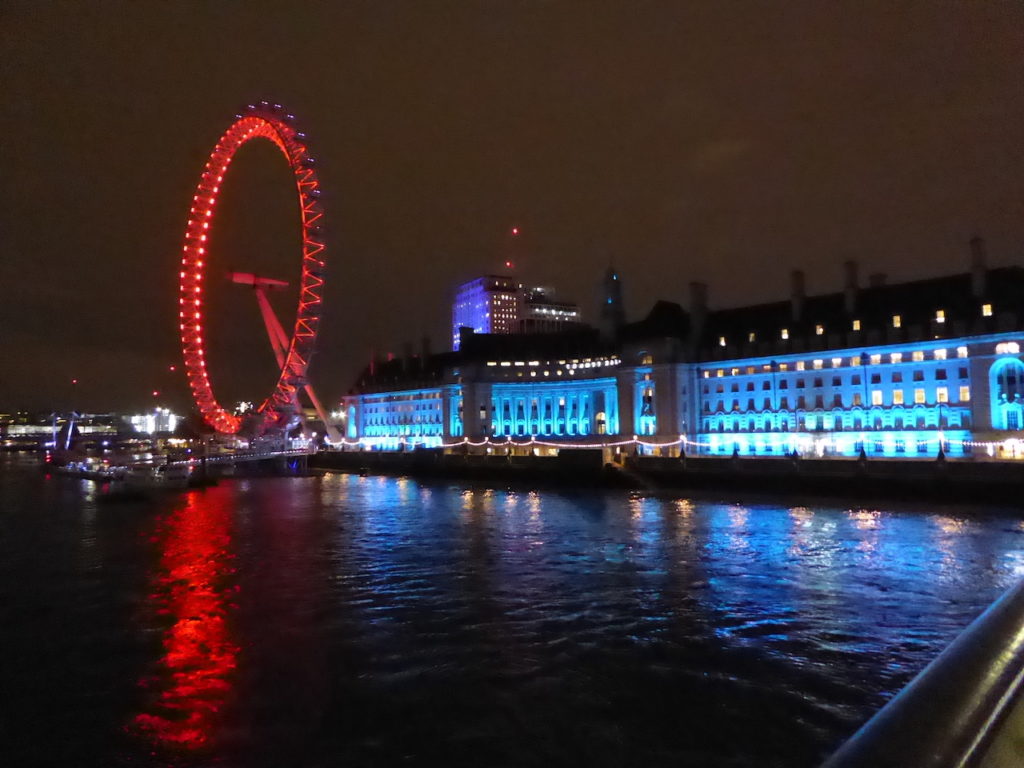 The route starts with some classic views of the Thames, firstly from right beside the London Eye then across Westminster Bridge, picking up the newly installed….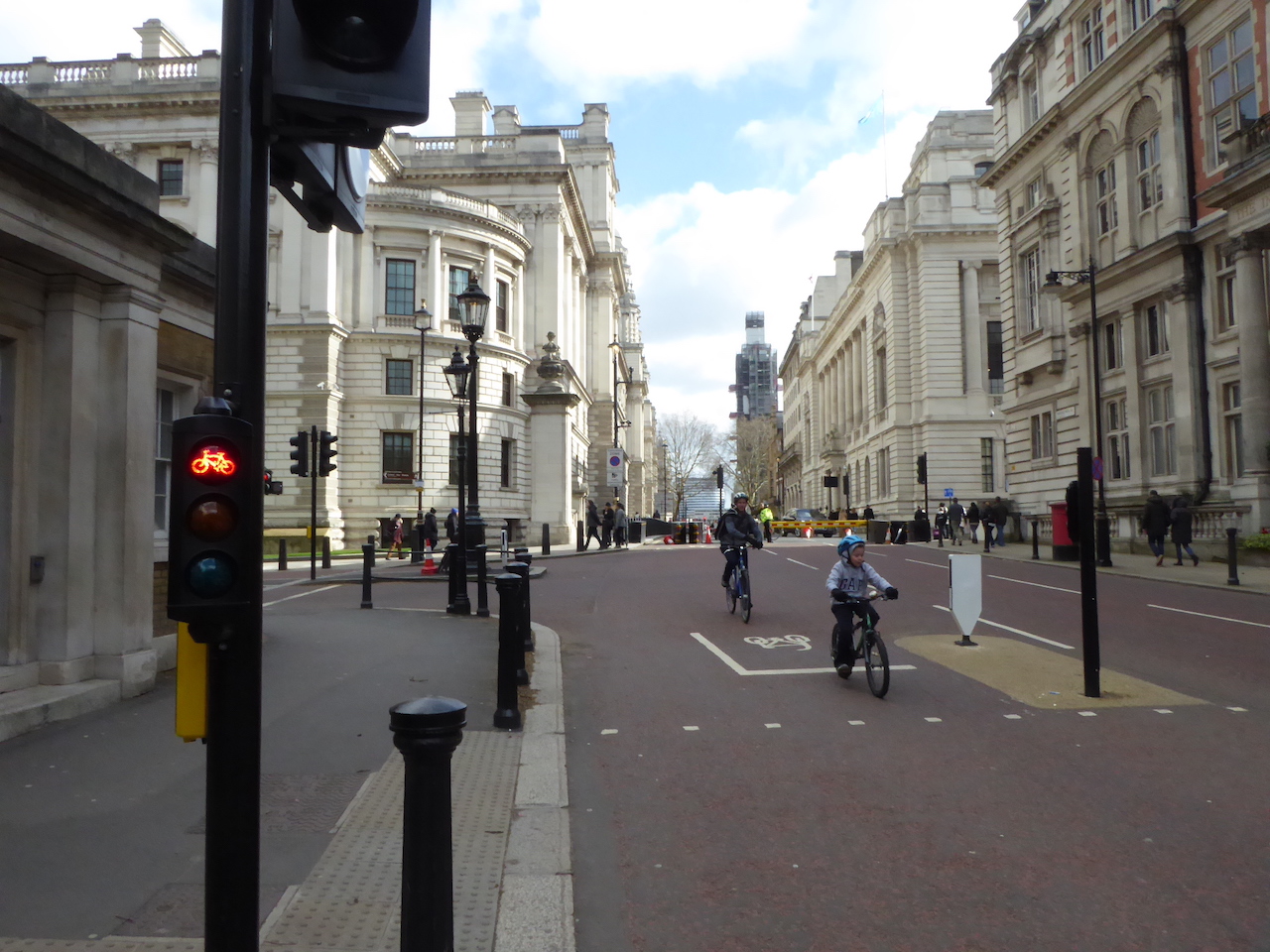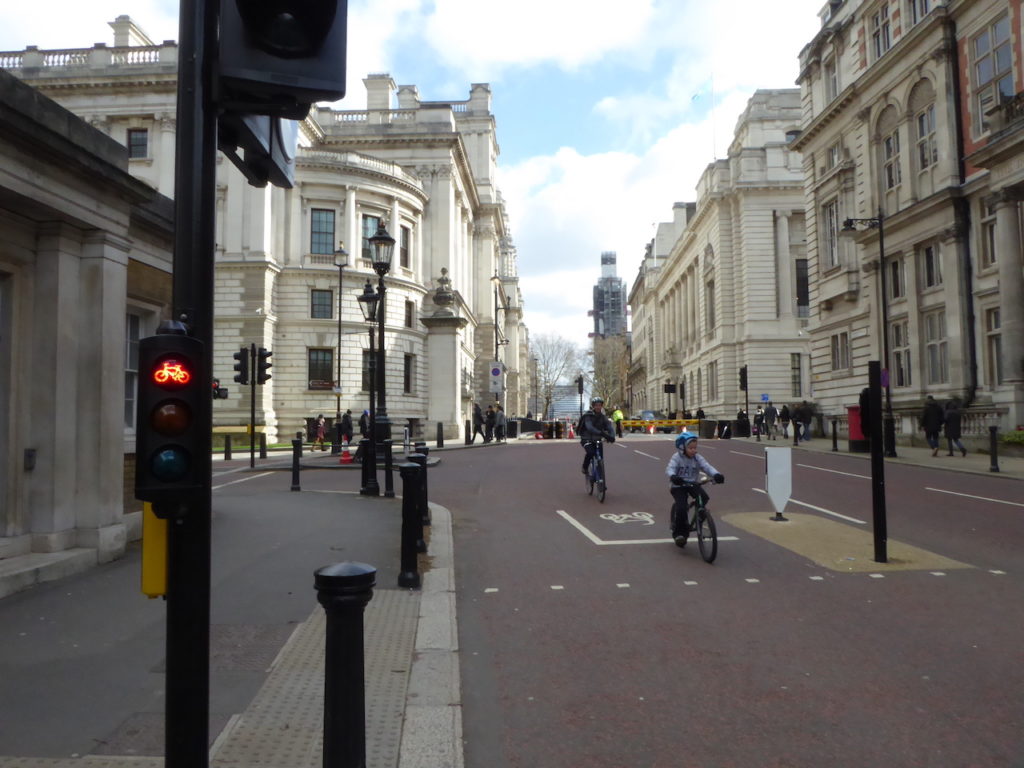 ….segregated cycle lanes of Cycle Superhighway 3.
Passing the Houses of Parliament you skirt the north side of Parliament Square which houses Westminster Abbey and statues of the likes of Nelson Mandela and Winston Churchill.
Cycle Superhighway 3 continues along Great George Street then turns right up Horse Guards Road.
Here are the Churchill War Rooms then a wonderful vista across Horse Guards Parade where the Queen's lifeguard may be seen parading.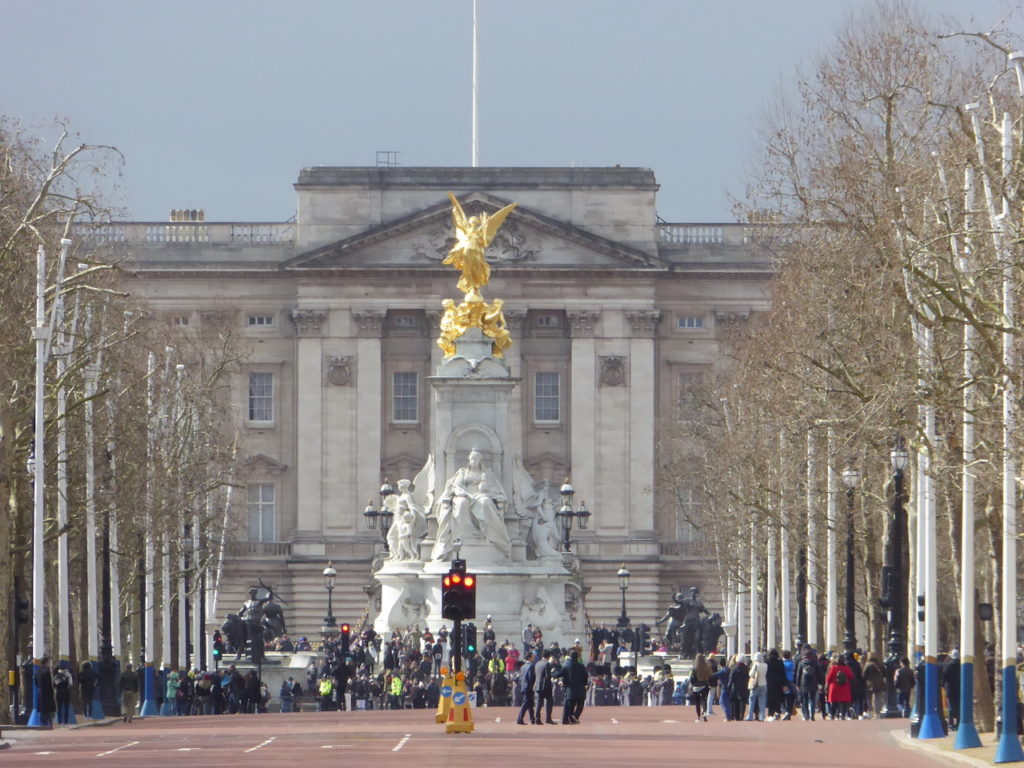 From the northern corner of St James Park head left to take in the magnificent view up the Mall towards Buckingham Palace – with an especially impressive vista along its length if closed to motor traffic, which happens on Sundays, public holidays and for ceremonial events.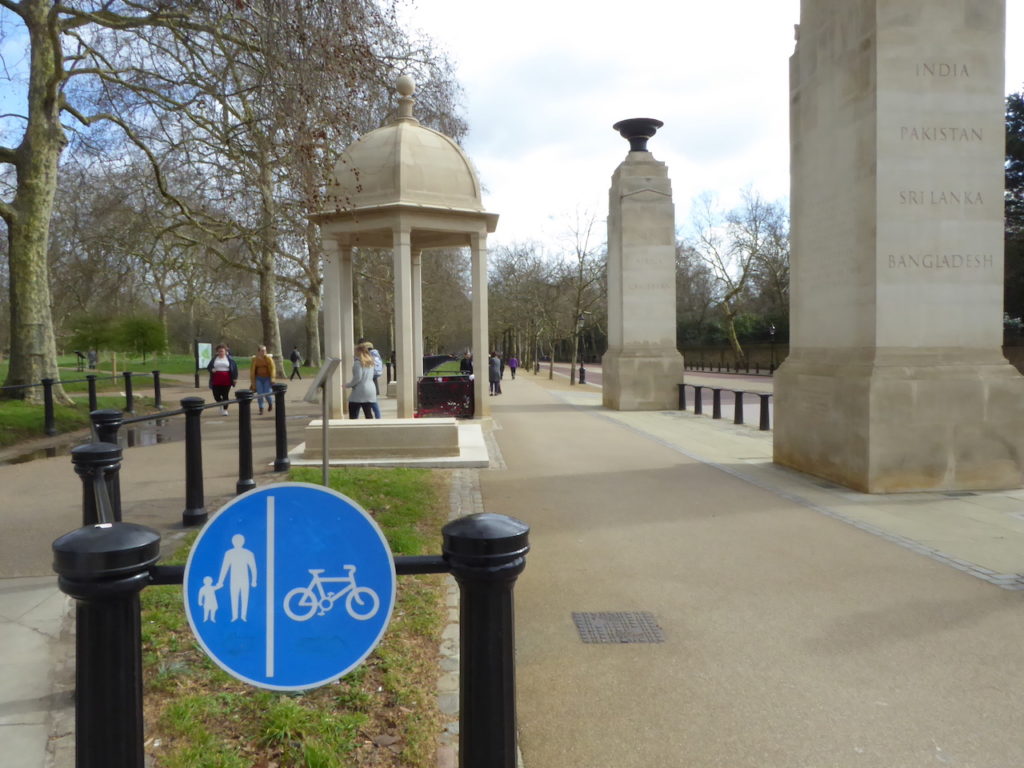 Cycle lanes on the northern side lead to the palace where you bend right to Green Park, using Cycle Superhighway 3 again up Constitution Hill to head directly underneath the….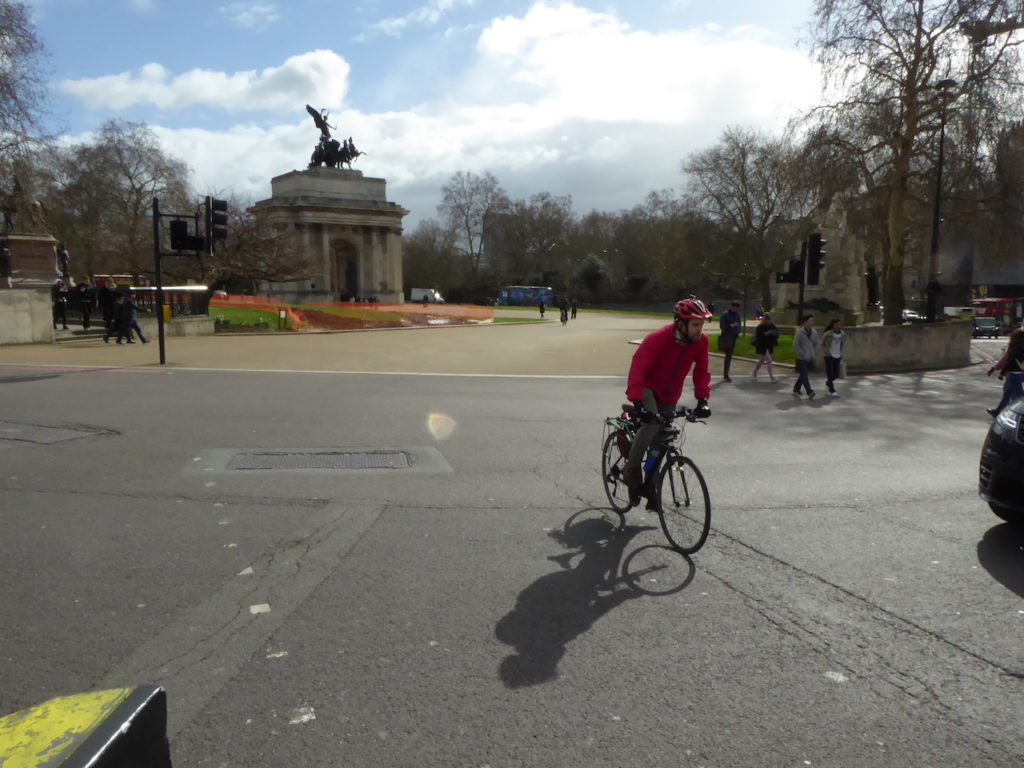 ……magnificent Wellington Arch.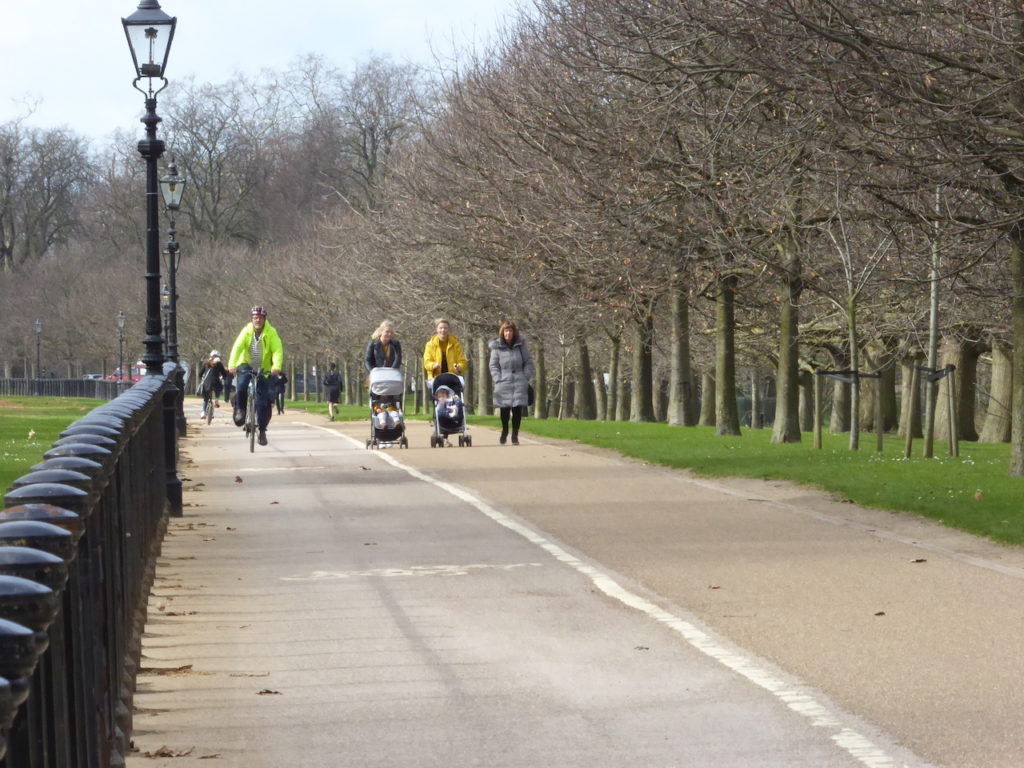 From here hop across into the magnificent landscaped scenery of Hyde Park and head along its southern edge on Rotten Row……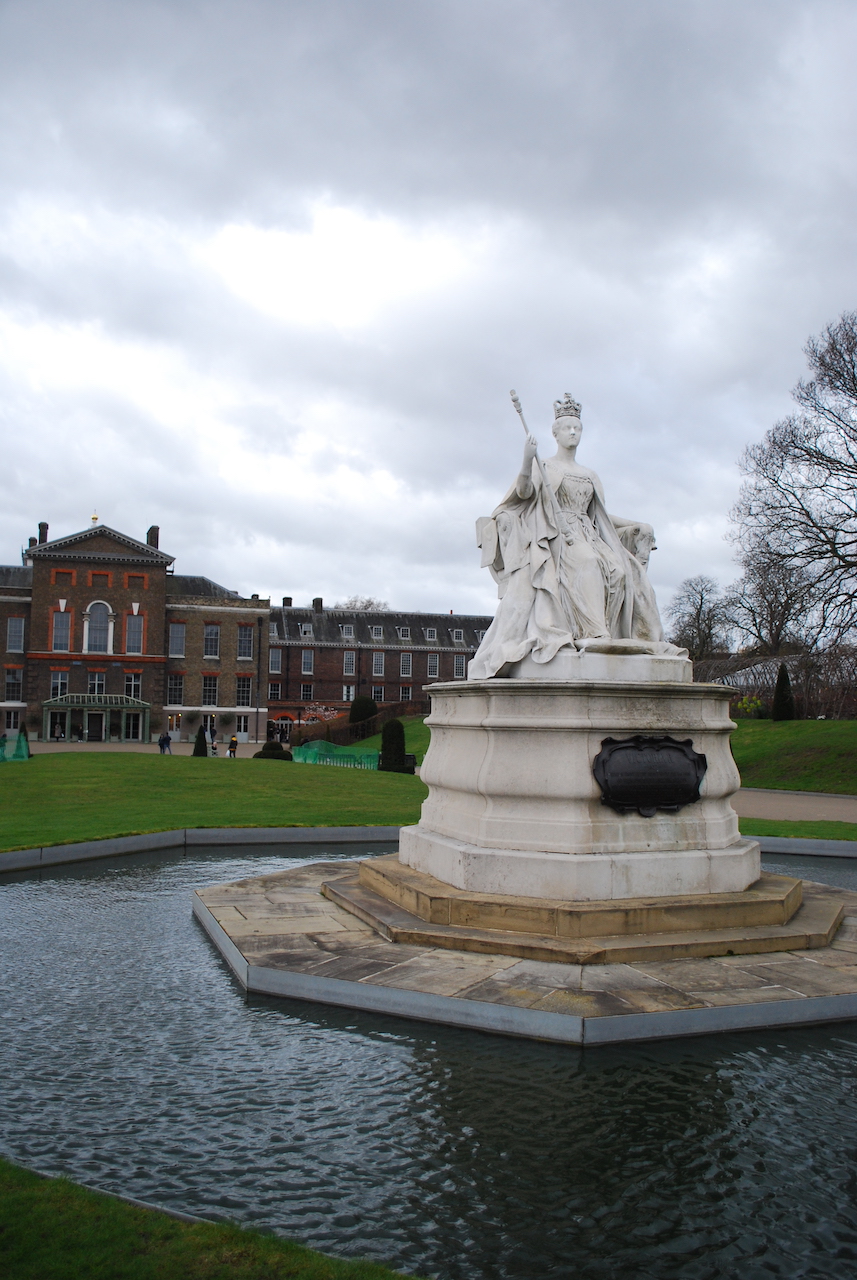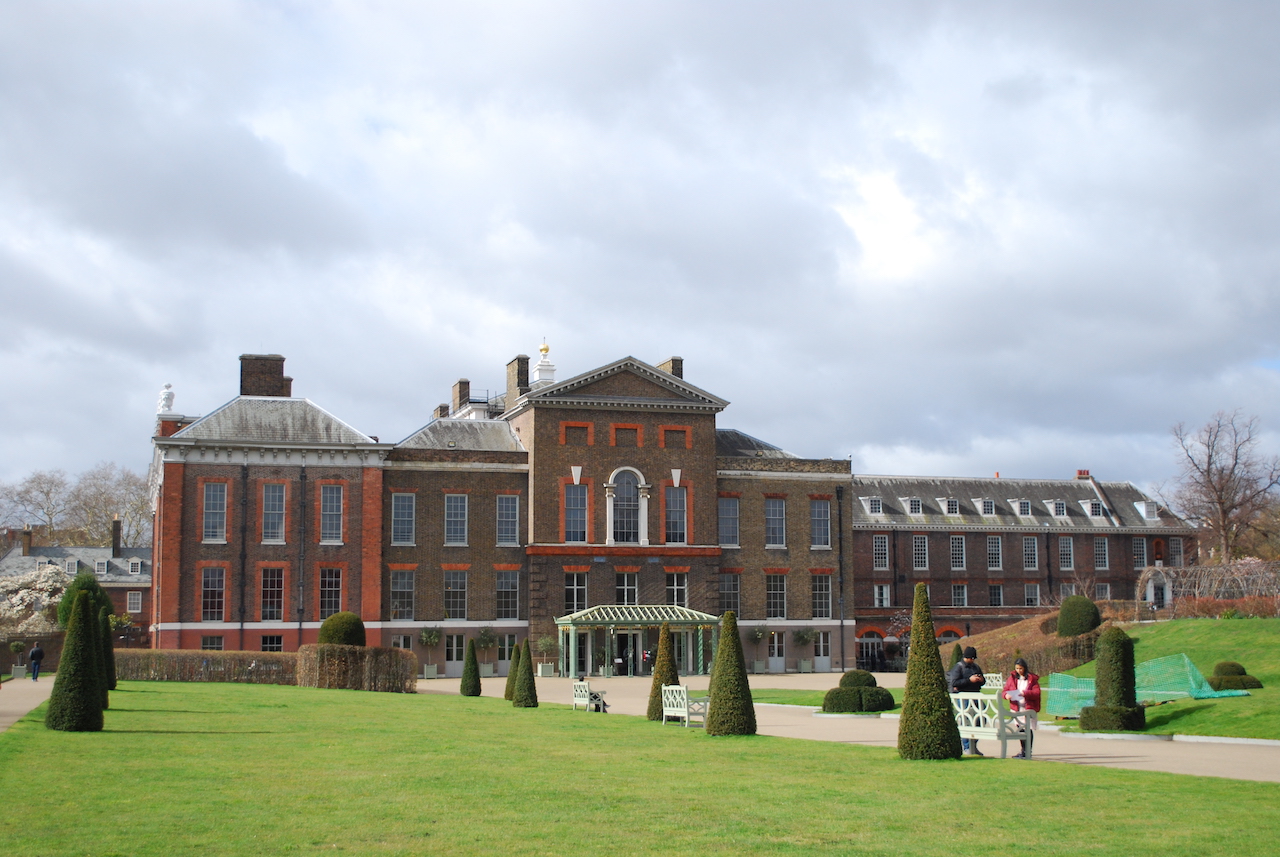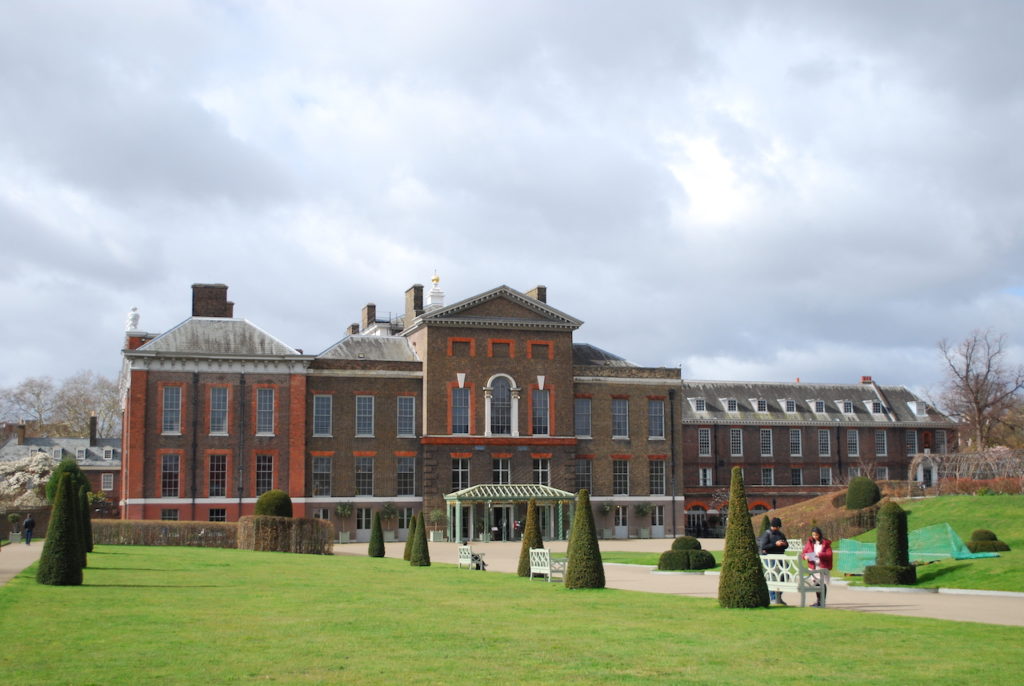 ….continuing on to Kensington Palace, former home of many young royals over the past 300 years, then retrace your steps to head up West Carriage Drive and over the lake known as the Serpentine, again on the….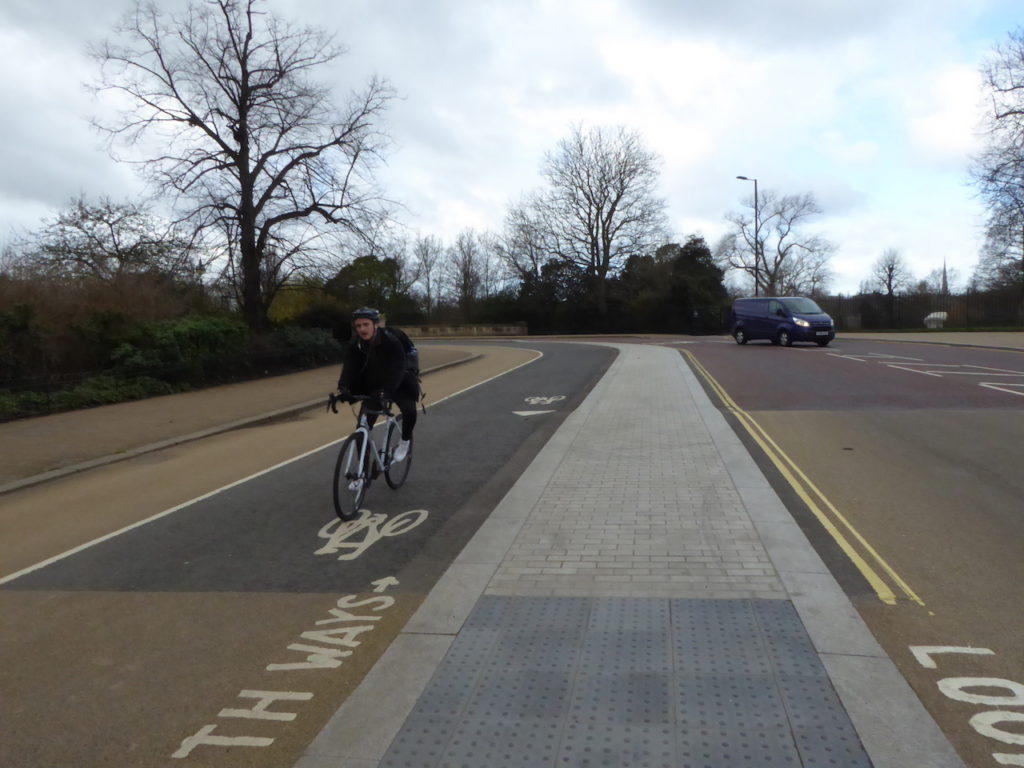 ….wide segregated tarmac of Cycle Superhighway 3, skirting the northern edge of Hyde Park to exit it over Bayswater Road onto Stanhope Place.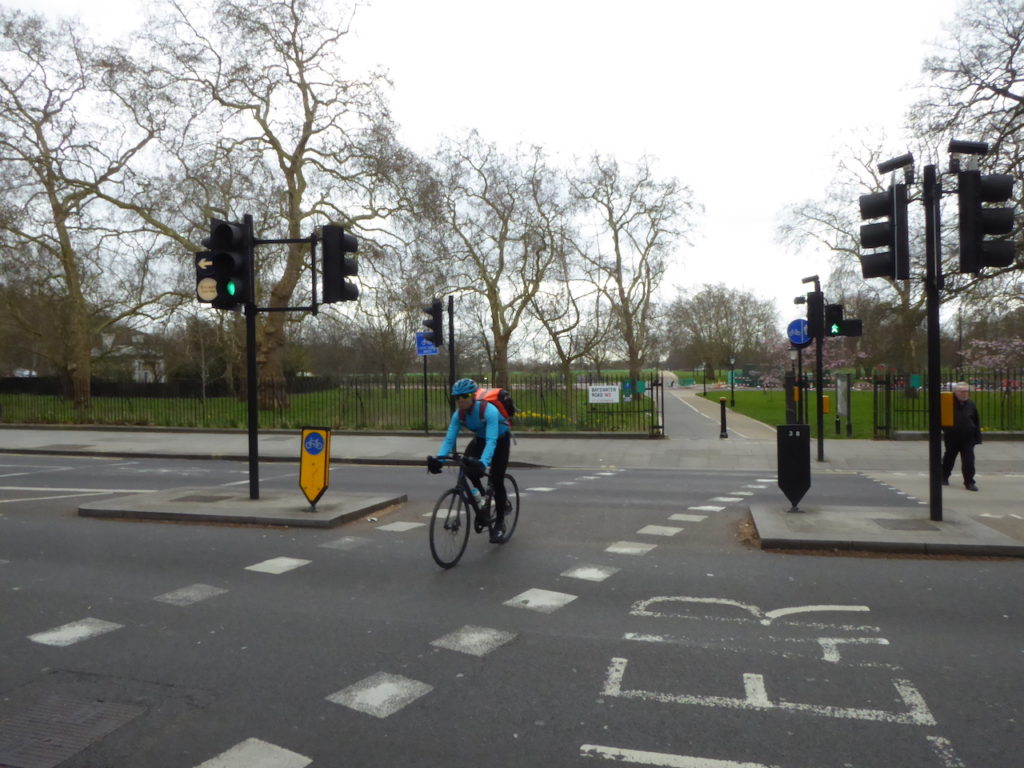 There's now some road navigation along Seymour Street, Seymour Place, Crawford Street, Paddington Street and Marylebone High Street to head into Regent's Park along York Gate (care needed crossing Marylebone Rd onto York Gate).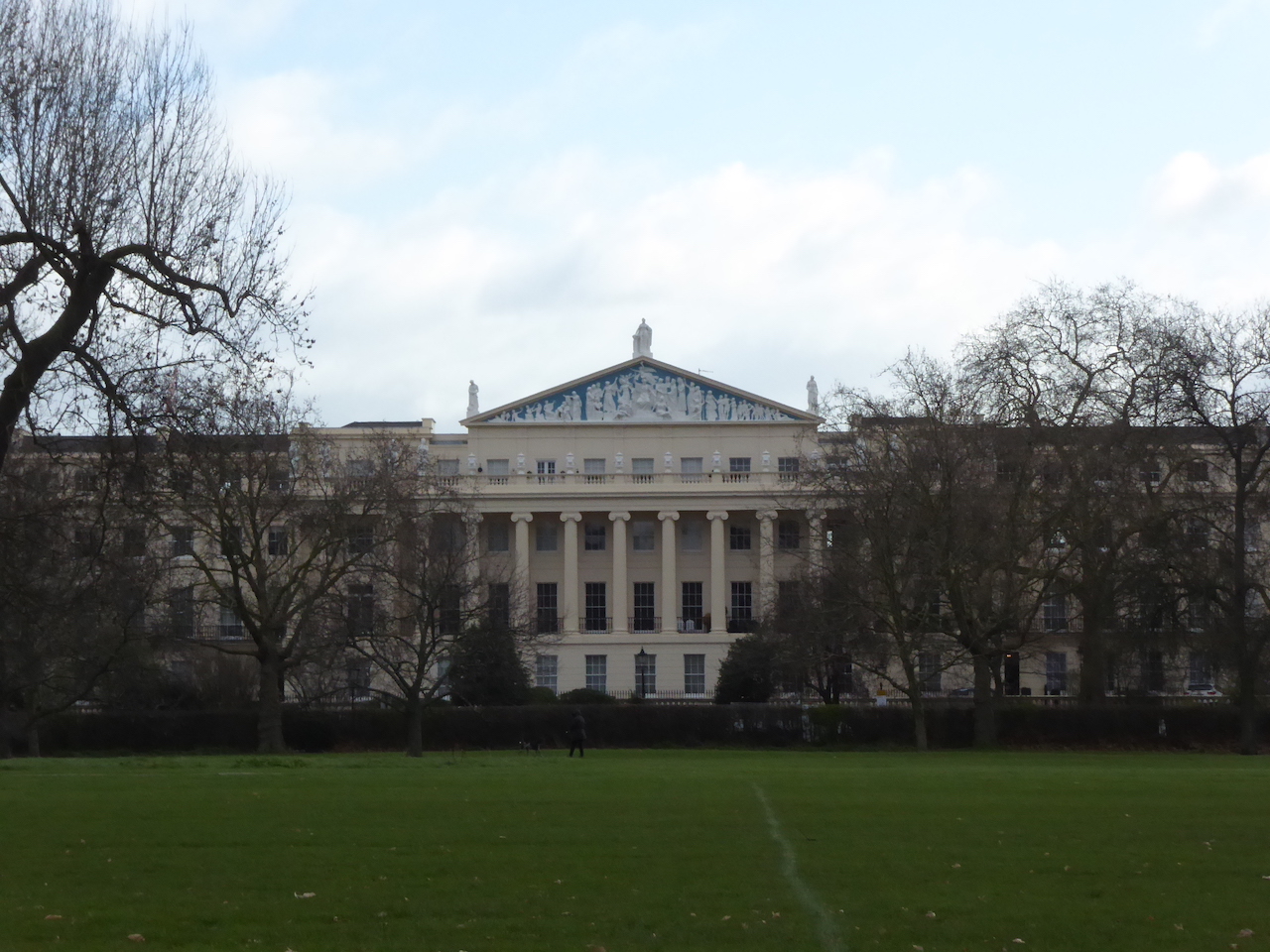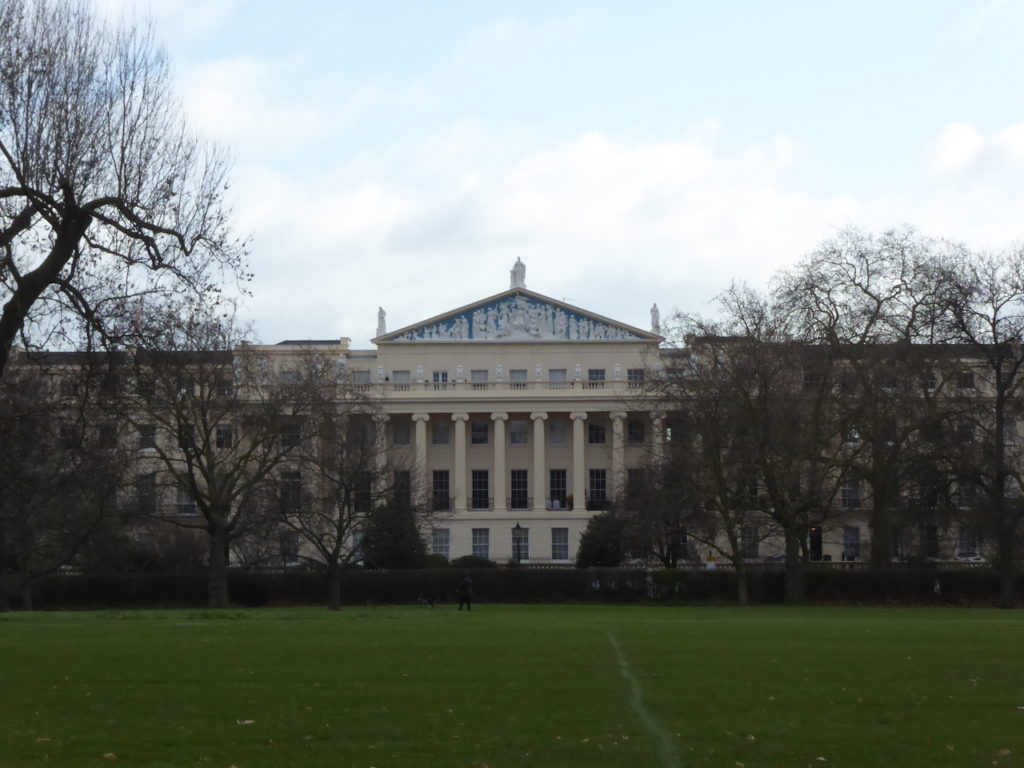 The roads round and through Regent's Park are public roads but are generally very lightly trafficked.
Heading off the Inner Circle onto Chester Road brings you to the Broad Walk through the heart of Regent's Park, with a couple of fine cafe stops.
Exiting the park pass over Regent's Canal and double back under the bridge to head west on the canal towpath, passing the backs of many London Zoo enclosures before pushing up a ramp to head back to the Outer Circle road in Regent's Park.
At Clarence Terrace pick up new cycle lanes onto Ivor Place, now on a signed route back to Hyde Park along roads.
Glentworth and Melworth Streets lead you onto the main road of Gloucester Place, but this has a cycleway for most of its length before you head right, back along Seymour Street, then left down Great Cumberland Place, taking care at the lights to cross over the road to swing right by Marble Arch.
Cycle past the water features to swing left over Cumberland Gate and down the Broadwalk on the eastern edge of Hyde Park. Retrace your steps back through the Wellington Arch and down Constitution Hill.
Back at Buckingham Palace head onto the roads to stay on Cycle Superhighway 3, skirting the Victoria Memorial in front of the Palace and taking the second left turn then left again onto Birdcage Walk.
This leads back to your outward route, allowing you to retrace your steps over Parliament Square and Westminster Bridge.
Riding Tips
This route, cycled in its entirety, is suitable for reasonably confident riders, including both adults and older children, as there are occasional on-road sections.
However, as the map shows, it is an easy matter to confine yourselves to three separate routes around the Hyde, Regent's and St James Park which makes for three almost entirely traffic-free routes.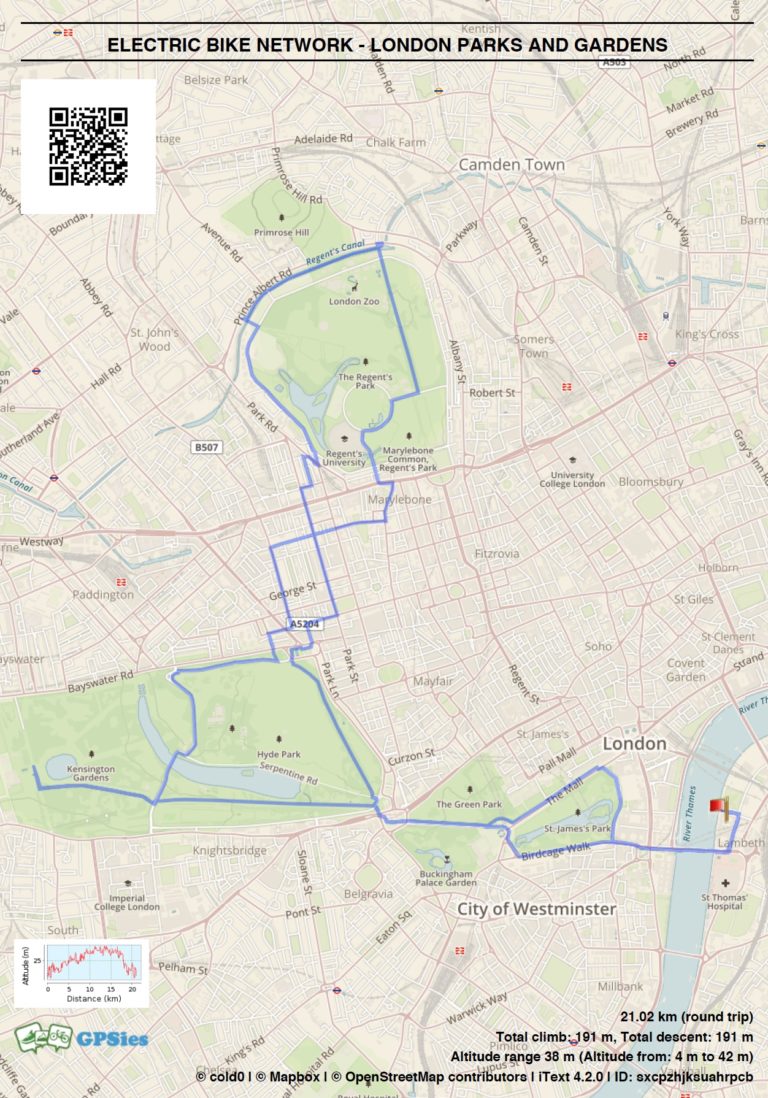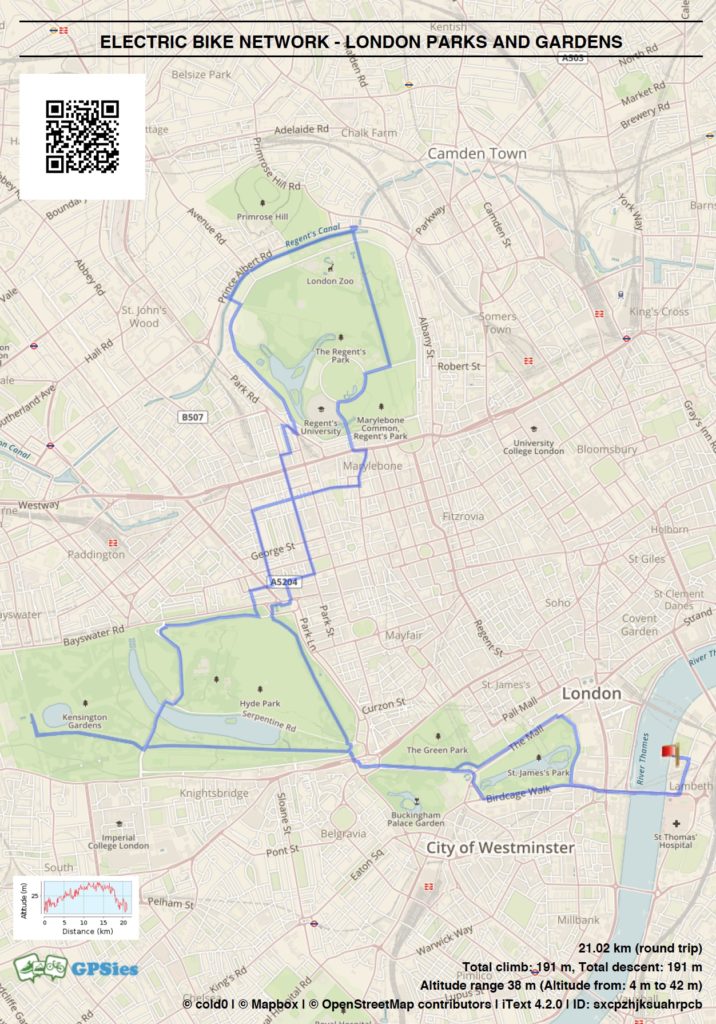 Here is a link to download a PDF of this map and a GPX file link.
The links between Regent's and Hyde Parks is where most mixing with traffic is found and most care is required. Even so it is surprising how little traffic there can be on many of these roads outside of morning and evening rush hours.
The section between Westminster Bridge and St James Park may appear a bit daunting and busy with buses, taxis and people, but in fact much of it is on totally segregated cycleway which has special cyclist-only light controlled crossings allowing for safe and easy navigation of the major junctions.
Note some sections of cycle route are shared with pedestrians who you should take care around and give priority to.
Stay tuned for more e-bike news and reviews and thanks for reading!
-Richard
P.S. Don't forget to join the Electric Bike Report community for updates from the electric bike world, plus ebike riding and maintenance tips!
Reader Interactions