Tips & Strategies for a Successful Weekend Electric Bike Tour!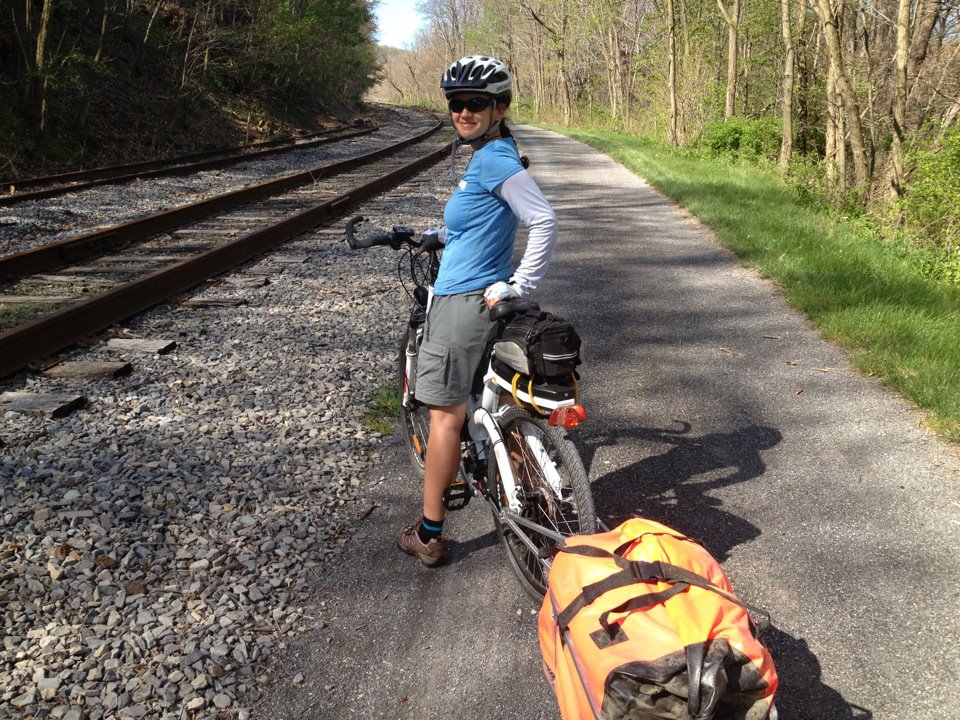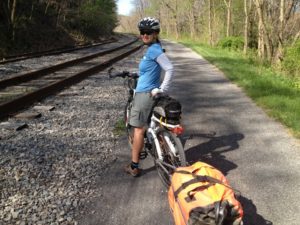 By David Rodenhiser.
Many of us entertain dreams of someday taking off on that big bike tour.   The one down the coast or across the country. Or maybe Europe. France would be nice, wouldn't it?
My own dream is to spend 3 or 4 months riding around various parts of  Australia, bringing my Greenspeed recumbent trike for a visit back to it's builders in its birthplace near Sydney.
It's an appealing idea, but like all big ideas, it takes big time, big commitment and usually, big money. Most of us find it hard to get that much time away from our everyday lives, so it always becomes next year, or 3 years later, or 10 and one day you wake up and discover you never went anywhere.
Well, it doesn't have to be that way.
The Allure of Weekend Electric Bike Touring
While a big tour is a big deal, you can have fun on a much smaller scale. Not every trip has to be a huge affair. Think of this as the "weekend getaway" of bicycle touring. Two to four days is the goal here. Three is a great number. If you can get the time away from work, it's worth choosing a non-holiday weekend for your 3 day weekend, for obvious reasons.
Start With The Location
To start, you pick a starting point that's relatively easy for you to get yourself and your bikes to. Either by car, or public transit, if you have it available to you. If you live on the coast or near a big lake, don't forget ferries!
I'd definitely avoid airplane travel. As we all know, air travel is much more of a hassle than it used to be, adding a bike adds even more expense – the airlines charge you a lot to bring any bike and flying with an electric bike battery is effectively impossible due to battery restrictions.
Or why not start where you live? It's often enlightening to be a tourist in your own town and another one 20 miles away. Go to the sites that the locals don't go to and see what the tourists see.
Another option is commuter park-and-ride lots off the main highways. Drive 50-100 miles and park your car and take your bikes on a tour. This has the benefit of usually being a free and secure place to leave your automobile. The key point here is that your starting and ending spot should be easy and convenient to get to.
Plan Your Daily Range: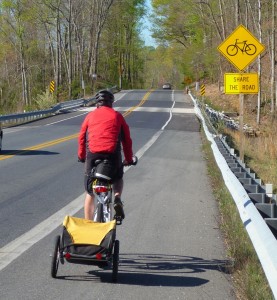 Next, you and your range:
You pick a distance you can comfortably travel in a few hours. Take into account the terrain. Remember, your electric bike may increase your range in hilly terrain. However, know what this limit is. This is very important. Key, in fact.
You need to know this ahead of time, so get comfortable with your setup. You know this from riding your normal day trips. This isn't the time to test just how far you can go on your bike! And you're not trying to cover all the miles you can in a day. Just a few hours. This has two purposes.
The first is so you can take the time to see the sights in your day's destination. A big part of this tour is to be a tourist, not just a traveler.
The second is to give you some leeway should everything not go according to plan. You'd much rather be able to wait out that unexpected rainstorm in a nice dry restaurant halfway to your destination than needing to push on to make it before nightfall, wouldn't you? It also builds in a little slack for other unexpected events like a flat tire or mechanical issue. Or if you get tired. You can call a cab to get you to the next point, too – it's part of the deal – no shame in recognizing you may have overestimated your limits! Again, this isn't about piling on the miles.
One last note on this: pick nice, pleasant riding roads and trails if you can. For example, if you have a river trail available, perhaps take that instead of the major roads, even if it means not being able to go as far. The riding should be fun, too! Google Maps has an option for bike routing. I find it very helpful if the roads in the area aren't completely familiar to me.
Packing Light!
This next one is a big one: travel light!
Yes, yes, everyone always says this, but here, it's especially important. You're not going to be carrying all the gear you need so that you can pitch a tent, fish for your dinner and cook it, and then sleep in the woods. This is not loaded touring with 4 bags on your bike, or a trailer. You're going to be staying in hotels, motels, or, my favorite of all: B&Bs. Whatever suits your budget and desires.
A rack top trunk, possibly with small fold out panniers is all you're taking. Or maybe a small rear bag and front basket. Whatever works for you. Make sure to bring at least the basics of a repair kit. You do want to be able to fix a flat at a bare minimum, so this means a pump and spare tube, but there's no point in taking tools you don't or won't want to use.
I've written another blog, on basic repair kits that you can read here: What To Carry In Your Basic Bike Repair Kit.
If you are traveling with someone else, not everyone needs to a duplicate of everything, though everyone should have at least one tube. Clothing should be the bare minimum you feel comfortable with. Casual is good enough, you don't need to dress for dinner at the Ritz! It's more important to be comfortable than stylish here, so make sure you have what you need for the weather you might reasonably expect. You probably don't need your down parka in June!
I do recommend taking one small luxury item; something that will just make your day much better for its minimal weight. For some people, this is an ebook reader or tablet. For me, it's a small feather pillow that packs up tight and light – I sleep so much better with my own pillow. Carry enough water to be safe, and a few snacks are good morale boosters. But the emphasis here is in minimal extra weight. The more you take, the more it weighs you down, both mentally and physically.
"He who owns little is little owned". – Henry David Thoreau
Plan the "Tourist" Part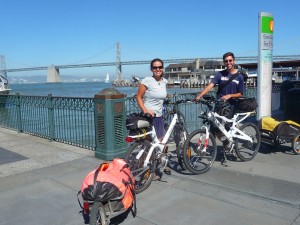 Now, you are going to see the sights in each day's destination. Get some idea of what's good ahead of time. If you are staying in B&Bs, ask them when you make your reservation. Have some ideas, but don't get too attached to them, either. If something looks like more fun that what you planned, do that instead! If you thought you wanted a winery tour, but on the day you get there you just aren't feeling like doing that, do something else.
The goal is fun, not doing particular things. This is where your own judgment must be your guide. I know what I like to do, but only you know what you like to do. For me, it's usually about finding best ice cream in town and exploring the bookstores and local independent bike shop (Surprised?  I thought not!) For you, it might be museums or parks. The point is, don't stress. Don't feel the need to see everything in town. There's always the next trip. You can go back another time – remember you're only a few hours at most from your home. Go with the flow. Remember, fun!
A good plan is to get up at a time you feel comfortable with, have a leisurely breakfast where you can review your route. If you're staying in a B&B, you didn't even have to pack up before doing this – you're already there! Then it's time to do the riding part of your day. You have some slack time built in for the unexpected, and you get to your destination early enough in the day to settle in, and have a relaxed afternoon and evening.
One side note here:  while GPS is a wonderful thing, I recommend having maps of the area just in case. Writing down your route (or printing it out during the planning stage) might save you grief if technology fails. It happens!
A Personal Example – Exploring Cape Cod
Here's an example of a trip I've taken a couple times, ranging everywhere from 2.5 days (starting Friday night) to 4 days. Here's the 3 night version. If needed, I can make this only two nights, but then I miss out either on the first or last town.
I live right near Boston, and have some good transit options, so this is a car-free trip. In the summertime, there's a ferry that runs from Boston to Provincetown, at the very tip of Cape Cod. So, at the start of my trip, I get on that and have a nice, enjoyable trip to a starting point, which would be otherwise way too far for a leisurely weekend trip (it's over 100 miles each way). The way I've arranged it, it's only  85 miles total riding.
I take the ferry so I arrive in the early afternoon , I've arranged for a place to stay there. This trip starts with no real riding on the first day, except a short trip from home to the ferry dock, and then from the dock to my night's lodging. For me, this is ideal, because P-town is a great place to explore.
The next day, breakfast, and ride 40 miles to Dennis, a lovely historic town halfway down the cape. The very first part of the ride is on the roads, but then after that, it's onto the wonderful Cape Cod Railway bike path, starting at Marconi station (one of the earliest trans-Atlantic radio transmission stations and a lovely beach) and ending in Dennis. I've found a place to stay in Dennis and I spend my afternoon and evening there.
The next day, I have my breakfast, and then it's back on the road to Plymouth,  another 40 miles. See the sights of Plymouth. The Rock is not that exciting, but there's plenty else to do. Spend the night in Plymouth and get up the next day and ride to the train station. One short hour, and $10 later, I'm back in Boston!
Now, these are fairly aggressive distances for a "short trip", but I've been riding a while and I know that  40 miles in 3-4 hours is reasonable for me. You need to know your own limits and I strongly encourage you to make sure you are very comfortable with the distances you set yourself.
Remember, don't plan to travel further in each day than you have done at least a few times before, in similar weather and conditions. If you're just starting out, 20 miles, or even 10 might be better for you.
To summarize:
Pick places and things you like to do and be willing to change your plans if you need or want to.
Make sure it's easy to get to your starting and ending points.
Make sure you are comfortable with the distances you set yourself.  You aren't Lance Armstrong!
Carry only what you need.   Be prepared, carry at least a spare tube and pump and be sure you know how to use it.  But also remember, you aren't on a trek into the wilderness, there are stores where you're going!   A 2 month supply of toothpaste is too much 🙂
Pick pleasant routes.  Make sure to have backup navigation plans. Don't rely completely on modern technology.
Plan your lodging ahead of time.
Realize that not everything will necessarily go exactly as you planned, and don't stress too much about the details.   Everything works out in the end and remember, you're not that far from home!
And finally:  Have Fun!  That's what this is all about.
So, where will you go this summer?
Tell us about your trip in the comment section below – we'd love to hear your adventures.
Written by David Rodenhiser. David is the Customer Service Manager and Resident Blogger at EVELO Electric Bicycle company. When he's not busy helping folks find the perfect electric bike for themselves, he writers a weekly blog column where he presents the best bike accessory reviews, useful apps for casual riders, and other tips for electric bike riders.
P.S. Don't forget to join the Electric Bike Report community for updates from the electric bike world, plus ebike riding and maintenance tips!
Reader Interactions