Cycling Through E-Bikers Paradise: The Netherlands
It's a common perception in cycling circles that the Netherlands is the best cycling destination in the world; traffic-free well-signed routes guide you across this relatively small country where distances between attractions and stop-offs are small.
My previous cycle trips there had confirmed this but as it had been a few years since I last visited by bike I decided it was time to hop on the DFDS ferry at the Port of Tyne east of Newcastle's centre and head for the Dutch port of Ijmuiden just west of Amsterdam – just to see if e-biker's paradise really does exist.
The Ferry Crossing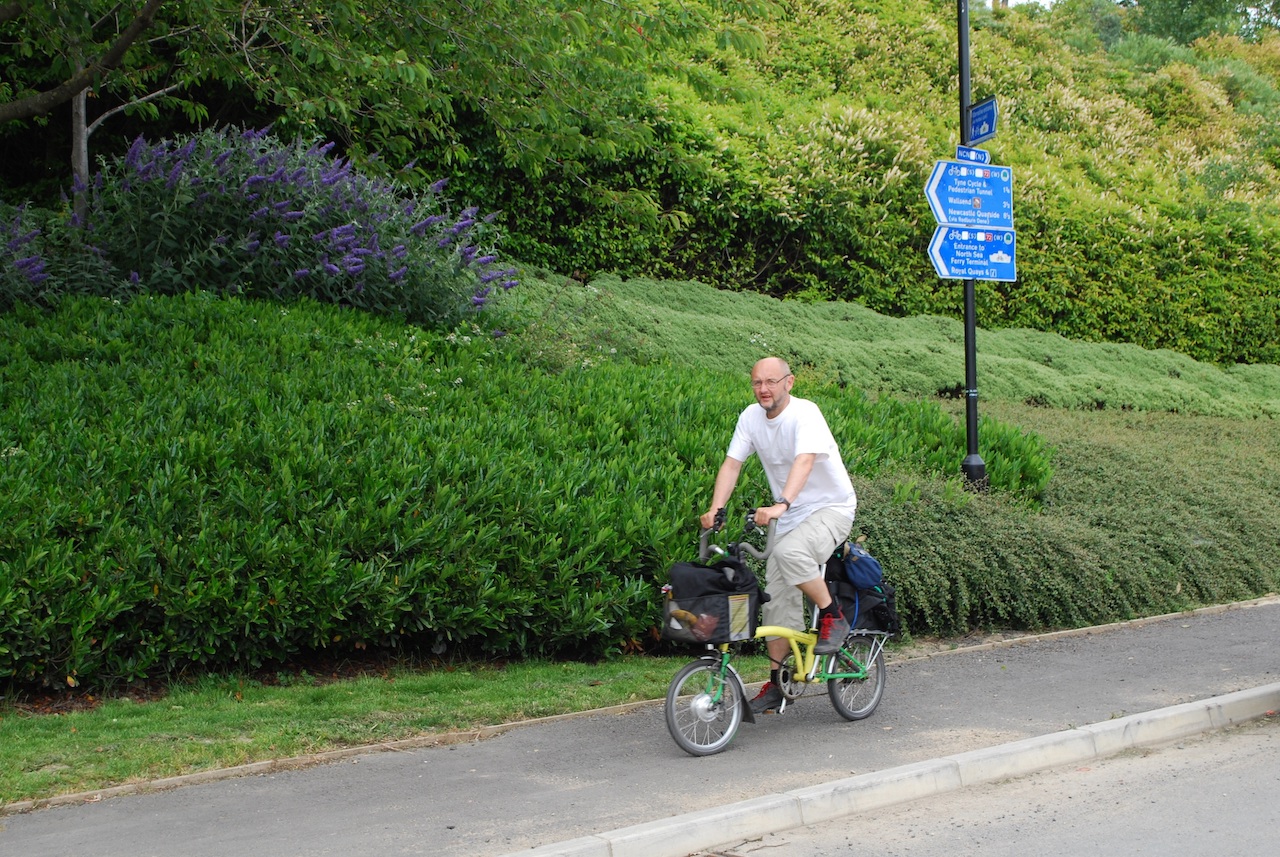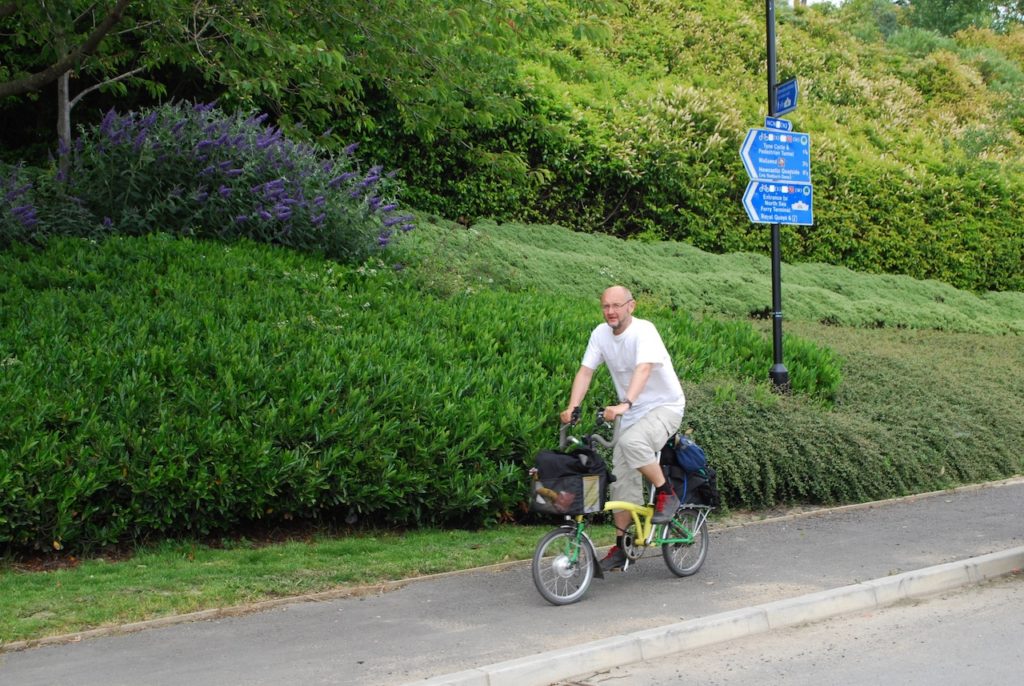 Arriving by bike in North Shields on the C2C cycle route (the UK's most popular long-distance cycle route) it's welcoming to see that the ferry port has it's own easy to follow cycle signage.
There's a brief queue for the DFDS ferry behind a group of Dutch motorcyclists before a quick check of the passport and obtaining my cabin number, then I ride onto the Princess Seaways vehicle deck.
I'm directed straightaway by deck crew to one of the bike stowage areas at the rear of the boat where the bike is strapped in. Usefully, you also get a ticket telling you which exit door to come out of to find your bike easily and quickly.
We set sail on the afternoon crossing with a throng of passengers on the decks to take in the spectacular views as we cruise along the Tyne estuary, enjoying the varied landscape including the old Fish Quay and the Collingwood Monument and finally Tynemouth Priory on the headland as the Princess Seaways heads out into the North Sea.
After watching from the rear deck a watery sun set over the sea it's time to check out my very comfortable cabin. These are twin cabins with one bunk bed but I have it all to myself – there are more luxurious and more spacious cabin options available but this is fine for my needs.
There's an ensuite with shower and a view of the sea as well. I'm also glad the cabin has an electrical socket to recharge the battery for my Nano-Brompton e-bike. You can also buy WiFi access on board if needed.
For more info on booking you and your bike on the DFDS crossing see here.
Day 1 Ijmuiden to Amsterdam
Bright sun and a cheery scene of pleasure yachts, beach huts and trawlers greets me on deck as I take a first look at the Dutch coast as we come into port.
There are plenty of cyclists chatting away and exchanging bike and route info alongside me as I wheel my bike out of the ship behind the last of the departing motor vehicles.
I take a quick 'start of route' pic for a group of Scottish lady cyclists and wish them good luck before heading along the quay and onto the Dutch cycle network proper.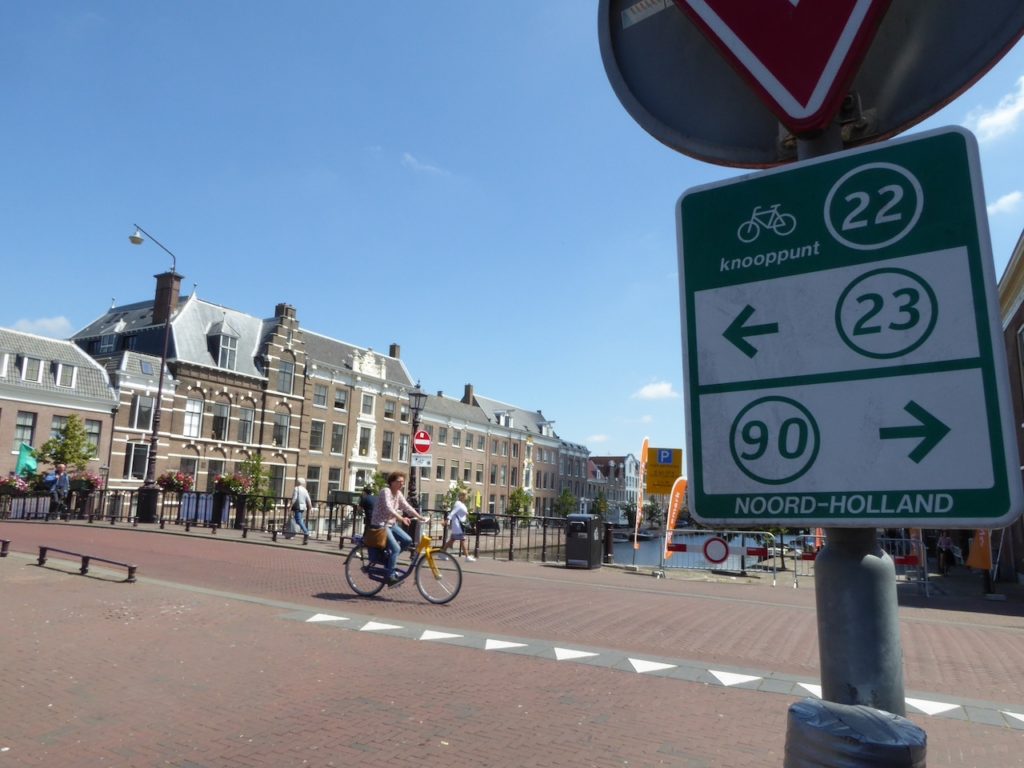 This is a joy from first to last; the Knooppunt navigation (see below) starts at the first roundabout then I am soon on the extraordinary cycle network.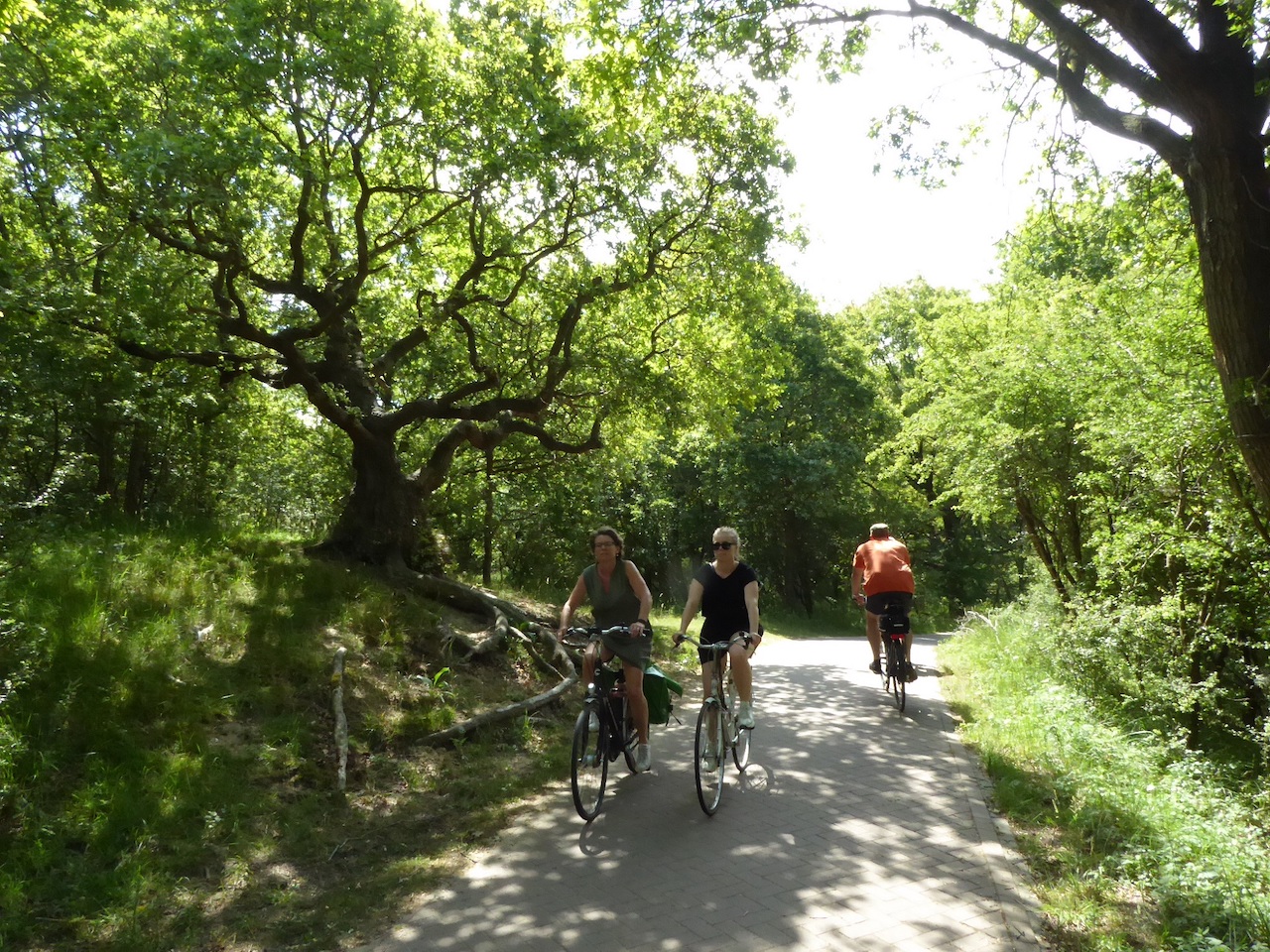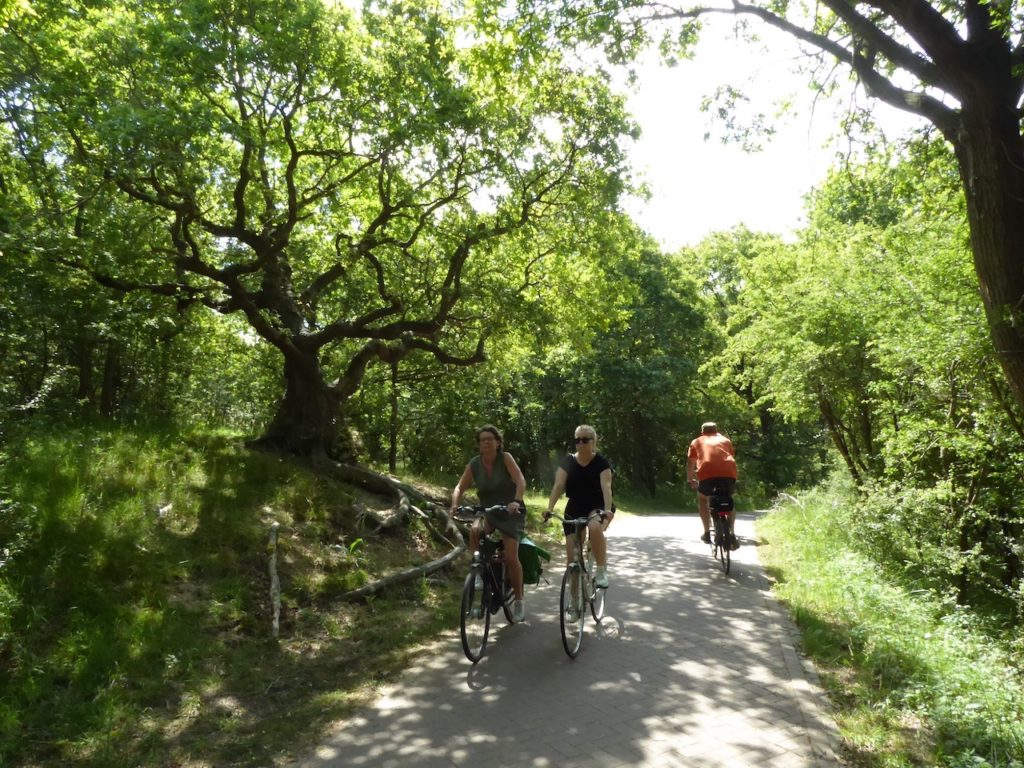 I use the Knooppunt numbers to pick up the LF1 North Sea route and I'm soon passing through the lovely South Kennermerland national park, a cross between dunes and woods.
In the UK off-road routes through forests are often unsealed dirt tracks but here I am on hard surfaces all the way.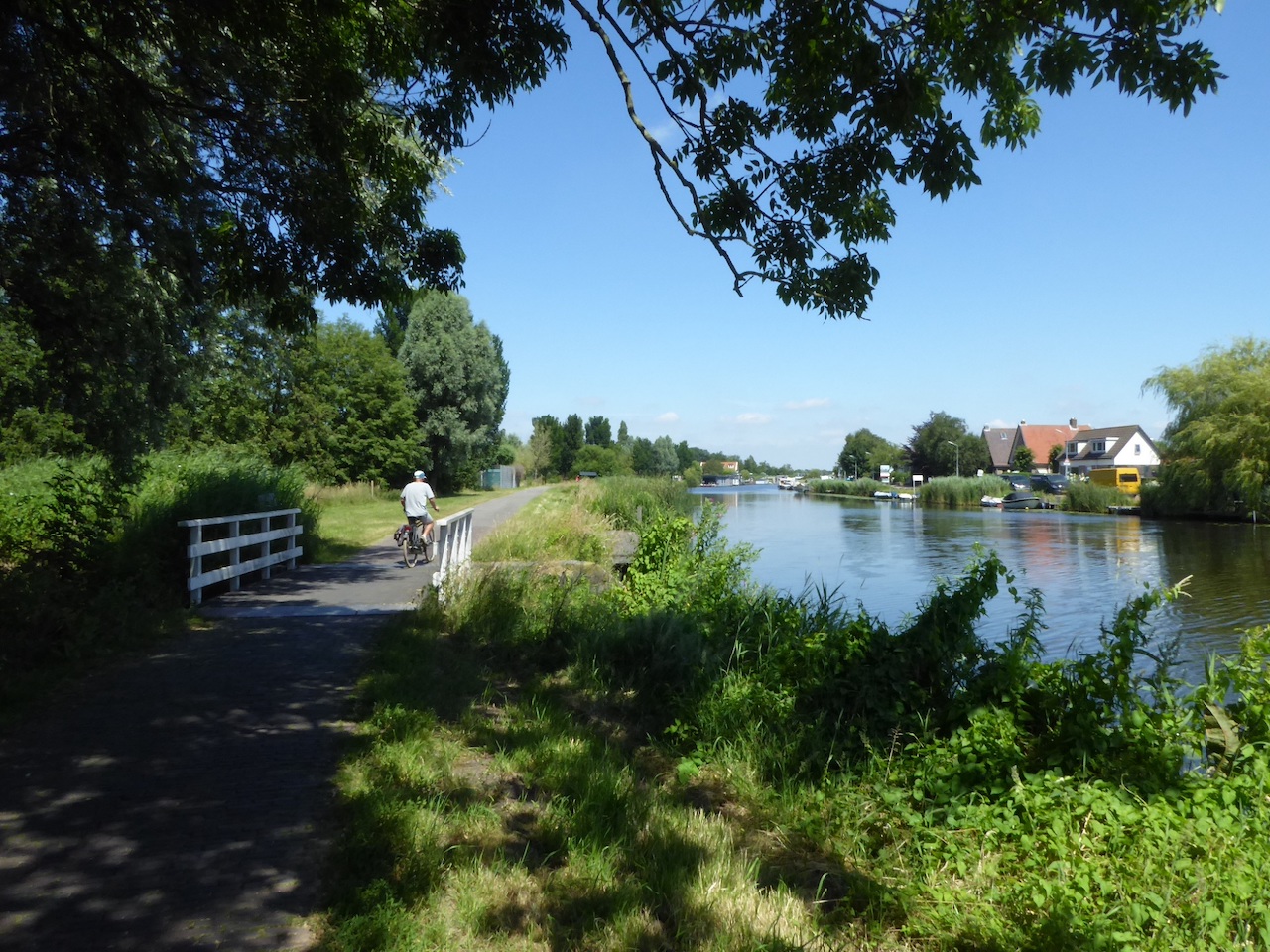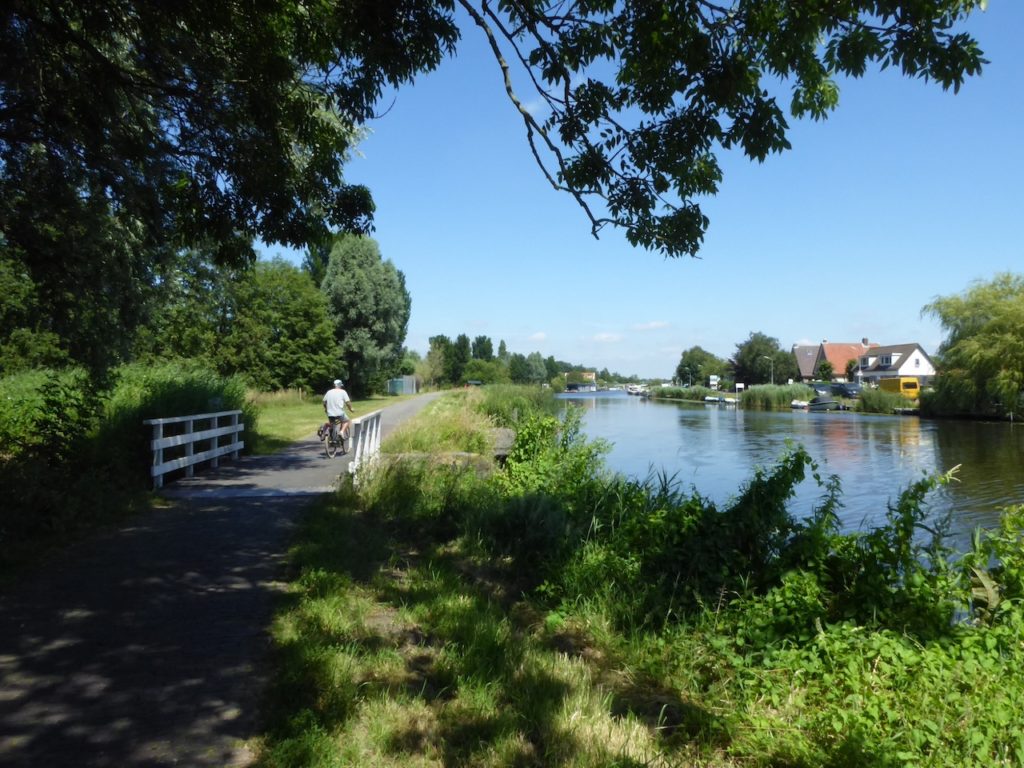 Soon I'm coming into pretty Haarlem with it's sumptuous main square before hopping onto LF20, the Flevo Route, which I follow along pretty waterways and through wooded areas.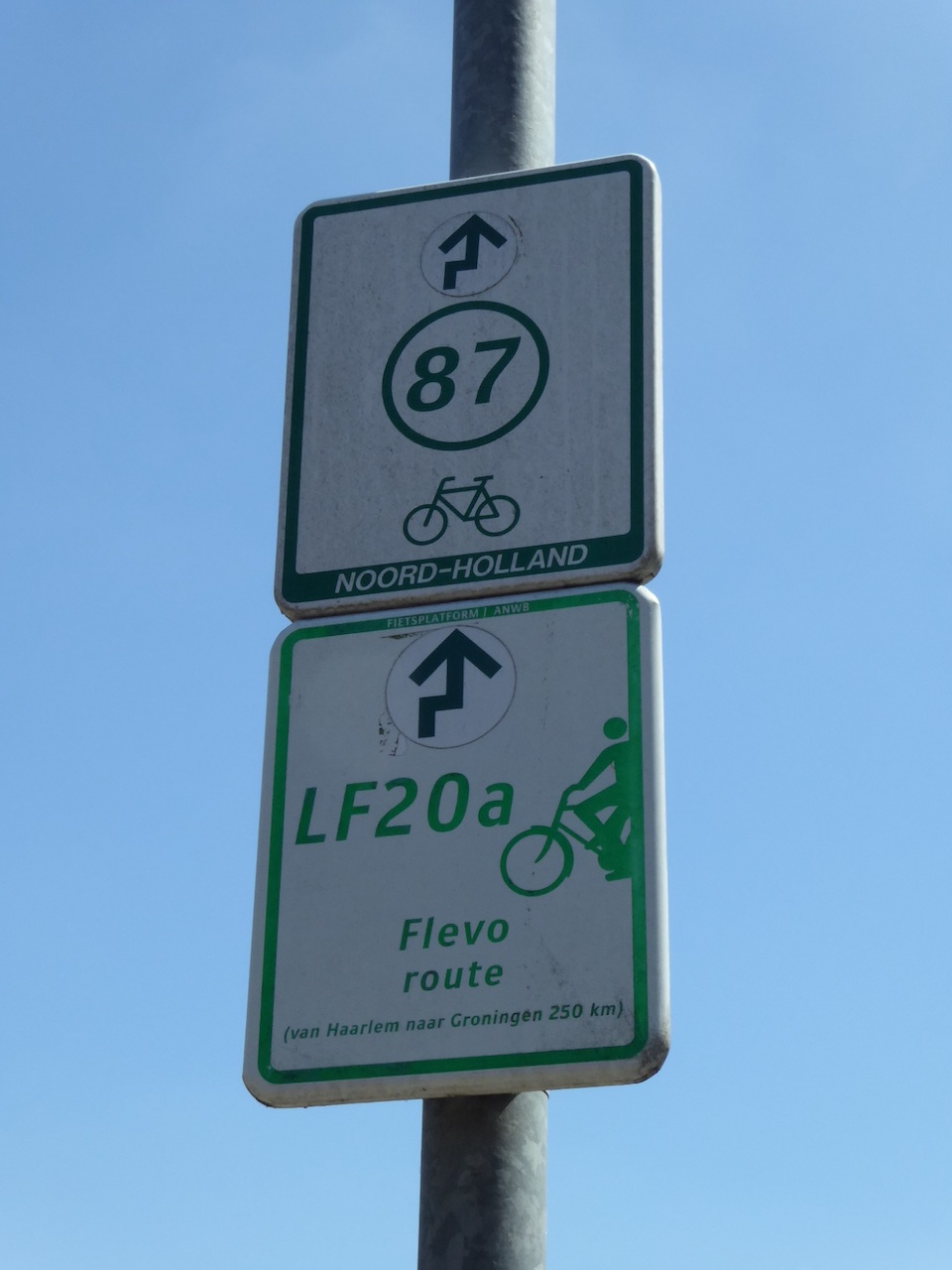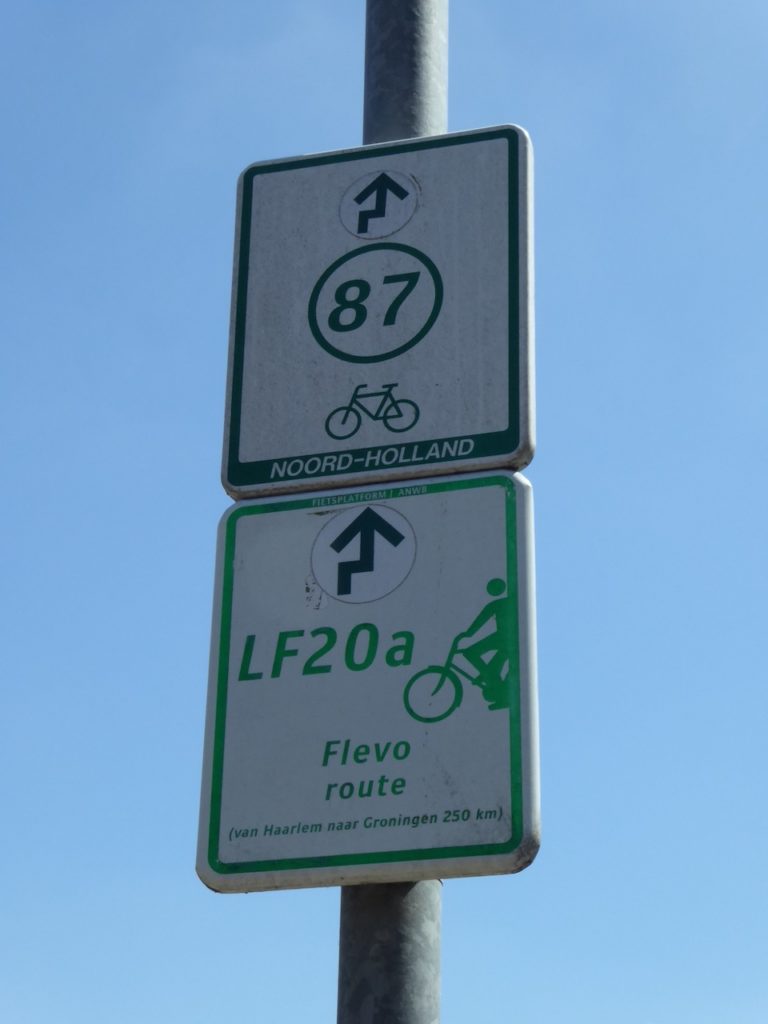 There appear to be some roadworks blocking the official line of the LF20 into Amsterdam but it's an easy matter to pick up local signage for a great traffic-free entry through the lovely lawns and lakes of the Westerpark to arrive by the central train station.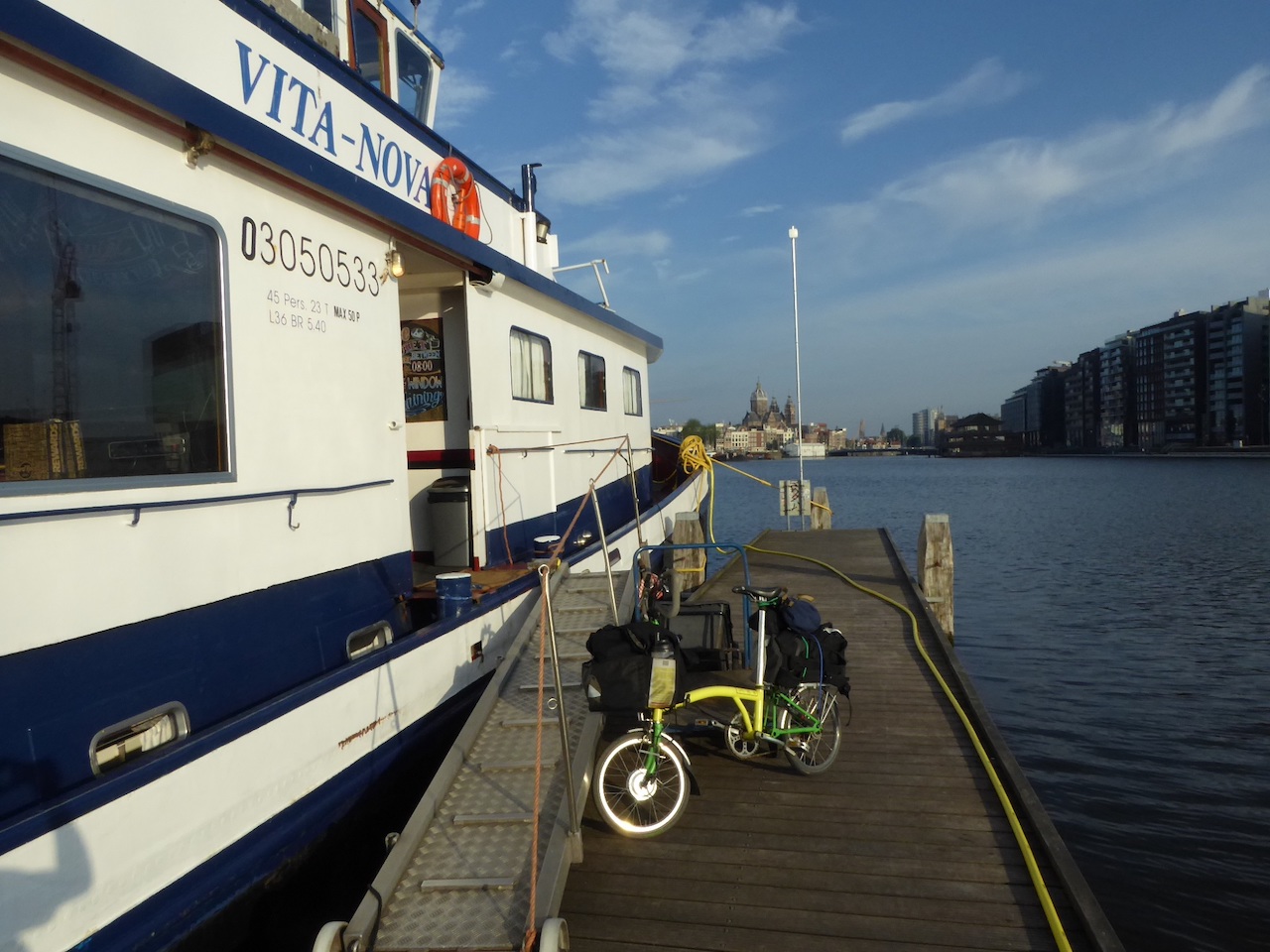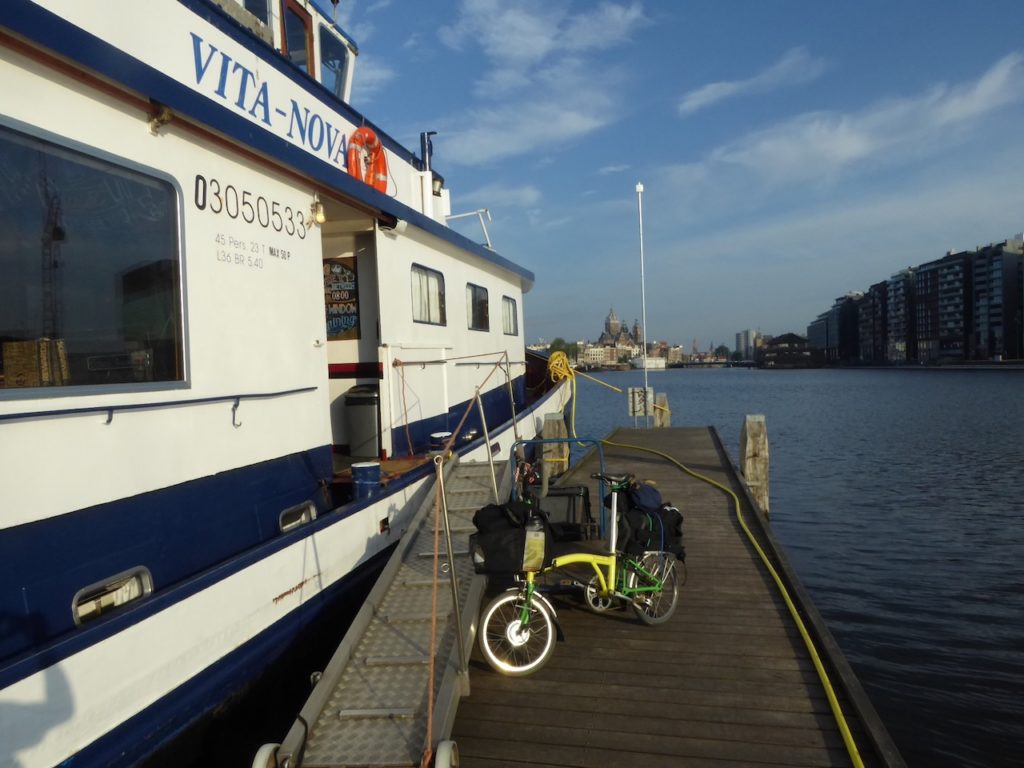 From here my accommodation is a short hop away, and being on a canal boat provides great views across the what is effectively an enormous canal basin, a popular location for sitting out to admire the views or taking boat trips.
Day 2 Amsterdam to Utrecht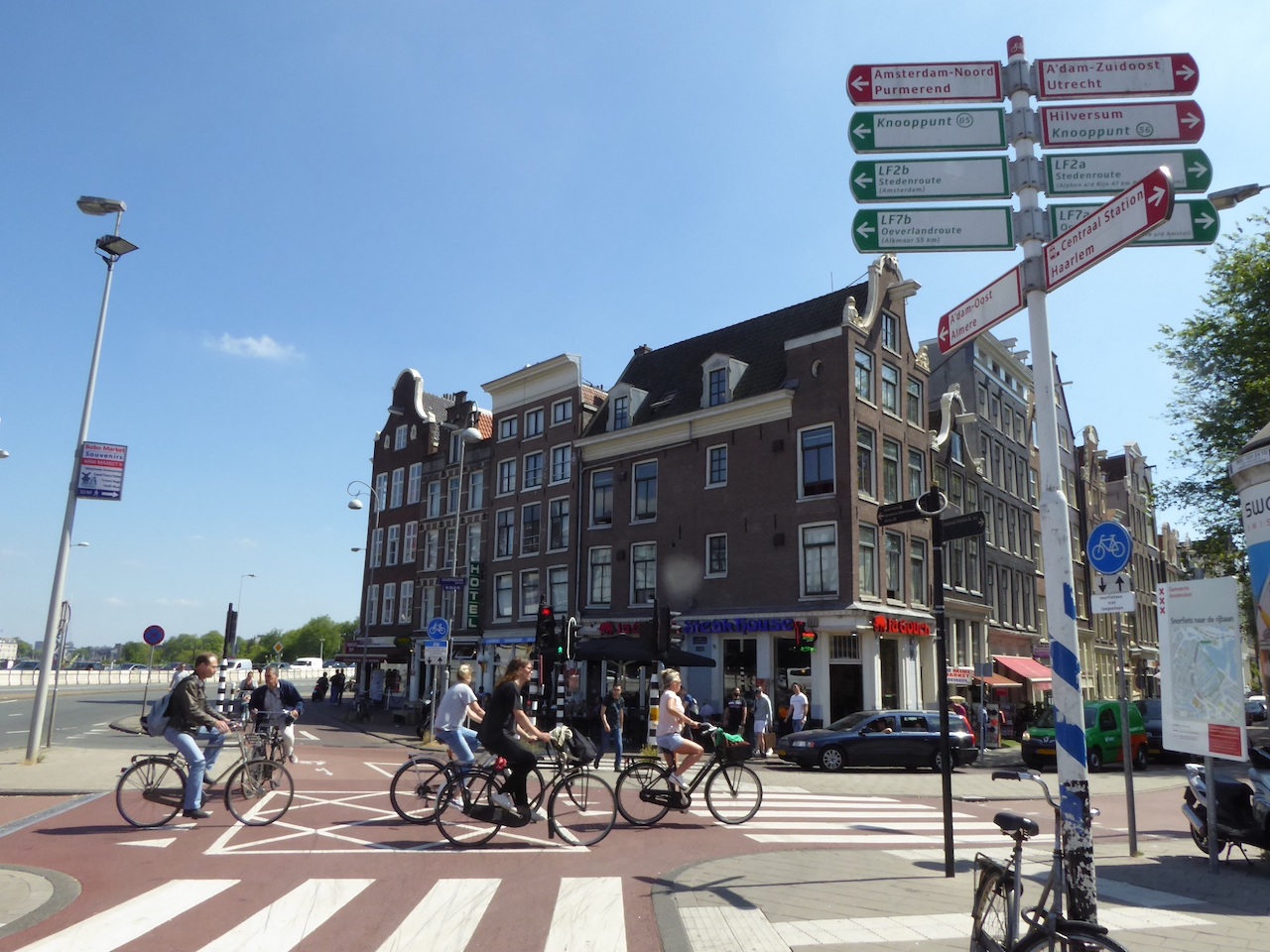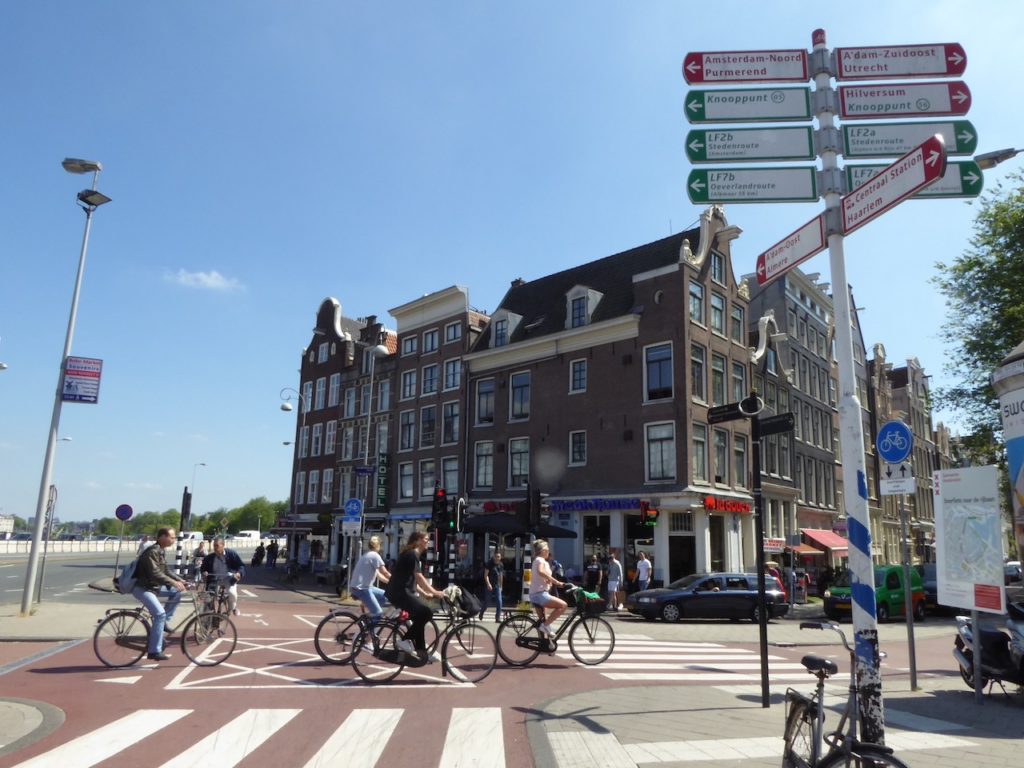 After picking my way along LF2 signs alongside Amsterdam's scenic town centre canals the lovely river Amstel takes me south out of Amsterdam.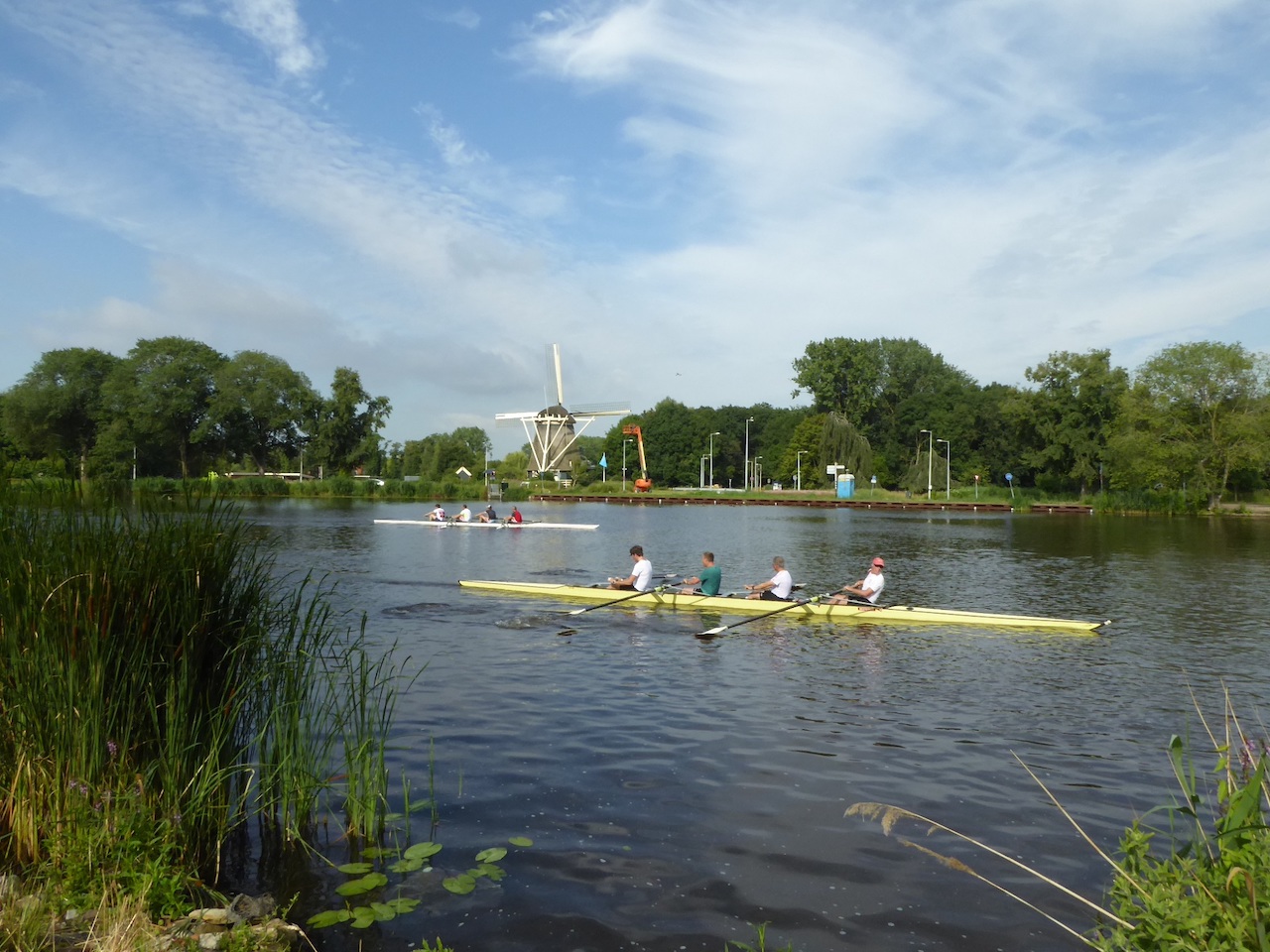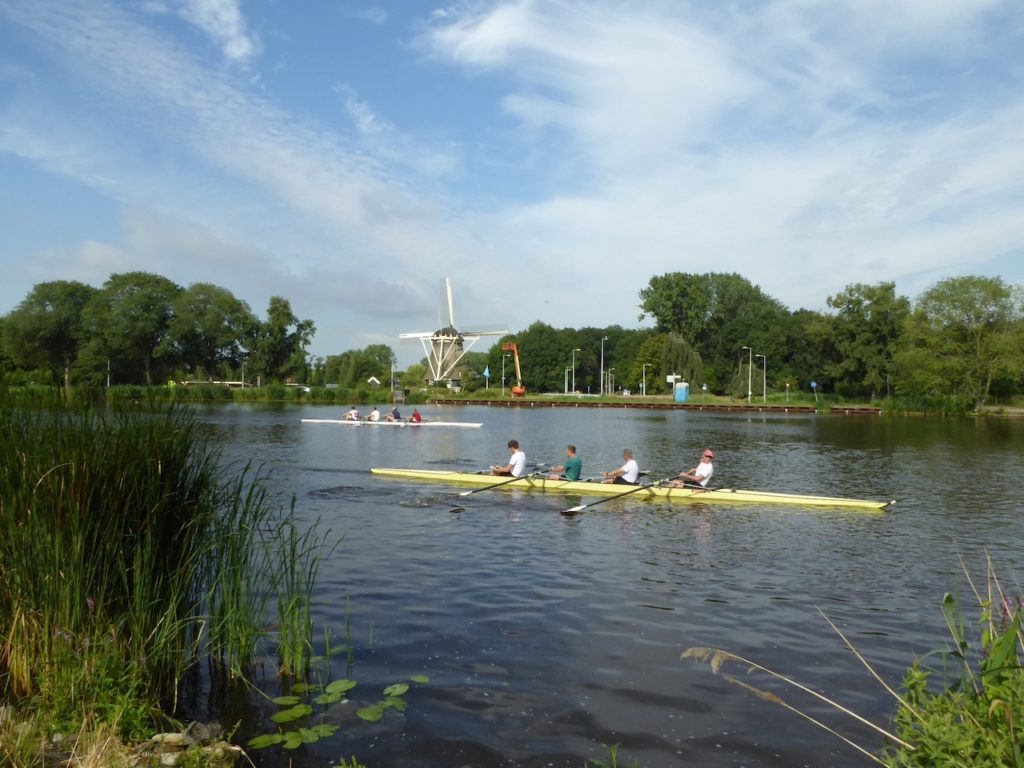 It's a Saturday morning and those Dutch that aren't out cycling alongside the Amstel seem to be rowing on it (generally the serious kind of rowing – in eights or singles sculling).
As well as leisure cyclists, many on e-bikes, I'm a little surprised to see many lycra-clad head down types on road racers.
Leaving the Amstel at the pretty little village of Oudekerk I pick up signs for the LF7 Oeverland (River Bank) route a section through the Polders leads to a string of very pretty villages on small canals with some quaint but still working lift bridges that offer some lovely cafe and restaurant stops; Vreeland and Loenen aan de Vecht are highlights.
By way of impressive contrast the route then passes over the huge Amsterdam – Rijnkanaal and starts to use more local roads rather than totally traffic-free routes – some are marked as 'cycle roads' where cars are 'guests' – these are single width with passing places for cars and where bikes have priority.
Still all very cycle-friendly with what cars there are traveling at low speed and having to give way to bikes.
A lovely riverside section complete with bike boat ferries across the waterway brings me to the picturesque old university town of Utrecht.
Here at Hotel Oorsprongpark I can leave my bike behind reception – a welcome touch that means I don't have to fold the Brompton up and take it up in the lift to my room as I often do in hotels.
Day 3 Utrecht to Arnhem
Through the centre of Utrecht on a quiet early Sunday morning the scenery changes again. This is now landed estate country as I pass a string of grand stately homes.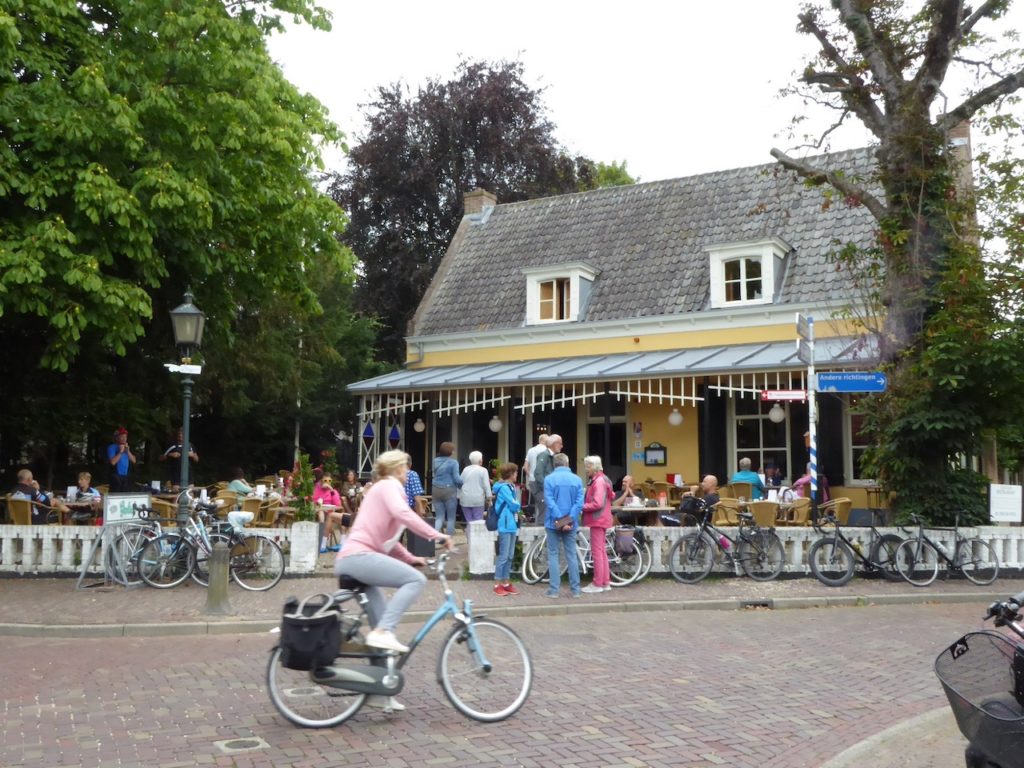 The highlight is Amerongen, home of a pretty village, a grand National Trust type house and a very attractive looking cafe popular with cyclists.
At Leersum I make a note to try and come back to stay at the attractive looking B&B campsite here which appears to have a self-service coffee station next to the road for passing cyclists.
After passing though quiet woodland my route is also signed as the Rhine route and I descend to have a look at the tiny bike and pedestrian ferry at Rhenen (even though I don't use it).
The approach to Arnhem dips in and out of the forested area of the Veluwe National Park – the Netherlands oldest and biggest wildlife area before good cycle signage takes me into the heart of Arnhem.
The city is most famous for a 1944 battle where the Germans held up the Allied advance on Germany, but today it's a modern but very attractive and very cycle friendly place.
My ride over the traffic-free Nelson Mandela bridge to my accommodation on the southern outskirts gives me a chance to see over the Neder Rijn river and get a great view of the town.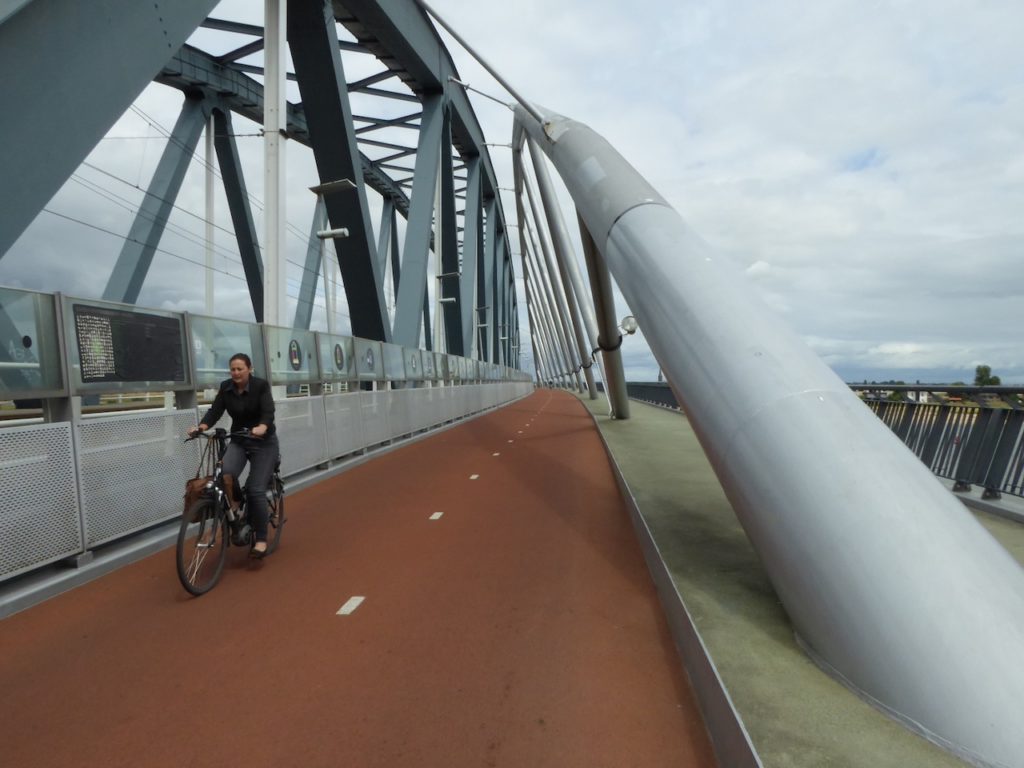 Reflecting on the trip in Arnhem I really felt from what I had seen that all the Netherlands has done and continues to do for cyclists really makes it a cyclists' paradise.
E-bikes Galore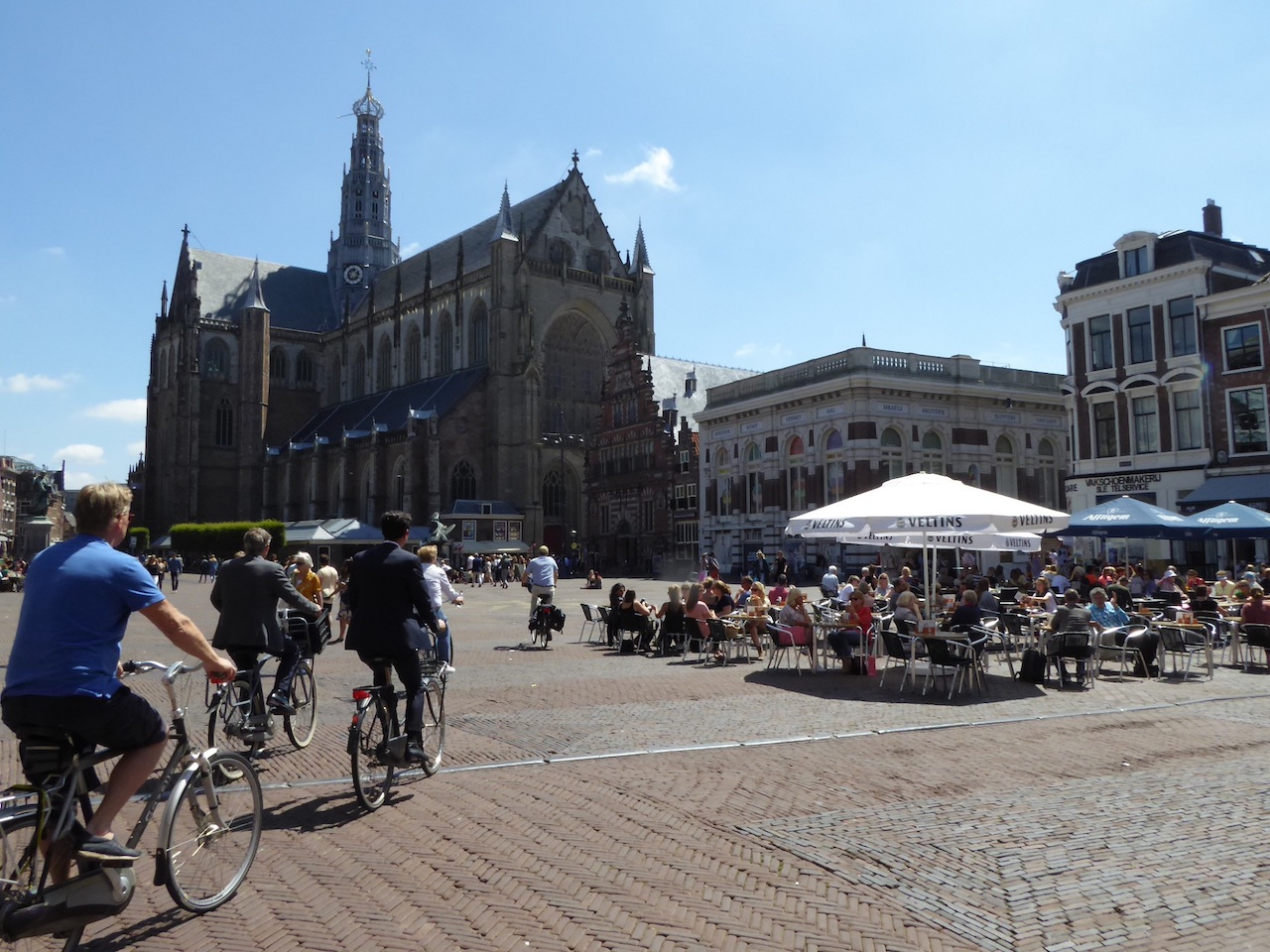 E-bikes are everywhere in the Netherlands; e-bikes of all types, shapes and purpose and it is this diversity which is most notable, with e-bikers just going about their business on a huge variety of steads.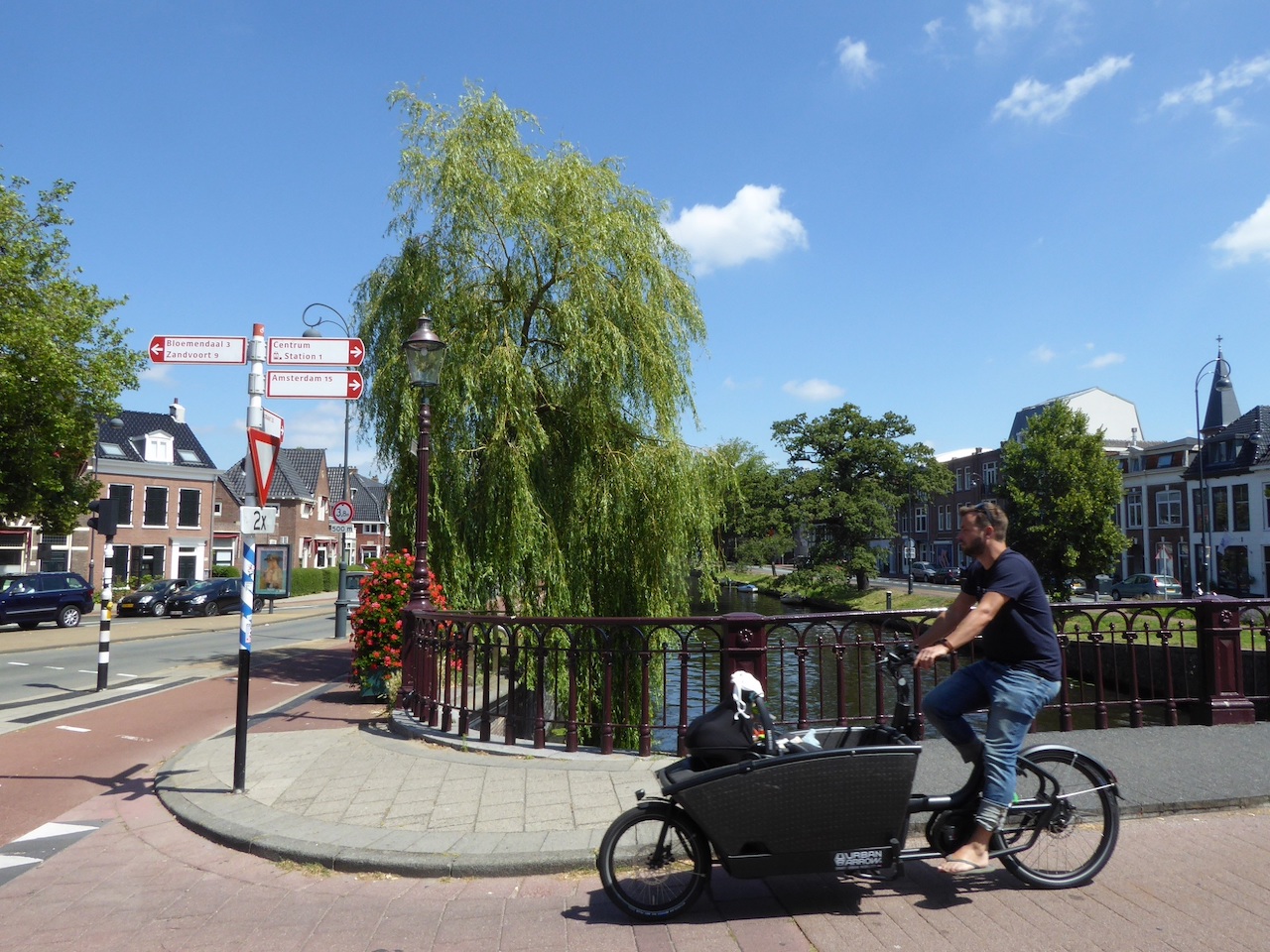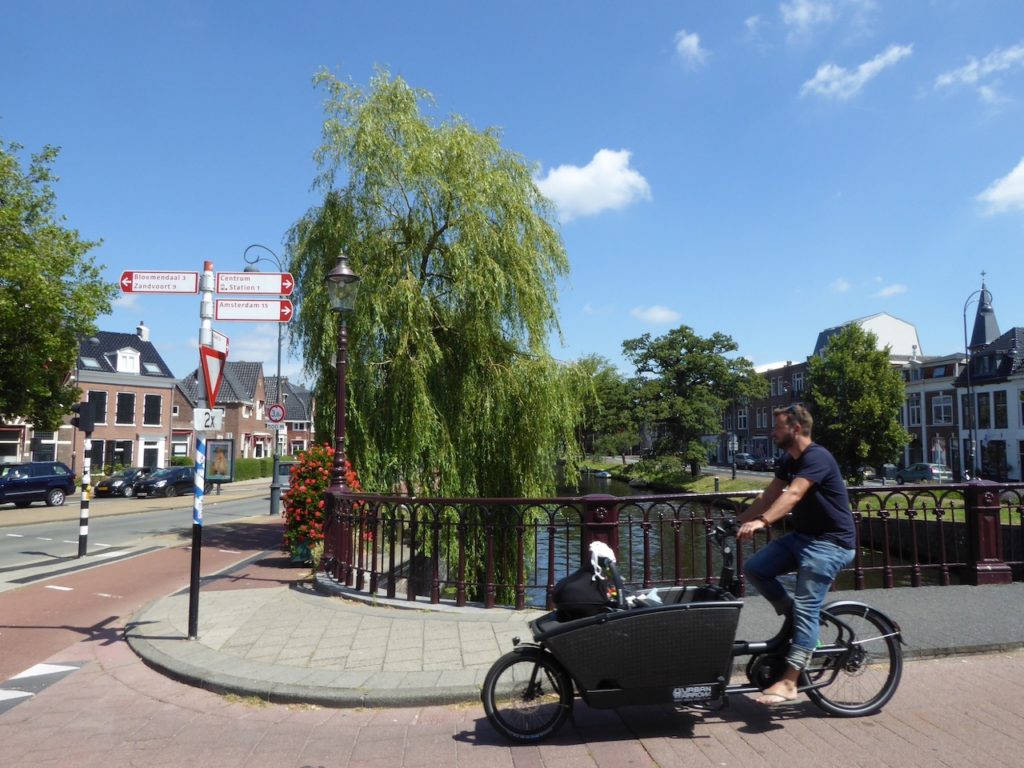 Being from the UK where e-bikes are popular but still taking off it was fascinating to observe.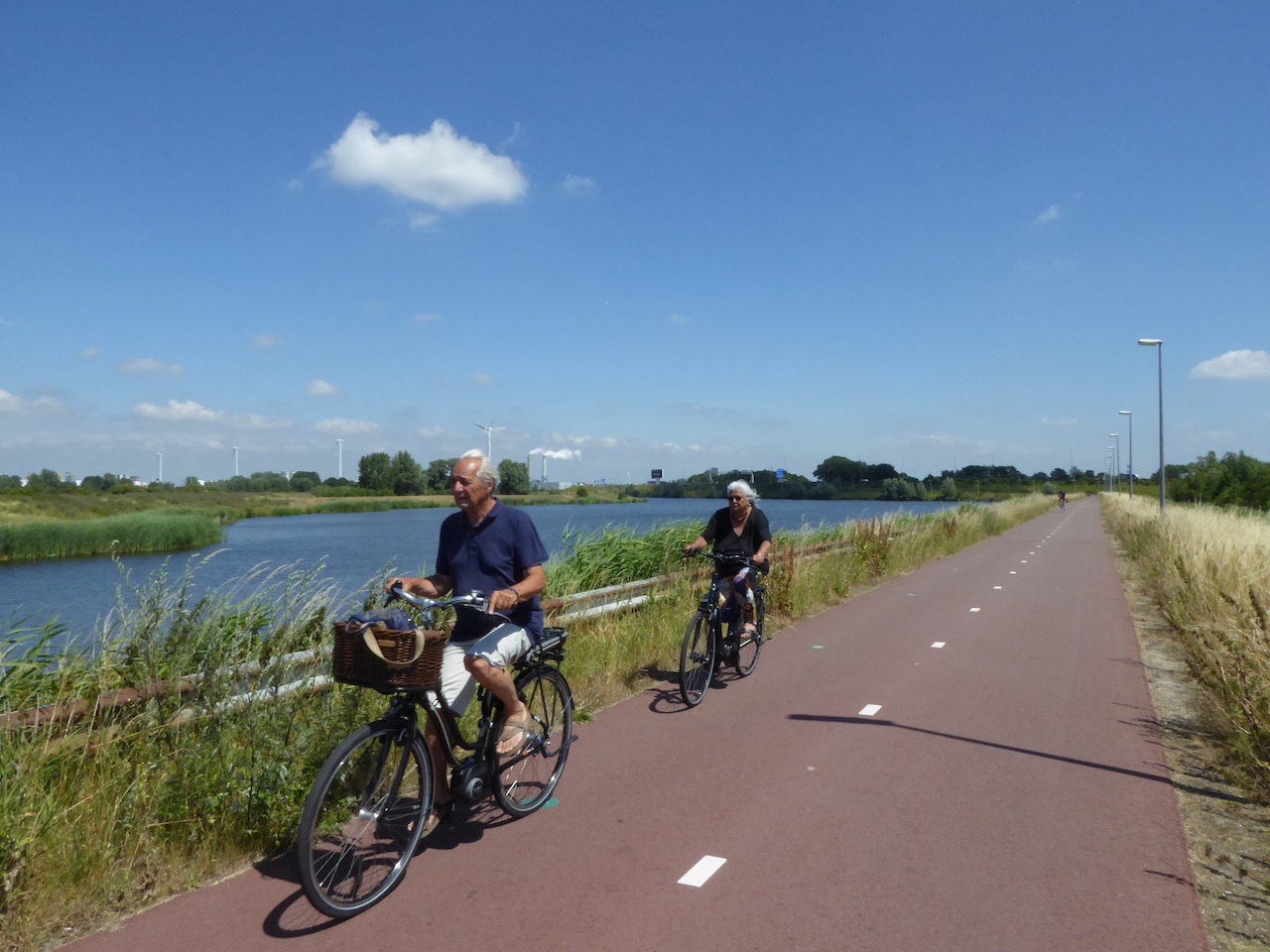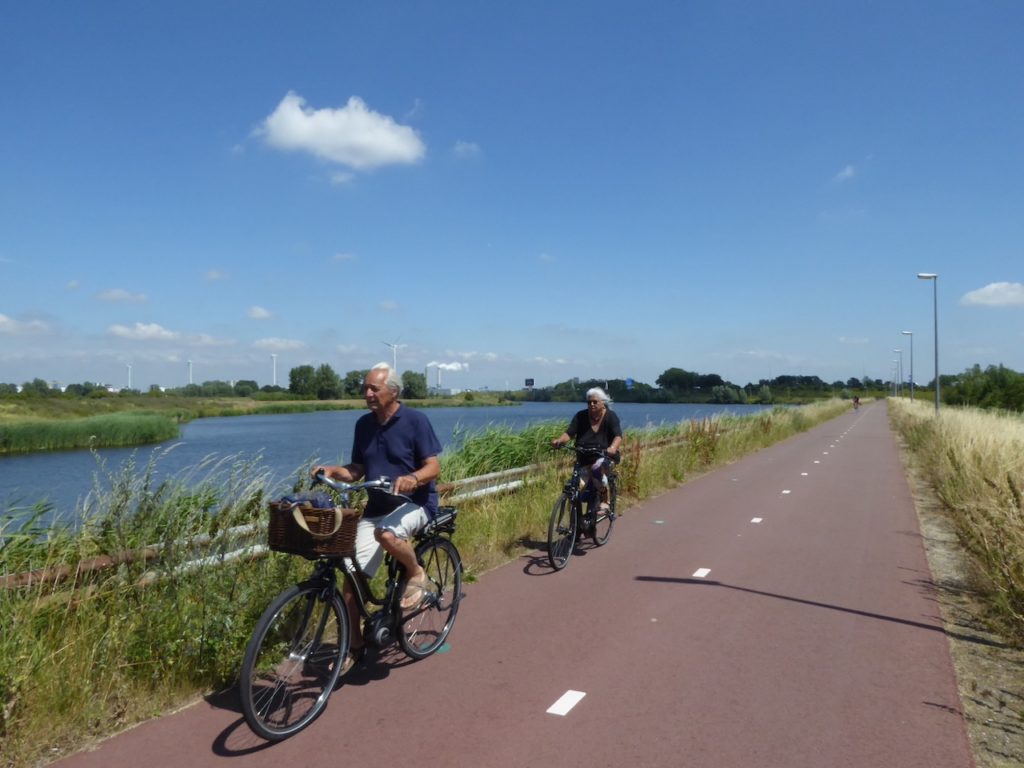 Perhaps most notable where the number of older cyclists and e-bikers when compared to the UK.
Typically, in the UK, MAMILs (Middle Aged Males in Lycra) are still probably the most common sight, though the picture is different in a handful of cities like London, Cambridge and York.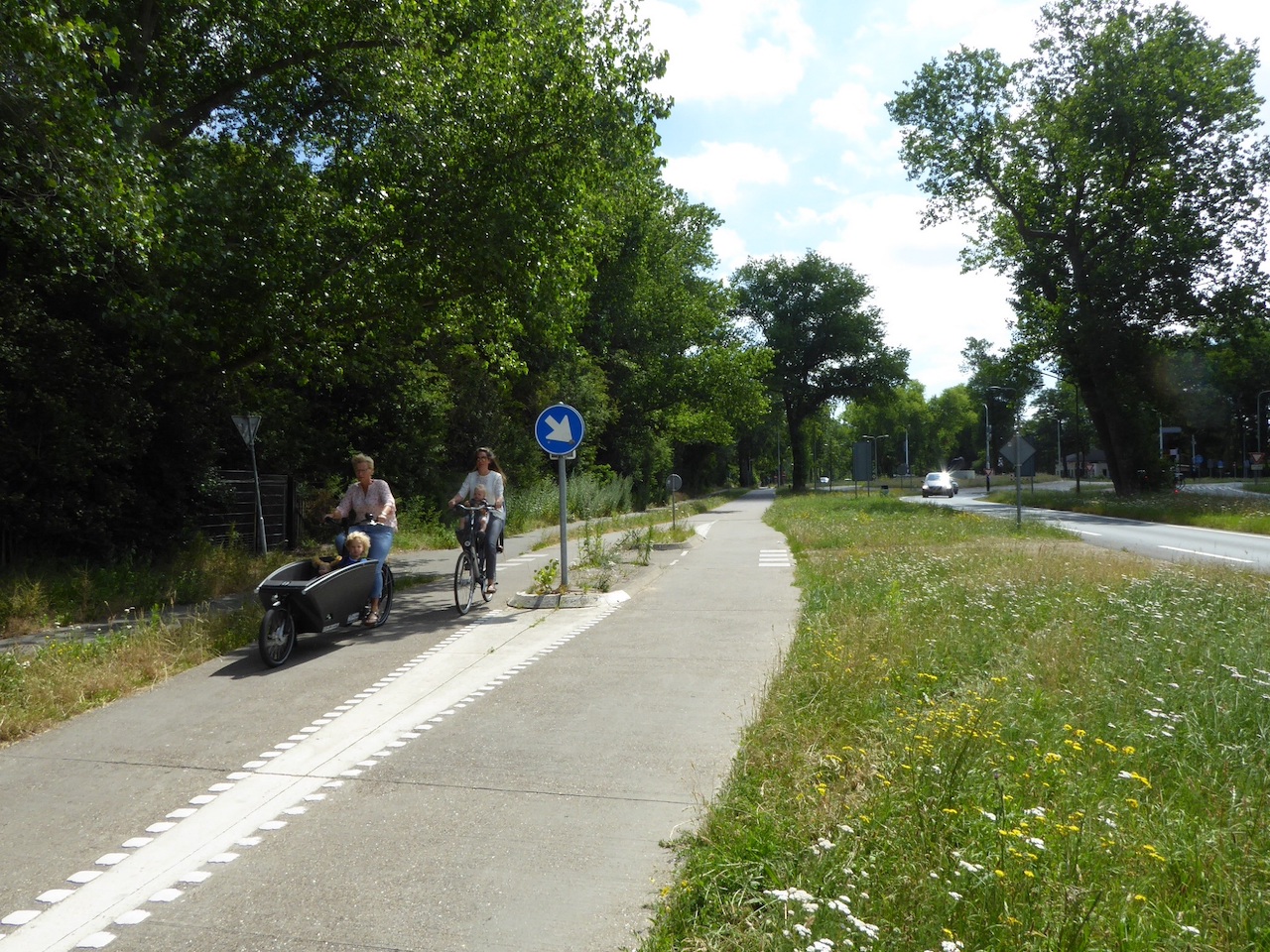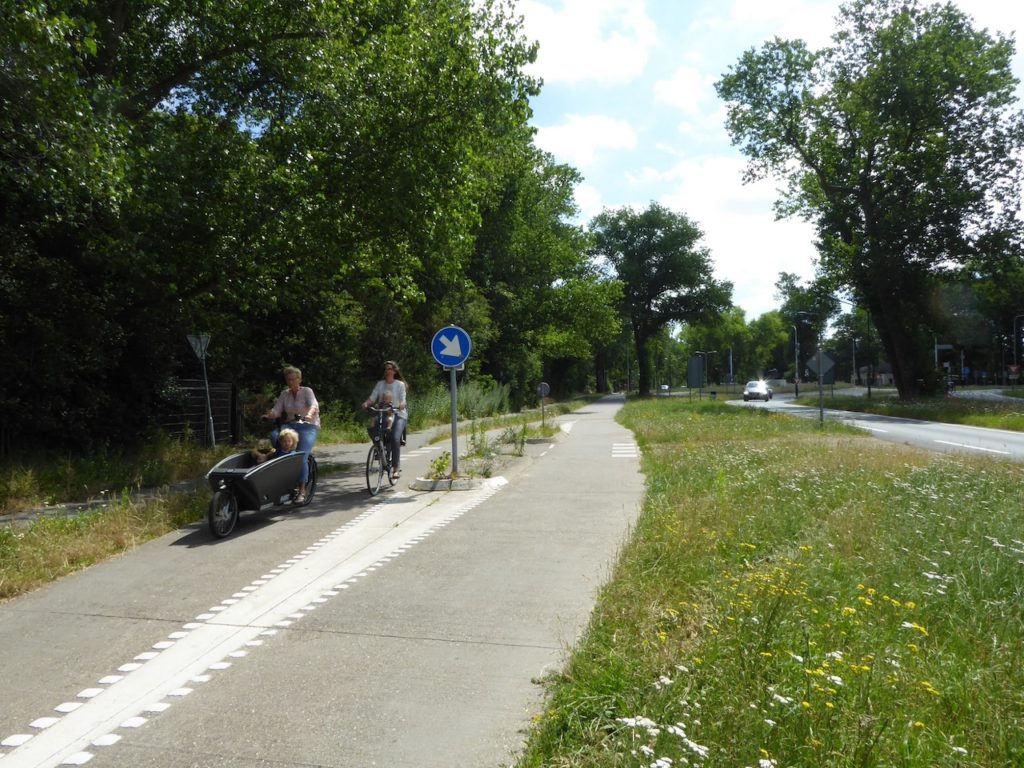 In the Netherlands the situation is reversed and e-bikes and utility bikes are king with road racers appearing at the weekend and in the countryside, but certainly not as commuters in the city.
Navigation tips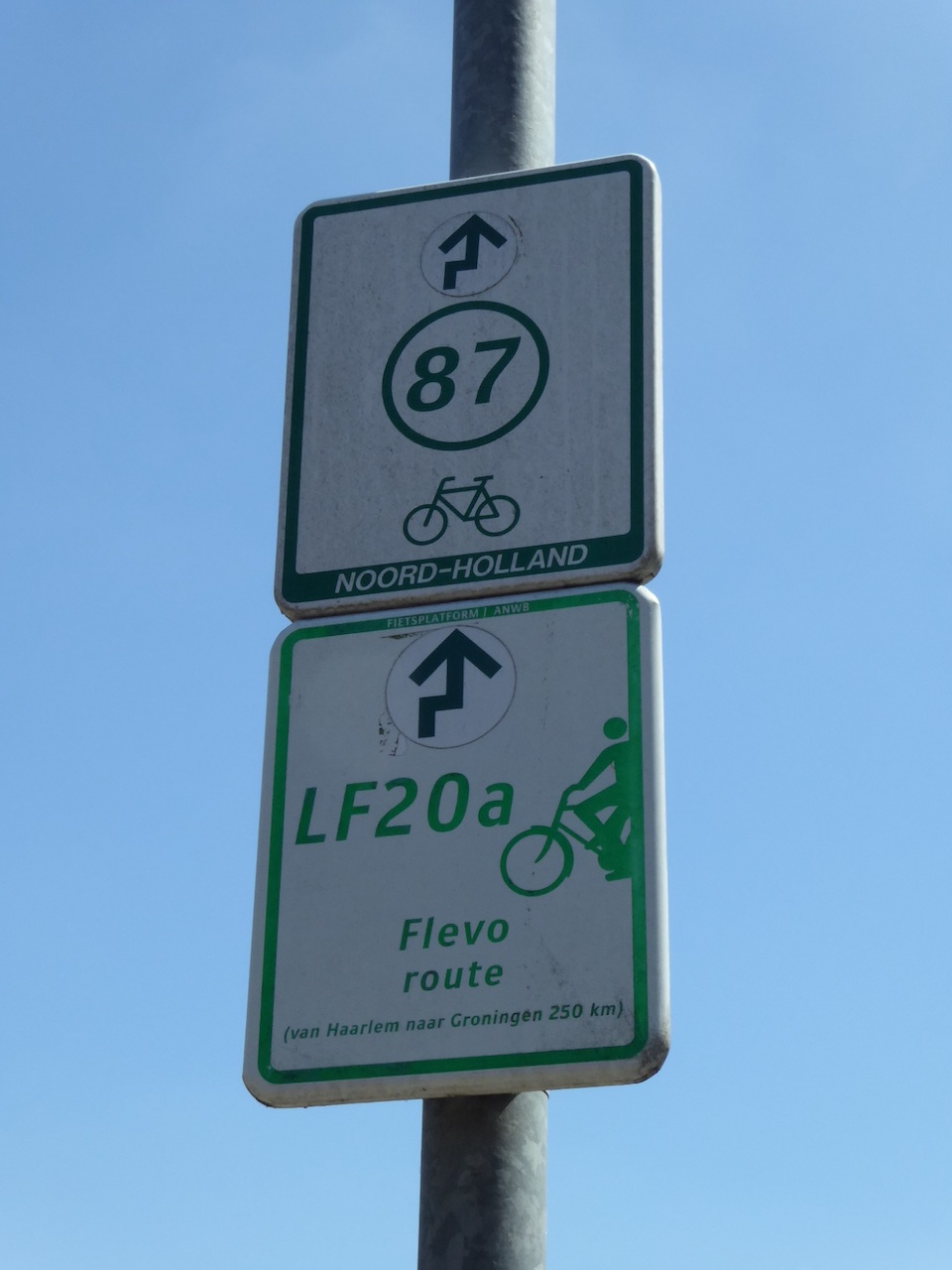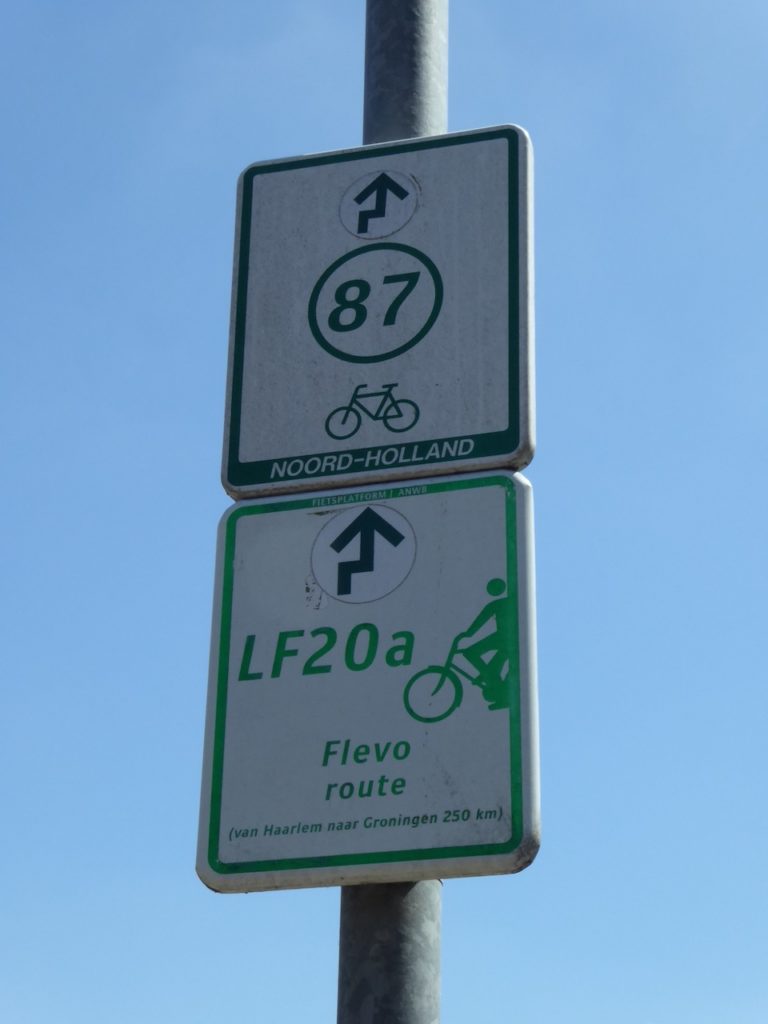 Green LF routes are national long distance routes designed to take in attractions, pretty towns and villages and the best scenery. They won't be the quickest way to get from A to B but will be circuitous.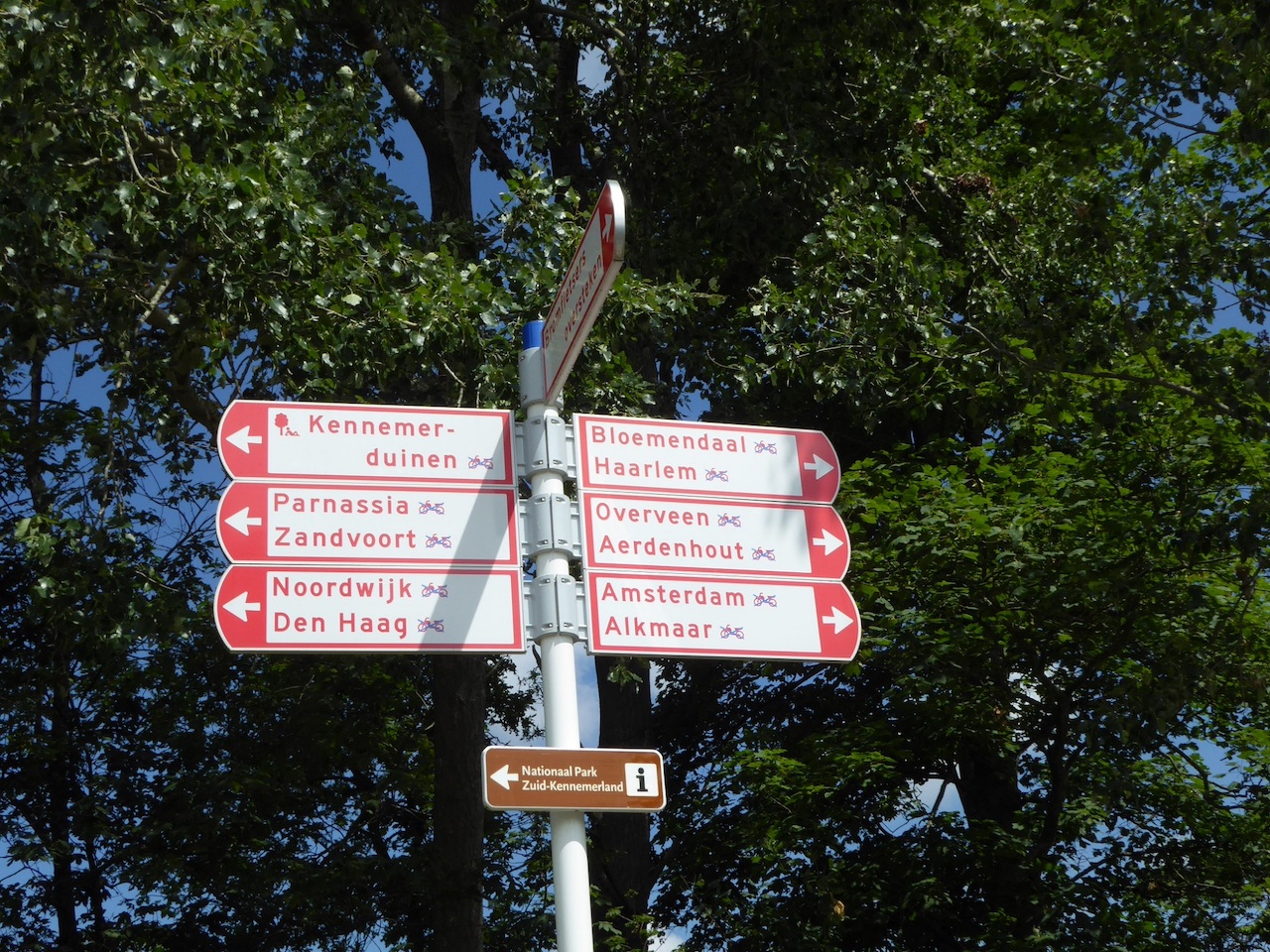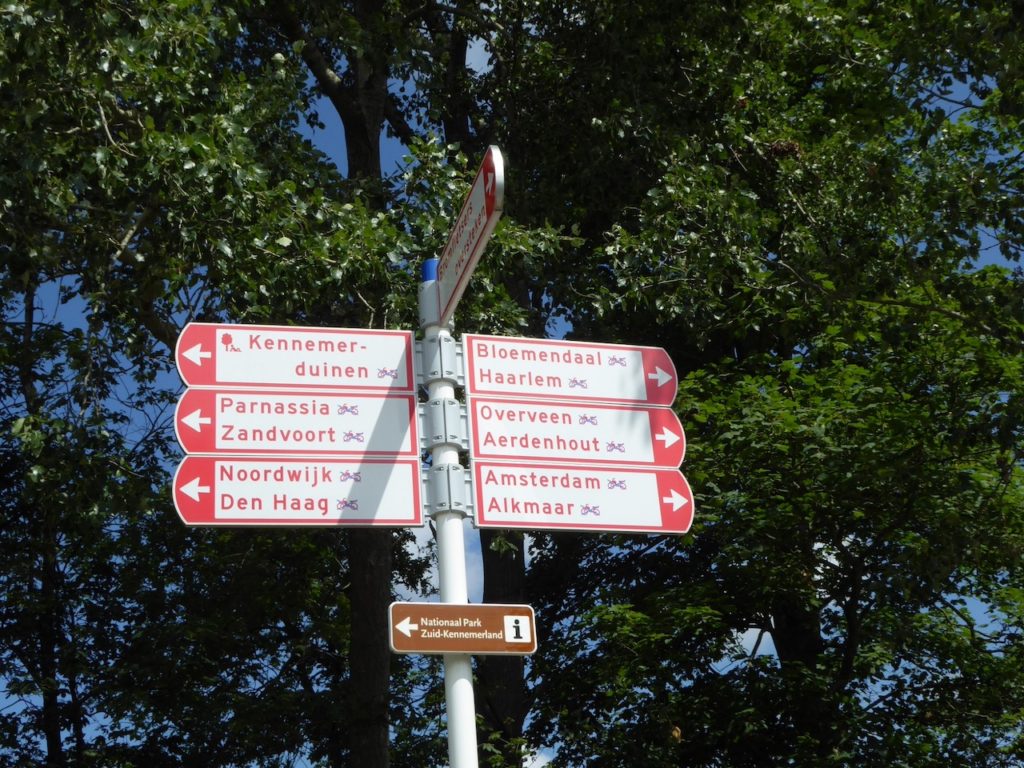 Routes signed in red are more direct commuter routes and indicate signed destinations and often distances to them.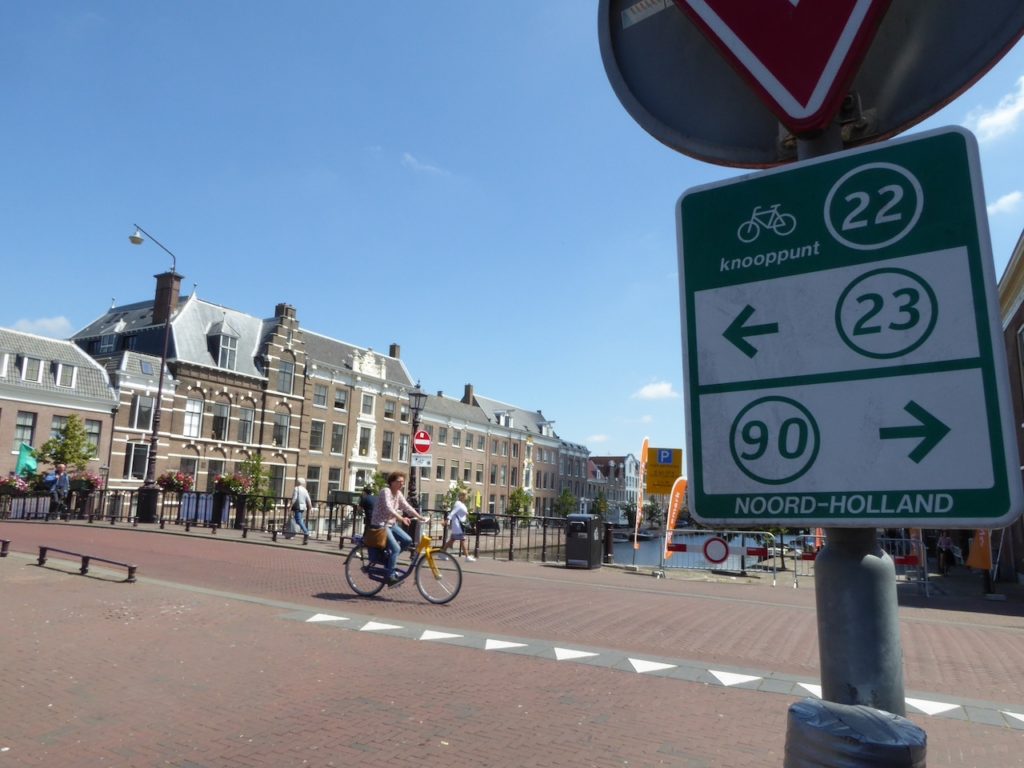 Knooppunts are a newer system covering the whole of the country. In essence cycle route junctions are labelled with a number and there are also signs telling you the direction to the next numbered junction.
As long as you have a map with Knooppunts on (they are available as paper maps or on your phone via various apps) you can navigate anywhere on the Dutch cycle route system that you like.
Obeying the rules of the road on Dutch cycle lanes is pretty easy once you have had a bit of practice. Most importantly of course remember to ride on the right if you come from a country that drives on the left.
Cycle lanes are often distinctive red tarmac and white markings on the road indicate where you give way and who has to give way to who (it takes a bit of getting used to when cars and lorries stop for you at junctions).
There will be instruction signs that refer to snorfiets and bromfiets. These are slightly faster forms of two-wheeled transport such as small mopeds and speed pedelecs that are sometimes allowed on cycle lanes but sometimes not, so they won't apply to regular bikes or e-bikes that are limited to an assisted speed of 25kmh / 15.5mph.
For GPX files and distances see here.
Stay tuned for more e-bike news and reviews and thanks for reading!
-Richard
P.S. Don't forget to join the Electric Bike Report communityfor updates from the electric bike world, plus ebike riding and maintenance tips!
Reader Interactions