European Electric Bike Tour: Venice, The Romantic Road, & The River Main – Part 3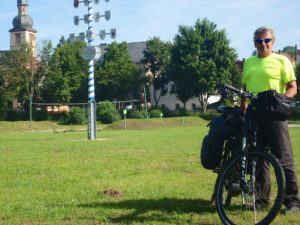 This is a guest post from Grant Walter who is currently touring Europe on his electric bike. Make sure you checkout Part 1 and Part 2.
I've completed a loop, I'm back in Stuttgart, where it all began, and the bike computer is showing 3,001 km (1,864 miles).
After Slovenia I rode through northeastern Italy, from Trieste (a really interesting but little visited city) to Venice (a wonderful place, full of visitors).
Maybe it was the area, the geography means that there are few roads between major towns, but I didn't find cycling very enjoyable in this area.
The individual parts were great, off-road bike paths as good as any I've used, unbelievable numbers of cyclists of all types (and ages) plus of course the food, the wine, the very laid back approach to life, the rural scenery, the towns and villages, it was all fabulous.
But the sum of the parts was less than the individual parts, in short, too much traffic, too many inconsiderate drivers (and cyclists).
I choose to approach Venice by water, using ferries, what better way to come to Venice?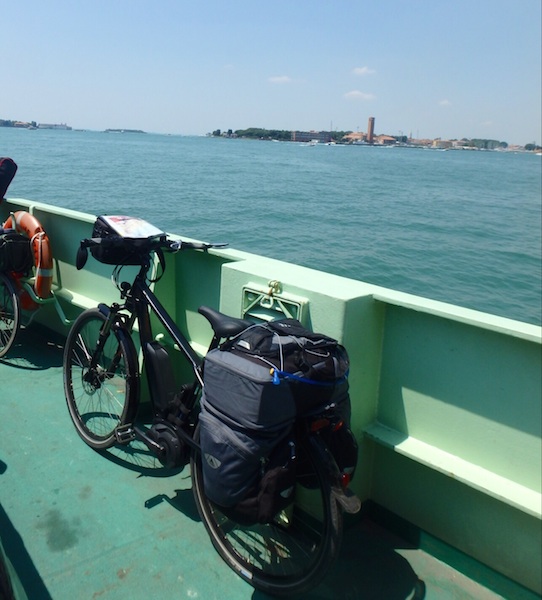 For better or worse this involved riding along a narrow isthmus full of hotels, camping sites and a 5 km traffic jam – in both directions – it was an uncomfortable experience, but as Venice gradually appeared across the water, it almost made up for the unpleasant riding that it took to get there.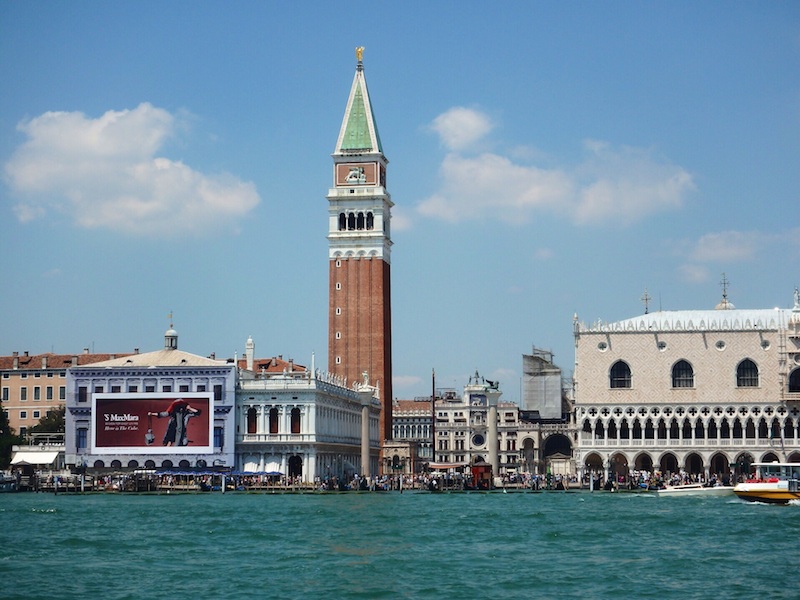 I enjoyed a few days off the bike – bikes, quite naturally, aren't permitted in Venice – before making use of a bike bus shuttle to Germany.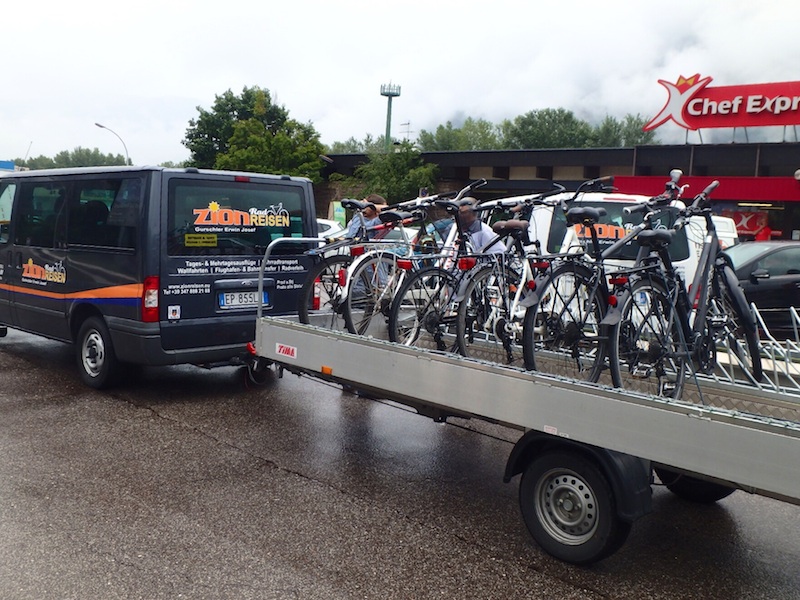 The Via Claudia, a Roman trade road, runs through the mountains from Donauwrth to Venice, and it's a very popular – if challenging – ride, so there are regular buses to take bikes and riders back to Donauwörth.
Donauwörth, like many towns in Germany, is on several cycle routes, one being EuroVelo 6 (runs from the Atlantic to the Black Sea), another being the 'Romantic Road'.
I opted to ride the 'Romantic Road'; a relatively short route that was like riding through a postcard gallery, each town was impossibly more picturesque than the last, though each had it's own unique character.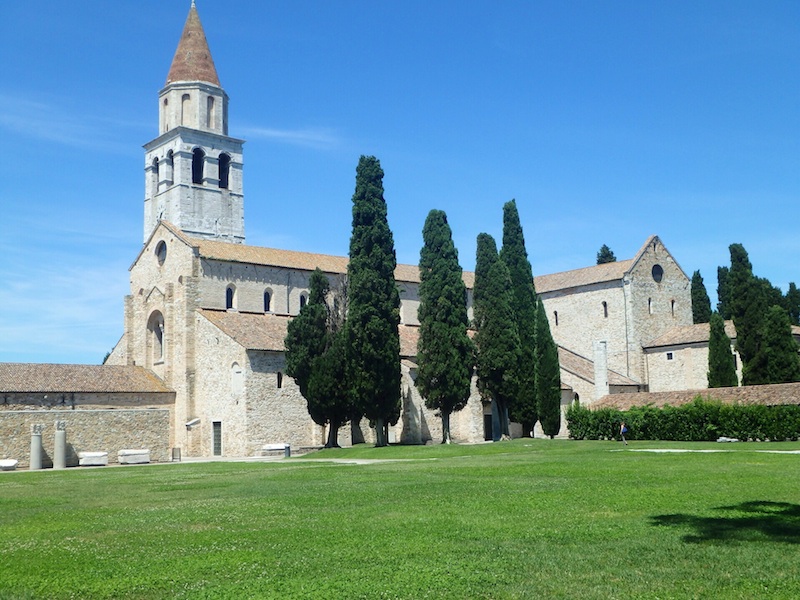 The distances between towns wasn't great – usually some 30 – 40 I miles – and the cycle route is well defined and well sign posted.
There are a few challenging hills though, and, of course, the weather took a turn for the worse; all part of cycle touring.
Because it's a very popular cycle route – one that you can make as challenging or leisurely as you like, there's a bus which will take you and your bike between towns.  The hotels, hostels and guest houses were very accommodating, one host for example allowed me to use a room from 10:00am on a particularly stormy day when I was really battered by rain after only an hour or so on the road.
Although I suffered with the heavy rain, and as the bike path ran right alongside a very busy road, more so with the sheets of water thrown up by speeding vehicles, the bike handled the poor conditions much better than I did, it didn't miss a beat. I had wondered how an e-bike would fare in very wet conditions, but no I longer do.
As always, the weather improved and I all too quickly reached Wrzburg, end point of the 'Romantic Road' cycle path.
Once again though, there were other options available from Wrzburg, and on the urging of a group of local cyclists, I rode the 'River Main' cycle route to Frankfurt am Main.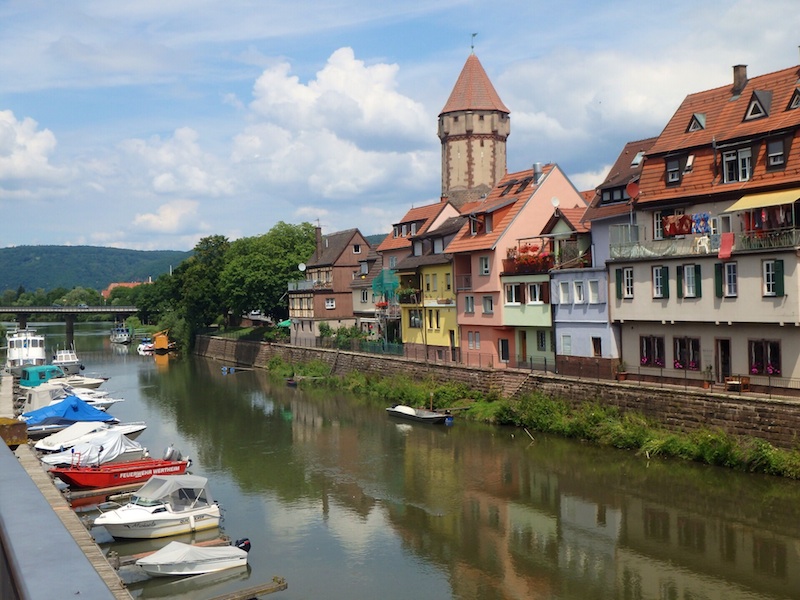 The Main cycle path is the only five star cycle route in Germany and it's amazing! Like a freeway for bikes, wide and smooth, gentle gradients, sweeping curves, at water's edge much of the time, with any number of accommodation and/or refreshment options along the way to make for leisurely, enjoyable cycling.
It was so pleasant, that for much of the way, I turned off the e-assist and just turned the pedals over at a sedate rhythm – the servings of food in Germany are so big, and the varieties of good beer so vast, that I felt I needed a bit more exercise!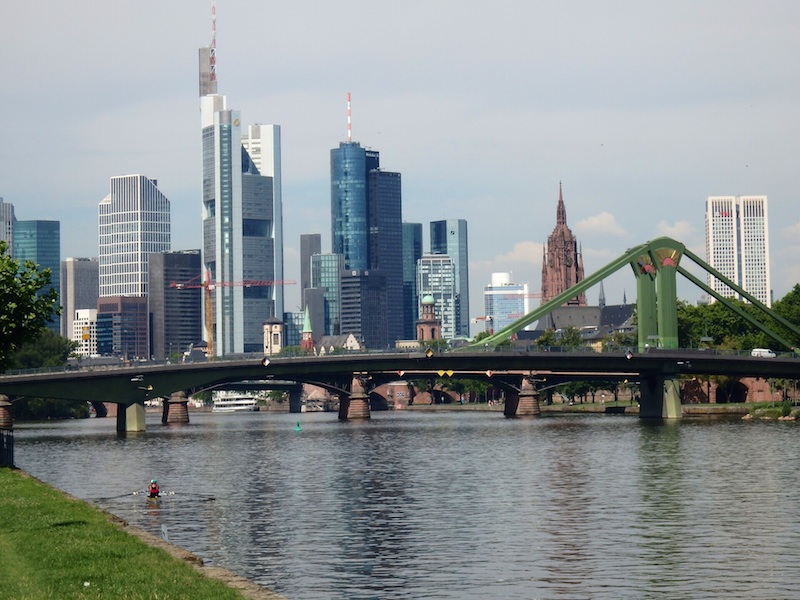 The longest stretch of my ride was 52 miles between Wertheim and Aschaffenburg, but it was an easy day's riding (using e-assist).
Being such a well supported route, there were plenty of other touring cyclists about and I was interested to note that a fair proportion were using e-bikes, and not just those of us of 'mature' years… there were many younger riders using e-bikes as well, some, on well used, rugged, electric MTB bikes were riding the 'alternative' single-track trails through the forests – one rider seemed really pleased to be able to tell me that he rode his e-bike through a small river, almost submerging the motor. While impressive, I doubt it's a good idea, but it does show how well put together e-bikes are.
As Stuttgart was less than 60 miles away and as the 2000 mile mark will come relatively soon on my now not-so-new bike, I decided to return to Stuttgart (a very pleasant, if little visited city) and have the bike checked out.
In short, the check up turned out well, the diagnostic report was amazing, everything in tip top condition, for example, the battery has had 26.2 full charges (a usual life cycle for the battery is something like 1000 charges, tho the Bosch guarantee expires at 500) and a mechanical inspection of drive belt, brakes, spokes and so-on showed the only thing in need of attention were the rear disc brake pads (not surprising in the least!). Not a bad outcome at all is it?
Where to from here? A night train to Paris followed by a slow ride to Amsterdam and onto London. All good things come to an end.
Thanks to Grant Walter for sharing his e-bike adventures! Make sure you checkout Part , Part 2, and Part 4.
Checkout some of these other e-bike touring stories:
Electric Bike Touring: 3,300 Miles from Seattle WA to Washington D.C. on a Pedego Interceptor
Electric Bike Touring: 80 Year Old to Ride 2,500 Miles on an Easy Motion NEO Jet!
Electric Bike Touring in Croatia, Austria, & Italy's Dolomites
E-Biking to the Grand Canyon with the Ride the Future Tour Crew! [VIDEO]
Tour de Mongolia – A Solar Powered Electric Bike Tour! Lots of Pictures.
Electric Bike Tour In The Nepalese Himalaya!
Iceland Challenge Short Film: Electric Bike Touring in Iceland! [VIDEO]
An Electric Bike Tour Across the USA!
Are you interested in e-bike touring? Where would you like to ride?
Please leave your comments in the section below.
Thanks!
-Pete
P.S. Don't forget to join the Electric Bike Report community for updates from the electric bike world, plus ebike riding and maintenance tips!
Reader Interactions