Comfortable Camping with an Electric Cargo Bike
Last summer gave me the chance to make several 'comfortable camping' e-bike trips using an e-bike plus trailer combo.
I've just had the chance to try out Riese & Müller's remarkable Load 60 Touring, a full suspension e-cargo bike, to make a similar trip to the UK's Yorkshire Dales National Park.
My destination, the lovely Wood Nook Campsite, was some 45 miles from home and the massive 1,000Wh dual battery capacity of the Load 60 promised more than enough power on tap to get me there.
Trip Out
The first part of the trip was potentially the most problematic, negotiating an urban route through the cityscape of Leeds with potential hazards such as 'A' frames and broken glass that often seems an unwelcome accompaniment on many urban UK bike paths.
I needn't have worried – whilst the A frames were undoubtedly a bother and slowed me down I was able to wiggle through the several ones I encountered, nor did I suffer any punctures, probably due in large part to the excellent Schwalbe Big Ben Plus tyres.
They earn a very high puncture protection rating from Schwalbe, using 3mm GreenGuard protection and all round SnakeSkin reinforcement.
This allowed me to enjoy the trip out along the well-surfaced and widened Leeds-Liverpool canal towpath, an incredibly popular commuter and leisure route, and then to head over the hills, where the Bosch Performance motor kicked in, to the lovely spa resort of Ilkley.
Some steep gradients in the hills north of Leeds posed few problems, even carrying the 77 pounds/35kg or so of gear, distributed between the main cargo box and the rear panniers.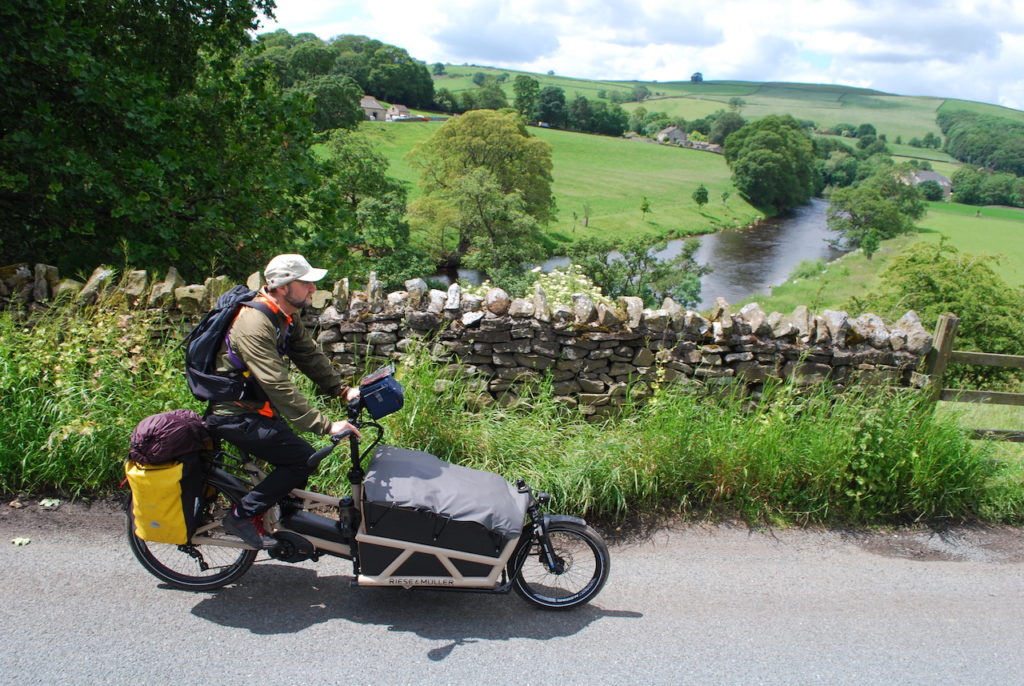 The gradients actually eased out as I joined my brother in Ilkley to head up
Wharfedale and into the Dales proper, as we followed the valley sides, rising and falling past some of the Dales' star attractions including Bolton Abbey, Barden Tower and Burnsall, with it's picturesque bridge and Red Lion Inn dating back to the 12th century.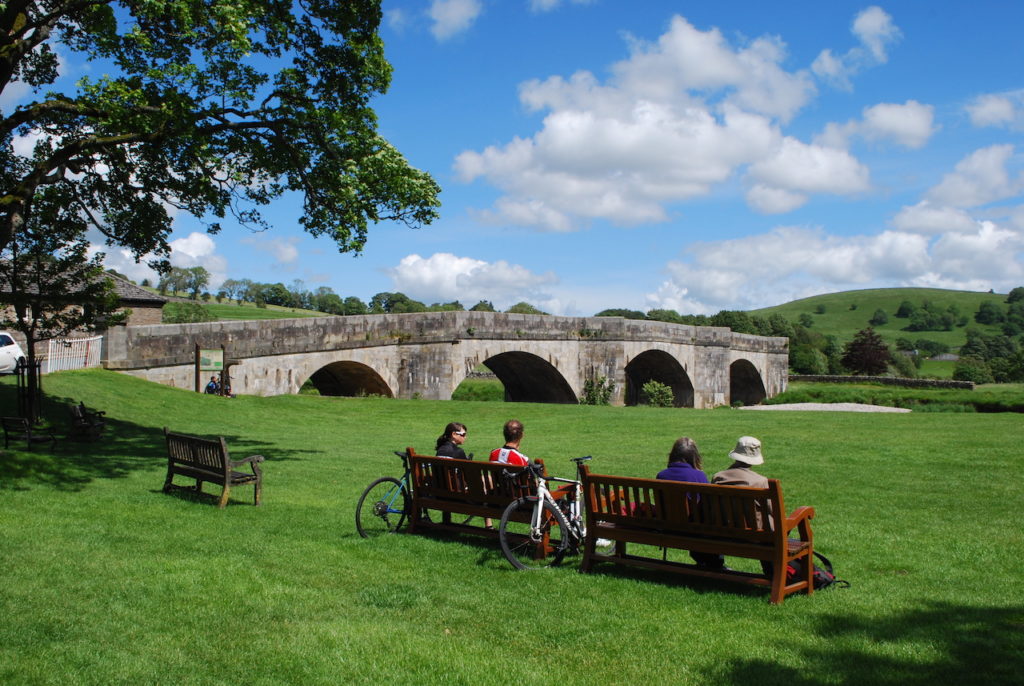 Pitching Up
At Wood Nook we arrive before the weekend rush and have a lovely large and empty grassy site to choose from.
Although we have bought our own charging lead, reception lends us one with a circuit breaker as part of the plug unit, so we comply with site rules.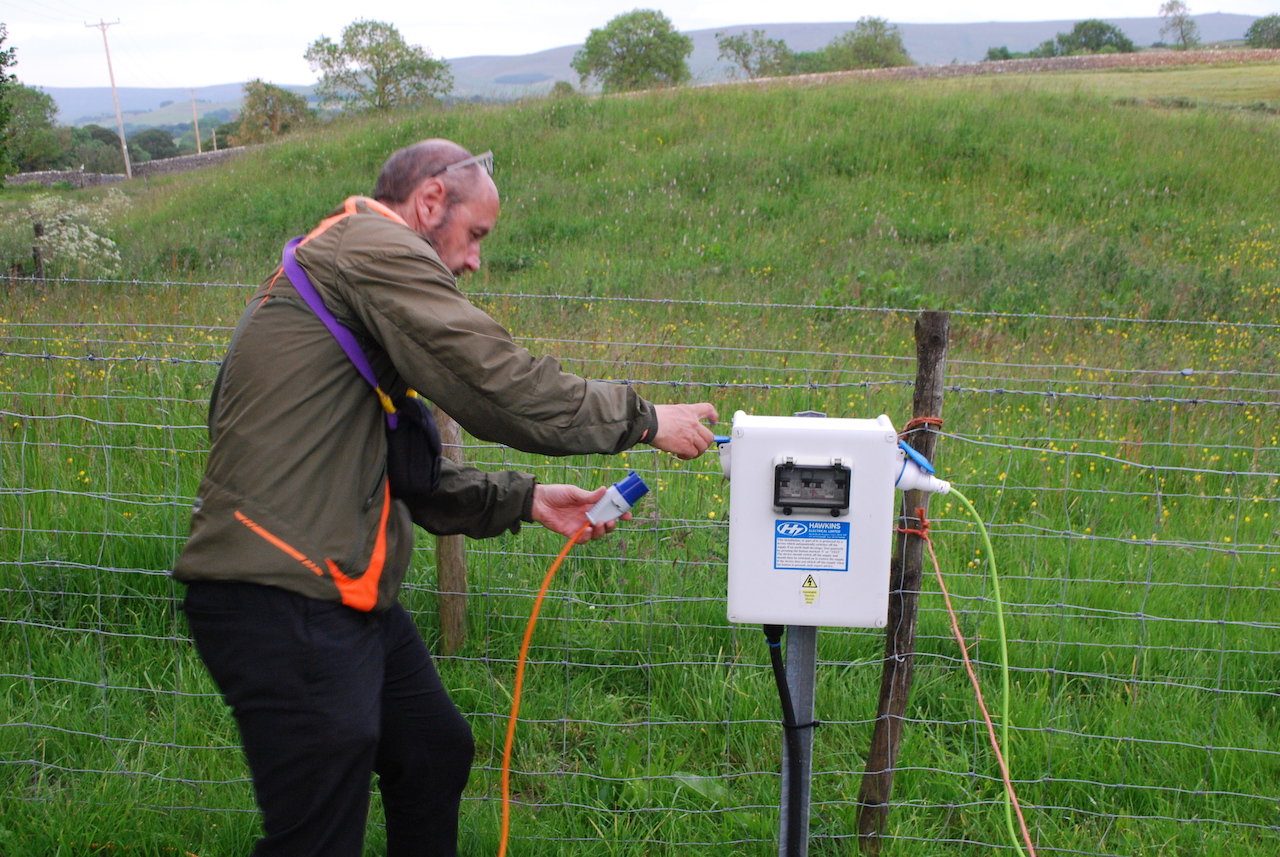 This is the first use of our four man Decathlon Arpenaz 4.1 tent which goes up in a jiffy.
This is a replacement for the four man Vango we used last season; it saves around 3kg in weight (it's just less than 10kg) and has more space outside the sleeping area to store bikes and other equipment.
It pitches quickly and proves a big improvement.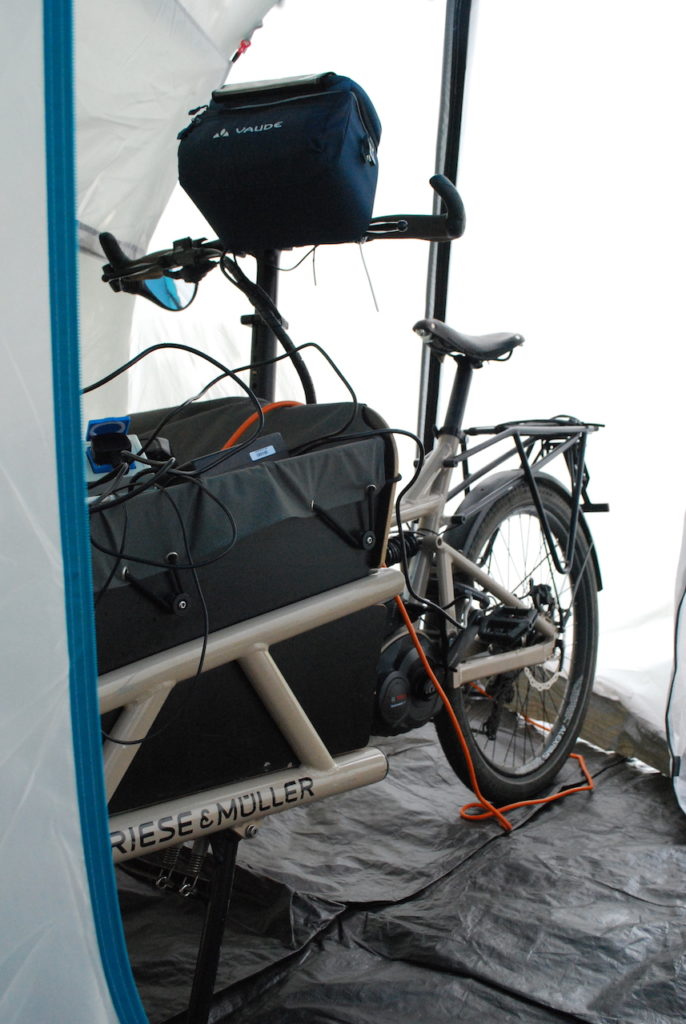 There is a little rain around the first night but the spacious living area allows us to keep charging both bikes overnight in the dry and to get up have breakfast, even with the bikes still inside the tent.
The sleeping area is great for two people too, with bags of room to store other gear.
Off-Road Credentials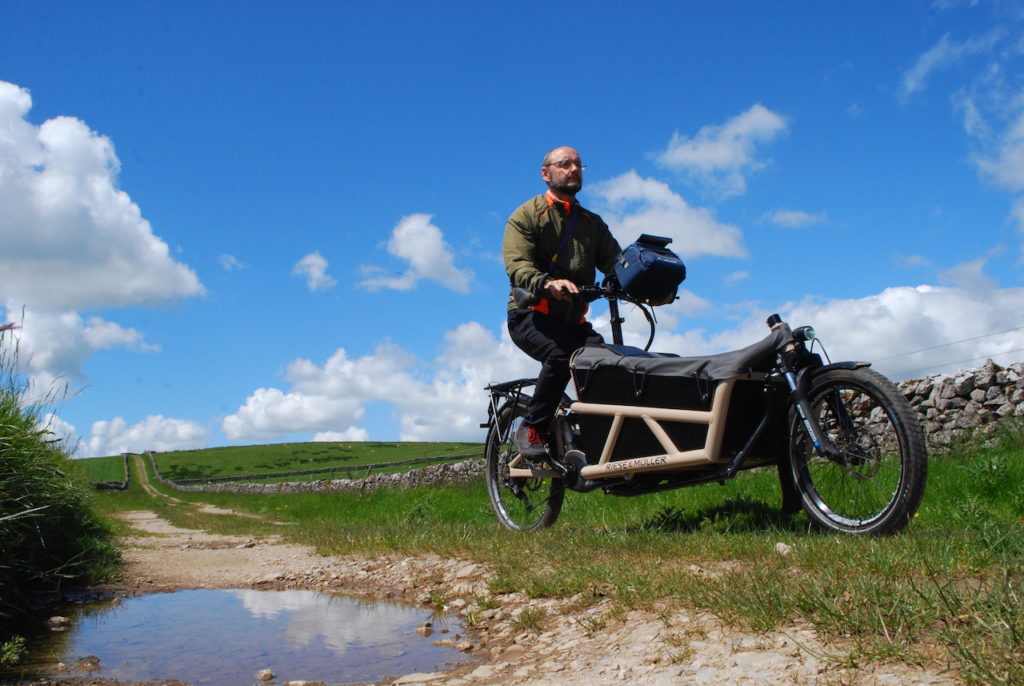 The two day break involves exploring some of the Yorkshire Dales finest 'green lanes' using the e-cargo bike (now unloaded!) and a budget model Carrera E-Vengeance e-mtb.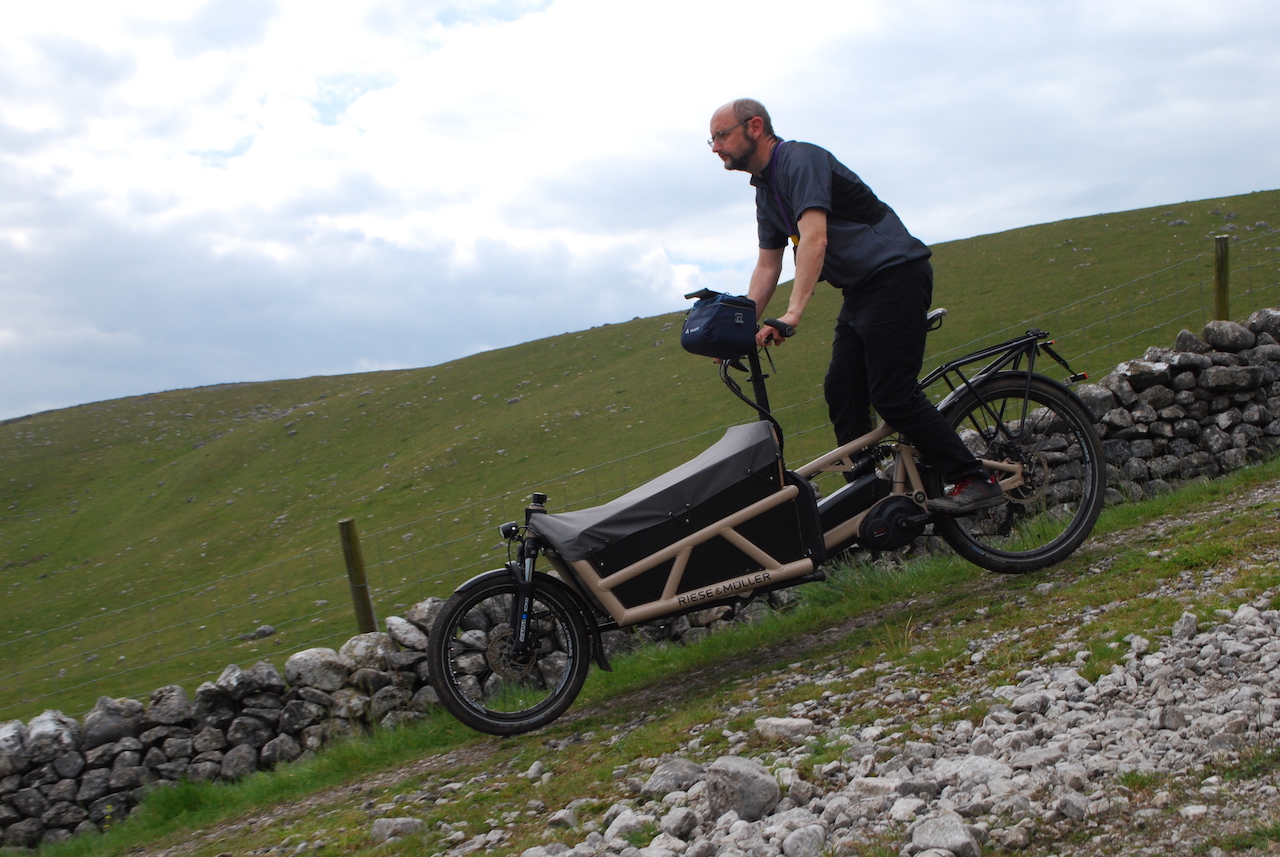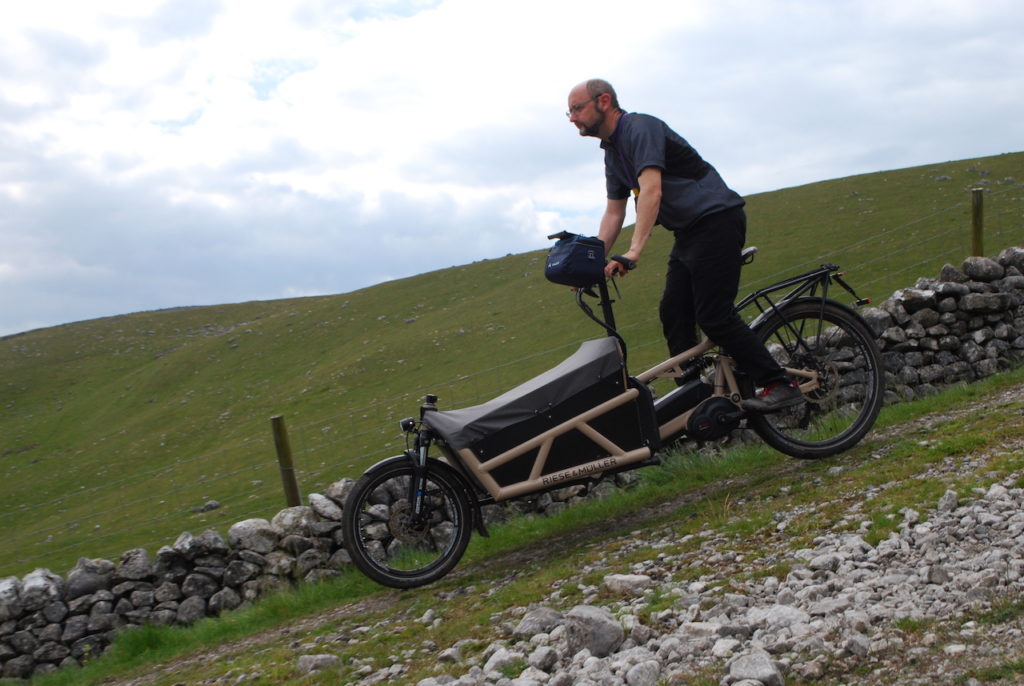 These green lanes prove ideal territory, especially the upland hill track known as Mastiles Lane.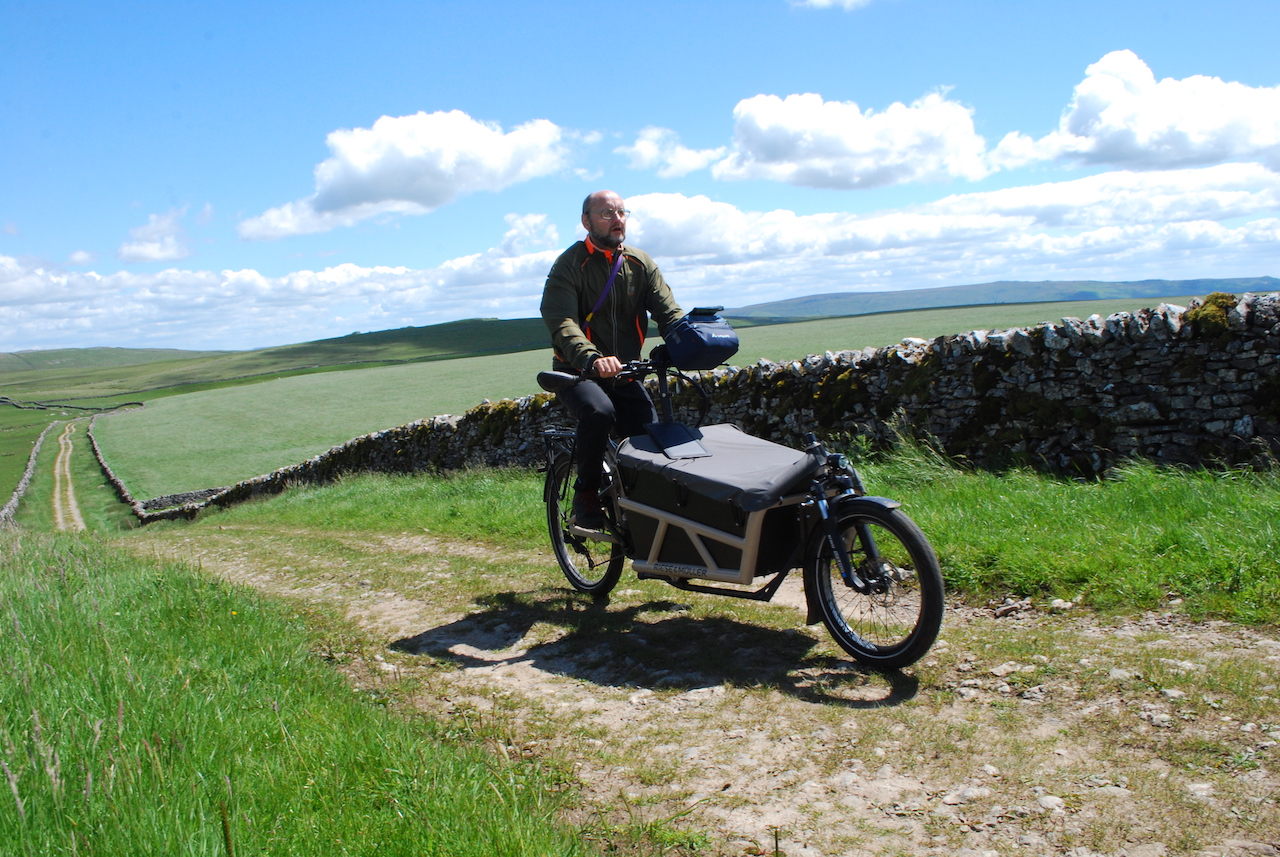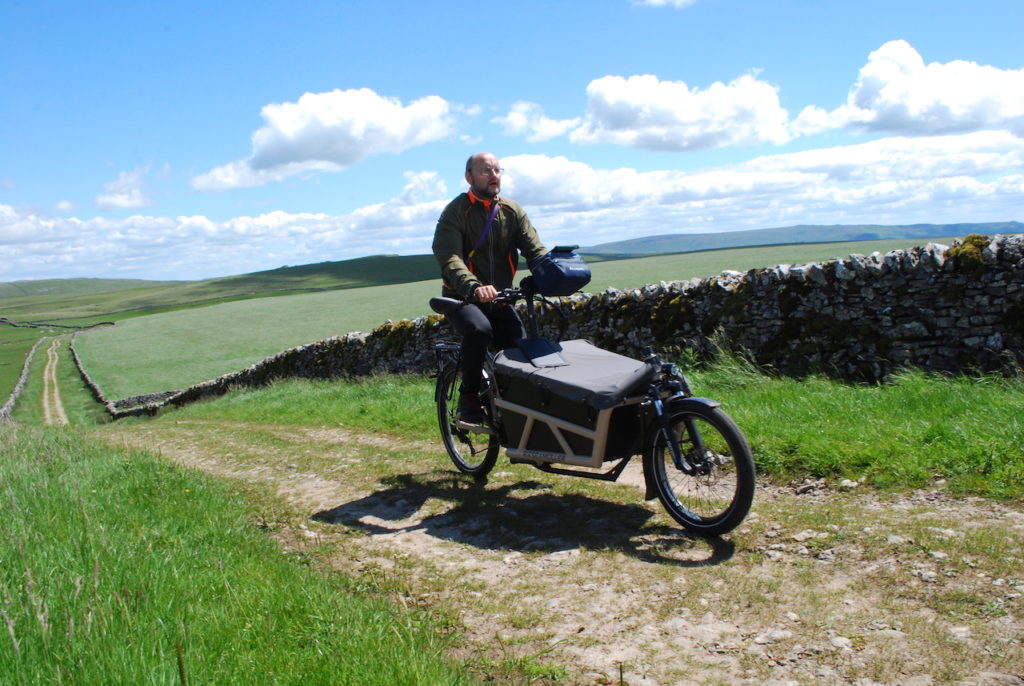 It is an ancient drovers' road that once gave Fountains Abbey monks access to the rich sheep pastures of the Malham area and today is a wonderful rolling limestone upland ride with sweeping vistas.
There's also the site of an old Roman marching camp to add ancient military excitement and a choice of ford or footbridge at a beck crossing, with only a couple of significant gradients of note.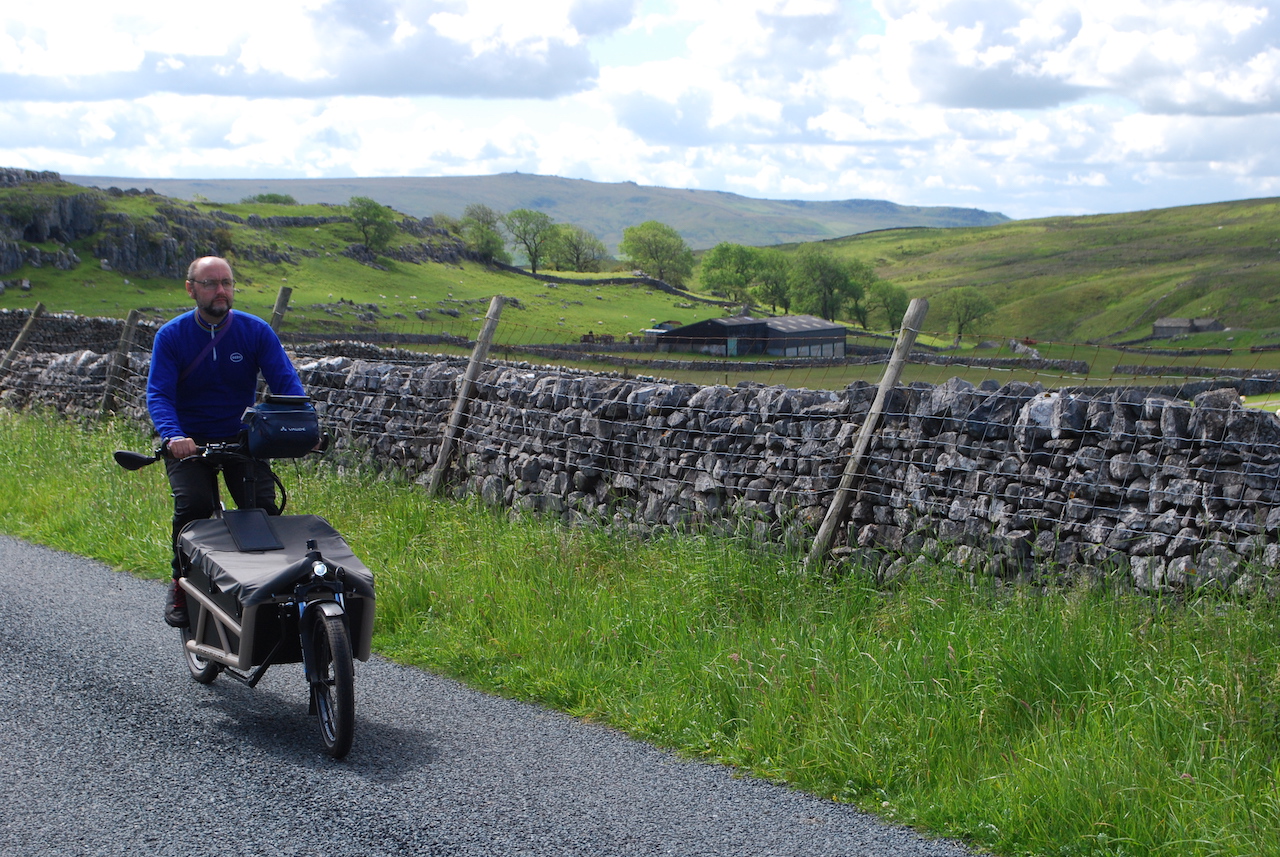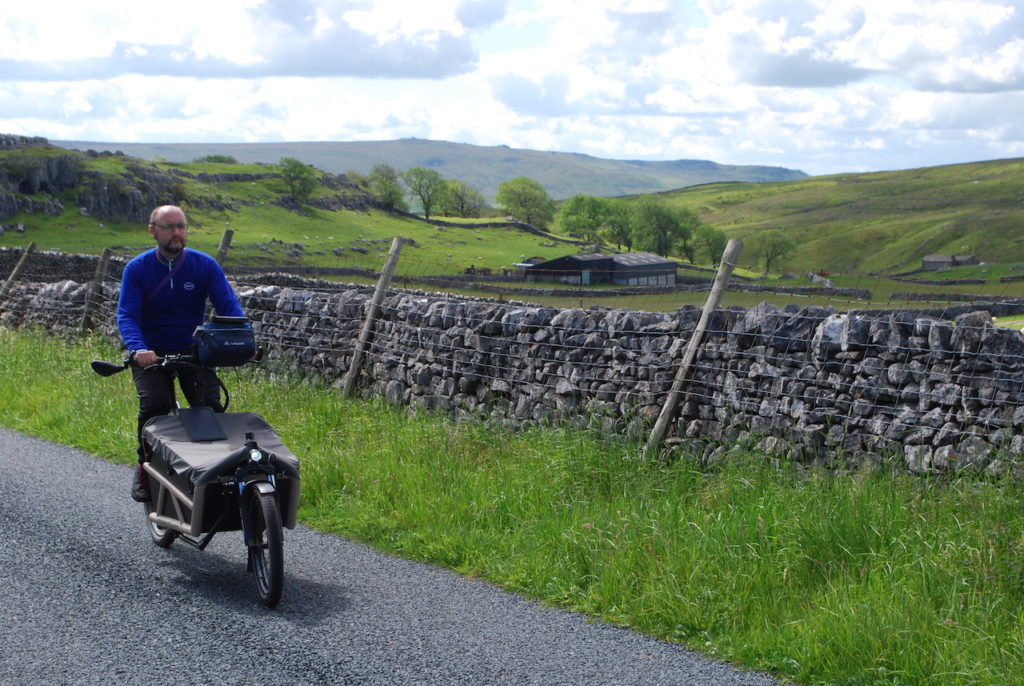 It brings us to the remarkable Malham Tarn, a spectacular glacial lake where we pick up a lovely and incredibly scenic crushed stone path that skirts the tarn and passes beneath the a spectacular limestone crag before passing a Victorian hunting lodge and dipping into forest.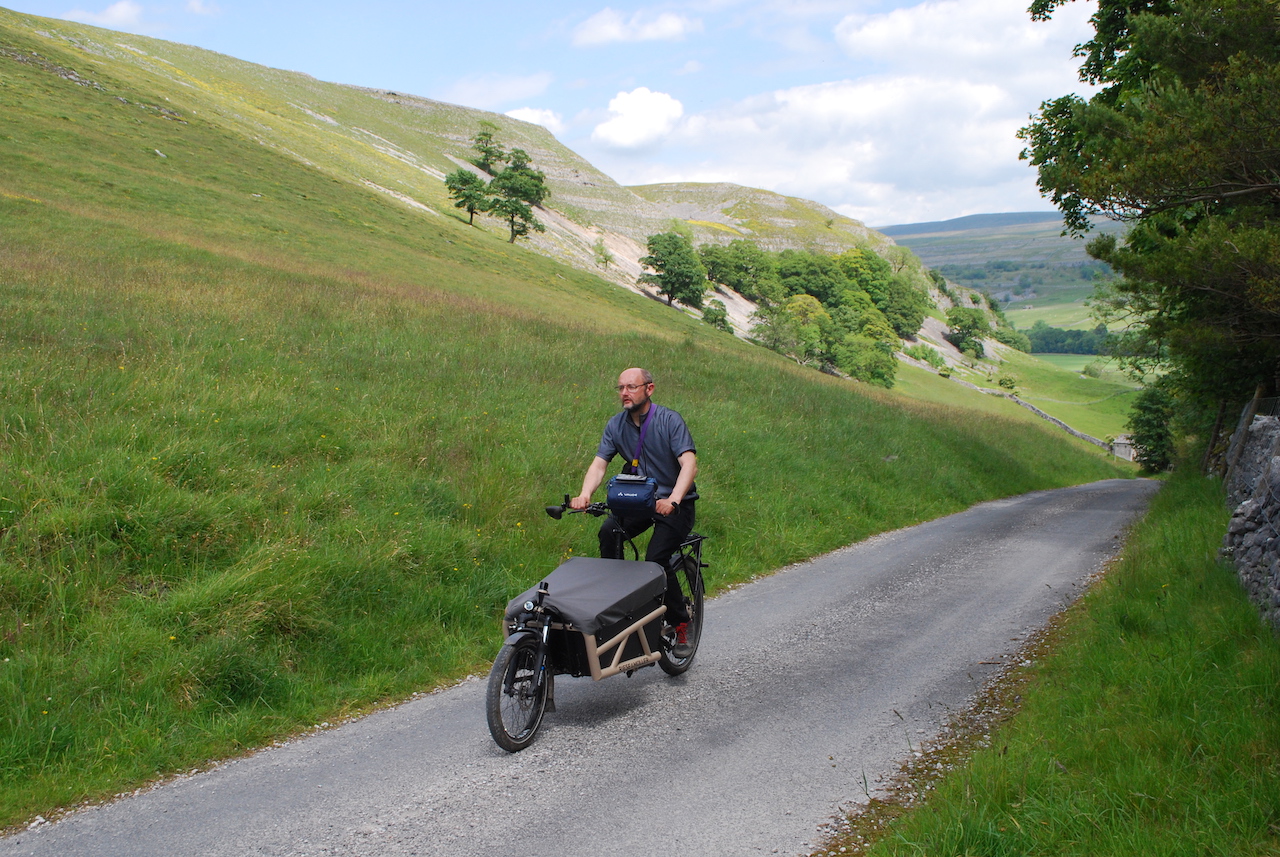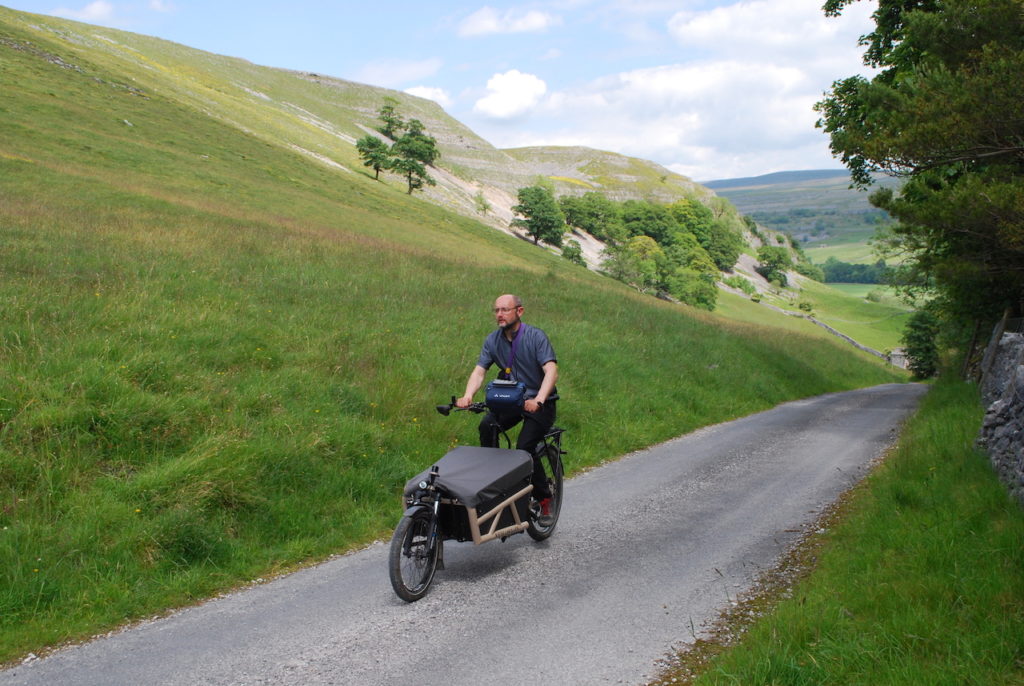 A return on minor roads gives more distant views of the tarn and a chance to appreciate the intensely green upland limestone pastures of the area with their rich and unusual variety of plants and animals.
The Load performs extremely well on this kind of pretty benign e-mtb territory.
The full suspension, allied with the wide profile semi-slick tyres and the Brooks leather saddle (already 'broken in' with several hundred miles riding) gives a super comfortable ride over these well-drained, only moderately rocky off-road tracks.
There are plenty of farm gates but the wide kickstand means it's no bother to stand the bike on the uneven surfaces whilst opening and shutting them and as ever the Bosch Performance motor eats up all the gradients in its path.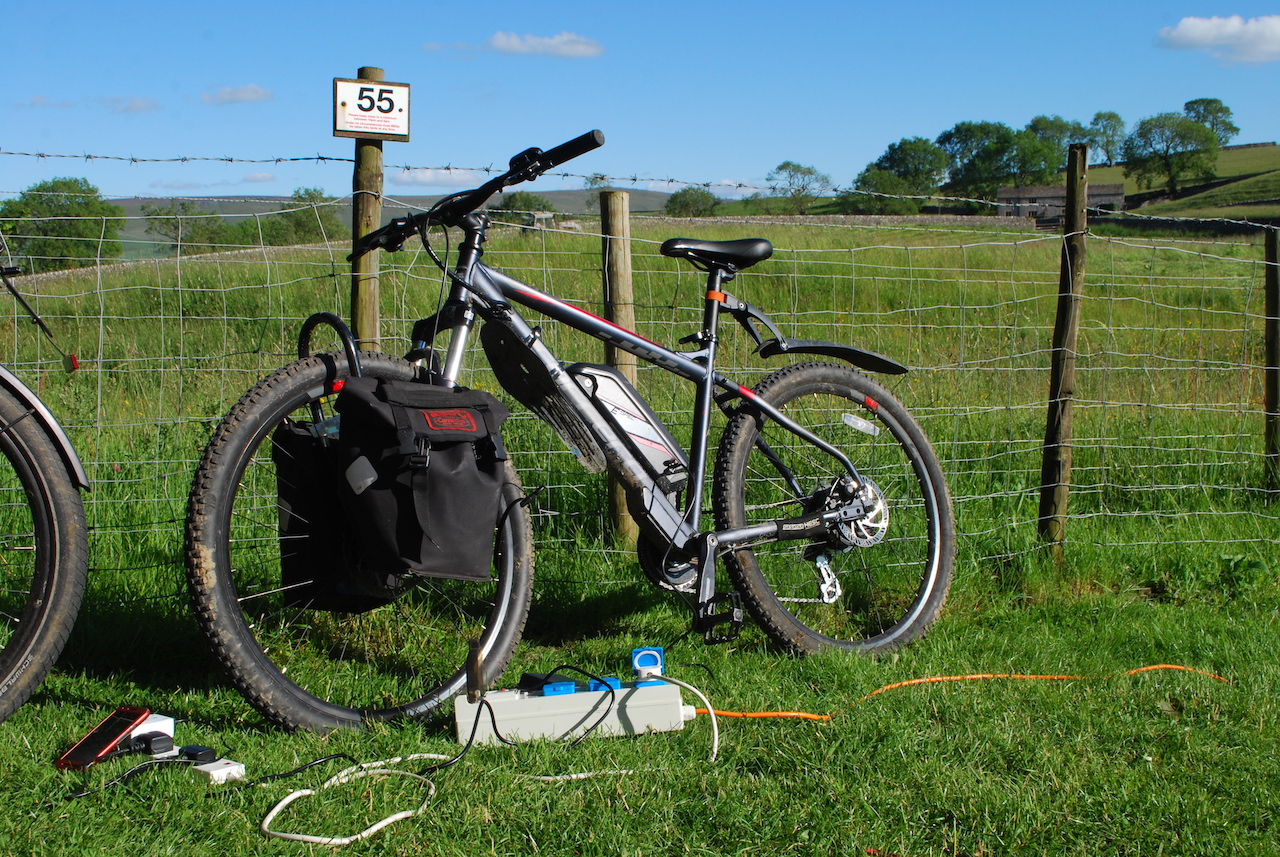 The second day's riding sees me take to some rougher tracks on the Carrera Vengeance-E, heading up onto the eastern moors of the area to explore the old lead mining scenery of the area, including a visit to the lonely Mossdale Scar and to the old lead mines above the delightful and extremely popular Dales village of Grassington.
My brother explores the valley bottom on the Load, using mainly quiet roads to head up to the more northerly reaches of Wharfedale.
My ride through Grassington's lead mines is the real highlight; a good, level and very easy track weaves its way through the fascinating remnants of the long history lead mining on the site, all detailed on the info board at the entrance.
A wilder track drops down to Hebden Beck and heads downstream on a generally broad track.
It emerges in the lovely village of Hebden with the chance for a drink at the characterful Clarendon pub.
The Vengeance-E features the little-seen Suntour HESC rear hub motor system.
Whilst it's not as powerful as mid-drives, or indeed some other hub motors, it uses Suntour's own torque sensing system which gives a very bike like riding experience and it's also very nice to ride without motor power, all of which means I manage a full day's riding of around 30 miles on some hilly tracks from the modest 317Wh battery.
E-cargo Bike or E-bike Plus Trailer?
It really is horses for courses! If your trip doesn't need you to put the bike on a train then I would certainly be tempted by an e-cargo bike set up.
Any much rougher tracks than those I tried with the Load might prove challenging, not least because the bike has a 20" front wheel and its geometry, whilst it's capable of rolling over moderate curbs and rock steps, would obviously struggle over larger rock steps which a regular e-mtb would just hop over and an e-mtb with single wheel trailer remains the obvious choice for touring over much rougher stuff.
But if you are confident the bike can handle the terrain there is a lot to be said for e-cargo bike camping and touring.
Your load is there in front of you and you can keep an eye on it whilst riding and once pitched I found it much easier to access all your gear than in a trailer.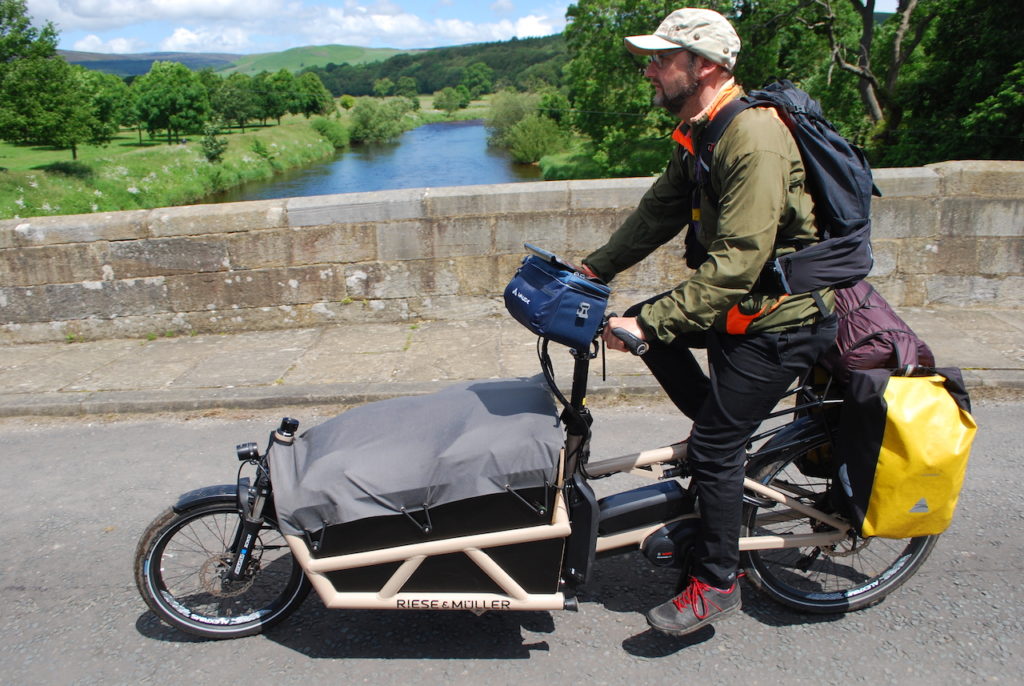 There aren't many trailer's that feature a box of this size. The canvas cover keeps everything waterproofed and secure but allowing easy access whilst on the go if needed.
Of course it also doubles as a child carrier when not in use for load carrying and this trip just demonstrated the bike's huge versatility; so if you are after an e-cargo bike for kiddy transport and general load carrying it's certainly worth having this full-sus version on your shortlist if the premium price isn't too much of a barrier.
The full-suspension element really transforms it's possible uses and it's handling capabilities.
It means comfortable off-road riding is within your remit and, when loaded up, the 'sprung load' means handling is really improved over non-suspension models; the fully-loaded Load just evened out potholes and bumps keeping the handling smooth and on track.
There is also a speed pedelec version that looks ideal for long distance travel.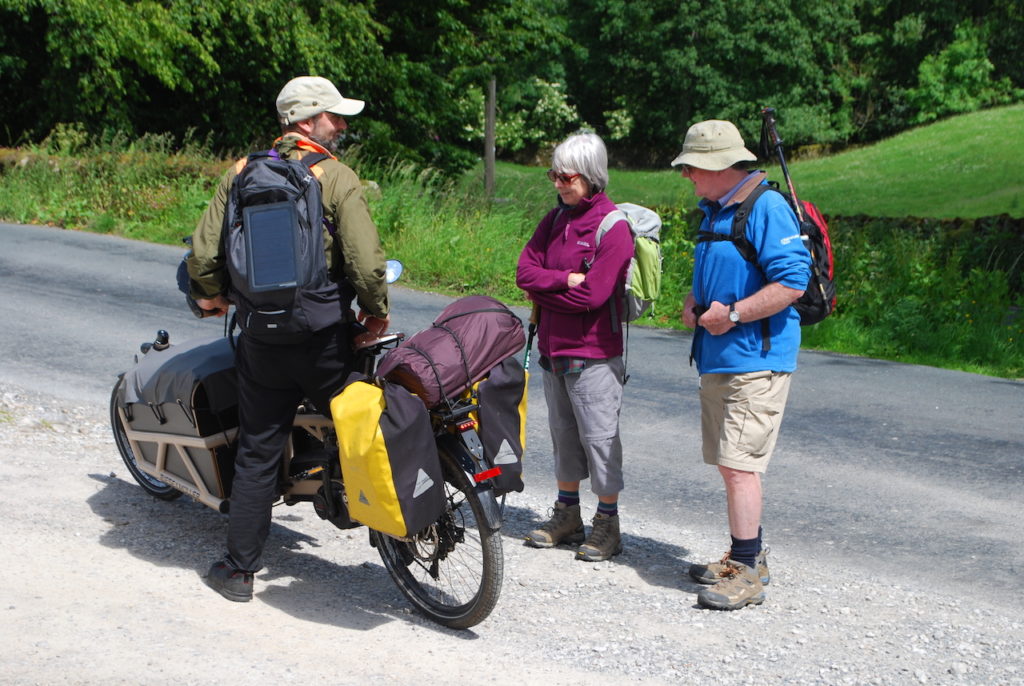 I was often asked by quizzical onlookers 'what is it like to ride – is it difficult?' and the truth is that it is different but no harder than a regular e-bike, the main difference being that at low speeds you are more aware of the weight and it does need a bit of care in handling and balancing and practice doing those three-point turns.
However, just pick up a little speed and it is bike transformed; the effect of heavy cargo starts to disappear and I found the bike really efficient in terms of battery consumption too, perhaps the aerodynamic bullet profile helping in this regard.
No doubt the two tyres will help keep rolling resistance down, as compared to having four tyres with a bike plus two-wheeled trailer set up.
I estimated the 1,000Wh dual battery system would give a me a range of 80 miles or so with my 77 pound/35kg camping load over this hilly terrain, including some off-road sections.
That kind of performance really is impressive and means this is a great way of liberating you from a car and planning an e-camping holiday of your choice.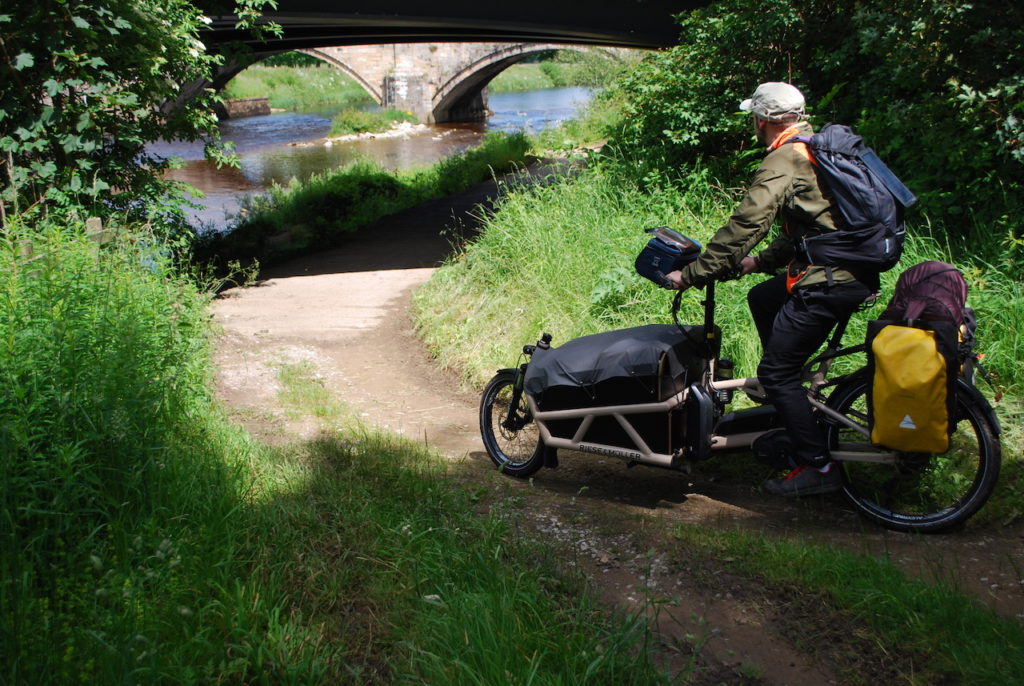 Stay tuned for more e-bike news and reviews and thanks for reading!
-Richard
P.S. Don't forget to join the Electric Bike Report community for updates from the electric bike world, plus ebike riding and maintenance tips!
Reader Interactions