Electric Bike Camping Part 2 – Ride Report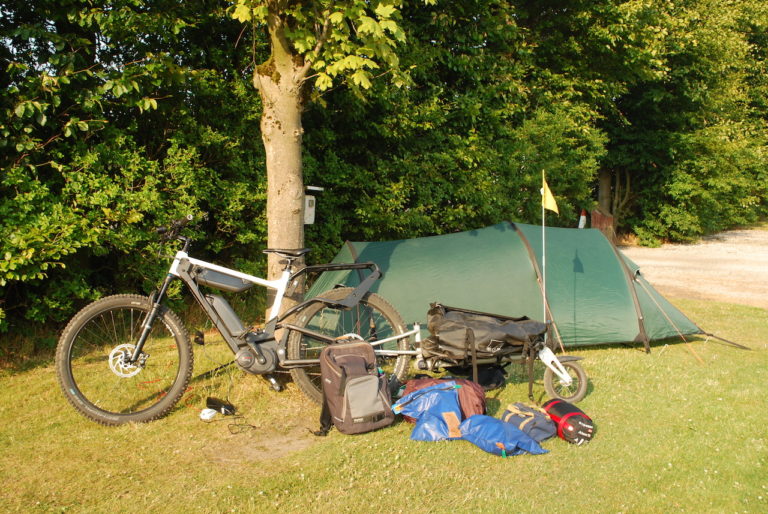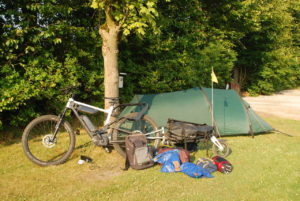 The Plan
I've already outlined the planning stage of my e-bike camping trip in terms of equipment in a previous post.
I planned a two night trip from my home through some of the Southern Pennines most testing off-road tracks.
Two nights doesn't sound particularly ambitious, but the idea of hauling around 17kg of camping gear on a single wheel trailer through very testing gradients, including some rocky single track starts to sound a bit more like a nice mixture of challenge and recreation.
Day 1 – Home to Hollingworth Lake
33 miles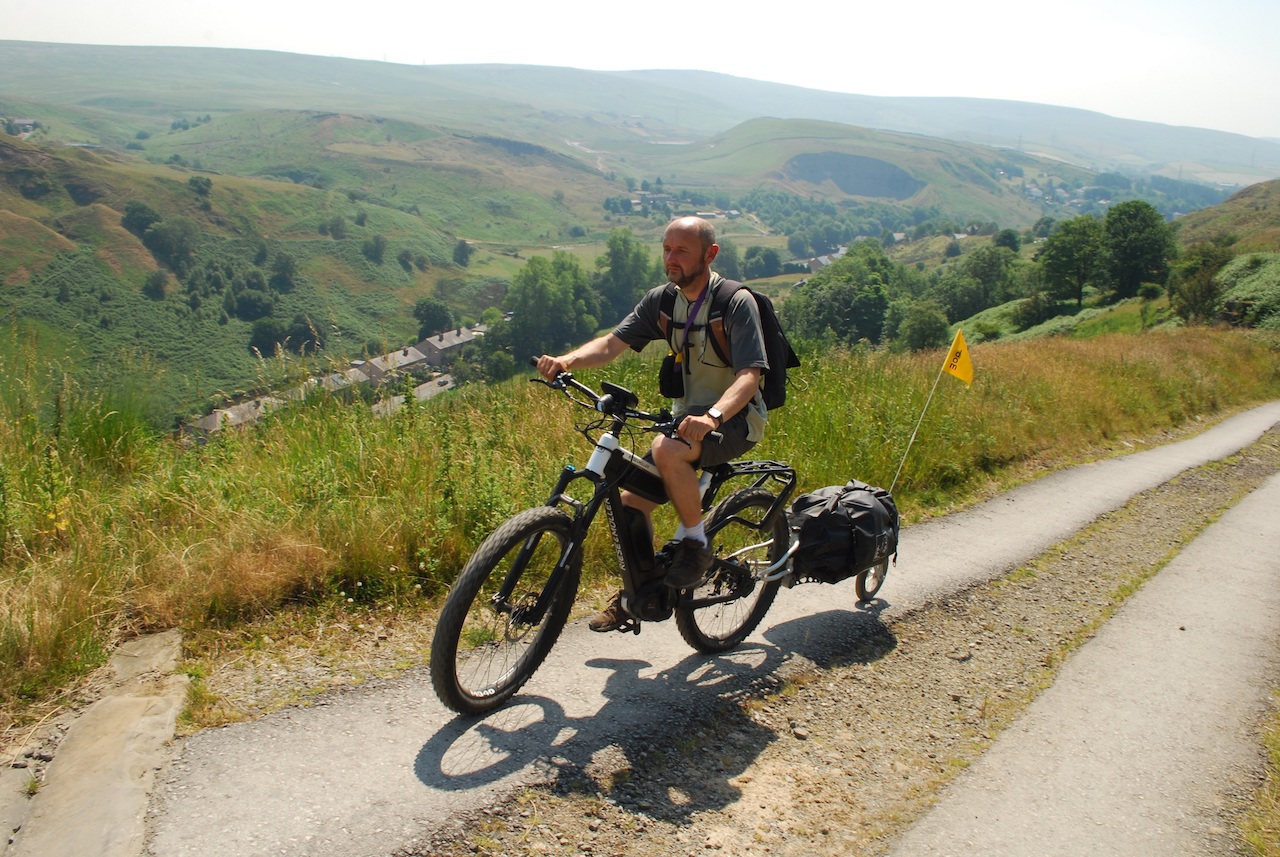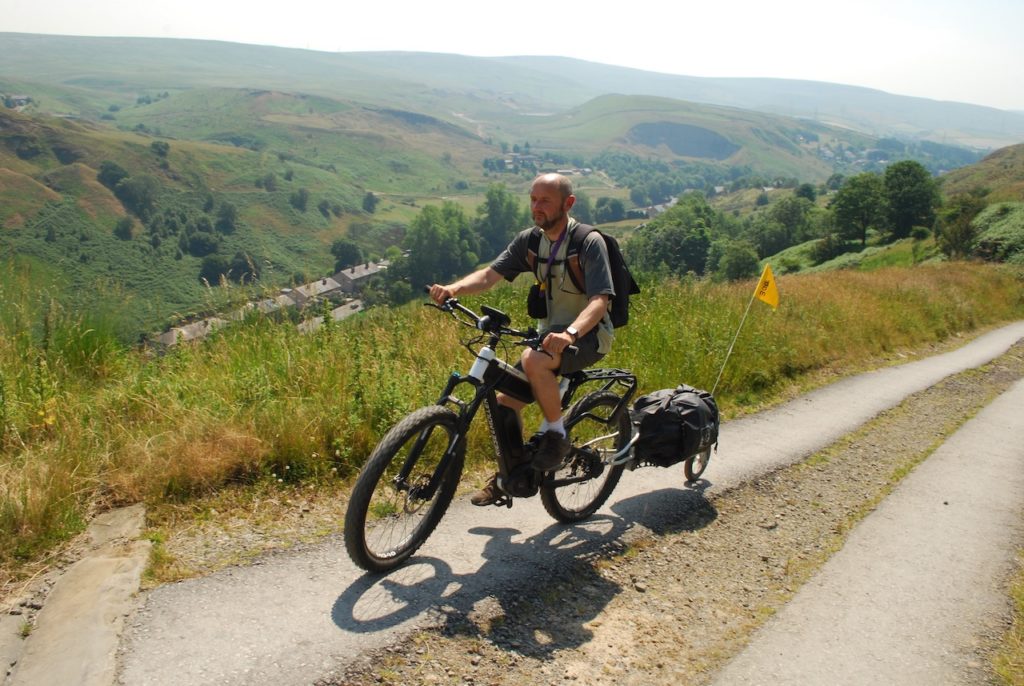 Power consumption notes: With an easy run downhill and along the Calder Valley before the much, much more test riding sections I achieved 20Wh per mile consumption figure, which would give an approximate range of 50 miles with the 1000Wh Bosch dual battery option I was packing.
This might seem on the low side but I would consider it fairly impressive to say I was hauling 17kg of loaded trailer weight and using an e-bike built to be an ultra solid and reilable emtb-touring machine, with features such as a pannier rack and Rohloff hub gears.
The first mini-learning curve of the trip comes in just hitching up the trailer; the Delite Mountain Rohloff lacks a kickstand (though there are mounting points for one) so it becomes a bit of a delicate operation to balance the bike then mount the trailer.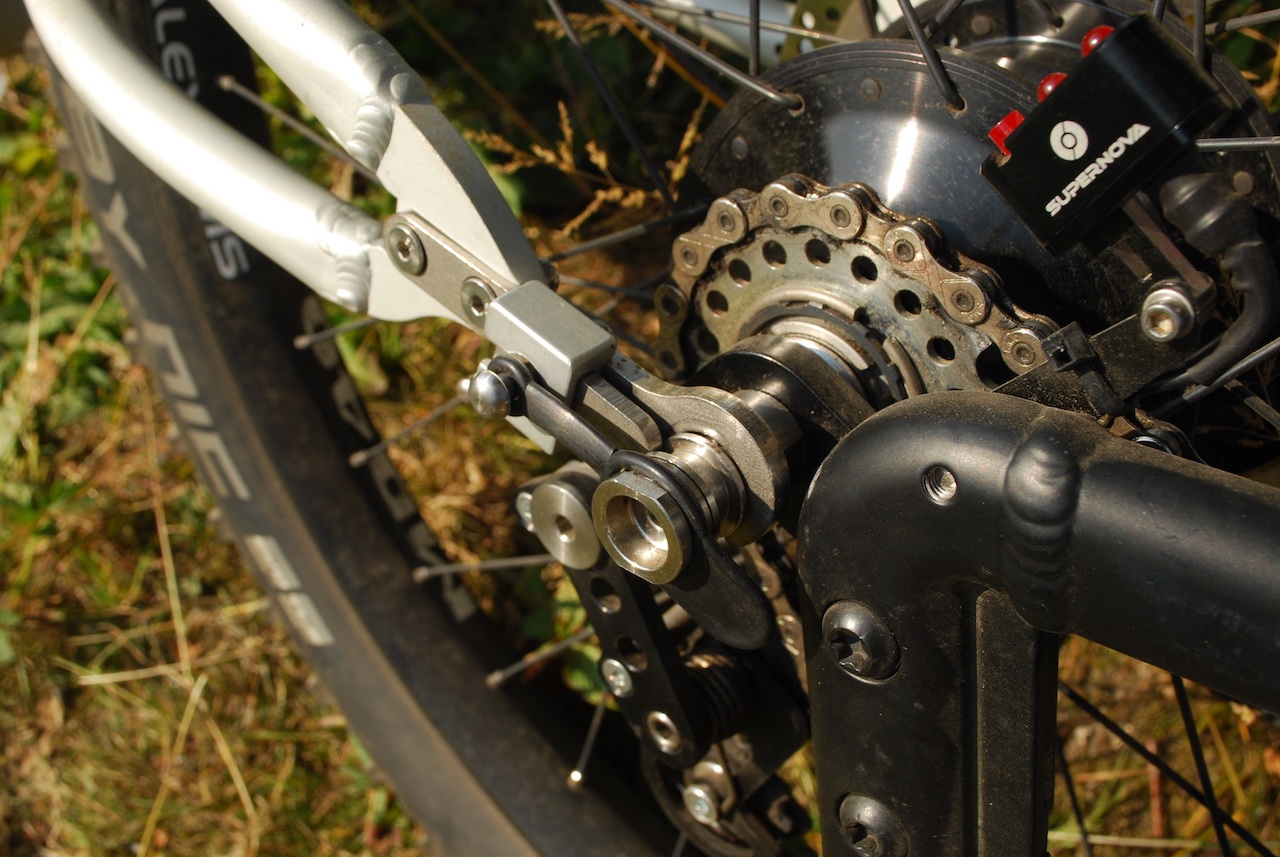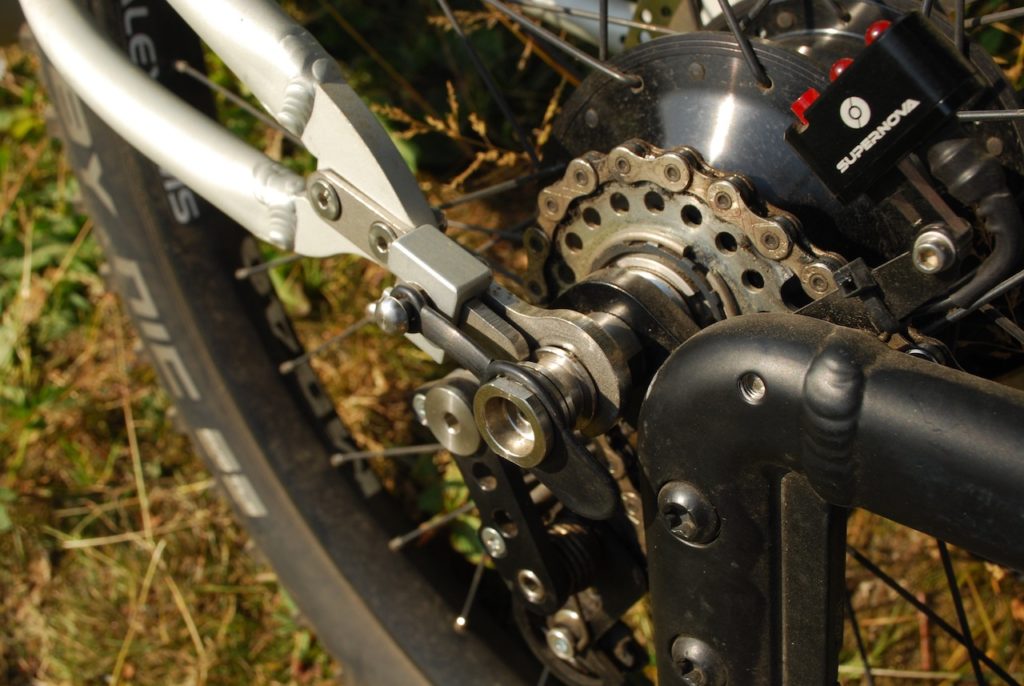 The easiest way seems to be to mount the T2 single wheel trailer with the bag off. This part is easy as the clever hitch features hooks that easily drop over the mounting nuts on the end of the axle and a securing gate and rubber tensioning loop to keep the gate in place. Clever and quick.
The harder part is balancing a heavy bag on a single wheel trailer and attaching the clips onto the props whilst managing not to knock the bike over. Not the fault of the trailer of course – it justs need the bike to be stabilised with good heavy duty kickstand.
Once on its a breeze to tow the trailer down minor roads and into the Calder Valley and along the canal towpath to Todmorden, most of the time with the power either off or on the lowest Eco setting.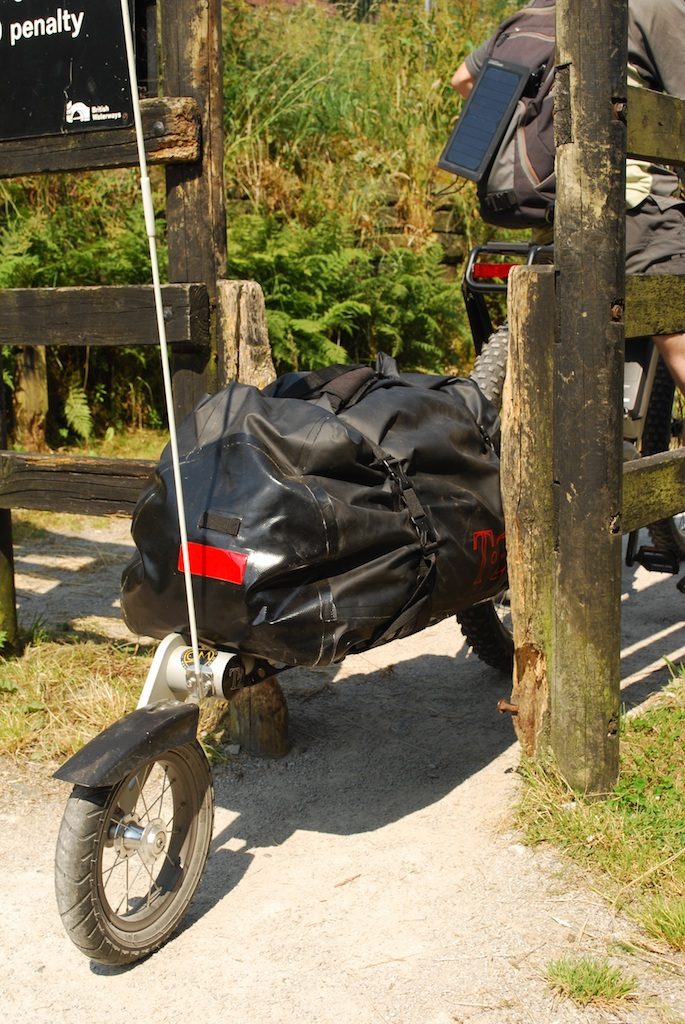 There are occasional access controls but no sweat, the bike and trailer squeeze through (I would have had to lift a two wheeled trailer high above my head over some of these).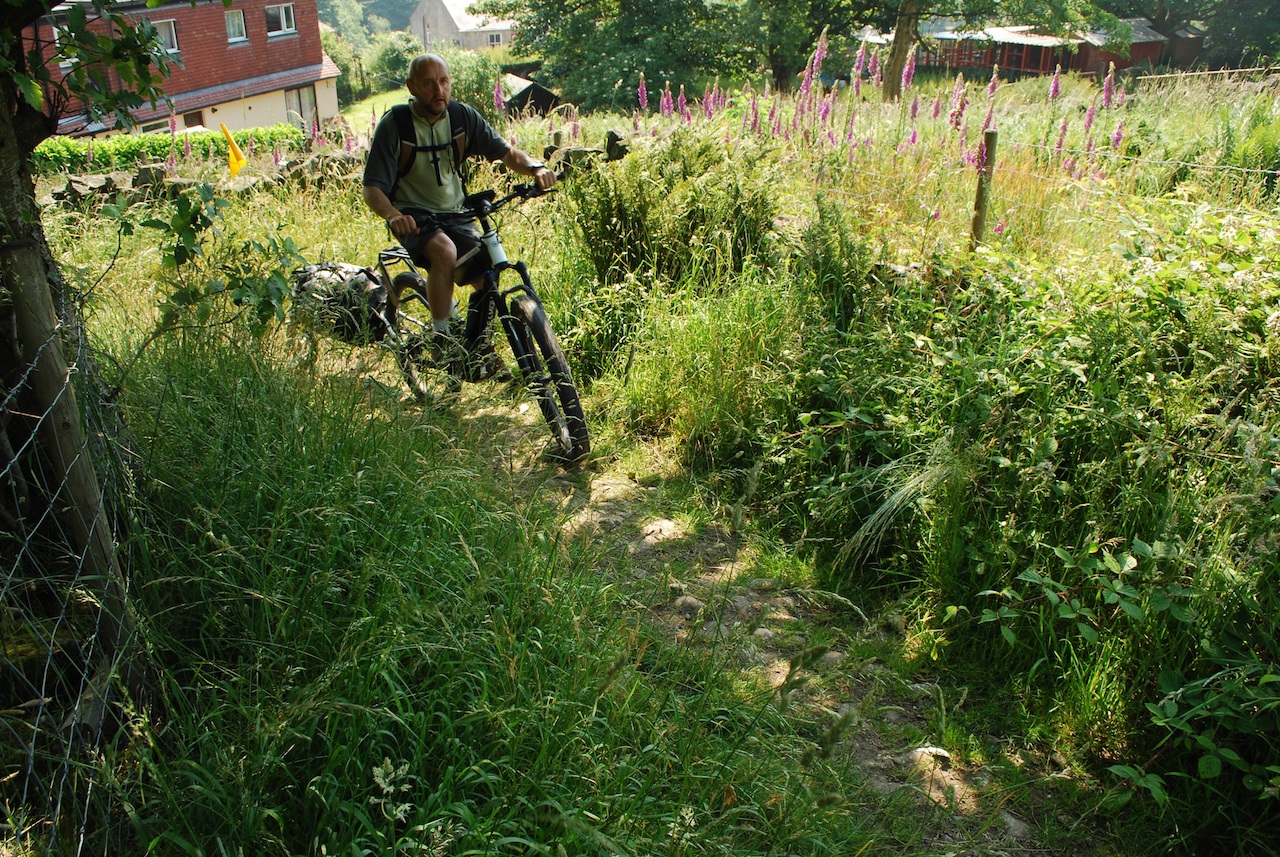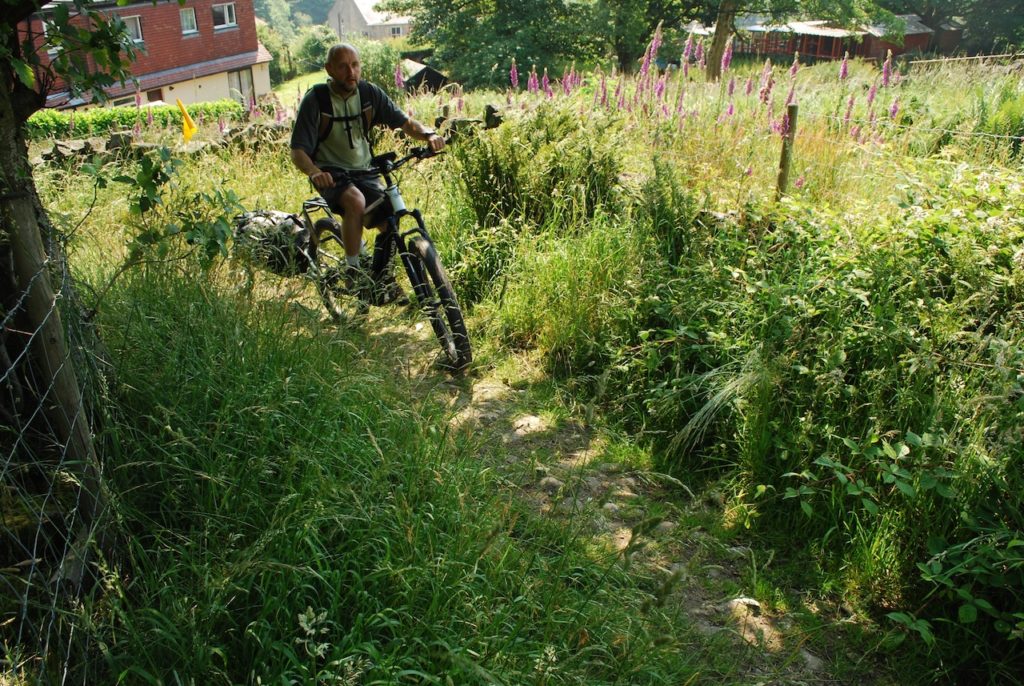 At Todmorden it's time to give the off-road hauling capabilities of the fully-loaded trailer a true test. First it's a steep climb on tiny backstreets through the Honey Hole area of town before picking up a magnificent section of singletrack packhorse causeway along the Salter Rake Gate section of the Pennine Bridleway to Bottomley.
This is a great test for bike suspension and trailer as I pick a route over the original pavers that in pre-canal days saw sturdy, stocky horses carry a bit more than my load today – often over 100kg!
It's bumpy riding and needs care but easy to navigate (just follow the stones) through spectacular scenery. The bike pulls the trailer up a very steep section of causeway before levelling out for a glorious moorland crossing.
I certainly wouldn't be able to tackle the steeper sections of this kind of trail whilst pulling the trailer without electric assist, either from a fitness point of view or most likely from a skills point of view; the high motor torque can be ramped up and applied just when I need it to keeping rolling across the trickier sections.
After another brief stint along the valley bottom there's an even more testing climb along the ancient track known as Reddyshore Scoutgate. This time I am defeated – not because the bike lacks power or the trailer poses any difficulty but the trail is just so steep and rough my skills just aren't up to it.
Nevertheless its not too much of a physical task to push, as the bike's Walk Assist function was made for such occasions.
Just push the assist button then the '+' button on the handlebar control unit whilst stood next to bike and the motor starts to 'walk' the bike and trailer up the hill, meaning you can concentrate on picking the right course without the backbreaking effort of pushing.
At last the climb levels out and the trail becomes wider and has modern tarmac in places, next to the ancient stone, as even more magnificent views of the valley open out beneath me.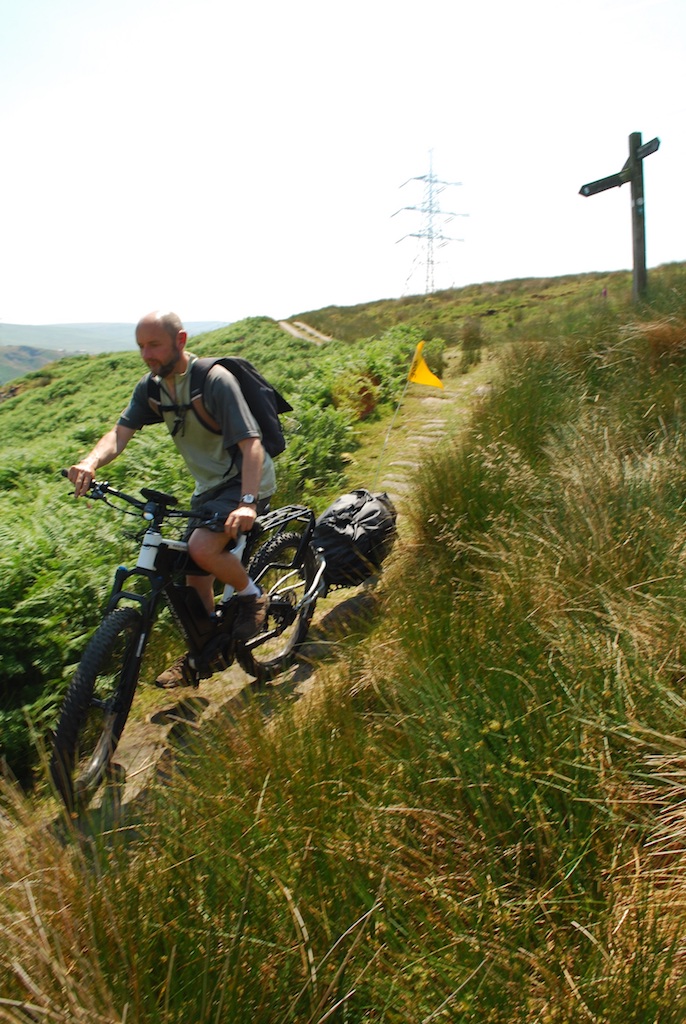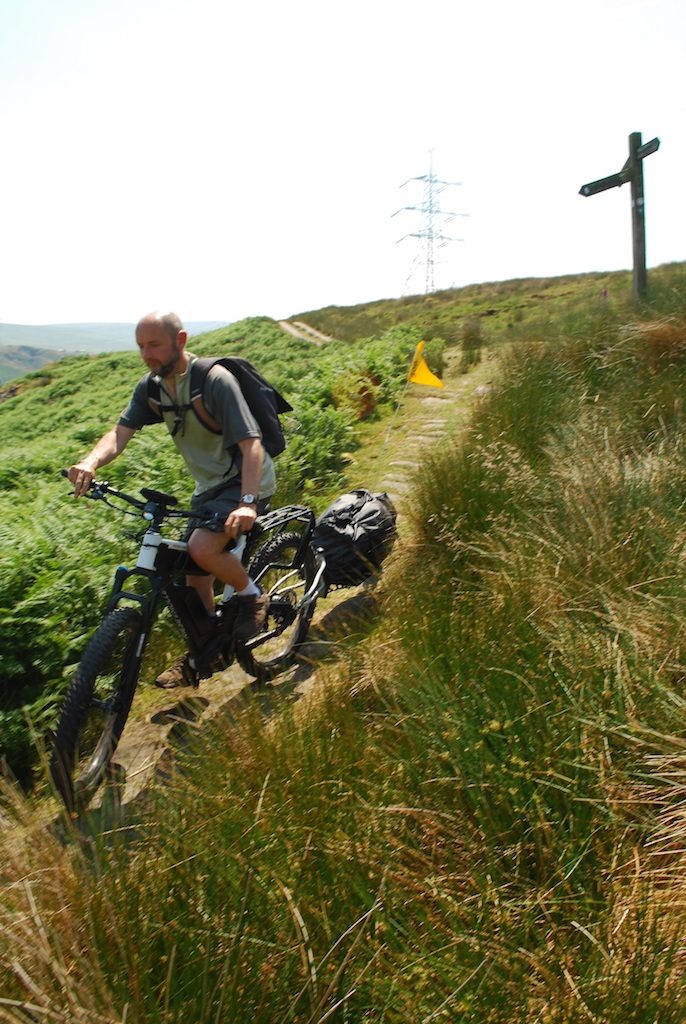 After a similarly testing but smaller section of singletrack descent (where I manage to stay on the bike) I take a welcome break at Summit, aptly named after the western summit of the Rochdale Canal is here, before more testing track.
There is a steep and rocky stepped section that climbs above the Chelburn reservoirs which I ride most of, only resorting to Walk Assist for the last section.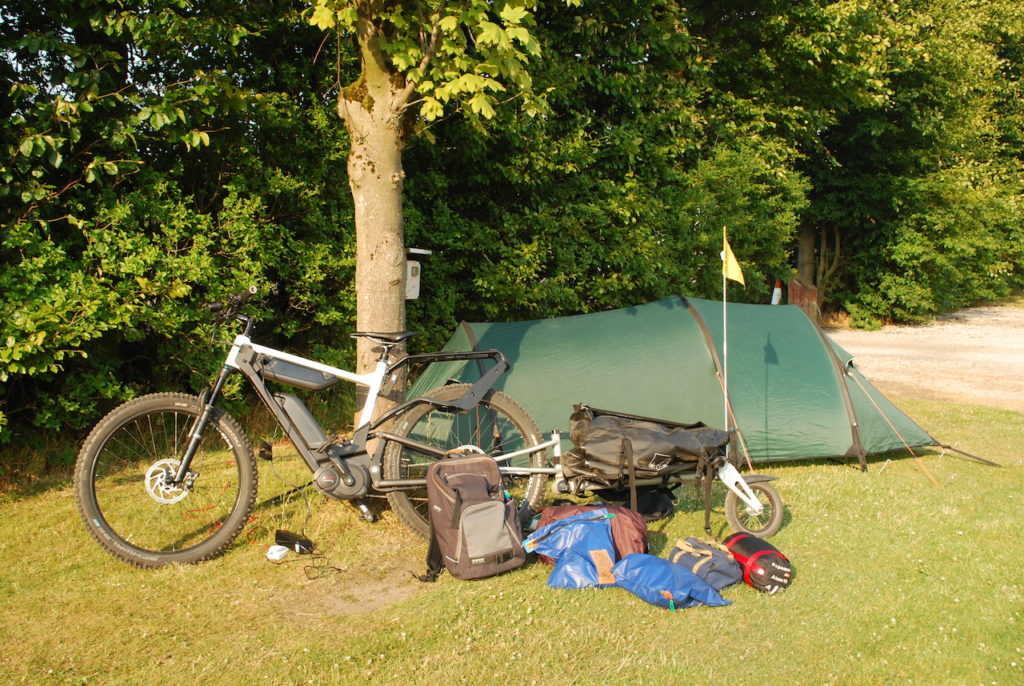 The track becomes much better for the last few miles as I begin a gradual descent to the campsite at the popular local beauty spot of Hollingworth Lake where I have a tent pitch booked.
All in all the combination of powerful e-bike and trailer has been a resounding success allowing me to haul 70 litres of camping gear over rough terrain with little noticeable effect on the riding.
The only slight concern I noticed on arriving at the site was that the rear tyre had rubbed very slightly on the yoke.
With only a few mm clearance between either side of the 2.8" tyres and the mounting yoke, the small amount of lateral movement that there is in the yoke meant some occasional rubbing, though it was never audible or apparent when actually riding. Slightly smaller width tyres would probably be advisable in future.
The pitch at Hollingworth Lake Caravan Park is fairly typical of a large UK commercial site, though certainly on the large side and with plenty of space to choose a nice level grassy pitch.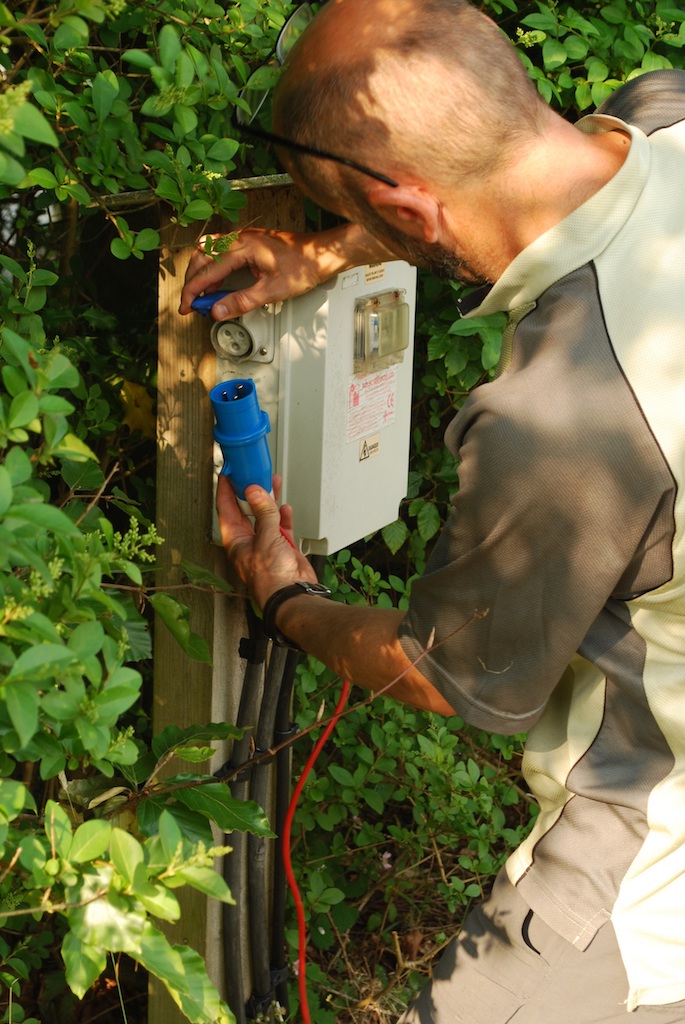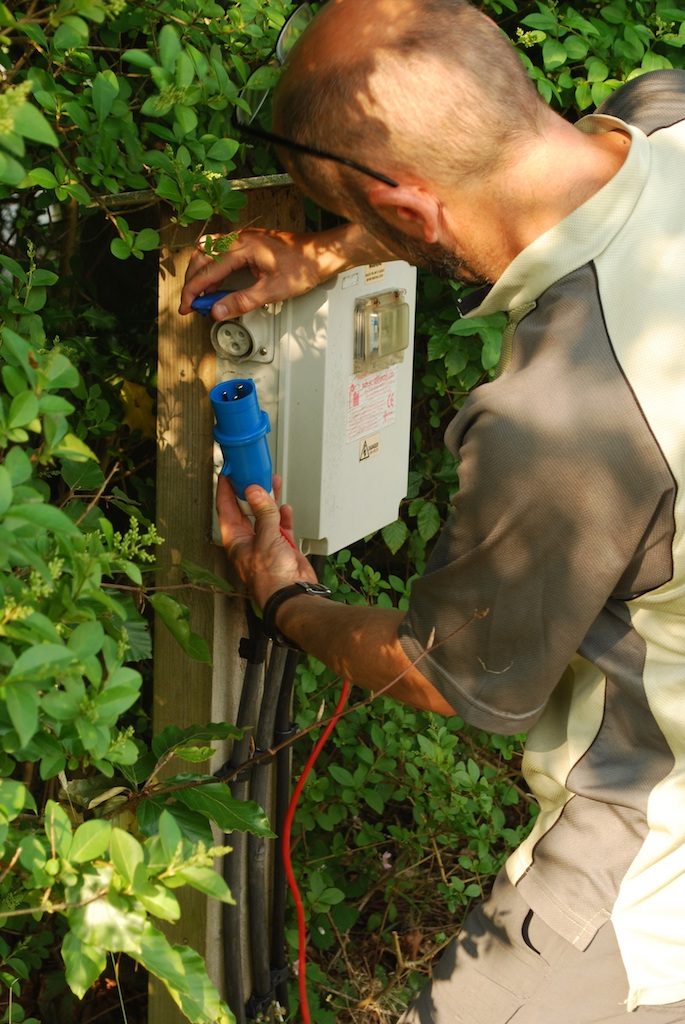 There are supply bollards or posts by each pitch and you will need to supply a cable with a three pin 'camping connector' (usually blue) at one end and standard UK three pin plug at the other.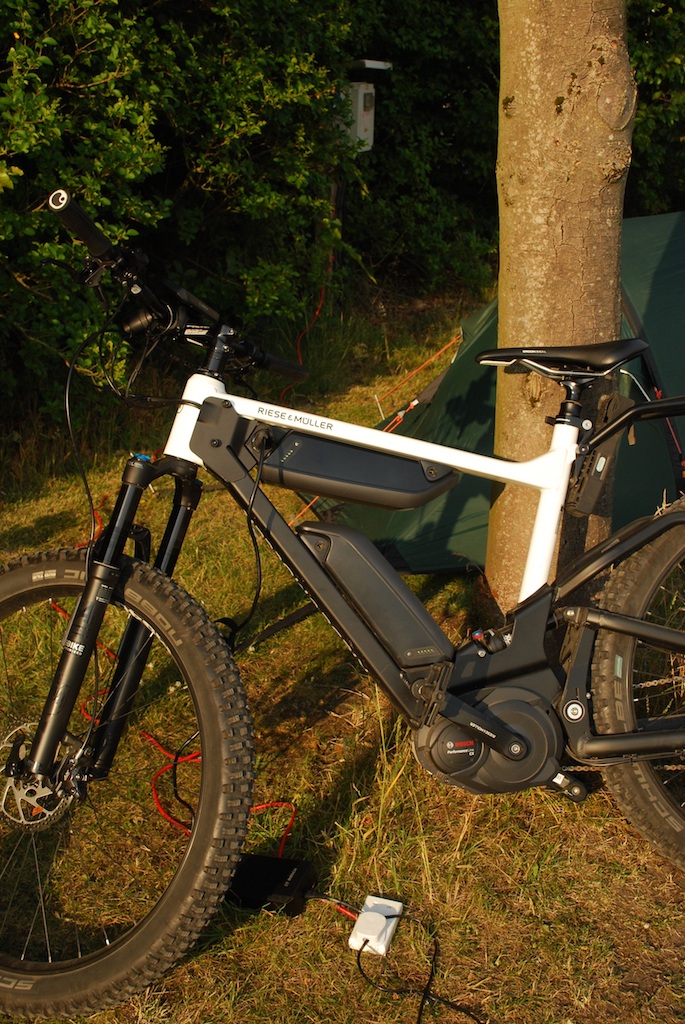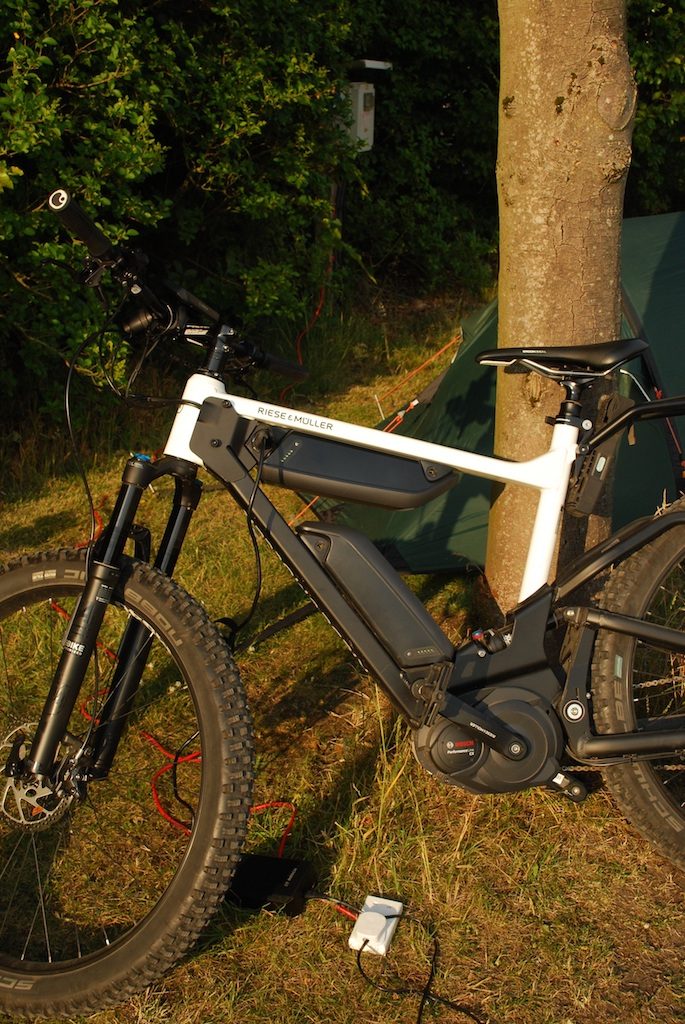 Whilst it's tempting to take a very short cable to save weight, assuming you can lean the bike against bollard or post, a longer lead of several metres will give you more flexibility.
Sometimes supply points can be a little way from the pitch and you might want to leave the bike locked near or in the tent if you venture off. Here's a useful Caravanning and Camping Club article giving a bit more useful background on electrical supply on UK campsites.
The night passes off extremely comfortably and peacefully apart from a midge attack at 2am. I had left the tent inner and outer zips open as it had been stiflingly hot in the day and I was yearning for cool air.
Of course the tiny biting critters eventually found me but luckily I had some Jungle Formula lotion to hand which proved effective, along with zipping the inner up – an inner with an unzippable mesh window like the Spirit has in valuable in such conditions, allowing some fresh air in but keeping insects out.
The bike was left partly in the tent 'living area' to hide it and locked to the tent more as a deterrent than an actual security measure – anyone trying to detach it would hopefully wake me.
It was a very quiet site but in busier locations I would have felt happier with a slightly bigger tent so the bike could be hidden completely inside at night and possibly some kind of alarmed lock would be ideal for such situations.
Day 2 Hollingworth Lake to Crowden-in-Longdendale
25 miles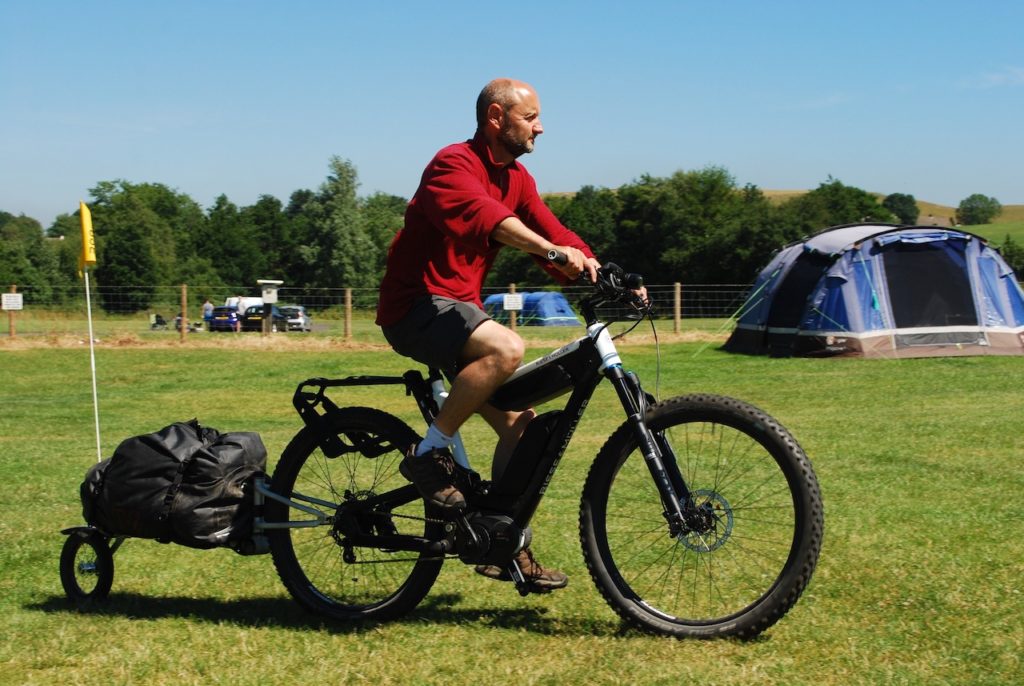 Consumption notes. Riding much more off road but on less steep, broader tracks and using the e-mtb power level much more than the previous day, I still achieve around 20Wh per mile.
There are more gradients but these are less steep and the track conditions allow for a nice steady speed at more constant power levels compared to the much more technical singletrack causeways previously yesterday. Here is a video of some of the trail conditions:
And here is a video of how the T2 Trailer tracks behind the bike:
With a bit more confidence in the trailer I put my foot down a little bit more on day two, taking advantage of the wider, better quality tracks but still not going too fast to lap up the scenery on the way.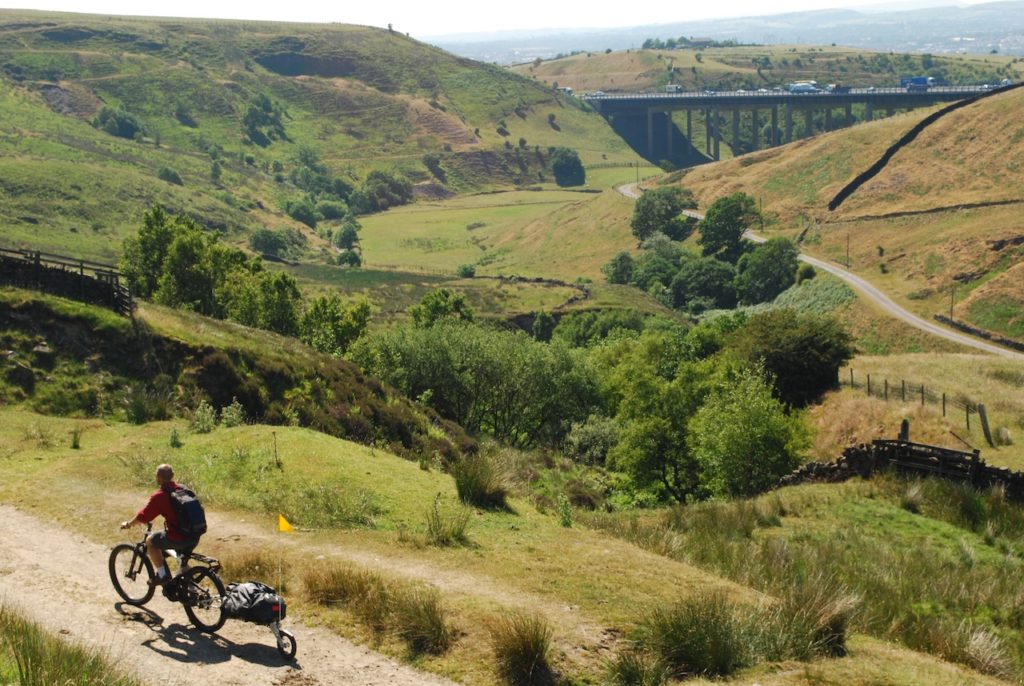 Countless moorland dips and rises were crossed as a shelf like section above the Chew valley gave way to railpath before a long haul past the Brushes Valley and its view of Manchester centre in the distance. Then it's back up over the hills past Swineshaw reservoirs to descend along the much easier trails of Longdendale.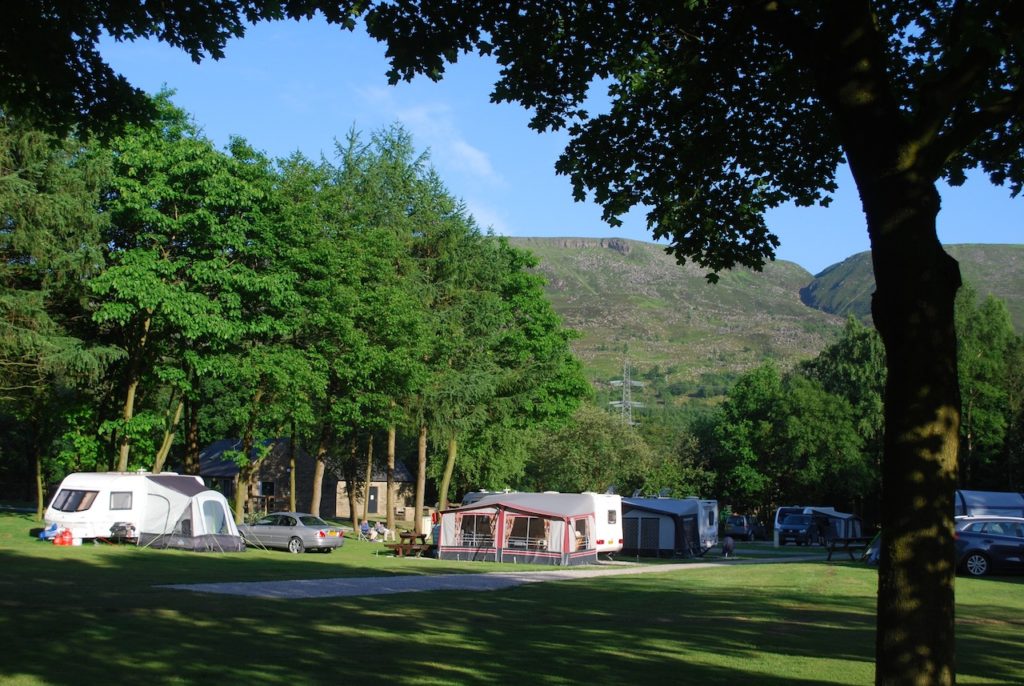 I arrived in plenty of time at the idyllic Camping and Caravanning club site of Crowden in Longdendale. It's set in glorious Pennine scenery with off-road biking access along a very scenic farm track too!
All facilities are spotlessly maintained and there is a well-stocked shop – incredibly helpful in such a remote hill location, as heading off in search of food might be the last thing you want after long days fully loaded e-biking.
Should you want to look at lightweight camping options, so-called glamping is evermore popular in the UK – here are CCC's glamping pages to give an idea of what they offer.
Glamping would allow you to take turn up at a campsite with just sleeping bag and other bare essentials and stay in a log cabin, luxuriously equipped safari tent (complete with their own kitchen) and still experience the feeling of being in the great outdoors.
With many more campsites offering glamping options some careful planning should mean you could plan a long e-bike trip that involved 'luxury camping' and only minimal gear.
Conclusions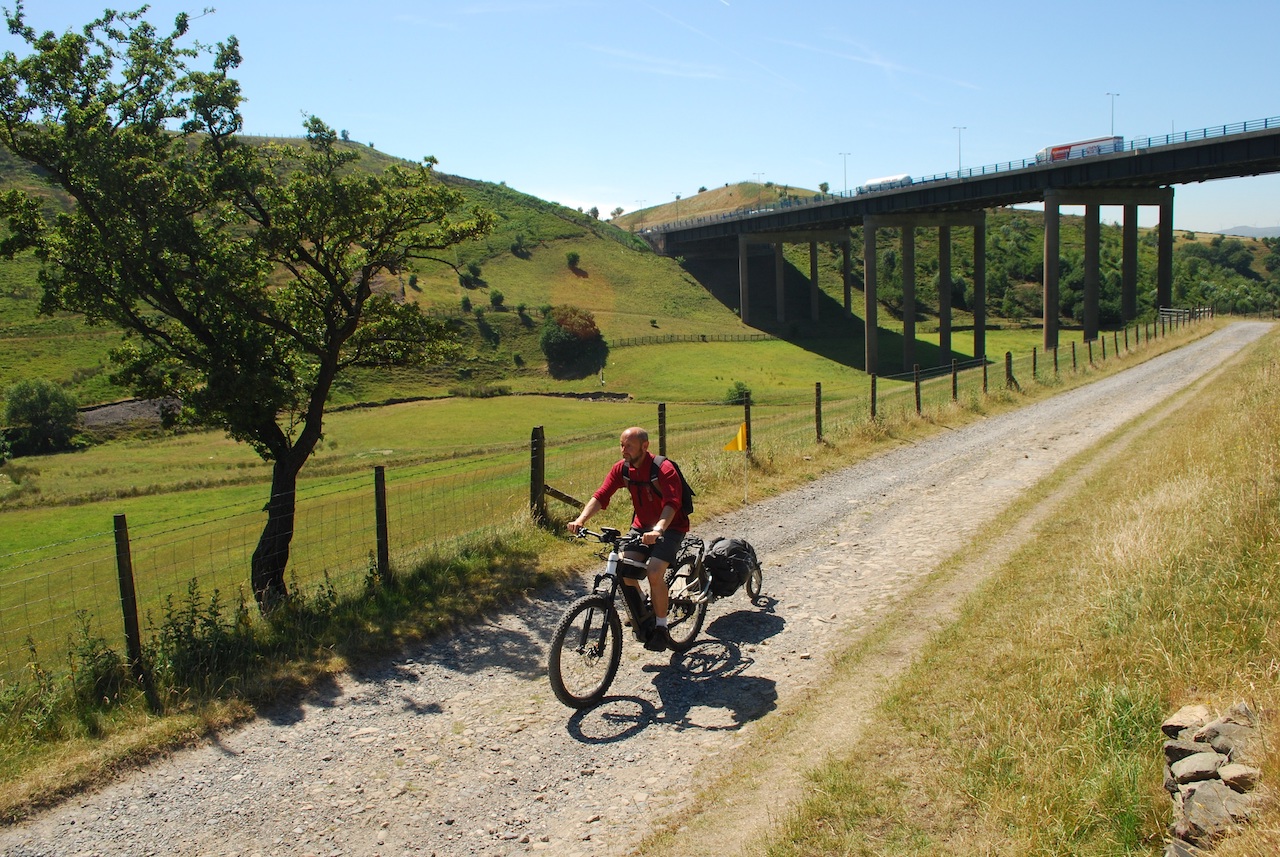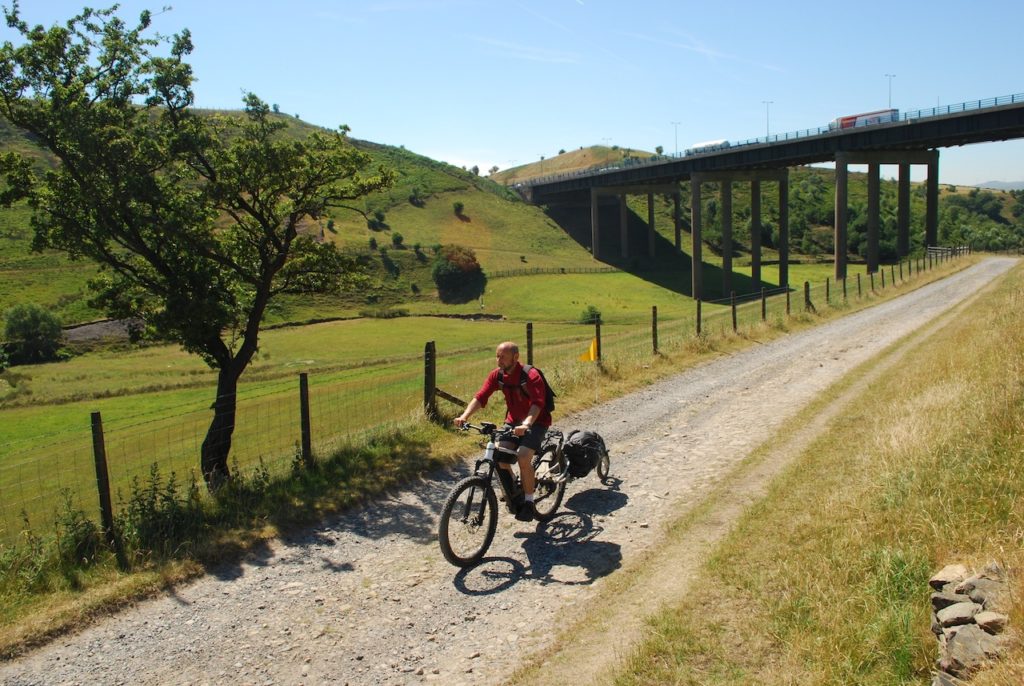 This trip let me iron out a few niggles and come up with a brief 'to do' list – get a bike with a kickstand and the right tyre width for this particular trailer and tweak my equipment list.
But overall it's further convinced me that an e-bike is the perfect machine for cycle camping – of course!
Choose the bike, the gear and the campsite with care and with regard to local conditions and know your priorities – speed and lightness or luxury and a stately pace (especially advisable hauling heavy gear off-road) – and you should have a great time.
Now check out Part 3 with more eBike camping tips.
-Richard
P.S. Don't forget to join the Electric Bike Report community for updates from the electric bike world, plus ebike riding and maintenance tips!
SaveSave
SaveSave
SaveSave
SaveSave
SaveSave
SaveSave
SaveSave
SaveSave
SaveSave
SaveSave
SaveSave
SaveSave
SaveSave
SaveSave
SaveSave
SaveSave
SaveSave
SaveSave
SaveSave
SaveSave
Reader Interactions