Running Errands on Your Bike: It's Easier Than You Think! – Part 2
By David Rodenhiser. Here is Part 1.
Now, let's talk about the big guns of the cargo carrying world: Bike Trailers!
These range from small ones that are rated for 50 lbs, up to massive ones that can carry hundreds of pounds and are 8 feet long.
I have a friend who is both a handyman, and dedicated cyclist, and he uses one of these to carry his tools and supplies to job sites. It's probably bigger than you need, unless you want to do all of your shopping for a family of 8, but it's just an example of just how big trailers can go!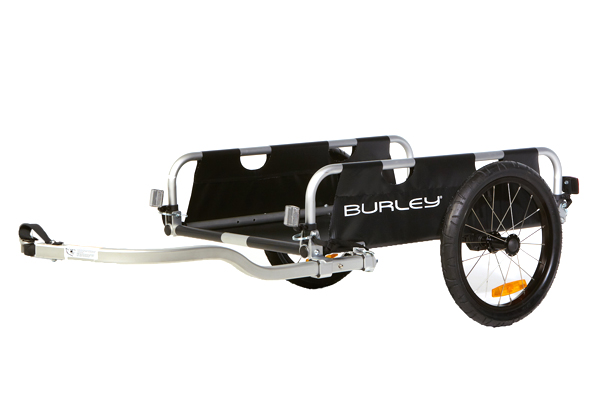 For most of us, though, something like this is probably more appropriate: Burley Design Flatbed
Here's a good budget option: Aosom Wanderer Bicycle Bike Cargo / Luggage Trailer
My personal favorite, and the one I use regularly is the BOB Yak Trailer. This was one of the two trailers that EVELO riders used in 2012 to carry their gear across the country on the The Trans-American Electric Bike Tour.
The single wheel design makes the bike a bit more manageable in tight spaces, and, in my opinion, "feel" better when you're riding. On the other hand, two wheel trailers are more stable when stopped and are easier to learn to use.
If you happen to have a trailer for carrying your children by bike, you can use that, too, as long as the kids aren't in there!
Again, let me stress that it's important to get comfortable with your gear before really putting it to the test. You don't want the first ride home with a loaded trailer to be in heavy traffic with a dozen eggs in the back!
Ride around in a nice quiet area to get used to it. You might even go so far as to go out on a quiet Sunday afternoon, and use something cheap and relatively unbreakable, like jugs of water, to simulate the load you'll be carrying.
So far, we've talked about carrying things, but there's other considerations as well. Previously, in my article: How to Start Commuting on an Electric Bike we discussed clothing and repair strategies. It's worth reviewing those again.
One nice thing about errand-running is that the clothing requirements can be rather less daunting than if you commute to work. You may not be able to show up at work in a tee-shirt, but most grocery stores won't kick you out if you come wearing one. The sign says, "shoes and shirts required", but they don't specify the kind of shirt!   Sacks 5th Ave. may be out, though 🙂
Remember your repair kit, too: What To Carry In Your Basic Bike Repair Kit
Now, up until this point, we've focused on shopping trips, but remember, there's other kinds of errands, as well, and there's no reason not to ride your bike. In fact, some of them might be better as a way to get started, since you don't have to think about carrying lots of stuff.
Have an appointment? Ride there! Bring a change of clothes, and the doctor's office won't even be bothered by your sweat. Heck, the Dr. will probably be impressed you're taking steps to get in better health or stay that way if you're already there!
Going out for date night with your significant other? Ride together and make it part of the fun. Again, you might need to think more about clothing and being sweat free, but as we discussed, there's options for handling those issues.
An Electric Bike can be one of those options. Just don't sweat in the first place. I often meet friends for dinner, having ridden there on my bike. I just head straight to the washroom and get cleaned up with a few baby wipes and change into my clean clothes.
Need to mail a small package or envelope? Ride to the post office, or the UPS store. Bill, our Director of Customer Service here at EVELO frequently posts to the all-team chat that he's headed out for a short while because he needs to mail a part to a customer. The rest of us suspect he does this so he has an excuse to fit a quick bike ride into his very busy days 😉
I tease Bill here, but that's actually a big part of the point I'm trying to make, which is that biking can be part of your everyday life. You don't need to "make time" so you can get exercise and have fun on your bike. You combine the fun with the necessary tasks of daily life. It's more time efficient, and you feel better too.
Plus, you don't burn gas, and in many situations, it can be just as fast, if not faster than driving. Where I live, any errand that requires traveling less than 4-5 miles is a wash, timewise.
At certain times of day, a bike is usually considerably faster, since traffic doesn't slow me down as much, and I don't need to search for that elusive parking space within a quarter mile of my destination! I just roll right up, almost to the door in many cases, and lock my bike.
And even if it isn't faster, it's certainly more fun and less stressful, since I don't have to wonder if I'll even be able to find a spot to park at all or whether I'll end up double-parked and risking a ticket!
Biking is not just more fun, and better for you, it's often more convenient. Hopefully I've shown you some ways to make that possible.
So, what do you need to do today? And how will you do it by bike? Let us know – we'd love to hear your stories!
Written by David Rodenhiser. David is the Customer Service Manager and Resident Blogger at EVELO Electric Bicycle company. When he's not busy helping folks find the perfect electric bike for themselves, he writers a weekly blog column where he presents the best bike accessory reviews, useful apps for casual riders, and other tips for electric bike riders.
P.S. Don't forget to join the Electric Bike Report community for updates from the electric bike world, plus ebike riding and maintenance tips!
Reader Interactions