Trip Reports: Electric Bike Touring in Croatia, Austria, & Italy's Dolomites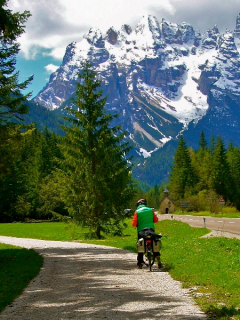 This is a guest "adventure" post from Jane and Carolyn.
This is an article to excite e-bikers to plan a multi-day trip in some fantastic locations and to thank Pete for his generosity in loaning us two e-bikes for an afternoon in Sedona, Arizona.
We had wanted to try out an e-bike on a multi-day trip ever since our city bike tour in Copenhagen in 2011.  It was only a 4 hour tour and more significantly we only rode on flat ground.  To find out how e-bikes would ride in hilly terrain, we contacted Pete.
He was most gracious and offered to have us come to Sedona to see what it was like to ride an e-bike on steep terrain.
Thanks to Pete's encouragement and our excitement, we set out on some wonderful adventures.…Thanks again, Pete.
To fully appreciate these trip reviews, consider that we are both senior women, one of us being in mid 60's and the other in mid 70's .  We both have had our share of orthopedic & neurological surgeries (including, necks, back, knee, shoulder, hand).
I am a novice bike rider whereas Carolyn has spent some time on a regular bike tooling around a university campus, etc., but, by no means, could we be considered seasoned "bikers".
I make this introduction to point out that if we had the capability to ride the steep hills in the alps area of Italy, then most any of the population can do these types of trips.
We wanted adventure and we were ready to explore the country side of Croatia, Austria, & Italy by electric bike!
Croatia September 2012: 8 Days
After gaining some confidence from Pete in Sedona, we were off to Croatia for a nine day "guided"  tour.  On that trip we had the pleasure of having two guides everyday.
There were approximately 30 of us, half with regular bikes & then the "others" of us with e-bikes.
This first trip was arranged through Pack & Pedal (aka Tripsite.com) which is basically a New York company which "brokers" European bike tours.
Our base for the trip was a deluxe class yacht which departed form Trogir, Croatia and took us on an 8 day bike & boat trip to cycle islands off the coast of Croatia called the "Emeralds of the Adriatic".
That was our 8 day e-bike trip in 2012 and we were ready for 2 more adventures in 2013: a 9 day Danube e-bike tour from Passau, Germany to Vienna, Austria and, best of all, a Dolomites "home base" tour in Northern Italy.
Austria, Along the Danube River, May 2013: 9 Days
This was a trip where we went from town to town from Passau, Germany to Vienna, Austria.
Our rented e-bikes had 7- 9 gears ( depending on the tour) with 3 power boost modes. I found my groove easily in Gear 7 and "standard" assist mode allowing me just enough exercise without too much strain—and allowing me the opportunity to enjoy the lovely hazy view along the Danube…..and more notably, the snow capped looming Alps in Italy.
Okay, at times, especially at first, we felt a bit "dorky" or sissy because of the ʻhelp' along the way. HOWEVER, we took stock and realized that we could not have experienced this whole array of experience without these bikes.
The trails were well maintained and the vast majority were bikes only. They are marked (sometimes confusingly, but they are marked). So if you have a penchant for making your own way without a guide & want to still feel that you have worked, this may prove adventurous for you.
These e-bikes are not motorcycles. We still got plenty of exercise & enjoyed speeding around wooden chalets with geraniums bursting from wooded boxes.
Perhaps the joys were even greater since one is able to look around without a burning, gasping body to distract from the scenery….
During these multi-day trips from Passau, Germany along the Danube to Vienna, we spent 3-4 hours riding then usually an hour to decipher poorly translated directions and finally locate our Inn.
And that was just enough time to find a place to eat, unpack, remember to charge our battery, then pack our bag ready for pick up at 9:00 AM in the lobby, and start all over for the next day.
On an average we rode 25-35 miles per day.  The total trip was just under 170 miles.
Northern Italy, Dolomite Alps May 2013: 8 Days
This was a "home base" tour where we stayed in one hotel then took day trips each day always ending up at the same hotel.
Sounds easy, but remember that we are no spring chickens and that most times it was hard to relax and be confident that we were on the right "path".  We asked for directions many times.
We would both agree that the "home base" multi-day trip was much to our liking.  We chose a small Italian town in South Tirol which is in the Dolomites area of the Italian Alps.
This Dolomites trip far exceeded our expectations; both the scenery and the bike routes were exceptional.
If there is more beautiful scenery, I have not seen it!  We rode along glacier streams and high meadows with sheep grazing hundreds of meters above us.
We not only could feel the scenery but smelled and heard it too.  We inhaled lovely unspoiled forests and snow capped alps.
In this little town of Toblach, Italy straddling the Austrian border, we upgraded to a four star "wellness" hotel and splurged on half board which was in the end, a great decision.
It was the Park Bellevue, glorious!  We rode a day trip each day; the company Funactive would take us by van each morning to a high pass & we would ride back to town to our wellness/spa hotel just in time for a sauna, steam bath and a four course dinner which just couldn't be surpassed.
Since we had a home base, we didn't have to completely pack up each morning, or worry about where to find out next Inn.
Definitely this was our preference.
Recommendations
WE highly recommend the company Funactive ( aka Italybikes). They offered excellent personalized service. The staff were friendly. The transportation was aways on-time. And even the lack of real "English" translations added an air of authentication.
Freddy Mair, the owner of Funactive, personally met with us and added his own touch of "the real thing".
Make you want to go?
We are already booking our next European e-bike trips for 2014 .
For further information on trips & discounts, you may contact me by leaving a comment below.
Cautions
A word of caution about the "train" ride. Some rail stations (bahnhof) have lifts, and others not. So if your ʻplatform' is number 3 or higher you may have to walk your bike up & down some very steep stairs.
Of course, then there is the loading. Bikes must be loaded into rail cars marked for "bikes" and this is no mere task when you consider that these ebikes weight in the neighborhood of 45 to 65 lbs.
I must say that "getting our bikes on & off trains" was more than we bargained for. If not for the kindness of strangers, in many cases we would have been in deep Yogurt!
So seniors may want to to rethink this particular chore. For next year we plan to do a "work around" for day trips involving trains.
European bike etiquette ( & safety ) is not the same as America. We never heard a "Behind You" or "OnYour Left", so take a rear view mirror for your bike or helmet.
If you have any comments and/or questions for Jane and Carolyn, please leave them in the comments section below.
P.S. Don't forget to join the Electric Bike Report community for updates from the electric bike world, plus ebike riding and maintenance tips!
Reader Interactions