Guide to Electric Biking in the National Parks & National Monuments [VIDEOS]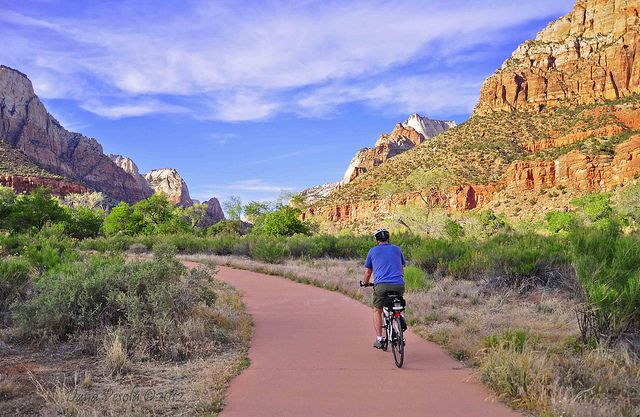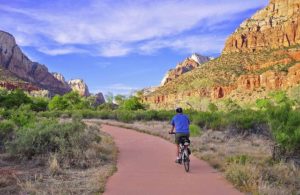 Following a Policy Memorandum from the US Department of the Interior National Parks Service back in August, more dirt roads tracks and trails are now available to e-bikers across the country's National Parks.
The memorandum states 'E-bikes are allowed where traditional bicycles are allowed. E-bikes are not allowed where traditional bicycles are prohibited, including wilderness areas…… The intent of this policy is to allow e-bikes to be used for transportation and recreation in a similar manner to traditional bicycles.'
In practice this means park visitors will be able to use e-bikes in the same way they use traditional bikes which, according to a National Parks press release, is "on park roads, paved or hardened trails, areas designated for off-road motor vehicle use and administrative roads."
Note the e-bike motor may not be used to propel an e-bike without the rider also pedaling, except in locations open to public motor vehicle traffic.'
Of course whilst this doesn't mean you can ebike anywhere in a National Park (park superintendents 'retain the right to limit, restrict, or impose conditions of bicycle use and e-bike use in order to ensure visitor safety and resource protection') it does open up a whole exciting range of e-biking possibilities.
That's the new law – but where are the best places to go e-biking?
Let's take a look at the list so far.
Acadia National Park
Acadia is a 47,000 acre National Park found mainly on Maine's Mountain Desert Island.
It features woodland, rocky peaks and Atlantic beaches and contains the highest point on the east coast, Cadillac mountain. You can explore the Park on a class 1 (pedelec) e-bike.
Cuyahoga Valley National Park
Ohio's National Park gives you the chance to combine waterfalls, hills, trails, historic homes, bridges, and attractive bridge crossings with e-biking.
As you can see in this video this National Park is actively promoting the use of e-bikes:
NPS has details here about the trails available in and around the Park including the best known, the Ohio and Eerie canal towpath which offers the chance of a scenic rail return for you and your bike / e-bike.
Here's a video of a ride along the towapth:
Yellowstone & Grand Teton National Parks
Yellowstone is best known for its geothermal features and many large mammals.
It also explicitly states 'electric or pedal-assist bikes are considered to be bikes (as opposed to motor vehicles). They can ride anywhere bikes are allowed' and there looks to be a wide range of dir roads and trails avaialble for e-biking through this amazing area.
Here's the lowdown on all the rules and accessible trails for cycling (and now e-biking) around Yellowstone:
Features of the nearby Grand Teton National Park include the impressive Teton Range of mountains. Class one e-bikes are now allowed on the multi-use pathway in the Park.
Check out this video to see the amazing scenery on offer from the multi-use pathway.
Mount Rainier & Olympic National Parks
Washington state's Mount Ranier NP includes the eponymous active volcano which is also the most notable peak in the Cascade mountains.
There are glaciers, alpine forests and meadows seasonally in bloom with wildflowers.
Paradise on the south slope is the snowiest place on Earth where snowfall is measured regularly.
Here are the NP notes on e-bike access to the Park including details of access to many dirt roads, some of which are not open to motor vehicles.
Also in Washington state, Olympic National Park is where rainforests sweep down to the Pacific coast and offers the spectacular traffic-free Olympic Discovery Trail and Hurricane Ridge road climb.
Death Valley National Park
The official cycling pages don't mention e-bikes as such but this is a great account of e-biking through Death Valley National Park encountering desert vistas, hot springs, an opera house and rare fish!
It seems most of the biking is on paved roads or gravel roads where motor traffic is also allowed but there is clearly little sign of any other traffic in the first hand account above.
Redwood National Park
Known, of course, as the home of some of the tallest trees on earth, Redwood National Park has a nice selection of trails open to bikes and e-bikes.
Golden Gate Recreation Area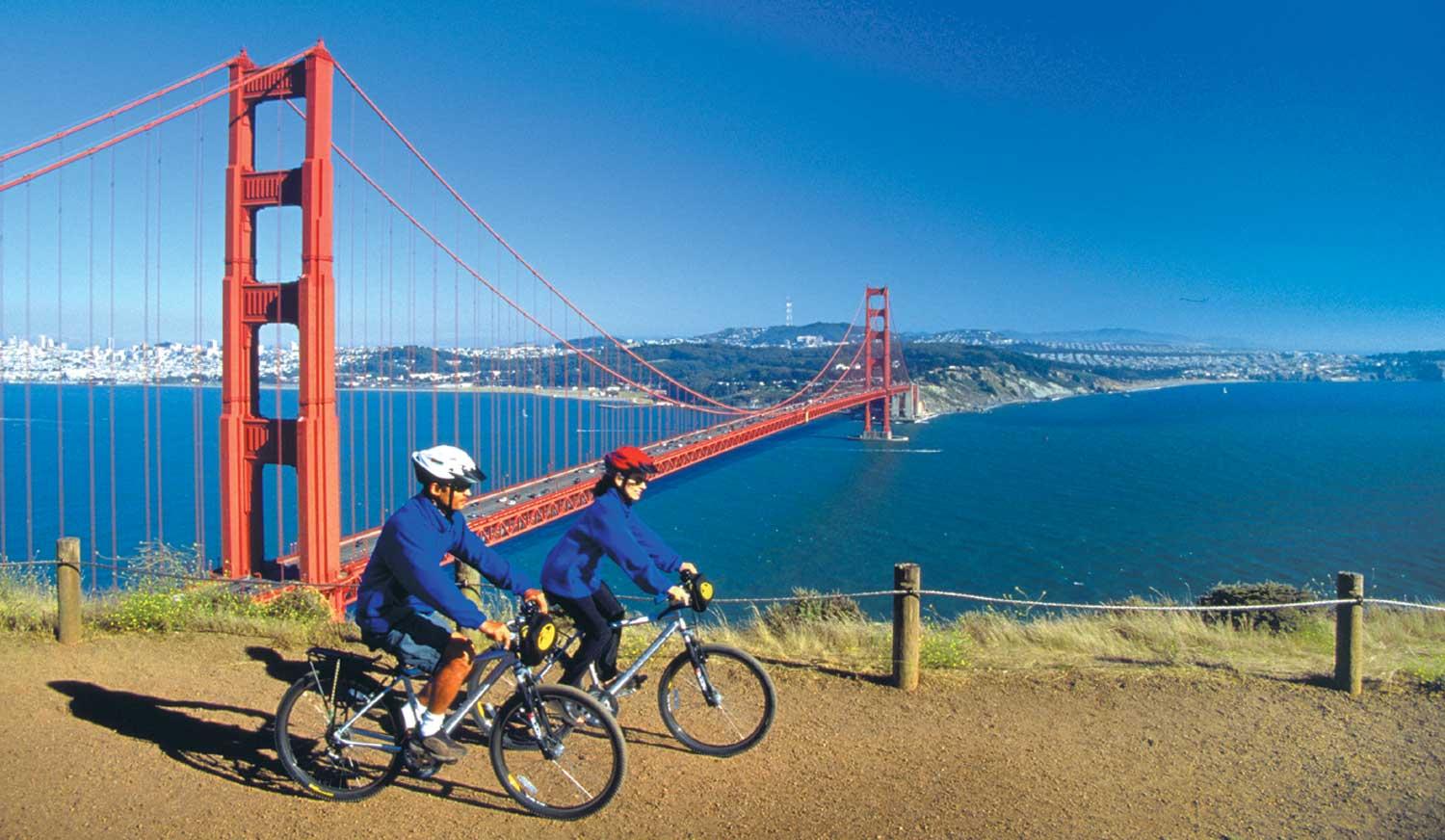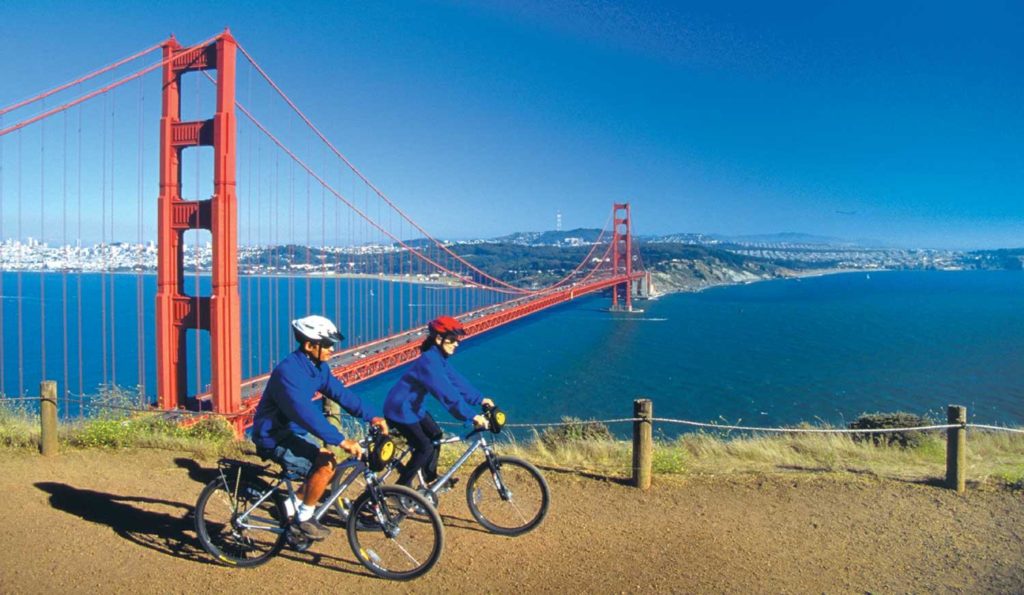 The Golden Gate Recreation Area is drafting e-bike rules. Here's a selection of rides you'll be able to enjoy by e-bike.
Dinosaur National Monument
Split between Utah and Colorado this National Monument is so named because of the amazing dinosaur fossils found here.
There are plenty of dirt roads opened up to e-bikes from the 1st October and there are also plenty of opportunities on nearby Bureau of Land Management lands.
Hovenweep National Monument
Hovenweep National Monument protects six prehistoric clusters of Native American ruins.
Officially established as a national monument in 1923, the villages date from the Pueblo period of the mid 13th century and are located in a vast, lonely region lying north of the San Juan River.
Official info on where to bike is sparse, even though e-bike use has recently been allowed here, but this Cycling Utah article gives a flavour of the biking on offer.
Natural Bridges National Monument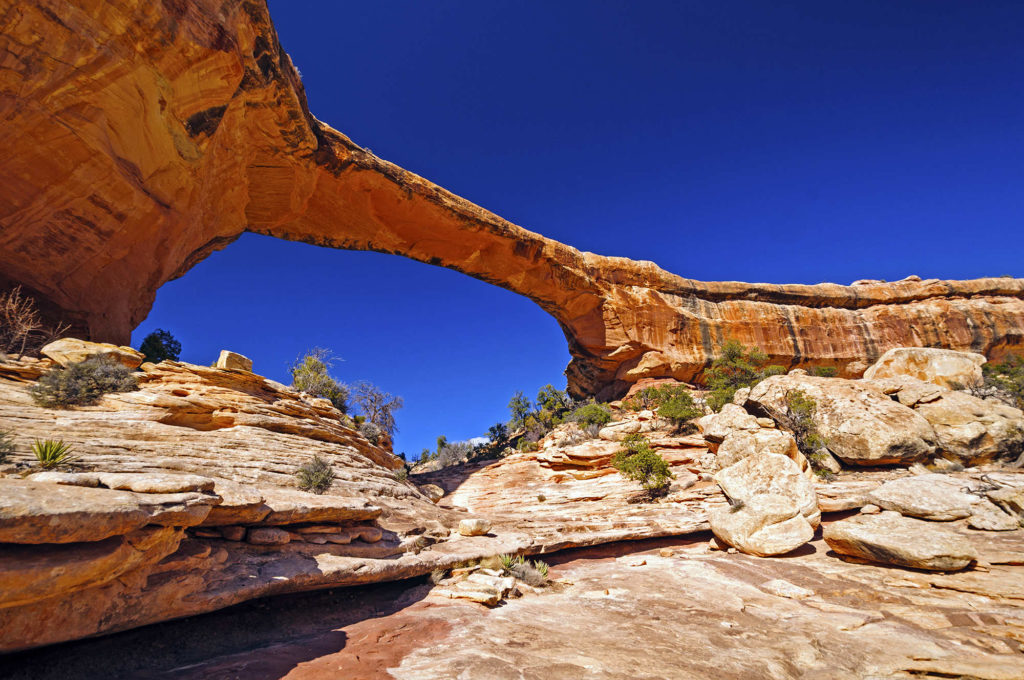 Nearby is the Natural Bridges National Monument which also recently allowed e-bike access.
Canyonlands & Arches National Parks
E-bike through Utah's classic butte and mesa territory in the Canyonlands NP.
The NPS biking page gives more detail on classic unpaved routes such as White Rim and Elephant Hill roads.
Nearby is the Arches National Park which also has miles of e-biking on unpaved roads as does nearby Moab, just outside the park.
Zion National Park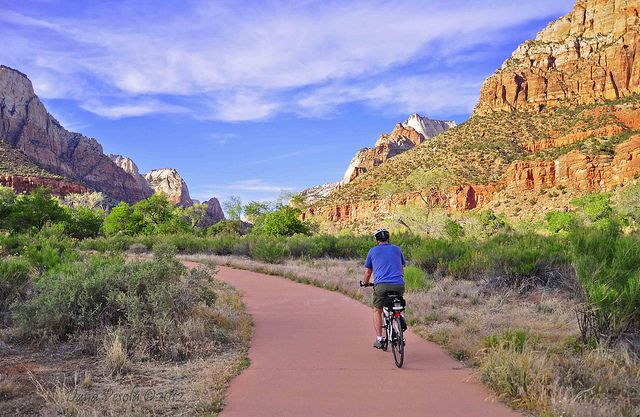 Utah's first National Park is known for its sandstone features such as mesas, rock towers, and canyons.
Whilst there are roads that allow motor traffic through the Park there is only one small traffic-free biking trail there, the Pa'rus Trail, but it looks truly spectacular.
Stay Tuned
This is just the start of the list of eBiking in the National Parks and National Monuments. Stay tuned for more updates on the places you can ride!
Also, stay tuned for more e-bike news and reviews and thanks for reading!
-Richard
P.S. Don't forget to join the Electric Bike Report communityfor updates from the electric bike world, plus ebike riding and maintenance tips!
Reader Interactions