Tips for eBiking During Coronavirus – Notes and Rider Stories from the US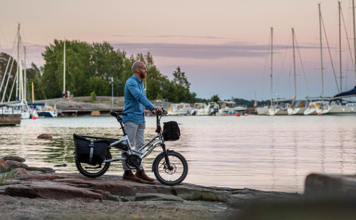 With around 90% of Americans under stay at home orders because of the spread of coronavirus there are still things you can and should do to stay healthy but prevent the spread of the virus at the same time.
Most of the state lockdown guidelines do permit people to leave the house for exercise if they obey social distancing rules.
EBR have already covered the official advice issued by the UK government in this article and many of the lockdown orders in US states are similar i.e. stay local to exercise, only exercise alone or with members of your own household, practice social distancing when out (6 feet or 2m being the accepted minimum) and, as always, continue to take the advised hygiene precautions including regular proper handwashing.
US E-bike Boom
As regular readers of EBR will know, riding e-bikes can be exercise (keep those power assist levels low if you really want a god workout…) and they are also used in cities across the world for transporting goods whilst helping keep urban areas congestion free and healthy.
It seems both these attributes have been picked up on during the current crisis. Adele Nasr, Chief Marketing Officer for Aventon e-bikes has been in touch with us at EBR to say 'We have been busier than ever, we are literally breaking records daily…' adding 'Hospitals are now using e-bikes with trailers in order move supplies, like surgical masks, N95 masks and personal protection equipment, from their supply warehouses to their emergency rooms and intensive care units.'
Clearly in a stay-at-home situation exercise is important for both physical and mental wellbeing and Aventon's recent sales figures seem to confirm many Americans are buying e-bikes to help them get out and about for exercise but also to for daily chores.
Aventon year to date sales figures for Jan-Mar 2020 compared to Jan-Mar 2019 are up almost universally across the country but standout areas are Massachusetts (298%), Virginia (438%), New Jersey (268%) and Washington (391%).
The Riders
Here's some examples of e-bikers getting out and about during the crisis.
Manny Diaz, 56, is an electrical contractor in LA County, California
"Everyone in California has to keep a 6-foot distance to prevent the spread of the Coronavirus. My e-bike is a perfect way to do it. There's not a lot of car traffic right now, so it makes using the E-bike very simple because there's a lot more room to ride, and a lot of people are out right now on bikes. I went to the Marina today, and within a 30-minute ride, I saw at least 15 people with E-Bikes – younger, middle age and older folks too.
What the E-bike has done for me, is that it's opened up my options. I can ride the E-bike in a nice picturesque neighborhood, I take it to lunch and dinner, I ride the Ballona Creek bike path a lot, I'm not out in traffic, there's no stoplights. It's a totally different vibe altogether.
This weekend I rode my e-bike for 3 hours and didn't have to interact with anyone and got my exercise. I've also noticed that ever since I got my e-bike and am exercising, I'm sleeping a lot better.
The e-Bike also allows me to go to places I can't get to by car. I take it to the beach and the marina. I can get near the boats and the yachts, take pictures of the great scenery, and I don't have to pay for parking."
Michael Irei, 33, from Minneapolis, works in advertising He usually rides his e-bike to and from his advertising job.
'Normally my e-bike allows me to not rely on two cars for our family. I am able to commute to work more efficiently. Now I am under a stay-at-home order, but fresh air is allowed. I wanted to have the e-bike for the bike trails around us. My older kids love to ride bikes.
We also can run short errands, because Minnesota's roads are very bike friendly. When I was still commuting to work, I would ride my e-bike every day. Right now, I am going to parks more and spending more time outdoors.
We like to ride bikes to the park instead of driving. I feel getting outside is helpful during the self-quarantine. I also use the e-bike to go to Target for groceries with a trailer'.
John Pollard, 78, is at high risk of Coronavirus just by his age alone. From Brookline, MA, he is a human factors engineer and a teacher at the school of engineering at Tufts University. He's been a cyclist since college, but only recently bought his first e-bike.
He says:
"I have been able to get outside on my e-bike for fresh air, but while practicing social distancing. Bikes are a great way to practice social distancing compared to walking. I can do exactly what I wanted to do with this e-bike and this is going up hills at 20 miles-per-hour.
I've ridden it to work, bought groceries, trips to the drug store and a trip to my attorney's office. It's 42 degrees and rainy these days, but I've put about 24 miles on it. I'd like to get out more. Right now, they are telling us to stay six feet away and we're allowed to go out for essential goods.
One nice thing is that some streets that would normally be busy with car traffic are wide open for me to bike. Also I can see things I haven't seen for many years.
My heart does not work as well as it used to, and I was running out of energy quickly. This e-bike makes me feel like a kid again! I did a nine mile ride through the arboretum already. The other miles have just been some errands.
My commute is from my home in Brookline, Massachusettes and it goes through three counties over four miles to Cambridge. I take the Dr. Paul Dudley Bike Path as part of my commute, one of the oldest bike paths in the country. I ride the north bank of the river to my office across Kendall Square (MIT).
Once the weather gets nicer, I'll plan on riding it to more of the sites like the arboretum which has almost four miles of roads. I'm also a big fan of architecture and there are some beautiful homes here.
I love to ride my ebike around and look at these homes with a critical eye. That pleasure is still completely open!I also plan on riding it to the top of Aspen Wall Hill to get the view of downtown from there. I've lived here for 50 years and have never been to the top, but with my new e-bike, I can do it.'
Cross Country Odyssey Riders Still Getting Out

Two avid electric bike enthusiasts started from their home near Seattle to embark on a year long 12,500-mile ride across the United States and part of Canada.
Janet Anspach-Rickey (age 64) and Stephen Rickey (age 72), took a pair of BULLS Cross Lite Es equipped with Bosch's Performance Line CX motors and set off in September of 2018 hoping to finish their ride before September 2019.
With a plan in mind, they set out to ride 4-5 hours each day, starting at 9am and ending around 1pm. With averaging 35-40 miles a day on one battery, they decided to pick up a second battery when they stopped in Vermont.
Janet notes that because they were averaging about 40-50 miles a day using eco mode, "they wanted to utilize the sport mode (eMTB mode) which adjusts (automatically) between tour and turbo depending on terrain," this in turn would increase their mileage and use double the battery.
The second battery was a great addition because they wanted to be sure they were "west of the mountains before and chance of snowstorms in the mountains we had to cross….. What a blast to have batteries!"
After spending many months out on the road, Janet said that with the use of the BULLS Cross Lite ES, it brought back all the joy they once had riding.
She said, "Especially at our ages. When we hit headwinds, we put it in tour and cut right through the wind. We're not afraid. Bring on the hills! We can carry more weight. It's such a joy to ride."
Janet Anspach-Rickey and Stephen Rickey continue to ride their BULLS Bikes in the present pandemic conditions and see many cyclists on the road. As Rickey says, "It's a great way to get out and keep a social distance. Fresh air change of scenery, quiet roads, you can't beat it! It's like going back in time 50 years."
Stay tuned for more e-bike news and reviews and thanks for reading!
-Rich
P.S. Don't forget to join the Electric Bike Report community for updates from the electric bike world, plus ebike riding and maintenance tips!
Reader Interactions