Two Weeks on the Road for the e-Bike Cycle Tourists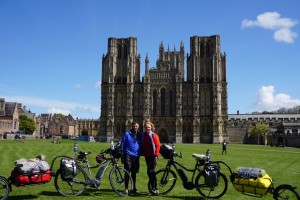 By Gary Corbett.
Well, what a couple of weeks it has been since the e-Bike Cycle Tourists headed off from Aldershot in Surrey on April 23 in an attempt to set a new world e-bike long distance record.
In the ensuing 14 days we have clocked up 844.10kms, have been absolutely stunned by the beauty of the English countryside, have met many, many wonderful people – many of whom are now following our adventures via Facebook – have enjoyed learning how to ride our Haibike xDuro Trekking e-bikes economically to preserve battery power, have cycled up more huge hills in Devon than we thought we would tackle on the entire trip, have endured a couple of below freezing nights, have more than once cursed those responsible for planning the United Kingdom's National Cycle Network – the topic of another blog – and generally revelled in everything we have seen and done.
To top off what can only be described as an "eventful" two weeks, we are currently in Tavistock about 16km north of  Plymouth waiting out gale force winds before we can make the ferry crossing to Roscoff in France.
As someone who gets seasick just thinking about getting seasick, the thought of spending 11 or so hours crossing the English Channel in gale force winds is the stuff of nightmares.
As a result we have booked into a 'five star' campground for three nights to wait out the wind and intend to travel by bus – yes bus – to enjoy a day of sightseeing in Plymouth tomorrow (May 6) before finally making the trip to France on the night of May 7.
With a couple of days off the bikes to catch our breath after such a big lead up to the ride, it has been good to look back over the photographs we have taken during our first 14 days on the road.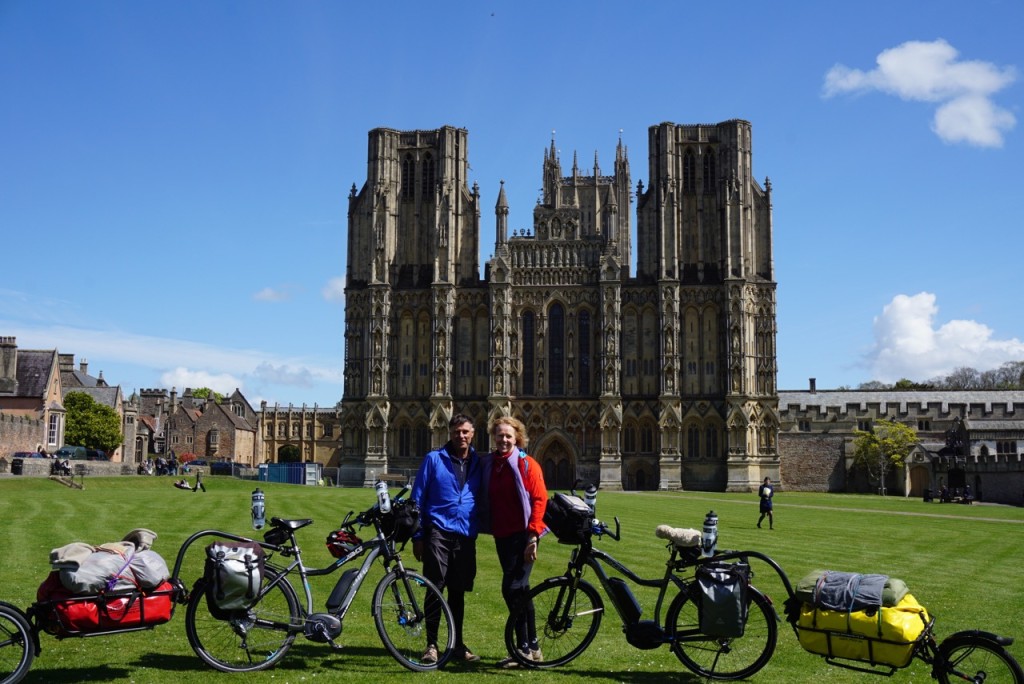 Highlights have definitely been the beautiful Kennet and Avon Canal, visiting the ancient Roman Baths in Bath, standing in front of the stunning cathedral in Wells, admiring the stunning vista the crops of rapeseed scattered across the landscape provide, the towns of Glastonbury, Sidmouth, Beer, Exmouth and Tavistock – to name just a few – stopping time and time again to admire yet another amazing landscape and another timeless building, enjoying a typical English pub meal in the George and Pilgrim Hotel, the oldest purpose built pub in the South West of England and generally enjoying the life of a self-contained cycle tourist.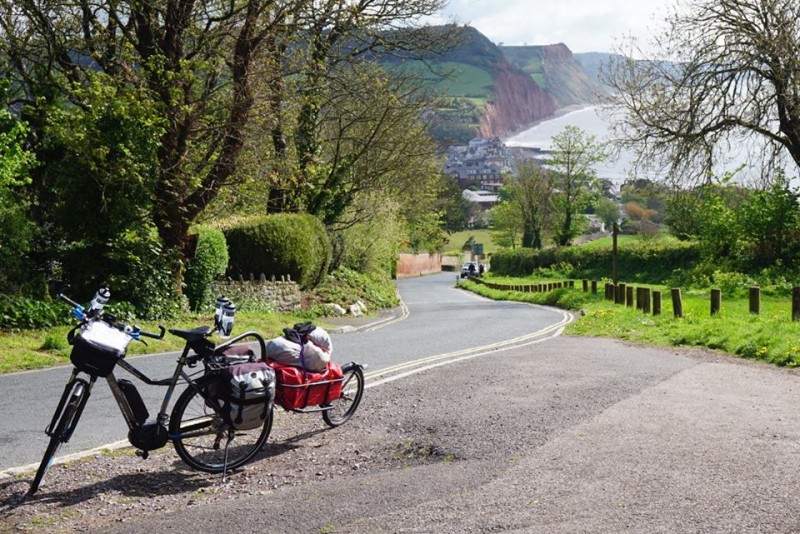 We have very quickly discovered – or in my case rediscovered – that when you are cycle touring every day is filled with the same four things – cycling, finding food, finding somewhere to sleep and finding internet connections. It sounds basic, but it is amazing how quickly every day flies past, especially when some days involve cycling nearly 100kms over eight or nine hours.
Throw in the steep learning curve we have been on getting to know how to get the maximum battery life out of our Haibikes Bosch battery system and how to generally handle our fully laden bike – cycle trailer combination and it has been a big two weeks.
What we have now discovered is that battery life is very much related to riding style, the weight you are carrying and the terrain you are cycling over.
Given that I am carrying considerably more weight in my Tout Terrain trailer than Rachel and am generally heavier on the pedals, I have found that I am depleting batteries at a much faster rate.
My best day was 66km on day 3 before a battery change was required, with the worst 40km on day 10. On each occasion Rachel has been achieving 10 or so kms further per battery charge. As a result it has become imperative that we plan our days better to take into account the topography of the country we plan to cycle.
In Devon where we are currently cycling constant hills have meant that we have tried to keep our daily distance to below 70kms, with the thought of depleting two batteries each not worth contemplation.
On one occasion after my battery ran out midway up a particularly steep 20 degree climb it only took a few turns of the pedals without any electric assist to realise there was NO WAY I could continue to cycle.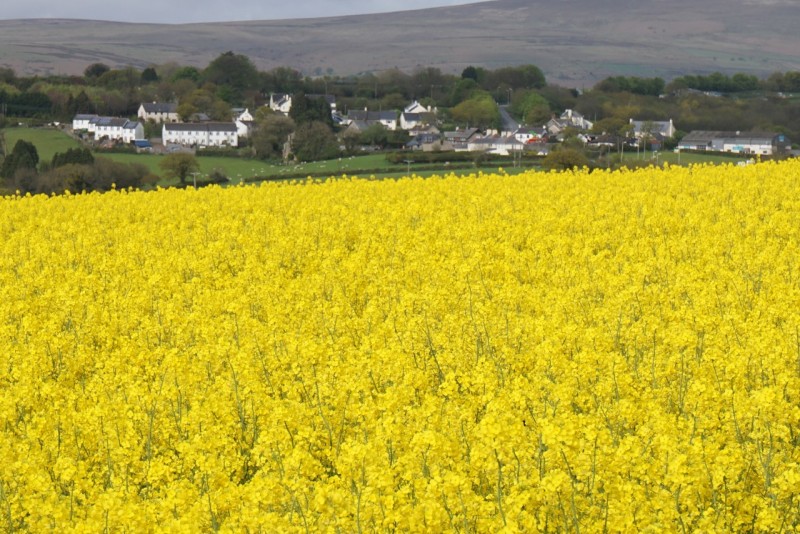 Just think about the sums – a 23kg-plus bike, 30-plus kgs in a cycle trailer, a cycle trailer and two fully loaded panniers – it would take Superman to haul that lot up such a steep incline.
The bottom line is that we now know that preserving battery power is paramount to enjoying a hassle free cycling experience, with our success or otherwise to successful to set a new world e-bike record of in excess of 16,000 kms directly linked to our ability to sensibly plan our route and nightly stops within the capacity of two battery changes each.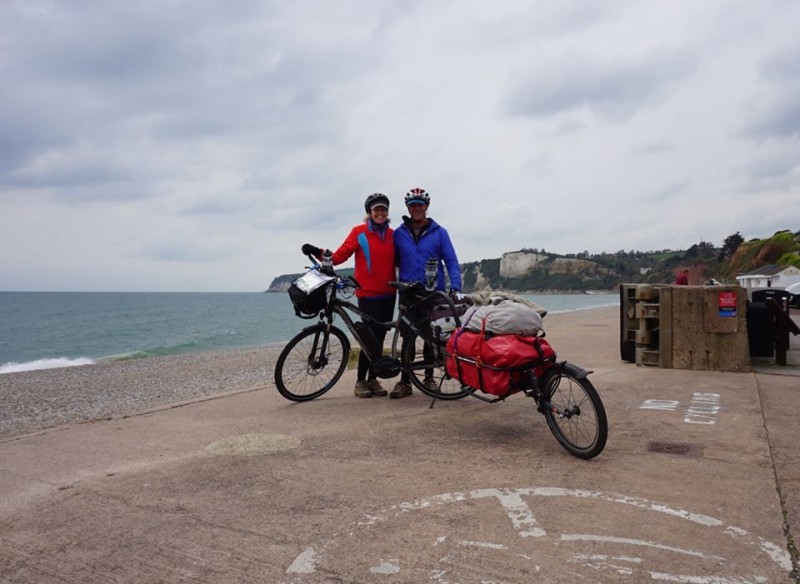 Thanks to Gary Corbett for this update from their electric bike tour!
Now, checkout some of these other e-bike touring stories:
European Electric Bike Tour: Not All Who Wander Are Lost – Part 1
Electric Bike Touring to Eurobike [VIDEO]
Electric Bike Touring: 3,300 Miles from Seattle WA to Washington D.C. on a Pedego Interceptor
Electric Bike Touring: 80 Year Old to Ride 2,500 Miles on an Easy Motion NEO Jet!
Electric Bike Touring in Croatia, Austria, & Italy's Dolomites
E-Biking to the Grand Canyon with the Ride the Future Tour Crew! [VIDEO]
Tour de Mongolia – A Solar Powered Electric Bike Tour! Lots of Pictures.
Electric Bike Tour In The Nepalese Himalaya!
Iceland Challenge Short Film: Electric Bike Touring in Iceland! [VIDEO]
An Electric Bike Tour Across the USA!
Are you interested in e-bike touring? Where would you like to ride?
Please leave your comments in the section below.
P.S. Don't forget to join the Electric Bike Report community for updates from the electric bike world, plus ebike riding and maintenance tips!
Reader Interactions