Clean Republic Hill Topper Electric Bike Kit Review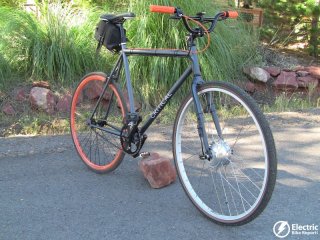 Time for the full review of the
Clean Republic Hill Topper electric bike kit!
Make sure you checkout this post about the kit's specifications and how the installation of the kit went.  There are a few videos and a bunch of pictures!
Now let's talk about what the Hill Topper kit ride is like, the real world ride results, pros, cons, and who this kit is for.
What is the ride like with the Hill Topper kit?
The Hill Topper is meant to assist you in getting over that tough hill!  Please note the "assist" part.  It is not meant to help you "fly" over the hill!
With that said it really does add a nice assist to your bike to help you when you need it.  The idea with this simple and minimalist electric bike kit is that it will help you when you really need it, with the simple push of the button throttle.
Since the Hill Topper uses a 24V battery and a 250 watt geared front hub motor, it is not a super powerful kit, but it has enough assist to help pull you up the hill (some hills in San Francisco may still be pretty tough!).  The beauty of the 250 watt motor is that it "sips" energy from the battery pack.
If you have a fairly small range that you need for your commute (10 miles) then you could use the SLA pack or the new lithium ion Sprinter pack that is very small and light (2.3 lb.).  Tip: You could buy an extra charger to have at work for charging for the ride home, instead of buying a bigger battery (which can cost a lot more than an extra charger).  Clean Republic also offers 20 mile and 40 mile lithium ion battery packs as well.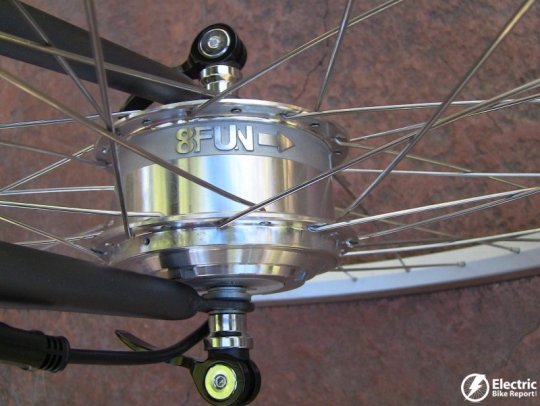 The cool thing about geared hub motors is that they "freewheel" when they are not in use, so there is no resistance from the motor when it is not engaged.  Direct drive motors tend to have a little resistance from their magnets when not in use, so it makes unassisted pedaling a little tougher.
Clean Republic put together this informative video on the best riding techniques to get the most range from their kit, which also can extend the overall life of the battery, provided it is charged up regularly.  These proper riding techniques apply to any type of kit or complete e-bike.
As you can see the Hill Topper is a kit that provides the assist when you really need it, not a free ride all the time 🙂  Here are 10 tips on how to improve your electric bike range.
The Hill Topper is a nice assist kit.  I found that it really did make climbing hills much more enjoyable!  It also works well as a way to maintain a higher speed on the flat areas (while pedaling) to overcome a headwind.  It also does work well to help you accelerate through a crowded intersection quickly.  For best energy usage, you should avoid using the assist from a total stop.
Actual Ride Test Results 
Max Speed: Clean Republic claims the top speed is 15mph but the kit that I was using maxed out at about 18mph.  That could be because I used the 700c wheel size.  The 26″ version may max out at 15mph.
Range: As you can see from the GPS info that I recorded, the bike traveled 10.2 miles and did a total elevation gain/loss of around 900 ft. Considering that I weight 190 lbs and I pedaled lightly, the 24 Volt 8.8 ah battery pack (192 Watt Hours) lived up to it's claim of 10 real world miles.
Please keep in mind that if you pedal more, weight less than me, ride slower and/or you use the bike in terrain that is not as hilly you will get more range.  These results are from tough testing.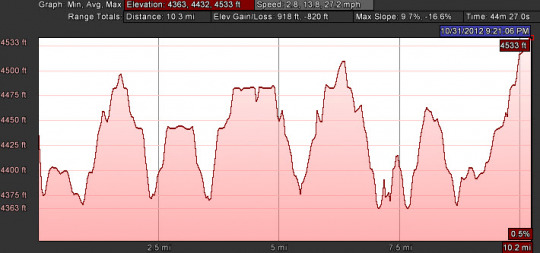 Weight: The standard kit with the lead acid battery adds about 17 lb. to your bike.  The weight distribution is pretty good on the Hill Topper.  Since it is a front hub motor, it is generally a good idea to place the battery near the center or back end of the bike.
I used the straps on the bag to place it behind the seat and it worked pretty well.  The weight is a little higher than optimal but it is not bad.  You can also mount it on the top tube and seat tube, but from my experience, the bag was not as secure in this location.
Pros
Simple kit:  The simplicity of the Hill Topper is definitely a highlight of this kit.  The installation is pretty straight forward and it can be easily removed if you decided you only want to use it for certain rides (for example carrying cargo) or switching the kit between bikes.  The ability to remove the kit quickly is made much easier with the Axle Release quick releases for the front wheel!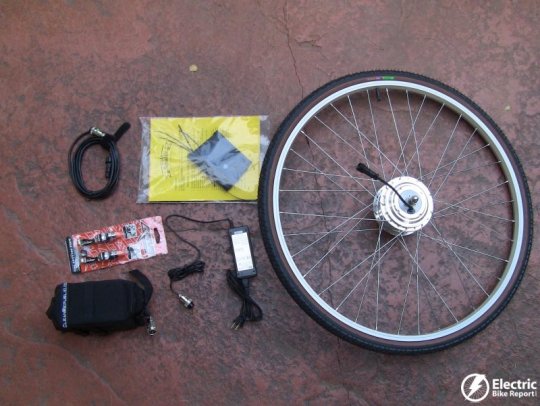 The on/off button control may seem overly simplistic but I found it to be a nice way to add the assist only when needed.  Please note that there is no modulation to the power.  It is either on or off, but it does seem to "ease" into the assist so that it is not a abrupt power feeling.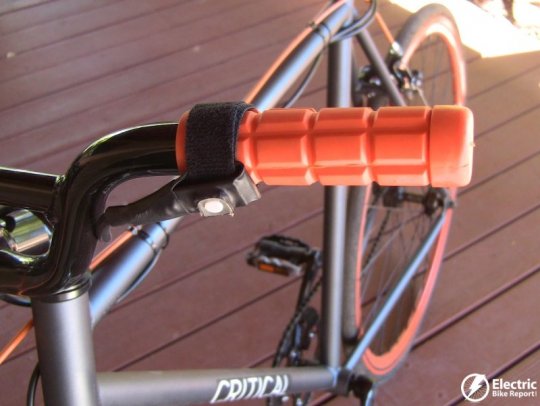 Economical:  The Hill Topper that I tested was the lead acid battery option and the complete kit costs $399.  That is a great price for anyone wanting to add electric assist to their bike!
Since the Hill Topper was installed on the Critical Cycles fixie style bike, the total price for this e-bike was in the $650 range; pretty impressive!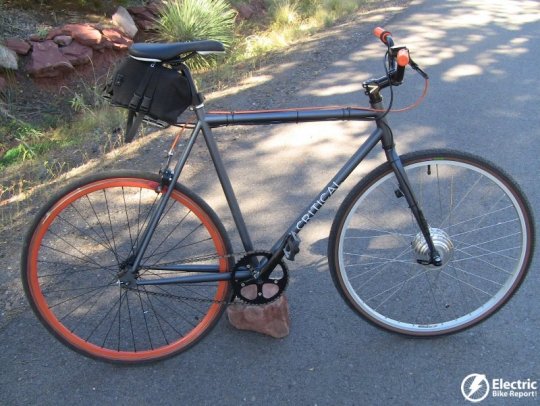 Upgrade-ability:   The standard Hill Topper kit comes with the 10 mile lead acid battery which can be a great starter kit, especially if that is all the range you need.  You could start out with 10 mile pack and see how that works for your routes.  If you need a bigger battery (or extra battery) you could always buy one later.  Clean Republic does offer 20 mile and 40 mile lithium ion packs if you need more range.
Another range tip:  You could bring the battery and charger with you into the office or coffee shop for charging.  The lead acid battery charger is small and light!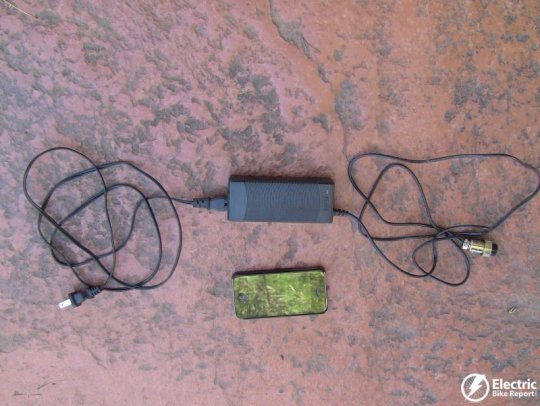 Cons
Lead Acid Battery:  What makes the standard Hill Topper kit so economical is the lead acid battery.  There are always compromises when you go with a lower price point, i.e. you get what you pay for.
Lead acid batteries are heavy!  The Hill Topper lead acid is 11lb. for 10 miles of range.  Their "Sprinter" lithium ion battery is 2.3 lb. for what they claim is a 10 mile range battery but is adds $100 to the kit price.  Seems like it might be worth the extra $100!
With the weight and size of the lead acid battery, the battery bag flops around a bit when the straps loosen up after a ride or two.  It would be nicer if the bag straps were a little more secure.
Along those same lines it would be nice if Clean Republic offered a battery lock box accessory to prevent battery theft.  It can be a little cumbersome to take the battery on and off the bike when you park your bike somewhere.  According to Clean Republic, they may offer a lock box or other attachment in the future.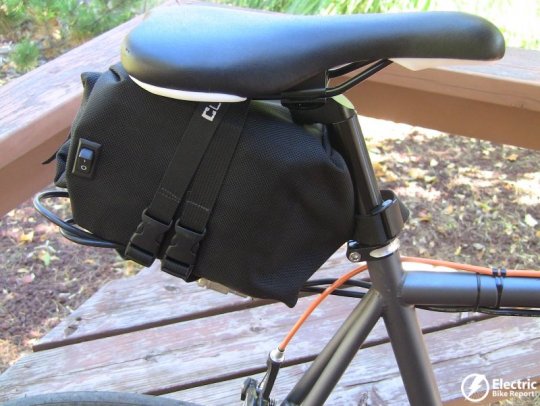 Lead acid batteries also need a little TLC compared to lithium ion batteries.  Make sure you top off the lead acid battery as much as possible and try not to drain it completely.  By taking care of your battery you will get more overall life out of it.
With the lead acid version of the kit you need to remember to charge the battery while the switch is in the "on" position.  I forgot to do this on a few occasions and it was a bummer to charge the battery for a few hours and then realize that it did not charge!  After using this kit for a while it will probably become second nature to make sure the switch is on.
You also have to remember to turn the battery off when you are not riding because it can drain some energy from the battery even when you are not riding.  Most e-bike systems on complete bikes turn themselves off after a certain amount of time when they are not in use.
Noise:  All geared hub motors make some noise.  The Hill Topper is a little noisy, but it is not bad.  Just something to be aware of if you are looking for a silent ride.  If you want a quiet ride then you should go with a direct drive motor kit.
Who is the Hill Topper e-bike kit for?
The Hill Topper is a great electric bike kit for you if you want some electric assist to make your pedaling that much easier.  It will literally help you top the hill that has been giving you a hard time on your non assisted bike.  Adding the Hill Topper will make your current bike a lot of fun!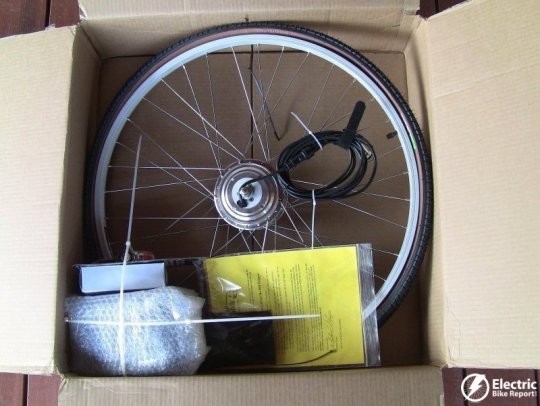 This kit is also a good option for adding electric assist to a cargo bike.  Electric assist added to a cargo bike can make hauling 4 bags of groceries up a hill much easier!  Electric cargo bikes are great car alternatives.
The standard Hill Topper kit is a great entry level kit and then you could always upgrade later to a better lithium ion battery if you feel that you need it.
This kit is not for you if you want a free ride (no pedaling) up a hill.  But that's not as much fun as pedaling 🙂
Please keep in mind that this is a relatively short term test.  This testing can't really give you the long term review of durability and reliability.  My thoughts on the quality of this electric bike kit are from previous experiences with similar kits.  If you own this kit and have some input on the long term durability, please share your comments with the Electric Bike Report community below.
You can get the Clean Republic Hill Topper electric bike kit at their website.
Do you have any questions about the Hill Topper kit?  Do you own the Hill Topper kit?  Please share your thoughts in the comment section below.
Thanks!
-Pete
Review Note: Each company pays a fee for a review on Electric Bike Report because of the considerable amount of time that it takes to provide an in-depth review of each eBike. A lot of time is spent on the full range test with distance & elevation profile, the wide variety of detailed pictures, in-depth video, and the write up with the specifications, ride characteristics, pros, cons, and overall thoughts. The reviews on Electric Bike Report are focused on providing you with a detailed "virtual" look at each eBike to help you determine if it is the eBike for you or not.
P.S. Don't forget to join the Electric Bike Report community for updates from the electric bike world, plus ebike riding and maintenance tips!
Reader Interactions