Electric Cargo Bike Guide [VIDEOS]
One of the recent developments in the electric bike and traditional bicycle world has been the cargo or utility bike.
Cargo bikes are designed to carry loads that are larger and heavier than a traditional bicycle can carry like passengers, many bags of groceries, boxes, etc.
Electric cargo bikes offer an additional electric assist to the rider which allows them to carry a heavier load for a longer distance.
The electric cargo bike in many cases is a great alternative to driving a car for running errands and commuting to work.
Benefits of an Electric Cargo Bike
The average person who takes the kids to school, commutes to work, and needs to run errands around town can use this type of bike without getting too tired & sweaty.
Below is an intro video about a cargo bike documentary called Less Car More Go.
The documentary is currently in the works. Below is an excerpt from the documentary to give you more of a background on cargo bikes.
Businesses that need to make deliveries around town can benefit from the maneuverability of a bicycle in a congested urban environment. Electric bikes with cargo carrying capabilities can also be a great marketing tool for businesses because of there unique look and they make a statement about the businesses environmental concern.
UPS and DHL are also using cargo bikes for deliveries in some cities.
Here is a guide to heavy duty electric cargo bikes.
B-Line is a company in Portland Oregon that makes deliveries with electric trikes.
Now let's take a look at some electric cargo bikes and trikes that are available or will soon be available.
Electric Cargo Bikes: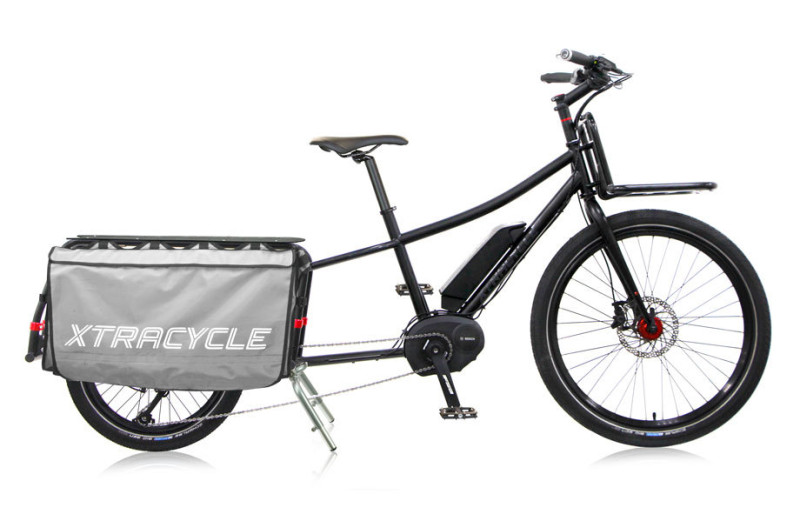 Xtracycle 10E: The 10E is an Xtracycle Edgerunner with the Bosch mid drive e-bike system. The Edgerunner cargo bikes are known for their steel frames, 20″ rear wheel for lower cargo platform, and a health selection of versatile accessories. Xtracycle offers the conventional (non-electric) Edgerunners with attachment options (battery, etc.) for adding an e-bike kit of your choice. Here is a review of a Edgerunner with the Dillenger Bafang mid drive installed.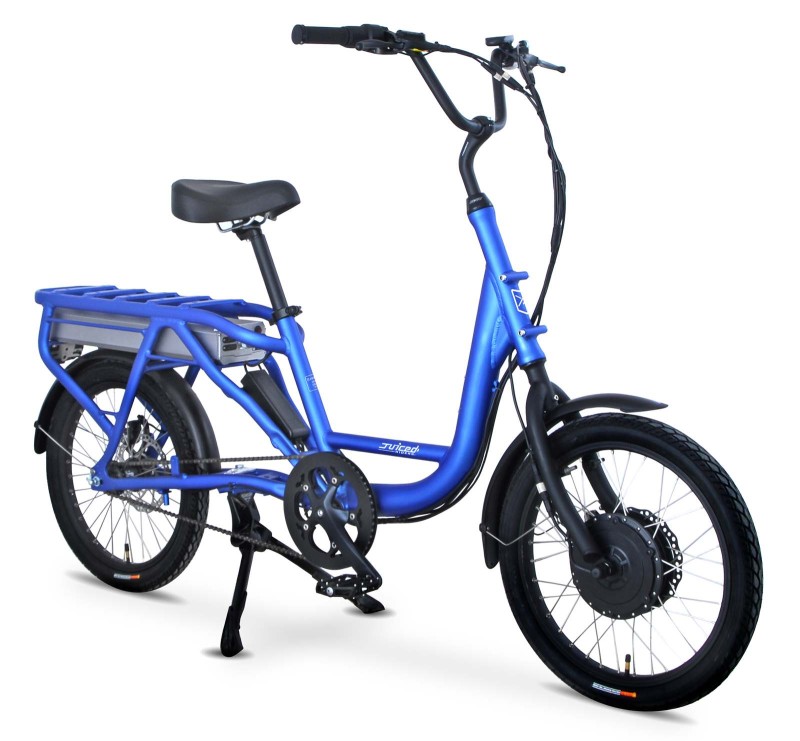 Juiced Riders: The Juiced Riders ODK electric cargo bikes have 20″ wheels front and rear with a super low step thru frame for stable load carrying capability. They offer amazingly high capacity battery size options with impressive price points. Here's a review of the Juiced Riders ODK from a few years ago. The latest model has some good upgrades.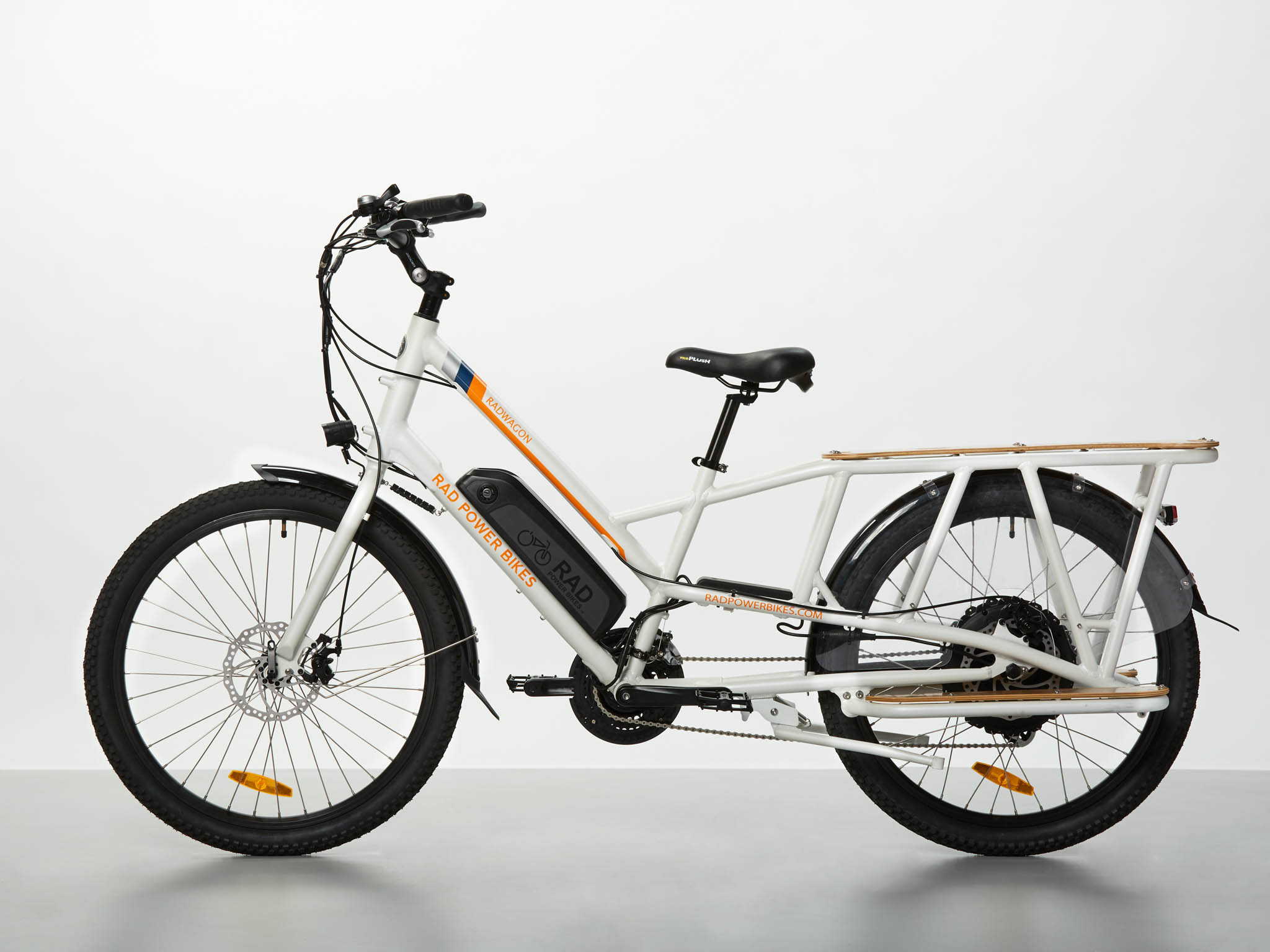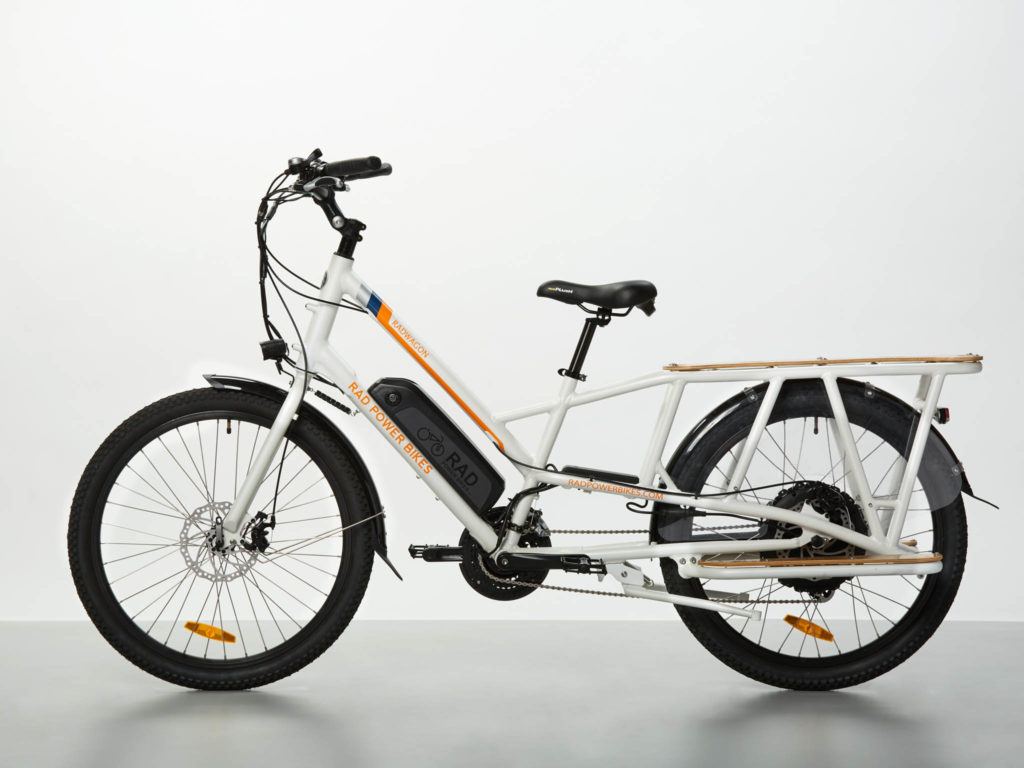 Rad Power RadWagon: The RadWagon features a powerful 750 watt direct drive rear hub motor with a large battery (48V 14ah 672 Wh with Samsung cells). The frame has been designed with a substantial standover height to fit a wide range of rider heights. Rad Power offers a number of different cargo racks and baskets for the front and back of the RadWagon. It is impressively priced at $1,599.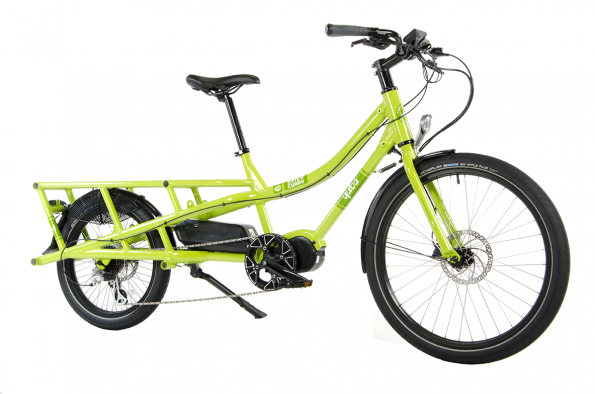 Yuba Spicy Curry: The Spicy Curry has a sturdy aluminum frame with a rack that can be set up to carry passengers, groceries, etc. or big boxes with it's flat bed configuration. The 20″ rear wheel keeps the center of weight low for better handling. It features a 350 watt mid drive system from Currie Electro Drive. Here is a closer look at the Spicy Curry e-cargo.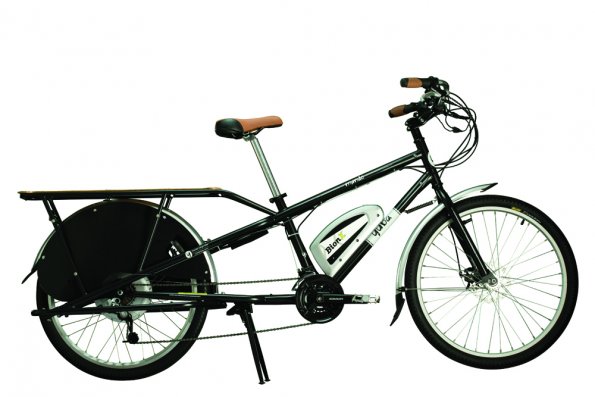 Yuba elMundo: The Mundo is the original Yuba cargo bike with a sturdy steel frame and a bunch of accessory options. It features a BionX e-bike system. Here's a review of the elMundo with a custom build.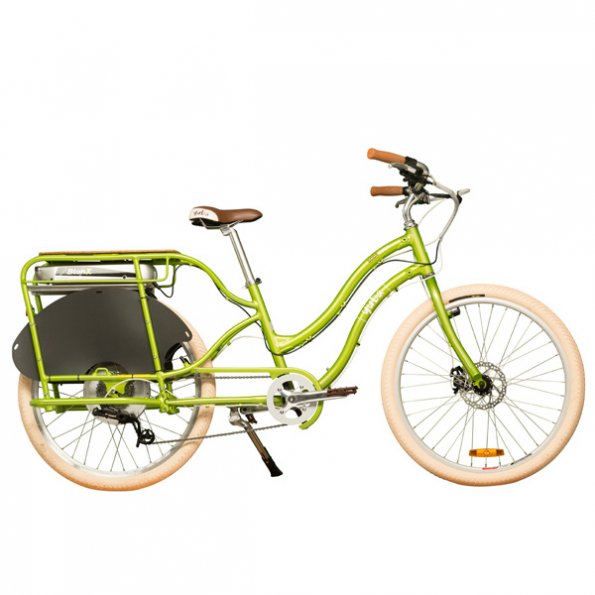 Yuba elBoda Boda: The Boda Boda has a shorter wheel base and lower top tube for easy maneuverability while riding and while getting on/off the bike. Features the BionX e-bike system.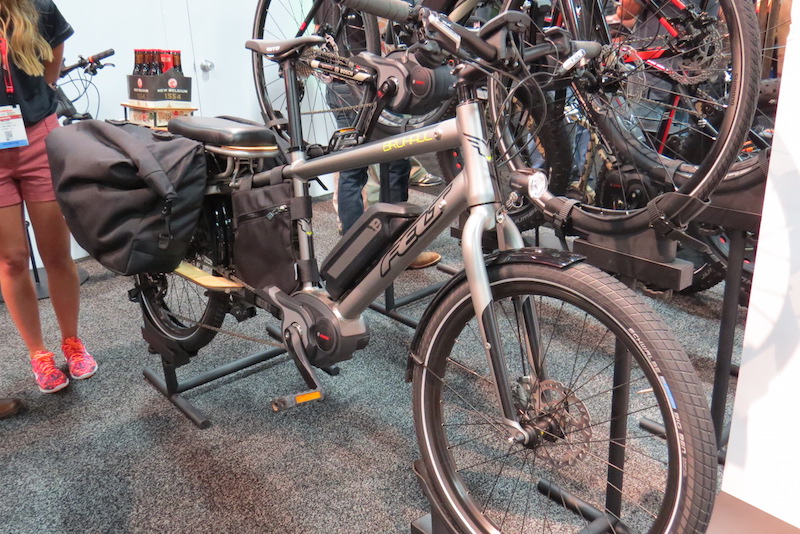 Felt Bruhaul: Felt showed off their e-cargo with the Bosch mid drive e-bike system last year at the Interbike show. It should be available very soon.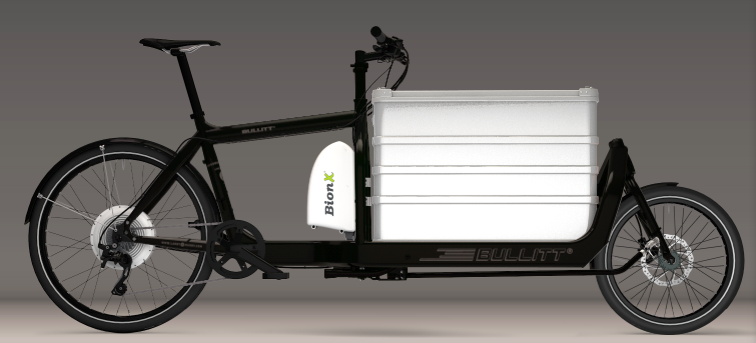 Larry vs. Harry Bullitt: The Bullitt is a solid front load carrying cargo platform with many accessories to choose from. You can select to add a BionX system to it.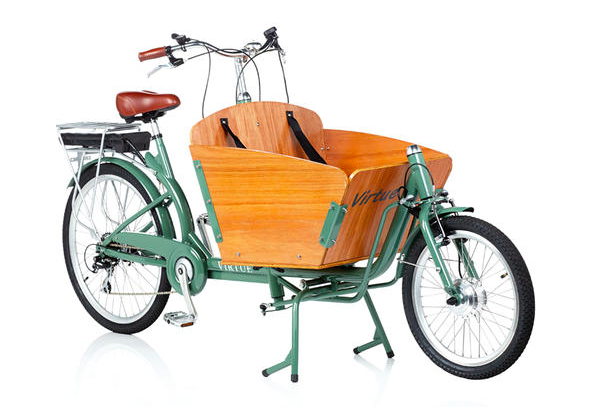 Virtue Gondoliere+: This has the big front box for carrying kids, groceries, boxes, etc. The cargo weight is positioned center and low. It does take a little while to get used to the steering of these types of cargo bikes. Uses a front hub motor system by Virtue.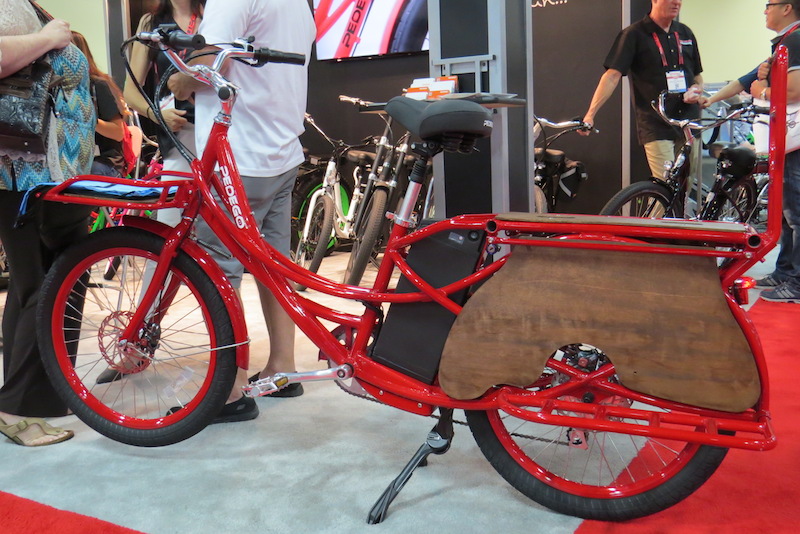 Pedego Stretch: Pedego showed off this e-cargo at Interbike 2014 and it should be available this year. It features a sturdy aluminum frame with multiple rack platform placement options for carry passengers, groceries, boxes, etc.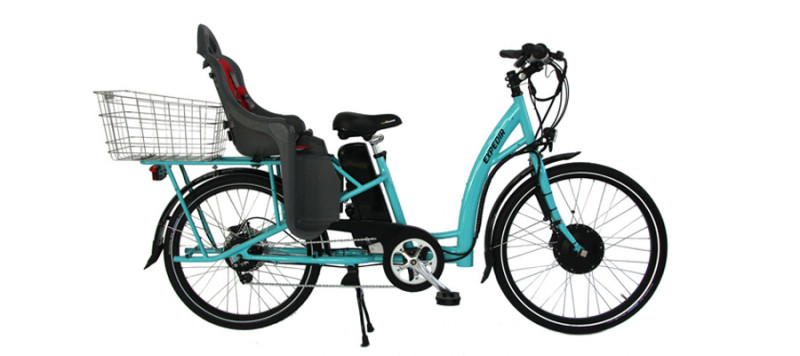 eZee Expedir: This e-cargo features a 26″ front and 24″ rear wheel for slightly lower load distribution. It has an impressive low step thru design.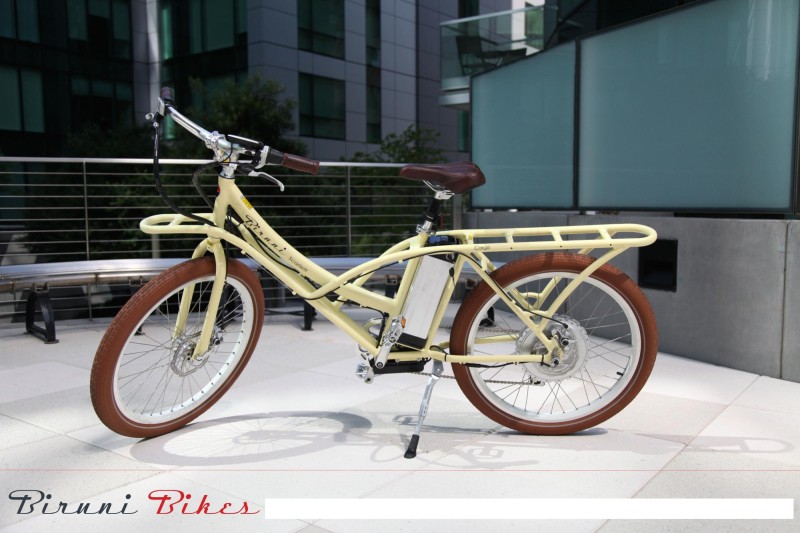 Biruni: Is a new e-cargo company offering affordable cargo e-bikes that have a relatively short wheelbase.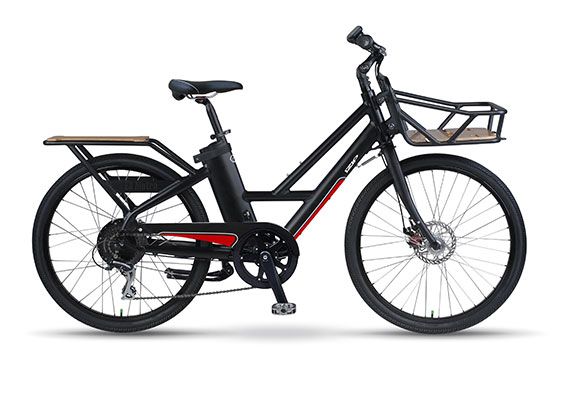 IZIP E3 Metro: This is a short wheelbase bike with the ability to carry some cargo thanks to the large front basket and rear rack.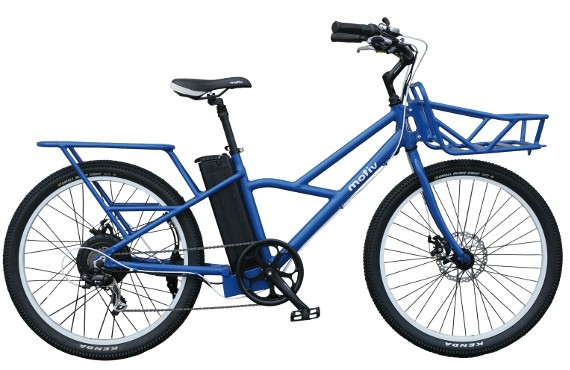 Motiv Sherpa: This a relatively "short tail" beach cruiser style cargo bike with sturdy front and rear racks.
Electric Cargo Trikes: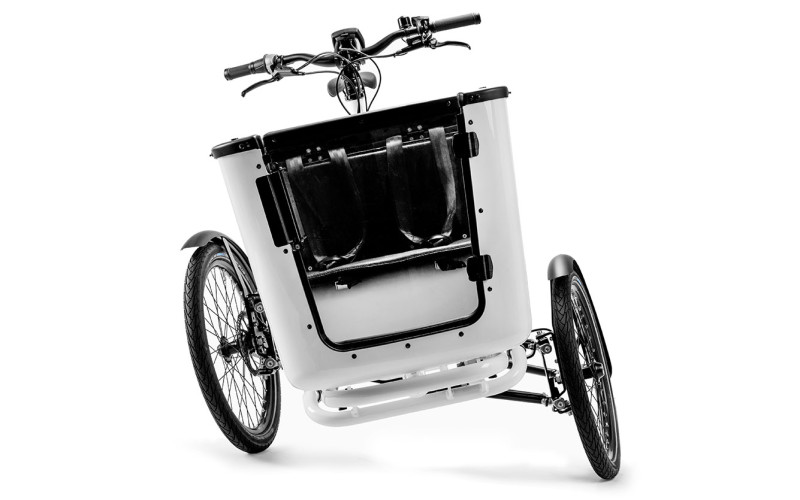 Checkout the guide to electric trikes that includes the tilting Butchers and Bicycles MK1-E shown above.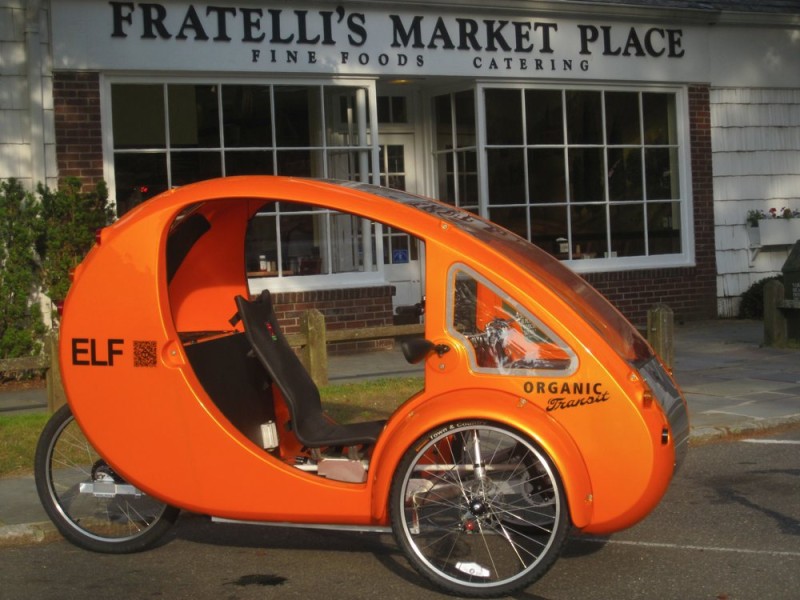 And here is a guide to electric recumbent trikes that includes the Organic Transit Elf shown above.
Add Assist
There are many more cargo bikes on the market. A lot of these conventional cargo bikes can have an electric bike kit added. You or your local bike dealer will need to make sure that the bike and kit are compatibile.
Other Ways to Carry Cargo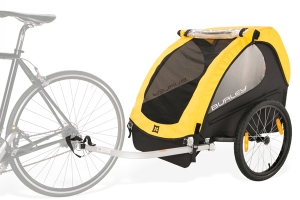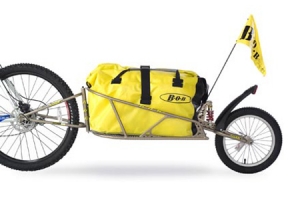 Bike Trailers: If you already have an electric bike that you like you can use a bike trailer to easily haul some extra cargo. The cool thing about a bike trailer is that it is easy to add or remove from your bike.
Bike Racks and Bags (or Panniers): There are many great cargo racks and bags that you can add to your existing electric bike to haul more gear.
The Price of E-Cargo Bikes:
You can expect to pay $2000+ (USD) for an electric cargo bike. This may seem like a lot, but when you consider how it can be used in lieu of your car for a lot of trips around town it starts to be more reasonable.
The stop and start driving around town causes a lot of wear and tear on your car. By using an electric cargo bike instead you will save money on gas and maintenance (tires, oil changes, tune-ups, etc.). Not to mention, have more fun 🙂
That's it for now. I will be adding more resources to this page, so stay tuned.
Here is a guide to heavy duty electric cargo bikes.
-Pete
P.S. Don't forget to join the Electric Bike Report community for updates from the electric bike world, plus ebike riding and maintenance tips!
Reader Interactions