Top 5 Tips for Lithium Ion Electric Bike Battery Care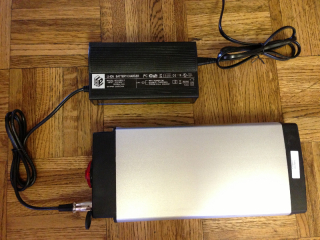 This is a guest post from Jonathon Monk of Cycling Made Easy.
Electric bicycles are an increasingly common sight in cities throughout the world.
With more and more people choosing to take to two wheels, these bikes offer the perfect opportunity to enhance fitness while playing an important role in helping to reduce the carbon emissions generated by other forms of transport.
These bikes are helping to persuade many non-cyclists to start pedaling but it is important to understand that making your purchase is just the first step.
Once you have bought your e-bike, it is crucial that you take the necessary steps to ensure that it continues to run at its optimum level, and few aspects of an e-bike are more important than its battery.
Enhanced technology has seen many electric bike manufacturers utilize the benefits of long life lithium batteries. While these batteries offer a significant upgrade over their predecessors, it is still important that certain guidelines are following to maximize their lifespan and run time.
Below we have outlined the top 5 lithium ion e-bike battery care tips which will help you along the way.
1.  Owners Manual – Read and follow the owners manual and warning stickers supplied with your bike. If you have any questions, call your e-bike dealer or the e-bike company directly and ask.
2.  The Charger – Only use the charger supplied with your electric bike.  Using a different charger can be very dangerous; possibly resulting in fire and/or explosion.  So use the charger that came with your e-bike.
3.  Fully Charge – When you get a new e-bike make sure you fully charge the battery per the instructions provided with your e-bike before you ride the bike.
4. Avoid Extreme Temperatures – Very hot or cold temperatures can negatively affect the the performance of the battery and shorten its expected life.  Avoid storing and charging you battery in a garage or shed that could be subject to really hot or cold temperatures.  Instead, charge and store your battery in a moderate temperature area.
Recommended storage temperatures are 32F – 77F.  Avoid exposing the battery to extreme heat, 104F + for long periods of time.
5. Storing a Lithium Battery – If you will not be riding your electric bike for an extended period of time it is a good idea to store your lithium battery with a full charge.  At the 3 month point, check the state of charge and recharge to top it off if necessary.
Bonus! 2 more tips 🙂
6. Charging Location – When charging your bike or battery, do so in a location that is dry, and where a hot battery or hot charger (should there be a malfunction) will not cause a damaging fire.
7. Avoid Humidity – Store your bike, battery and charger in a location that is dry. Water and humidity are not good for any electrical device.
Checkout this article for more information on the different types of electric bike batteries with additional battery care tips.
By following these 5+ tips, we believe that you and your bike will enjoy many long and trouble free journeys together.
Author Bio
Jonathon Monk is an enthusiastic cyclist and works for Cycling Made Easy. Cycling Made Easy are the regional stockists for SCOTT and can give advice and guidance plus accompanied test rides to make sure that customers feel comfortable and can experience E-Bikes first-hand before looking to buy.
P.S. Don't forget to join the Electric Bike Report community for updates from the electric bike world, plus ebike riding and maintenance tips!
Reader Interactions