Himiway Zebra E-Bike Review 2023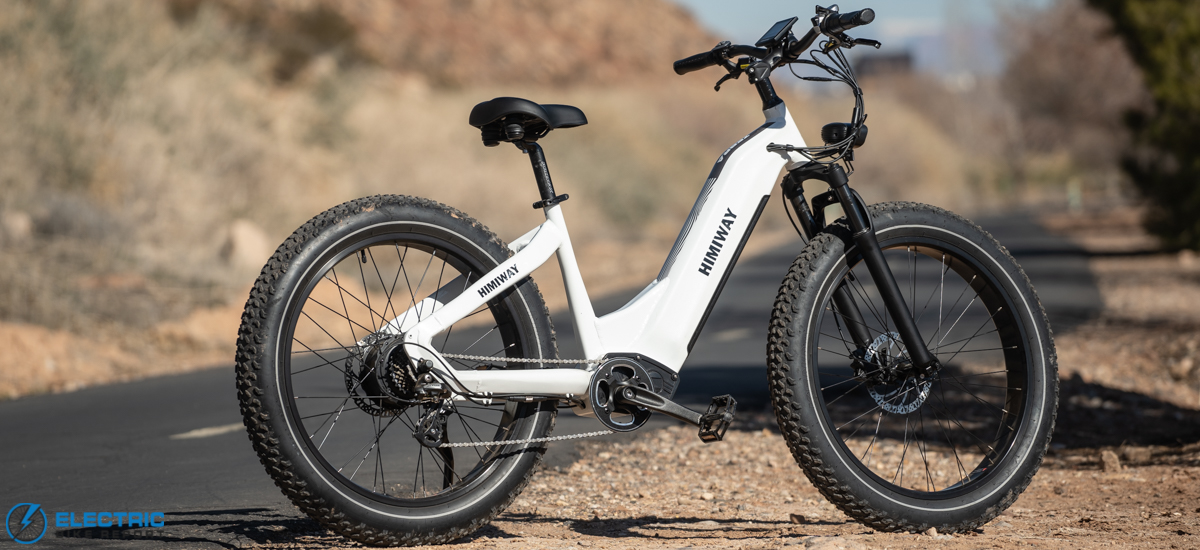 In case you haven't been paying attention, there's been a pretty hot competition for which brand can build the biggest, baddest and most powerful affordable electric fat bike on the market.
Of course there's a competition on for who can build the best e-bike in every category, but it's been especially heated among builders of affordable electric fat bikes, and few brands have thrown more into this fight than Himiway.
In this Himiway Zebra review, we'll take a close look at the brand's newest flagship electric fat bike and see how it compares to some of the best e-bikes in its class. We'll also look at how it compares to some of the other new electric fat bikes Himiway released alongside the Zebra last fall.
The Zebra is a hardtail electric fat bike with a 750W motor, an oversized 960Wh battery and a price tag of less than $2,000 — all ingredients that on paper should make it a contender. But it's a bike built by a smaller company with less history and likely less funding than some of the giant e-bike companies it competes with, making an e-bike from Himiway — at least in some people's eyes — a bit more of a gamble. But is it a gamble, or a game changer?
Let's see how the Himiway Zebra stacks up.
*Right now Himiway is offering a special discount to the EBR audience. You can get $150 off the Zebra, or $350 the purchase of two Zebras when you click the button below and use the promo code ZEBRA150 or ZEBRA350 at checkout. The offer is only good through May 31st 2023.
Bike Category:
Fat Tire/Hybrid Path
Bike Class:
Class 3: PAS up to 28 mph | Throttle assist, up to 20 mph
Himiway Zebra Video Review

Pro's
The looks are a huge improvement over the old Himiway Cruiser. The frame looks more aggressive, the battery is integrated and the overall finish is cleaner.
The redesigned 750W motor lives up to the Himiway name. It's extremely powerful and has an unbridled delivery. It would prefer to be ridden fast all the time.
The hydraulic disk brakes are a marked improvement over the mechanical disk brakes on the old bike.
The Zebra is a very good hill climber, putting up two top ten times on our test hill.
The huge 960Wh battery gives the Zebra an impressive range among the best in its class.
The sub-$2,000 price is right, with several components such as the brakes and redesigned motor making the bike feel like a bit of a bargain.

Con's
The Zebra suffers slightly from understeer, making the front end feel slightly floppy or divey in corners.
The faux leather ergonomic grips spin on the bars and can be slippery. We'd suggest different grips be your first upgrade should you buy the Zebra.
**Our review model was spec'd with a 36t front chainring, which made the bike woefully undergeared for its 20 mph-plus Class 3 speed. By 15 mph, we were spinning out.

**Editor's note: After testing, we learned the production version of the Himiway will come with a larger chainring. We are leaving this con in our review until we receive the production bike and verify the larger ring.
ELECTRICAL SPECS & FEATURES
Battery: 48V, 20Ah (960Wh)
Display: LCD Display
Motor: 750 rear hub motor, 86Nm of torque
Headlight: Included
Taillights: Included
Peal Assist: 5 pedal assist levels, torque sensor
Range: 60 miles to 80 miles
Throttle: Twist throttle
Weight & Dimensions
Claimed weight: 79 lbs
Maximum rider weight: 400 lbs total payload capacity
Maximum load on rear rack: N/A
Components & Accessories
Brakes: Hydraulic disk brakes, 180mm rotors front and rear (Our review bike had Tektro HD E-350 brakes)
Fenders: N/A
Fork: Front suspension fork
Frame: 6061 Aluminum
Drivetrain: Mixed Shimano 7-speed, Tourney shifter and Altus rear derailleur
Grips: Faux leather ergonomic
Saddle: Comfort saddle
Handlebar: Alloy riser bar
Kickstand: Included
Pedals: Alloy
Tires: Kenda Juggernaut 26" x 4"
Himiway Zebra Review: Bike Overview
Editor's note: Electric Bike Report's mission is to review and test e-bikes that give consumers an accurate picture of how they perform in the real world. Crucial to that mission is that the e-bikes we test must be consumer-spec'd models. After we completed testing of the Himiway Zebra, we learned our review bike was equipped with a much smaller chainring (36t) than what came on the production bikes. This likely affected the bike's performance in several tests, including the range test and circuit test. We'll update this review with correct data when we receive a production version of the Zebra.

With shades of its predecessor but promises of new, the Himiway Zebra is a high powered electric fat bike built to speak directly to Himiway's loyal customer base of speed junkies and lovers of big tire e-bikes.
The Zebra is built around a redesigned 750W rear hub motor that makes 86Nm of torque and is said to dissipate heat better than the previous generation. That motor is tied to a monster-sized 48V, 20Ah (960Wh) battery that gives the bike long range capabilities, a signature found on other Himiway e-bikes we've reviewed.
New for the Zebra is a torque sensor instead of the cadence sensor that engaged the motor on the old Himiway Cruiser. Torque sensors are generally regarded as the better of the two, providing almost immediate motor engagement and a much more refined doling out of power relative to a rider's pedaling. Motor engagement, likely thanks to this torque sensor, was one area we saw improvement on this bike over the old Cruiser.
Connecting the cranks to the motor is a fairly standard-issue at this price point mixed Shimano 7-speed drivetrain made of a Tourney shifter and Altus rear derailleur. While the shifting performance is good, one of our major gripes about the Zebra lies in its drivetrain.
This bike is woefully undergeared for its speed.
Himiway spec'd the Zebra with a 14-28t freewheel, which is a fairly normal setup, but the front chainring is surprisingly just a 36t. Meaning the bike's largest gear ratio of 36t x 14t is just not tall enough for the bike's Class 3 speed capability. We found this gear was only comfortable to pedal until about 15 mph — anything more than that and you're simply spinning the cranks while the motor does all the work.
Braking is handled by a set of Tektro HD E-350 hydraulic disk brakes with 180mm rotors front and rear. This is another component that's been upgraded from the old Himiway Cruiser, which used less-powerful mechanical disk brakes.
The Zebra rolls on a set of 26" x4" Kenda fat bike tires, a front suspension fork and an all-new redesigned aluminum frame that's more angular and hides the batter inside the downtube.
Himiway Zebra Review: Motor Performance, Speed and Acceleration
Despite some changes made to the motor, the Himiway Zebra's power delivery feels much the same as its predecessor, the Himiway Cruiser.
The power is the same type of you-better-hang-on-tight snappiness we came to expect from the Cruiser, which many Himiway fans are going to see as a positive, but its motor and power delivery also features some of the same complaints we had with that original bike. The motor engagement when pedaling can be erratic and our team of testers all agree this e-bike feels like it was designed more for throttling than pedaling which, depending on your preferred mode of motion, can be a good thing or a bad thing. But all in, the Zebra fits the bill of e-bike Himiway customers have grown to expect: it's fast, torquey and you can ride for a long time on a single charge.
Like all other Himiways we've reviewed, the Zebra is a Class 3 e-bike with a throttle that'll work until 20 mph and pedal assistance that cuts out at 28 mph, though we didn't see speeds much higher than 25 mph on flat ground. And like all the new Himiway's released at the end of last year, the company says the Zebra sports a torque sensor that's supposed to make the motor quicker engaging and more responsive to how hard a rider is pedaling.
We saw evidence of the improvements the torque sensor is supposed to offer in our testing, mostly in how quick the motor engages (almost immediately), but it doesn't always behave how we'd expect a torque sensor to. For example, we could soft pedal the bike and the motor would still go full bore, which is more typical of how a cadence sensor functions. Torque sensors engage the motor based on how much torque a rider's pedaling is creating, so if you're soft pedaling and thus not creating much torque, the motor shouldn't be making much power. A cadence sensor, which the old Cruiser was equipped with, functions like an on/off switch that engages the motor based on if you're pedaling or not. Himiway assures us the Zebra comes with a torque sensor, so we'll take their word for it, but it does behave a little differently than we'd typically expect.
To get a feel for how the Zebra performs in each of its five PAS levels, we did put it to the test on our Electric Bike Report test circuit, where it performed well. We saw an average top speed around our one mile circuit of 21.8 mph and each of the five PAS levels yielded a nice and consistent change of speed ranging from 2 mph to 2.5 mph. This is in contrast to the Himiway Cobra we reviewed not long ago, which had almost no discernable difference in PAS levels.
I'd be very curious to see how this bike would perform in our circuit testing had the gearing been appropriate. Remember, this bike's very small 36t front chainring makes for a large gear ratio that doesn't really do much over 15 mph. So by the PAS 3 lap, I wasn't able to help the motor around our circuit without pedaling uncomfortably fast. By PAS 4, all I could do was spin the cranks to make sure the motor stayed engaged. With a bigger chainring, maybe a 46t or slightly larger, I'd wager we'd see quicker laps from the Zebra.
Himiway Zebra Review: Range Test & Battery Performance
We conducted the range test of the Himiway Zebra a little differently than normal. It's one of those situations we encounter ever so often where we had to adapt out of necessity because a characteristic of this e-bike makes it a little different than the average one we put through this test.
In the Himiway Zebra's case, that unique characteristic was its notably light gearing.
The Zebra is spec'd with a 36t chainring and a 14-28t cassette in the rear, making for a largest gear ratio that's, well, not so large. We found that in its tallest gear, the Zebra was only comfortable to pedal up to about 15 mph — anything faster than that and you'd be spinning at an uncomfortable cadence.
Because of this, we opted to use the Zebra's throttle for our high power range test and PAS 2 for the low power range test. In each, we got good results.
In the throttle only range test the Zebra lasted 27.21 miles before dying, which is substantial considering that distance was achieved under motor power alone. In PAS 2, the bike got 48.47 miles before dying.
Both these results are testament to Himiway's reputation as a builder of long distance e-bikes and the Zebra's larger-than-average 960Wh battery.
Himiway Zebra Review: Hill Test
Over the past several months we've reviewed a number of high-powered e-bikes that seemed to have the right balance of power, torque and weight to break into the top ten on the Electric Bike Report hill test leaderboard. Nonetheless, it's been months since we've seen a new bike break into the upper echelon.
Though there have been some recent e-bikes that have gotten close — such as the Surface604 Werk, Himiway Cobra and the Surface604 Boar Explorer — none have quite had the muster to end the drought.
Then the Himiway Zebra came along and made it rain on Hell Hole.
We tested the Zebra twice on our test hill Hell Hole, a one-third of a mile long steep section of bike path with an average gradient of 12 percent. The first test was in pedal assist setting five and the second using the throttle only, and in both tests the Zebra set a top ten time.
In the PAS 5 test, the Zebra cleared the top of Hell Hole in a scorching 1:08.00 with an average speed of 16 mph, a time good enough for seventh place on the leaderboard. Using just the throttle, the Zebra powered up the hill in 1:19.00 with an average speed of 13.7 mph, which was good for eighth place on the throttle only leaderboard.
Looking at the data, the Zebra's break into the top ten shouldn't have caught us by surprise. Its sister bike the Himiway Cobra, which we tested a few weeks ago, missed breaking into the top ten by just one second in the PAS 5 test and six seconds in the throttle test. That bike uses the same 750W motor as the Zebra, but weighs a hefty 88 lbs compared to the Zebra's 79 lbs. That 9 lb weight difference appears to have made a very real impact on the 750W motor's climbing ability, at least enough to shave off several seconds on our test hill and put up a top ten time.
Himiway Zebra Review: Brakes and the Brake Test
The Zebra's lighter weight also appears to have had a positive effect on its braking performance when compared to its sibling the Himiway Cobra.
In our brake test, which takes the average distance of five full-power stops from 20 mph, the Zebra stopped at an average of 12-feet-7-inches, a more than five foot improvement over the Cobra's result of 17-feet-9-inches. The Zebra's stopping distance is also better than average when compared to all the bikes we've brake tested, which stands at a 16-feet-1-inch benchmark.
In fact, like its hill test result, the Zebra's top ten brake test result is good enough for seventh place on our brake test leaderboard.
Though the Zebra and Cobra we reviewed share the same Tektro HD E-350 hydraulic disk brakes with 180mm rotors front and rear, there are at least two major differences between the bikes that likely contributed to the change in braking performance.
The first is weight, with the Zebra weighing 9 lbs lighter than the Cobra — that's a significant enough difference in mass that we'd likely see a change in braking distance. Second, the Zebra has different tires than the Cobra. It's tough to say just how much of an impact the tires made, but tires have a huge bearing on grip and how quickly or aggressively a bike will skid under hard braking. This test indicated that some element (or elements) of the 26" x 4" Kenda tires on the Zebra out performed the 26" x 4.8" CST Rolypoly tires on the Cobra.
Himiway Zebra Review: Ride Comfort, Handling and Cockpit
Contrasted against the all-new Himiway Cobra we reviewed just a few weeks ago, the Zebra is an e-bike that can go off-road, but I would not say it's designed for it.
The Zebra's handling and off-road capability is much more in line with the old Himiway Cruiser or the other electric fat bikes we've reviewed in this category, such as the Rad Power Bikes RadRover 6 Plus or the Aventon Aventure. It's a bike that's going to handle bike paths very well and it'll tolerate some light off-road riding such as graded dirt roads or old rail trails.
While it handles similarly to other e-bikes in its class, the Zebra does have its handling idiosyncrasies. The steering is a little heavy and features the distinct "floppy" or "pushing" sensation associated with understeer. It's not a bad handling e-bike, but its steering profile in particular takes a little getting used to.
The Zebra's cockpit is fairly standard of Himiway, with a Shimano Tourney overbar shifter, a twist throttle on the right-hand side, faux leather ergonomic grips and a standard black and white LCD display. I'm sure, to anyone who's watched any of my e-bike reviews, I'm going to sound like a broken record on this, but Himiway (and really any manufacturer that specs their bike with these) needs to find a different style of grip to put on their bikes — preferably something lock on and rubber. These faux leather grips spin on the handlebar, which is enormously annoying and can even be surprising if you need to absorb a bump through your arms. This is luckily an easy and cheap fix for anyone who buys this bike, but I think it's an even easier improvement for Himiway to make before their bikes even leave the assembly line.
Himiway Zebra Review: Summary / Where to Buy
So is the Himiway Zebra a best-in-class affordable electric fat bike? I'm not sure I'd go that far, but it's certainly among some of the better e-bikes I've reviewed in this category.
Many elements of this bike have certainly elevated it to the upper echelon of affordable electric fat bikes. Its climbing ability and braking, for example, are among the top ten e-bikes we've reviewed so far. Those results — particularly the hill climb results on Hell Hole — are seriously impressive and should be taken into consideration if you're in the market for an electric fat bike.
But there are other elements of the bike, such as the really small stock gear ratio and the understeer, that make the Zebra a bit of a mixed bag. At Electric Bike Report we tend to stick to reviewing e-bikes as they're sold, but I will point out that my biggest complaint about this bike — the gear ratio — can be easily and relatively inexpensively fixed by buying a larger chain ring and new chain, thus solving any spinning out issues.
As far as handling is concerned, that is a characteristic of the Zebra that owners will just have to adapt to. Though it is noticeable, I will say I adapted fairly quickly to the Zebra's idiosyncratic steering and it never felt unsafe.
For the Zebra, I think it's going to come down to what a rider is looking for in an electric fat bike. It may not be the most nimble and you may have to change the gearing, but if you're looking for a blow-your-socks-off fast e-bike that'll climb just about anything, the Himiway Zebra is one I'd suggest taking a look at.
Like all the rest of Himiway's e-bikes, the Zebra is sold online through the Himiway website and will be shipped directly to your door.
'Happy Riding, make sure to let us know if you have any questions down in our comments section or if you think we left anything out in this review of the Himiway Zebra E-Bike.
Reader Interactions