The Statistics of the e-Bike Cycle Tourists World Record Ride after 11,682kms
By Gary Corbett.
At what is effectively the half way mark of the e-Bike Cycle Tourists attempt to set a new world e-bike long distance record – give or take 2,000 or so kilometres – the time has come to look at and assess all of our equipment.
Over the next few weeks we will review everything we have been using from our Haibike xDuro Trekking e-bikes and Tout Terrain trailers to our tent, camping equipment, bicycle accessories and wet weather clothing.
But first up comes the statistics of the ride so far after six months and 11,682kms of cycling – and don't they make interesting reading! As any statistician will tell you figures don't lie, so to say we are delighted by our daily kilometre average of 75kms is a major understatement.
Prior to setting out on the ride our answer when asked how far we expected to ride every day was "70 to 80 kilometres, give or take", with the resultant 75km average after 154 days of actual cycling proving to be spot on.
Another figure that we are delighted to report is the wet weather cycling count – just 6 days – a major contributing factor to being able to achieve the 75kms daily average so far.
Given our experience on previous long distance rides in Europe and the UK, the expectation was that we would have to spend days at a time couped up in our tent waiting for extended summer storms to pass.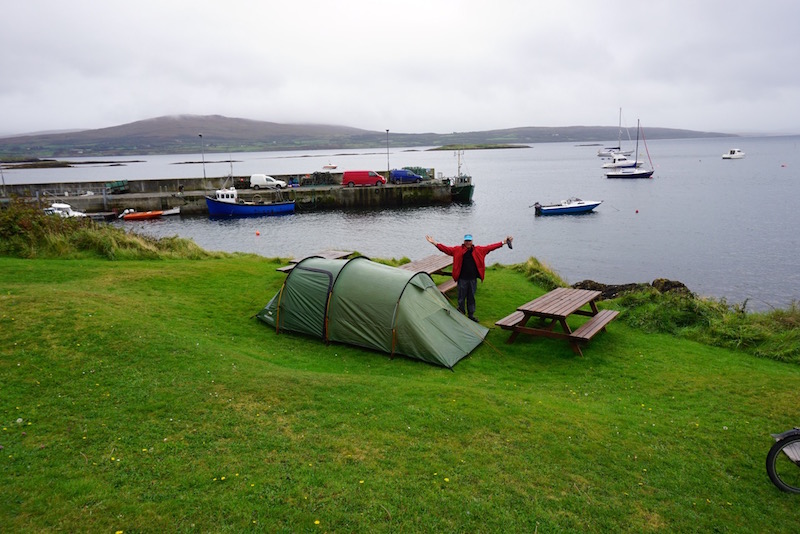 But how lucky were we. Not only didn't the expected summer rain and storms eventuate in any lost days of cycling, but we have had just six days of wet weather cycling in total – and only three of those resulted in having to cycle in the rain all day in England, Holland and Ireland.
As a result we were able to continue cycling on a daily basis, with our only days off the bike – 32 in total including seven days in London in late July/early August (an average of one per week) – when our bodies were crying out for a rest (at one stage in England and Scotland we cycled for 21 days straight).
Another factor that has allowed us to continue cycling at such a steady daily average is the fact that our Haibike xDuro Trekking e-bikes and Tout Terrain trailers have performed so brilliantly.
Sure, most of the moving parts on our e-bikes such as brakes, chains and cassettes have been replaced a number of times, but the Bosch performance crank drive motor, Haibike e-bike and Tout Terrain trailers have not missed a beat.
So much so, that the mechanic who gave both of our e-bikes a thorough service in London after 11,682kms of cycling, said that they were in great condition considering the kilometres they have travelled over the past 6 months … testament indeed to the quality of the Haibike and Bosch combination!
The Statistics of the Ride so Far
Days of Cycling – 154
Rest Days – 32 (including 7 in a row in London after 3 months of cycling)
Average kilometres per day = 75
Days of Cycling in the Rain – 6
Most Kilometres cycled in one day – 137.8 on July 26 in the Utrecht region of central Holland
Longest day of cycling – 7.35 hours over 112.20kms on August 31 cycling from east of Glasgow to Troon in Scotland
Best Battery Range – 95.20 kilometres from Texel to Sotterum in Holland (with the aid of a tailwind that was nothing short of a gale)
Worst Battery Range – 39.95kms from Tenby to Lianelli in Wales (the hills were unrelenting)
Best Average Speed per day – 19.2km/h from Texel to Sotterum in Holland (yes, that same tailwind)
Worst Average Speed per day – 14.1km/h from Belford to Huxton in England (more unrelenting hills)
Fastest Speed with the Trailer Attached – 62.9km/h between Caherdaniel and Cahirsiveen in Ireland (definitely got the adrenalin pumping)
The Best Campsite – Kawan Village Camping Isle Verte on the banks of the Loire River in Montsoreau in France (every cycle tourist should make a point of staying there)
The Worst Campsite – don't know the name but it was along the Rhine River at Otterstadt in Germany (what a disgrace – no showers and the toilet block was locked at night)
Hottest Day – 40-plus degrees on July 2 cycling from Polich to Bullay along the Moselle River in Germany
Coldest days – In Bath and Newbury in England in April and October (on both occasions our tent was frozen solid in the morning)
The Best Cycle Track – sections of EuroVelo 15 in Germany near Mainz and the track around Lake Constance in Germany, Austria and Switzerland
The Worst Cycle Track – National Route 1 on the east coast of England (can only be described as a disgrace)
Haibike xDuro Trekking e-bikes
Number of full services – 4 … on June 13 in Germany, August 4 in London, September 15 in Dublin and October 29 in London
Parts replaced – 4 chains, 4 cassettes, 6 sets of brakes, 1 sram hub, 2 rear wheels, 1 Bosch controller, 2 bike stands, 2 sets of pedals, 2 water bottle holders, 2 Schwalbe Marathon tyres, 15
700mm tubes, 4 brake rotors, 1 rear brake system, 1 Brooks saddle, 2 Suntour seat suspension posts, 1 rear mud flap, 2 sets of gear cables, 1 helmet
Flat e-Bike Tyres – 11
Tout Terrain Trailers
Parts replaced – 1 mudguard, 8 tubes, 2 clamp bolts
Flat Trailer Tyres – 6
Camping Equipment 
Equipment replaced – Vango Omega 350 tent (after 6 months of continuous use the tent started to leak. We replaced it with the same model of tent because we love the design), 1 Thermarest mattress, 2 tent poles, 1 Moonwalker camp cooker, 13 gas canisters
Thanks to Gary Corbett for this update from their electric bike tour!
Now, checkout some of these other e-bike touring stories:
World record attempt for longest electric bike trip – nearly 10,000 miles!
European Electric Bike Tour: Not All Who Wander Are Lost – Part 1
Electric Bike Touring to Eurobike [VIDEO]
Electric Bike Touring: 3,300 Miles from Seattle WA to Washington D.C. on a Pedego Interceptor
Electric Bike Touring: 80 Year Old to Ride 2,500 Miles on an Easy Motion NEO Jet!
Electric Bike Touring in Croatia, Austria, & Italy's Dolomites
E-Biking to the Grand Canyon with the Ride the Future Tour Crew! [VIDEO]
Tour de Mongolia – A Solar Powered Electric Bike Tour! Lots of Pictures.
Electric Bike Tour In The Nepalese Himalaya!
Iceland Challenge Short Film: Electric Bike Touring in Iceland! [VIDEO]
An Electric Bike Tour Across the USA!
Are you interested in e-bike touring? Where would you like to ride?
Please leave your comments in the section below.
P.S. Don't forget to join the Electric Bike Report community for updates from the electric bike world, plus ebike riding and maintenance tips!
Reader Interactions