Cycling Towards a New World e-Bike Record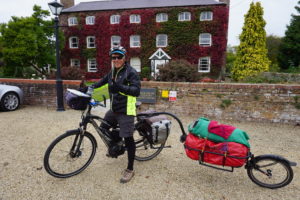 By Gary Corbett
After six months and 11,682 kilometres the e-Bike Cycle Tourists are once again back in London preparing for the next stage of our e-bike world record attempt.
With a paltry 4,365 kilometres now required to break the existing world record of 16,047kms, our new goal is to not only beat the existing record set by German adventurer Maximilian Semsch, but to set an imposing new record.
As such we are now confident of reaching at least 20,000kms by August 2016 despite having to scale back the time we spend on our Haibike xDuro Trekking e-bikes over the next six months due to the onset of winter in Europe.
While our initial plan prior to setting out in April was to totally stop riding over winter, we have now decided to travel to the Algarve region of Portugal – where we have booked a small villa in the village of Moncarapacho – to enable us to make the most of the mild winter temperatures to be able to continue cycling on a regular basis.
With the south of Portugal enjoying an average winter temperature of 14 degrees and five hours of sunshine every day, it is the perfect base to not only be able to continue to rack up the kilometres, but to enjoy sleeping in the same bed every night – something we are both looking forward to after six months of living in a small three person tent!
Unfortunately due to restrictions imposed on us as Australians by the Schengen Agreement we can only stay in Portugal for 90 days, with the plan at this stage to travel to either Cyprus or Morocco – both countries are not signatories to the Schengen Agreement – from mid-February to wait until May when we can once again return to Europe to start cycling.
To say that we have been delighted with how the record attempt has progressed after six months of cycling is an understatement of monumental proportions.
Everything, and I mean everything, has gone absolutely to plan. Our e-bikeshop.co.uk sponsored Haibike e-bikes and Tout Terrain trailers have surpassed all expectations and have not missed a beat, we have been blessed with amazing weather – just six days of wet weather cycling in six months – we have not suffered any injuries or illness, we have only had four minor crashes on our bicycles, the worst when Gary was knocked off his bike by a car at a roundabout in Holland, have met many kind and friendly people and have regularly been in sensory overload given the  amazing scenery we have seen on a daily basis.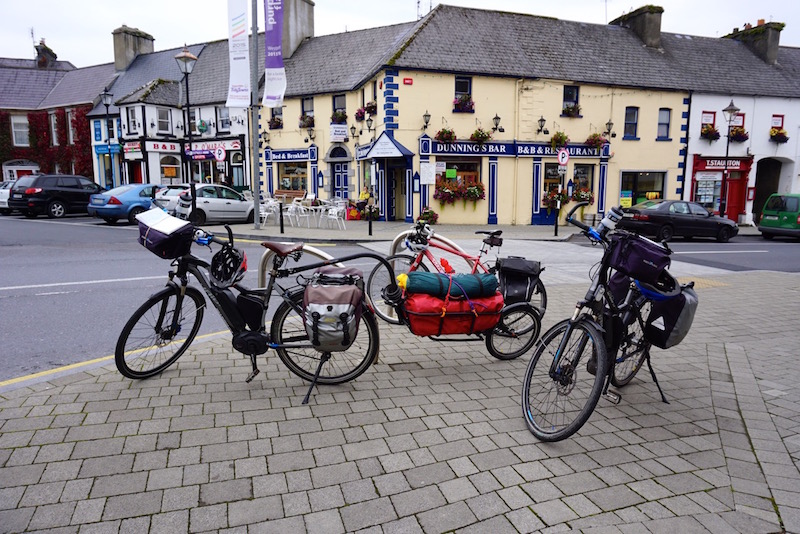 As a result of all of the above we have been able to continue to rack up the kilometres, with the current total of 11,682kms well above early estimates of what we expected to have achieved at this stage of the trip.
This total consists of 6,040kms cycled in France, Germany, Switzerland, Austria, Belgium and Holland during 12 weeks of cycling and 5,642kms in England, Scotland, Wales and Ireland during 14 weeks of cycling.
While, understandably due to the challenging terrain, we were not able to cycle as many kilometres in the UK and Ireland as we did in Europe, we are immensely proud of the fact that we were able to successfully complete the UK leg of our record attempt.
With Scotland, Devon in the south of England, the Cumbrian Lakes District in the north west of England, Wales and Ireland presenting us with so many huge hills to climb, there were times when we required all of the electrical assistance and effort we could muster.
Simply said there was no way that we could have cycled the distances we did on a daily basis without the help rendered by our tireless Haibike workhorses. More to the point on a conventional touring bike we would have had to push our bikes and trailers up many of the hills we conquered – something that neither of us had do yet on the trip given the fact that we are cycling e-bikes.
If that isn't a glowing recommendation for electric bikes as the perfect vehicle for anyone – no matter what age or fitness level – to go cycle touring on an electric bike then nothing is!
Anyway, we are currently enjoying a couple of weeks off our Haibikes before catching a ferry from Portsmouth to Santander in northern Spain where we have booked a car for the trip to the south of Portugal for the start of the next leg of our amazing journey to set a new world e-bike long distance record.
Thanks to Gary Corbett for this update from their electric bike tour!
Now, checkout some of these other e-bike touring stories:
World record attempt for longest electric bike trip – nearly 10,000 miles!
European Electric Bike Tour: Not All Who Wander Are Lost – Part 1
Electric Bike Touring to Eurobike [VIDEO]
Electric Bike Touring: 3,300 Miles from Seattle WA to Washington D.C. on a Pedego Interceptor
Electric Bike Touring: 80 Year Old to Ride 2,500 Miles on an Easy Motion NEO Jet!
Electric Bike Touring in Croatia, Austria, & Italy's Dolomites
E-Biking to the Grand Canyon with the Ride the Future Tour Crew! [VIDEO]
Tour de Mongolia – A Solar Powered Electric Bike Tour! Lots of Pictures.
Electric Bike Tour In The Nepalese Himalaya!
Iceland Challenge Short Film: Electric Bike Touring in Iceland! [VIDEO]
An Electric Bike Tour Across the USA!
Are you interested in e-bike touring? Where would you like to ride?
Please leave your comments in the section below.
P.S. Don't forget to join the Electric Bike Report community for updates from the electric bike world, plus ebike riding and maintenance tips!
Reader Interactions