Electric Bike Charging Station Guide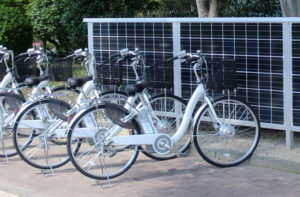 Recently I have received some emails from universities looking for electric bike charging station information.
This gets me really excited because I think that providing e-bike charging stations at large institutions is a great idea!
Having charging stations at universities, hospitals, airports, businesses, parks, popular mass transit stops, hotels, etc. can only encourage more people to ride an electric bike more often with less concern of running out of juice.
These charging stations can also be a great way to bring electric bikes to the attention of people who have no idea what an electric bike is.
Below are some links to grid tied and solar electric bike charging stations that I am familiar with.
I am especially excited about the solar e-bike charging stations because solar makes so much sense for e-bikes due to the small amounts of energy required to charge an electric bike battery.
Electric Bike Charging Stations: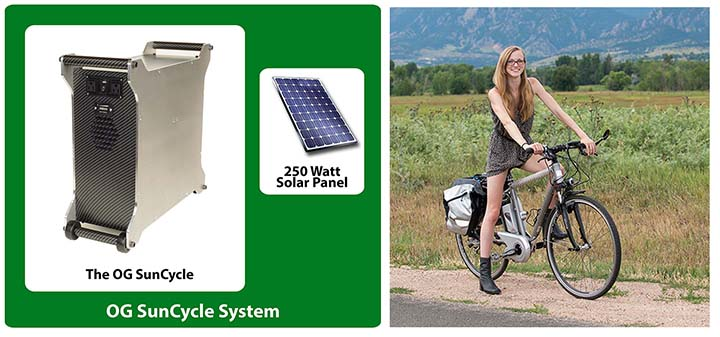 OG Power Station makes the OG SunCycle that is designed to recharge your e-bike battery. It uses a 250 watt solar panel to charge the included battery. After charging all day, the SunCycle battery then charges your e-bike battery. The SunCycle system can be used as a backup power source in case of power failure. It has a traditional plug attachments in addition to USB and cigarette lighter options.
The University of Tennessee is working on an electric bike sharing program.   They have a design for a battery charging "vending machine" and they are using solar power.
The University of Victoria has some charging stations setup around it's campus.
Kyocera has a solar ebike charging station.
Sanyo has setup solar charging "parking lots" in Japan.
Sanyo has also set up a solar charging station in Portland at the Oregon Museum of Science and Industry.
Sol Design Lab is a company that makes solar charging stations for ebikes and mobile devices.
Bosch is working on a solar charging canopy.
Here is a shed that has solar panels for storing and charging your electric bike.
Here is an interesting article about electric cargo bikes powered by solar energy.
That's it for now.  As I come across more info on electric bike charging stations I will add them to this guide.
If you know of some that i didn't cover please leave a comment below and I will add them to the list.
Thanks!
Pete
P.S. Don't forget to join the Electric Bike Report community for updates from the electric bike world, plus ebike riding and maintenance tips!
Reader Interactions