E-Bike News: Ditching Car for E-Bike, E-Trike Deliveries, Gorilla on Electric Fat Bike in Snow? [VIDEOS]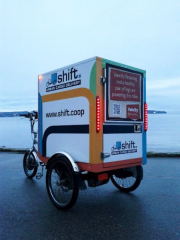 ShawnMon a.k.a. – "AustinGreengo" from Austin Texas is a Realtor and has decided to ride a bike instead of driving his car for a year!  
Here is a post
 about his new
Pedego City Commuter
electric bike and how much money the average person can save per month in auto expenses if those trips are done via bike.
I just came across Shift Urban Cargo Delivery and they are providing downtown Vancouver (BC) deliveries via electric cargo trike.  It looks like they are doing something similar to B-Line in Portland Oregon.
Electric grid problems are hurting electric bike sales in India.  In some areas of India there has been an issue with reliable electricity supply and it is causing consumers to question whether buying an electric vehicle is a good choice.  Sounds like a great opportunity to charge e-bikes with solar panels!
Checkout the DC Electro electric bike!  It is a road style bike meant for urban bike commuting.  The prototype has been tested up to 43 mph!  The production bikes will conform to the US e-bike regulations.
The Bicycle Association of Great Britain recently met with the British Electric Bicycle Association to discuss e-bike issues such as price, power and politics for the UK.
And here is a follow up commentary article on How Do We Jumpstart the E-Bike Movement in the UK.
Here are some LED handlebar end lights that I have been testing.  They have a flashing or solid light mode and they definitely add a bit more visibility to your bike at night!  These will be available from BML Global soon.
Do you have the winter time blues?  Maybe you need an electric fat bike to ride in the snow!
Okay, and if that wasn't enough, how about a gorilla riding an electric fat bike in the snow?
Here is a link to Bend Electric Bikes.
That's it for now.
-Pete
P.S. Don't forget to join the Electric Bike Report community for updates from the electric bike world, plus ebike riding and maintenance tips!
Reader Interactions