2014 Electric Bike Tech & What To Look Forward to in 2015 [VIDEOS]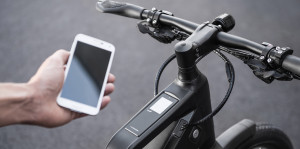 By Maria Ramos.
With electric bikes increasing in popularity, the technological advancements in 2014 were impressive.
Let's take a look at the biggest e-bike tech news of the past year, and discuss what we expect to see happen in the electric bike world in 2015.
All-In-One Systems
These systems take an ordinary bicycle and transform it into an electric bike by replacing the front or rear wheel.  Some of these all-in-one systems, like the Copenhagen Wheel and the FlyKly Smart Wheel, even let you integrate your smartphone to give you information about your ride.
The number of all-in-one electric bike wheel systems grew in 2014 and the FlyKly Smart Wheel was the first to begin shipping in the US.
For 2015 we should see the following brands begin to ship their all-in-one systems: the Copenhagen Wheel, Evelo Omni Wheel, Daymak DDS solar wheel.  In addition, the Zehus system will be available on complete bikes.
These innovations let virtually anyone with a bike transform their daily commute into a light and leisurely ride.
Smartphone Integration
In addition to the aforementioned smartphone integration with some all-in-one systems, there has been an increasing amount of smartphone integration with complete e-bikes.
Since practically everyone has a smartphone, it's become convenient that bikes are now able to provide apps with information about your ride, the ability to lock/unlock your bike, track your bike if it is stolen, and even see what's behind you with a built-in rear camera.
Here are a few electric bikes that feature smartphone integration: the Gocycle, Visiobike, Stromer ST2, Jivr Bike, and Gi Bike.
For 2015 we will see more brands offering smartphone integration and we will see an increased amount of features like this system from Volvo, POC and Ericsson that alerts bikers and drivers of a potential collision.
Solar Electric Bikes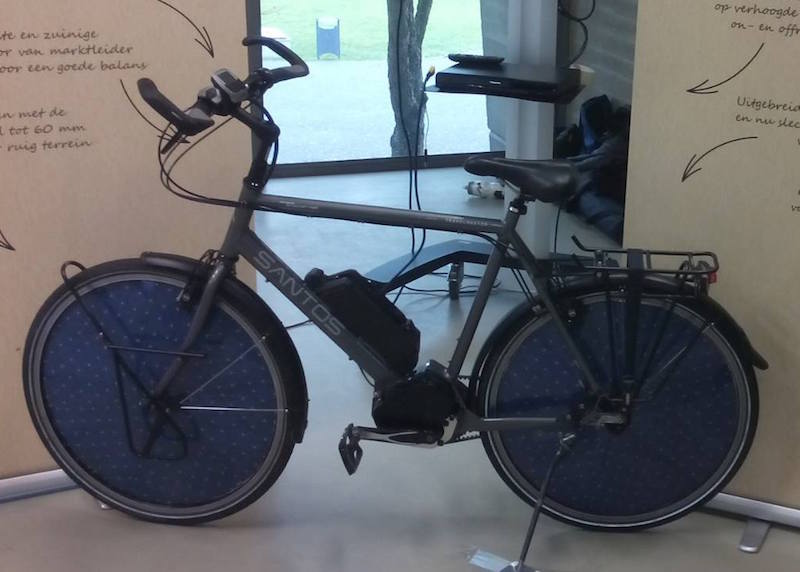 What if you never had to plug in your e-bike for a charge?
These are just a few examples of solar charged e-bikes: The Dutch Solar Cycle with solar panels built into both wheels, the NTS Works cargo bike, Hi Power Cycles HT-1 with portable solar chargers, the Organic Transit Elf has a roof top solar panel, and the Daymak Beast.
Solar technology continues to improve and for 2015 it seems that we will see continued solar e-bike development and innovation.
In addition we will most likely see continued innovation in infrastructure like solar charging stations and solar bike paths!
Mid Drive Systems
Bosch is an incredibly popular brand in Europe and in mid 2014, electric bike consumers in the United States were finally able to buy their mid drive system of a number of brands like Felt Electric, Haibike, Easy Motion,and Lappierre.  For 2015 the system will also be available on bikes from KTM, Xtracycle, and Grace in the US.
In addition, Shimano showed off their STEPS mid drive system at Interbike 2014 and that will be available in the spring of 2015:
In addition to Bosch and Shimano, there are a number of other mid drive systems that have hit the market or will soon hit the market.  Some of the highlights are new systems from Continental, Yamaha, Samsung, Panasonic, Kalkhoff, Bafang, TransX, MPF, etc.
Mid drives are getting more sophisticated by "sensing" when the rider will shift gears.  The systems reduce power momentarily to make the shifting of the gears smoother.
Other features that we are beginning to see are the use of belts instead of chains, mid drives with a gearbox, and mid drives integrated with Shimano, SRAM, and NuVinci shifting systems (including electronic shifting!).
2015
As you can see 2015 promises to be an exciting year for the electric bike world with a lot of momentum for new technological advancements.  Stay tuned!
Thanks to Maria Ramos for this article on e-bike tech.
P.S. Don't forget to join the Electric Bike Report community for updates from the electric bike world, plus ebike riding and maintenance tips!
Reader Interactions