The Copenhagen Electric Bike Share Program: Bycyklen [VIDEOS]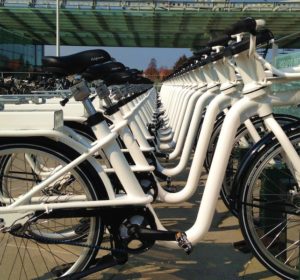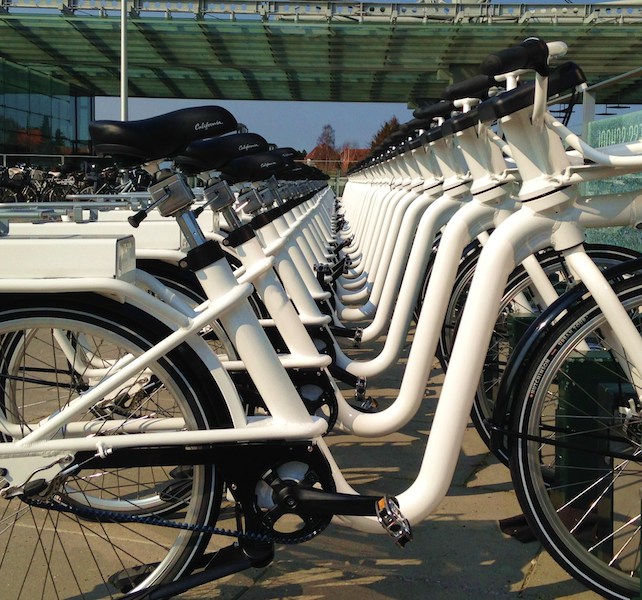 Leave it to Copenhagen, Denmark to launch a highly advanced electric bike sharing program!
Their new e-bike share program offers a look at the future of urban transportation for the rest of us.
The Bycyklen e-bike share program provides a way for Copenhagen commuters to use the bikes for their whole commute or to use them for the first/last mile connection when used with mass transit.
They are also promoting the program to tourists as a fun way to get around and experience the city in true Copenhagen style!  One of their slogans is "See Copenhagen like the locals do. Get on Bycyklen and experience the wonderful sights of Copenhagen like a Dane – on two wheels."
The Bycyklen program offers e-bikes from GoBike with features like a touch screen tablet computer on the handlebars with built in GPS for finding docking stations, public transit, and tourists spots like museums and restaurants.  The touch screens are built to be weather resistant and hopefully tamper resistant!
The GoBike e-bikes are built to fit almost anyone with a very low step-through frame, puncture-proof tires, a front hub electric motor, adjustable seat heights, built-in lights, rear rack and fenders.
In addition these e-bike feature a Gates Carbon belt drive to reduce the maintenance and eliminate greasy chains.
The new Bycyklen program has hundreds of GoBikes at 20 docking stations in Copenhagen and Frederiksberg.
One of the stations is at City Hall for politicians and government workers to use.
Here is a video of the launch of the Bycyklen electric bike share program:
And this is a video of the GoBike bikes. Please note that they are showing the traditional GoCyle bikes (non-electric) in this video:
Enjoy these pictures of the Bycyklen e-bikes: 
What do you think? Would you like to rent an electric bike to see and experience Copenhagen?
Would you use an electric bike share program in your city or town?
Please leave your comments in the section below.
Thanks
-Pete
P.S. Don't forget to join the Electric Bike Report community for updates from the electric bike world, plus ebike riding and maintenance tips!
Reader Interactions