E-Bike News: New Bosch Tech, Grace, ProdecoTech, E-Bike Touring, E-Mtn Bikes, Harley Davidson?! [VIDEOS]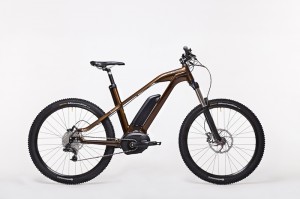 Grace Electric Bikes will be on display at Interbike this year.  These high tech e-bikes feature the Bosch mid drive system, with Gates belt drive and the NuVinci continuously variable rear hub.
Bosch is working on a new control unit called Nyon. It has e-bike controls, navigation, fitness and smartphone functionality. They are also working on integrated shifting solutions with NuVinci, SRAM, and Shimano. 
SRAM is working with Bosch to offer a semi-automatic drivetrain.  It features an internally geared hub that automatically shifts in addition to a traditional derailleur and cogset that the rider can manually shift……..interesting!
If you are looking for a high tech electric bike then you should checkout the Visiobike with Google Glass integration! And that is just the tip of the iceberg; serious smartphone integration, rear view camera, carbon frame, integrated battery in the frame, mid drive, HISync NuVinci auto shifting, Gates belt drive, and more!
ProdecoTech is now shipping their new Scorpion series electric bikes with frames constructed in the USA!  And all of their bikes are assembled in the USA.
Daymak has launched their Beast electric bike on Kickstarter. The Beast has a solar charger built in to the bike!  Find out more!
Here is some information on Continental's new mid drive & belt e-bike system.
Ever wonder how steep of a hill an e-bike can climb? Checkout the Haibike with Bosch mid drive climbing this 38 degree (80%) ski jump!
Here is a great article about The Rise of the E-bike from People for Bikes.
Faraday Bicycles made a splash in the electric bike world a few years ago with their classically styled Porteur e-bike.  I recently had a chance to interview the CEO of Faraday, Adam Vollmer, about the company, the bikes, and what the future holds.
Copenhagen recently had a jump in people commuting by bike. From 36% to 41%!  Find out why…..the reason might surprise you and it is definitely worth consideration.
Speaking of Copenhagen, here is a new bike bridge called "Cykelslangen" (translated: the Cycle Snake). I want to ride on that bridge!
Touring Europe by electric bike sounds like a lot of fun! Grant Walter from Australia is currently doing just that and he is sharing his journey with us in a series of reports from the road.  Part 1 documents how he decided on e-bike touring, which bike he is riding, some of places he has been, and some tips for touring.
In Part 2 of the European Electric Bike Tour, Grant Walter finds that traveling by e-bike has its perks, especially when talking with border crossing guards! Find out more about his experiences in Croatia and Slovenia.
Daily electric bike tours are also a great way to enjoy the outdoors.  Here is an article about day e-bike tours in Scotland's Cairngorms National Park. The Cairngorms Electric Bicycle Network has-bike rental stations, charging points, scenic cycle routes with places to stay, eat and drink.
Cathy Rogers is currently riding her Pedego Interceptor electric bike cross country from Washington State to Washington DC!  You can follow her progress at her blog.
Madrid (Spain) just launched an electric bike sharing program called BiciMad.  It is similar to the Copenhagen electric bike sharing program.
Speaking of electric bike share programs, why don't more cities have them?
I have had a lot of people ask me about replacing the battery on their electric bike, so I put together this Guide to Replacement Electric Bike Batteries.
Safe and effective bike infrastructure is an important key to getting more people to ride bikes around cities/towns.  Here is a video that demonstrates a new idea for protected intersections.
And here are some e-bike riding safety tips. Enjoy your next ride, safely!
The San Francisco police are are taking bike theft seriously.  They have "bait bikes" with GPS trackers that they use to lure bike thieves to steal.  Once they track down and bust the thief, they then post their mug shot to the SFPD Twitter stream and website for some public humiliation!
Here is a reporter who didn't particularly like bikes, but after spending some time on the Smart electric bike he seems to have changed his mind on bikes!
Dirt Rag is a popular mountain bike magazine that recently reviewed the new Lapierre Overvolt FS900 Bosch powered e-mountain bike. The author did a good job of recognizing the applications for e-mountain bikes.
And here is another mountain bike magazine that appears to be pretty excited about electric mountain bikes!
For those of you interested in the market numbers, Edward Benjamin of eCycleElectric, provides the USA electric bike market numbers for 2013 and predictions for the future.
Speaking of market info, Lishen is a Chinese lithium battery manufacturer who is now focused on e-bikes "despite the fact that they can make more money with batteries supplied to Apple, Dell or Samsung….."
Okay, this is not an electric bicycle, but it is a big deal in electric mobility.  Harley Davidson is getting into electric motorcycles…….wow!
That's it for now.  Stay tuned for more e-bike news!
-Pete
P.S. Don't forget to join the Electric Bike Report community for updates from the electric bike world, plus ebike riding and maintenance tips!
Reader Interactions