Ford Launches 2 New Electric Bikes to Study Better Transport Solutions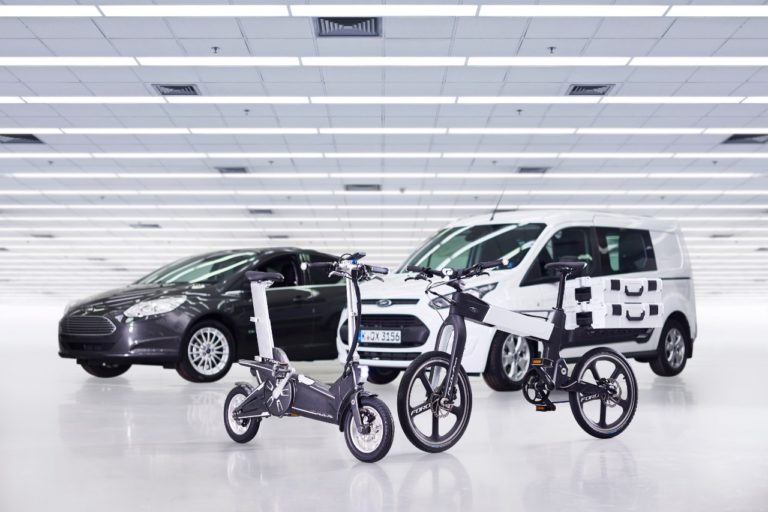 Ford just announced 2 new prototype e-bikes to "study how electric bicycles can work seamlessly with cars and public transport to deliver faster and easier daily commutes and help businesses operating in urban centres."
Having a major auto company studying electric bikes is a pretty good indication that the future of e-bikes is bright!
For many years automobiles have been the default mode of transportation but today there are significantly more transport options available: mass transit, car/ride shares, bike shares, etc.
In addition, our smartphones have made connecting with other transport options much easier.
And some major cities like Paris are going car-free in their dense urban centers while promoting walking & cycling.  London may be joining this movement too.
Some people have sold their car for an electric bike.
With all of these changes taking place in transportation it makes sense that big automobile companies like Ford are studying electric bikes.
These new e-bikes are part of Ford's Smart Mobility Plan that includes a number of experiments to determine what customers will want and need in the future of transport.
Ford is not the only auto company studying how e-bikes fit into the future of transportation.  Smart Car (owned by Mercedes Benz), Audi, BMW, and VW have also invested in electric bikes and it looks like Kia will be showing off a new e-bike soon.
Okay, now let's take a look at these new Ford e-bikes and their features.  Here video to get a closer look.
The MoDe:Me is a folding e-bike that is intended for the commuter who drives a car to the edge of the city center and uses mass transit and an an e-bike to commute in congested areas.
The MoDe:Me was developed with help from Dahon, a prominent folding bike company.
The MoDe:Pro is a cargo type e-bike intended to work well for commercial use like couriers, electricians, and other delivery services. Multiple MoDe:Pro e-bikes can fit inside the Ford Transit Connect van.
Both of these bikes have some innovative features like a system that alerts the rider of a passing car by vibrating the handlebars and alerting auto drivers to the presence of the bike by illuminating the handlebar lights.
The pedal assist can be adjusted based on the riders heart rate and the "No Sweat" feature allows the rider to pedal very lightly so they can arrive at work without being too sweaty.
Both of the bikes use a Gates Carbon Belt Drive so that riders don't have to worry about a greasy chain.
In addition, Ford has a smartphone app that will provide multimodal navigation and smart routing that takes into account all of the different transportation options that are available (auto, mass transit, e-bike, etc.) and provides the user with the best options. And it can update in real time if traffic patterns change or if a train is cancelled, etc.
"Being able to seamlessly move between cars, buses, trains and e-bikes and react to changing traffic situations can make a big difference both for commuters and for those delivering goods, services and healthcare." said Ken Washington, vice president, Ford Research and Advanced Engineering.
The MoDe:Link smartphone app provides navigation and will alert the rider to of when to turn by vibrating the handlebar grip.
UPDATED: Ford also announced the new MoDe:Flex electric bike to add to the MoDe:Me and Mode:Pro line up.
This isn't the first time Ford has been associated with electric bikes.
They showed off this prototype concept e-bike a few years back.
And Pedego has licensed the Ford name for their Super Cruiser.
It is good to see a company like Ford studying how electric bikes can improve transportation for many people.
Electric bikes have some of the conveniences of a car with the advantages of a bike.
The future looks bright for electric bikes!
Stay tuned for more exciting e-bike news.
-Pete
P.S. Don't forget to join the Electric Bike Report community for updates from the electric bike world, plus ebike riding and maintenance tips!
Reader Interactions