E-Bike News: Spark, E-Freeway, Battery Video, Trek Powerfly, & More!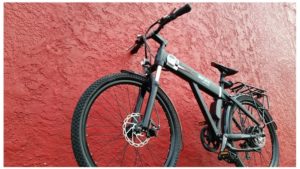 It's time for another electric bike news round up!
I like the title of this article "Will technology help us escape urban commuting hell?".  Yes, and e-bikes are part of that solution! It is a good article from the BBC and it includes e-bike share programs, mass transit, car share, driverless cars, sentiment mapping, social media, and…………jetpacks!
Electric cargo bikes can be a good car alternative or replacement. Grist posted this article on "6 reasons why cargo bikes are the next big thing" and it includes a lot of good info about cargo transport, family transport, and the rise of "food bikes".
This is a good article about e-bikes being used by commuters in the San Francisco bay area and beyond. Google and Facebook are supporters of e-bikes as commuter vehicles.
Here is a good article from This is Money (UK financial website) on how riding an e-bike, traditional bike, or motorbike can save you a lot of money when compared to driving a car.
The big news in the electric car world is that Apple is working on an electric car. They apparently have been hiring people from Toyota, Tesla, A123, and other EV related companies. Is an Apple e-bike possible……?
Shocke Bikes just launched their Spark e-bike on Kickstarter. The Spark has a unique look with the battery integrated into the top tube of the frame.  They are offering a few of the Spark's for an introductory price of $999 USD.
Have you ever wondered what the inside of an electric bike battery pack looks like?  If so, then here is a quick video of the assembly process of an e-bike battery, courtesy of Samsung SDI:
Samsung cells are used in many e-bikes on the market today and they are working on a complete battery pack that could be charged in 30 minutes!
Gary and Rachel Corbett are hard at work preparing for their nearly 10,000 mile electric bike tour that could set a world record. Find out more about their route planning for this e-bike tour.
Speed pedelecs (up to 45 km/h or 28 mph) are a growing segment of the electric bike market in Europe, especially in the Netherlands.  In many European markets the speed pedelecs need to be registered like a moped with a license plate, a mirror, etc.
Speaking of fast electric bikes, plans are in the works for a 30 km e-bike freeway that will connect 4 Dutch cities and make for a fast bike commuting route.
There is also work being done to create helmets that are designed appropriately for these higher speed electric bikes.
Here is an electric bike motor comparison guide to the pros and cons of the hub motors (front and rear and all-in-one), the mid drive motor, and the friction drive motors.
Mid drive electric bikes have been popular in Europe for a while and now they are starting to make a presence in the US. Here is a guide to mid drive electric bike systems.
Bosch recently launched their e-bike range calculator that will provide you with an estimated range based on: average speed, the pedal assist mode, weight of the rider (including bike & luggage), Bosch drive type, shifting system, type of bike, type of tire, hills, road surface, wind, and amount of start/stop conditions.
China is the largest e-bike market in the world and a majority of the bikes are scooter style e-bikes that use lead acid batteries. There is a focus to shift from that style of e-bike to a more traditional bicycle style that uses a lithium battery. The Chinese Bicycle Association is inviting members of the international bicycle industry to spend a week (March 22-29) after the Taipei Cycle Show to tour factories and get a feel for the change in the Chinese e-bike market.
Investors are investing more money in the bicycle industry as they are realizing that there are more wealthy customers getting into cycling as they transition away from sports like golf.
There is an elementary school in Portland, Oregon that is educating students about pedal powered energy with the Upcycle, a stationary bike that generates electricity with each pedal stroke.
Trek is making electric mountain bikes for certain European markets. Bike Radar recently review the Trek Powerfly FS+ full suspension e-mtb with the Bosch mid drive system.
Good news for e-bikes in Nebraska, a bill has passed that allows e-bikes to go everywhere a conventional bike can go as long as the power is limited to 750 watts or less with a max assisted speed of 20 mph.
Okay, this is not an electric bike but it has some similar attributes that make it interesting. The EV4 is a 4 wheeled electric scooter with tilting wheels so that it can corner like a bike!  It also has a suspension system that looks like it can handle almost any kind of terrain.
That's it for now. Stay tuned for more e-bike news and reviews.
-Pete
P.S. Don't forget to join the Electric Bike Report community for updates from the electric bike world, plus ebike riding and maintenance tips!
Reader Interactions