E-Bike News: New E-Bikes from Haibike, Visiobike, ProdecoTech, B4, Vintage, IKEA, & More! [VIDEOS]
It's time for another electric bike news round up!
2 new Haibike electric mountain bikes are now available in the US; the XDURO RX 29 hard tail and the XDURO FS RX full suspension electric mountain bikes.
Both of the these Haibike's feature the Bosch mid drive electric bike systems. There will be 5 other Haibike models arriving in the US soon.
Grace Electric Bikes (also a European brand) are now available in the US!
Visiobike is a new high tech electric bike that has hit the market. It features a carbon fiber frame, mid drive motor, integrated Panasonic batteries, smartphone integration, a rear view camera, and more!  Here is a video about Visiobike:
ProdecoTech has just announced their new Oasis step thru model with 750 watts of rear hub power!
And the new ProdecoTech Mariner 500 folding electric bike with 500 watts of power!
Checkout this super e-cruiser from B4 E-Cruizers!  Interesting how they hid the batteries in what looks like the motor…
Speaking of vintage e-bikes, here is a video about Vintage Electric Bikes!
My correspondent in Portland OR spotted this billboard ad promoting e-bikes as a fun commuting solution.  Props to Cynergy E-bikes for getting the e-bike word out!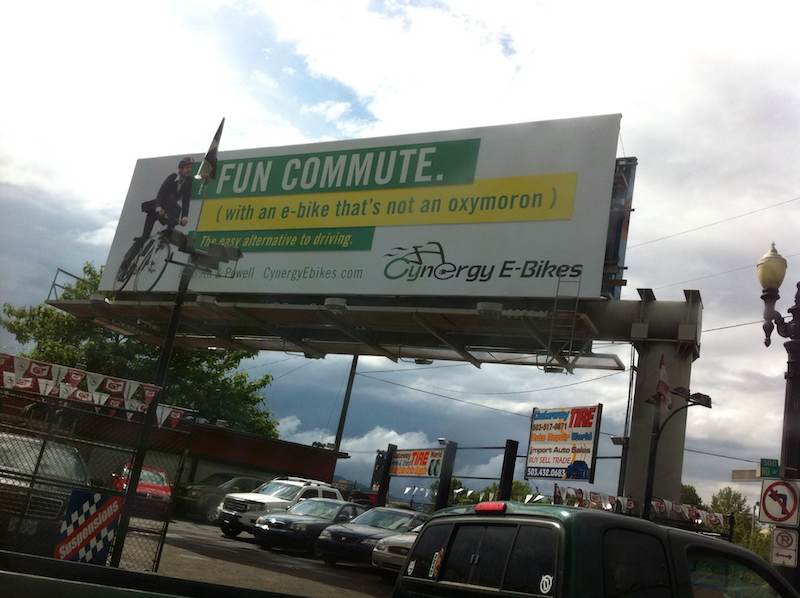 Suvey says that electric bikes enable more people to ride a bike and that they ride an e-bike more often when compared to a standard bike!  These are results from a recent electric bike survey that was conducted by Portland State University and the Oregon Transportation Research and Education Consortium.
Copenhagen has launched an electric bike share program called Bycyklen in an effort to help commuters and tourists enjoy biking around the city.  The e-bikes from GoBikes feature high tech tablet touch screen computers and GPS systems to locate docking stations and local attractions.
Here is a good story about Pedego Cincinnati.  The local news there did a great job with the video, which includes a woman who really enjoys and uses her e-bike regularly. 
This is a great story about the utilitarian use of electric bikes in the San Francisco area.
Here is the full review of the IZIP E3 Peak mid drive electric mountain bike.
This is the new Fat Free mid drive electric bike from NTS Works in Santa Cruz, CA.  And here is a review of this bike from Cyclelicious.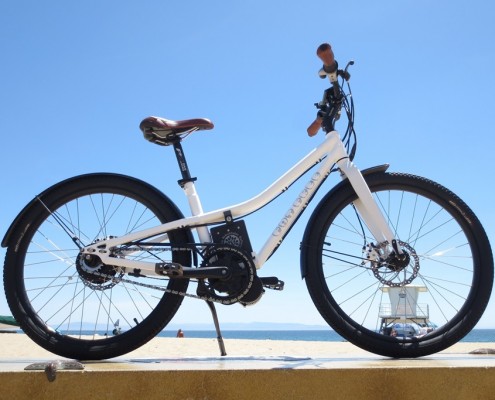 This is not directly related to electric bikes but I think it is interesting for the electric vehicle industry.  Tesla has released all of its patents to competitors in an effort to promote electric car development.  Very interesting!
Electric bike touring!  Here is a story about an 80 year old man who is touring from Washington State to Ohio; 2,500 miles on his Easy Motion Neo Jet!  And here is a story about a woman who is riding her Pedego Interceptor electric bike 3,300 miles from the Seattle, WA area to Washington D.C.
IKEA is now offering electric bikes in select locations…..interesting.
Here is a fun video with Nico Vouilloz (professional mountain bike racer) riding the new Lapierre Overvolt, Bosch equipped electric mountain bike.  Checkout the part where he challenges some road riders to a race!
That's it for now.  Stay tuned for more e-bike news!
-Pete
P.S. Don't forget to join the Electric Bike Report community for updates from the electric bike world, plus ebike riding and maintenance tips!
Reader Interactions