E-Bike News: Jive Bike, London E-Bike Share, LeBron James, Toyota i-ROAD, E-Bikes & Sustainable Energy, + More! [VIDEOS]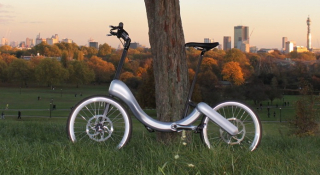 Checkout the 
Jive Bike
, it's a chainless folding electric bike and the 
company raised £180,000 on Crowdcube
 (a crowdfunding website).
BMW has come out with their own electric bike called the Cruise.  Here is more about this Bosch mid drive equipped e-bike.
An electric bike share program is in the works for London, England.  This will be in addition to traditional bikes in the 'Boris Bike' network. And here is an article supporting the e-bike share program.
The FlyKly Smart Wheel is a new all in one e-bike kit housed in the rear hub.  To make a traditional bike electric simply replace the rear wheel and use your smartphone as the display on your handlebars.  The Smart Wheel is a simple (replace rear wheel), economical ($550-$700), and relatively lightweight (9lbs.) electric bike kit.
The FlyKly Smart Wheel is very similar to the Copenhagen wheel that was introduced a few years ago.  The Copenhagen wheel is set to go into production soon with new investor funding.
Find out why the Millennial generation is riding bikes more and driving less.  And yes, there is mention of electric bikes in the article "yesterday I test-drove an electric bike that would help keep the up-hill momentum. And I absolutely LOVED riding it…I could see this being the answer to my commute issues."
Speaking of commuting by bike, here is a new Nike commercial with LeBron James commuting by bike!
NPR just posted an article about the significant rise (explosion) of electric bike sales!
On a similar line of thought: "For the first time since WWII, bikes outsell cars in Europe"
This is a good article on the e-bike scene world wide.  I like the title, "Consider the e-bike: Can 200 million Chinese be wrong?"
Here is a video that does a great job of making a simple point: E-bikes and sustainable energy are a great combination!  The video shows how 5 large wind turbines running for 3 minutes produce enough power to travel around the world on an e-bike.  The cool thing about e-bikes is that they use such little energy when compared to a car.  Solar charging is also another great sustainable energy option for e-bikes.
Currie Technologies is working with Bike N' Hike in Portland Oregon to supply 30 IZIP Compact folding electric bikes to Drive Oregon for a research study of how 180 Kaiser Permanente employees will use the e-bikes for commuting.
Gates Carbon Belt Drive has partnered with the Light Electric Vehicle Association (LEVA) to promote the use of belt drives on e-bikes.
The A2B Shima is a fast (28 mph) pedal assist e-bike with a wireless electronic key!  Here is the full review of the A2B Shima with info on ride characteristics, the range test, pros, cons, and overall thoughts.
Okay this isn't an electric bike but the Toyota i-ROAD is an electric trike that is an interesting vehicle that fills the gap between a car and an electric bike.  It is fully enclosed, narrow, goes 30 mph, gets around 30 miles of range.  No word on price yet….
Here is an article about the e-bike scene in Seattle, Washington.  It is about some folks I met this year at Interbike and their company Madboy E-Bikes.
Here is an interesting gadget called Cricket; it acts as a bike alarm that alerts you through your Apple mobile device.
That's it for now.  Stay tuned for more e-bike news and reviews!
-Pete
P.S. Don't forget to join the Electric Bike Report community for updates from the electric bike world, plus ebike riding and maintenance tips!
Reader Interactions