A2B Shima Electric Bike Review [VIDEO]
A2B Shima
is all about getting you around town at car like speeds (28 mph) but with all of the
advantages and fun of a bicycle
.
In addition, the Shima features an electronic key, a 500 watt motor, a 36V 13.2ah lithium ion battery (option to upgrade to 36V 17.5ah), Tektro Dorado hydraulic disc brakes, a Shimano drivetrain, a solid mix of accessories, and much more for $3,799 (USD).
Make sure you check out part 1 of this review with a video, large detailed pictures and specifications of the Shima to get familiar with this e-bike.
In this second part of the full review A2B Shima e-bike, you will get an idea of the ride characteristics, range test, pros, cons, and overall thoughts on this e-bike.
What you can expect from the A2B Shima E-Bike:
Here is a video with an overview of the features of the A2B Shima e-bike and some riding footage:
A2B has focused on providing electric bikes that fit the demands of the US market.  The Shima definitely fits the bill for US riders that want to go fast!
28 mph is above the traditional 20 mph speed limit many of us recognize for electric bikes.  Since the Shima is a pedal assist only bike (no throttle option) you have to provide some pedal power to get the bike to 28 mph.
Here is a quote from an article written by a lawyer familiar with the e-bike law in Bicycle Retailer:
"As pointed out above, the CPSC's (Consumer Product Safety Commission's) definition of an electric bike centers around a 20 mph limit, with the caveat that this 20 mph must not be exceeded if the electric bike is solely powered by its motor. Accordingly, this definition permits an electric bike which is powered by its rider (with the possible assistance of a motor, making the electric bike what some call a  "pedelec") to travel faster than 20 mph. The distinction is key to a correct interpretation of the CPSC's definition."
The Shima is also popular with the European market as it won an award for best Lifestyle category pedelec from Extra Energy.
The Shima is pretty similar to the A2B Alva+ (recently reviewed) in its form but the function is a bit different.  The Shima is a high speed pedal assist only bike with a higher quality component package when compared to the Alva+.
Large rectangular aluminum tubing and a unique step through design set the Shima frame apart from most other e-bikes on the market.  The frame has a very solid ride feel because of it's large tubing and reinforcement gussets.  Internal cable routing keeps the frame looking clean.
Another feature that makes the Shima look unique is the 24″ diameter wheels with 2.35″ wide Kenda Krusader tires.  A lot of e-bikes have 26″ or 700C wheels and the Shima sets itself apart by using slightly smaller wheels.
A TMM4 dropout torque sensor is attached to the frame and it measures how much power you are putting into the pedals.  Based on your pedal power and the level of pedal assist you select (Economy, Standard, or High) the bike will provide you with a proportional amount of assist that blends with your pedal power.  Torque sensor pedal assist e-bikes have a very intuitive ride feel.
Operating the bike is handled almost entirely at the display that is mounted front and center on the stem.  One of the coolest features of the Shima is the wireless electronic "E-Key".  Simply wave the E-Key in front of the display to turn the bike on or off.
The display also provides you with information like the battery level, current speed, trip distance, and an odometer.  There is a backlight feature for seeing the display at night.
To power the Shima, A2B selected a 36V 13.2ah lithium ion battery that is mounted to the frame below the rear rack.  There is also an optional upgrade to a 36V 17.5ah lithium battery for more range.  That adds $200 to the $3,799 base price.
A magnetized battery connection chord makes connecting the battery to the bike pretty easy.  This is very similar to the magnetized plug that you will find on an Apple Macbook.
An 8 Speed Shimano drivetrain is speced on the Shima with a Deore XT rear derailleur and an Alivio rapid fire shifter.  Those are high quality traditional bicycle components.
Tektro Dorado hydraulic disc brakes with 160mm rotors work well to slow the Shima down from speeds around the 30 mph mark.  These brakes have built in electronic switches that will stop the pedal assist when the brakes levers are engaged.  That is a nice safety feature.
A Suntour suspension fork with 2.5″ of travel helps to take the edge off of rough roads.
The 2.35″ wide Kenda Krusader tires have a large air volume and they provide a cushy ride.
The Shima is totally set when it comes to accessories.  It features a side mirror, chain guard, front and rear fenders, front and rear lights (that run off the e-bike battery), and a kickstand.
Riding the A2B Shima
This bike is fast!  28 mph is fun and since this is a pedal assist only bike it feels good to be contributing some of the power to arrive at that speed.
Traveling at 28 mph on a bicycle requires that you pay extra attention to what is going on around you.  It is good to be looking down the road a way to anticipate and maneuver around any obstacles in your way.  The mirror on the handlebars is very useful when traveling at the higher speeds so that you can keep your head pointed forward at all times.
Many people in cars or trucks are not expecting a bicycle to be going that fast, so you need to be ready for that.  Watch out for cars turning in front of you!
Also, remember that pedestrians and other bicyclists will probably not expect you to be traveling that fast.  Please use caution when riding a bike like this on a shared bike/pedestrian path.
When traveling at the higher speeds I noticed that it would be nice to have a slightly higher gear on the Shima.  At 28 mph I was spinning the pedals pretty quickly and it would be nice to have a higher gear for slightly slower cadence.
You don't always have to be going 28 mph on the Shima.  In the lower assist levels you can take it easy and cruise at lower speeds.  Traveling at lower speeds will also improve the bikes range.
The TMM4 torque sensor pedal assist on the Shima is very responsive and it has a smooth, progressive feel.  If you pedal softly the system gives you a little assist and if you stomp on the pedals the bike will get up and go!  It is a very intuitive blend of human and electric power.
The system is so responsive that when walking the bike off of a curb or down a set of stairs the assist will engage from the impact of the rear wheel hitting the ground.  It can be a little weird because the bike will want to get up and go!  A2B recommends setting the assist to 0 or turn the bike off for those conditions.
The different pedal assist levels (0 = no assist, 1 = Economy, 2 = Standard, 3 = High) have a significantly different power amount between each other.  That is nice when you want a significantly different ride style, for example: a good workout or a freeride to work.
The 500 watt direct drive rear hub motor is powerful and extremely quiet.  It does an impressive job of getting up to 28 mph quickly and it can climb most hills with ease.  The Shima is well rounded when it comes to flat land speed and hill climbing capabilities.
The step thru frame, Suntour suspension fork, wide handlebars, upright riding position, and medium sized saddle make for a comfortable riding experience.
It would be nice to have a suspension seat post because you do feel more of the bumps and cracks in the road at 28 mph!
At 73 lbs. the Shima is on the heavier side of e-bikes.  It is bit back heavy because of the big battery on the rack and rear hub motor. You can feel the weight when making a hard turn, walking the bike up stairs, or lifting it onto a bike rack on a car.
It is nice to have the full assortment of accessories on the Shima so that you are prepared for any kind of riding condition; rain or sun, day or night.
Overall the A2B Shima is fast commuter style electric bike that feels stable and it is decked out with a solid mix of components and accessories.
The ride test results:
Here is the real world information on how the A2B Shima electric bike performed on my typical riding circuit that includes hills, flats, traffic, wind (when available) etc.
The results below are based on a paved circuit that I use for testing other electric bikes.
While testing these bikes I like to put them through the toughest conditions to see where their bottom line is in regards to range and speed.
Range: As you can see from the GPS info that I recorded, the A2B Shima traveled 19.8 miles and did a total elevation gain/loss of around 1,700 ft. Considering that I weigh 190 lbs and I pedaled very lightly this is good range for a 36 Volt 13.2 ah battery pack (475 Watt Hours) with a 500 watt motor traveling at high speeds.  If you want more range there is also the option to upgrade to the 36V 17.5ah lithium battery (630 Watt Hours).
Watt hours are the total energy in a battery pack and it is based on the volts x amp hours of a pack. This is a way to compare the size of the "gas tank" of electric bikes.
Please keep in mind that if you pedal more, weight less than me, ride slower and/or you use the bike in terrain that is not as hilly you will get more range. These results are from tough testing.
Speed: The A2B Shima can get up to around 28 mph on flat ground.  It is a little slower than that on the climbs but it still goes pretty fast!
Weight: This bike tips the scales at 73 lbs.
The weight distribution of the A2B Shima is pretty back heavy because of the rear hub motor and the battery pack being mounted in the rear rack area.
Pros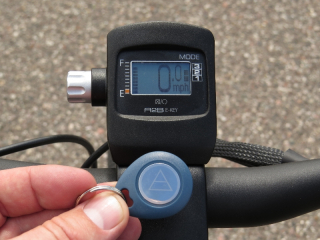 Fast!  It is fun and convenient to travel at 28 mph on a bicycle.  At that speed getting around town can equal or beat trip times when compared to driving a car.  Just be careful okay 🙂
Solid Ride Feel:  The Shima has a very solid ride feel that is nice to have when traveling at the higher speeds.  The stout aluminum frame, wide tires, Tektro hydraulic disc brakes, Shimano drivetrain, and lock on grips add up to a sturdy ride feel.

E-Key :  The wireless electronic key or "E-Key" is a fun, high tech feature that you don't find on too many electric bikes.
Cons
Weight:  The 73 lbs. Shima is a bit back heavy and that is noticeable when making a hard turn, walking the bike up stairs, or lifting it onto a bike rack on a car.
Gearing :  It would be nice to have a higher gear so that you can pedal at a comfortable cadence at 28 mph.
Torque Sensor:  It would be nice to have a slightly less sensitive torque sensor so that the bike does not engage when walking the bike down stairs.  A2B recommends setting the bike to the 0 assist level or turning the bike off in these situations.
Conclusion
A2B Shima
is a fast commuter style electric bike that has a very smooth, quiet and solid ride feel.  It really will get you from point A to point B quickly and while having fun!
The Shima has an impressive overall ride feel and a nice selection of quality components that should last many years of riding.
It would be nice to see a lower weight, higher gearing, and a slightly less sensitive torque sensor but no e-bike is perfect.
Please keep in mind that this is a relatively short term test. This testing can't really give you the long term review of durability and reliability. My thoughts on the quality of this bike are from previous experiences with similar bikes. If you own this bike and have some input on the long term durability, please share your comments with the Electric Bike Report community below.
The A2B Shima retails for $3,799 (USD) at the time of this review.
Where to buy the A2B Shima? Check with A2B for a dealer near you: https://www.wearea2b.com/us/dealers
Do you have any questions about the A2B Shima?  Do you own the A2B Shima?  Please share your thoughts in the comment section below.
Thanks!
-Pete
Review Note: Each company pays a fee for a review on Electric Bike Report because of the considerable amount of time that it takes to provide an in-depth review of each eBike. A lot of time is spent on the full range test with distance & elevation profile, the wide variety of detailed pictures, in-depth video, and the write up with the specifications, ride characteristics, pros, cons, and overall thoughts. The reviews on Electric Bike Report are focused on providing you with a detailed "virtual" look at each eBike to help you determine if it is the eBike for you or not.
P.S. Don't forget to join the Electric Bike Report community for updates from the electric bike world, plus ebike riding and maintenance tips!
Reader Interactions