E-Bike News: E-Kid Trailer, SBA & Electric Bikes, E-Trikes, E-Bike Skeptics? [VIDEO]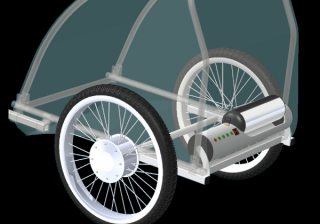 Ridekick just announced their new
electric assisted child trailer
!  This could also work well as a larger electric cargo trailer.
The nice thing about electric bike trailers is that they can easily add or remove assistance to your current bike.  For some people they want assist only when they are hauling heavier loads, like kids and/or cargo.
Ridekick is currently raising money for the first production run of these trailers and if you are interested you can pick one up for about $200 less than what the retail price will be.
E-bikes are getting more mainstream attention!  The U.S. Small Business Administration Deputy Administrator recently paid a visit to Rocket Electrics in Austin Texas to talk about their business expansion and the potential for the addition of more bicycle depots (charging stations) in Austin.  Great work Rocket Electrics!
The Mando Footloose series hybrid electric bike is in the running for the 2013 Design Museum Awards.  The Mando Footloose is definitely an innovative design because your pedal power is turned into electricity to power the bike via an alternator in the bottom bracket.  There is no chain!
Bikes are on display at the Detroit Auto Show to market certain cars with the healthy lifestyle!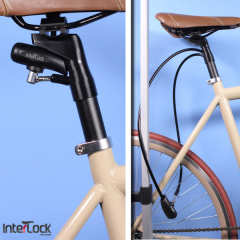 The InterLock is a new kind of bike lock that is built into a seat post and "hides" in the seat tube of the bike frame.  It is a great way to make sure you always have your lock with you.  They are currently
raising money on Kickstarter
for their first production run and you can buy one of the first InterLock's for $39, which is $11 less than what it will retail for.
Here is another article about the Organic Transit Elf electric trike, which is set to be on NBC's Today Show soon!  Stay tuned for more on that.
Speaking of human-electric trike hybrids, you should check out the TWIKE!  It's been around for almost 20 years!
Electric bike shops are popping up everywhere!  If you live in Columbia, Missouri then you should checkout Volt Riders, and if you live in Chico, California you should checkout Red Mountain Green Cycle.  Red Mountain Green Cycle recently setup Sierra Nevada Brewing with some electric bikes.  Unfortunately the author of the article interviewed a die-hard cyclist about the e-bikes…….die-hard cyclists are not the target market for e-bikes.
If you live in San Diego, California or if you are there for a visit you should checkout the San Diego Kilowatt Hour electric group rides.  Turbo Bob from San Diego recently wrote about one of their rides.
Here is another e-bike skeptic who "got it" after a test ride!  People who are usually skeptical about e-bikes just haven't ridden one;  encourage them to take a test ride, they won't regret it!
That's it for now.  Please share this with your friends and let's get the word out about electric bikes!
Thanks.
-Pete
P.S. Don't forget to join the Electric Bike Report community for updates from the electric bike world, plus ebike riding and maintenance tips!
Reader Interactions