Organic Transit ELF: The Future of Car Alternative Neighborhood Electric Vehicles? [VIDEO]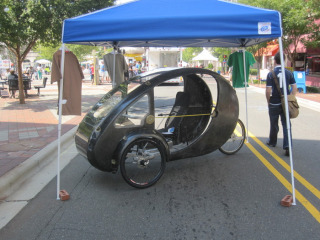 Are you looking for an electric vehicle that uses your pedal power and electric assist (with solar charging!) to replace in-town trips usually done by car?
If so, you should check out the Organic Transit ELF.
Organic Transit recently caught my eye because they have designed a neighborhood electric trike that falls within the guidelines of an electric bike.  At 750 watts of power and a max speed of 20mph (with electric assist only), it technically can go anywhere a conventional bicycle can.  And that is a great benefit to places that have a lot of bike path networks.
Here is what Organic Transit has to say about the ELF on their KickStarter page (a crowdfunding website):
"Here comes the cleanest, most efficient vehicle on the planet.  The ELF is a solar/pedal hybrid vehicle suitable for commuting, deliveries, and other local transportation needs. This three-wheeled electric assist velomobile fills the niche between a bicycle and a car and offers advantages over both."
And here is the video from the KickStarter campaign:
The ELF has a 60 watt solar panel on the roof that can recharge the 480 watt hour lithium ion battery pack!  You can also plug the ELF into a wall outlet for recharging.
Errands are accomplished with storage room for 8 bags of groceries and 350 lb of cargo capacity.
Organic Transit claims 30 miles of range on the stock battery pack, but the range can be increased with more battery packs.
Currently the price for the ELF is $4,000.
These are currently being assembled in Durham, North Carolina!  Organic Transit is planning on creating 1,000 ELF's in a month and then replicating that process at factories all over the world; as they put it "bike factories in a box".
I am really excited about a pedal/electric vehicle like this, but I also have some concerns.
One of my concerns is the width of these trikes.  On a wide bike path or lane it is probably fine, but if it is traveling on a narrow neighborhood street I could see there being more of an issue considering that this vehicle will mainly travel around 20 mph, which is below most neighborhood street speed limits of 25-30mph.
On one hand car drivers may wait more to pass instead of just blowing by, but that may not be the case for some impatient drivers.
It seems like this type of trike that travels around 20 mph (you can pedal faster) may have trouble fitting into the current infrastructure of some towns and cities.
Don't get me wrong, I am all for a vehicle of this type, but it may be limited to certain routes.  We need vehicles like this to replace small in-town trips that are normally accomplished by a car.  The challenge is designing them fit into the current infrastructure.
If the max speed is increased to fit the flow of automobile traffic then this type of vehicle would not be able to travel along the bike paths & lanes, it would need to be designed for a crash at higher speeds (heavier design), and it would need to be licensed, insured, etc.  With a heavier vehicle, the human pedal power and solar charging would be less effective in the overall propulsion, so it becomes more of an electric plug in vehicle.
Again, these are all tough design constraints, and I think Organic Transit is doing a good job to create a car alternative pedal/electric vehicle.
Electric cargo bikes also provide a good car alternative but they don't offer much protection from the weather and most don't offer the same cargo load capacity as the ELF
Make sure you checkout their KickStarter campaign if you are interested in buying an ELF and/or if you want to support their business plan.
Organic Transit will also be producing a similar type of vehicle meant for deliveries, "The Truckit".
What do you think?  Will this type of pedal/electric vehicle work in your town or city's infrastructure?  Please leave your comments below.
Thanks!
-Pete
P.S. Don't forget to join the Electric Bike Report community for updates from the electric bike world, plus ebike riding and maintenance tips!
Reader Interactions