San Diego Kilowatt Hour – Electric Bike Group Rides!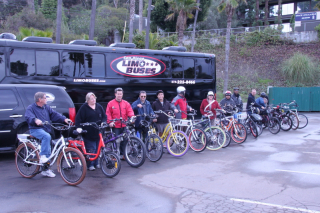 This is a guest post from Turbo Bob!
Yes, San Diego is a hot spot for bikes. So of course, it's even hotter for E-bikes. With many E-bike shops here in town, and several of the major E-bike companies headquartered here or nearby in Orange County and Los Angeles, you know they are popular. Ever since my wife and I got our electric-assist bikes almost five years ago, I've been noticing them all over.
I've been lucky to strike-up friendships with most of the E-bike people (individuals and shops alike) here. We (my wife and I) take our E-bikes on many group rides, even though they are geared for bikes of any kind. We do have a E-bike group that has been organized through the Meet-up pages. This year we decided to plan monthly rides without fail and our first one was last weekend. The previous E-bike group rides were fun, but sporadic.
23 e-bike riders were signed-up for the ride. The weatherman couldn't decide how our day would go. When the morning came, it was decided to meet for breakfast and ride if the conditions were right. 16 people (men and women) made the trek and found the threat of rain to be minimal. Many different brands of E-bikes were scattered in the parking lot, with four conversions included. One was a BionX converted road bike. One of the local E-bike shops, Pedego Coronado, brought their sales trailer with 4 extra Pedegos for a few riders who didn't own E-bikes or had no way to transport them to the ride.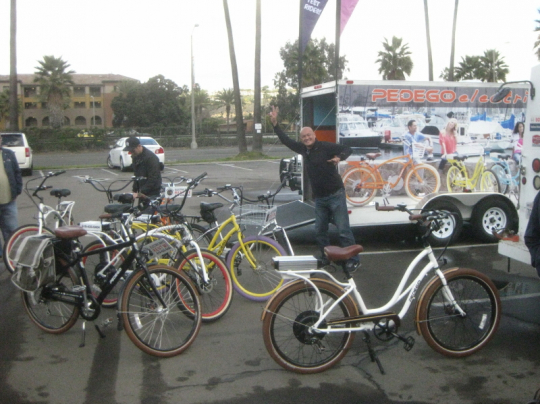 After breakfast I had everyone line up the fleet for some photos and then Steve gave some group ride instructions on our route and other details.
Before long the procession of electric-assist bikes worked their way into the street one-by-one. It was a short run on the roadway to cross the freeway using the underpass as most of the ride was on the paved path next to the San Diego River. We started in Mission Valley with our destination known to all.
It was quite a line-up of happy riders and quietly humming E-bikes. Every color in the rainbow was represented in our group ride. The Pedegos were the dominant bike as many of the riders owned them, in addition to the ones brought by Allan and Shaun from Pedego Coronado. I was on a IZIP E3 Path that is in my stable for an extended test. What a classy and comfortable E-bike that is. My wife was riding our Richen Warrior 20, a full-suspension folding E-bike from a Chinese company who are trying to search out some dealers here in the states.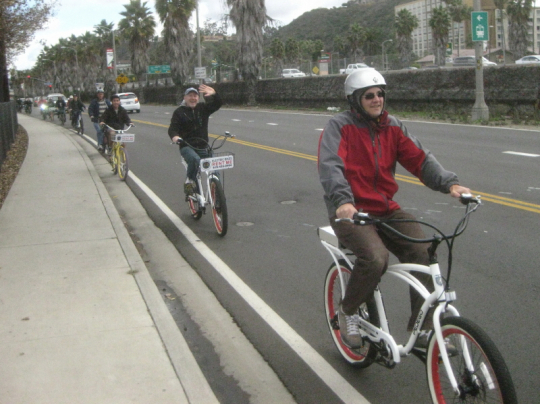 The path along the river is wide and smooth. We shared it with cyclists going in each direction and walkers out for a fun stroll. It wasn't long before we pulled off the path and worked the streets of Ocean Beach. We headed to a great little beach market that specializes in natural foods. Upstairs was a 4 piece string music group playing some classic tunes. Also on the second floor is a deli that soothed the stomachs of many of the riders.
We had all the bikes parked on the sidewalk in front of the market and discussed each bike's merits. The passers-bys had many questions too. Quite a few of the bikes were tested out by the other riders to get a feel for what they offered. The whispers of electric bikes gained volume as the group continued to rise in their excitement levels. It seemed too short of a time before we all saddled back up for the return ride. I was sure we would take the path along the beach, but our leader headed in a different direction.
Our group got a little strung-out on the river path. Some riders were stretching their E-bike legs with higher speeds than before. No matter, as we all knew the way. I stayed with the rear group as we took a leisurely ride back toward the breakfast restaurant where we had started. I am usually in no hurry, so this pace fit my and my wife's needs just fine.
Back at the parking lot we all decided this much fun was needed every month. So the stage is set, the Kilowatt Hour Group E-bike Ride is on tap for the 1st Sunday of every month. Even though there were a few very minor showers this day, the spirit of the group could not be dampened. We are not an exclusive club and anyone is welcome.
Want to ride?
-Turbo Bob.
"Few articles ever used by man (or woman) have ever created so great a revolution in social conditions."—Fred C. Kelly
Make sure you checkout Turbo Bob's Bicycle Blog!
https://turbobobbicycleblog.wordpress.com/
P.S. Don't forget to join the Electric Bike Report community for updates from the electric bike world, plus ebike riding and maintenance tips!
Reader Interactions