Gocycle GX Review – 2020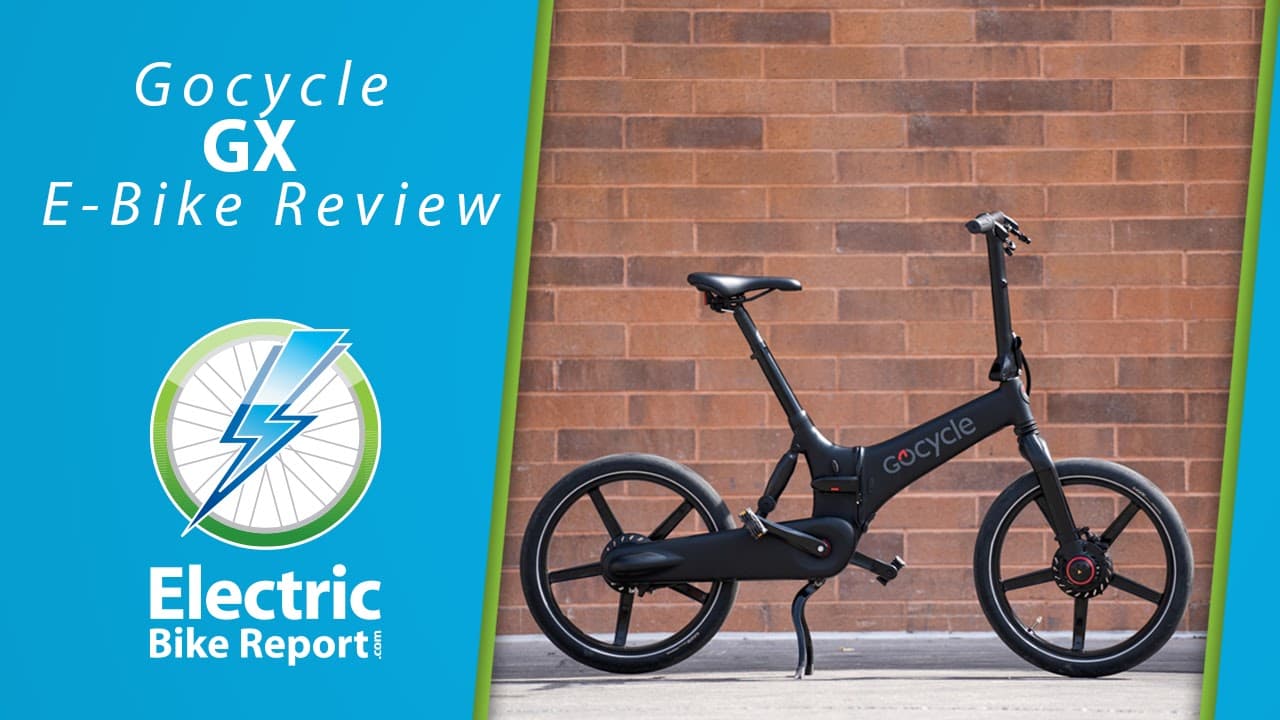 The Gocycle GX is a dapper fast-folding ebike that is a blast to ride and literally folds up in seconds. Electric Bike Report has tested other Gocycles in the past, but we were excited to get our hands on this one! The GX was released in 2019 and dubbed Gocycle's "Fast Folding" model. Right off the bat you can see this bike came to play. The lightweight frame, fully encased drive system, and chic mag wheels give it a very clean, airy look. The GX also sports a front hub motor, which we weren't sure we'd love, but it is both powerful and efficient. We are also impressed with the frame engineering which keeps the left side of the wheels open for easy tire changes (always a pain on an ebike) but also maintains a very balanced feel while riding. When the GX is folded, the wheels come together for more stability so you can easily roll the bike with one hand using the seat as a handle.
Overall, we found the Gocycle GX to have a very natural feel. It pedals like a regular bicycle with added power stealthily tucked into the compact frame and is a fantastic option for anyone looking for a compact/foldable commuter electric bike.


Bike Class: Class 2
Class 2: PAS and Thumb Throttle, up to 20 MPH
Pros:
Very well designed. You can tell a lot of R&D has gone into this ebike.
Super compact and easy to fold. This eBike will fit just about anywhere, from your car trunk to next to your desk at the office.
Lightweight and easy to carry around (38.4 lbs), making this a perfect bike for commuting to the office and carrying up the escalator to your desk.
Side mounted PitStop wheels ride really well and make maintenance on the tires/wheels very easy.
Easy to pedal even when the battery dies.
Allen wrench slides under the saddle for quick adjustments as needed; no need for extra tools
Clean, airy design and lightweight frame create a very natural feel while riding – doesn't feel like a heavy ebike.
Cons:
Need a smartphone to read out data (Gocycle's higher-end models have an integrated dash with comprehensive LED readout)
Integrated lights and fenders not included standard; Gocycle sells them as an accessory
Gocycle GX Electrical Specs & Features
Battery: Quick removable lithium ion: 13.7 Ah, 22 V, approx 300 Wh
Display: No mounted display; PAS and ride data via the GocycleConnect app
Drivetrain: Shimano Nexus 3 speed "Cleandrive" internally geared
Chainring: 32T
Motor: Gocycle proprietary front hub motor gear drive with traction control
500 watt US / 250 watt EU
Headlight: Not included; available as an accessory
Taillights: Not included; available as an accessory
Pedal Assist: City, Eco, On-Demand, Custom. Programmable through GocycleConnect
Range: 20-50 miles
Throttle: Red button under left grip
Gocycle GX Components & Accessories
Brakes: 140 mm Hydraulic disk, front and rear
Fenders: Available as an accessory
Fork: Gocycle proprietary, single-sided, 6061 T6, fixed
Frame: Hydro-formed 6061 T6 alloy front frame with injection moulded
magnesium Cleandrive chain cover
Rear Shock: Gocycle Lockshock™ 25mm (1 in) travel
Gearing: Patented Cleandrive® Shimano Nexus 3-speed with Mechanical
Microshift™ shifter on right grip
Grips: Gocycle Sport Ergo
Handlebar: Quick Folding
Kickstand: Dual Sided
Pedals: Gocycle Folding Standard
Tires: Gocycle All Weather (406-54, 20 x 2.25 in)
Gocycle GX Weight & Dimensions
Battery weight: ~4lbs
Total bike weight: ~40lbs
Maximum rider weight: 220 lbs, including clothing and luggage
Unfolded Dimensions: 21.25″ Standover Height, 44" Handlebar height
18″ Wide, 62.5″ Long
Folded dimensions: 15.5" Long x 29.5" High x 31" Wide
Who the Gocycle GX is best suited for:
There are a few things that make the Gocycle GX unique. In our assessment, we found the GX is best suited for commuting/city riders who:
Want a lightweight ebike
Need a compact folding frame that will fit in a train, bus or car trunk
Want something that is easy to lift/navigate/roll when folded
Can be lifted up/down stairs or in/out of an elevator
Can be placed next to your desk or workspace
Can be stored in a closet
Has extensive pedal assist customization modes
Uses your phone as an onboard dash display
Performance Review
Acceleration
The GoCycle GX shifts very smoothly and easily, and we love the gearing on the GX. It is simple with just three gears, but since you have so much The Gocycle GX accelerates smoothly and feels zippy. If you are operating in a higher assist mode, you can get to that 20mph max speed quickly. The front hub motor provides power on the front-end while the rider generates power in the back. This expands the power output beyond what you would find on a regular ebike since the rider isn't fueling torque into an already powered drivetrain. Also, Gocycle has added traction control to the GX to offset any speed differences between the front and back wheels. The front wheel will only spin as quickly as the rear wheel so you won't peel out from too much power on the front end.
It took us a ride or two to figure out the throttle settings. In all modes, the throttle will only engage after you are going around 5 miles per hour, which means you can't hit that boost button to get going initially. This is a safety feature, but it does make the initial few pedal strokes a bit harder than they would be with throttle support.
Once you hit the 5mph limit, the throttle kicks in smoothly and allows you to ride without pedaling (at least in the USA – apologies for our friends across the pond).
Shifting (Changing Gears) / Gear Range
The GoCycle GX shifts very smoothly and easily, and we love the gearing on the GX. It is simple with just three gears, but since you have so much control over the pedal assist modes, there isn't a need for extensive gearing. The drive system is encased in what Gocycle calls the "Clean Drive." This magnesium casing both protects the chain and keeps your clothes clean when you lift or fold the bike. No need to worry about lube on your pants or dirt that has ensconced the derailleur, which is good news for those who ride the GX to work. For the most part, I was able to easily ride in 3rd gear (the hardest) with a healthy amount of pedal assist from City Mode.
Gocycle has designed the GX to provide ample rider control, so it works as a generously powered ebike and a regular bike as well! Since it is lightweight and has a very navigable frame, the GX is not hard to pedal without assist. For riders who really want to extend battery range, you can use On Demand mode which disables the pedal assist and provides motor support from throttle only. This way, you can pedal the bike as you would a regular bike and it won't drain the battery. This is when the gears come in handy. The gear range is perfectly calibrated — you can tell a difference between all three gears. Moving from one to two is noticeably harder and gear three keeps you zipping along with maximal rider torque. Here again we like how Gocycle considered how to both amplify battery range and still make riding the GX an enjoyable experience.
Handling (cornering, slow speeds, etc.)
The Gocycle is one of the best ebikes I've ridden when it comes to handling and cornering. At first I was concerned the bike would feel off-balance since it has a single-sided front fork and the drivetrain on the right, but is open on the left side. However, Gocycle has engineered the GX so it rides straight and you don't even notice the single-sided fork unless you get down and look. In general, the GX is very nimble and sprightly. I love that it only weighs 40 pounds. When turning, cornering or slowing down, the GX always feels navigable. The 20" tires keep the center of gravity low while the raised seat and handlebars lift the rider up which increases your ability to see and be seen.
Comfort
The geometry on the Gocycle is a little different than standard bikes. Rather than an inverted triangle or rectangular frame, the Gocycle uses "Vrgonomics" or a V-shaped design where the handlebars and seatpost angle upwards away from each other. As you raise the seat, it increases the reach, making this a usable bike for taller riders. When you drop the seat, it decreases the reach — which works for smaller riders.
The only issue is the handlebars are not telescoping, so for those who really have to lift the seat, it may require you to lean down a little. Michael, who is 6'5", found the handlebars a touch low for his needs, but the rest of the geometry felt good. Griffin, our 6'1" reviewer, didn't have the same issue; he was able to ride comfortably upright.
Stopping
The 140mm hydraulic disc brakes are a lovely addition on the Gocycle GX and provide ample stopping power. As a Class 2 ebike, the GX will go up to 20mph — so responsive brakes are a must-have on a bike like this. I tested the brakes in several settings. Riding along a bike trail with lots of pedestrians required frequent braking. I also took the GX up and down a steep hill and the brakes managed the speed safely on the way down. You don't have to pull the levers super hard, nor are they overly touchy which can cause the bike to jerk. When rounding a blind corner I had to brake quickly to avoid a walker with a dog and the brakes were instantly responsive here as well.
"Parking" / Moving Around the Garage
The GX is light and easy to move in and out of an office or garage. It's not too long or heavy which sometimes makes ebikes difficult to handle in small spaces.

Also, I love how the wheels come together when the bike is folded. This makes it much easier to roll since you're not balancing the weight of the bike on one wheel. You can even use the seat as a handle to steer the bike with one hand. We took our GX inside our office building, around the halls, and even onto the elevator. Navigating a garage, alleyway or sidewalk is easy as well. The seat can also be removed and tucked inside the folded frame to reduce size.
Range Test
For our range test, we put the GX in Eco mode to see how far we could actually get. Our reviewer Pierce took the Gocycle GX nearly 43 miles on one charge! His moving time was just under three hours and total elevation was nearly 1,500 feet. Here is his range review:
"Eco mode provides some motor support, but you still have to put in a decent amount of effort for the assistance to kick in. I rode out around eighteen miles and then tackled a big hill. The GX was not strong enough to get up the hill (it's called 'Hell Hole' for a reason) in Eco mode alone, so I had to add throttle to supplement the pedal assist. At the top of the hill, the battery read 80% — and this was after 18 miles and a hefty climb!
One note: I'd prefer a battery readout that was in 10% increments rather than 20% (Gocycle's GXi does feature 10% power readouts). The battery display (on your phone) only provides power readouts in 20% increments, so it goes from 100% down to 80% then 60%, etc.
The 3 gears shift smoothly and have a big enough range that each gear is distinguishably different. I was able to ride in 3rd gear most of the way which also extended range.
This bike is surprisingly powerful for how light and small it is. I love the 20" wheel size they chose for the Gocycle GX. It keeps it light and it makes the bike nimble so you are able to make tight turns. This is perfect for city settings where you'll be weaving in and out of sidewalks, alleys and cars. The tires seemed pretty stable on the sidewalls as well. The tires aren't puncture resistant and I did get a flat while out riding from a pretty gnarly thorn. Thankfully, changing the tube is substantially easier on the GX thanks to the single-sided fork.
The pedaling position is good, it feels right to have the cranks a little more out in front instead of right underneath the rider. You get more power this way. I found the saddle to be a comfortable shape and it felt pretty soft even on a 3 hour ride. However, saddle comfort may be an issue for larger, heavier riders. This is more of a racing-style saddle which will be familiar to experienced bikers, but may not be sufficiently padded for those who haven't ridden a bike regularly. The handlebar height allows you to stand and pedal pretty well too. The handlebars width is slightly narrower to make the bike more navigable when dodging pedestrians which is handy as well.
Despite being a foldable bike in two places the Gocycle GX feels extremely solid when riding. The other folding bikes we've tested are either super heavy to provide the necessary frame support or they feel a little flimsy. The GX really does feel stable – you can't tell you're on a folding ebike."
Specs/Features
Electrical Components
Motor
The front hub motor is on the outside of the single-sided right fork. This allows the wheel to be removed to change a tube without affecting the motor. Since this bike has been designed from the ground-up, this single-fork system looks unusual but is actually a clever solution to the ever-dreaded problem of flat tires on a hub motor wheel. Since the motor is actually on the outside of the fork, it isn't technically in the wheel hub — so you can pull the whole wheel off without having to detach the motor as well.
The motor is a Gocycle proprietary front gear drive with 500 watts (750watt peak) in the US, and 250 watts in the EU. The traction control keeps the front wheel from spinning faster than the back wheel so you don't spin out due to the supplemental power on the front hub. When folded, the motor is on the outside of the bike so it can be accessed as needed. Gocycle has encased the motor in a robust shell to keep it protected from dirt, debris and impact.
Battery
Gocycle has tucked the battery way up inside the frame so it is protected and out of the way. This is a 21.6V Lithium ion battery that offers around 26 – 40 miles of range. We got around 26 miles of range when riding around town using the throttle and City Plus mode. We easily cruised past 40 miles in Eco mode.
To remove the battery you need to fold the bike, pull out the locking pin and remove the hinge-lever. Then just turn the internal red ring and the battery will slide out. You can charge the battery on or off the bike, so if you work in an office and want to remove the battery to charge during the day it is easy to do so.
The V-shaped frame design makes it so the battery is low and centered. It isn't too far forward nor back from the rider, which keeps the weight right where you want it, but still allows the frame to fold in half. Also, since the motor is in the front hub and you use pedal power to move the rear hub, the battery placement makes a lot of sense here. It isn't overly taxing on the drivetrain nor does it add extra weight that needs to be supported by the rider. The battery is an impressive 4 pounds — one of the lightest we've tested.
Extra batteries are available on Gocycle's website. These aren't cheap at $850 each, but an extra one is not a bad idea for those who may commute longer distances. At just 4 pounds each, throwing one in a backpack would be an easy safeguard for any range anxiety.
Throttle
This is one of the smallest thumb throttles you'll see on an ebike. It is a small red button just below the left grip that you can clench with your left hand as you ride. Admittedly, my hand got a little tired of holding the throttle down — but I like as much throttle power as I can get, and other reviewers didn't have this problem. Riders with larger hands may find the throttle button to be a bit small and/or hard to find. Since it is tucked under the grip, you can't really see it without leaning down and a few times when I reached for it, I had to feel around for a little before I found the right spot.
The throttle does not engage until you are going about five miles per hour, so unless you are in a Custom mode or City+, you won't be able to access throttle power immediately. A throttle is nice when starting from a full stop. It helps get the weight of the bike moving quickly since those first few pedal strokes can feel heavy on an ebike. The throttle does not require pedaling to operate in most of the assist levels, so you can cruise along on throttle only (>5mph), however, this will deplete the battery faster.
Lights
Lights are available as an added accessory from Gocycle, but they are not included standard. A light port is tucked at the base of the headtube, so if you do opt to add some lights, you just plug the light input into the port and you're good to go. We'd prefer to see lights included standard — especially on a commuter bike — but the accessory option keeps the cost of the bike down so riders can accessorize based on personal needs without having to pay for everything. When attached, the headlight is integrated with the bike battery and does not require separate batteries.
Pedal Assist Modes / Dash Display
GocycleConnect App GX PAS Modes
One thing to note with regard to performance: there is no onboard computer on the GX. Since the GX is designed to fold up, not having a mounted display is one less thing to get bumped when folding/lifting/rolling the bike. It also reduces weight and doesn't draw power from the battery. Our favorite element is the extensive customization you get in the Gocycle Connect App. Unlike standard onboard displays that are often bright but functionally limited, the Connect App allows users to customize motor power and battery range. It has a huge impact on how the bike performs, so let's quickly look at the Connect App features.
GocycleConnect App GX PAS Modes
There are five PAS modes in the Gocycle Connect app:
1. City (best for riding around town; some motor support)
2. Eco (extends range, reduces motor support)
3. On-Demand (turns pedal assist off; throttle support only)
4. Custom (create or modify any mode and save as "custom")
5. City+ (extensive motor support, reduced battery range)
Each mode has two settings: the icon at the bottom of the graph controls the wattage at which motor power initially kicks in and the icon at the top controls the wattage when full motor power is engaged.
City Mode
Rider must produce 100watts for motor to start (bottom slider)
Rider must produce 250 watts for full motor assist (top slider)
Both Pedal Assist and Throttle available in this mode
Throttle will engage after 5mph, lower speeds do not allow throttle power
This mode is best suited for moderate power and short to moderate distances
Eco Mode
Rider must produce at least 180watts for motor support (bottom slider)
Rider must produce 600 watts for full motor assist (top slider)
Both Pedal Assist and Throttle available in this mode
Throttle will engage after 5mph.
This mode is best for extending range by reducing motor power for longer rides
On-Demand Mode
Turns off the pedal assist so you only get assist when you hit the "boost" button.
Pedaling NOT required for throttle assistance
This mode is ideal for when riders want to ride the GX like a regular bike. You can pedal normally and it will not drain battery power. Only when you hit the "boost" button does the motor engage.
Custom Mode
Custom mode allows users to set their own levels and save it as a "custom" program.
Pedaling can be turned ON or OFF required for throttle assistance
If you attempt to adjust the levels in any of the other modes, the screen will automatically move you to Custom Mode.
Once you have set the PAS levels where you want them, tap "Sync to Gocycle" and it will hold those settings on the bike
You can create multiple Presets in the Custom Mode by pressing the "Save as Preset" button in the right bottom corner.
City+ Mode
Motor will start immediately – no minimum rider wattage required
Rider must produce 400 watts for full motor assist
Both Pedal Assist and Throttle available in this mode
This mode provides the most motor power but will drain the battery the fastest
"Live Dash" – Ride Display Metrics
Gocycle calls the display screen in the GocycleConnect app the "Live Dash." This is the screen that is displayed while you are riding. It can be customized to display up to eight of the following metrics:
Speed
Average Speed
Cadence
Calories Burned
Trip Distance
Odometer
Average Wattage
Equivalent Miles per Gallon
Max Speed Limit
Average Cadence
Max Cadence
Pedal Power Watts
Pedal Power Max
HIT Pedal Power Max
Battery Power is displayed as a bright red bar at the top of the screen.
The Live Dash will display vertically or horizontally depending on how you mount it on your bike.
Advanced Settings
In the advanced settings (gear icon top right corner), you can increase the maximum speed from 15.5mph which is the factory default – up to 20mph. You can also change from miles per hour to kilometers per hour, reset all metrics, and make other adjustments.
Our Assessment of the Gocycle Connect App
We are impressed with the Gocycle Connect App. The only real drawback to using your phone as a dashboard display is that there isn't a USB port on the handlebar, so keeping your phone screen on could drain your phone battery, especially on longer rides. However, the display is not a drain on bike battery power.
There are definite advantages to using your phone as the dash display. When you fold the bike and toss it in a car trunk or lift it onto a bus you don't have to worry about the display getting damaged. Similarly, since most people take their phones with them when they leave anyway, using it as a display computer is an easy overlap. Also, the user interface and functionality of the app is actually more extensive than we find on comparable display computers. The app can also be regularly updated.
Components and Accessories
Brakes
The Gocycle GX has 140 mm Hydraulic disc brakes on both front and rear. The discs are protected inside the wheel hub so they are less likely to get dirty or dusty. The adjustable levers can be modified for different size hands.
Fork
As mentioned, the Gocycle has an unusual design with a single-sided right fork. The rear wheel is supported by the chainstay and Clean Drive system on the right, but it is open on the left. The 3-gear system, front hub motor, and encapsulated drivetrain eliminates the need for a rear derailleur. This allows the left side of both wheels to be completely open so the wheel can be easily removed to repair flats. Magnesium wheels add extra strength to the bike that could be lacking due to a single-sided fork. The 25mm rear suspension arm also helps support and stabilize the bike for added stability.
Frame
The GX frame is injection molded 6061 T6 aluminum alloy that has been heat-treated to be both durable and lightweight. The frame itself folds into two halves at the junction between the seat post and downtube. This design retains structural integrity under the rider's weight while allowing the frame to fold and the battery to slide up inside the downtube. The downtube is 15" long from the headtube to the folding junction. It is 2" wide and 7" deep where it locks into the seat post. The seat post can be completely removed and stored inside the folded frame – or you can leave the seat in and use it to roll the bike. The handlebars unlock and angle downward, but do not detach from the bike.
When open, the bike has a 21.25″ standover height and 44" handlebar height. It is 18″ wide and 62.5″ long. When folded, the bike collapses to 15.5" long, 29.5" high, and 31" wide.
Grips and Saddle
The Gocycle has locking rubber textured grips that are ergonomic for comfort. The right grip is slightly shorter than the left to allow room for the Microshifter. The grips are comfortable; any issues our reviewers had were with the width of the handlebars more than the grips.
Handlebars
The handlebars are 23" wide. The handlebar stem does release and fold down at the junction between the post and frame, but the handlebars can't be removed or replaced. They also do not telescope up or drop down. The height of the handles is set at 15" from the frame.
Pedals
These are folding pedals, Gocycle branded. Folding is managed via a lever inside the pedal. They feel sturdy when open but fold easily.
Kickstand
The dual kickstand folds down directly under the frame. This way, you can use the kickstand when the bike is folded and it doesn't get in the way. The dual design provides more balance than a single-sided kickstand. It's hard to knock the Gocycle GX over.
Tires
The GX has Gocycle All Weather tires, 20" high and 2.25" wide. The tires have a very light tread, just enough for a bit of traction, but not enough to slow you down on city streets. The tires are not puncture resistant and we did have one reviewer get a flat while riding on a regular city street. Thankfully, changing flats is easy. The sidewall reflectors help with visibility and the 20" height gets you up off the ground for enhanced visibility and speed. 20" tires are also pretty standard, so finding replacement tubes shouldn't be a problem.
Cargo options
We would love to see the Gocycle GX include a few more basic accessories. The GX does not include fenders or lights as standard features. You can buy lights from Gocycle and a port is tucked under the headtube to facilitate integrated lights. Fenders are also a must-have on a commuter bike, so it is unfortunate that you have to pay an added $60 per fender for the GX. Other accessories are also available on Gocycle's website including a custom front mounted back, rear rack and portable docking mount.
Summary Review / Where to Buy
In 2002 Richard Thorpe left McLaren Cars Limited as a design engineer to create his own company, Karbon Kinetics, with the desire to create the best ebike possible. In 2009 the Gocycle G1 was released which changed the folding ebike industry with its innovative design and compact frame. In 2019 and several bikes later, Gocycle produced the fast-folding GX model which is impressive in its own right. Currently, Gocycle sells the GS, GX and GXi via their website. You can also find Gocycle bikes at retailers throughout the US and Europe.
Gocycle continues to be an industry leader in the design and engineering of durable, folding ebikes.
The GX comes in black, blue or white and will fold enough to fit in a closet or car trunk. We love the dynamic but quiet drivetrain and the front hub motor surprised us with its smooth power and traction control. This zippy ebike sails up to 20mph and has a comfortable geometry, telescoping seat post and 25mm of rear suspension. For riders who want quality, durability and speed on a folding frame, the GX is a fantastic option.
Bottom line, we are super impressed with the Gocycle GX and here in the office there is occasionally a skirmish over who gets to ride it. If you are someone looking for a compact, foldable ebike for commuting or even just riding around the city, then we think you should strongly consider the GoCycle GX.
P.S. Don't forget to join the Electric Bike Report community for updates from the electric bike world, plus ebike riding and maintenance tips!
Reader Interactions