Aventon Soltera.2 Review, 2023
A responsive, affordable, and comfortable city e-bike with an analog feel.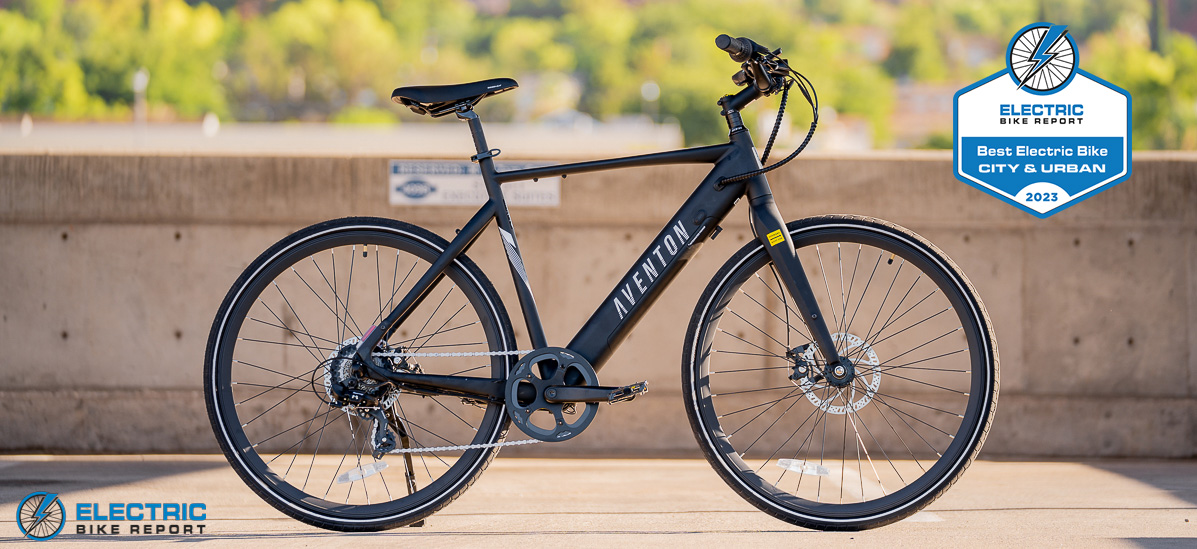 If you're tired of sitting in stop-and-go traffic during your morning commute, or you want to pedal from midtown to downtown a little faster, the Aventon Soltera.2 might be the perfect solution. The original version of this light-ish-weight city e-bike has been a staff favorite here at
Electric Bike Report
, and we're thrilled to share our experiences with the upgraded model in this Aventon Soltera.2 review!
Perhaps more than any other e-bike in the Aventon lineup, we were excited to try out the Soltera.2's new torque sensor. We've appreciated this update on the brand's other models, but with the heart and soul of a traditional bicycle, the Soltera seemed to deserve it most. We loved the resulting improvements in ride feel and motor responsiveness!
The Soltera.2 weighs in at a manageable 46 lbs. With its modest frame, 700x38c street tires, and a more relaxed steering angle than the first iteration, it felt incredibly nimble and maneuverable. Weaving through traffic just became a breeze!
Cyclists who don't wish to give up their exercise routine will be pleased to note that the Soltera.2 won't affect their ability to burn calories. The bike includes a relatively subtle 350W motor that boosts its rider to go further and faster but doesn't take over completely.
For an in-depth look at the latest city bike from one of the biggest e-bike brands around, check out our full Aventon Soltera.2 review below!
Right now you can get the Aventon Soltera.2 for $400 off during Black Friday savings! Click the button above, or head to our Black Friday E-Bike Deals page for more info.
*Editor's Note: Updated Nov. 20th, 2023 to include award badge, and links to latest info and pricing.
Class 2 E-Bike:
Throttle and pedal assist up to 20 mph (can be unlocked to Class 3 with pedal assist up to 25 mph)
Aventon Soltera.2 Video Review

Pros
Responsive and impactful motor assistance! With the upgrade to a torque sensor, the Soltera.2 feels like a traditional bicycle now more than ever.
Great handling and maneuverability! With a relatively lightweight frame and narrow 700x38c road tires, the bike can corner and weave quickly through traffic.
A traditional cycling experience! With a relaxed 350W motor that doesn't overpower the rider, it's still possible to get a good workout.
Road safety! The bike's taillights have been moved down to ensure visibility when equipped with the optional cargo rack, and now also include blinking turn signal lights.
A comfortable ride! The Soltera.2 features a less-aggressive lean than many city e-bikes, as well as ergonomic grips, and a slim but accommodating saddle.
Simple operation. The RevoShift twist shifter, four PAS settings, and large buttons make control adjustments easy.
Pairs with the Aventon app! The Soltera.2 can be unlocked to 25 mph, and the app can also track ride data.

Cons
The Soltera.2 feels like it could handle more power than it ships with. We'd like to see more juice on the throttle and full Class 3 (28 mph) speeds to unlock its full commuter potential.
Overall, the bike's range was solid, but fell short of Aventon's claim of 46 miles. We'd be happy if a larger battery (or separate range extender) were offered to reach the 50-mile threshold.
ELECTRICAL SPECS & FEATURES
Battery : Removable Internal Lithium-ion 36V 9.6Ah (360Wh) battery with LG cells
Display: LCD Smart Easy Read Display with Backlight, Colorful screen with app
Motor: 36V, 350W Brushless Rear Hub Motor with Torque Sensor
Headlight: Integrated, 300 Lumens
Taillights: Integrated, with all-new turn signal functionality
Pedal Assist: 4-stage PAS with torque sensor
Range: Up to 46 miles (claimed)
Throttle:Thumb throttle, Throttle on demand
App:Aventon App compatible
Weight & Dimensions
Claimed weight: 46 lbs
Weight limit: 300 lbs
Rider height: 5'-3" to 5'-10" (Regular), 5'-10" to 6'-4" (Large)
Components & Accessories
Brakes: Tektro mechanical disc brakes, 180 mm rotors
Fenders: Optional
Fork: AE-E09 Soltera AL fork
Frame: 6061 Single-Butted Aluminum Alloy
Drivetrain: 7-speed Shimano Tourney w/ 48T chainring and 14-28T cassette
Grips: Ergonomic Comfort
Saddle: Selle Royal
Handlebar: 31.8mm/680mm aluminum riser bar
Kickstand: Included
Pedals: Platform
Tires: 700x38c Kenda
Aventon Soltera.2 Review: Speed Test
In our Speed Test, I measured the Soltera.2's maximum speed in each of its pedal assist system (PAS) settings to get a picture of its power distribution. Because the bike uses a torque sensor instead of a cadence sensor, I maintained a moderate or medium level of effort throughout the test.
I found the bike easy to pedal with no pedal assistance, and measured 12.3 mph with only my own leg power moving the bike. The Soltera.2 weighs 46 lbs including its battery (relatively light for an e-bike), allowing it to be functionally pedaled as a non-electric bike if its battery dies.
Like all of Aventon's updated models, the Soltera.2 offers 4 levels of assistance: Eco, Tour, Sport, and Turbo modes. As I moved up through each of those settings, I measured 15.6 mph, 17.6 mph, 18.6 mph, and 19.7 mph respectively.
As shown by the graphic above, the pattern indicated by this data was similar to what we've observed with most other Aventon e-bikes; there is a significant increase in power in the bike's lowest setting, with relatively even increases in power going up from there – but not a huge difference in feel between the middle and top-end settings.
Of course, the Soltera.2's torque sensor is a large part of the equation; this allows the bike to adapt to the individual style of its rider – to a point. With more relaxed and casual pedaling, the differences between settings become somewhat more spread out but were still limited by the base-level power of Eco mode. On the other hand, with heavier, faster pedaling, its speeds across all settings get even more "scrunched" due to the Class 2 limit of 20 mph on the high end.
It's worth noting that, at least on our test bike, the Soltera.2 could be unlocked through the Aventon app to a maximum speed of 25 mph. I was unable to reach speeds over roughly 22 mph in Turbo mode, but I appreciated that this gave the Soltera.2 more room to breathe without the cap at 20 mph.
Considering the tuning of the bike's pedal-assist system, its intended environment, and its optional commuter accessories, we'd like to see a boost in power to support a full Class 3 mode. This would allow the bike to reach speeds of 28 miles per hour – which we believe is a safer traveling speed when riding alongside motor vehicles – and it might also give a welcome boost to its currently underpowered throttle.
Regardless, we appreciated the impact of the bike's torque sensor on the overall feel. The Soltera.2 encourages the rider to use their own leg power with the supplement of modest pedal assistance, making it appropriate for those looking for a more traditional cycling experience.
Aventon Soltera.2 Review: Range Test & Battery Performance
Using the methods explained above, we determined that riders can expect a range of between roughly 30 and 37 miles with the Soltera.2. This contrasts with Aventon's advertised range of up to 46 miles, but as always, there are a few factors to consider in relation to our results.
First, these results reflect the data gathered in our speed test; with only a few miles per hour of difference between Eco mode and Turbo mode, it makes sense that the bracket of figured determined by our range test data would look similarly narrow. If the power levels between those settings were greater, we would expect to see more variance in the amount of distance the bike could travel.
Second, the fairly powerful boost provided by Eco mode limits the overall range potential. We found it difficult to pedal slower than 14.5-15 mph in this setting even with a light pedal cadence and pressure, meaning that the bike was still using a significant amount of energy in this setting.
This is also reinforced by a comparison between our results with the Soltera.2 and the original version of the bike. We usually expect to see better range with a torque sensor, since it requires effort from the rider and allows the motor to do less work. The original Soltera, however, managed a whopping 49.5 miles – nearly 13 miles beyond our results with the Soltera.2.
All things considered, we'd like to see Aventon offer the option for a larger battery to extend the bike's range closer to – or beyond – the 50-mile mark we achieved on the original Soltera. Many of the similar city bikes we've tested offered optional range extenders (external batteries the size of a water bottle) to supplement the main battery, so this would be a welcome option as well.
The results we measured may have been less than expected, but they are still practical; riders with over a 35-mile round-trip commute are covered. And we did measure better efficiency in Turbo mode despite moving at top speed; the original Soltera traveled roughly 24 miles compared to the Soltera.2's 29 and a half.
Additionally, when estimating the amount of time our Turbo mode test would take, we expected to ride for roughly an hour as determined by the motor and battery specs (explained more in our guide to e-bike batteries). Surprisingly, the Soltera.2 gave us nearly an additional 200% – we traveled for 2 hours and 50 minutes.
Aventon Soltera.2 Review: Hill Test
The Soltera.2's performance in our Hill Test (explained in the graphic above) left a little to be desired, but it's worth diving in a little deeper to understand why. The bike was unable to make it up the hill using only its throttle, which was not surprising considering that the 36-volt motor has a nominal rating of 350 watts and a peak of just 500 watts. When pedaling in Turbo mode, we measured a time of 2 minutes and 13 second, with an average speed of 8.2 miles per hour.
In truth, this is one of the slowest times we've measured on any e-bike at this point in time, but there are a few caveats to consider. First, for the sake of consistency, we make it a practice to stay in the saddle during this test. We performed a second "unofficial" test while standing – which is likely how most riders would approach a path like Hell Hole Trail – and measured a substantially better result of 1 minute and 51 seconds and an average speed of 9.8 miles per hour. To be fair, the difference between the Soltera.2 and other bikes would likely be similar if we stood on those as well, but the Soltera is a great bike, and I don't want its numbers to overshadow that.
Hell Hole is an extreme challenge – exactly why we perform our Hill Test at that location. I once attempted to pedal up the path with no motor assistance and failed almost immediately, walking the bike up the steepest sections. The fact that the Soltera.2 allowed us to climb the hill – albeit slowly – is a testament to its effectiveness. In this case, the relatively low-powered traditional bicycle feel is a feature! The Soltera.2's modest motor gives its rider the sense that they are riding a non-electric bike but simultaneously allows them to do things they normally would be unable to do on their own power.
Additionally, the fact that the Soltera.2 has a throttle at all is somewhat of a bonus; we've tested many similar bikes with 350W rear-hub motors that didn't bother to include that feature. With the motor's peak of 500 watts and 45 Newton-meters of torque, it's not nearly as punchy and aggressive as a throttle on a 750W or even 500W motor, but it allows the rider to take an occasional break from pedaling. The Soltera's throttle can be a little sluggish to engage and slower to accelerate than those on other bikes, but we're still happy to see it included, as it does make the overall ride experience more enjoyable (but as stated earlier, we'd welcome a boost in power).
Finally, in my testing of the Soltera.2, I attempted a few less-intimidating hills. My experience lined up well with the results of this test; the throttle struggled in many places, but I was able to pedal the bike up hills I would otherwise have walked with just a moderate amount of effort. For what it is designed to be, the Soltera.2 is effective!
Aventon Soltera.2 Review: Brake Test

To evaluate the Soltera.2's brake system, we used the process described above to calculate its average stopping distance. Equipped with a Tektro mechanical disc brake system with 180mm rotors and 2-piston calipers, the bike performed well; its average stopping distance was 22'-10".
This result was slightly beyond the average across all city/urban e-bikes we've tested (currently 22'-1"), but still within our expected range of data. As such, we feel comfortable in saying that the bike's performance was adequate and its brake system was appropriately-specced and safe.
A hydraulic brake system would be even more effective at slowing the Soltera.2 down, but we were not surprised to see mechanical disc brakes included on the bike. Many e-bikes of similar size and style we've tested have used mechanical disc brakes simply because they are effective enough in conjunction with lightweight frames.
In terms of feel, the Soltera.2's brakes did a great job; they responded quickly and slowed the bike smoothly. Despite having relatively narrow 700x38c road tires, the bike maintained stability and a straight line of travel when coming to a stop. All in all, we were satisfied!
Aventon Soltera.2 Review: Ride Quality
The ride quality of the Soltera.2 was fantastic, though there are a few important elements of the bike to consider – namely the fact that, as a city e-bike, functionality and weight reduction are greater priorities than comfort. That said, the Soltera remains one of the most comfortable of its type that I've experienced!
I've discussed its feel and effect on ride quality previously, but In my opinion, the bike's torque sensor was truly the star of the show. The Soltera has always had the soul of a traditional bike, and that core aspect of the new version of the bike was allowed to shine with that upgrade. The simplest way I can put it is this: it felt like a non-electric bike, just better!
The Soltera.2's riding position is a moderate forward lean, made slightly more upright than many of the city bikes we've tested by its riser handlebars. I found its saddle to be well-padded and comfortably shaped, and its ergonomic rubber grips were comfortable and well-textured.
With its relatively lightweight frame and 700x38c tires, the Soltera.2 was impressively nimble and maneuvered gracefully. At 660mm, the bike's handlebars felt somewhat narrow to me (I have fairly broad shoulders) – and we learned that the handlebars on production models will be even more narrow at just 620mm. I'd personally have like to have seen 680mm bars, but fortunately, handlebars are both affordable and relatively easy to swap out.
With no suspension, the ride felt somewhat stiff when riding over rough patches, but otherwise felt smooth and comfortable. The absence of a suspension is not unusual on such bikes; again, comfort is a secondary concern. The tires granted some cushion and a surprising degree of stability for their width.
I appreciated the relatively minimal cockpit layout; the RevoShift twist shifter felt especially appropriate. We're always a fan of the Aventon display and pedal-assist system; the color LCD is clean and attractive, and we typically find that bikes with 4 PAS settings are more intuitive to use than those with 5. The standard Aventon control panel worked well also, and I liked that the turn signal buttons were quick and easy to reach.
As with all e-bikes from the brand, the Soltera.2 pairs with the Aventon app. This offers settings adjustments, ride data tracking, and a social community shared with all Aventon e-bike owners.
While the base model of the Soltera is relatively stripped-down, Aventon offers a handful of optional accessories. Fenders, cargo racks, mirror mounts, pannier bags, etc. can be added to equip the bike for commuting, errand-running, and more.
Aventon Soltera.2 Review: Summary / Where to Buy
After testing the Aventon Soltera.2, I'm thrilled to say that it met and exceeded our expectations – at least in terms of feel. We patiently awaited the torque sensor upgrade to this city bike, and couldn't be happier with the difference it made with the bike's ride. The original Soltera was a fantastic addition to the brand's lineup, but with its analog bicycle soul, it unquestionably deserved a torque sensor.
In terms of performance, the Soltera.2 had mixed results. The bike may not have fared so well in our Hill Test, but we understand the limitations of its 350W motor. Based on its specs alone, we were pleased with its performance in our Range Test, though we'd like to see an option to extend its range through a larger battery or a supplemental power source.
The bike did well in our Brake and Speed Tests, but considering the results of the previous tests, we'd prefer to see a boost in power for the throttle and to allow for the bike to reach the maximum Class 3 speed of 28 mph.
Those points of critique aside, the Soltera.2 is still a staff favorite and an overall great bike. It's a fantastic example of Aventon's expertise; it's a comfortable and effective e-bike that stays true to its analog roots and won't break the bank.
We highly recommend the Aventon Soltera.2 for riders looking to spend more time on 2 wheels instead of 4. It's an e-bike that gives riders the ability to climb intimidating hills, pedal faster, and travel greater distances while leaving the joy in a traditional cycling experience!
Happy Riding! Make sure to let us know if you have any questions down in our comments section or if you think we left anything out in this review of the Aventon Soltera.2.
Reader Interactions