Trek FX+ 2 Electric Bike Review, 2023
A lightweight city bike for easy carrying, commuting, and cutting across town.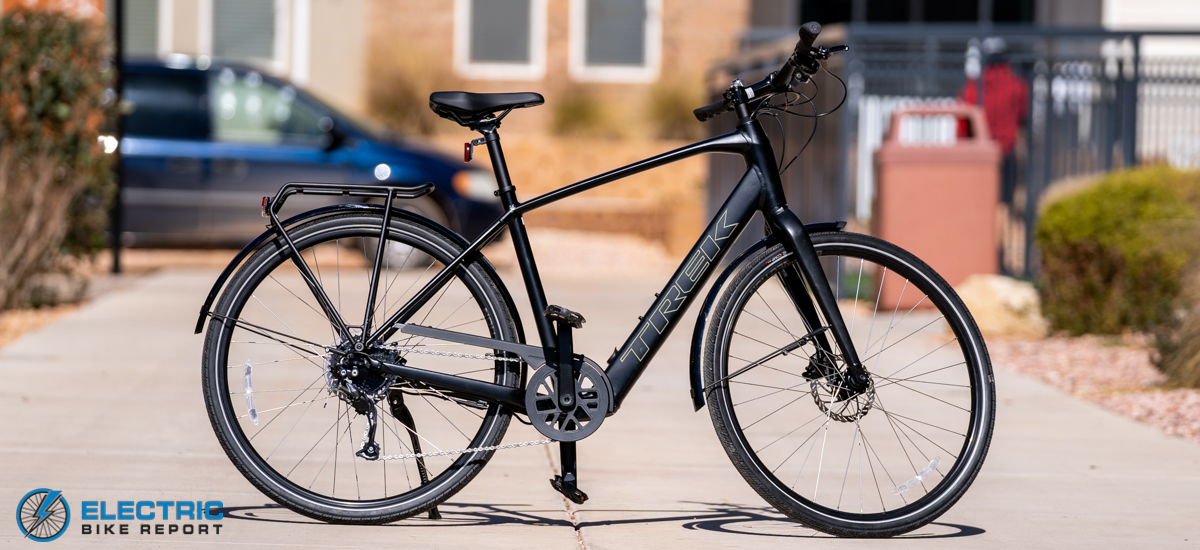 With the FX+ 2, Trek added an internal battery and small rear hub motor to its massively popular FX city bike, which gives its rider a subtle but effective boost for zipping around town. But this e-bike has certainly not lost its soul; the FX+ 2 has clearly been designed to maintain the overall feel of its non-electric cousin. In the following Trek FX+ 2 review, we'll take a close look at the specs, performance, and ride experience through the eyes of the testers here at
Electric Bike Report
.
When we first saw the Trek FX+ 2, we had to do a double take to make sure we received the electric version; there is really only one obvious indication that this is an e-bike! That surprise continued with our first test rides; aside from an initial boost of speed from the small 250W rear-hub motor, the bike's torque sensor and tuning provided a ride experience that was remarkably similar to a mid-drive motor, and therefore more akin to a traditional bicycle.
We were also stunned by the FX+ 2's incredibly low weight. At just 40 lbs, the bike is easy to maneuver at low speeds, and is capable of accelerating to higher speeds quickly. The lightweight frame also added to its non-electric feel by making the bike easy to pedal with no motor assistance if needed.
These features, combined with integrated commuter essentials like a rear cargo rack, front and rear fenders, a headlight, and a taillight make the bike a capable, practical metropolitan meanderer.
For more information about this terrific traverser of traffic, swipe up or scroll down to our full Trek FX+ 2 review!
Bike Category:
City / Urban / Commuter
Class 1 E-Bike:
Pedal assist up to 20 mph

Pros
It feels like a traditional bicycle! The FX+ 2 really strives to emulate the feel of a non-electric bike. With its subtle 250W motor and torque sensor, a stripped-down user interface, and the ability to be pedaled easily without motor assistance, the bike stays true to its old-school, urban roots.
It's incredibly lightweight for an e-bike. At just 40 lbs, the Trek FX+ 2 is easy to lift and carry, and has great acceleration and maneuverability at lower speeds.
The PAS system is optimized for three functional settings, instead of the commonly-seen five levels of assistance. We often find at least one setting to feel pretty ineffective, so it is nice to see all three settings providing a noticeable difference in input here.
The bike comes equipped for commuting right away, with an integrated rear cargo rack, headlight, taillight, and fenders.
It's super stealthy! The FX+ 2's rear hub motor is the only thing giving any indication that this is an e-bike, and even that is whisper quiet.
A functional app with motor customization! The FX+ 2's HyDrive motor pairs with the Hyena Rider Assistant app for ride and data tracking, visible metrics, and the ability to tune the output of the motor in each PAS setting.
Reliability and peace of mind. As a Trek product, the FX+ 2 benefits from the engineering and experience of a well-established brand. It also comes outfitted with a full scope of trustworthy components.
Trek offers the FX+2 in a huge variety of frame sizes and colors, allowing for a significant degree of customization for a wide spectrum of people. The high-step version has four frame sizes and three colors (including the flashy Viper Red), while the step-thru (or Stagger) model comes in three sizes and three colors.

Cons
The LED indicator on the left handlebar fits the overall aesthetic and soul of the bike, but we'd love to see a small, simple LCD display for accessible ride data without the need for a phone.
The FX+ 2's fully internal battery also continues the theme of the bike, but makes charging a bit more complicated. More importantly, the sealed frame will make replacing the battery difficult when it eventually stops functioning – only Trek dealers can perform the service.
ELECTRICAL SPECS & FEATURES
Battery : 250 Wh internal battery
Display: LED Indicator (no LCD display)
Motor: HyDrive 250W, 40 Nm rear hub
Headlight: Hermans MR4, 120 Lumen, 40 lux, LED
Taillights: Spanninga Solo
Pedal Assist: 3 settings
Range: Up to 35 miles
Throttle:N/A
Weight & Dimensions
Claimed weight: 40.13 lbs / 18.20 kg
Maximum total weight limit: 300 lbs / 136 kg
Components & Accessories
Brakes: Shimano hydraulic disc, MT200 lever, UR300 caliper, RT26 160mm rotors
Fenders: SKS plastic
Fork: FX+ alloy, internal brake routing, fender mounts, rack mounts, ThruSkew 5mm bolt-on skewer
Frame: Alpha Gold Aluminum, internal cable routing, internal battery, rack & fender mounts, post mount disc, kickstand mount, 144.5mm OLD hub motor spacing
Drivetrain: Shimano Altus, 9 speed, M2010 shifter, M2000 derailleur, HG200 cassette 11-36T, KMC X9 chain
Grips: Bontrager XR Endurance Comp, lock-on
Saddle: Bontrager Sport
Handlebar: Bontrager Alloy, 31.8mm, 15mm rise, 660-690mm width
Kickstand: alloy, rear mount
Pedals: Bontrager City

Tires: Bontrager H2 Comp, reflective strip, wire bead, 30tpi, 700x40c
Trek FX+ 2 Review: E- Bike Overview
When recommending e-bikes to friends or discussing them with new acquaintances who have asked about my job, I often hear some variation of the phrase "I'm not quite ready to give up pedaling yet." This is, of course, an inaccurate perspective about electric bikes in general, and one that could quickly be remedied by giving the source of such a speech the chance to take the Trek FX+ 2 for a spin.
This e-bike was clearly meant to look and feel like a bike first, and an electric bike second. The stealth factor is huge on the FX+ 2 in just about every department:
First, in aesthetics; the tiny LED indicator that replaces an LCD display and the use of a fully internal battery serve to remove the largest giveaways typically seen on an e-bike. That leaves the small, super-quiet rear hub motor as the only real tell, and even then, someone would have to look (and/or listen) closely. We have some critique, or at least some considerations to point out, regarding some of these choices – but overall, they do a great job of helping the FX+ 2 disappear amongst a lineup of non-electric bikes.
Second, in ride experience; that petite 250W rear hub motor provides a reserved, but noticeable boost of assistance that is far more subtle than the more commonly-seen 500W or 750W varieties. This is accentuated by the inclusion of a torque sensor, which is relatively rare in conjunction with a rear-hub (though it is becoming more common with time). We were genuinely impressed by how closely the feel of this combination resembled that of a mid-drive motor, a type which is highly praised due to its similarity to a traditional bicycle. The FX+ 2 is even highly functional without assistance from the motor, and able to be pedaled around with relative ease if the electrical system is not turned on. This is thanks to the 40-lb frame, which is comparatively lightweight when considering the heft that often accompanies e-bikes.
Speaking of e-bikes, the Trek FX+ 2 exhibits plenty of characteristics we appreciate in those, too. Most notably, our testing of the bike's pedal assist system shows increases in motor assistance spread out evenly between its three settings. This is a pattern we at Electric Bike Report really like to see, though it isn't as common as one might expect. Such steady increases provide an intuitive level of responsiveness to the bike, which just makes it more fun to ride.
We did find the bike's range to be a little on the low end when comparing it to similar urban / commuter models, though it has a few things going for it in that department to help offset our critique. We'll dive into those details and talk more about our testing deeper into our review of the Trek FX+ 2.
Trek FX+ 2 Review: Circuit Speed Test
Our first evaluation of the Trek FX+ 2 was our Circuit Test, which you can read more about from the graphic above. This allowed us to get a feel for the bike's HyDrive 250W rear hub motor and test out the performance of its cadence sensor.
With no motor assistance, the FX+ 2's slight frame and minimalistic character immediately came to the forefront. Many of the e-bikes I have tested are huge and heavy, a fact that becomes magnified quickly when the motor isn't doing anything to pull its weight. For this reason, the PAS 0 lap in our Circuit Test can feel dreadful. With the FX+ 2, however, it became a relative breeze. The bike's 40-lb frame is comparable in weight to a non-electric model on the heavier side, so completing that lap did still take some work, but I was pleasantly surprised by how much energy I had left as I rounded the last bend.
I noticed through my following three laps that the bike's small, 250W motor really reinforces its intention of being a bike first and an e-bike second. To compare again with other e-bikes I have tried, many more powerful rear-hub motors create the strong feeling of being pushed from behind. This feeling exists on the FX+ 2, but only lightly and when the motor first engages after starting from a slow coast or a stop. Once up to speed, the bike's torque sensor and motor work in tandem to provide a remarkably natural feel that I can only compare to a mid-drive motor. The motor engagement is subtle and sometimes difficult to perceive, until you realize you just climbed a hill you normally wouldn't have made it to the top of. This contrasts sharply with many more powerful rear-hub motors which can very obviously feel like they fully take over.
The FX+ 2 stood out from many other e-bikes I have tested through another way as well: its PAS system. It is extremely common to see pedal assist systems with five levels of input. It is also common for at least one of these levels to feel relatively ineffective. The FX+ 2 trims the fat here by focusing on just three PAS settings, all of which are functional, varied, and tuned intuitively.
The graphic above illustrates this point perfectly. It's relatively rare that we see such a linear progression between settings on an e-bike, and while it makes sense for some to deviate from the pattern, it's something we'd love to see more often. To boil down what the data and the linear graph means: when you increase the PAS level on the FX+ 2, you get just the amount of power boost from the motor that you would expect.
If I'm being honest, this isn't surprising. Trek has been making bikes since the 70s and e-bikes since the early 2000s, plus they're a massive company with plenty of funding to apply to R&D. They have the customer base to encourage them to do things right, as well as the experience and the development team to pull it off. You can see more evidence of this in our other Trek e-bike reviews. For now, let's get back to our Trek FX+ 2 review.
Due to its dependence on rider input, the FX+ 2 is capable of high speeds even at low PAS settings. As a Class 1 e-bike, this means the motor will contribute up to 20 mph. I was able to reach speeds close to this limit in PAS 1 when putting in some work, and this just became easier in PAS 2 and 3. Here at EBR, we often say that some e-bikes can make you feel superhuman, and I think this definitely applies to the FX+ 2 in PAS 3.
The FX+2's motor performance can be tweaked a bit by pairing the bike with the Hyena Rider Assistant app. We'll look at that a bit more in-depth later, but for now, just know that the motor output of the three PAS settings can be adjusted as long as the bike is stopped. PAS 1 has a range of 1-33% of the motor's total (nominal) power. PAS 2 can be set anywhere between 34-67% of the total output, and PAS 3 finishes out the range from 68-100%. I played around with this a bit, and the difference is relatively subtle on the already understated motor, but it can make a difference of a few miles per hour.
Trek FX+ 2 Review: Range Test & Battery Performance
To compare the FX+ 2's real-world range in relation to Trek's advertised performance, we put the bike through two tests to evaluate its battery life and measure the distance it was able to travel. Note that we performed this (and all other) testing with the default motor output settings; the aforementioned tweaks I made in the app were for experimentation only.
As shown in the graphic above, we recorded a distance of roughly 13 miles in PAS 3 and about 30 in PAS 1. While there are many factors that affect the range of an e-bike, including weather, terrain, the number of stops/starts, etc., our range tests do not present any extremes. As such, that 13-30 mile range should be a decent estimate of the FX+ 2's capability under everyday conditions.
For a city bike geared toward commuting, the range we saw is definitely practical, and should cover the distance most folks need to travel in a day (or maybe even a few). That said, the FX+ 2 did end up on the lower end of the range capability of many similar e-bikes we have reviewed, though its battery is also one of the smallest we've tested.
Trek seems to be conscious of their e-bike's limitations, however, as they offer a secondary battery that can be purchased for around $500 to extend its range for those who need it. Trek's marketing mentions the standard range of up to 35 miles, but also leans toward the 70-mile range granted by the use of both batteries. In the grand scheme, our testing lines up pretty well with their claims.
Quick side note: the optional "range extender" battery is cool. It secures onto the FX+ 2's water bottle mounts on the bike's down tube and plugs directly into the charging port for the stock internal battery. This means the additional battery is easy to carry and use, as it can fit in a satchel or be taken into the office for recharging.
The 250Wh fully-internal battery on the FX+ 2 is worth dwelling on for a moment. While its completely concealed nature adds to the stealth factor of the bike, and also helps to reduce weight, there are some concerns to be aware of. First, all batteries will eventually need to be replaced, and the fact that the battery on the FX+ 2 is completely sealed inside the frame means that only a Trek dealer will be able to perform this service.
A second consideration with the internal battery is charging. Removable batteries can often be charged in place on the e-bike or taken inside and charged separately, but internal batteries such as the one on the FX+ 2 are only able to be charged by plugging the bike in. The lightweight frame of the FX+ 2 makes carrying it inside or up stairs easier, but that will need to be done every time the battery runs dry.
Our overall takeaway from the range test again comes back to the fact that the Trek FX+ 2 is meant to feel like a traditional non-electric bike. It has respectable range in its minimum PAS setting, which encourages more input from the rider. And even if its battery does expire while out on the road, the bike can be pedaled pretty efficiently without motor assistance. For those looking to use the FX+ 2 for longer rides, however, we do recommend picking up that optional extra battery.
Trek FX+ 2 Review: Hill Test
Our Hill Test, explained above, was another excellent case in point exemplifying the Trek FX+ 2's lean toward feeling like a non-electric bike. Considering that it has a small rear hub motor with a torque sensor, it relies on rider input more than many other e-bikes out there. I mentioned earlier that the bike gives you a superhuman feeling thanks to its ability to move you further than you'd normally be able to go with leg-power alone, and this is especially noticeable when climbing steep hills.
Our test hill, Hell Hole, is not a path that most folks would attempt to pedal up on a regular bike. Since the FX+2 is a Class 1 with no throttle, we performed only a single trip up the slope in PAS 3. After making the climb, we definitely felt a bit more out of breath than usual when relying on maximum pedal assistance, but we were impressed by the bike's ability to extend the normal limits of human power. Again, we were a bit tired, but we also felt like doing the process a second or third time wouldn't have been a problem.
When comparing the Hill Test results between the FX+ 2 and similar e-bikes we have tested, it falls somewhere in the middle of the pack. This is not unexpected, due to the bike's relatively low-output motor and torque sensor; it makes you put in the work, but meets you halfway (even though it might feel like you're giving a little more than 50%).
In short, the Trek FX+ 2 is a capable hill climber, as long as you – the rider – are.
One quick side note which ties in to our next topic of discussion: it's important when coming down an especially steep slope on the FX+ 2 to maintain control of your speed. I let mine get a bit higher than I should have on one occasion, and when I applied the brakes to compensate, I found that the combination of my own weight / inertia, braking force, and the bike's lightweight frame caused a brief but alarming sideways slide. Feathering your brakes and keeping your speed under control will help to avoid any similar scares. This isn't criticism of the bike or the brakes at all, just something to be aware of and careful about.
Trek FX+ 2 Review: Safety and Brake Test
While this review of the Trek FX+ 2 has shown that it is light on bells and whistles, some of the bike's included commuter-centric features do add to its level of safety.
First and foremost are the integrated headlight and taillight, which we consider essential for riding in and alongside traffic. Brake lights and turn signals would be a fantastic addition to the bike, but they're not super common in general (yet), so we can't hold their absence against anyone. I did notice during my testing that the wiring for the headlight on the FX+ 2 didn't seem to be as well protected as I expected, but I also did not encounter any problems with it.
The FX+ 2's Shimano hydraulic disc brakes and 160 mm rotors are another feature we appreciate seeing on any e-bike. To test this setup, we pedaled up to the FX+ 2's Class 1 maximum-assisted-speed of 20 mph, then came to a complete stop while maintaining control of the bike. We repeated this process three times, measuring the distance it took for the bike to stop for each test, and then averaged the results.
With an average stopping distance of an even 22', the FX+ 2 is a little on the slower side when compared to similar e-bikes we have tested, but it is still well within our range of expected results. We did notice that the bike had a bit of a tendency to skid when clamping down hard on the brake levers, but considering its weight, this was not unexpected. It also did not feel dangerous or problematic – just something to keep in mind and be prepared for.
An additional minor safety feature that we appreciated was the reflective strip on the Bontrager 700x40c tires; such a large reflective surface is sure to catch the eyes of any drivers the bike crosses paths with. There really is not such a thing as too many safety features, so every detail that adds to the overall safety factor is worth acknowledgment.
Related to safety, I do want to draw attention once again to the fact that the Trek FX+ 2 is a Class 1 e-bike. This means that it only features pedal assistance (no throttle), and only then up to 20 mph. There is something to be said for the ability to get up to traffic speed quickly (which a throttle would help with), as well as an inherent level of safety when traveling with traffic at higher speeds (such as the 28 mph limit we often see on Class 3 commuter e-bikes). There are, of course, also some potential dangers at higher speeds, which make this discussion an ongoing debate in the e-bike community. But we'd like to see the option for a throttle on the FX+ 2, for those who might like a little extra boost in traffic.
With these things in mind, it is clear that Trek has made some intentional decisions with the FX+ 2 out of a commitment to maintain the heart and soul of a traditional bike. I think this is admirable, but there is also a ripple effect with those choices that needs to be understood on the consumer side. To be clear, that isn't a negative in relation to the FX+ 2, just again, something worth stating and being aware of.
Trek FX+ 2 Review: Ride Comfort & Handling, Cockpit, and More
Overall, I think the Trek FX+ 2 is a suitably comfortable e-bike for its intended purpose. As a hybrid city bike with features that overlap into the commuter space, it is designed for flexibility. I do have some critique about a few of its features (or lack thereof), but again, it stays true to its mission.
Let's talk about rider position, contact points and interface. The FX+ 2 places its rider at a noticeably forward lean, which is not nearly as aggressive as a road bike, but also much less upright than a cruiser. It's pretty comfortable, and it makes sense in context with the rest of the bike. The saddle was one area I wasn't a huge fan of, as its performance-oriented shape was a little too rigid and narrow (read: wedgie-inducing) for my personal comfort – but I would imagine it would be pretty comfortable for a smaller person. Fortunately the saddle is an easy thing to swap out if you find yourself in my boat.
I did appreciate the flat handlebars, which had comfortable ergonomic rubber grips. The under-the-bar, trigger style Shimano shifter was a nice choice too. I had no distinct thoughts about the Bontrager pedals, but another of my fellow testers mentioned that they felt larger and more comfortable than expected.
The display, or absence of one, is certainly one of my larger areas of criticism. Aside from the front brake lever, the left handlebar's only addition is a small LED indicator panel that serves to replace some form of an LCD display that typically accompanies an e-bike. To be honest and fair, this really DOES feel like it fits the character of the FX+ 2, but while riding, I couldn't shake the desire to have access to more than just the super-basic battery life and PAS level readout.
Many similar e-bikes feature tiny but effective screens that display a wider scope of ride data without taking away from that prized stealth factor or minimalistic approach. Personally, I'd love to see Trek include (or at least give the option for) some sort of LCD display, though this is a great time to circle back about the Hyena Rider Assistant app.
It's not immediately obvious that the FX+2 pairs with an app; we had to reach out to Trek with some questions in order to learn that it was possible. Once I set up the app and it connected with the bike's HyDrive motor, I was really impressed by everything it could do. Most importantly, the app allows your phone to be used as a display for the bike, showing relevant ride data like speed, trip time, odometer reading, battery life, and predicted range based on current settings. It also has a GPS and tracks your ride data over time.
We already covered the app's ability to adjust motor output, but there are a couple of other unique features it has, too. The app provides a battery health reading, so you know when it's time to replace it, and it can tell you when your next maintenance is needed. You can also set an alert so the app can remind you to charge the battery when it's getting low. I really appreciated all of the app's features, so I'd definitely recommend using it, but you'll need to pick up a phone mount for the handlebars separately.
On the move, the Trek FX+ 2 feels solid and responds as expected. The large wheels with narrow tires combine to make the bike feel really nimble and easy to maneuver at low speeds, but create some serious stability and inertia at higher velocity. When approaching the bike's top speed, I feel like it really just wants to keep going straight.
Before we wrap up this section of our Trek FX+ 2 review, I want to point out a couple of small but significant things that I really enjoyed about the bike:
First, the chain guard. It's such a simple thing, and I think many manufacturers forget to include one for that reason. Considering how much time I spend on a bike, I love instances when I know that I don't have to worry about getting grease on my pants thanks to such a useful piece of plastic.
Second, while I gave my thoughts about the LED indicator panel, one feature I have to give credit for is its battery life sensor. We generally prefer percentage-based readouts (which the Hyena app uses) due to their greater accuracy over the bar-based variety. The 5-light system on the FX+ 2 did seem to be pretty consistent and reliable in our testing though, and worth a nod.
Next, the FX+ 2 is more customizable than I expected it to be. The two frame styles each have multiple size options, for a total of 7 combinations. This allows the bike to fit a pretty wide range of people, and the variety of colors Trek offers means that proper sizing and personal style don't have to be separate.
Finally, while I have mentioned the rear rack being a nice feature for commuters, there is more to it than just that. The rack is MIK-compatible, meaning that an absolute mountain of accessories (baskets, bags, crates, etc.) can be accommodated by it – though be sure not to exceed the bike's total weight limit of 300 lbs, or the
Trek FX+ 2 Review: Summary / Where to Buy
If you're a city cyclist looking to hold on to the core of your riding experience while taking advantage of the power offered by electric bikes, the Trek FX+ 2 should certainly be on your radar. It takes great lengths to maintain a connection with its roots as a function-forward, human-powered machine, but also makes it easier and more fun to go farther, faster, and further uphill.
The FX+ 2 has some serious advantages thanks to its Trek heritage, first of which is the expected reliability and peace of mind that comes from such a trusted, firmly established titan in the industry. More specifically (and more personally relevant), The FX+ 2 benefits greatly from its well-tuned pedal assist system and smooth rear-hub motor, both of which show clear signs of careful engineering.
When compared to many similar city-centric e-bikes, the FX+ 2 also comes equipped and ready for practical, safe use. Its outfit of commuter-focused features give it a leg up right out of the box, allowing its user to tackle that morning ride to work without stress. And the fact that its frame is so light makes it easy to lift and carry on foot, and accelerate and maneuver on the road.
It's not a perfect e-bike, though in most cases, the factors here seem purposeful in staying true to its ethos. While we appreciate the weight conservation, a removable battery would just be more user-friendly for use and replacement. Similarly, while the trim LED panel fits the FX+ 2's overall theme, we'd love to see at least the option for a small LCD display.
All things considered, however, the Trek FX+ 2 does bring a lot to the table, and definitely succeeds at what it's trying to achieve. The bike is clearly geared toward a certain type of cyclist; if you're looking to get a workout while weaving around town, the Trek FX+ 2 might just be your ticket!
Happy Riding, make sure to let us know if you have any questions down in our comments section or if you think we left anything out in this review of the Trek FX+ 2.
Reader Interactions