The Cycle Show – Birmingham UK 2019 Electric Bike Show Report [VIDEOS]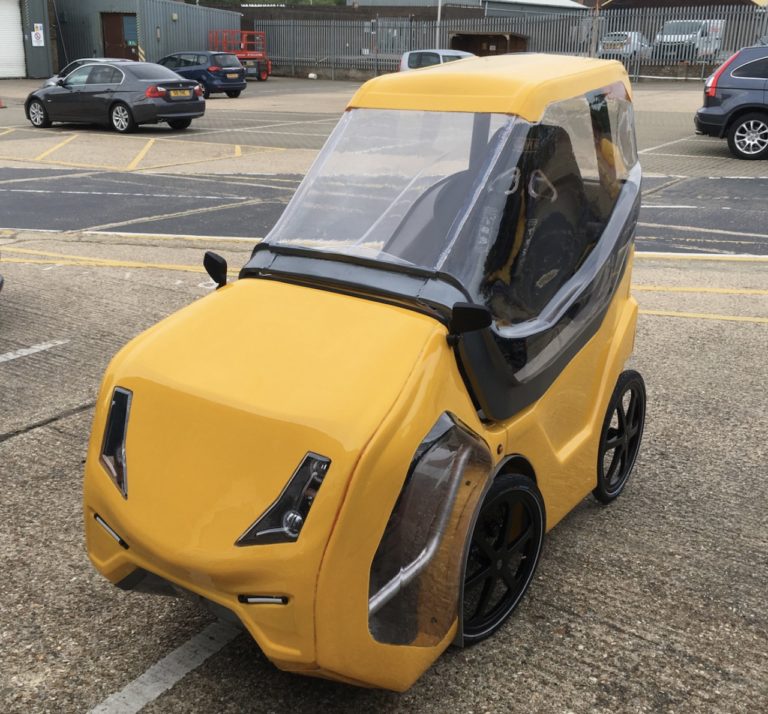 The Cycle Show is held annually in the UK's second city, Birmingham, and this year seemed to be spilling over at the seams with new e-bike launches.
In this report from the show are:
DryCycle Electric Assist Velomobile
New eMTBs from Kinesis & Whyte
eFolders from Crosshead, Gocycle, & MiRider
Light Friction Kit from Revolution Works
eCargo from Benno, Neomouv, & Riese & Muller
Adventure eBikes from Corratec, EBCO, 02 Feel, Pedego, Wisper
And New Accessories
Enjoy the show!
Headline Grabber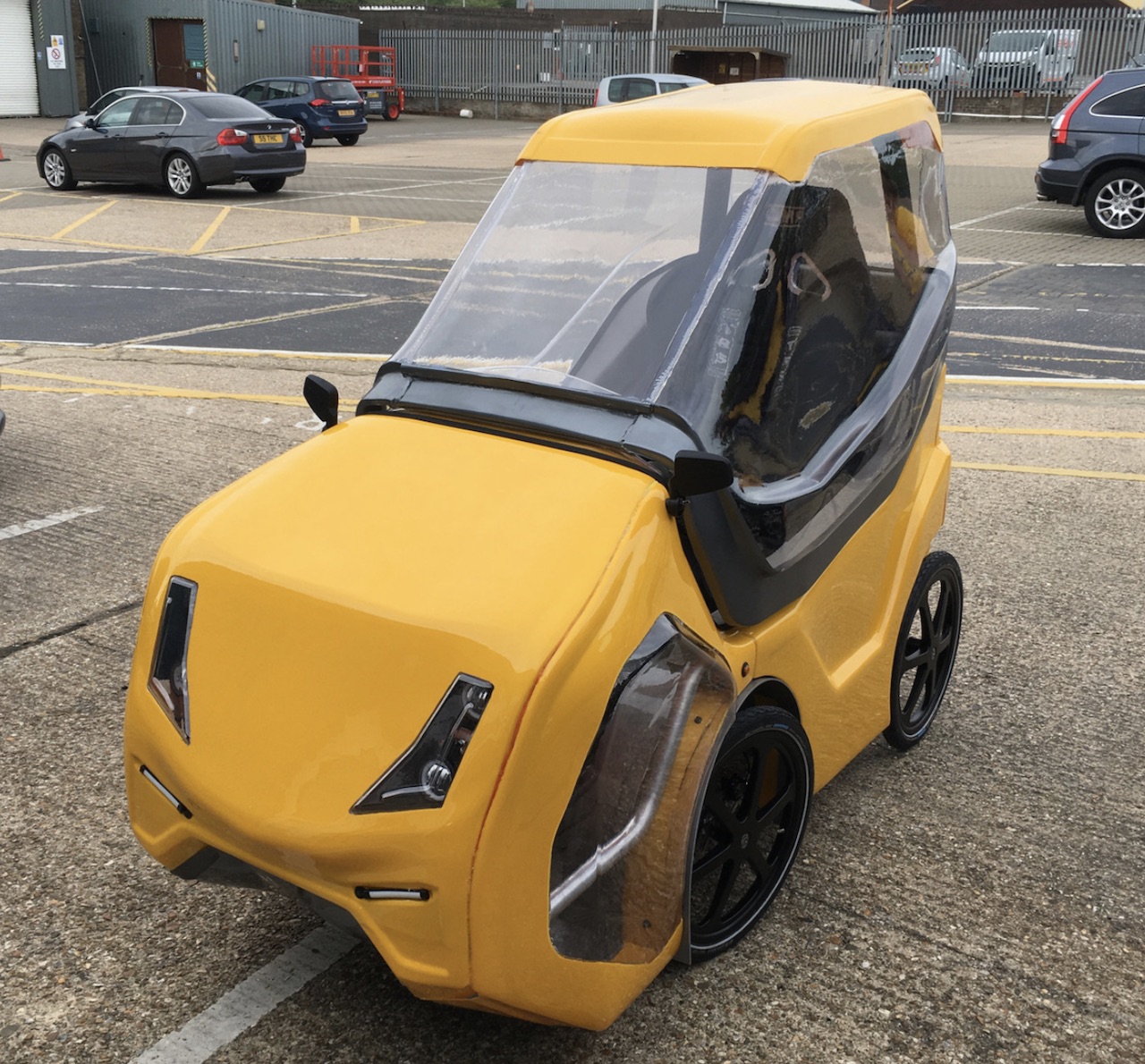 The real headline grabber was the Dry Cycle; an electric assist velomobile powered by a Shimano Steps motor that means, legally speaking this vehicle is an e-bike made to European spec and doesn't need any of the red tape associated with larger vehicles and of course it can be ridden on suitable cycle paths.
So, it offers an e-bike experience with the benefits of a fully enclosed, weatherproof ride (there is even a 12V socket which a heater can be plugged into for winter riding).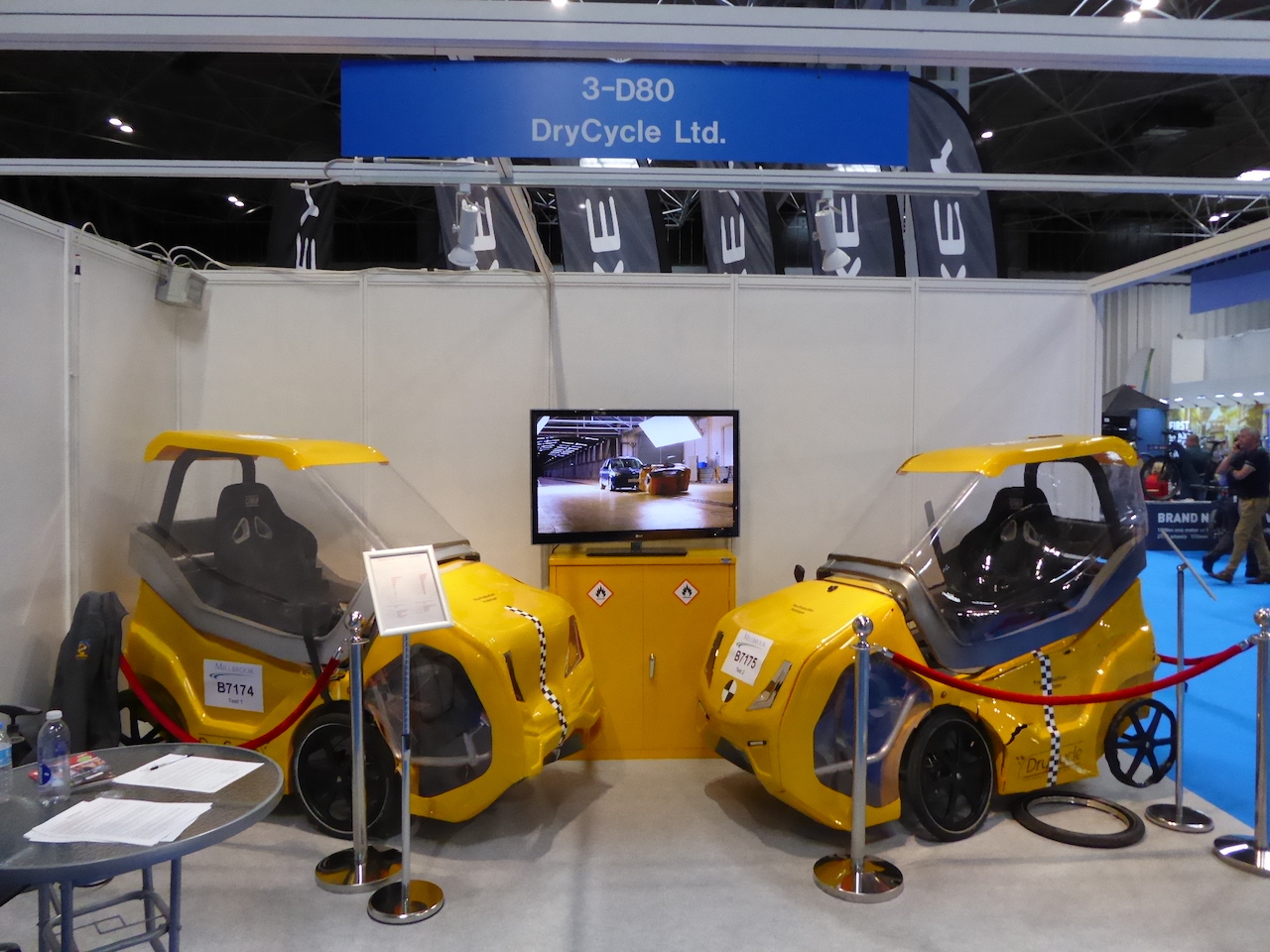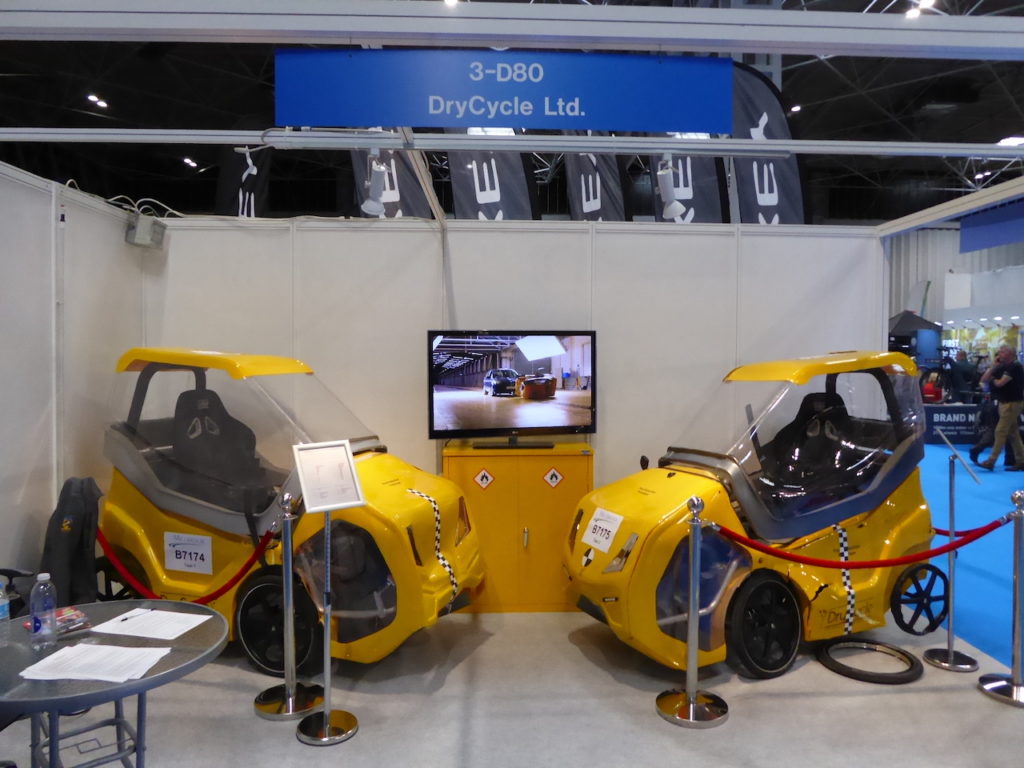 There were crash-tested models and a video on display to emphasise the safety credentials of the aluminium substructure.
It's the brainchild of Andy Murphy and the Dry Cycle is now under manufacture in the south-east of the UK and they already have sales under their belt.
I took an open top version for a spin round the Bafang test track and was impressed by it's speed, comfort and maneuverability. Full spec here.
Smaller More Powerful Bosch Everywhere
First up I paid a visit to Whyte, where new e-mtbs, the E-150 RS and E-180RS were on display.
Whyte's Carl Jennings told me that this UK designer of high quality mountain bikes had previously held off producing an e-mtb until the latest Bosch (Generation 4 motors) were available as these had been designed 'from the ground up' for use on e-mtbs.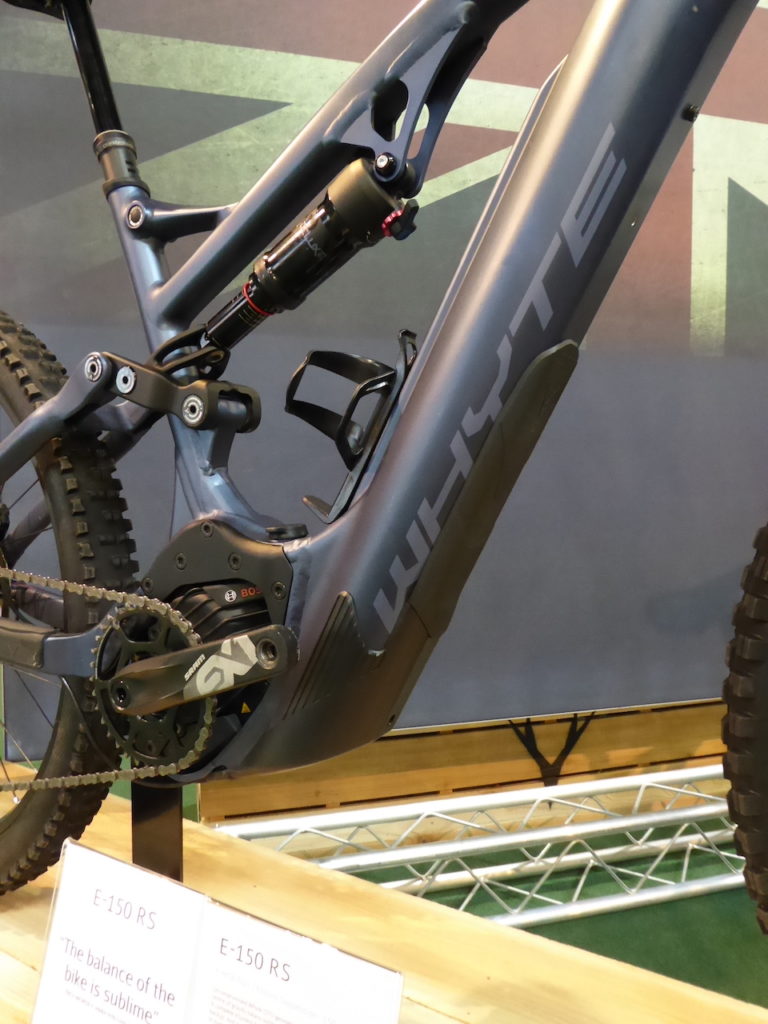 Whyte used the opportunity presented by the smaller, lighter motor to preserve the exact same frame geometry of their well-regarded non-electric mtbs.
For more detail on the 2020 Bosch Performance Line CX as used by Whyte check out this helpful article by Infinity Cycles.
Most notably the new 2020 motor weighs 25% less than the equivalent predecessor model whilst the new Bosch Powertube batteries for 2020 give 25% more capacity at 625Wh.
The E-150 RS was taken for a unique preview spin earlier in the year by one of the UK's most experienced MTB testers and here is a ride review plus a tech-laden walk round review filmed in the UK's Lake District.
More Small Motors and a Batch of E-folders
Talking of small motors, Fazua motors also appeared to be going from strength to strength.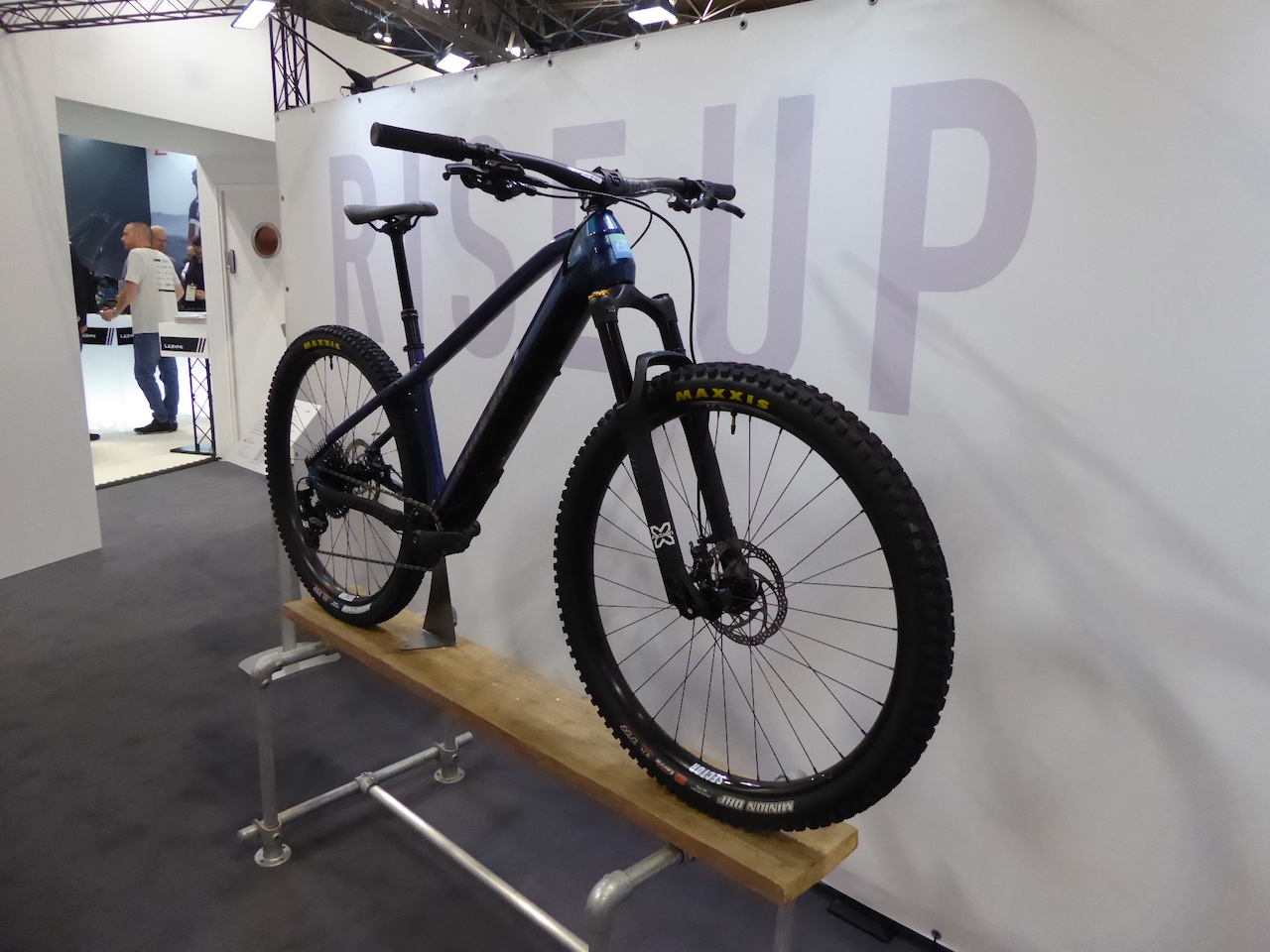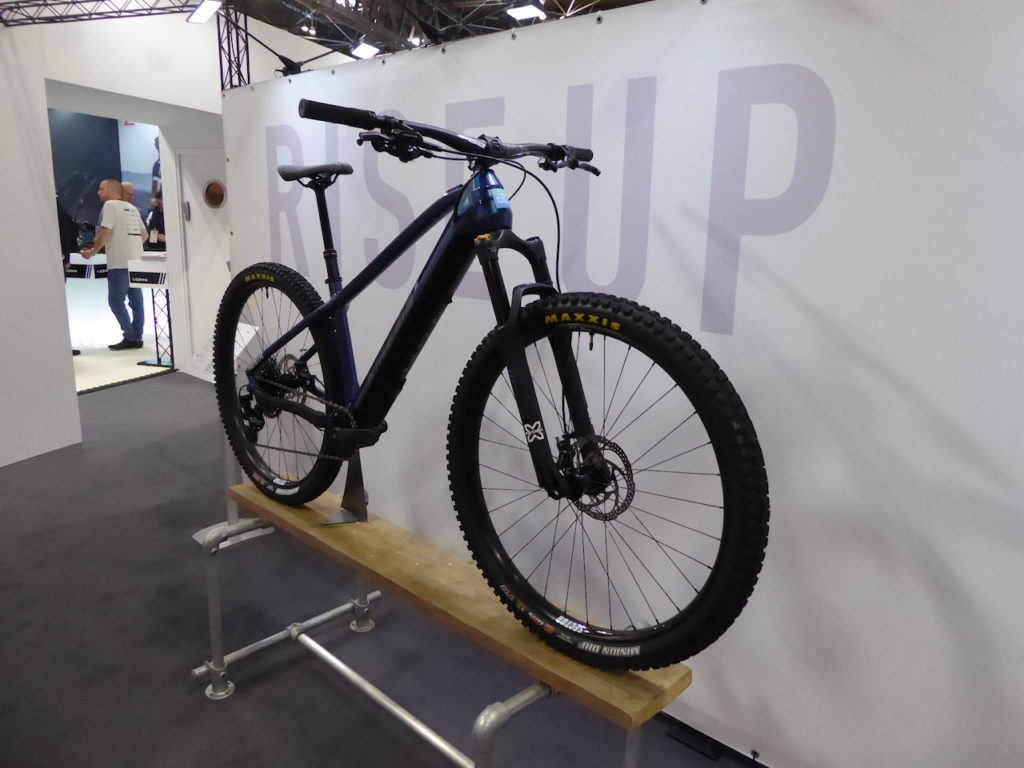 Another UK firm launching their first e-bike was Kinesis, who have a very loyal following in their home country, both for the quality of their bikes and for their competitive pricing.
Kinesis were using the show to launch the Rise model powered by the lightweight and quickly removable Fazua motor system.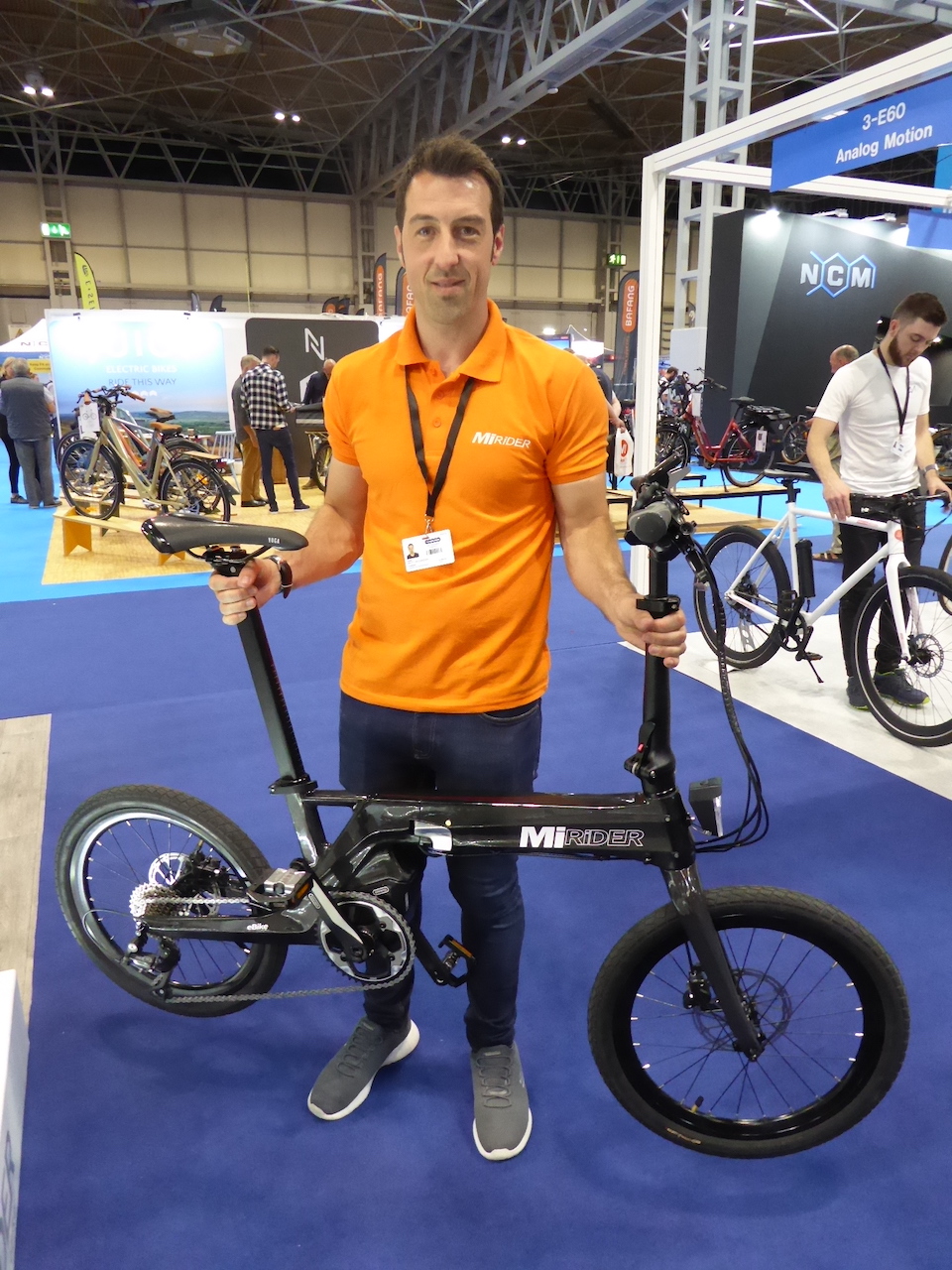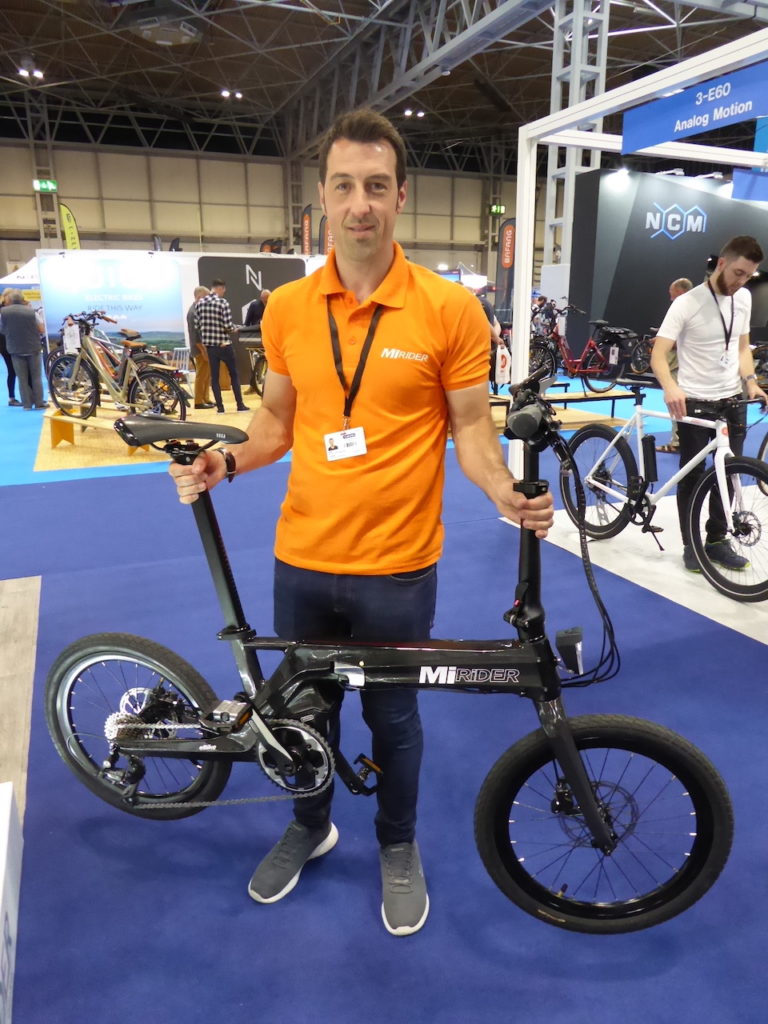 MiRider are a newly launched brand of full suspension e-folders with the launch model being the MiRider One.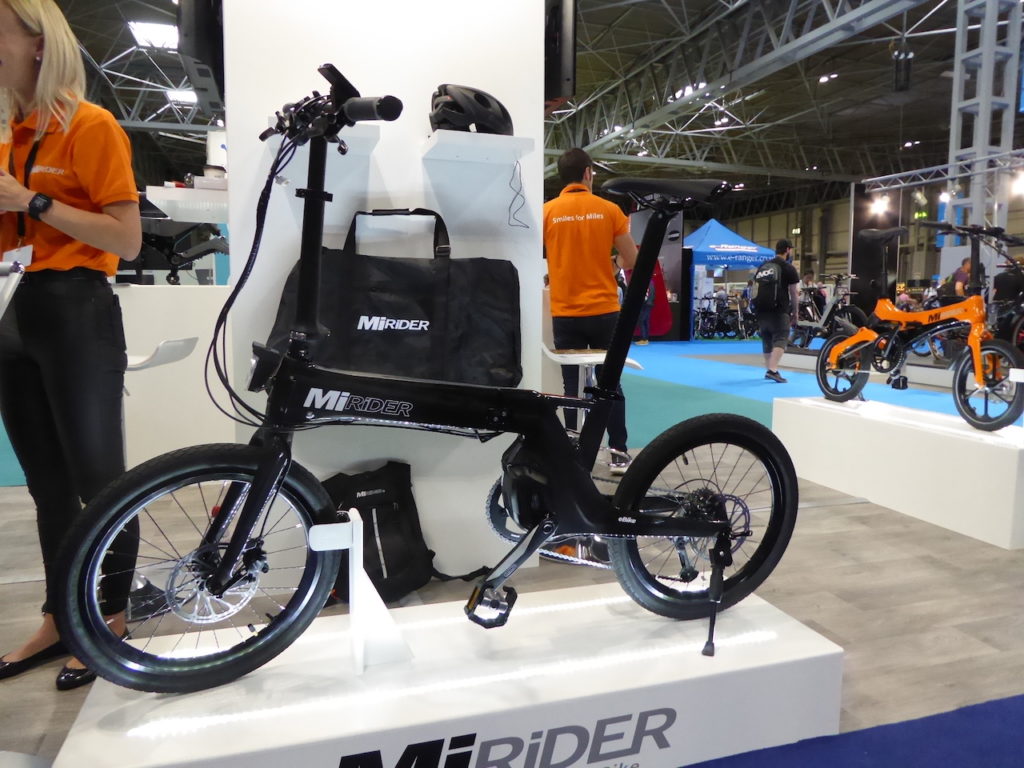 However, the MiRider Two, a carbon fibre framed model powered by a Bafang M800 mid-drive caught my eye.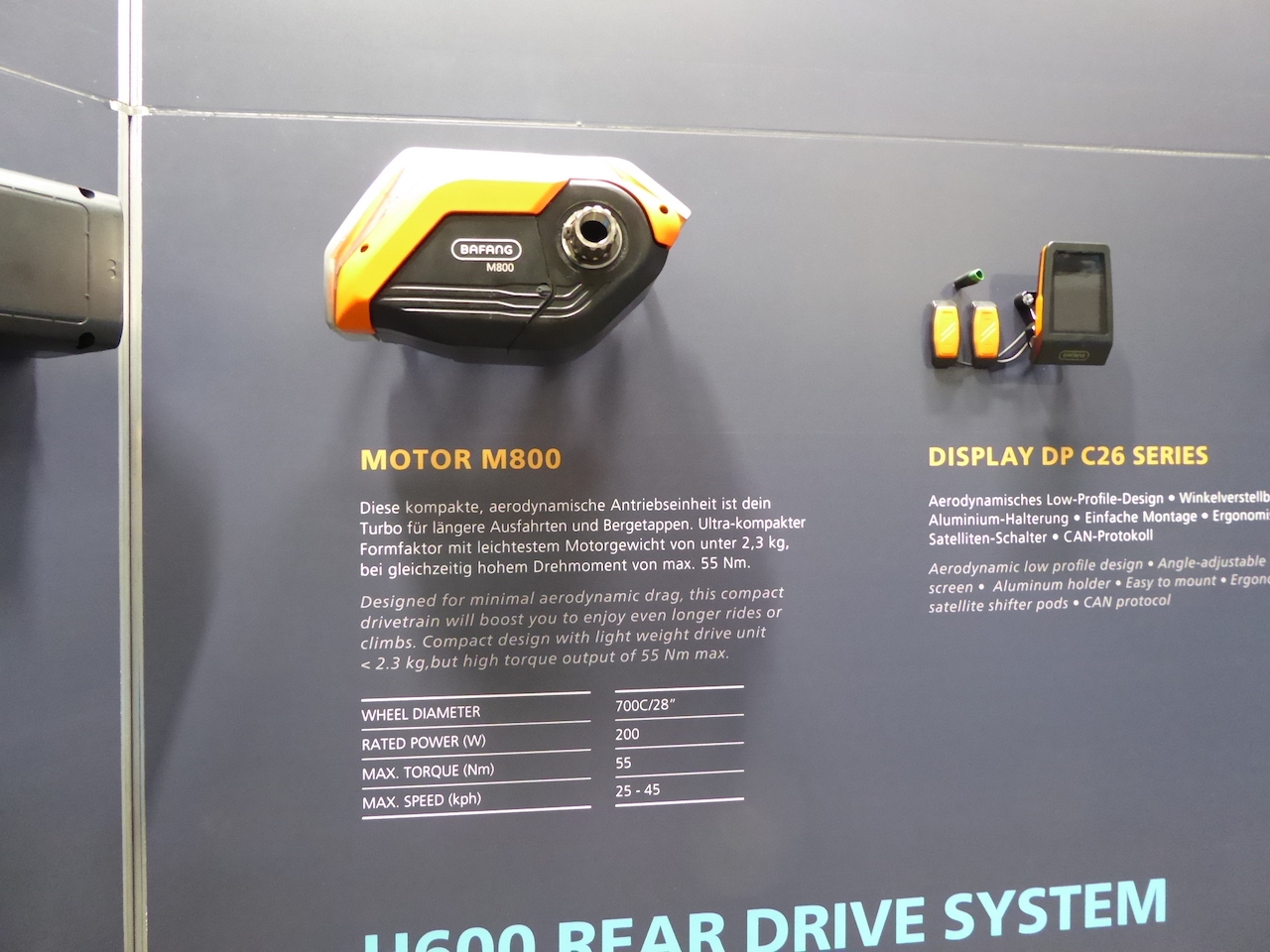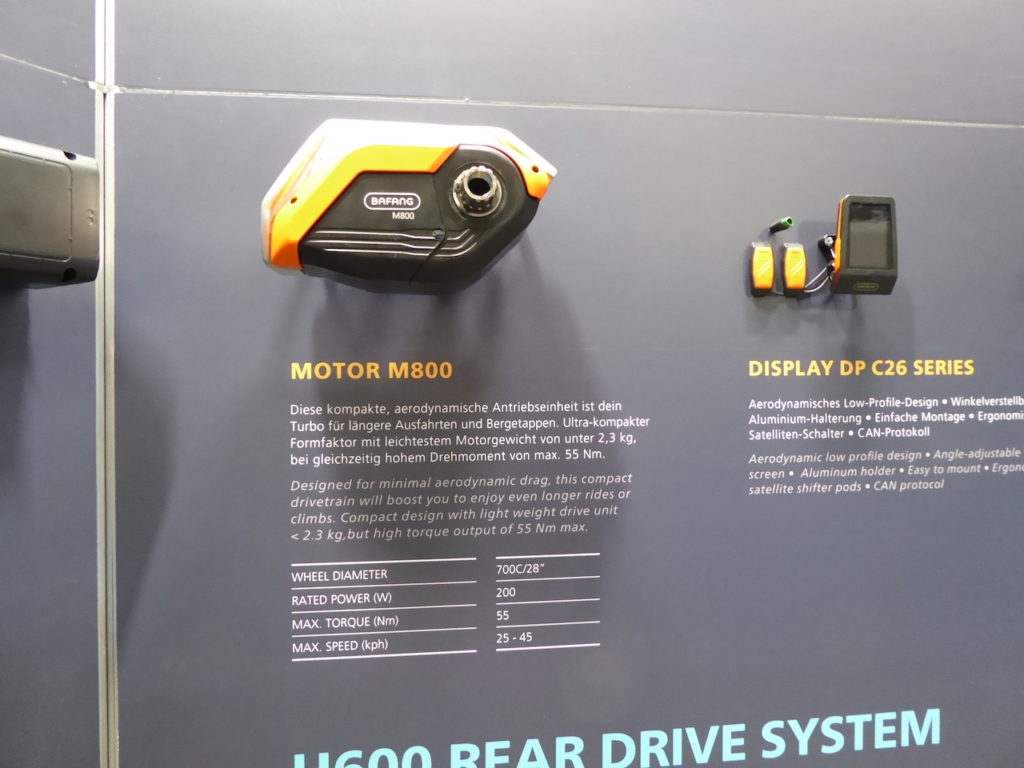 It was yet to officially launch, however, the stand info indicated a weight of just over 16kg and retail price of £3000.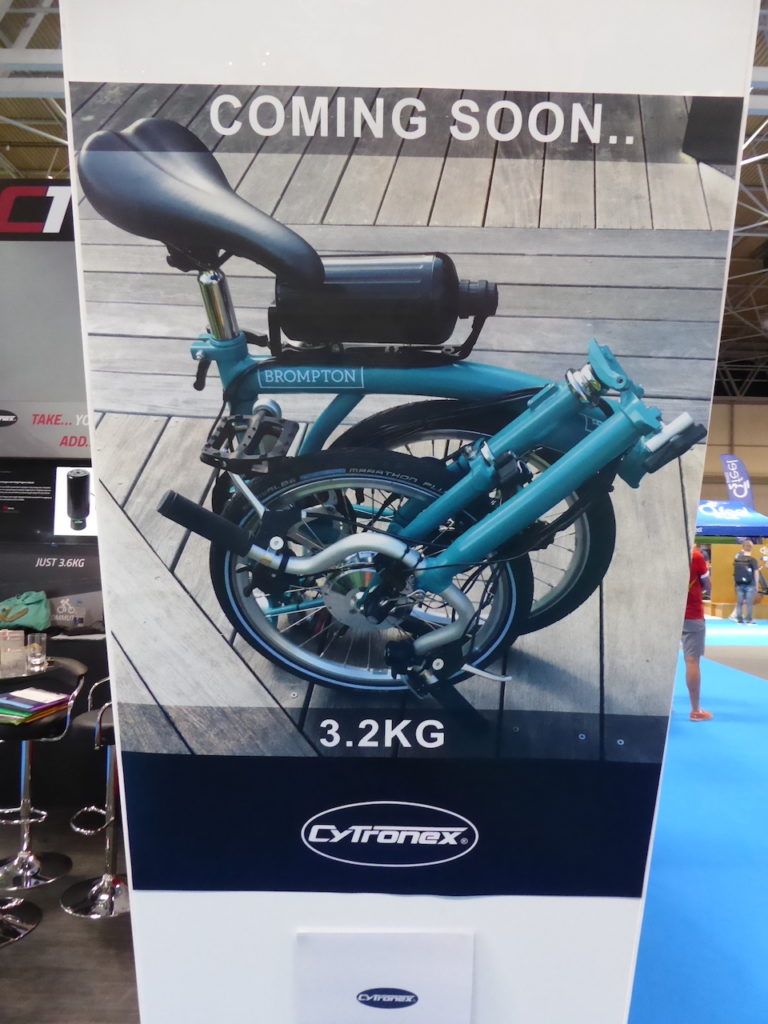 Talking of e-folders, we have often mentioned the very clever retrofit UK design Cytronex. They are mentioned several times in our guide to kits.
They are constantly making small but real improvements to their design, the latest being a redesigned water bottle catch mechanism, but their big news was the poster at their stand indicating a future Brompton-compatible motor kit (Brompton front forks are narrower than standard forks).
A high quality retrofit option for the world's best folding bike maker starting at £995 / circa US$1240 looks a real winner.
Another innovative British manufacturer, Crosshead, were exhibiting an electric version of their innovative folding bike.
The folder itself is designed to ride like a big bike but the three way fold folds smaller than other folders that are similar size when unfolded (full review of the non electric version here in A to B magazine).
The electric version uses a Zehus 'all in one' rear hub motor and Crosshead told us Zehus have a new version in the pipeline that can accommodate derailleur gears.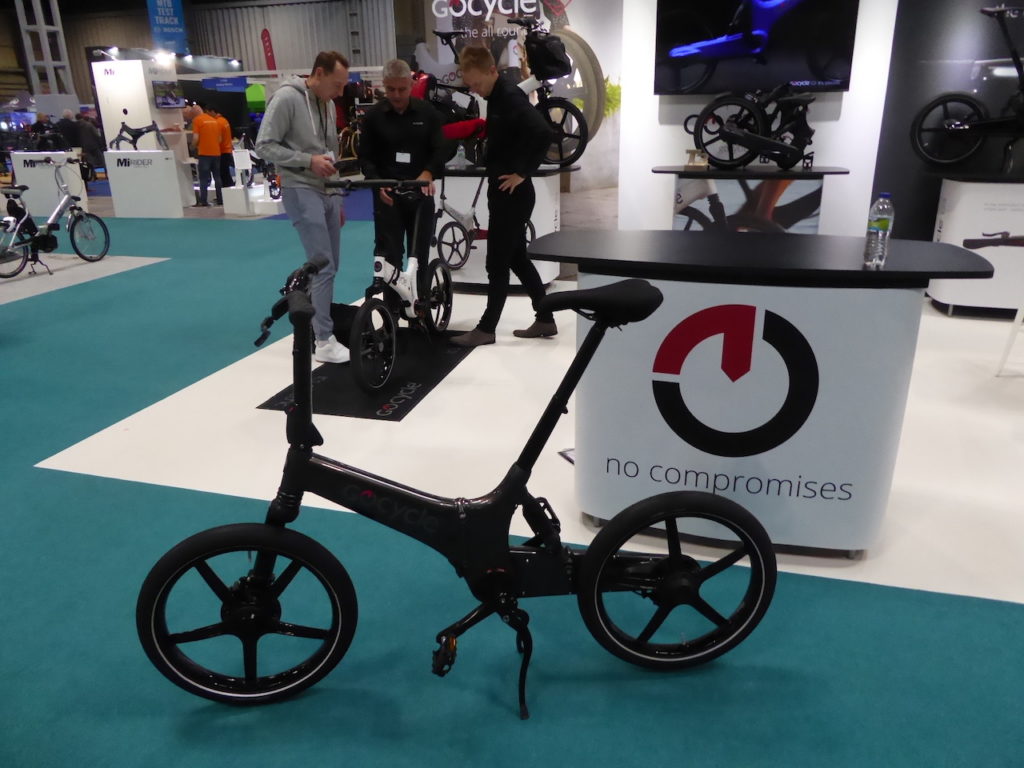 Also of interest for those looking at something with a lightweight hub motor were the new singlespeed range from London's Analog Motion and GoCycle's new top of the line folding bike, the GXi.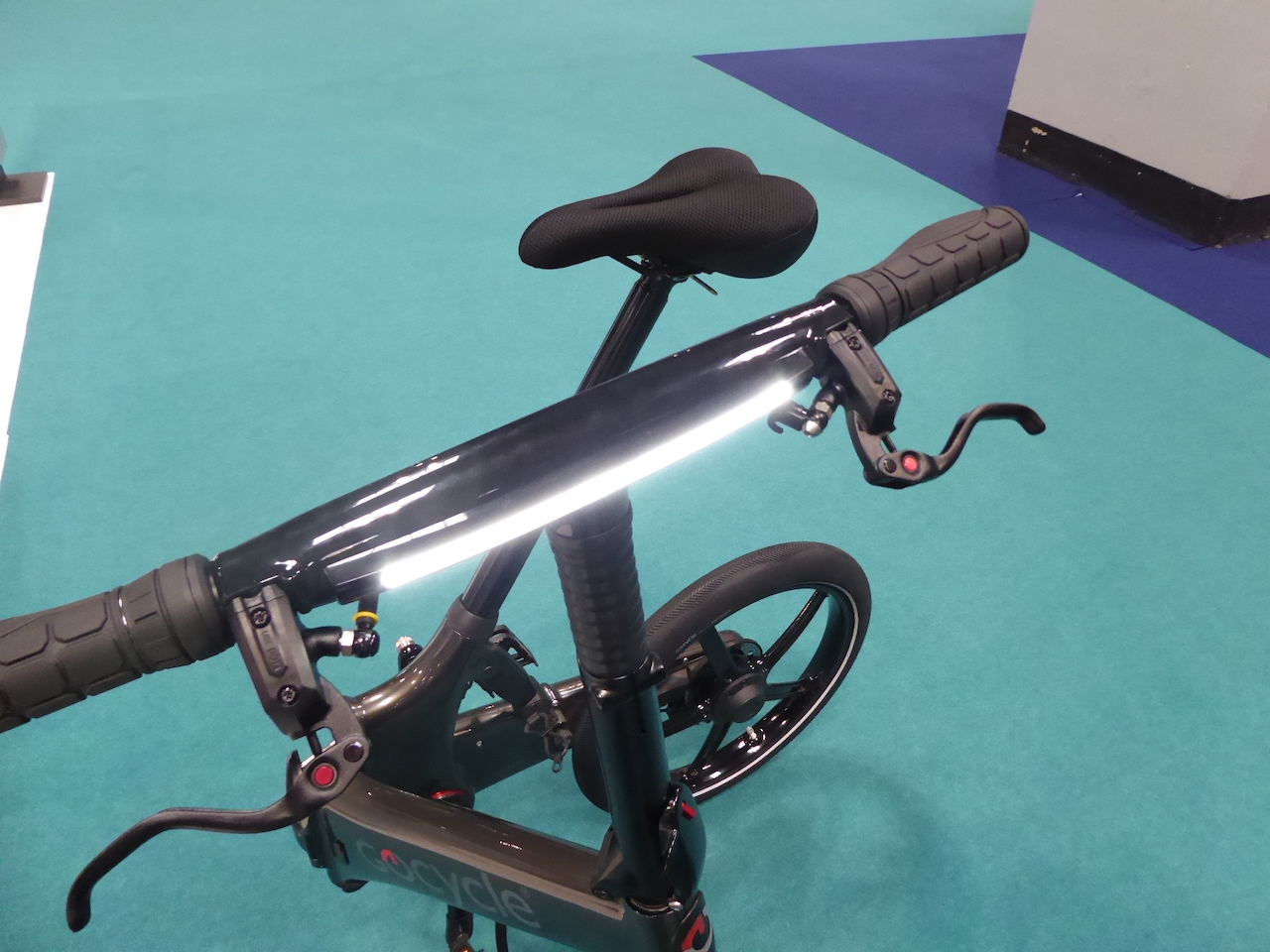 It featured a very futuristic LED handlebar display with daytime running lights and predictive gear shifting.
Gocycle GXi is available to pre-order now, priced from £3,699; €4,199; $4,799 MSRP with first deliveries beginning at the start of 2020.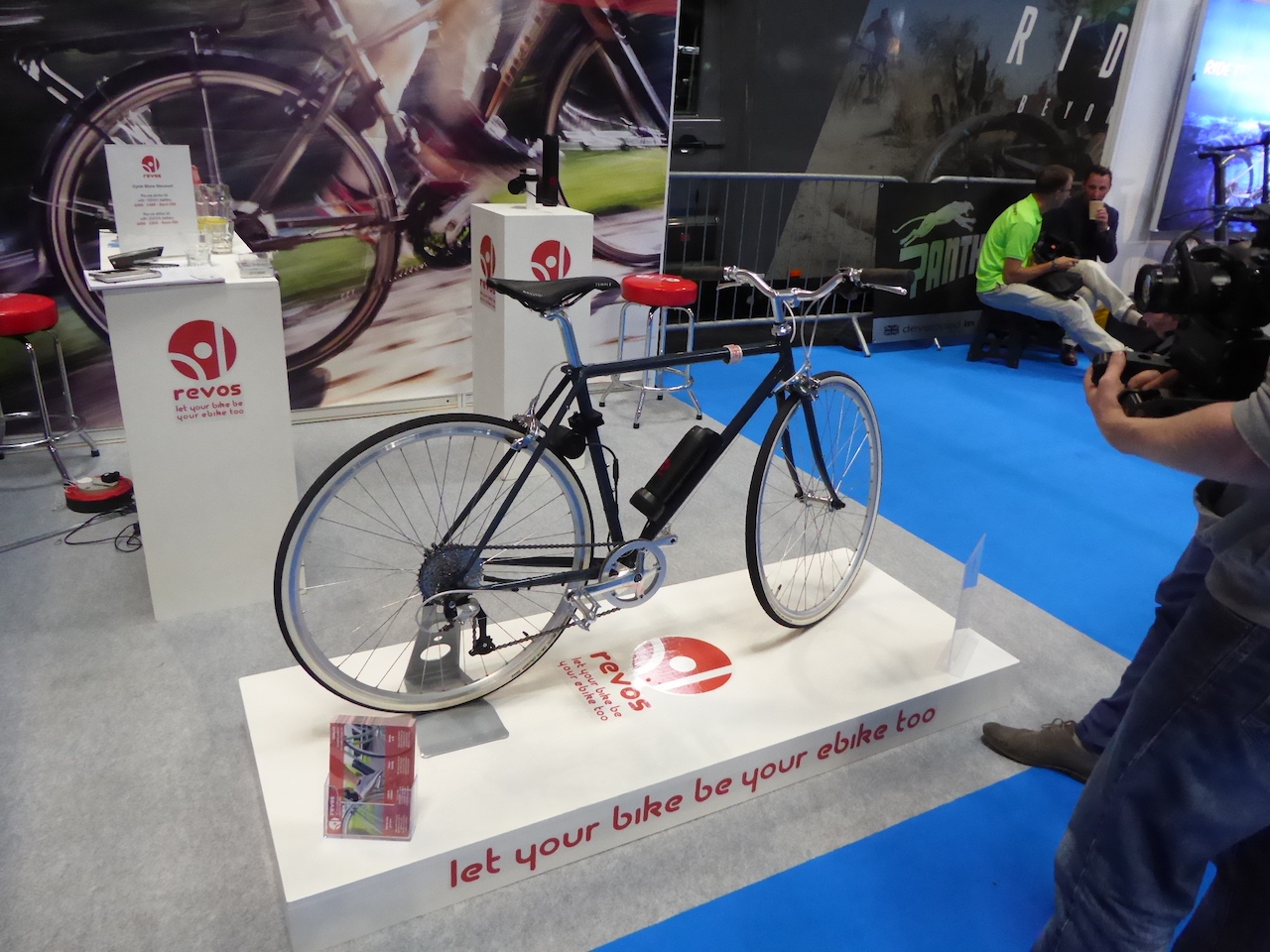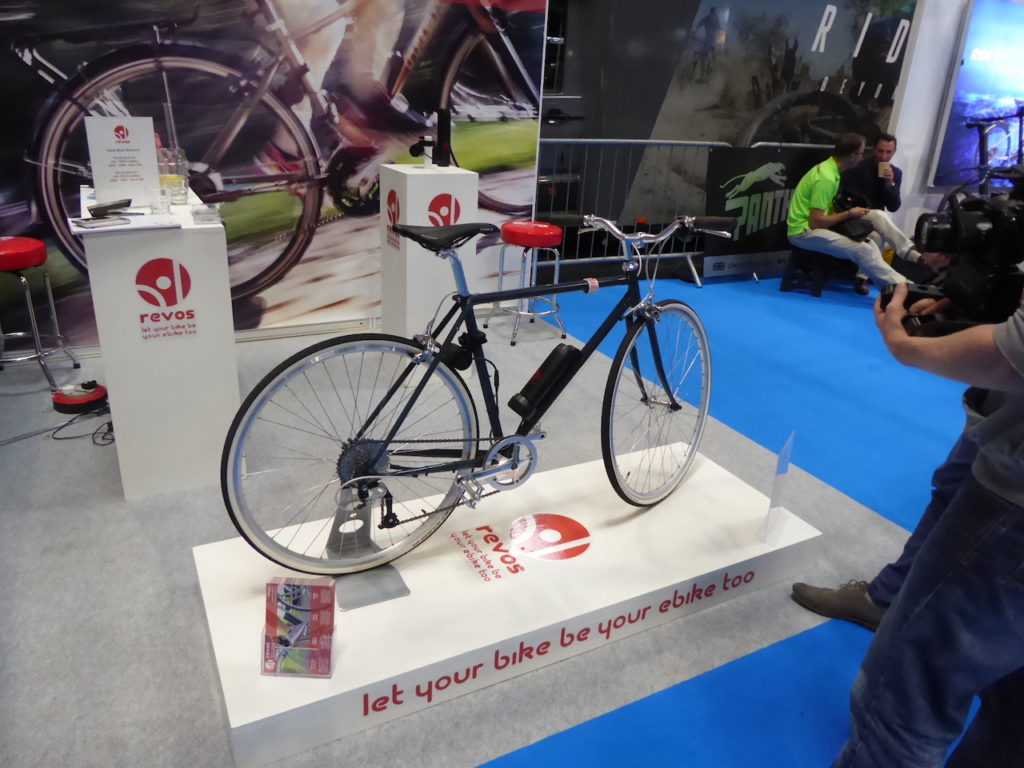 Last but not least, Revolution Works were finding plenty of interested riders out on the test track for their lightweight friction drive kit that weights only 4.6 to 6 pounds (2.1kg-2.7kg) – that's total kit weight not motor only!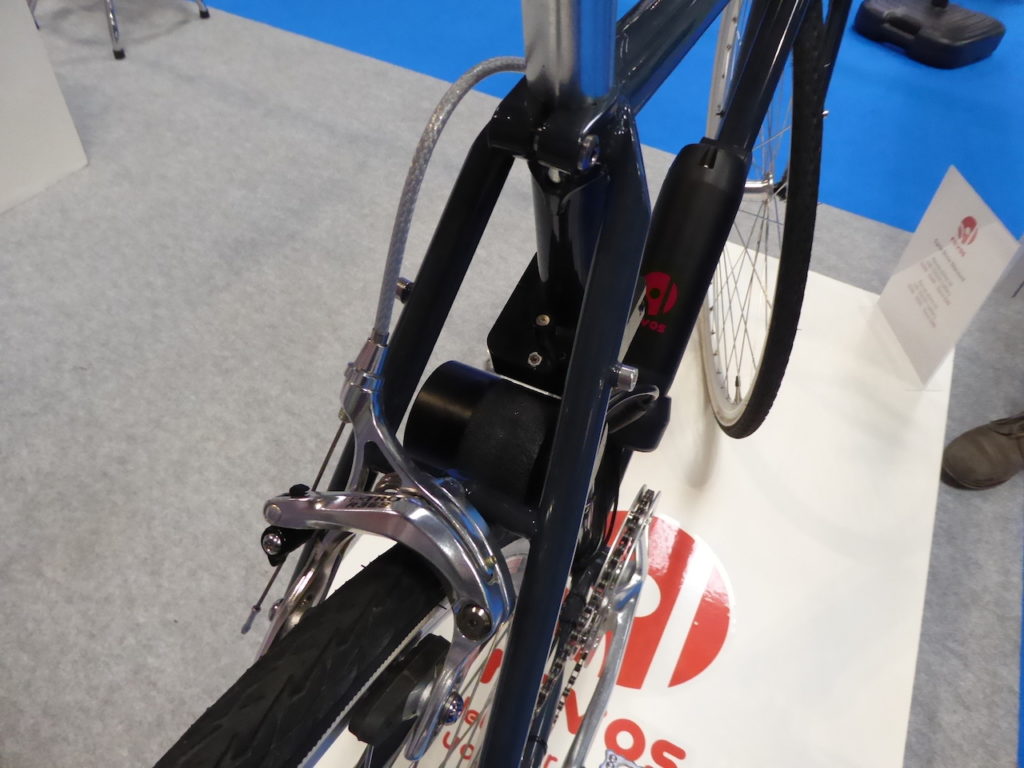 Adventure and 'Crossover' Themes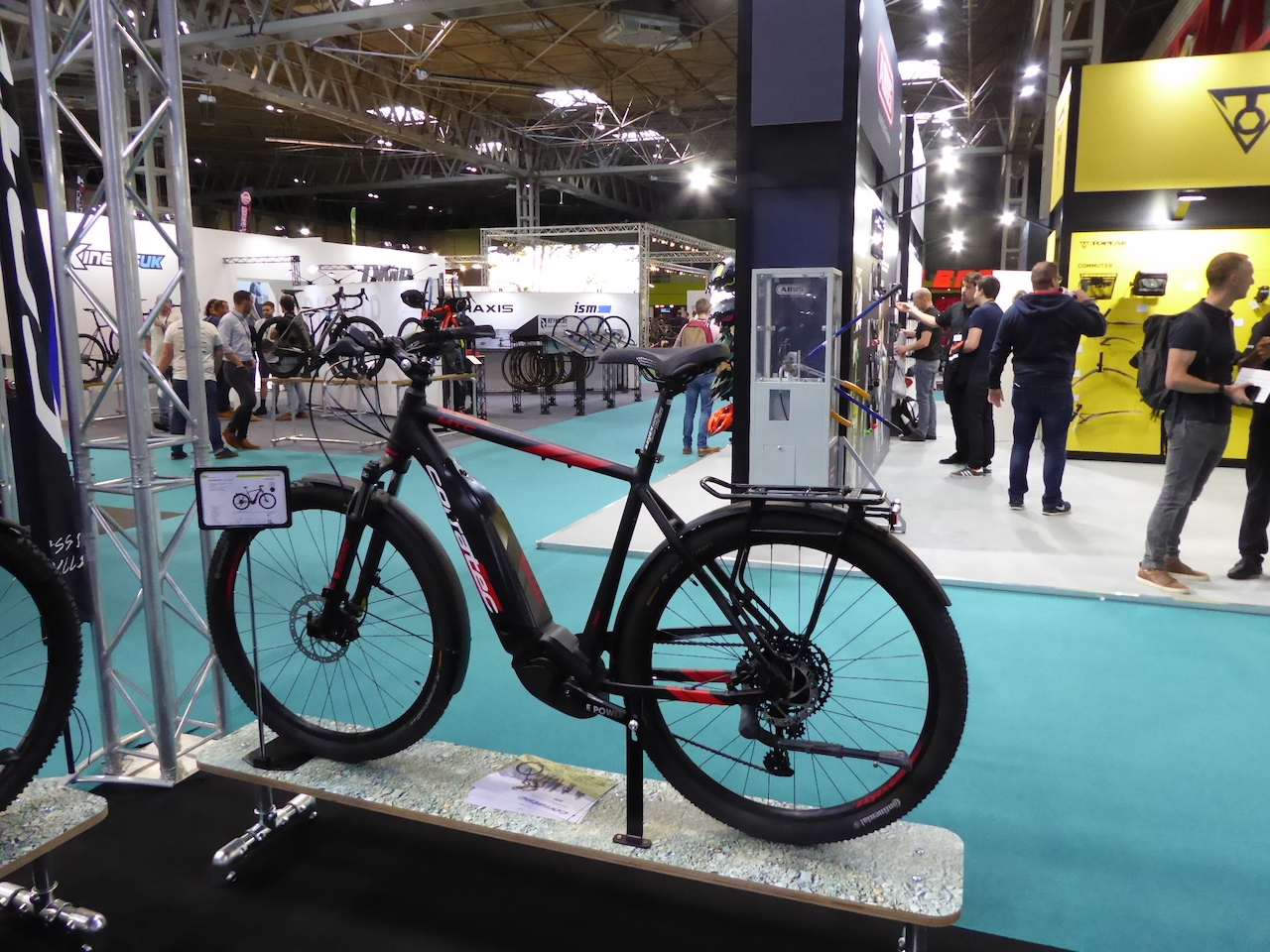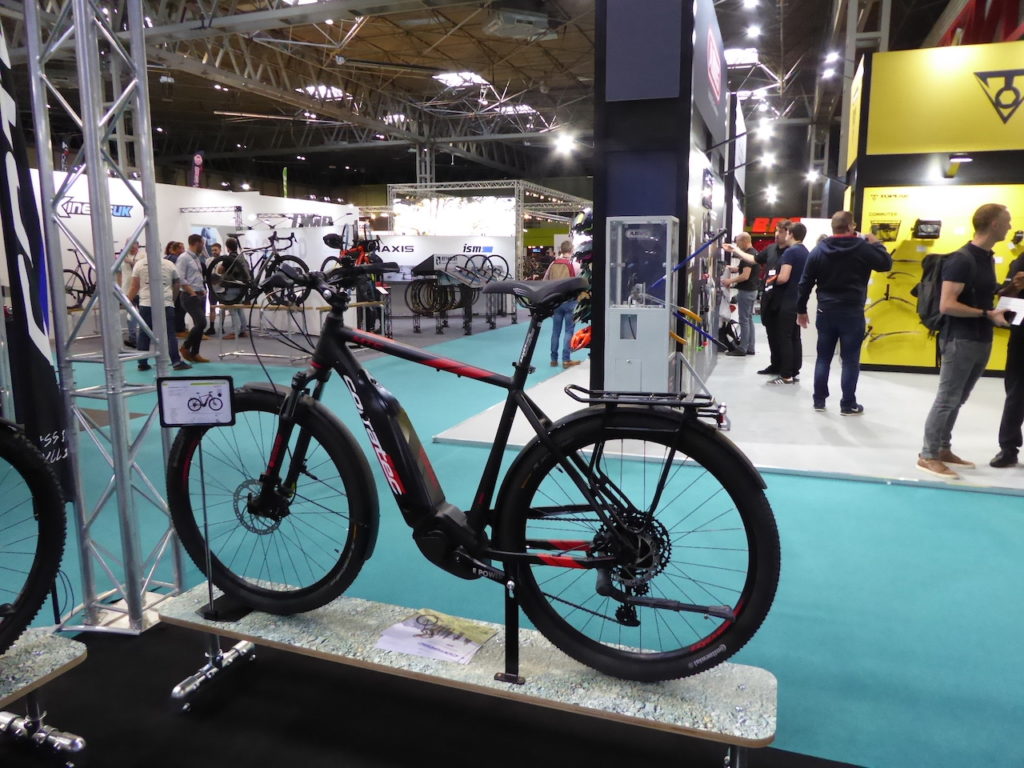 Corratec are a Spanish brand that uses Bosch motor systems on all their bikes.
Of particular note was their new all-terrain bike; essentially an e-mtb but with lights, mudguards, kickstand and a rear pannier rack.
It's official title is the E-Power MTC 120 Elite (120 referring to the 120mm of travel on the front forks). RRP is £4299.
The new MTC CX5 also blends e-mtb design with similar practical elements and retails at £2799.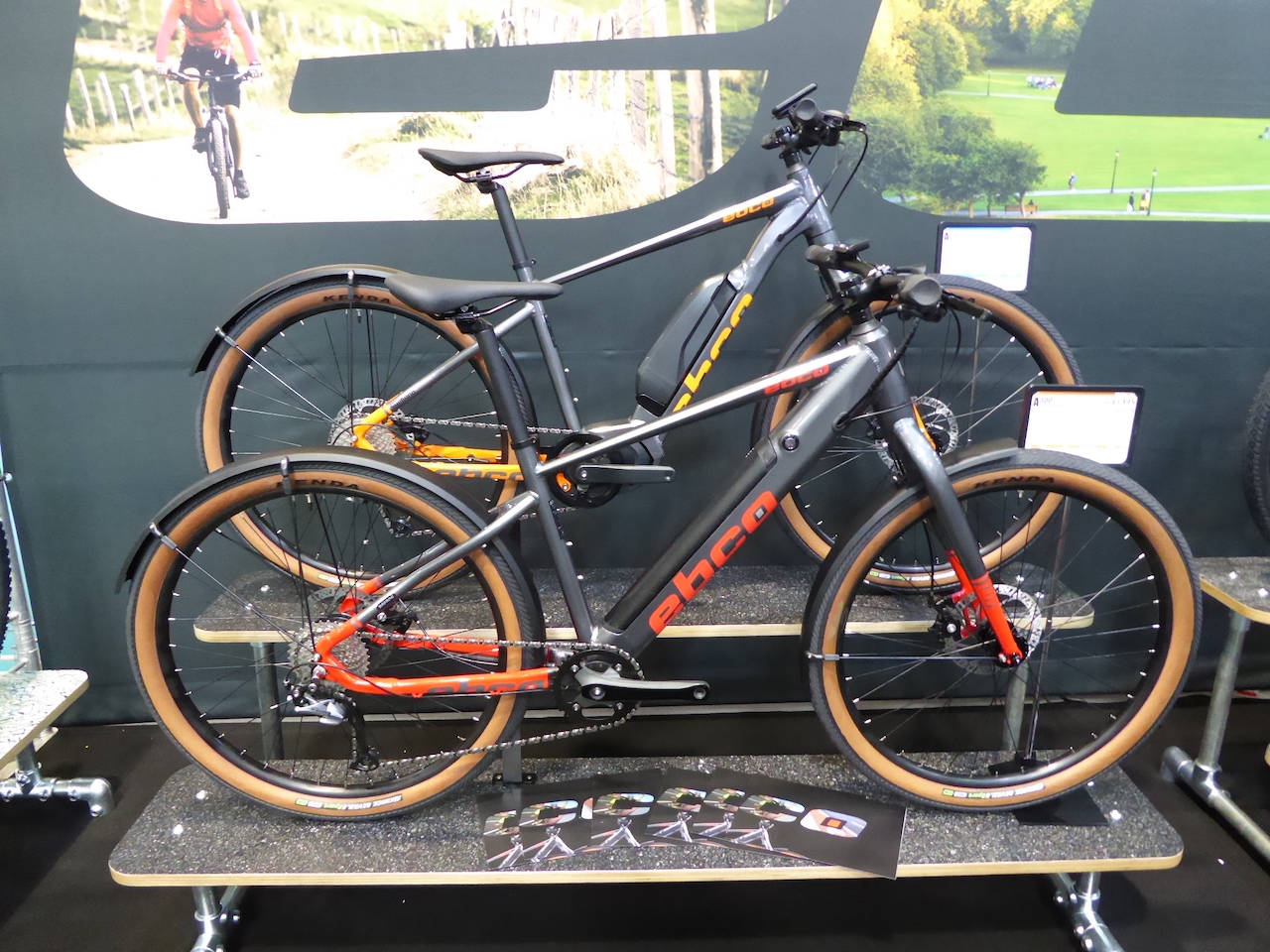 Corratec are distributed in the UK by EBCO who were also displaying a whole new range of 2020 designs.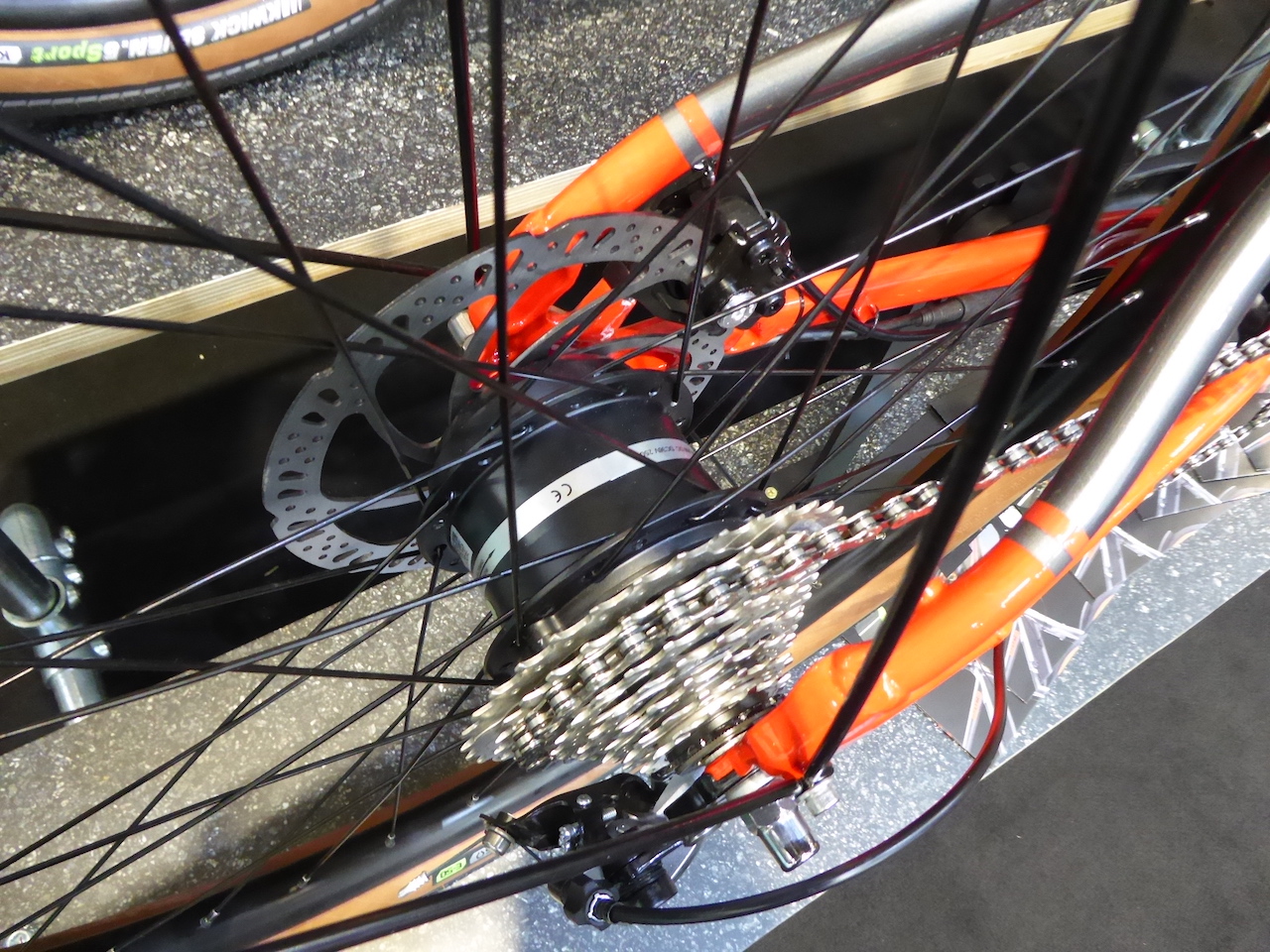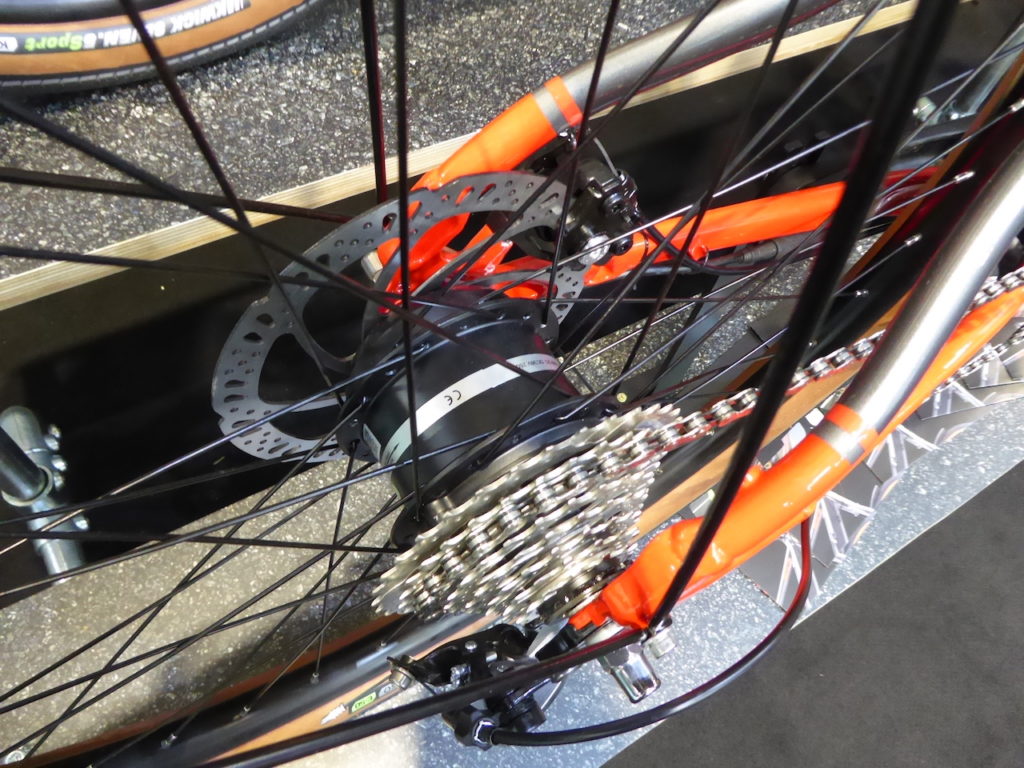 The Urban series were particularly eye-catching and featured a very small Bafang rear hub motor and start at £1395.
A similar blending of e-bike genres are in the pipeline for the UK's Wisper.
As you can see here, their new Wayfarer range features options of frame design and colour, battery size, mid motor or hub motor and with the choice of adventure, city and mountain specs.
O2 Feel e-bikes had come all the way from France to display their 2020 range.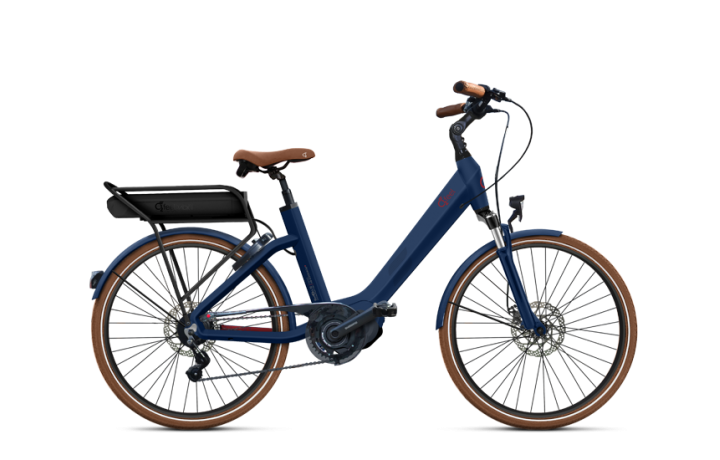 In particular I was struck by their 24" wheeled range, for smaller riders and easier storage.
Also present were Pedego e-bikes, a US brand known for their cruiser style line of e-bikes.
Interestingly they were also displaying their rental service for those who want to try before they buy.
eCargo Makes a Strong Showing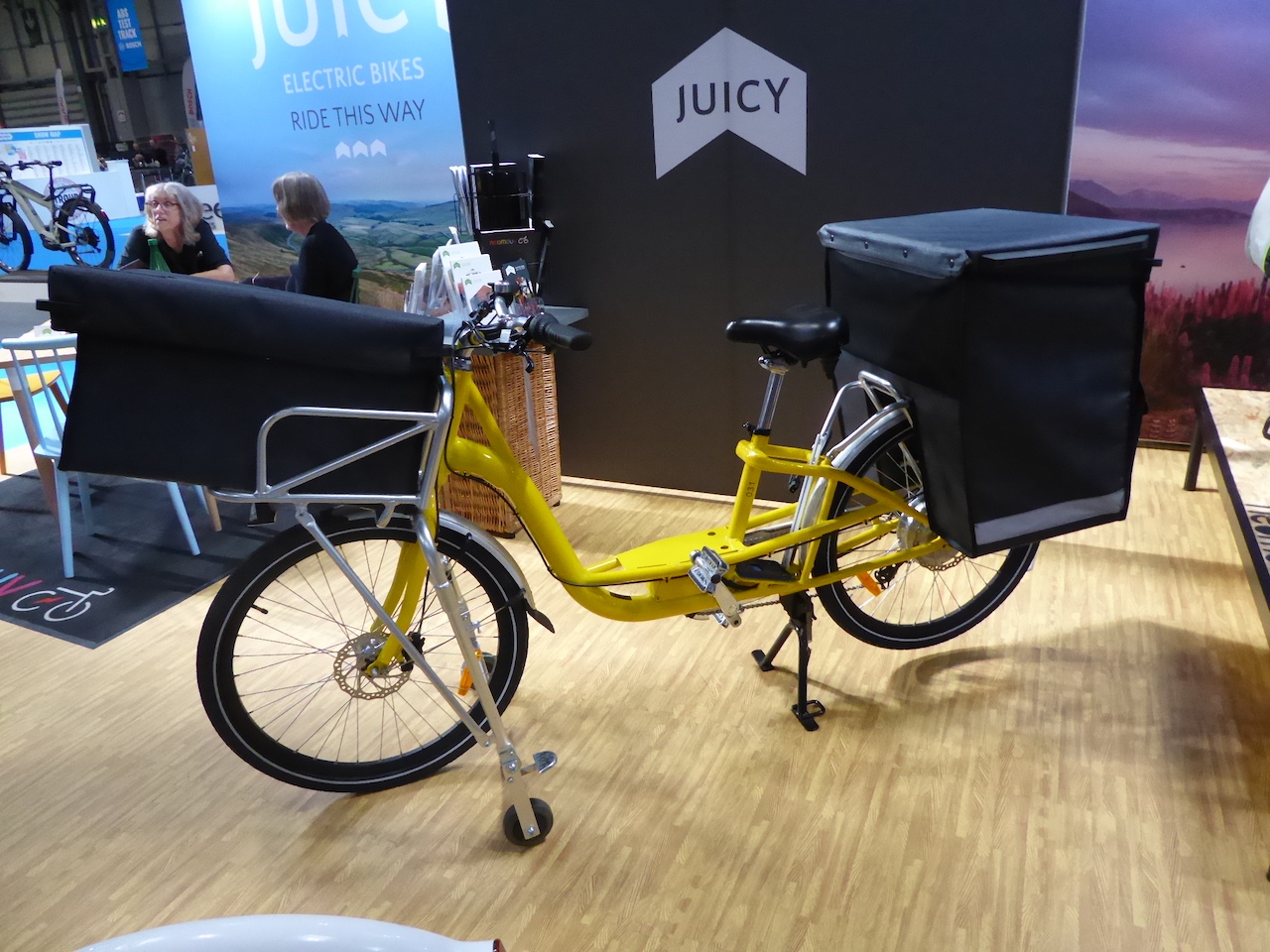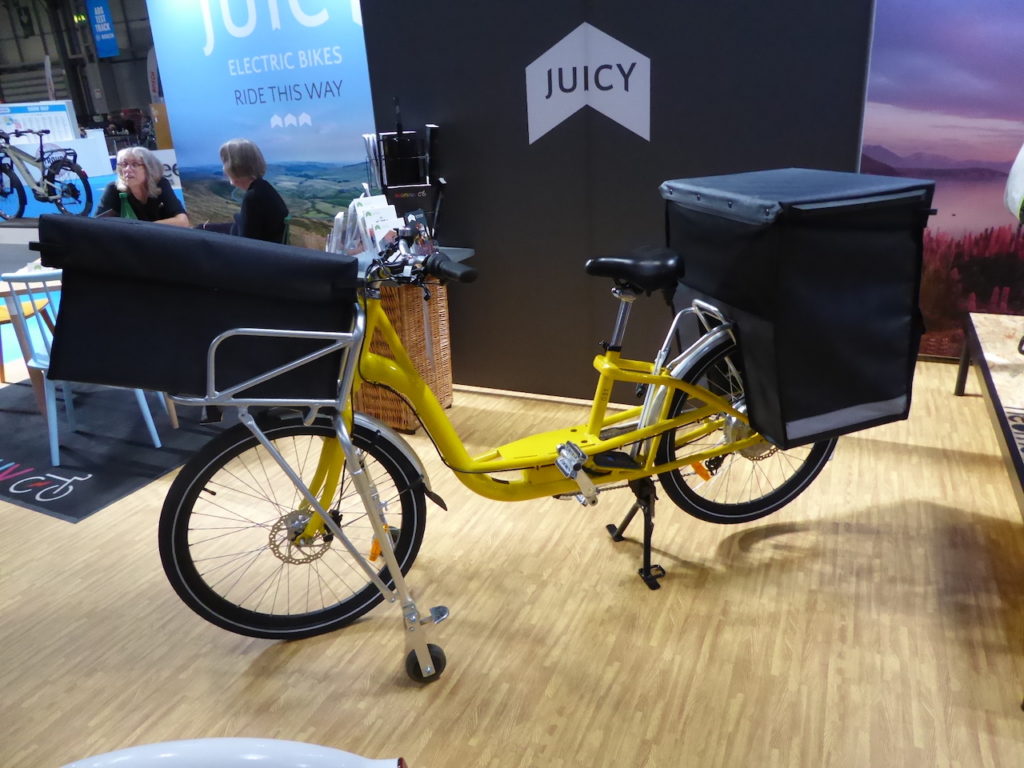 Neomouv are a French firm with the distinction of making the yellow e-bikes that are intended for postal delivery.
I was surprised to see an example of the bike at the show.
It was revealed that the bike may soon be appearing in the UK in the form of a an e-cargo bike available to the general public.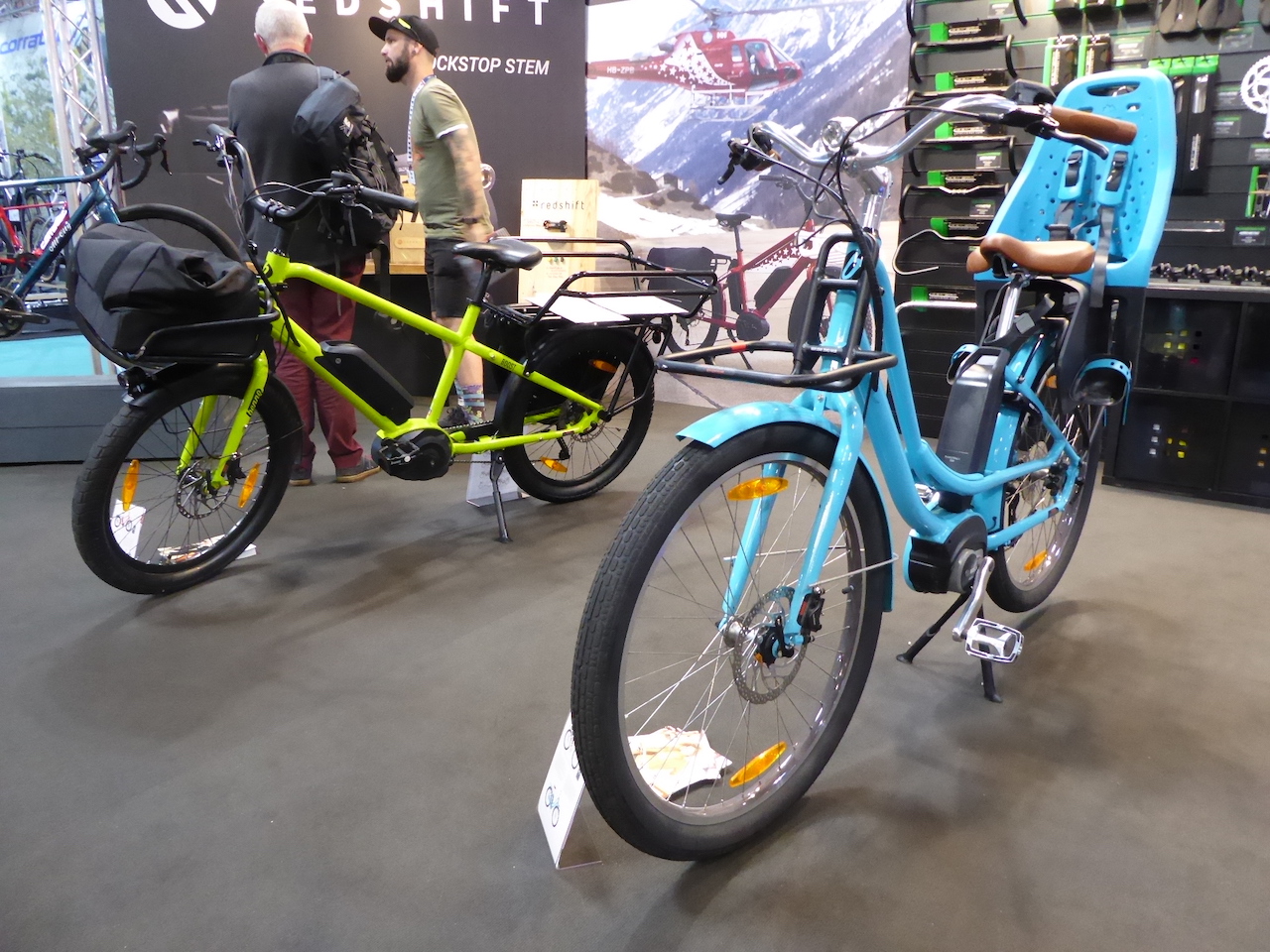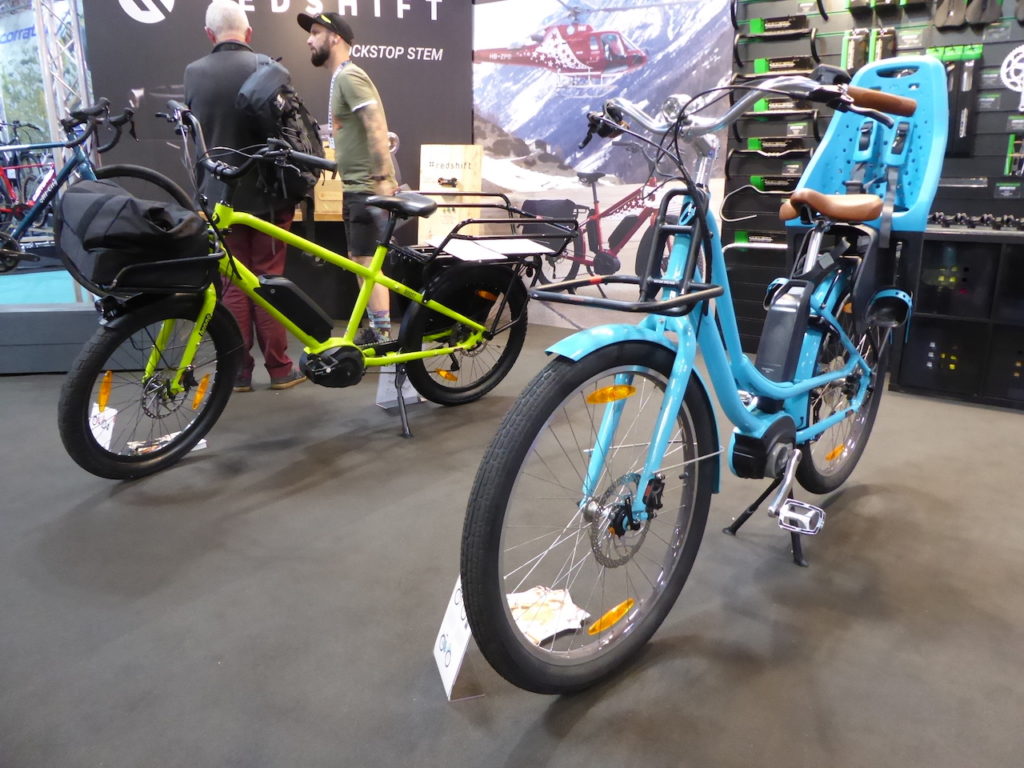 Another e-cargo bike targeting the UK market in 2020 is Benno. These look like hugely practical and capable e-bikes so watch this space for more info, spec and pricing.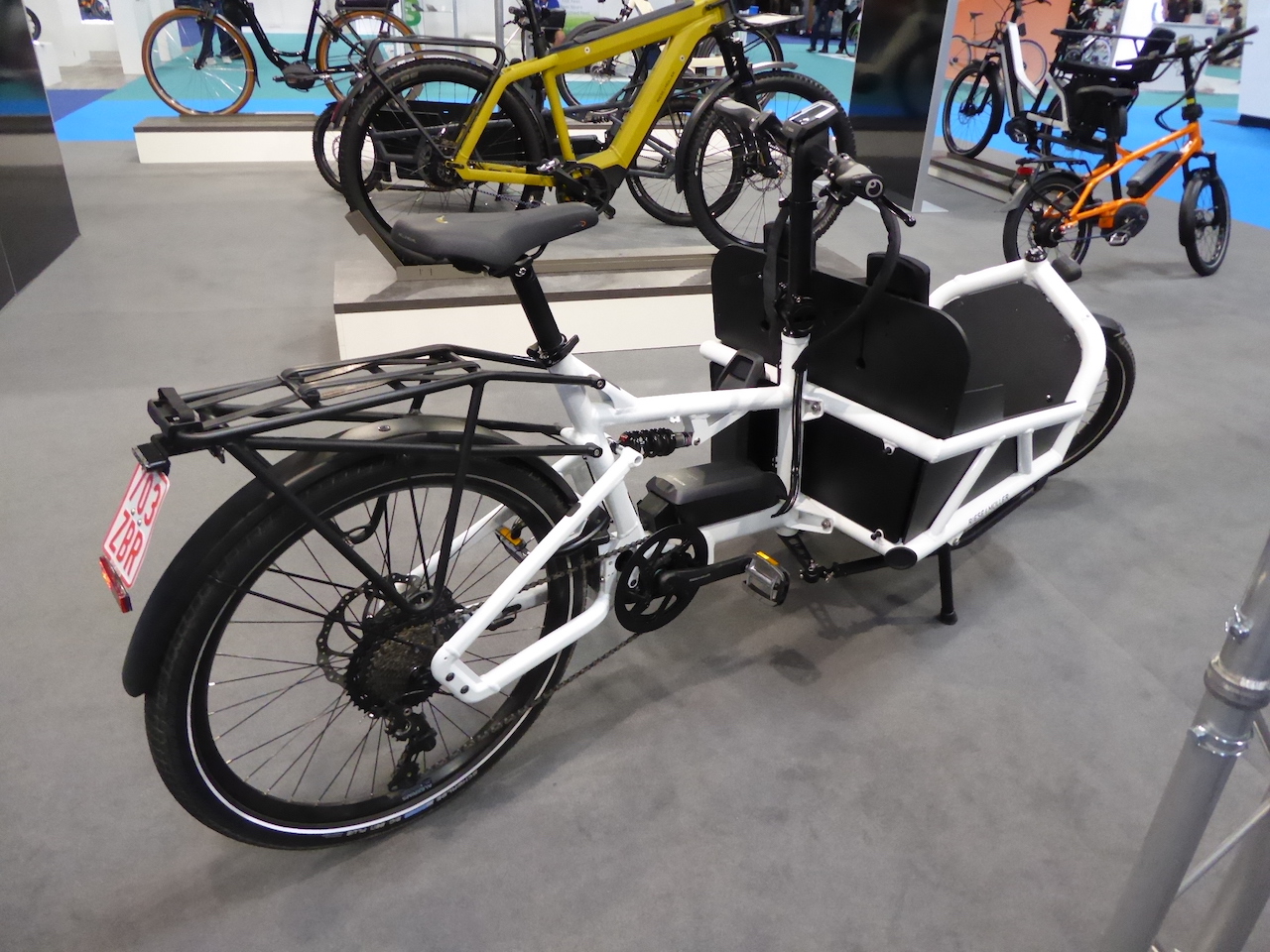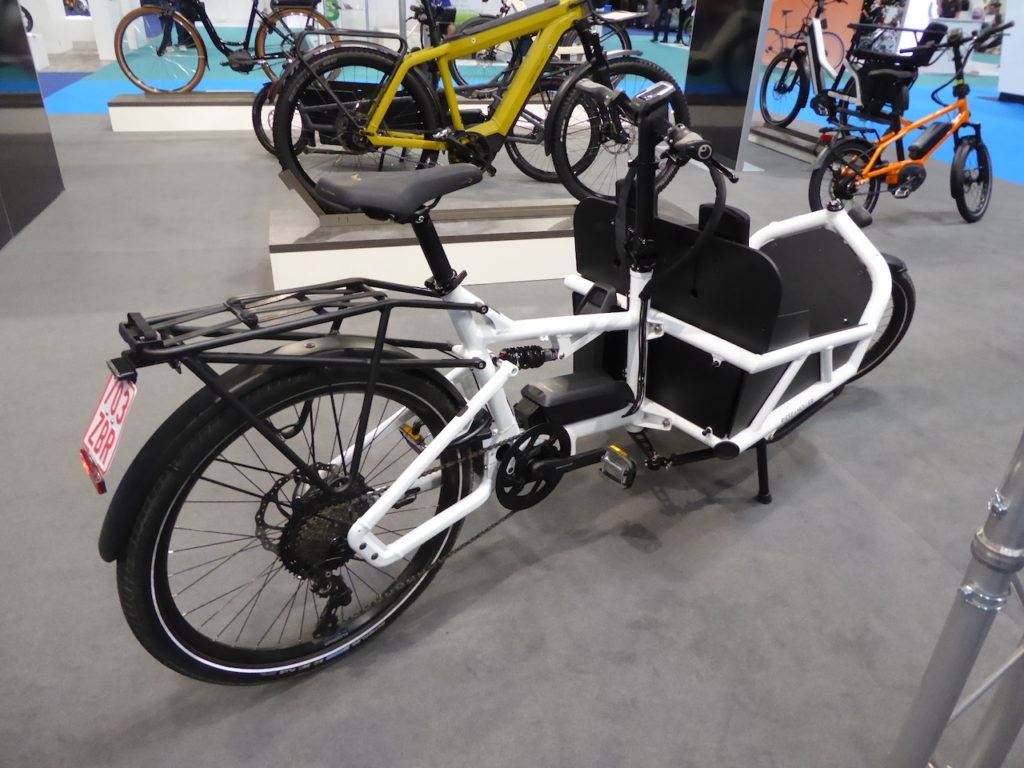 At the Riese & Muller stand there were plenty of new models featuring the latest Bosch Performance Line motors but also an e-cargo bike using Bosch's 2020 cargo-specific mid drive.
Accessories & Innovations
Finally we take a look at a couple of innovative accessories that look like they might be useful to e-bikers.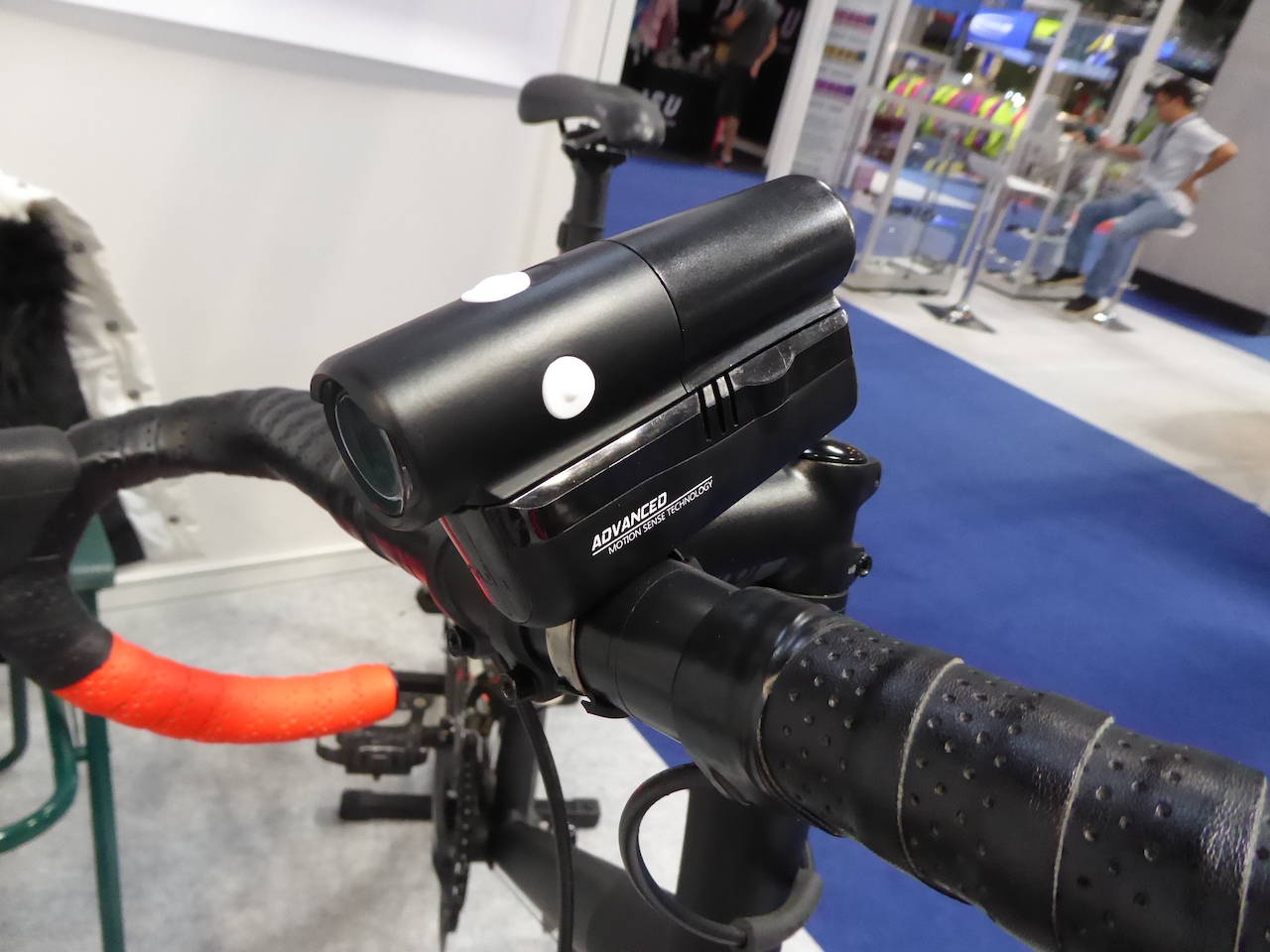 Firstly I was given an effective looking demo of Bouh's combination of front LED light and alarm.
The interesting part is that removing your light activates the base unit which then becomes an alarm.
More than that though, the programming of the microelectronics mean small jarring movements as the unit might experience when parked next to other bikes, don't trigger the alarm.
However, pick up and walk off with the bike and a very loud, high pitched alarm is activated.
Reelight have been around for a while but their latest battery-free lights look sleeker and lighter than previous designs.
They have a very neat dynamo system that runs against the rim but I liked the look of the magnet activated flashing lights.
EBR hopes to bring you full tests in due course.
Stay tuned for more e-bike news and reviews and thanks for reading!
-Richard
P.S. Don't forget to join the Electric Bike Report communityfor updates from the electric bike world, plus ebike riding and maintenance tips!
Reader Interactions