eBike News: Futuristic Karmic OSLO, New Electra, Paris Subsidies, Health Benefits, & More! [VIDEOS]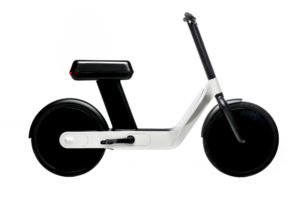 In this week's eBike news roundup:
Futuristic Karmic OSLO eBike/eMoped
New Electra Vale Go!
2020 eBikes at UK Cycle Show
Paris eBike Subsidies
Health Benefits of eBiking
New Blix Accessories
National Parks & BLM eBike Access Video
Automatic Frame Machine
And Much More!
New eBikes & eBike Systems
Futuristic Karmic OSLO
Karmic has just launched their futuristic OSLO on Kickstarter and it is very interesting to see how this blends some aspects of an electric bicycle and eScooter with some eMoped styling and functionality.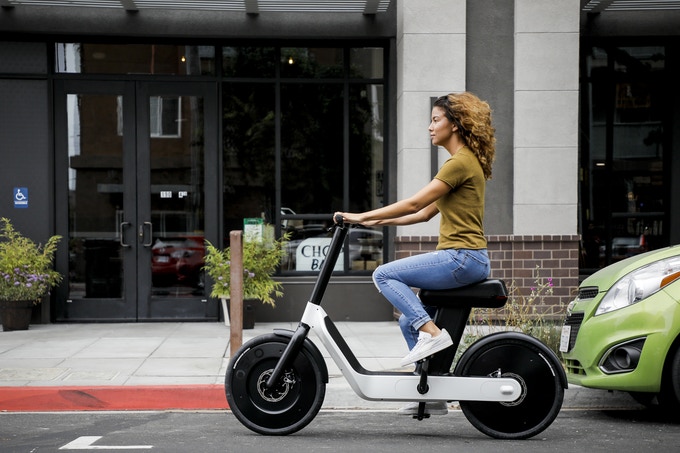 It is interesting times with the design of eBikes continuing to evolve to fit the daily needs of more riders getting on 2 wheels.
Karmic states "We wanted to get even more people on electric bikes. People who might not have ridden a bike in many years, or maybe people who never thought they were Cyclists."
Hong Quan, founder of Karmic, refers to the OSLO as a future focused "City Cycle". The OSLO is designed for getting around, enjoying, and interacting with the city.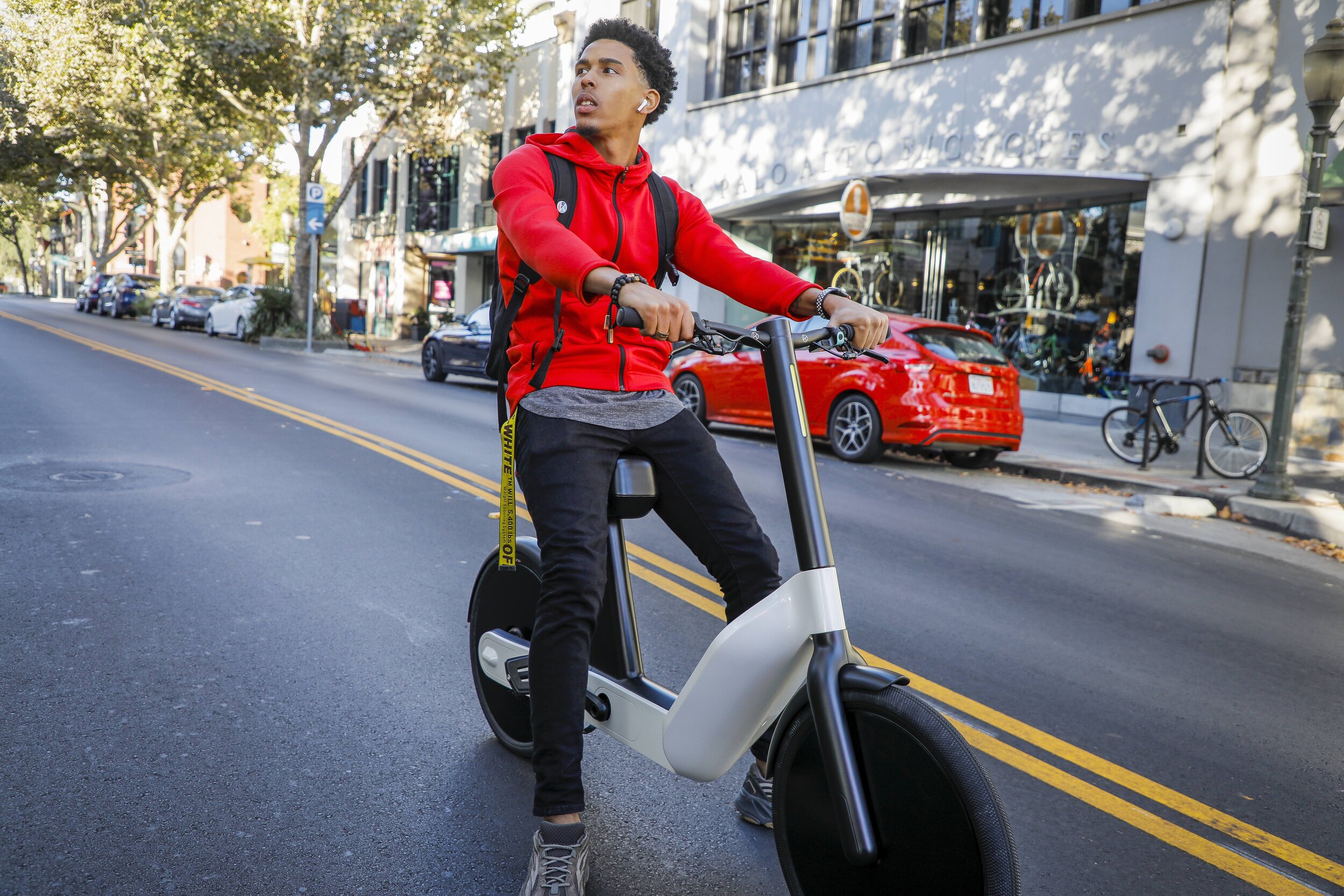 The OSLO has an easy going ride position with a low step-thru to make it easy for many riders to get on and ride this new type of eBike.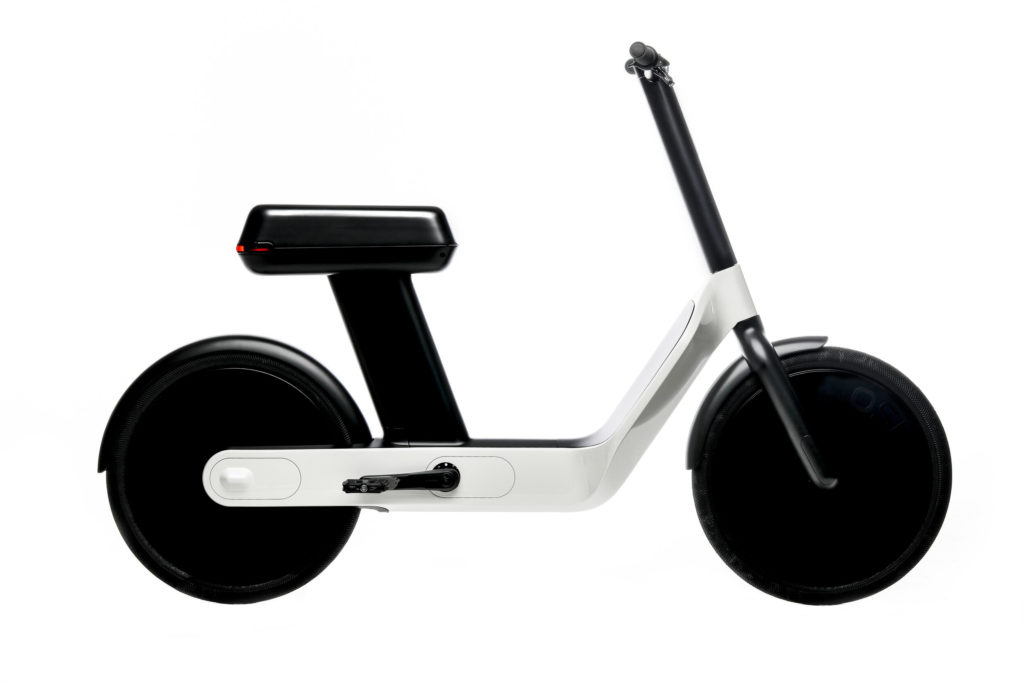 Karmic also focused on making the OSLO very clean with a lot of components (cables, battery, gears, and the chain) housed within the thermoplastic body panels that surround the hydroformed aluminum frame.
For this initial launch the base model features the following specs with an intro price of $1,499.
250W/45N-m motor
480Wh battery with new 21700 cell size. Battery housed under the seat.
3 Levels of pedal assist and/or throttle up to 20 mph
Integrated headlight
Wraparound taillight
LCD Display (external)
Aluminum chassis (frame)
Thermoplastic body
5-spoke alloy wheels
Hydraulic disc brakes
Fenders (plastic)
Kickstand!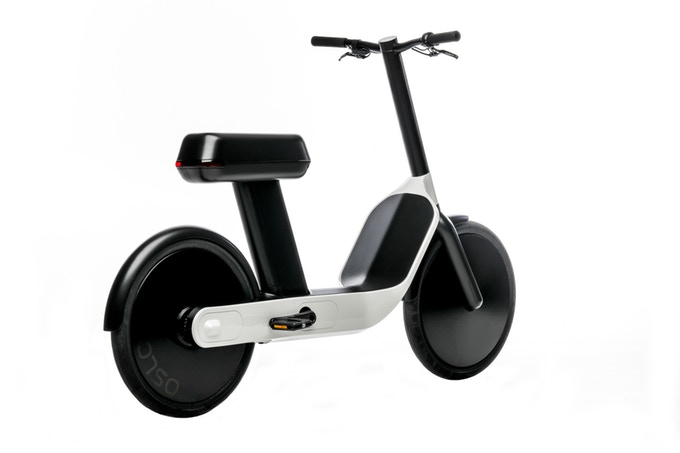 Karmic is also working on optional upgrades that include:
500W/65N-m motor
Front basket
Rear cargo rack
LED Display (integrated)
Vehicle Locking (mechanical)
Aero Wheel Covers
Gates Carbon Belt Drive
Fenders (metal)
Choice of Colors!
And there are additional features that are planned:
~1KWh extended range battery
OLED touch display (integrated)
Vehicle Locking (electronic)
Sharing & App Controls (via Partners)
Learn more about the new Karmic OSLO at their Kickstarter page.
Electra Vale Go! 9D EQ
Electra has launched the new stylish Vale Go! 9D EQ that some cruiser and commuter attributes with easy going geometry and a large step thru area.
It features the Bosch Active Line Plus motor with the side mounted battery built into the downtube of the frame and the new Bosch Kiox color display with Bluetooth connectivity.
Other specs include Schwalbe 27.5" tires, hydraulic disc brakes, a suspension seatpost, front and rear lights, fenders and a rear rack.
There are many colors to choose from beyond the 2 shown here.
The Vale Go! 9D EQ is priced at $3,299.99. More info at Electra.
2020 eBikes at the Birmingham UK Cycle Show
Richard Peace recently attended The Cycle Show in Birmingham UK and brings us this eBike report that includes:
DryCycle Electric Assist Velomobile
New eMTBs from Kinesis & Whyte
eFolders from Crosshead, Gocycle, & MiRider
Light Friction Kit from Revolution Works
eCargo from Benno, Neomouv, & Riese & Muller
Adventure eBikes from Corratec, EBCO, 02 Feel, Pedego, Wisper
And New Accessories
Accessories
New Blix Racks, Baskets, & Bags
Blix just launched a new line up of accessories to make carrying cargo and kids easier for the daily ride around town.
"Seeing all of the amazing ways our riders used their Blix bikes really inspired us to develop this new accessory concept. It will allow our customers to more easily customize their bike exactly to their needs" stated Pontus Malmberg, Blix Founder & CEO.
"Our passion is to make great products that inspire everyone to live healthier and more fun lifestyles. These full-feature accessory options build on this by offering great utility while keeping a compelling design."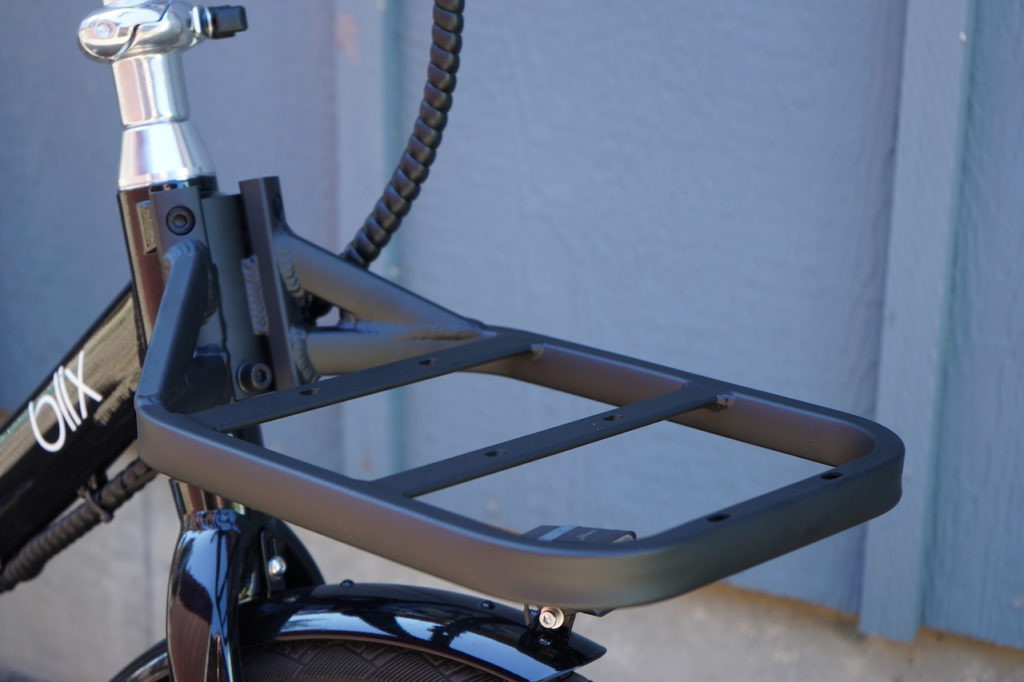 Here is an example of the sturdy front rack bolted to the head tube of the Blix Vika+ that was recently in for testing & review.
You can see the new accessories at the Blix website.
Get Inspired
Paris eBike Subsidies
Residents of Paris and some surrounding areas will have the opportunity for up to a €500 subsidy for the purchase of an electric bike starting in February of 2020.
The regional transport agency Île-de-France Mobilités is promoting this as a way for more residents to have access to electric mobility. Here are more details on this new program.
Streets Blog USA posted an interesting article on Paris offering the eBike subsidies while the US does not. And they bring up a good point that electric cars are subsidized in the US but there are no plans federally for eBike subsidies.
California recently added eBikes to the voucher system that residents get for turning in old, polluting cars.
Dave Snyder, Executive Director of the California Bicycle Coalition said, "A good quality e-bike is better than a car for most of the local trips that people take, but it's hard to justify spending several thousand dollars on a bike when you don't have that kind of money. This program will help Californians make the switch to bikes if they so wish. E-Bikes provide an affordable and cleaner option for local trips that are more fun and healthy, too."
eBiking Health Benefits
Amego EV compiled the health benefits of eBikes from various sources in the following infographic. Here is a link to the full article.

eBikes in National Parks & BLM Land
People for Bikes held an informative webinar on the new Department of Interior e-bike ruling for access on federal public lands that include National Parks and BLM land. Below is the video of the webinar.
One of the important parts of this new ruling is that each National Park and local BLM land manager will be developing their own rules of where eBikes can go.
People for Bikes encourages contacting the local land managers to tell them that you support eBike access. Below are some notes from the webinar that provide some good points and ideas on how to talk with land managers about eBikes. Here is a resource page for land managers at People for Bikes.
Good Infrastructure Vital to eBike Success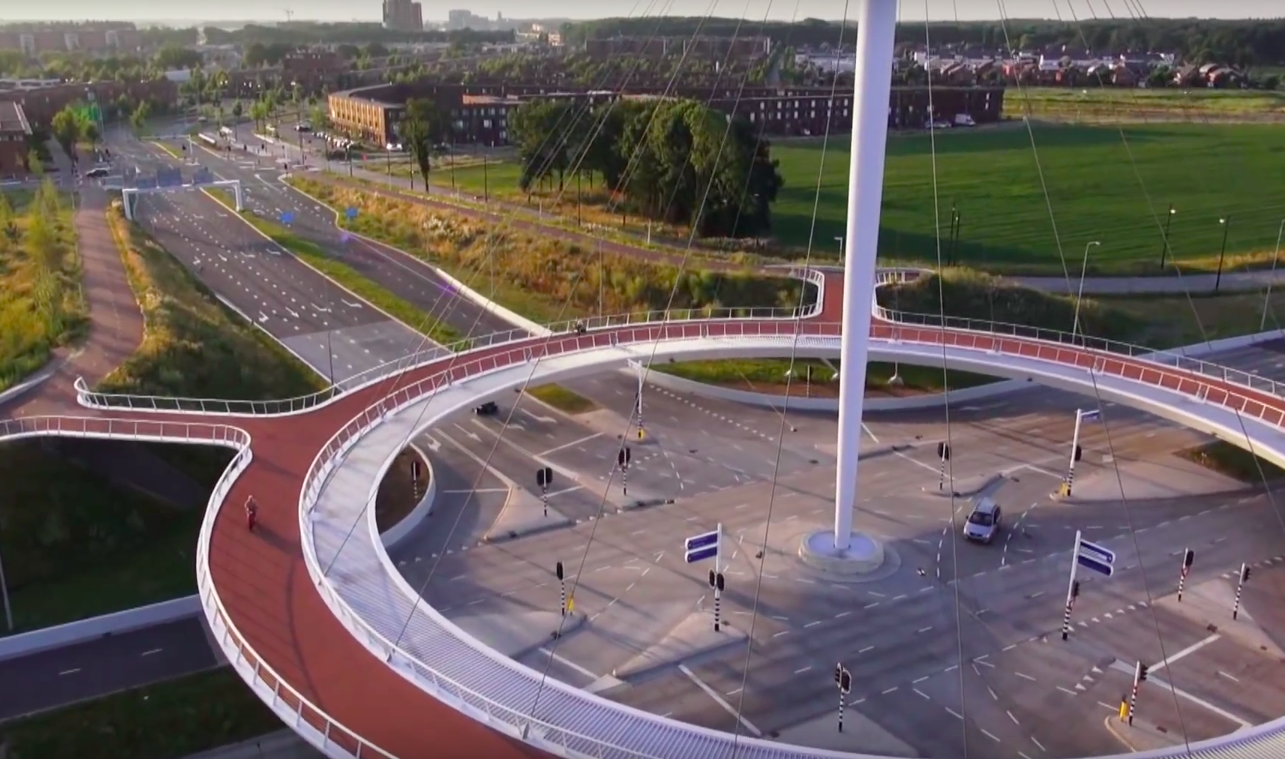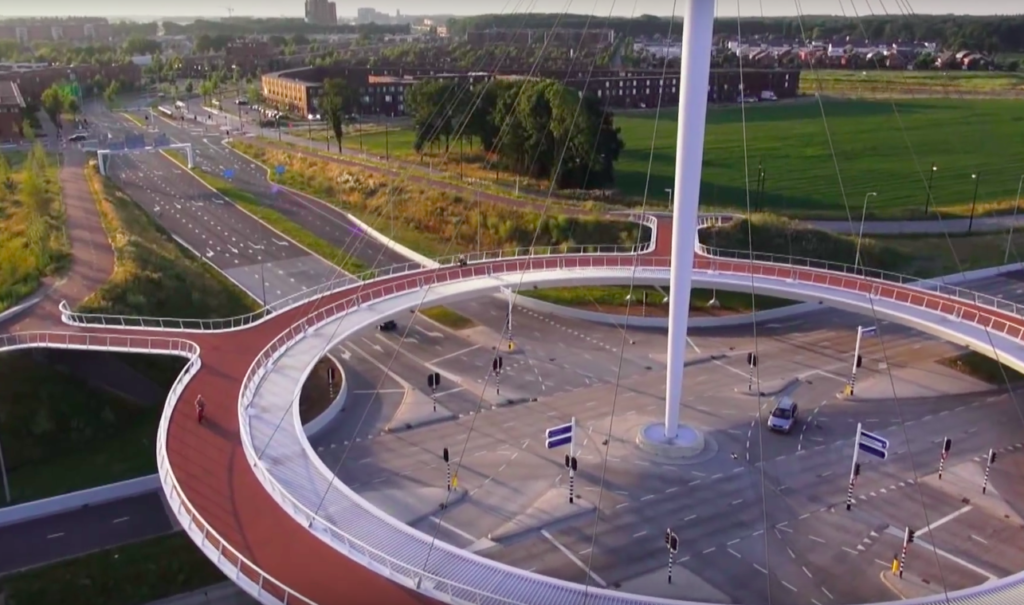 Richard Peace shows examples of how good bike infrastructure have boosted overall bike ridership in Europe and the US. Plus his report shows some very innovative structures like the Hovenring above.
eBike Biz
Chinese Imports Down in Europe
Bike Europe reports statistics that show that Chinese eBike imports into Europe are down over 90% as a result of anti-dumping measures. Taiwan and Vietnam are becoming the major countries that produce and import eBikes into the European marketplace.
Automatic Bicycle Frame Alignment Machine
In this high-tech world of 3D printing and robotics it appears that the bike industry is also moving forward with new manufacturing techniques. In this article from Bike Europe there is a new fully automatic bicycle frame alignment machine being put into production in Taiwan.
"The Proxima automatically aligns and checks the frame with a high level of precision. The tolerances can be adjusted up-to one millimeter which means the alignment can be done automatically and doesn't require any labour."
Stay tuned for more e-bike news and reviews and thanks for reading!
-Pete
P.S. Don't forget to join the Electric Bike Report communityfor updates from the electric bike world, plus ebike riding and maintenance tips!
Reader Interactions