DryCycle: Is it an eCar or an eBike? Test Ridden Around a UK 'New Town' [VIDEO]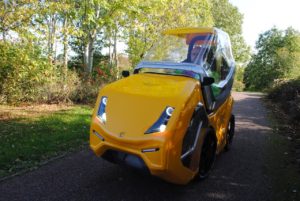 We first reported on the DryCycle 4 wheeled enclosed "electric bike" in the Birmingham show report and it was definitely a highlight.
Electric bikes are inspiring many different types of eMobility and the DryCycle is one of the latest to hit the market.
I was recently offered the chance to take a pre-production prototype for an extended test ride in real world conditions in the cycle-friendly UK new town of Milton Keynes just down the road from DryCycle's home town of Bedford.
Here is a video of the DryCycle from the Birmingham UK show.
Background
The idea of the DryCycle is simple and best expressed in DryCycle's own words as 'an eco-friendly 4 wheeled electrically assisted pedal cycle. With the look and some of the features of a microcar, it keeps you dry and sheltered from all weathers and allows you to ride in comfort and style on both roads and cycle paths.'
Crucially its classed for legal purposes as an electric bicycle.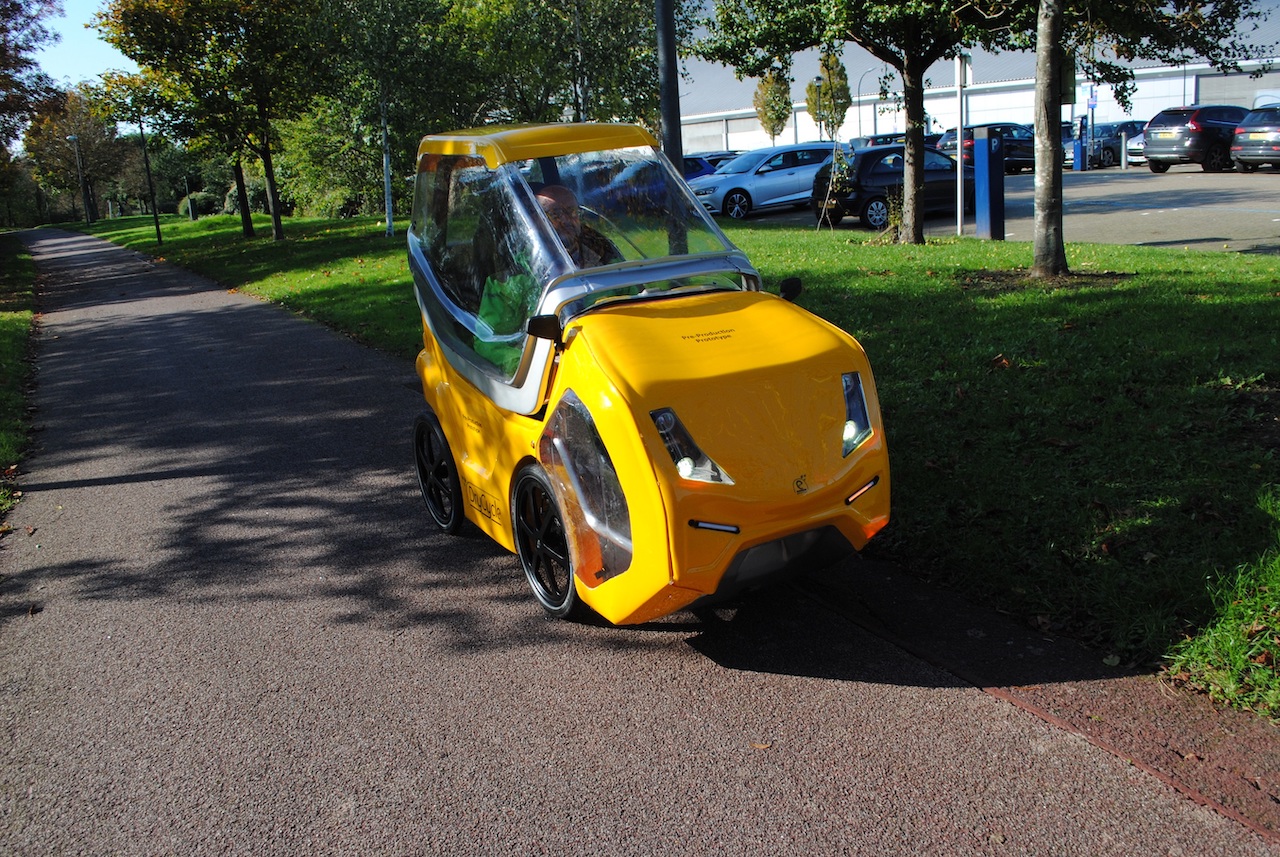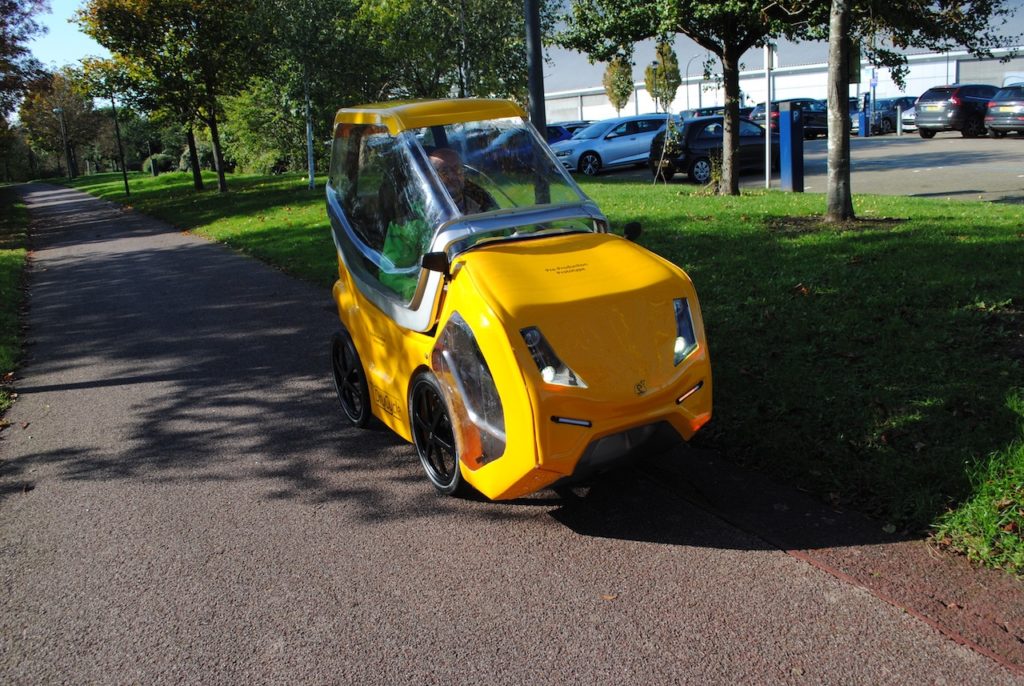 As an already successful businessman, DryCycle inventor Andy Murphy was experimenting with combining traveling with exercising to save time and stay healthy.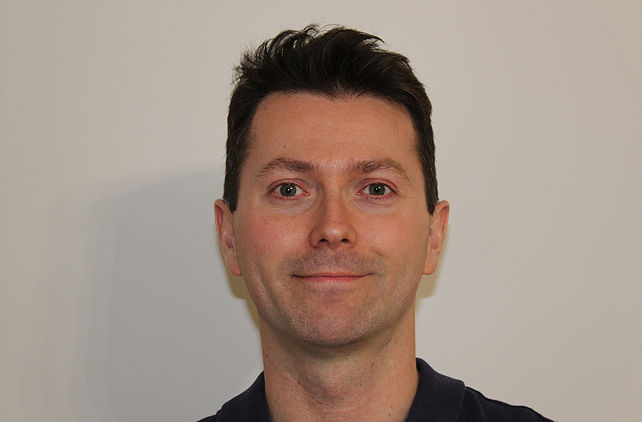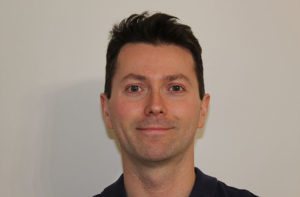 He says 'I didn't have a DryCycle to start with of course, so I bought an electric bicycle and commuted to work with that during the summer months. I took my car whenever it was raining or whenever I needed to transport more people, so this meant that I used my bicycle about twice a week in the summer, and hardly at all at any other time of year, and I was forever checking the weather forecast. What I learned most from the e-bike is that top quality electric bicycles with the very best mid drive motors have more than enough power to get them quickly up to their top speed of 15.5mph before the motor then cuts out. In fact it seems a bit wasted really, surely it would be better to accelerate a bit more slowly due to added weight but use that weight to have an enclosed vehicle so that it's useful in all weathers.'
The DryCycle team also includes an ex-aerospace/ex-motorsport engineer, carpenters (to make moulds for vacuum forming), welders (for the framework) and electricians.
The vehicle has been tested by Bureau Veritas (a third party testing organisation) over various test cycles of 100,000 repetitions of various parts, such as the steering and framework flexing and two DryCycles have been crash-tested at Millbrook Proving Grounds.
https://youtu.be/3LBRUKcUcwU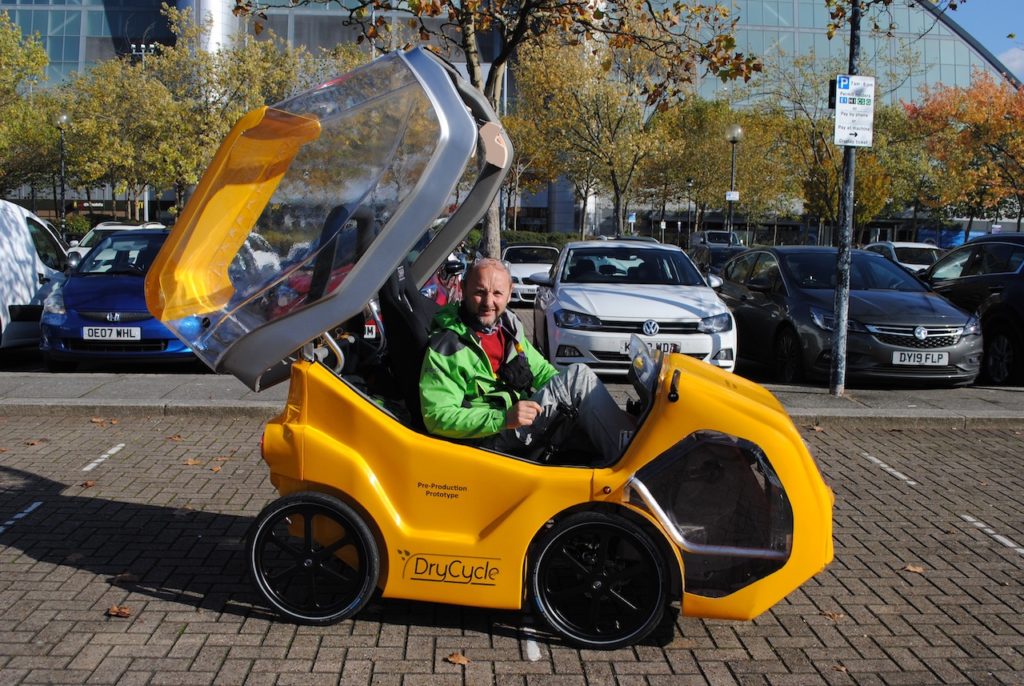 I rode one of DryCycle's pre-production prototypes and the company aims to produce the first batch of 25 machines by Christmas 2019 at their production facility in Bedford UK and orders can be reserved here.
First Impressions and Operation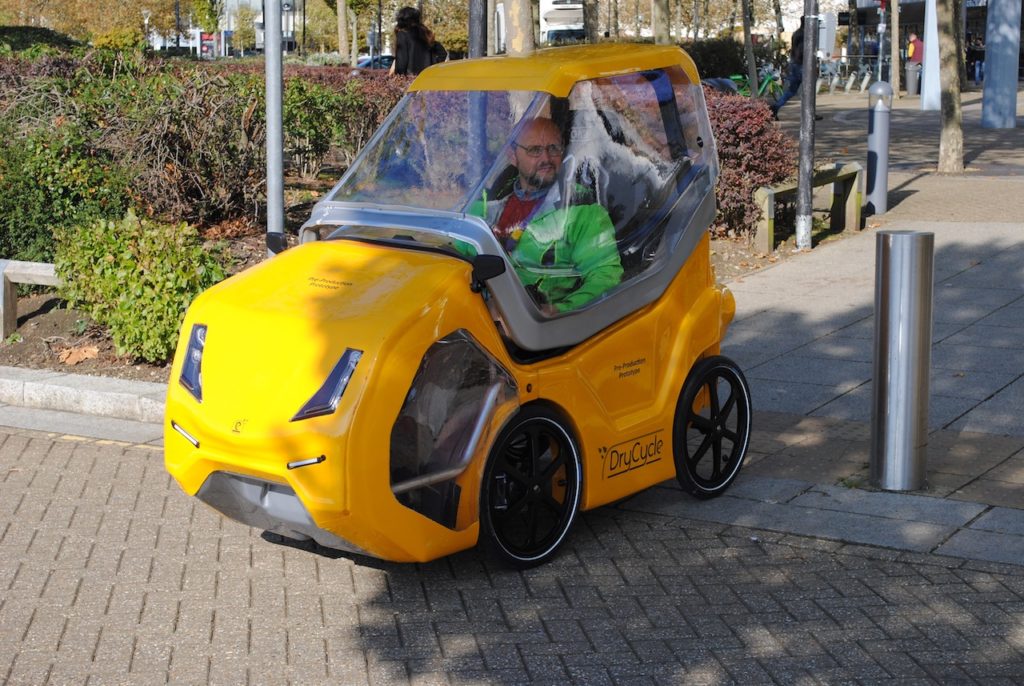 You might assume the DryCycle is a small electric car at first glance – but it is in fact an e-bike that conforms to all European pedelec requirements and so can be taken on cycle paths and roads and wherever else an e-bike can legally go, without the requirement for tax, insurance etc that goes with more powerful or quicker motorised vehicles.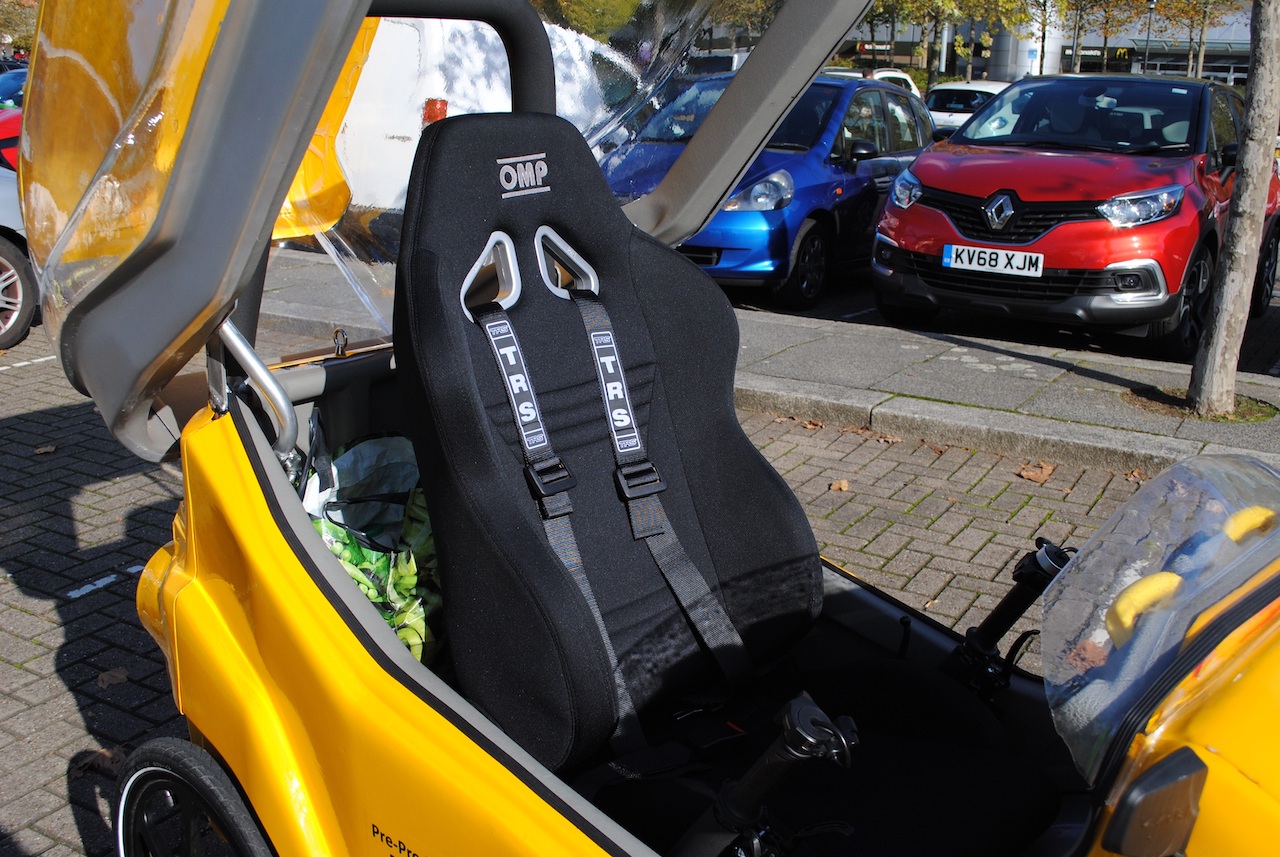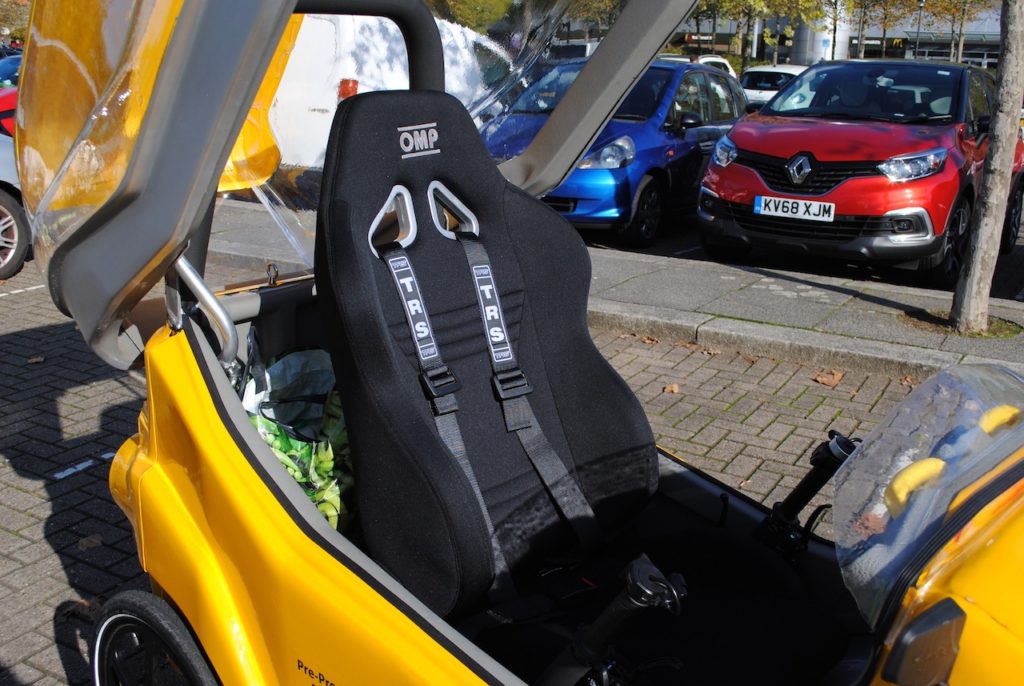 It offers many tempting 'luxury cycling' features from a bucket style seat through fully enclosed weatherproofing to heated handgrips.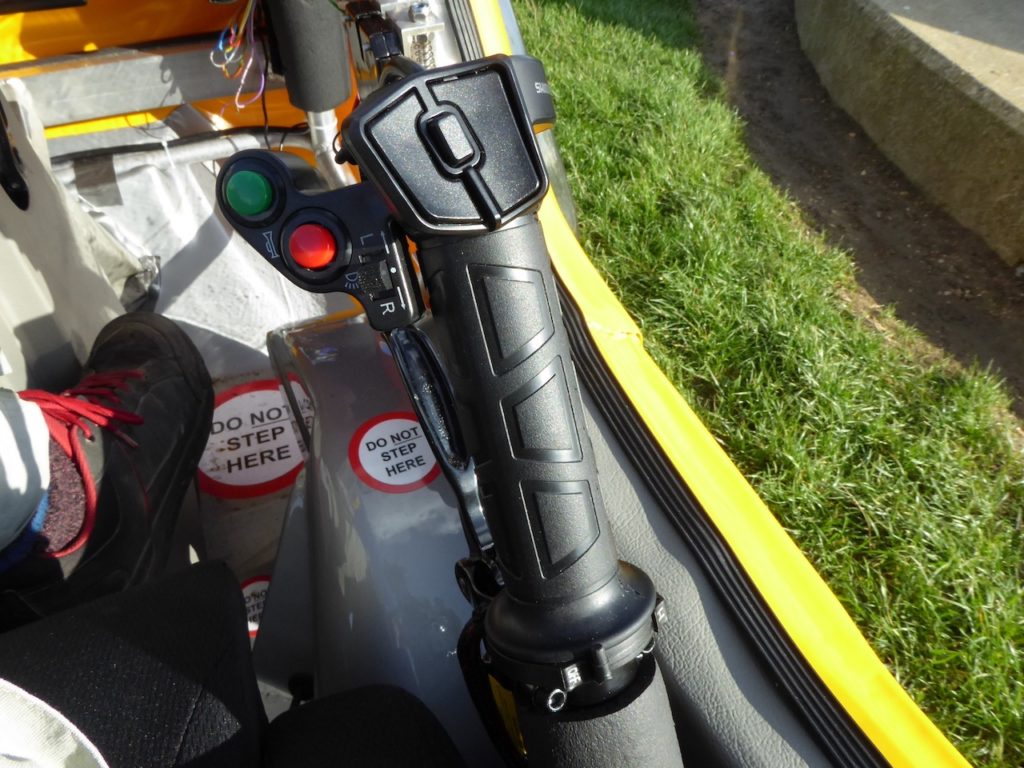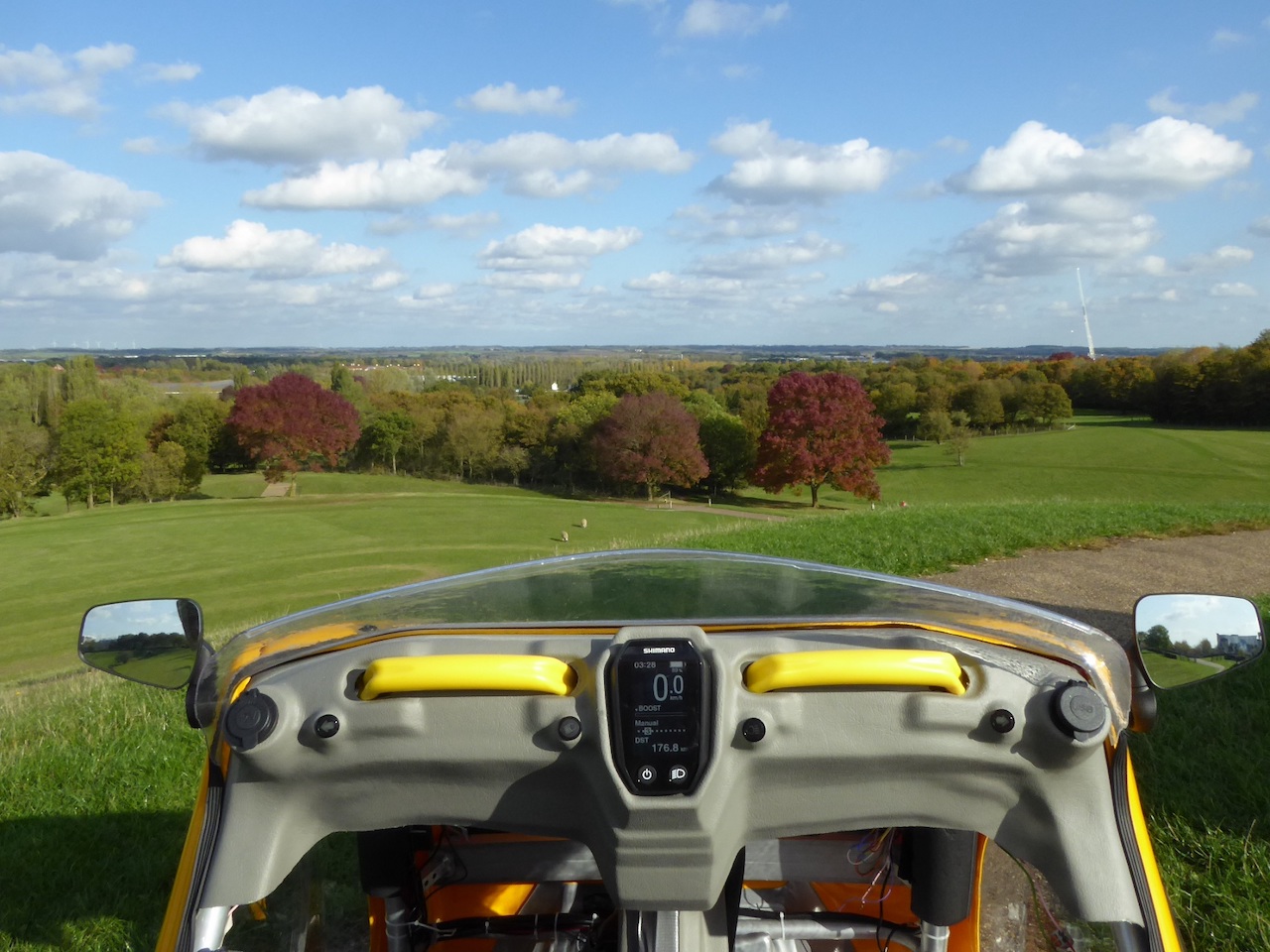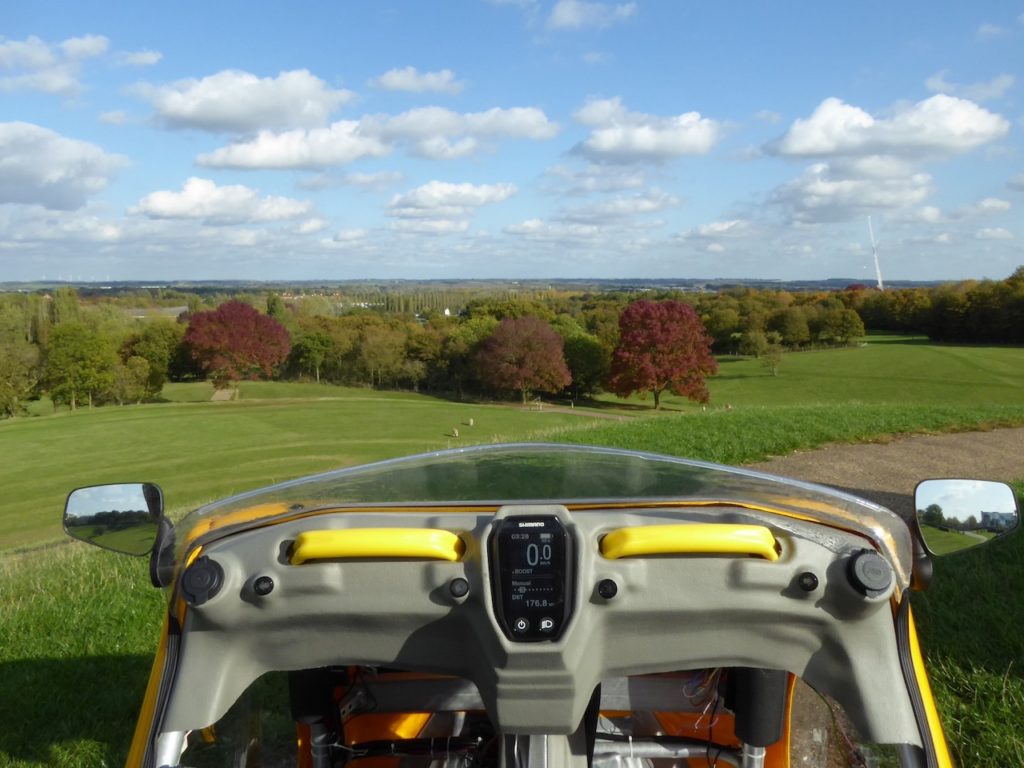 The drive system is a Shimano E8000 mid-drive (Shimano's most powerful eMTB spec) and the quoted range is 15 miles per 500Wh battery – the low range is largely due to the 265 pounds (120kg) vehicle weight, but it's quite easy to carry several spare batteries behind the seat to give enough range for a full day's riding if required.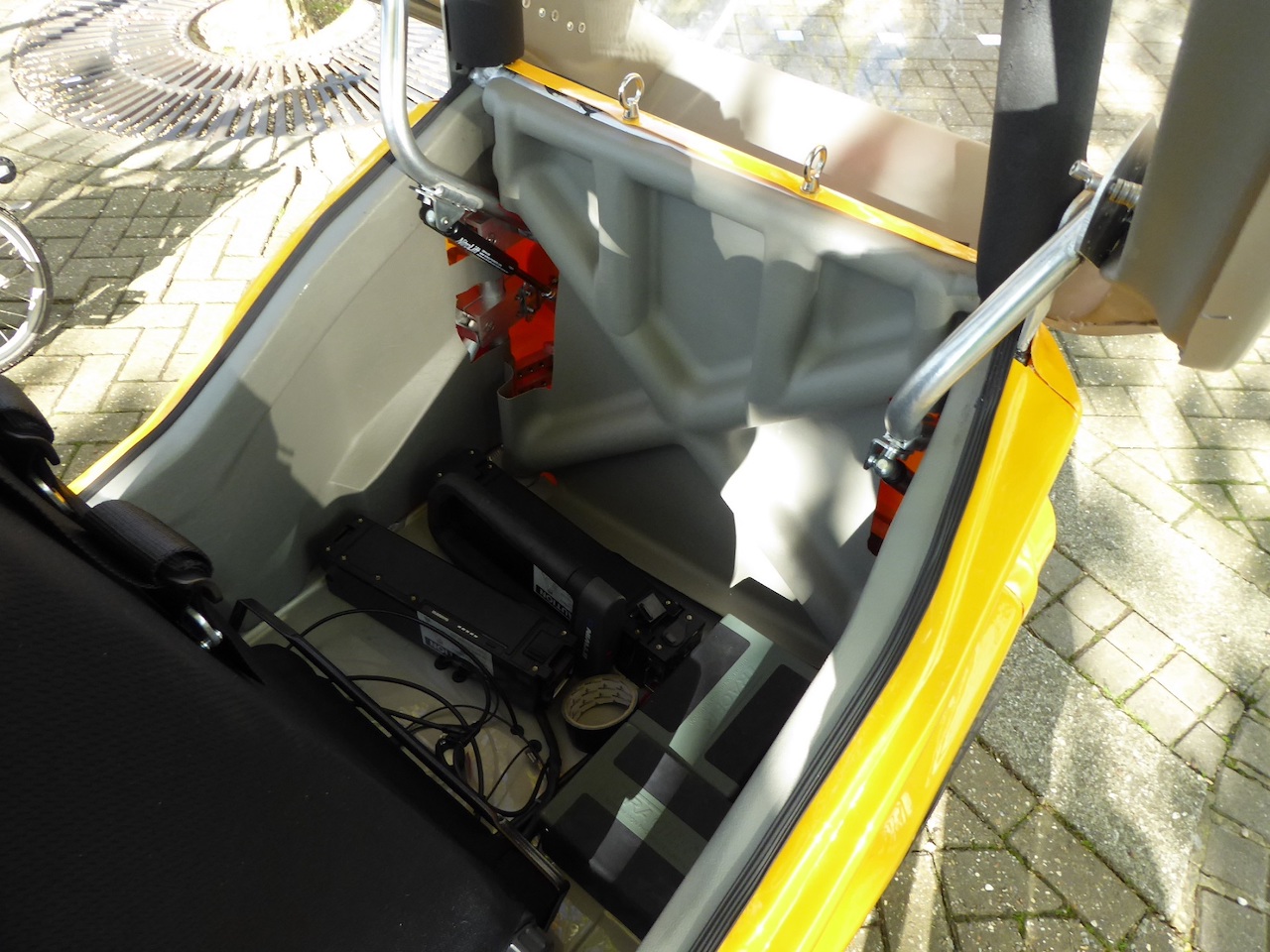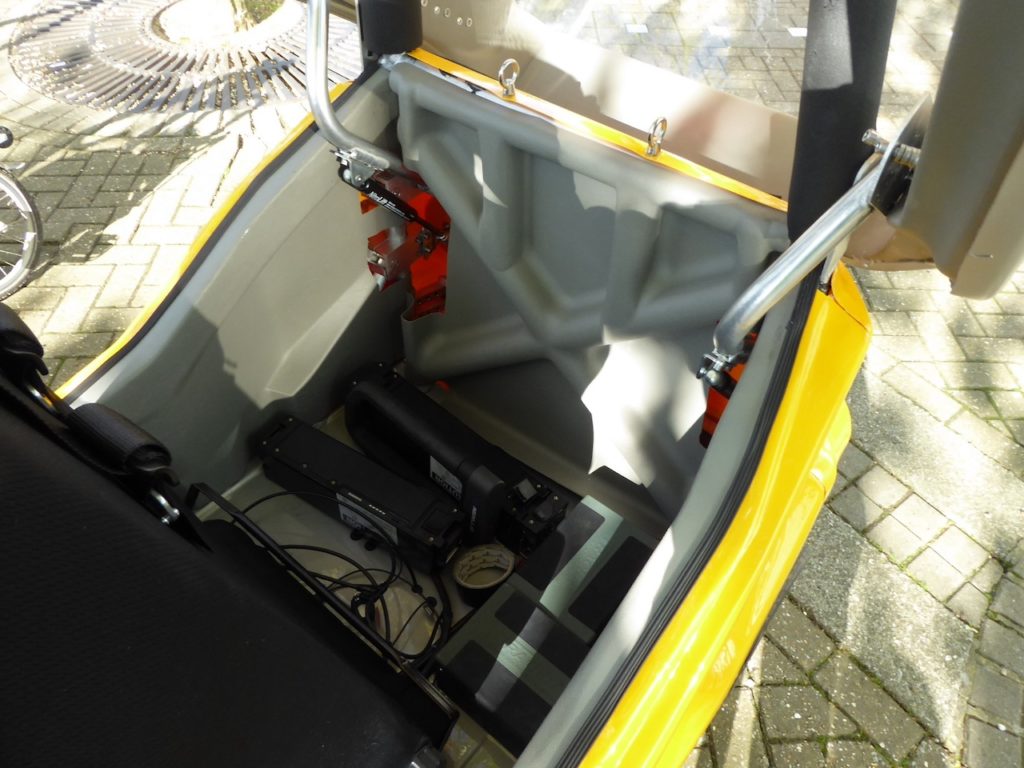 This might seem a lot of weight a first glance but really it's simply a necessary part of the design of such a vehicle, meaning not only the extra level of luxury but also adding weight to give a low centre of gravity, meaning stability for such a vehicle with a small, narrow footprint that places the rider quite high up compared to many recumbent bikes and trikes.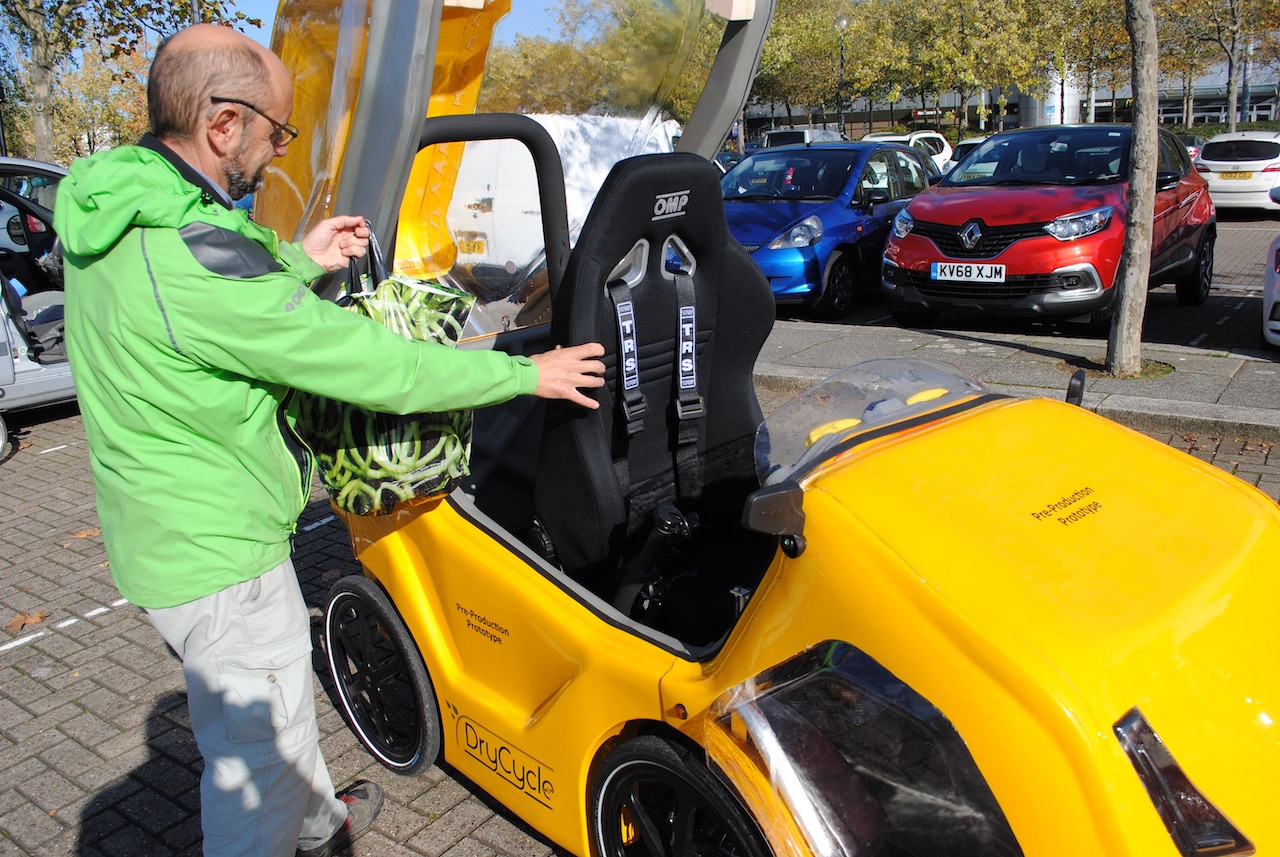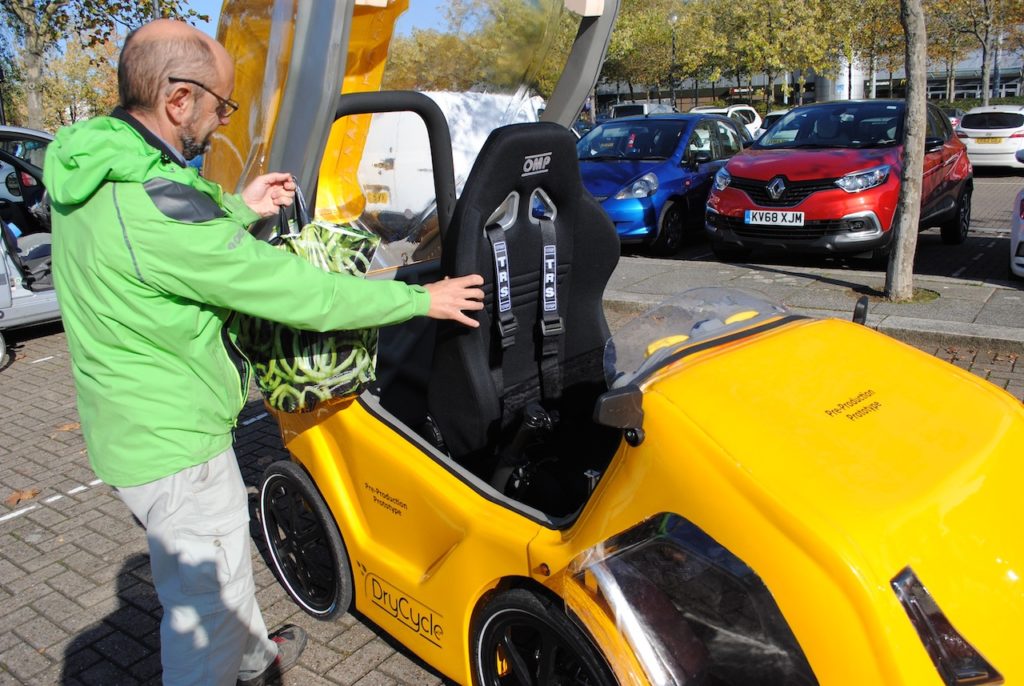 Like an electric recumbent, you sit in a nice comfy chair with the pedals forward and below you and 125 litres of storage space behind the seat.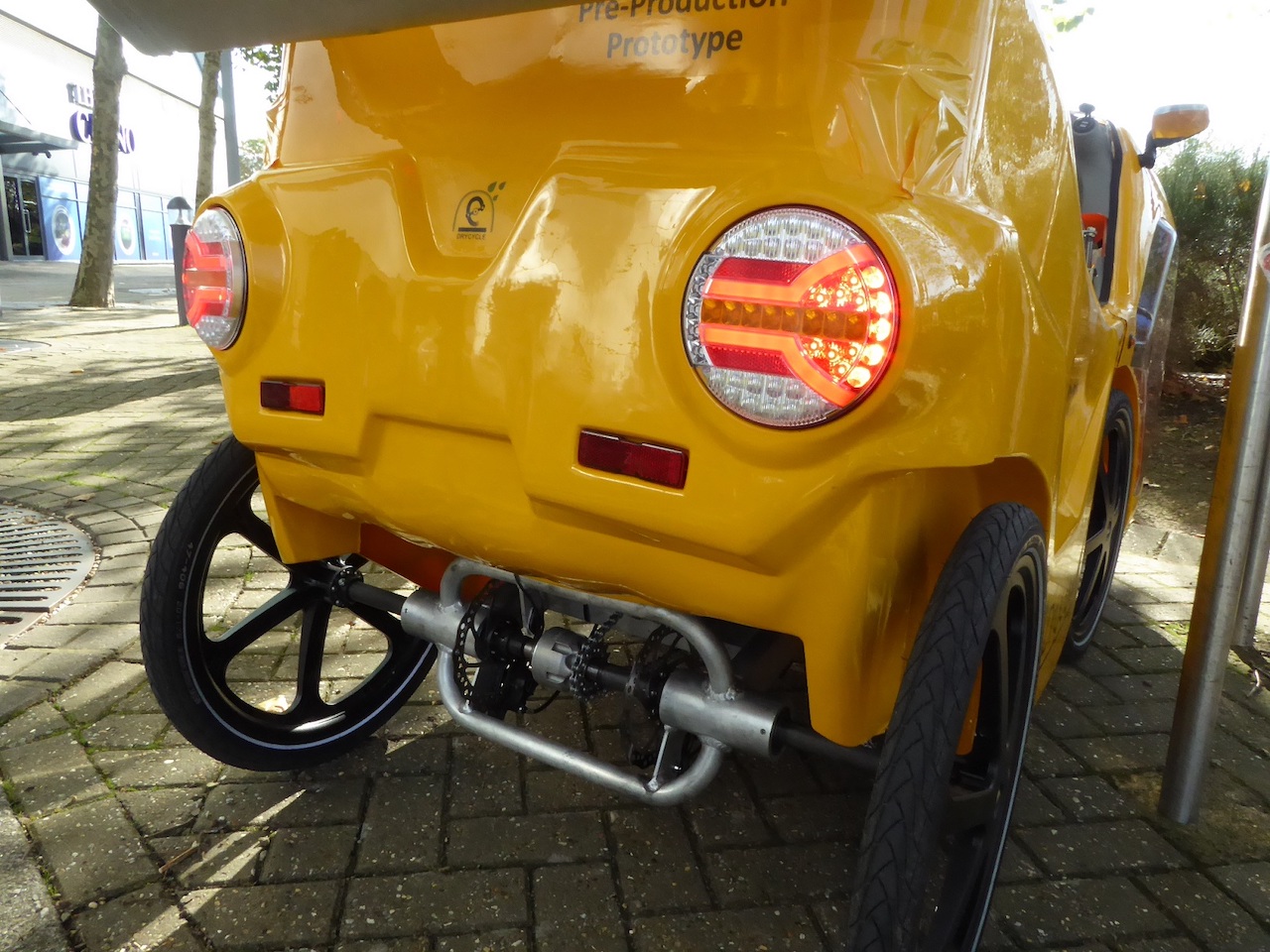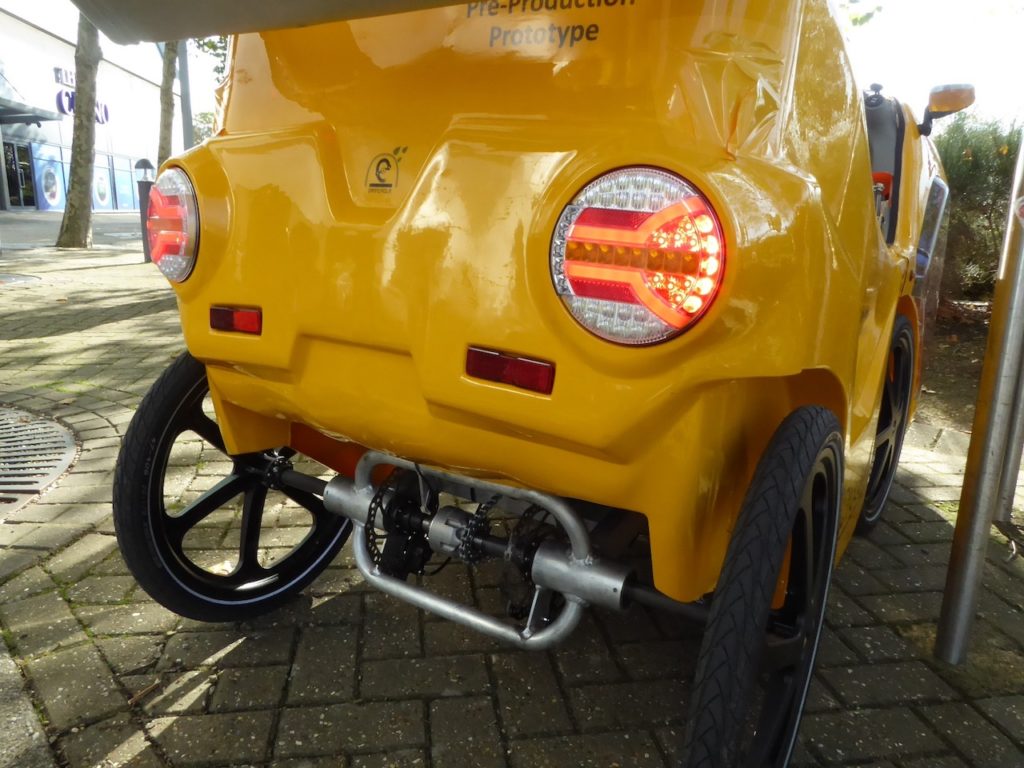 The drive chain passes underneath the vehicle to provide rear wheel drive via 11 electronically shifted dérailleur gears and a gearbox unit that allows for forward, reverse and neutral gear modes too.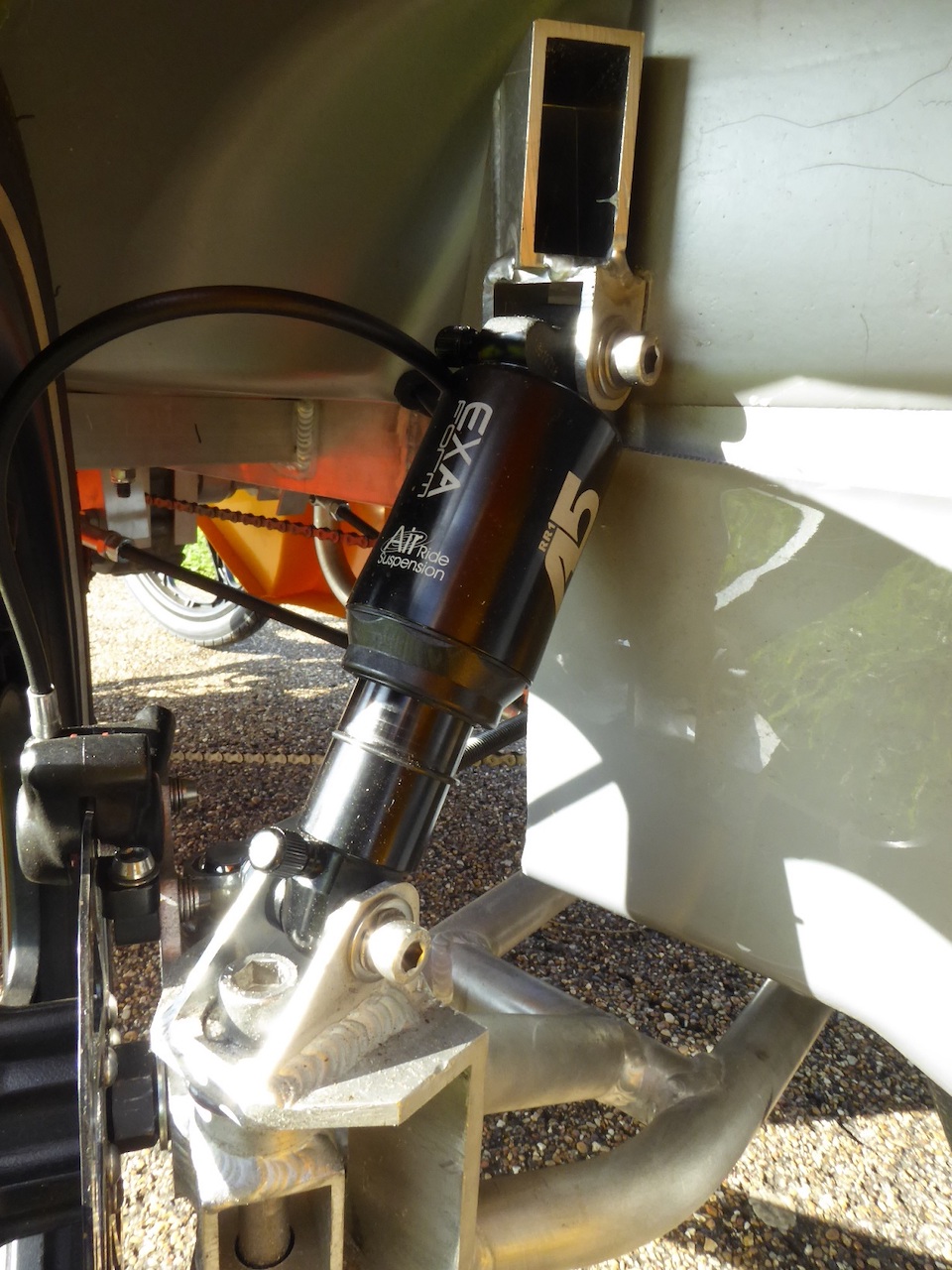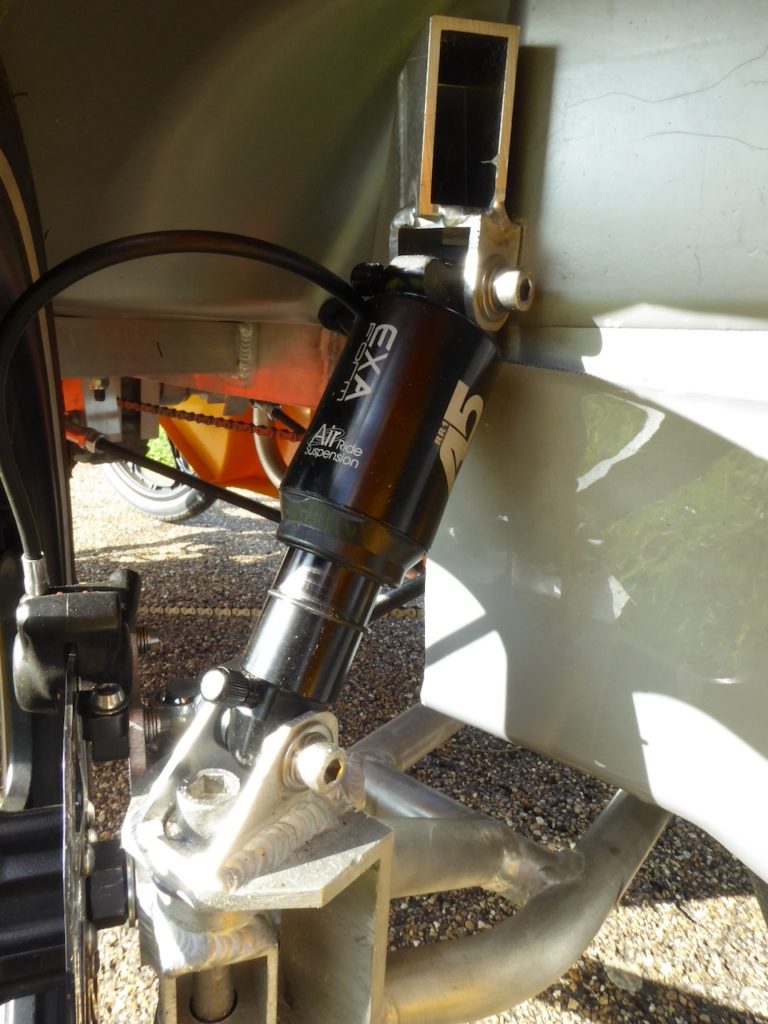 All four wheels have adjustable air suspension units (independent units at the front wheels) and powerful hydraulic disk brakes.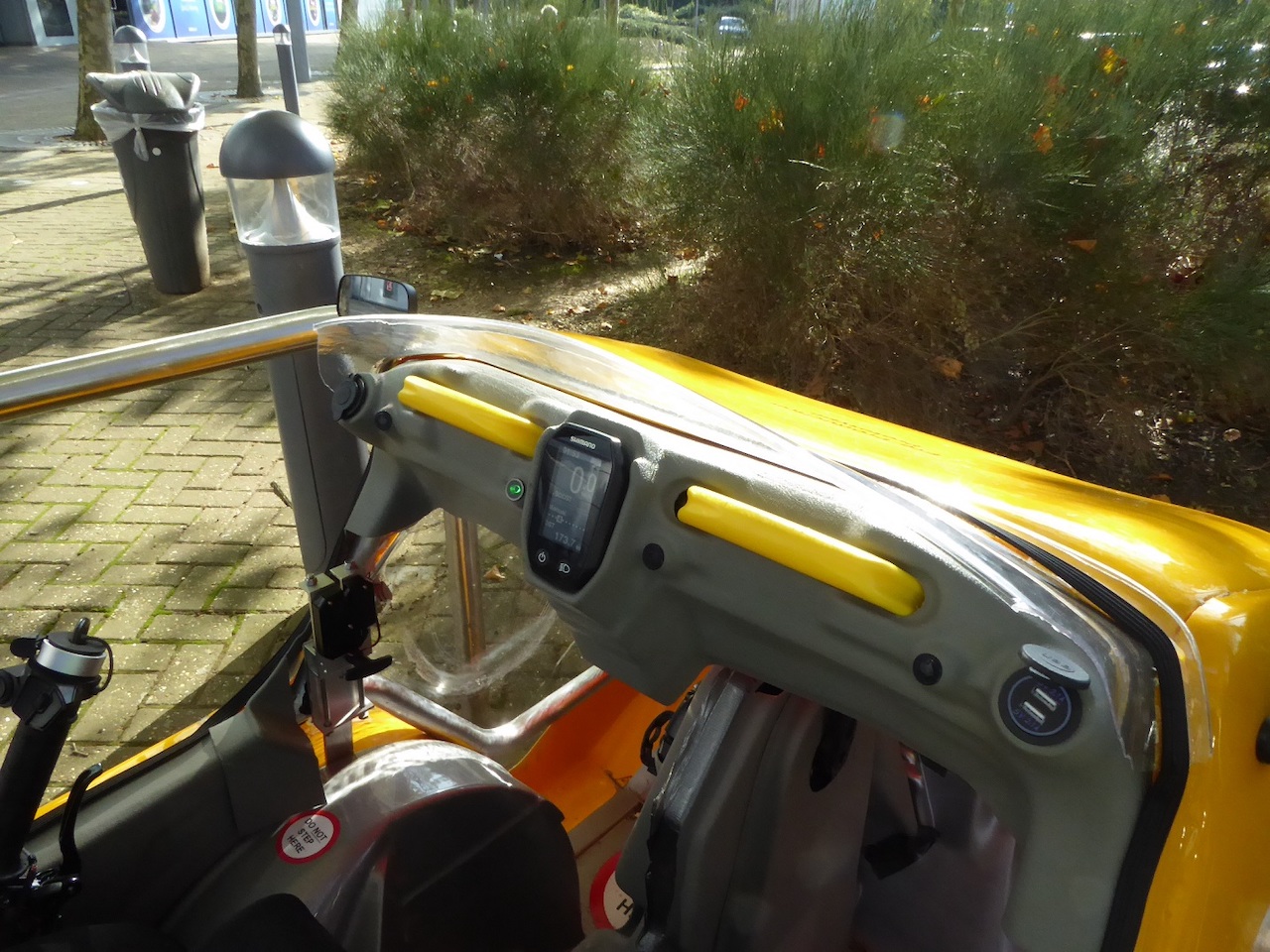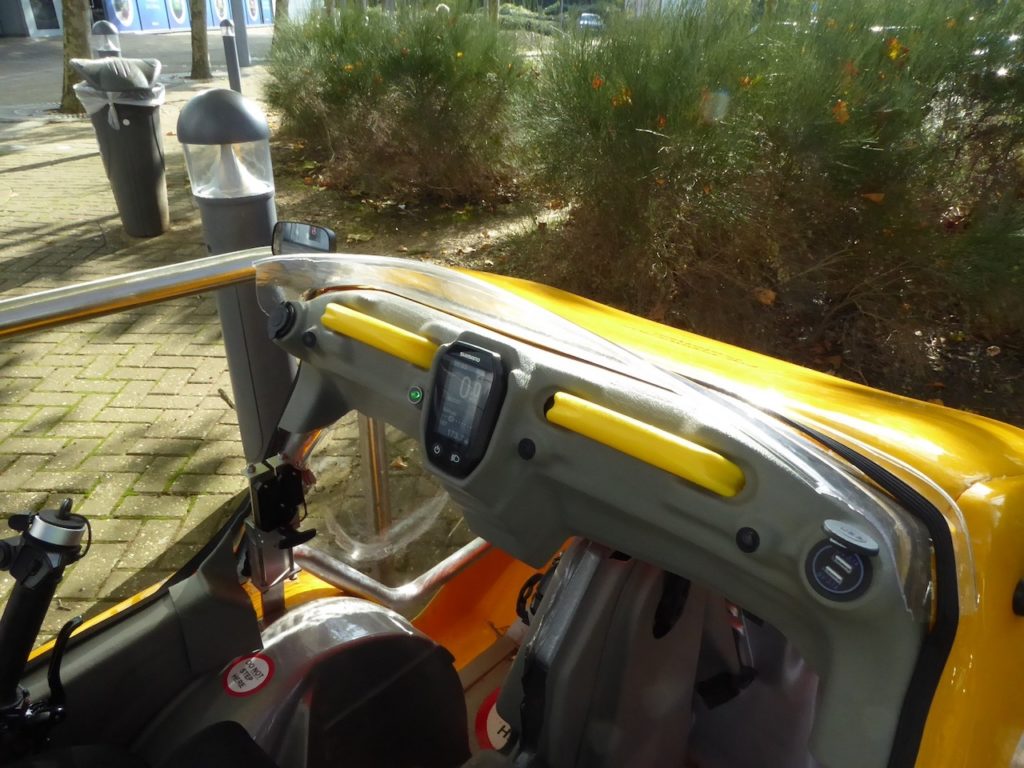 The thoughtfully designed dashboard has both 5V and 12V ports for everything from charging devices to connecting a small 200W heater.
There are indicator and headlight displays to show when these are operating. Two 22mm diameter bars provide useful handles for getting in and out and also act as handy mounting points for smartphones and the like.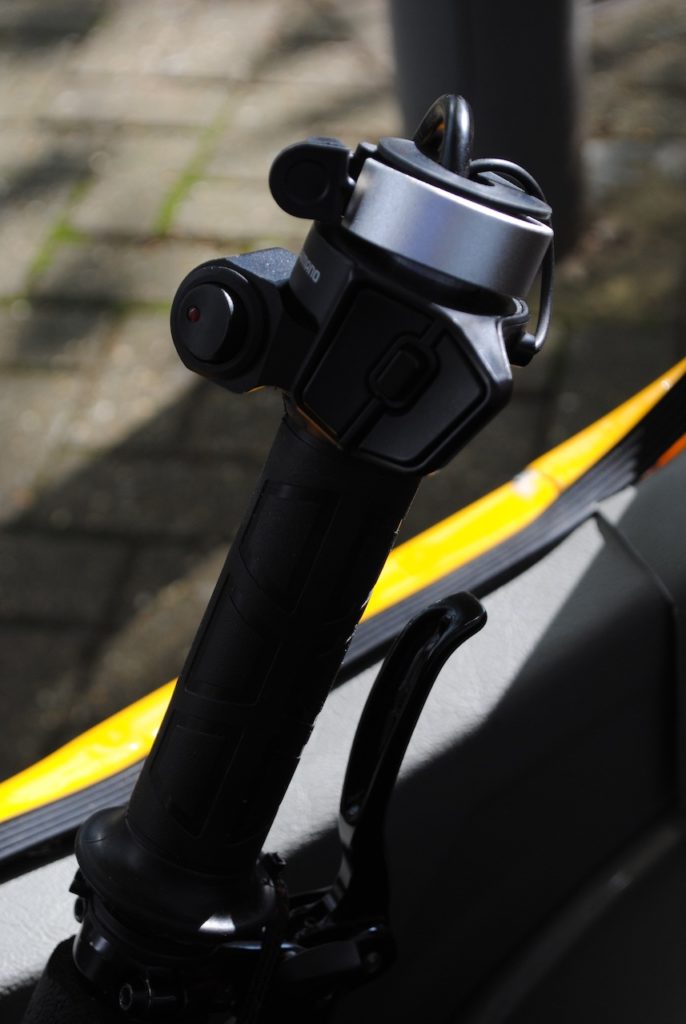 Steering is via hand joystick style controls that are down at hip level when seated, and each joystick has various controls on so you can control power levels, gear changing, lights, indicators and even a horn without removing your hands from the gear controls.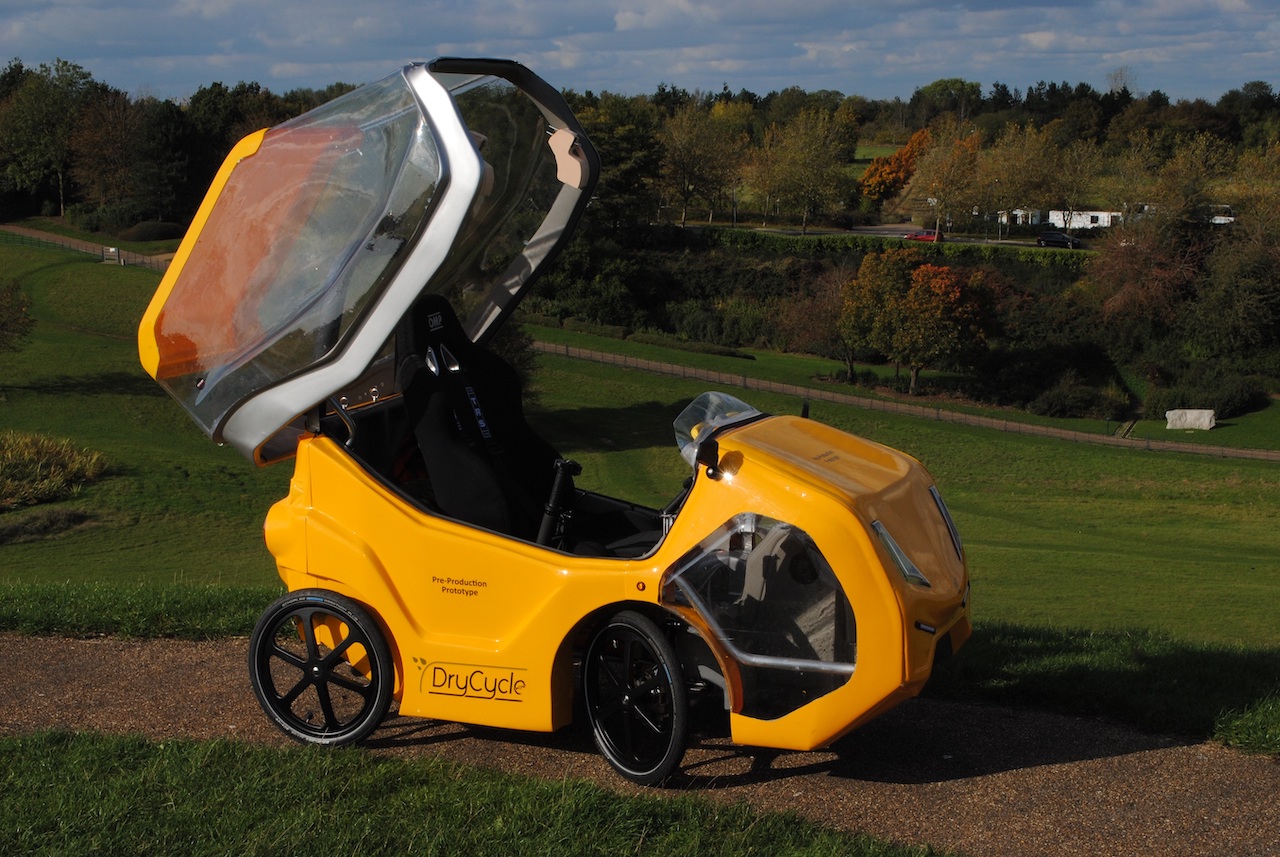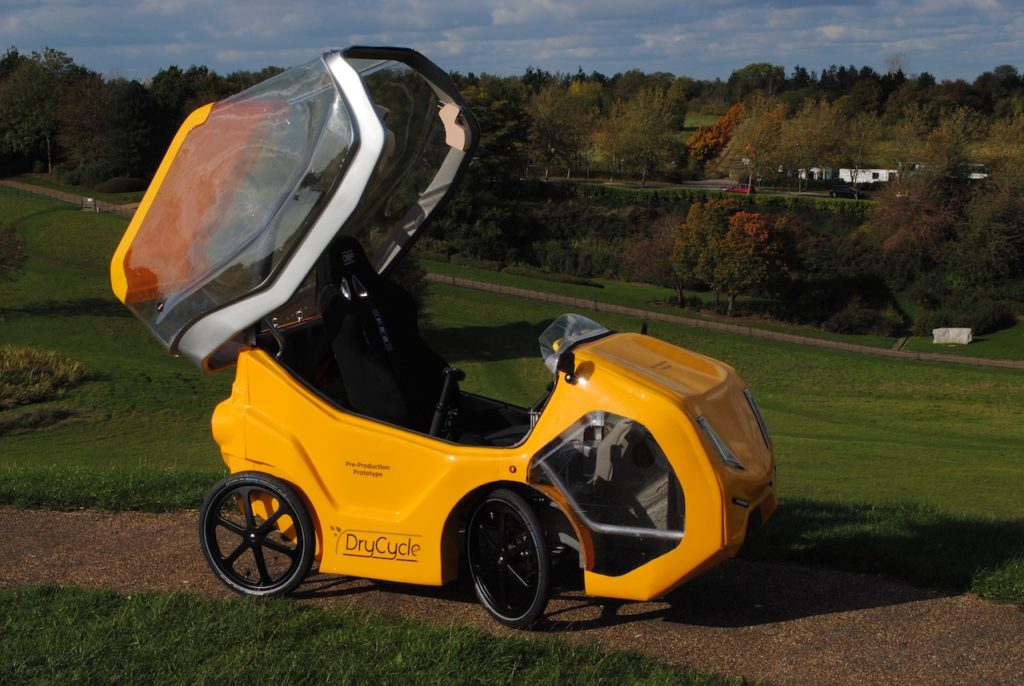 There is a raiseable hood made of largely clear polycarbonate that locks down with electronic locks that are remotely operated.
It all looks extremely well thought out – but how did it fare during real-world test riding?
The Ride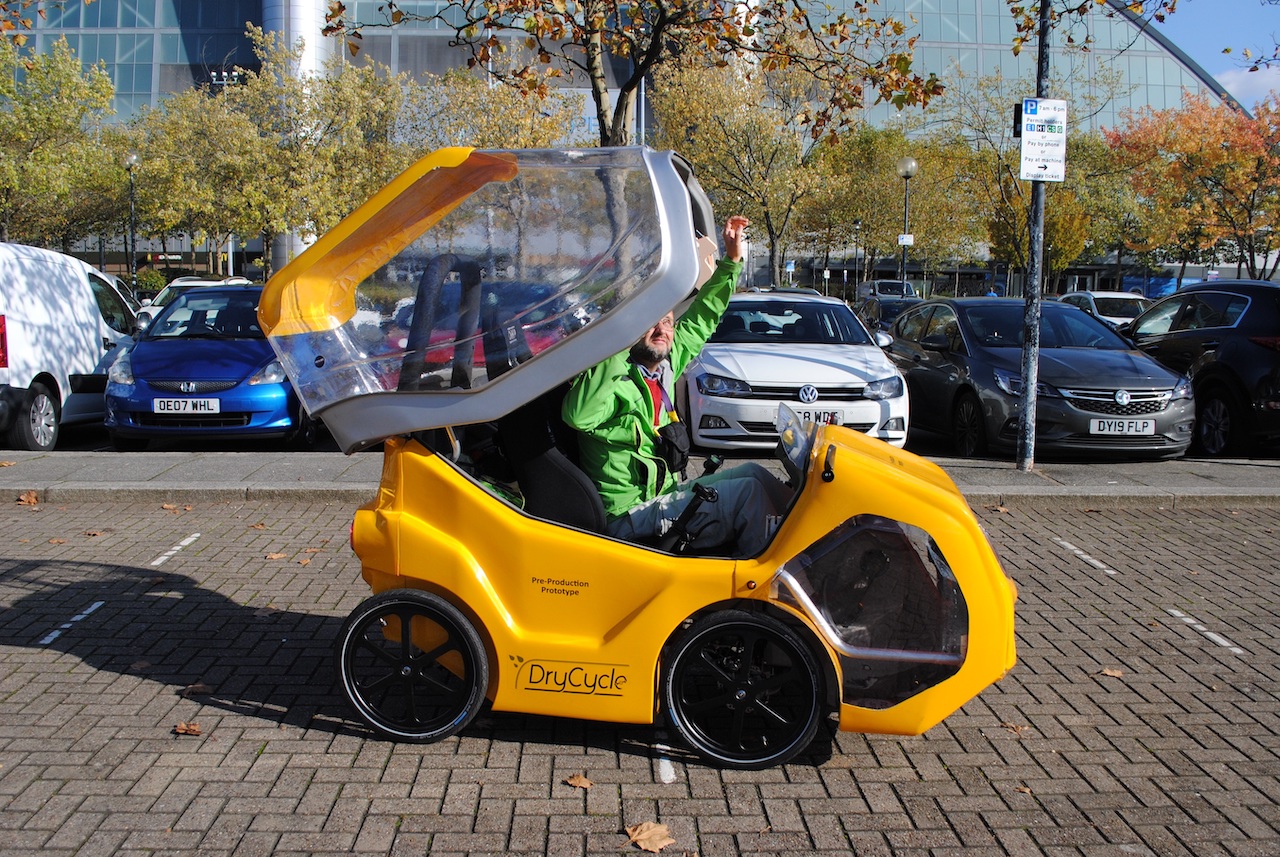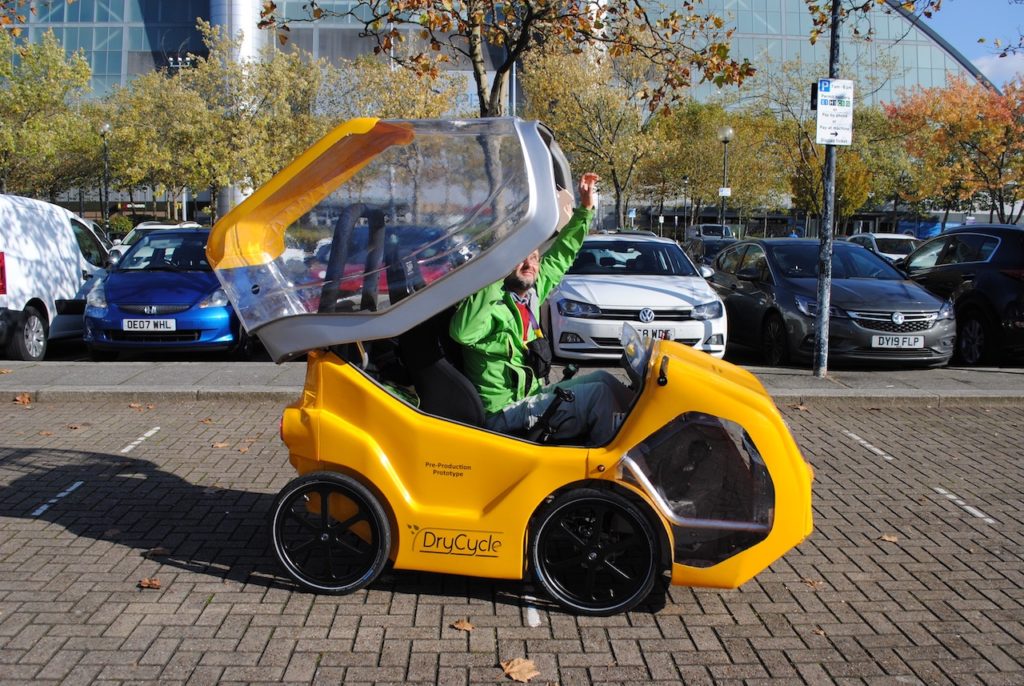 Stepping into the DryCycle means putting one foot on the metal plate infront of the seat and grabbing a dashboard handle to navigate yourself over the side of the bodywork and into the supercomfy bucket seat. You can then close the cockpit hood.
This is a production line standard Shimano mid-drive equipped vehicle so you just turn the electric assist system on in the usual way via the display.
As it uses derailleur gears you need to select a low gear if you are not already in one and to do this your pedals need to be turning; cleverly achieved if standing still by engaging neutral, meaning the derailleur gears are spinning but the main drive to the rear wheels is disconnected.
I was advised to keep the power level in top Boost setting and certainly needed this to set off and up any kind of hill.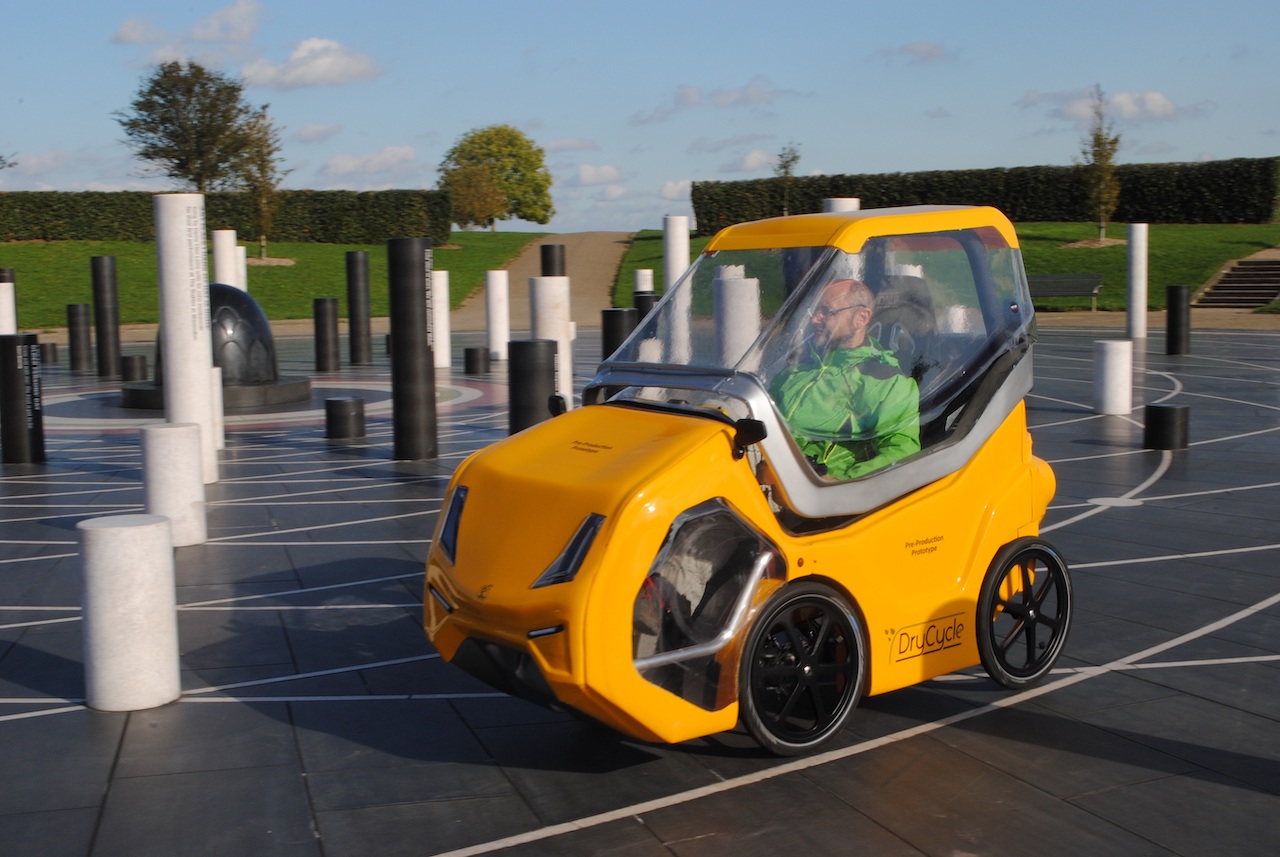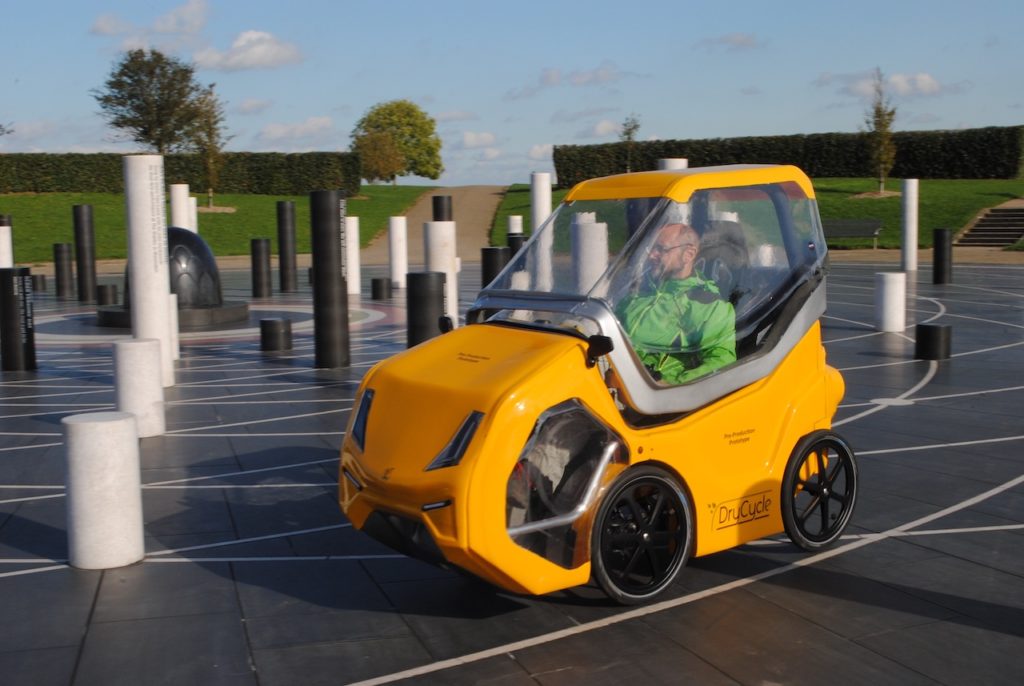 Although a little hesitant, as this was my first 'real world' experience of a velomobile type vehicle, and only the third time on Milton Keynes Redways cycle tracks I soon found myself having a blast.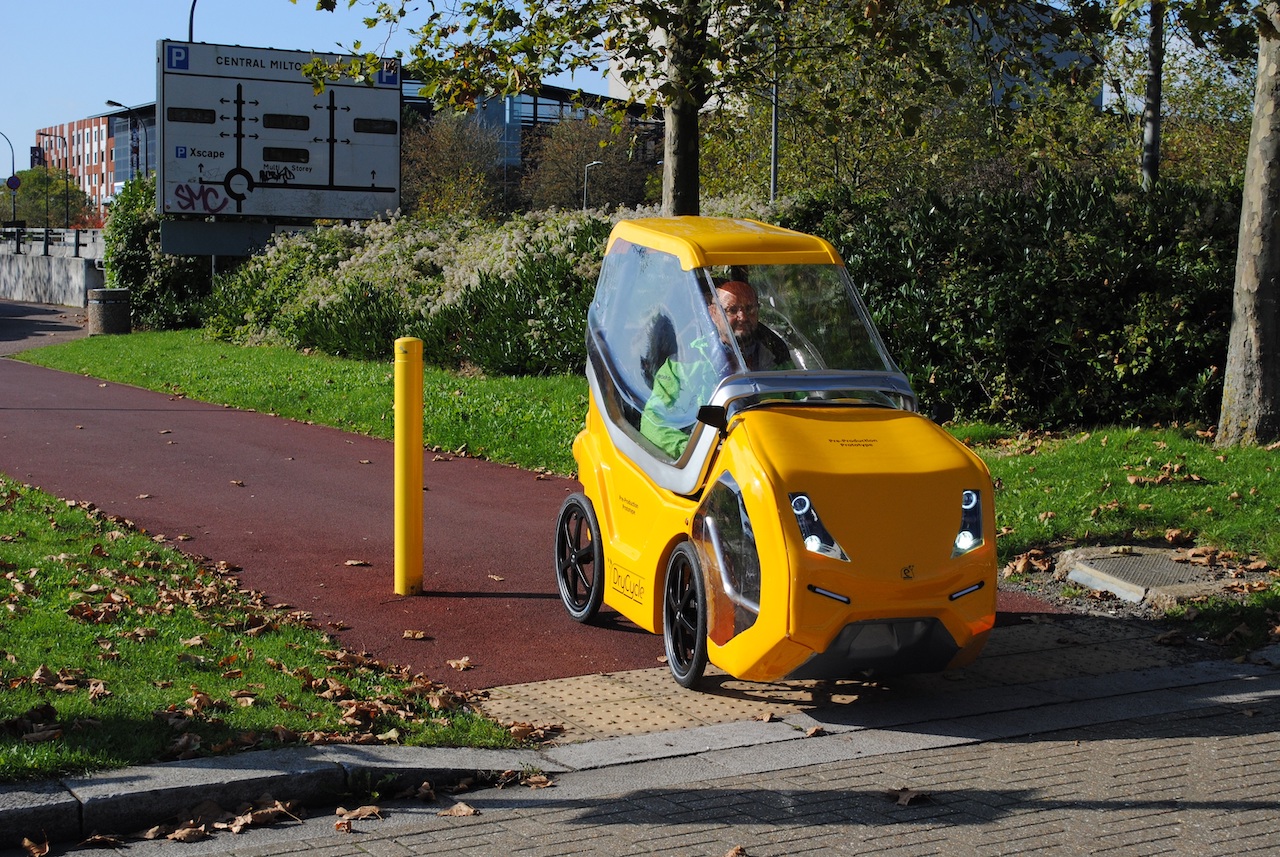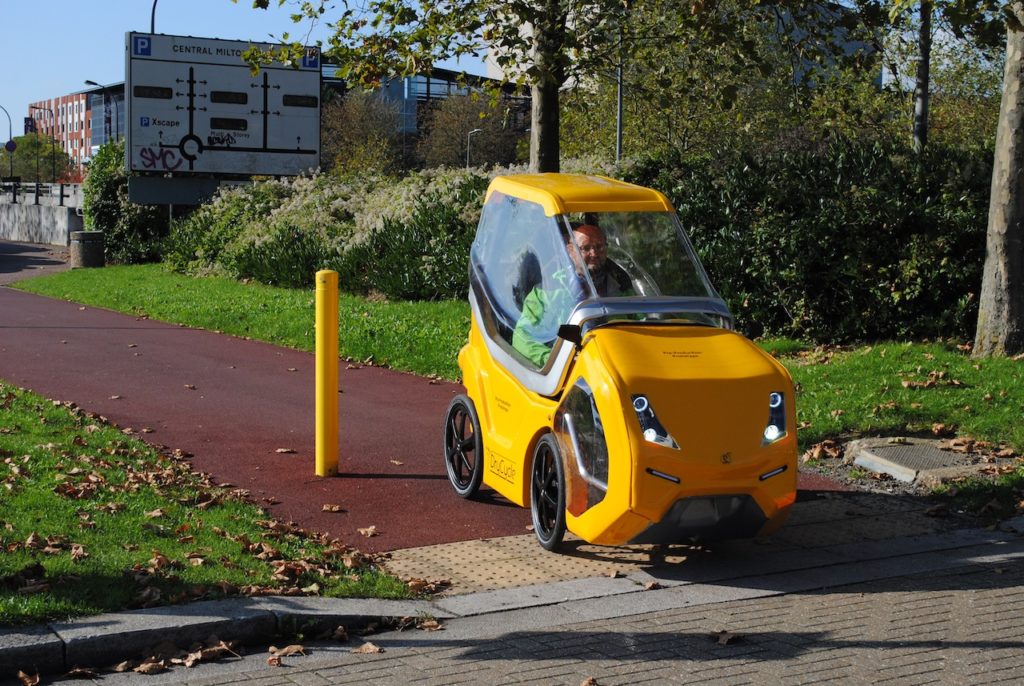 It was great to have the luxury of the racing car style seat and I even tried out the heated hand grips; I can imagine the wind protection being a great boon too had it been a bitterly cold day, especially if you chose to plug in a small heater via the 12V socket.
You don't get the very sporty acceleration you do on some e-mtbs but it's plenty for commuting on urban bike paths like these where you don't want speed at all costs.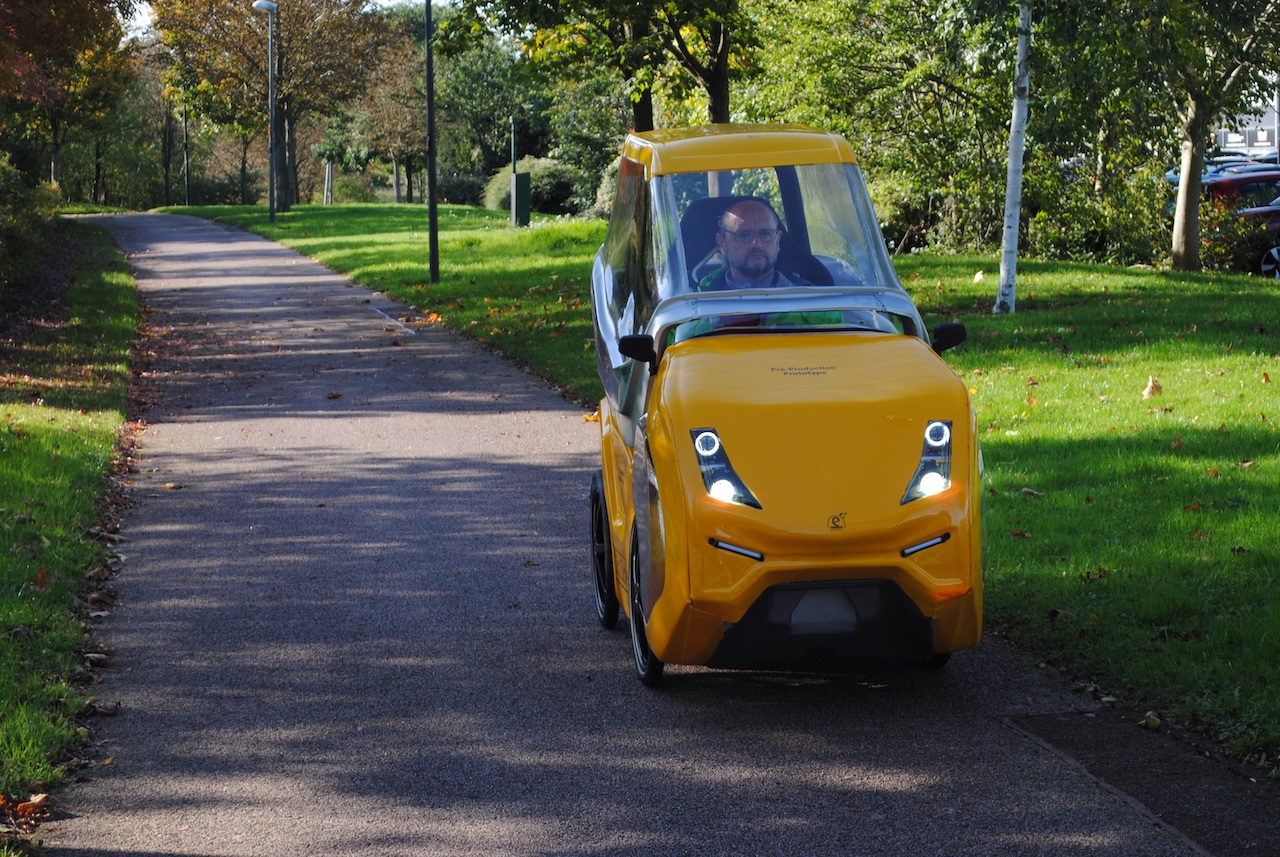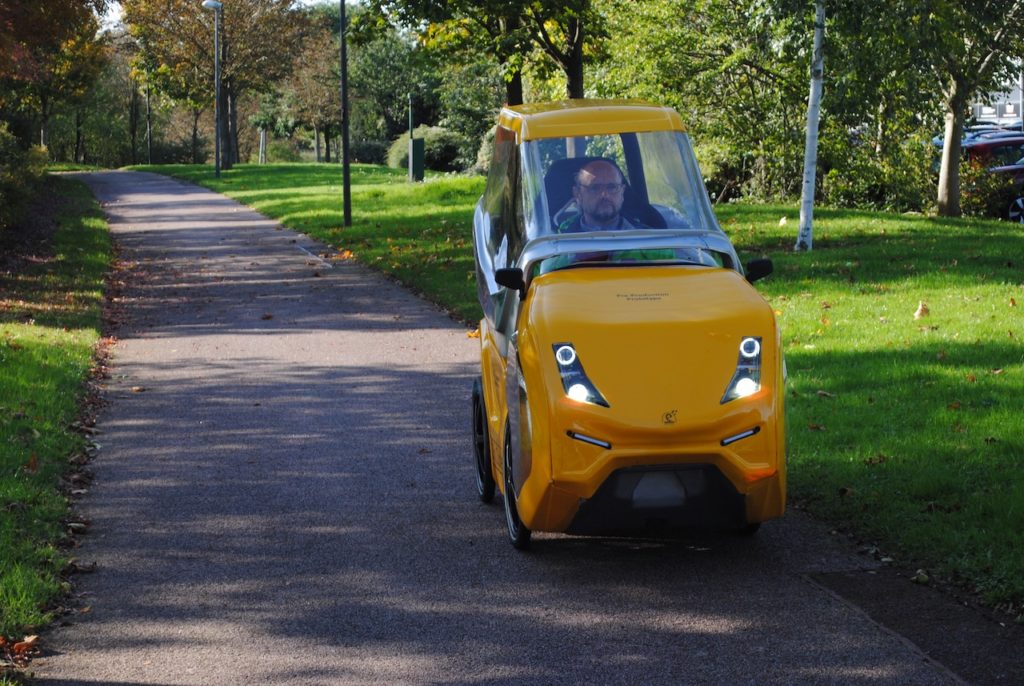 When up to speed I found myself turning the power down a notch to Trail setting as the DryCycle rolls really well on the well-made hard surface of the MK Redways.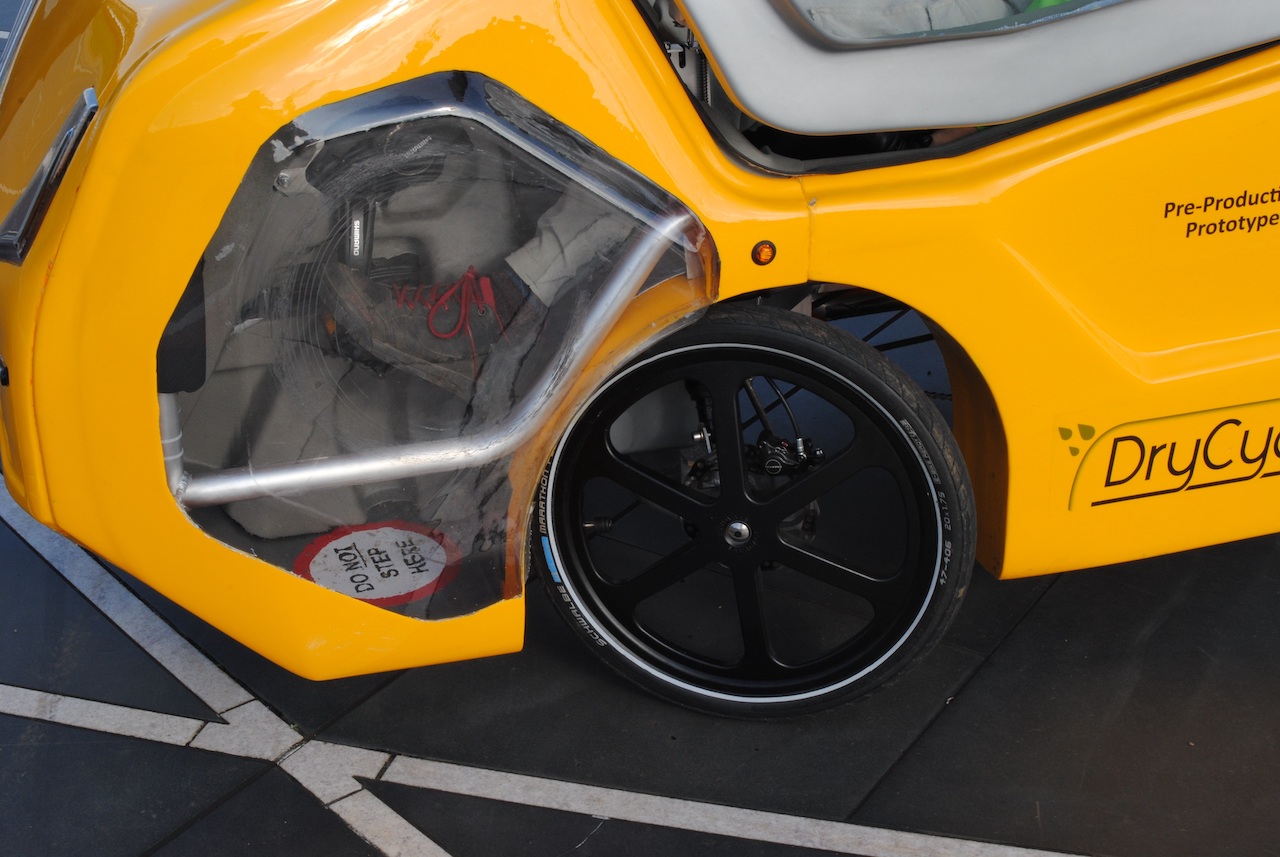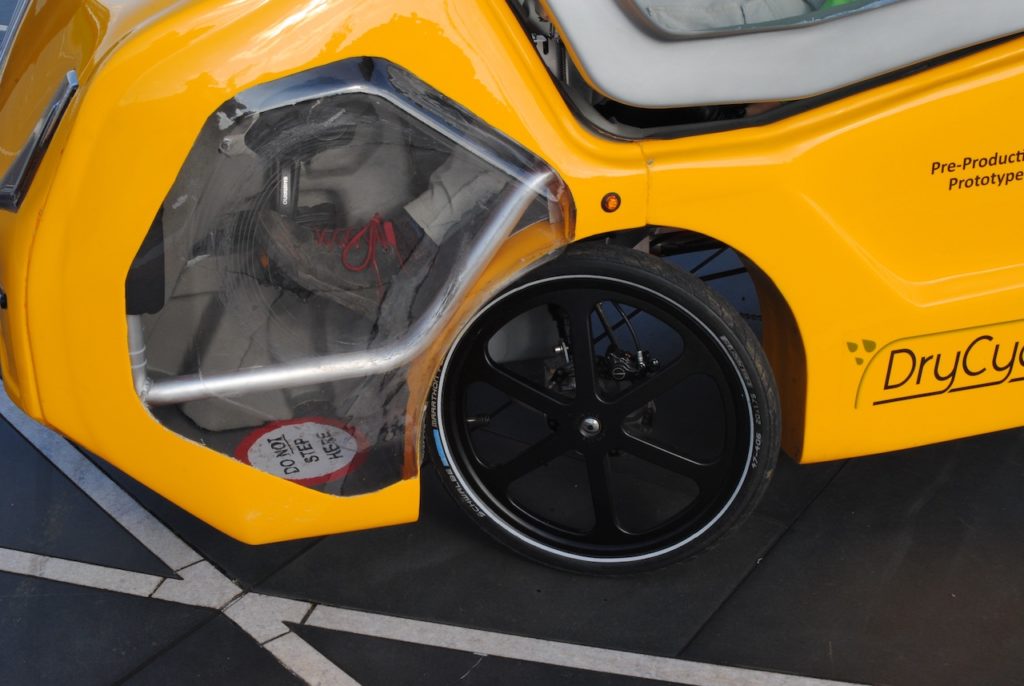 The steering is good and tight though I couldn't turn around within the width of most of the Redway paths in one go; however a three point turn using the reverse gear was no problem. It will stop on a sixpence using the four hydraulic disk brakes.
There weren't any long steep hills on the Redways (it coped very easily with shorter steep ones provided you are already in a low enough gear) so this was really the only gap during my brief test ride.
However, DryCycle say that although slower up steep hills than 'regular' e-bikes the vehicle will tackle pretty steep and long inclines with ease in a low gear.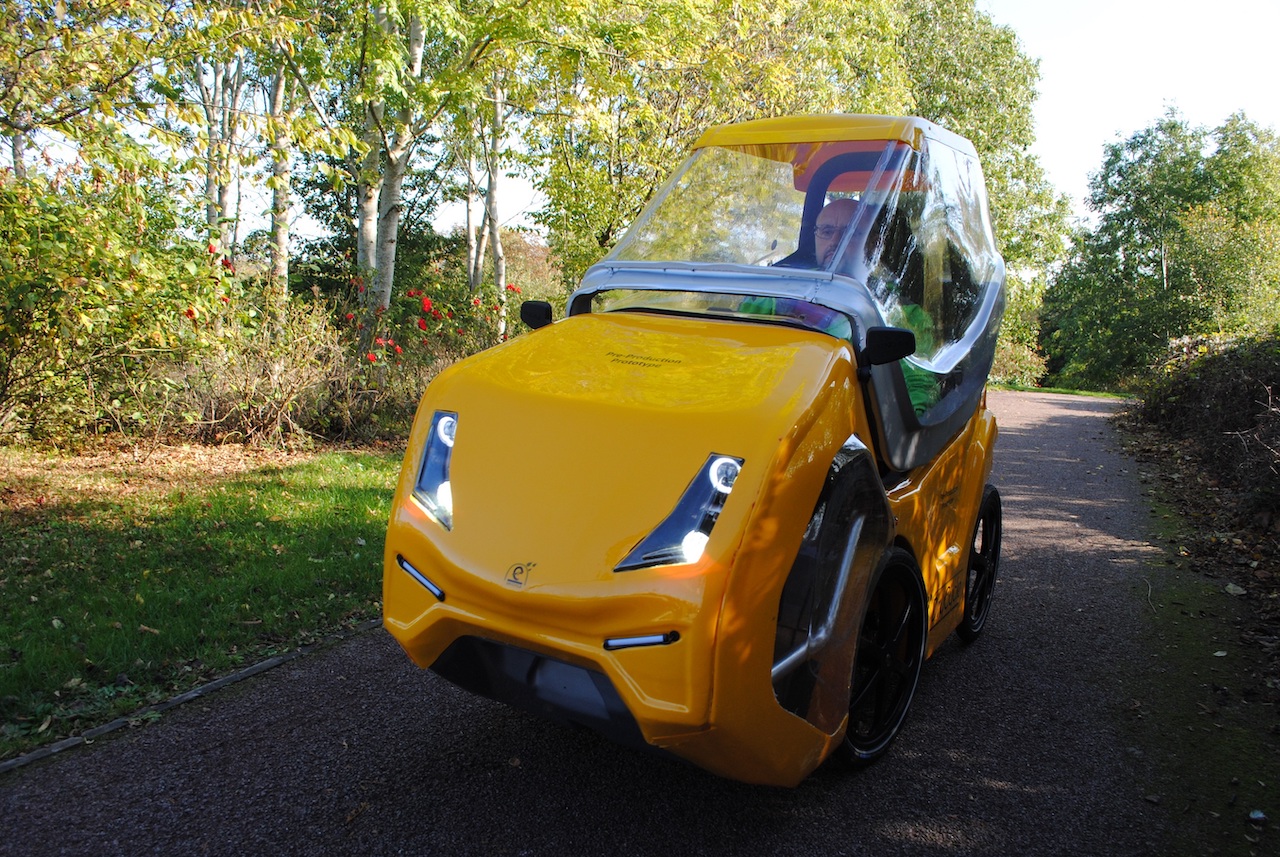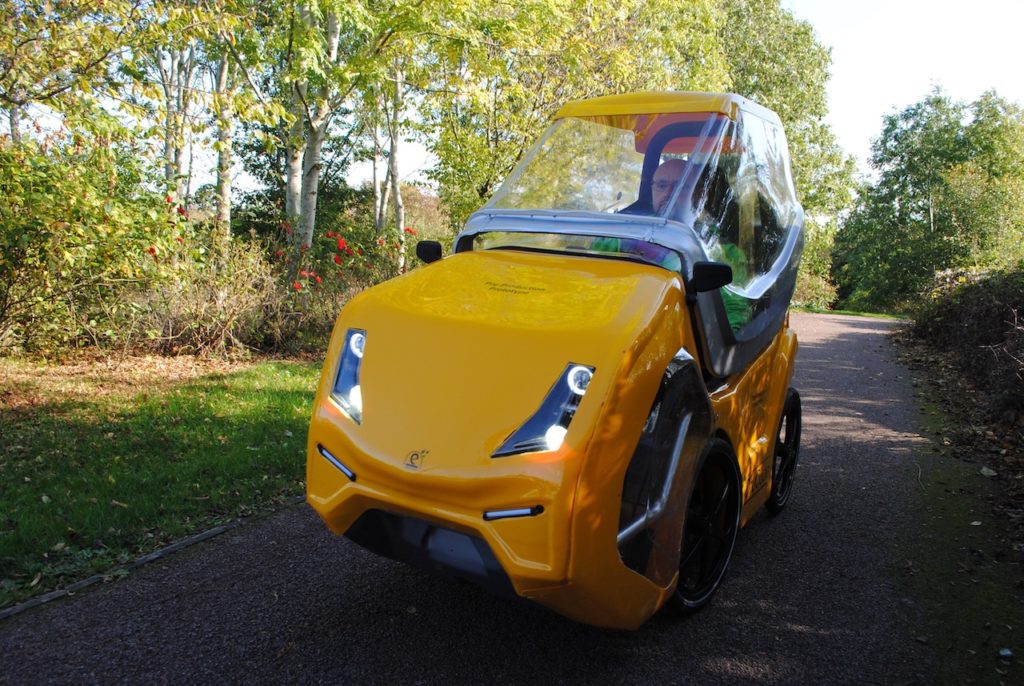 Visibility through the polycarbonate hatch was generally very good, though I found I couldn't use the wing mirrors very effectively due to lack of perfect transparency at joins and corners on the canopy, meaning I had to twist around to look through the rear window.
This may reslove itself on the final production versions though perhaps the option of a weatherproof exterior mounting area for a rear view cam that could then easily be wirelessly linked to your smartphone would be a good idea.
Similarly it's not that easy to chat with any riders alongside in the absence of a window (you would need to raise the cockpit).
If you wanted to activate crossing lights it would also present a problem. DryCycle say a windscreen wiper system will also be an option on the final production version.
There is more room than you might think behind the seat – to give a rough idea I would say you could easily load it up with several medium size bags, so it would be handy for shopping tasks as well as commuting.
A Note on MK Redways
The Milton Keynes Redways are a network of over 168 miles of safe paths (generally surfaced with red tarmac) that criss-cross the entire city and were a revolutionary development when the town was developed 'from scratch' as a new town in the 1960s.
They are great for any low speed vehicles such as e-bikes, velomobiles, powered wheelchairs as they are all interlinked by 'at grade' junctions (ie no steps or steep slopes).
They have even been used to trial automated robot delivery of goods to peoples' homes in the area!
On the sections I went on there were no access barriers, just bollards near the edges of some of the paths to stop cars driving down them – all easily negotiated by the DryCycle.
Conclusion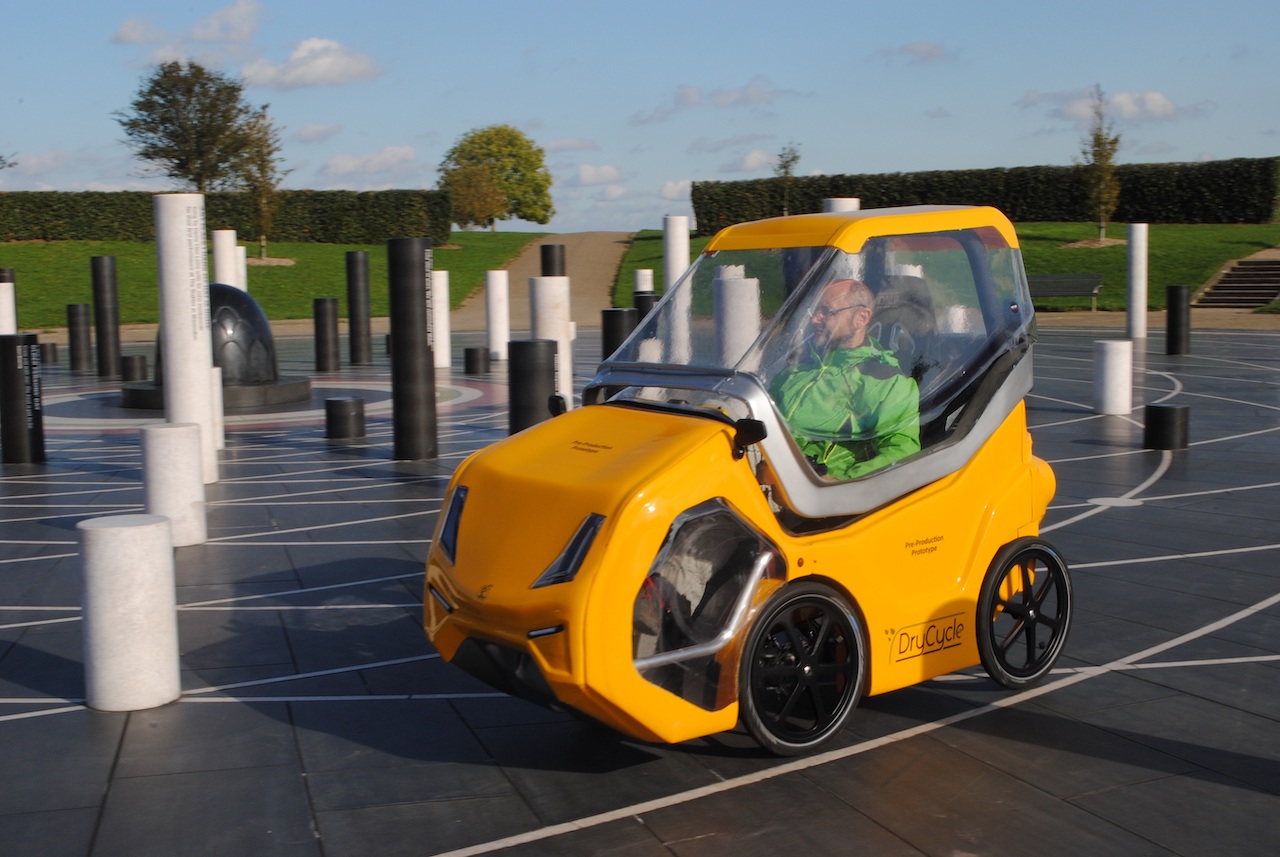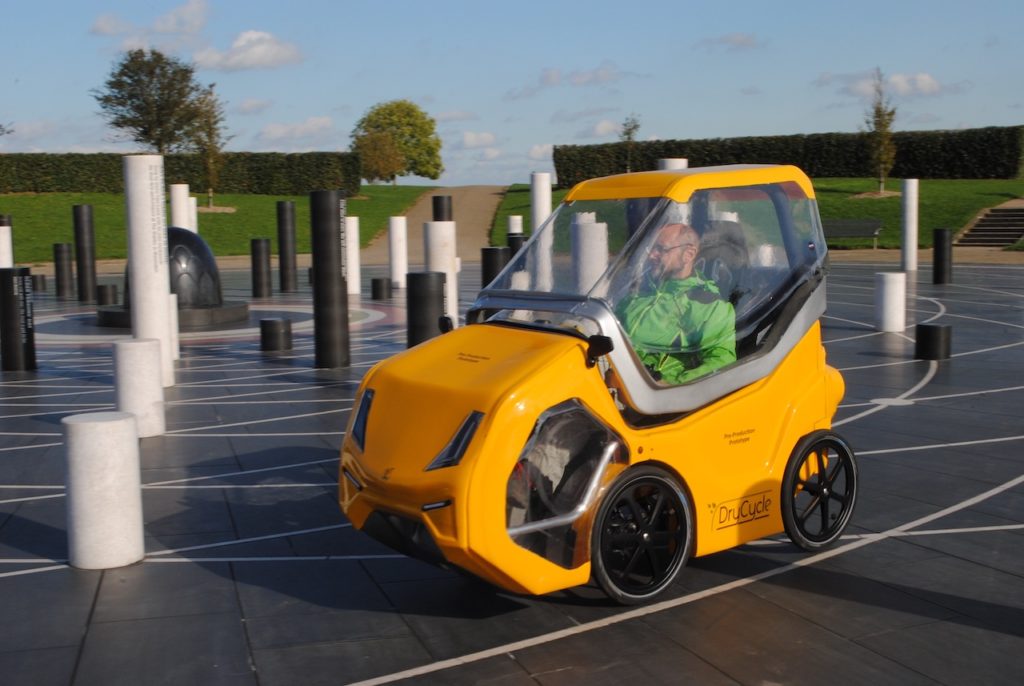 There are huge advantages with a vehicle like the DryCycle, not least the comfort, warmth and dryness it promises in all weathers.
There are inevitably some trade offs, as I have outlined, compared to riding a regular e-bike of course.
In addition a short production run of such a complex machine is bound not to come cheap, and the £14,995 price tag will of course leave many wanting one but not able to afford it but.
Still, this is the kind of innovative spinoff from established e-bike tech that promises to expand their uses and popularity in the future and for the money you are getting a truly unique vehicle that does what virtually no other e-bike is capable of doing.
Watch this space for a feature on the final production version.
Stay tuned for more e-bike news and reviews and thanks for reading!
-Rich
P.S. Don't forget to join the Electric Bike Report communityfor updates from the electric bike world, plus ebike riding and maintenance tips!
Reader Interactions