Test Riding the FlyKly Smart Wheel [VIDEO]
In this video, Nick Dietz and Chenda Ngak from CBS meet up with Niko Klansek from FlyKly to learn about the Smart Wheel and take it for a spin!
All-in-one electric bike kits like this offer an easy way for many people to convert their bike to electric.
Here is more information on the FlyKly Smart Wheel.
The Electron Wheel is an all-in-one that has everything contained in the front wheel.
And the one that started the whole all-in-one craze is the Copenhagen Wheel.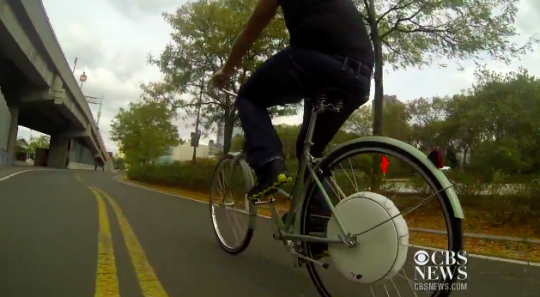 What do you think?  Will these all-in-one kits get more people on their bikes more often?
Please leave your comments in the section below.
Thanks!
-Pete
P.S. Don't forget to join the Electric Bike Report community for updates from the electric bike world, plus ebike riding and maintenance tips!
Reader Interactions