VIDEO: Copenhagen Wheel: A Clean Way to Convert Your Bike to Electric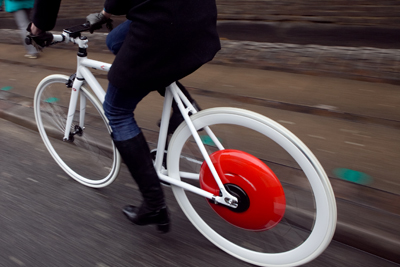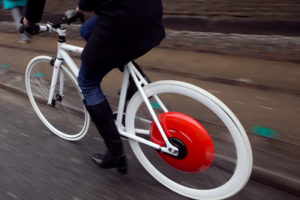 Well the folks at M.I.T have come up with a cool way to convert your current bicycle to an electric bike.  It's called the Copenhagen Wheel.  Everything you need is housed inside of the hub of the rear wheel. And I mean everything; including the batteries!
It has a lot of cool features like regenerative braking (the batteries are recharged when you brake) and the ability for the hub to communicate with your iPhone wirelessly to provide info about your ride.  The iPhone app can even lock and unlock your bike by "locking" up the wheel.  Oh and if a thief is trying to steal your bike, the Copenhagen wheel will send you a text message!
The best feature though, is the ability for you to take your favorite bike and make it an electric bike by simply changing the rear wheel.  So if you already have a bike that you just love and everything is dialed in perfectly for you, then the transition to an electric bike will be super easy with the Copenhagen wheel.
As of writing this the wheel is not available for sale, but the Copenhagen Wheel press release states " It is expected that the wheel will go into production next year (2010), with a tag price competitive with that of a standard electric bike."
Here is the video of the Copenhagen Wheel:
What do you think?  Would you be interested in getting a Copenhagen Wheel to convert your current bike to an electric bike?
Please leave your comments below! You can use your Facebook or Twitter login to leave a comment.
Thanks!
Pete
P.S. Don't forget to get sign up for updates from the electric bike world, plus ebike riding and maintenance tips!  (upper right hand corner of this site)
Reader Interactions