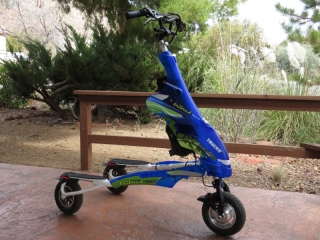 What is a
Trikke Pon-e
?  It is a 3 wheeled electric
carving vehicle
that is designed to make your commute and/or recreational ride a lot of fun!
The Trikke is similar to skiing, but on land!
This is not an electric bike, but it is similar in that it is a light electric vehicle (LEV) that is powered by an electric motor and your motion (if you choose).
A variety of LEV's have hit the market recently in the form of e-kicks scooters, e-skateboards, and the Trikke Pon-e.
These LEV's are an alternative to the electric bike for people who want [Read more…]