Juiced Riders ODK Electric Cargo Bike Review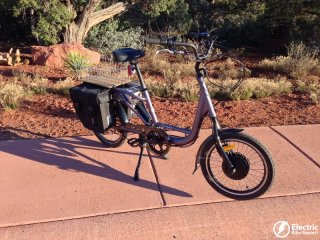 The
Juiced Riders ODK
electric cargo bike: sturdy, powerful, big battery, simple, easy to ride, comfortable, versatile, cargo hauler, and fun!
Does that sound interesting to you?  Then check out this full review of the ODK!
After several weeks of riding the ODK I have compiled my thoughts on this unique electric cargo bike with some background on the designer, ride characteristics, a range test, pros, cons, and overall thoughts.
Make sure you check out the video, large pictures and specifications of the Juiced Riders ODK to get familiar with this versatile electric cargo bike.
A little background on Juiced Riders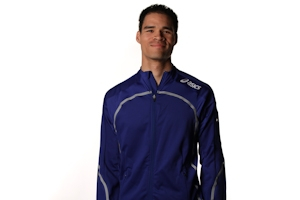 Tora Harris
is the president of Juiced Riders. Tora is an Olympian who competed in the 2004 Olympic Games in Athens Greece in the high jump competition. He has also been US national champion of the indoor and outdoor high jump competition multiple times. Tora studied mechanical and Aerospace engineering at Princeton.
Tora has lived in Taiwan, Holland, Germany, and other countries.  Experiencing the bike (and e-bike) scenes in those countries inspired him to start his own company and bring that e-bike culture to the US.
The Juiced Riders ODK electric cargo bike was designed to provide easy and reliable transportation for many people. It doesn't necessarily fit the typical electric bike category. It is probably somewhere between an electric bicycle and an electric scooter; with more emphasis on the ability to efficiently add pedal power.  The ODK can be your car alternative or replacement!
Overall, Tora really focused on some main design points for the ODK: keep it simple, reliable, easy-to-use, affordable, versatile, serviceable, utilitarian, and fun!
Here is a video that will give a glimpse into some of the journey Tora has been on to get the ODK into production:
What you can expect from this electric cargo bike:
And here is a video that highlights some of the features of the Juiced Riders ODK and shows it in action!
One of  the most notable features of the ODK is the smaller, 20 inch wheels.  These smaller wheels allow the cargo of the bike to remain relatively low in comparison to bikes that have larger wheels.  Keeping the weight of the cargo lower to the ground helps with the handling of the bike.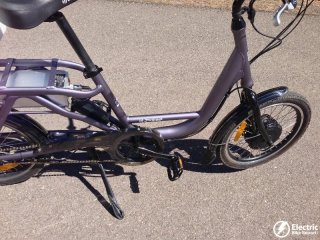 In addition the smaller wheels allow for a
very low step through area
which makes getting on and off the bike incredibly easy.  It was nice not having to throw my leg over the seat to get on the bike, especially when carrying heavy cargo.
Another benefit of the small 20 inch wheels is that they are very strong in comparison to some larger wheels.
Smaller wheels have a lot of benefits but there are also some considerations to be aware of. With a smaller wheel you tend to feel the bumps and cracks in the road more.  In addition you have to watch out for potholes because a smaller wheel can get stuck in a larger pothole and that can be a problem!
The ODK frame is constructed out of aluminum and it includes a heavy duty integrated rack that provides many different mounting options for accessories.  The rack is very stout and the whole bike is designed to support a total of 330 pounds which includes the cargo weight plus the rider's weight.  More on all the possible cargo options in a bit.
As I mentioned earlier, Tora designed the ODK to be very comfortable to ride.  It has an upright riding position so that you can see cars, other bikers, and pedestrians around you.  The Velo saddle that comes equipped on the ODK is very comfortable.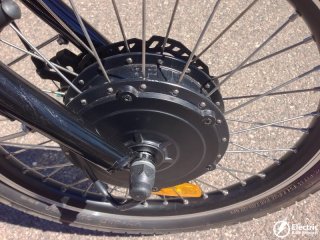 The 500 watt Bafang geared front hub motor is very powerful and you need to be aware of it especially if you're on loose terrain like gravel or even if there is just some dirt on the road. In fact it is so powerful that you can spin the wheel (peel out) when accelerating from a stop on pavement that has some of dirt on it!
When you're riding the bike without cargo it almost seems to be too powerful. But when you have the bike fully loaded and you're riding up some hills you can see how this torquey 500 watt motor really makes sense. Overall this is something that I got used to; it's just something to be aware of when you first ride the bike.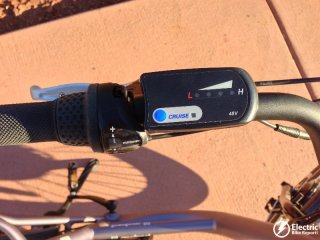 The ODK is a throttle only bike with cruise control!  Tora said that it took quite a bit of work to dial in the cruise control design properly.
Riding with the cruise control on is nice because you can focus more on your pedaling without having to hold the throttle in the correct position. By setting the cruise control and then focusing on your own pedaling it has a similar feel to a pedal assist bike. Really it's somewhere in between a throttle bike and a pedal assist bike.
The cruise control is true cruise control; when you set the cruise at your desired speed the bike will try and maintain that speed. Of course if you're going uphill it may not be able to maintain that speed, but it will try!
The cruise control is easily deactivated by; squeezing either brake lever (the brake itself does not have to engage); twisting the throttle; or pushing the cruise control button again.  It was very easy to tap the brake levers and shut the cruise down.  It never felt dangerous to me.
When adding assist, the throttle had a little bit of a lag before it really kicked in so it was kind of hard to gauge exactly how much assist you would get at the beginning.  After some miles on the bike you can gauge where on the twist of the throttle you will want to be.  It would be nice to have more responsive throttle.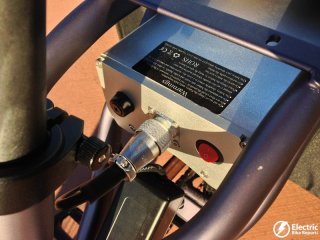 The ODK goes the distance!  The
48 volt 15 amp hour lithium ion battery
is an amazingly large battery and as you will see below, my range test with light pedaling netted 33+ miles with around 2600+ ft of total climbing.  That is a lot of range and with more pedaling and less climbing the bike could get a bit more mileage from a charge.  It further proves the useful utility of the ODK for commutes, errand running, restaurant delivery, etc.
Tora designed the ODK with this large pack so that you can do long trips but also to extend the overall life of the battery pack.  Tora found that some riders may only ride 15 miles per day.  In that case if you recharge the battery after only 15 miles of use, the overall effect is that you will get many more trips out of the overall battery cycle life (cycle = full discharge and recharge).  In addition when the pack has dropped down to 80% of its capacity, after 500 to 700 full cycles, the range will still be pretty good.  This goes along with Tora's vision of making a reliable bike that will last for many miles.
Braking on the ODK is handled by a Promax front mechanical disc brake and a Promax rear v-brake.  The stopping power is pretty good even when the bike is loaded with some cargo.  The disc brake on the front has a solid feel while the v-brake on the rear does not have the same solid feel.  It would have been nice to have discs front and rear but according to Tora the Shimano Nexus 3 speed hub that they are using is not available in a disc brake version.

The Juiced Riders ODK has so many different cargo possibilities.  You can install normal bike bags, baskets, kids seats, a small trunk, large trunk, a surfboard rack and more.  Tora is continuing to add accessory options to the ODK platform.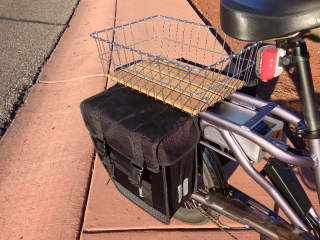 I tested a number of different cargo accessories on the ODK.  The first set was a
Wald basket
attached to the top of the rack and
Basil Tour XL bags
 on the side.  That was a nice combination of accessories because I could put larger items in the basket and strap them down with a bungee cord and then pick up or transfer smaller items in the
Basil bags
.
Carrying those loads on the integrated rack felt fine.  The low center of gravity because of the 20 inch wheels really makes a difference as far as overall stability.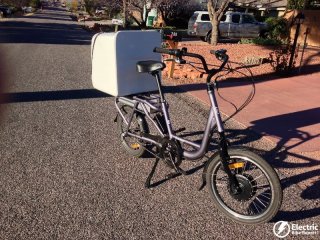 The next accessory that I tested was the big trunk!  This trunk is designed for getting groceries and carrying other large cargo items as well as being used for restaurant deliveries and other messenger service deliveries.
I really liked the capacity of the big trunk as well as its ability to be locked.  It was handy for running errands and it was nice to be able to lock stuff in the trunk.  When the trunk was not loaded it had a tendency to vibrate a bit when riding over rough roads. The box will retail for $250.
The ride test results:
Here is the real world information on how the Juice Riders ODK e-cargo bike performed on my typical riding circuit that includes hills, flats, traffic, wind (when available) etc.
The results below are based on a paved circuit that I use for testing other electric bikes.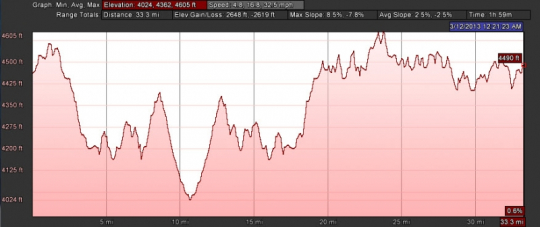 While testing these bikes I like to put them through the toughest conditions to see where their bottom line is in regards to range and speed.
Range:  As you can see from the GPS info that I recorded, the ODK traveled 33+ miles and did a total elevation gain/loss of around 2600+ ft. Considering that I weigh 190 lbs and I pedaled very lightly this is pretty good range for a 48 Volt 15 ah battery pack (720 Watt Hours) with a 500 watt motor!
Watt hours are the total energy in a battery pack and it is based on the volts x amp hours of a pack.  This is a way to compare the size of the "gas tank" of electric bikes.
Please keep in mind that if you pedal more, weight less than me, ride slower and/or you use the bike in terrain that is not as hilly you will get more range.  These results are from tough testing.
Speed:  The Juiced Riders ODK travels up to 20 mph on throttle only.  It also climbs hills pretty well.  On the steep hills you will need to give the motor a little pedaling help, but for moderate hills you can pedal lightly or just turn the throttle, set the cruise control, and sit back as the bike takes you up the hills!
Weight:  This bike tips the scales at 72.5 lbs.
The weight distribution on this bike is slightly back heavy with the large battery on the back but the front hub motor does balance it a bit.  When carrying cargo load on the back you will definitely notice it being back heavy but it did not seem to adversely affect the overall handling of the bike.
Price! First of all, the large 48V 15 amp hour lithium-ion battery pack is a pretty remarkable feature because batteries are generally the most expensive component of an e-bike.  In addition you get a sturdy aluminum cargo frame, Bafang front hub motor, a Shimano Nexus three speed internally geared rear hub and other quality components.  It really is amazing what you get for $2,099!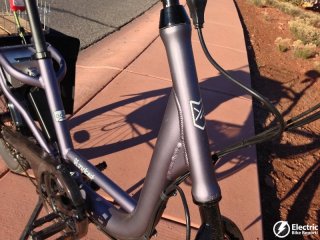 Sturdy Frame: The sturdy aluminum frame with its low step through area, integrated rack, and reinforcing gussets made the ODK a sturdy cargo hauler.
Cruise control! This was a surprisingly nice and fun feature!  It really allows you to set it, forget it, and focus on your pedaling.  I used it way more than I thought I would.
Large Battery:  The 48 volt 15 amp hour lithium ion battery was nice for the possibility of covering long distances or just getting more overall rides out of the battery pack (see description above)
Comfortable ride: The ODK was very easy to get on and off and it had an upright position which was comfortable.  The upright position helped with being aware of cars, other bikers, and pedestrians.
Components: The ODK keeps the components simple but still maintains quality with brands like Shimano, Promax, Kenda, etc.
Tough tires and tubes:  Flat tires suck and the ODK comes equipped with the durable Kenda e-bike tires and inner tubes that are 4 times the thickness of normal tubes.  If you add some Slime sealant to those inner tubes, the chances of getting a flat while be pretty slim.
Nice Accessories: The ODK comes equipped with fenders, a sturdy kickstand, a chain guard, and a bell.
Cons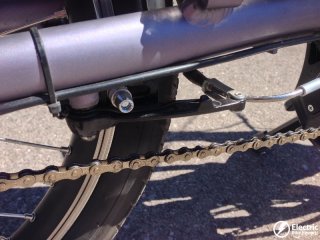 Brakes: It would be nice to have disc brakes front and rear but it's limited because the particular Shimano Nexus rear hub does not offer a disc brake option. The V brakes do offer some decent stopping power but they definitely don't feel the same in comparison to the disc brakes on the front.
Throttle: It would be nice to have a more responsive throttle with less of lag between when you twist the throttle and when the assist kicks in.
Battery Removal: You can't easily remove the battery pack from the bike so you will have to store the bike in a relatively normal temperature area (no extreme cold or hot temps) and charge it there.
Front Hub Motor? This is a debatable topic.  It might be nice to have a rear hub motor on this bike to eliminate the possibility of the wheel "peeling out".  The front hub motor does allow the use of the rear internally geared Shimano Nexus three speed hub which is a nice thing.  In addition the front hub motor helps balance the overall weight of the bike.  Having cargo load, the battery pack, and the motor all on the rear wheel could make the handling of the bike a little bit strange.
Motor Noise: The front hub motor is noisy. It's a geared motor so that's pretty typical but it seemed to be a little louder than most geared hub motors that I have ridden recently. Noise isn't necessarily a bad thing but if you want a silent motor I recommend checking out the direct drive motors. Tora did note that after one thousand miles of use the motor quiets down significantly as the planetary gears in the motor mesh together better.
Conclusion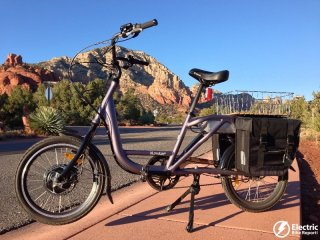 All in all I think Tora accomplished his goal of making the
ODK
 simple, reliable, easy-to-use, affordable, versatile, serviceable, utilitarian, and fun!
The ODK is a very handy electric cargo bike with its low step through design, small wheels for lower cargo weight distribution, powerful motor, huge battery, and overall simplicity.
It would be nice to see a few improvements (brakes, throttle, etc.) but overall it is a very complete, "off the shelf" e-cargo ride.
I hope this review has given you a virtual idea of what the Juiced Riders ODK is like.  And hopefully it has given you an idea of whether it is the bike for you!
Please keep in mind that this is a relatively short term test.  This testing can't really give you the long term review of durability and reliability.  My thoughts on the quality of this bike are from previous experiences with similar bikes.  If you own this bike and have some input on the long term durability, please share your comments with the Electric Bike Report community below.
The Juiced Riders ODK retails for $2,099.  Where to get the ODK?  Check with Juiced Riders for a dealer near you.  If there is not a dealer near you, you could purchase the ODK online.
Do you have any questions about the Juiced Riders ODK?  Do you own the ODK?  Please share your thoughts in the comment section below.
Thanks!
-Pete
Review Note: Each company pays a fee for a review on Electric Bike Report because of the considerable amount of time that it takes to provide an in-depth review of each eBike. A lot of time is spent on the full range test with distance & elevation profile, the wide variety of detailed pictures, in-depth video, and the write up with the specifications, ride characteristics, pros, cons, and overall thoughts. The reviews on Electric Bike Report are focused on providing you with a detailed "virtual" look at each eBike to help you determine if it is the eBike for you or not.
P.S. Don't forget to join the Electric Bike Report community for updates from the electric bike world, plus ebike riding and maintenance tips!
Reader Interactions