Electric Bike News: Tilting E-Cargo Trike, UPS E-Trike, Velosurance, Shimano & Yamaha Mid Drives, & More! [VIDEOS]
Butchers & Bicycles is a wild name for a bike/trike company but here is the reasoning behind it: "designed, developed and hand built with love and pride in Copenhagen's meatpacking district".  This tilting electric cargo trike looks like it will make errand running or a delivery business a lot of fun; checkout the video!
Speaking of delivery businesses, UPS is using a pedal/electric trike in Germany to deliver packages in congested city areas; how cool is that!  FedEx is using a pedal/electric trike for deliveries in Paris.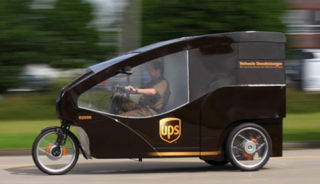 A2B electric bikes in the Los Angeles Times!
  It is always good to see e-bikes covered in the mainstream media 🙂
I like this headline: "Cargo bikes are the new minivan for cycling families".  And electric cargo bikes really make a great car/minivan alternative!
Shimano has launched their new STEPS mid drive electric bike kit and they recently released pictures of it!  This system will only be available on complete bikes; no retro fit kits.
Yamaha showed off their new mid drive electric bike system at the Tokyo Motor Show.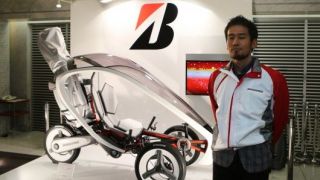 Bridgestone
has developed a pedal/electric trike that may make it to production.  This e-trike looks pretty futuristic!
Because e-trikes have been a new trend in the e-bike world, I recently did a full review of the TerraTrike Rambler with E-BikeKit electric bike system.
Velosurance is providing insurance for electric bikes.  "Each policy is customized by the client and can include coverage protection on the e-bike for damage caused by theft, crash, collision, fire, attempted theft, vandalism or hitting another object.  In addition, coverage of spare parts, cycle apparel, and rental reimbursement are included at no additional cost."
If you are looking for a compact yet tough lock then you should check out the ABUS folding locks.  Here is my review of the ABUS Granit Bordo X Plus and the ABUS Bordo Big.
Public Bikes is getting into e-bikes and they put together this inspiring video about peoples experience on a Public e-bike.
The EcoReco M3 electric kick scooter recently arrived for review and testing.  These scooters share some similar attributes to e-bikes and they can be a good solution for the first/last mile of your commuter.  Checkout the first part of the review with a bunch of detailed pictures and the specs of this e-scooter.
The Copenhagen Wheel, the one that started the all-in-one electric bike kit craze, is now officially available for pre-order.
Okay, now for something fun, how about keg delivery by e-cargo bike?  Enjoy the vid from Peoples Cargo:
How about an electric trike inspired by a shopping cart?  Checkout the LECOMOTION: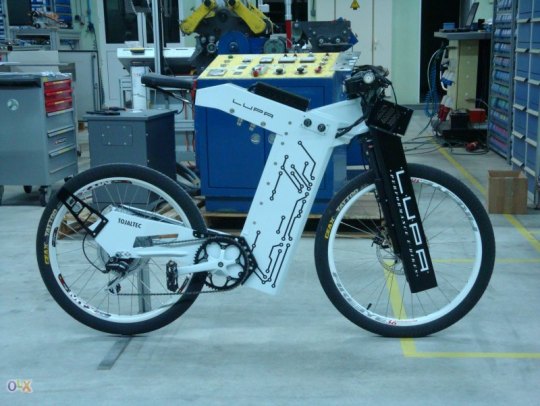 This is the LUPA1 prototype electric bike. 50 mph (80 km/h) and 62 miles (100 km) of stated range. € 9.750,00 Here is more info.
That's it for now.  Stay tuned for more e-bike news and reviews!
-Pete
P.S. Don't forget to join the Electric Bike Report community for updates from the electric bike world, plus ebike riding and maintenance tips!
Reader Interactions