E-Bike News: Sidecar E-Bike, Faraday, Police E-Bikes, Mid Drives, Britt Pedal, & More! [VIDEOS]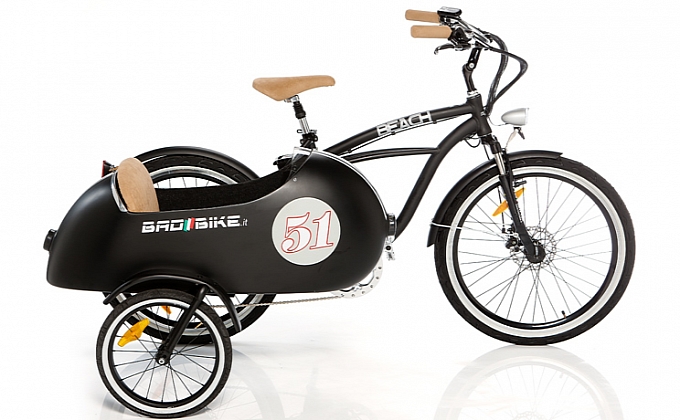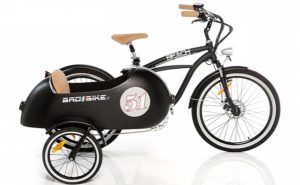 Checkout this e-bike with sidecar!  It's from Italy's Bad Bike company and it's called the Beach Vintage Side.
How about some entertainment?  A GoCycle electric bike was stolen in London and the thief called the owner for charging instructions!!!!
This is a great story on families in San Francisco who are using cargo bikes and electric assist as the new "minivan".
Speaking of e-cargo bikes, the crowd sourced cargo bike documentary, LESS CAR MORE GO, has exceeded it Kickstarter goal!
Kick Gas! Checkout this documentary of an electric vehicle tour across the US.
The Bridgeport (Conn.) police department is using A2B electric bikes for some of their patrols!  Awesome.
And the Boston police used electric bikes to patrol the recent Boston marathon. Very cool!
Here are some good e-bike stories in the mainstream media:
Pedal power: the ebike revolution is coming to Britain
Chain reaction: Electric bicycles make new power commute
Faraday just announced that they are shipping their classically styled Porteur electric bikes.
Electric bikes were recently featured on national TV!  Jimmy Kimmel gave away a Pedego City Commuter and an Easy Motion Neo Volt was on The Price is Right.
Electric bikes were a highlight at the Sea Otter Classic bike festival.  E-bikes from IZIP, Haibike, Felt, Lapierre, Yuba, Grace, and more were on display.
Checkout this video about Yuba Cargo Bicycles! How the Mundo Cargo Bike and Boda Boda Cargo Bike were created. Interview with Benjamin Sarrazin, founder and Steve Bode, partner at Yuba Bicycles.
E-Bike Survey: Please take 5-10 minutes to answer some survey questions about your interest in e-bikes. If you include your email and there are a minimum of 50 responses, you will be entered in a drawing to to win a $50 Amazon gift certificate.
A pedal that makes an ordinary bike an electric bike? Yes! Checkout the Britt Pedal.
Recently there have been a bunch of mid drive e-bike systems hitting the market.  GreenTrans has introduced a mid drive that is relatively lightweight and quiet.
TransX is pitching their mid drive as a customizable "design element" for bike brands.
Samsung has been providing battery cells for e-bikes for a while and now they will be providing an e-bike mid drive motor system.
Continental is hard at work with their mid drive and belt system.
Here is a report that mid drive system will be available on most price ranges of e-bikes.
NTS Works has just announced their Fatfree mid drive electric bike that is in addition to their electric cargo bike line.
Domino's Pizza in Portland, OR is now using cargo trikes for their deliveries.  I think we will see more of this, especially when electric assist is added to delivery bikes/trikes.
Checkout the Truck Trike that helps to transport Citi bike share bikes.
I was recently at ProdecoTech for the LEVA E-Bike Technician Training. Stay tuned for the full report!
That's it for now.  Stay tuned for more e-bike news!
-Pete
P.S. Don't forget to join the Electric Bike Report community for updates from the electric bike world, plus ebike riding and maintenance tips!
Reader Interactions